Open Access This article is
freely available
re-usable
Article
Genomic Analysis of the Recent Viral Isolate vB_BthP-Goe4 Reveals Increased Diversity of φ29-Like Phages
1
Department of Genomic and Applied Microbiology & Göttingen Genomics Laboratory, Institute of Microbiology and Genetics, Georg-August-University Göttingen, 37077 Göttingen, Germany
2
Department of General Microbiology, Institute of Microbiology and Genetics, Georg-August-University Göttingen, 37077 Göttingen, Germany
*
Author to whom correspondence should be addressed.
Received: 19 October 2018 / Accepted: 8 November 2018 / Published: 13 November 2018
Abstract
:
We present the recently isolated virus vB_BthP-Goe4 infecting
Bacillus thuringiensis
HD1. Morphological investigation via transmission electron microscopy revealed key characteristics of the genus
Phi29virus
, but with an elongated head resulting in larger virion particles of approximately 50 nm width and 120 nm height. Genome sequencing and analysis resulted in a linear phage chromosome of approximately 26 kb, harbouring 40 protein-encoding genes and a packaging RNA. Sequence comparison confirmed the relation to the
Phi29virus
genus and genomes of other related strains. A global average nucleotide identity analysis of all identified φ29-like viruses revealed the formation of several new groups previously not observed. The largest group includes Goe4 and may significantly expand the genus
Phi29virus
(
Salasvirus
) or the
Picovirinae
subfamily.
Keywords:
Bacillus
; thuringiensis; vB_BthP-Goe4; Goe4; Picovirinae; Phi29virus;
Salasvirus
; Luci; bacteriophage; phage; pRNA
Supplementary Materials
Supplementary materials can be found at
https://www.mdpi.com/1999-4915/10/11/624/s1
, Luci_art.gbk; pRNA-Nf-GA1.cm; Table S1: Luci host search; Table S2: Promoter terminator prediction; Table S3: pRNA prediction; Table S4: ITRs of φ29-like-phages; Table S5: ANI percentage identity; Table S6: Orthology analysis.
Author Contributions
R.H. conceived and designed the experiments; T.S. isolated vB_BthP-Goe4. T.S. and M.H. performed the transmission electron microscopy; R.H. analysed the data, assembled and finished the genome and performed the
in silico
analysis; R.H. wrote the paper. All authors read and approved the final manuscript.
Funding
This project was funded by the Volkswagen Foundation (Re. 94045).
Acknowledgments
We would like to thank Rolf Daniel for scientific advice, guidance and support for this project. Sascha Dietrich, Katrina Funkner, Miriam Antonia Schüler and Jacqueline Hollensteiner we thank for their help on the bioinformatical analysis, Anja Poehlein for sequencing and Ines Friedrich for proofreading the manuscript. We acknowledge support by the German Research Foundation and the Open Access Publication Funds of the Göttingen University.
Conflicts of Interest
The authors declare no conflict of interest.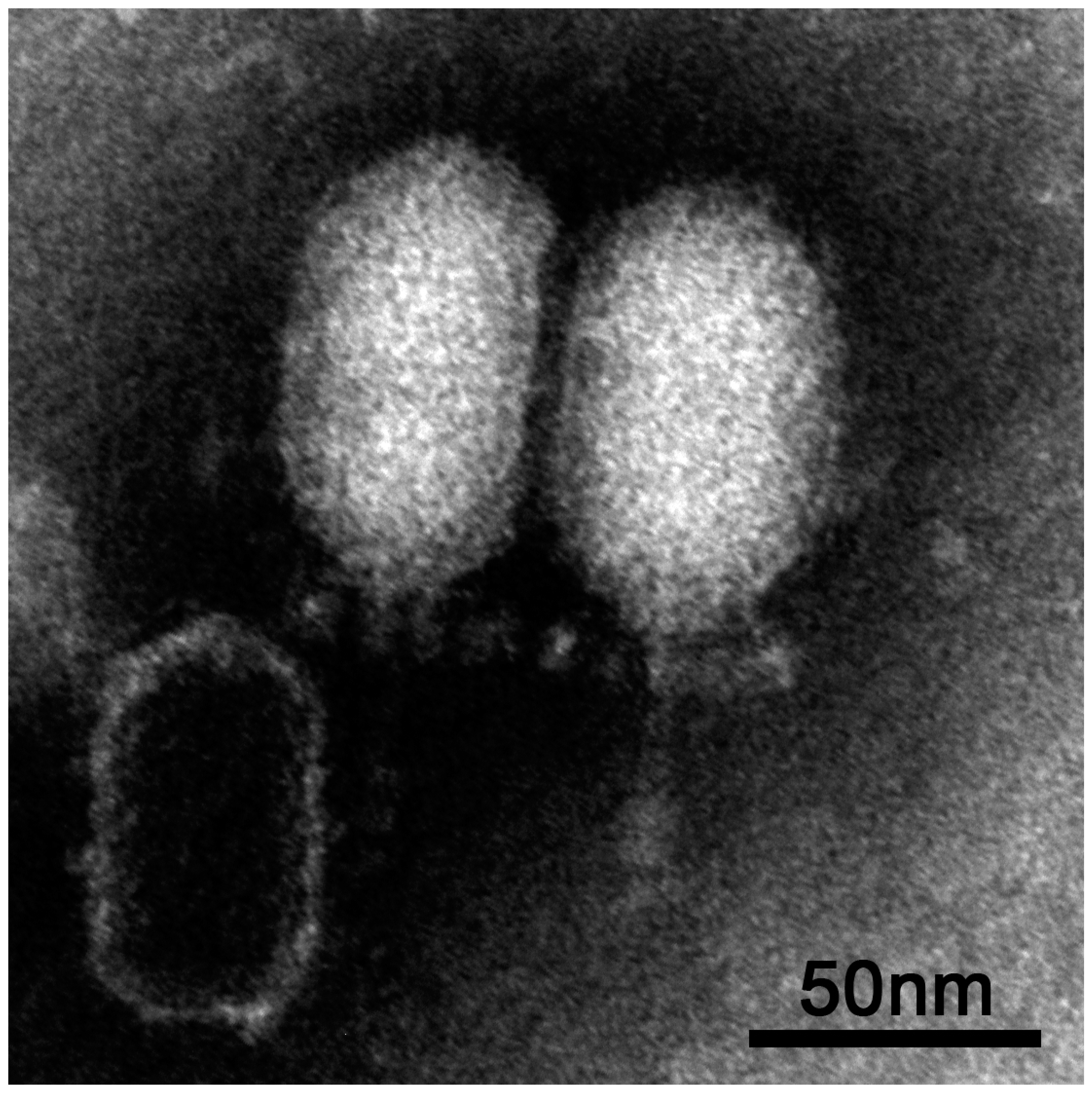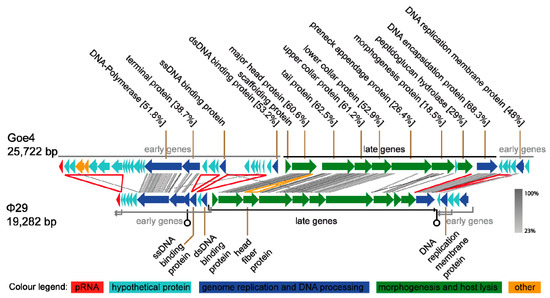 Figure 2. Overview of the Goe4 genome in Relation to φ29. Similarity indicated by grey bars was calculated via tblastx. Protein coding open reading frames (ORFs) were further compared to the genus type strain φ29 via global protein alignment employing the Needleman–Wunsch algorithm. The yellow arrowhead indicates a region of φ29 absent in Goe4 and red arrowheads and line regions of Goe4 absent in φ29.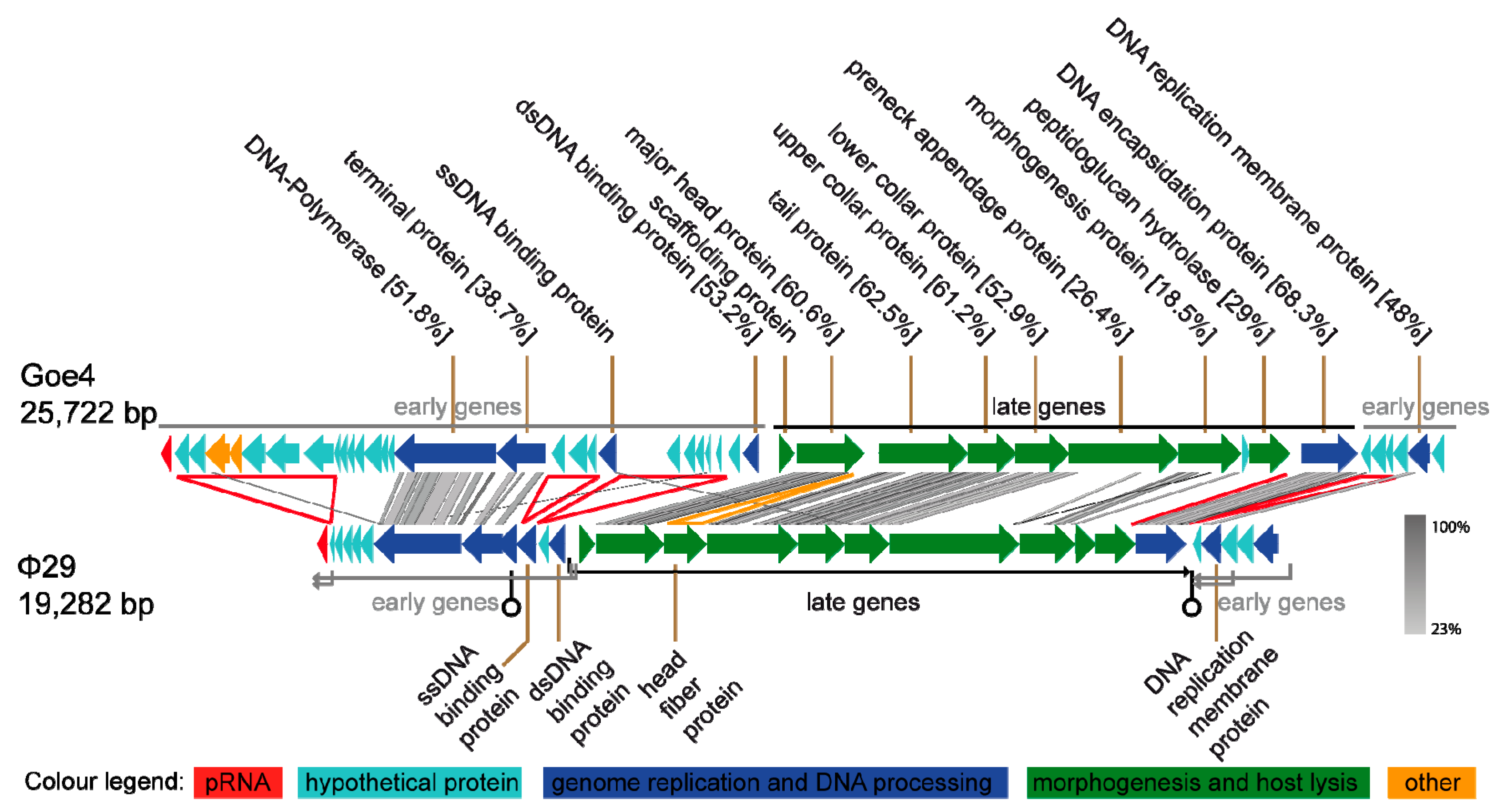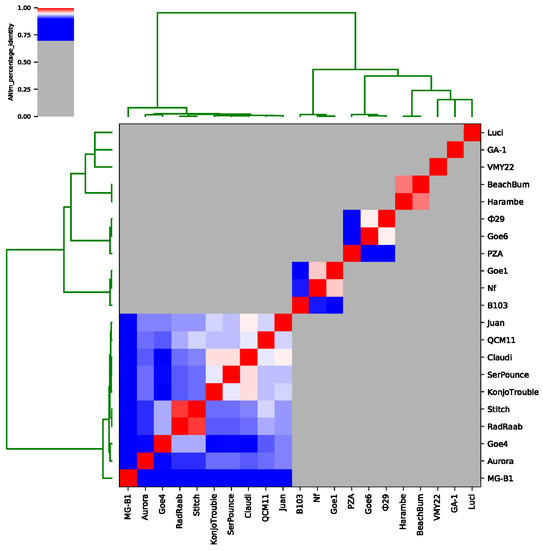 Figure 3. Average nucleotide identity analysis of Goe4 with twenty related strains. The presented average nucleotide identity values were calculated with the ANIm option. Reddish colouring indicates average nucleotide identity (ANI) values >95% and belonging to the same species. A white coloration indicates ANI values of ~95% and the species boundary. A bluish coloration indicates ANI values <95% to 70% and a high degree of relationship.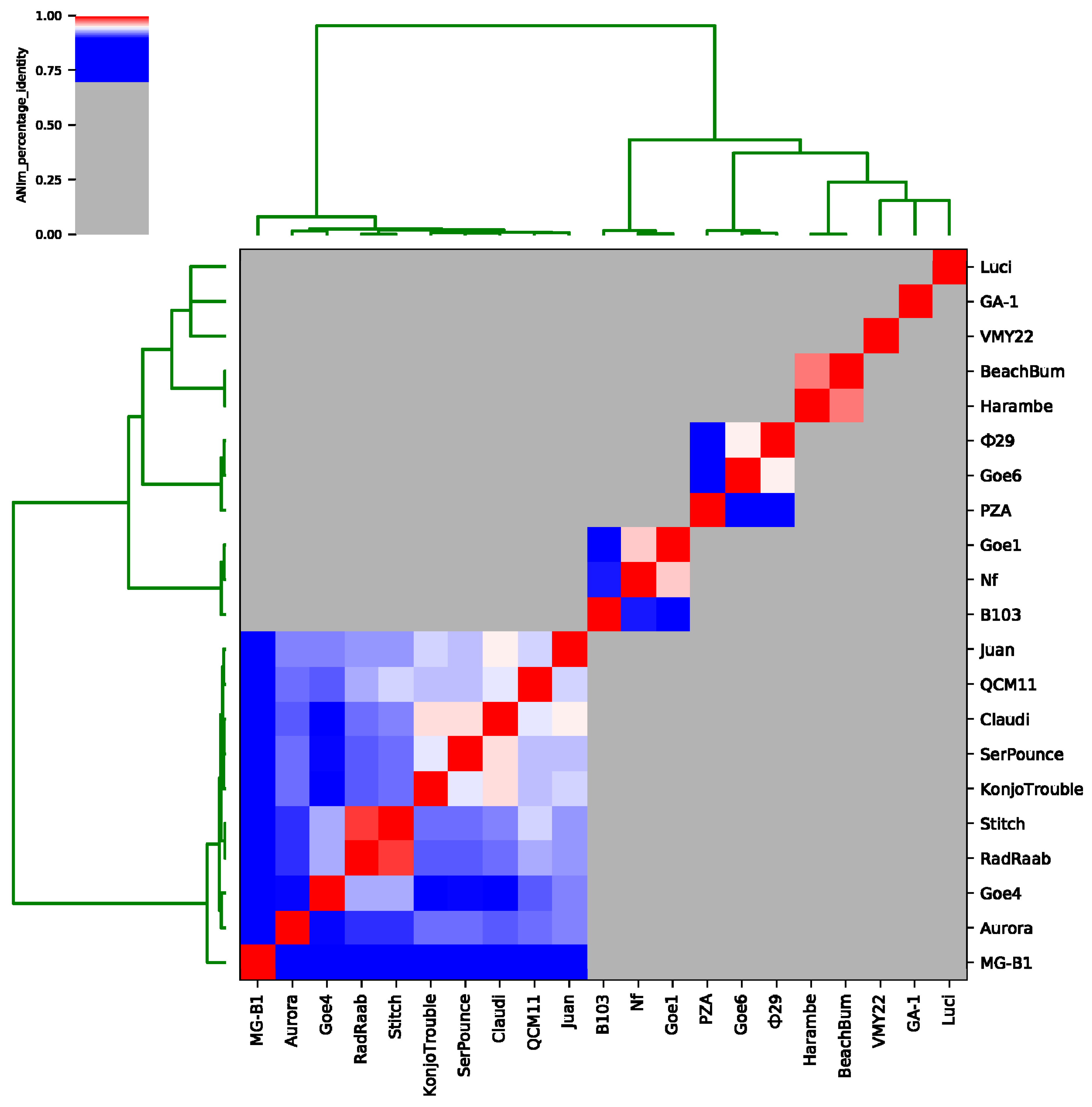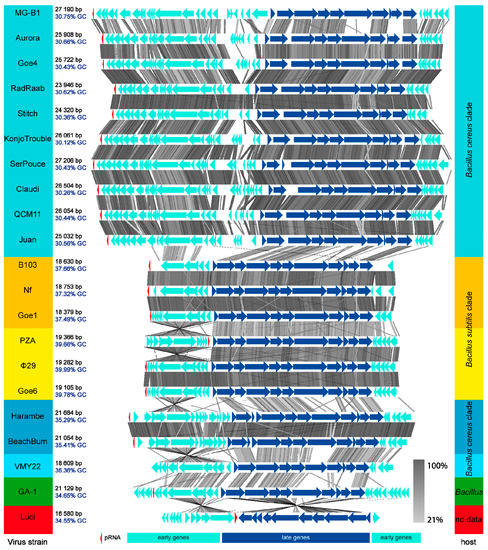 Figure 4.
Blast Comparison of all φ29-like Phages. Genomes are ordered like presented in the ANI analysis in
Figure 3
. Phages are compared via tblastx using the Easyfig tool [
30
]. Name, genome size and GC-content of each phage are listed on the left side and highlighted in colour. Members of the same cluster are equally highlighted. The respective hosts are listed on the right side. Bluish highlighted strains infect hosts of the
B. cereus
clade, yellowish highlighted strains infect hosts of the
B. subtilis
clade. pRNA genes are shown as red arrows and were identified via a covariance model created during this investigation (
supplemental pRNA-Nf-GA1.cm
).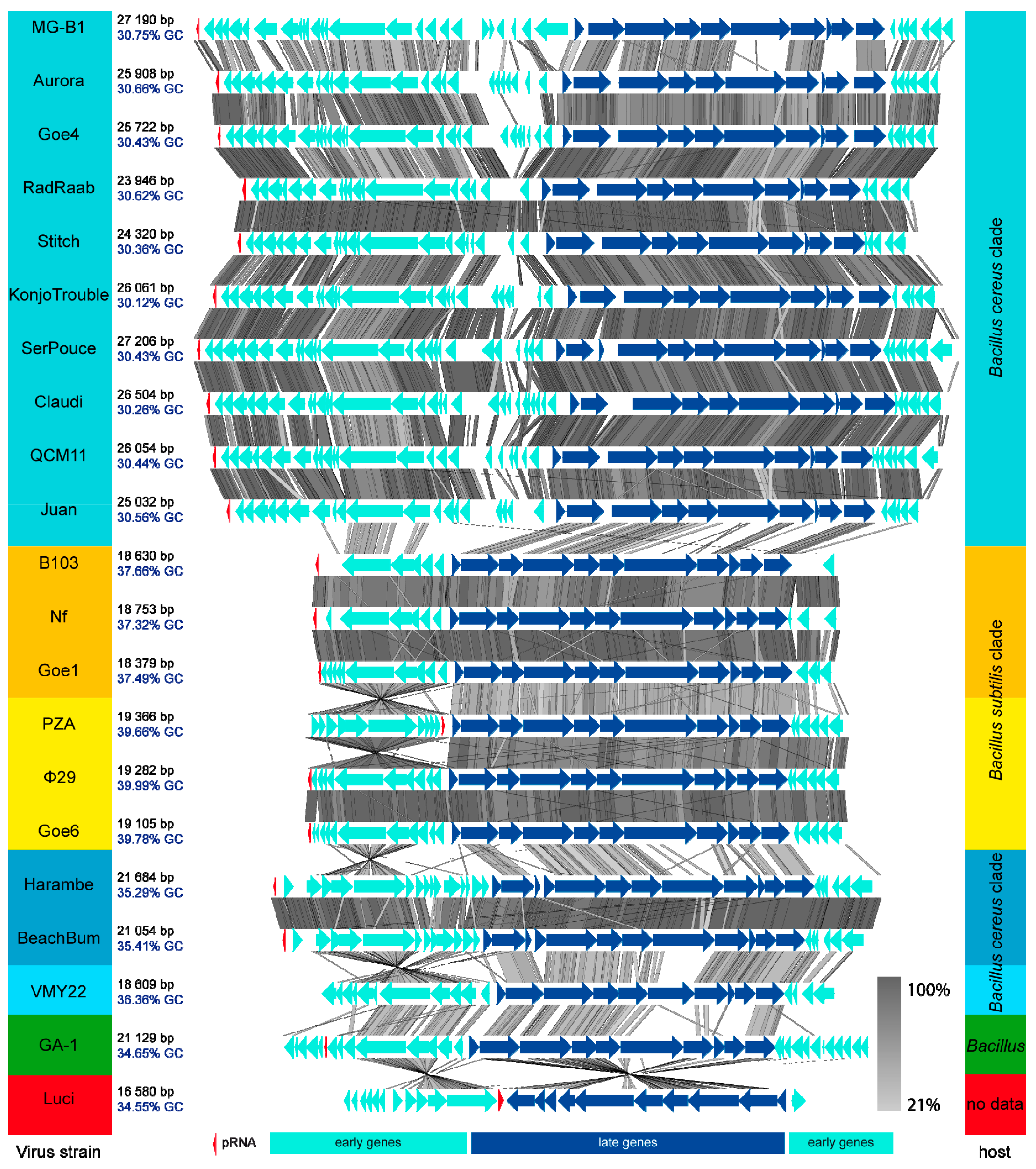 Figure 5.
Molecular Phylogenetic analysis, using the Maximum Likelihood method. The evolutionary history was inferred by using the Maximum Likelihood method based on the JTT matrix-based model [
39
]. Trees with the highest log likelihood (−13,127.87 for (
A
) and −17,734.54 for (
B
)) are shown. The percentage of trees in which the associated taxa clustered together are shown next to the branches. Initial tree(s) for the heuristic search were obtained automatically by applying Neighbor-Join and BioNJ algorithms to a matrix of pairwise distances estimated using a JTT model, and then selecting the topology with superior log likelihood value. The trees are drawn to scale, with branch lengths measured in the number of substitutions per site. DNA-polymerase served as marker protein for tree (
A
) and the pre-neck-appendage protein for (
B
). The analysis involved 23 amino acid sequences with a total of 735 positions in the final dataset for (
A
) and 22 amino acid sequences with a total of 1015 positions for (
B
). The respective hosts are listed on the right side of each dendrogram and colour coded like in
Figure 4
.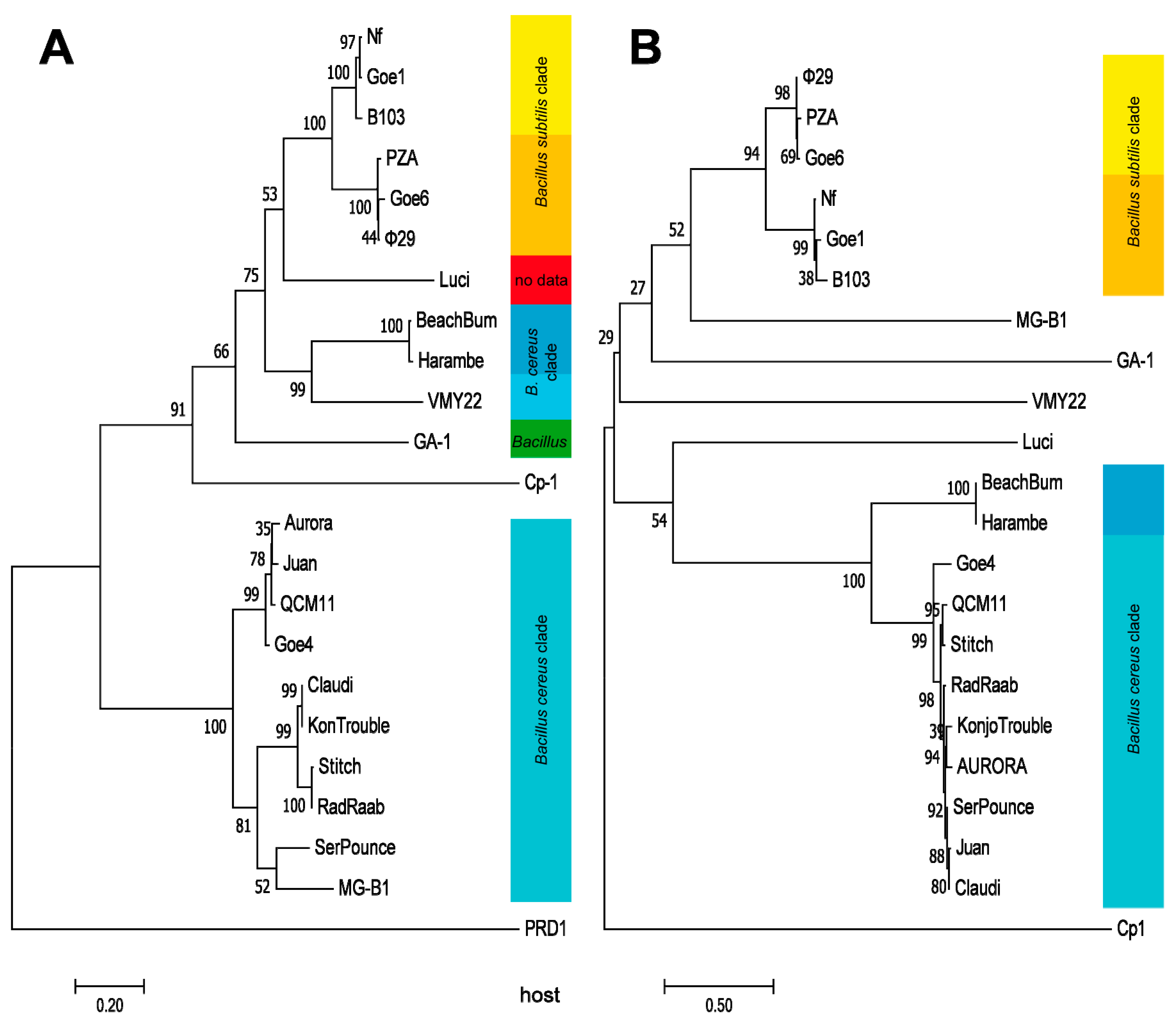 © 2018 by the authors. Licensee MDPI, Basel, Switzerland. This article is an open access article distributed under the terms and conditions of the Creative Commons Attribution (CC BY) license (http://creativecommons.org/licenses/by/4.0/).