HTLV-1, the Other Pathogenic Yet Neglected Human Retrovirus: From Transmission to Therapeutic Treatment
1
International Center for Research in Infectiology, Retroviral Oncogenesis Laboratory, INSERM U1111—Université Claude Bernard Lyon 1, CNRS, UMR5308, Ecole Normale Supérieure de Lyon, Université Lyon, F-69007 Lyon, France
2
Equipe labellisée "Ligue Nationale Contre le Cancer", France
*
Author to whom correspondence should be addressed.
Received: 30 November 2017 / Revised: 16 December 2017 / Accepted: 18 December 2017 / Published: 21 December 2017
Abstract
Going back to their discovery in the early 1980s, both the Human T-cell Leukemia virus type-1 (HTLV-1) and the Human Immunodeficiency Virus type-1 (HIV-1) greatly fascinated the virology scene, not only because they were the first human retroviruses discovered, but also because they were associated with fatal diseases in the human population. In almost four decades of scientific research, both viruses have had different fates, HTLV-1 being often upstaged by HIV-1. However, although being very close in terms of genome organization, cellular tropism, and viral replication, HIV-1 and HTLV-1 are not completely commutable in terms of treatment, especially because of the opposite fate of the cells they infect: death versus immortalization, respectively. Nowadays, the antiretroviral therapies developed to treat HIV-1 infected individuals and to limit HIV-1 spread among the human population have a poor or no effect on HTLV-1 infected individuals, and thus, do not prevent the development of HTLV-1-associated diseases, which still lack highly efficient treatments. The present review mainly focuses on the course of HTLV-1 infection, from the initial infection of the host to diseases development and associated treatments, but also investigates HIV-1/HTLV-1 co-infection events and their impact on diseases development.
View Full-Text
►

▼

Figures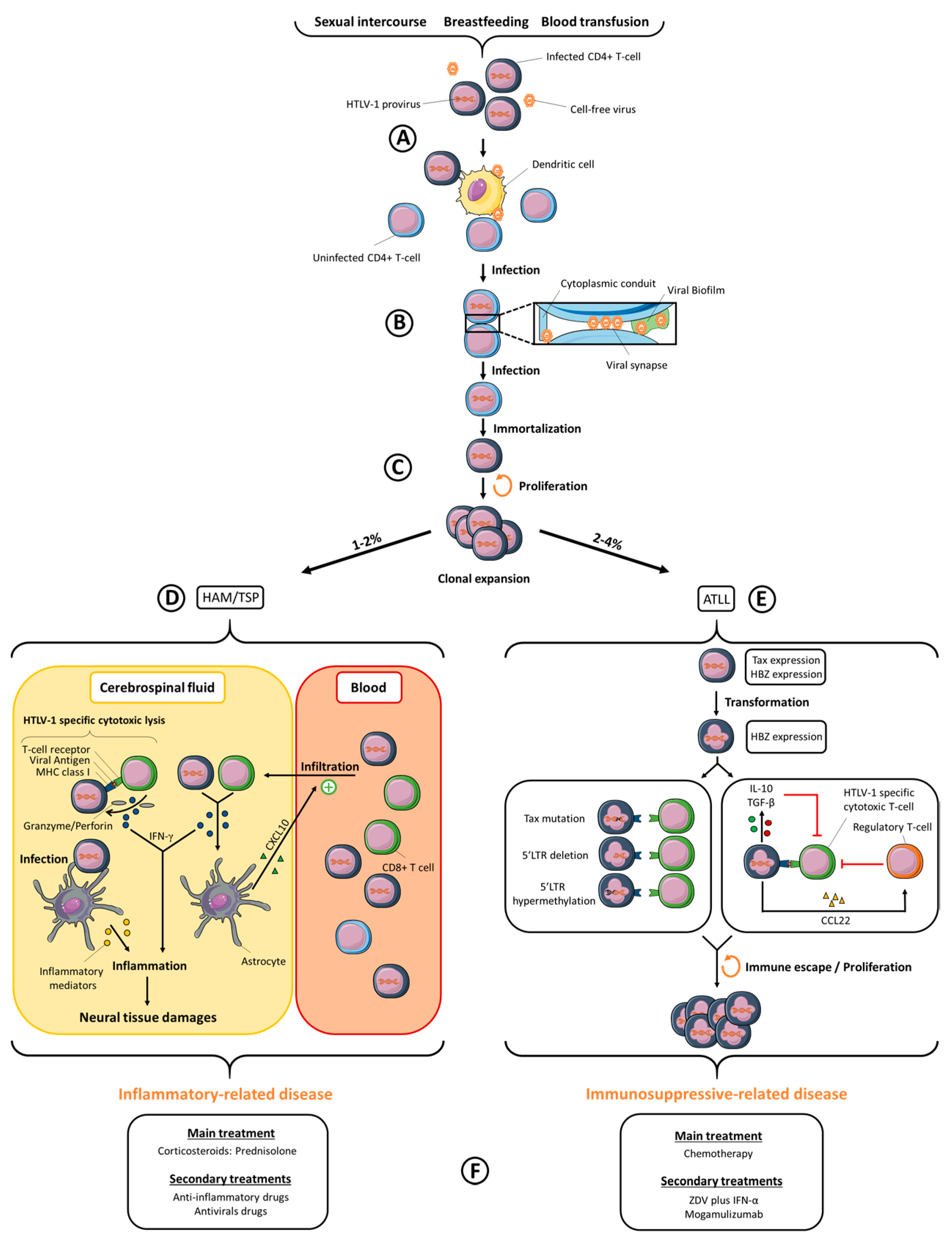 Figure 1
This is an open access article distributed under the
Creative Commons Attribution License
which permits unrestricted use, distribution, and reproduction in any medium, provided the original work is properly cited (CC BY 4.0).

Share & Cite This Article
MDPI and ACS Style
Futsch, N.; Mahieux, R.; Dutartre, H. HTLV-1, the Other Pathogenic Yet Neglected Human Retrovirus: From Transmission to Therapeutic Treatment. Viruses 2018, 10, 1.
Note that from the first issue of 2016, MDPI journals use article numbers instead of page numbers. See further details here.
Related Articles
Comments
[Return to top]