Open Access This article is
freely available
re-usable
Article
Spoil Type Influences Soil Genesis and Forest Development on an Appalachian Surface Coal Mine Ten Years after Placement
1
Lewis Honors College, University of Kentucky, Lexington, KY 40526, USA
2
Department of Biosystems and Agricultural Engineering, University of Kentucky, Lexington, KY 40546, USA
3
Department of Plant and Soil Sciences, University of Delaware, Georgetown, DE 19947, USA
4
Department of Forestry and Natural Resources, University of Kentucky, Lexington, KY 40546, USA
*
Author to whom correspondence should be addressed.
Received: 15 November 2018 / Accepted: 16 December 2018 / Published: 18 December 2018
Abstract
:
Surface mining for coal (or other mineral resources) is a major driver of land-use change around the world and especially in the Appalachian region of the United States. Intentional and well-informed reclamation of surface-mined land is critical for the restoration of healthy ecosystems on these disturbed sites. In Appalachia, the pre-mining land cover is predominately mixed hardwood forest, with rich species diversity. In recent years, Appalachian mine reforestation has become an issue of concern, prompting the development of the Forestry Reclamation Approach, a series of mine reforestation recommendations. One of these recommendations is to use the best available soil substitute; however, the characteristics of the "best" soil substitute have been an issue. This study was initiated to compare the suitability of several types of mine spoil common in the Appalachian region: brown sandstone (Brown), gray sandstone (Gray), mixed spoils (Mixed), and shale (Shale). Experimental plots were established in 2007 with each spoil type replicated three times. These plots were planted with a mix of native hardwood species. Ten years after plot construction and planting, tree growth and canopy cover were highest in Brown, followed by Shale, Mixed, and Gray. Soil conditions (particularly pH) in Brown and Shale were more favorable for native tree growth than Mixed or Gray, largely explaining these differences in tree growth and canopy cover. However, soil chemistry did not clearly explain differences in tree growth between Brown and Shale. These differences were more likely related to differences in near-surface soil temperature, which is related to soil color and available shade.
Keywords:
forestry reclamation approach; reforestation; canopy cover; sandstone; shale; tree growth
1. Introduction
Surface mining for coal and other resources is a major driver of land-use change around the world. In general, surface mining involves clearing existing landcover (forests, grasslands, etc.), removing overburden (layers of rock that lay over the target resource), extracting the target resource, replacing the overburden (often called spoil), and reclaiming the site to a designated post-mining land use. Reclamation represents a critical phase of this process—good reclamation can set a highly disturbed site on a trajectory toward near-native conditions, while poor reclamation can lock a site into an ecologically devastated state over long time periods. An especially important aspect of reclamation is soil selection. In many cases, native topsoil is not available for use during reclamation, and crushed overburden may be used as a substitute. When this is the case, the type of spoil selected may influence the long-term ecological development of the site, for better or for worse.
2. Materials and Methods
This study was conducted on test plots constructed in February 2007 at the Bent Mountain surface mine in Pike County, KY. Plots (0.2 ha) were constructed in three replicates of four spoil types: brown sandstone (Brown), gray sandstone (Gray), mixed spoils (Mixed), and shale (Shale), for a total of 12 plots. Plots were constructed using the low-compaction technique known as "strike-off"—spoil piles were end-dumped in closely-abutted piles approximately 2.5 m deep, and then leveled slightly with one pass of a D-9 bulldozer. Plots were planted with a mix of the following native trees (1200 seedlings/ha): American chestnut (
Castanea dentata
(
Marshall
) Borkh.), American sycamore (
Platanus occidentalis
L.), black locust (
Robinia pseudoacacia
L.), chestnut oak (
Quercus montana
Willd.), dogwood (
Cornus florida
L.), northern red oak (
Quercus rubra
L.), redbud (
Cercis canadensis
L.), sugar maple (
Acer saccharum
Marshall), white ash (
Fraxinus americana
L.), and white oak (
Quercus alba
L.). Species were selected based on their presence in pre-mining forests in the region, as well as their tendency to perform well in surface mine reclamation plantings. Plots were not fertilized or seeded with additional species. Soil and tree data were collected for the first two years after planting and reported in Miller et al. [
12
].
In 2008, soils were sampled and analyzed as described in Miller et al. [
12
]. Briefly, two sets of four random samples were collected at depths of 0 to 10 cm (to represent the surface) and 40 to 50 cm (to represent properties at depth) and combined into two separate composite samples per depth per plot. Soil samples were collected as part of the present study in summer 2017. Samples were collected in two depth increments (0–10 cm and 10–50 cm). Five subsamples were collected in each plot and composited in the field, for a total of one composite sample per depth per plot. Soils were analyzed for pH, P, K, Ca, Mg, Zn, total C and N, soluble salts, cation exchange capacity (CEC), base saturation, and texture. Soil pH was measured in a 1:1 soil:water paste, and soluble salts (soil electrical conductivity) was measured in a 1:3 soil:water solution with a conductivity bridge [
13
]. Concentrations of P, K, Ca, Mg, and Zn were measured by Mehlich III extraction and analysis by ICP-MS (Inductively coupled plasma mass spectrometry) [
13
]. Total C and N were quantified using a CHN (Carbon/Hydrogen/Nitrogen) Analyzer (LECO Corporation, St. Joseph, MI, USA) [
14
]. Particle size distribution was evaluated by the micropipette method [
15
]. Cation exchange capacity and base saturation were assessed using the ammonium acetate method at pH 3 [
13
].
To better assess site differences not reflected by soil texture and chemistry, soil surface temperature was logged for 19 days using HOBO® temperature probes (Onset® Computer Corporation, Bourne, MA, USA) installed on one plot per treatment. Due to logger malfunctions, no data were collected for Brown, and only one logger per treatment collected usable data for the other spoil types. In addition, canopy cover was estimated using a method adapted from Barton and Karathanasis [
16
]. Briefly, in August 2018, a 1.4-million-pixel aerial photo was captured using the standard 12-megapixel high-resolution digital camera mounted on a Phantom 4 drone (DJI, Shenzhen, China). The image was opened in Adobe
®
Photoshop
®
Creative Cloud 2018. Using the "crop" tool, the image was reduced in size to show an individual plot. On some plots, the "image rotation" tool was used to square the plot to allow for more precise cropping. Next, pixels were classified as "canopy" or "not canopy" based on color. An individual tree was selected using the "magic wand" tool, with tolerance level set to a low value (between 5 and 15) to minimize the over-selection of similar colors (if tolerance level was high, this function may select both grass and tree because both are green). Once pixels in an individual tree were selected, the "similar" tool was used to identify objects with the same color. The resulting selected area was visually assessed to verify that it was representative of tree foliage only, and the area was filled with a "foreground" color (i.e., green) by selecting the "fill" option. To account for additional trees with different shades of foliage, this step was repeated as needed. Similarly, bare soil or herbaceous vegetation could be identified and filled to a background color (i.e., white) (
Figure 1
). Once the forest canopy was delineated accurately, the "histogram" function was used to quantify the pixels classified as forest canopy by selecting the foreground cover with the "magic wand" tool and using the "similar" function. The number of pixels delineated as forest canopy divided by the total number of pixels in the image was considered % canopy cover [
16
].
Trees were measured in three 10 m × 10 m subplots per plot. Subplots were positioned so as not to overlap one another or be adjacent to one another or be adjacent to the edge. Height was measured for all planted species in each subplot. Tree data were collected from 31 May to 6 June (2017).
Soils data were analyzed by analysis of variance (ANOVA) using the general linear models procedure (PROC GLM, SAS 9.4, SAS Institute, Inc., Cary, NC, USA), with depth and spoil type and their interaction as the modeled effects. Because depth and the interactions were not significant for any measured parameter (
p
> 0.05), soils data are presented by spoil type only. Tree height data were also analyzed by ANOVA using the GLM procedure to assess differences in overall tree height across spoil type and differences in height by species within each spoil type. Mean height data were calculated for each species within each subplot, and plot means were calculated from subplot means. Plot means served as the experimental unit for ANOVA. Canopy cover was also analyzed by ANOVA, using PROC GLM (SAS 9.4), with estimated percent canopy cover for each plot considered the experimental unit. Significant ANOVA tests were followed up with pairwise comparisons using a Tukey's test, given by the LSMEANS/pdiff function (SAS 9.4).
5. Conclusions
This study supports the use of brown sandstone as a soil substitute in the reclamation of Appalachian surface coal mines. Tree growth on brown sandstone is dramatically higher than on gray sandstone, shale, or mixed spoils, likely due to favorable soil chemistry on Brown. In contrast, while soil chemistry appears favorable on Shale, higher soil temperatures are likely responsible for reduced tree growth and groundcover. Additional surveys over the next several years will clarify to what extent tree growth (and associated shade) will ameliorate unfavorable soil temperature conditions over time.
Surface mining and subsequent reclamation is a global issue. While the current study, and other studies involved with aspects of the FRA, was conducted in Appalachia, USA, the underlying principles of the FRA are globally transferable. Currently, the FRA is being tested for implementation in Chile and Australia [
21
], and could easily be tested in Europe and Asia. Further work is necessary in these and other regions of the world to continue to improve reclamation techniques for successful restoration of healthy ecosystems.
Author Contributions
Conceptualization, C.B. and C.A.; methodology, C.B. and J.M.; software, C.B.; validation, C.B. and K.S.; formal analysis, K.S. and C.B.; investigation, K.S. and C.B.; resources, C.B.; data curation, C.B. and K.S.; writing—original draft preparation, K.S.; writing—review and editing, K.S., C.B., C.A. and J.M.; visualization, K.S.; supervision, C.B.; project administration, C.B. and C.A.; funding acquisition, C.B. and C.A.
Funding
Partial funding for this project was provided by the Office of Surface Mining and Reclamation Enforcement's Applied Science Program. Additional funding was provided by the University of Kentucky's Agricultural Experimental Station.
Acknowledgments
Joseph Frederick and Derek Thomas provided valuable assistance in data collection. The authors also thank Matthew Barton, UK Agricultural Communications, for aerial photography assistance. Open access publication was supported by Sena's Storkan-Hanes-McCaslin Award.
Conflicts of Interest
The authors declare no conflicts of interest.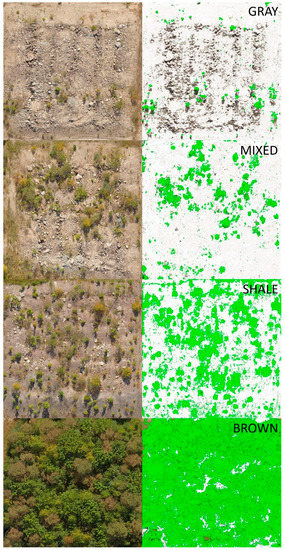 Figure 1. Example of canopy cover estimation method from each spoil type. The number of green pixels, representing tree canopy, was divided by the total number of pixels in the image to determine the percent cover (GRAY = Gray sandstone, MIXED = mixed sandstones and shale, SHALE = shale, BROWN = brown sandstone).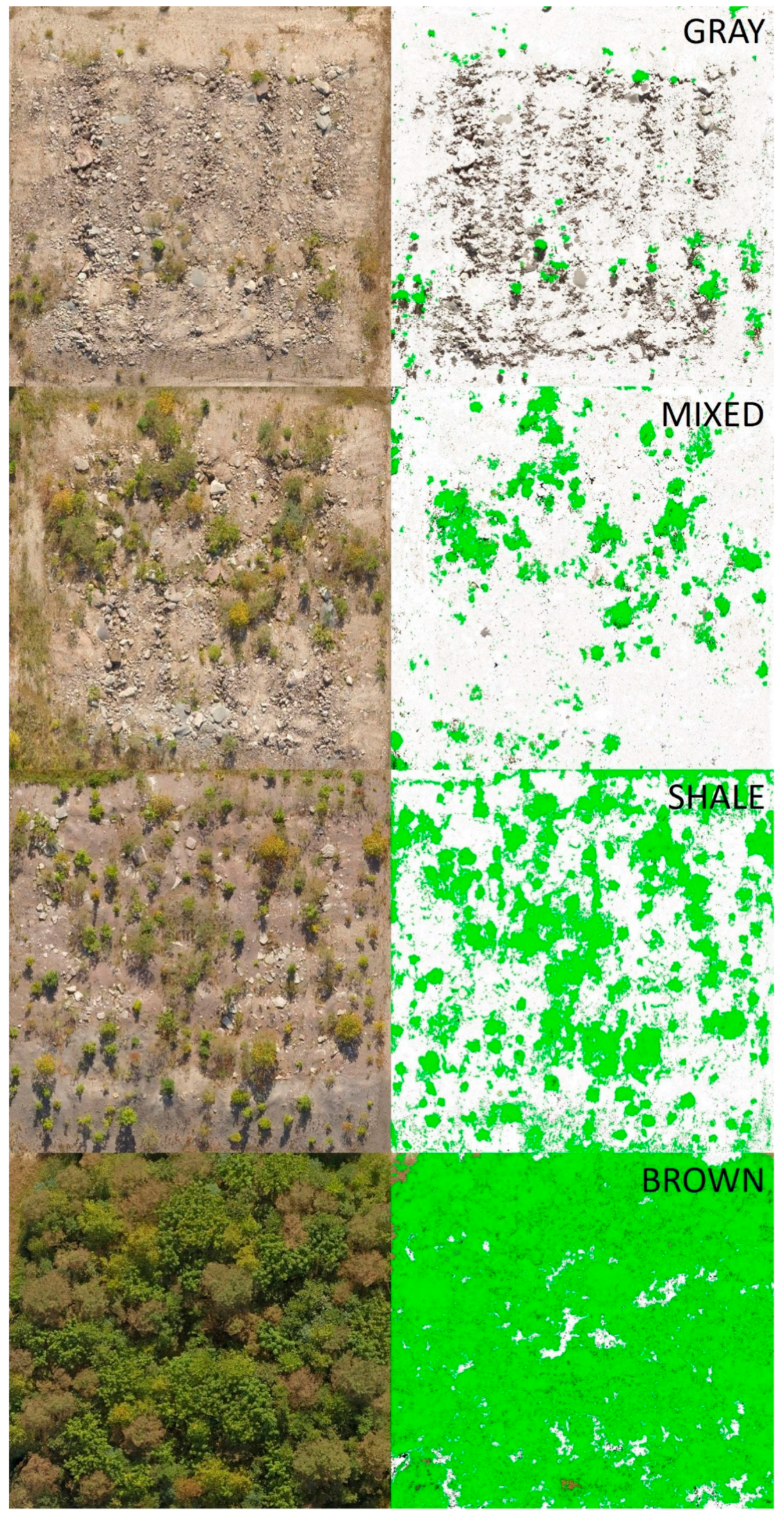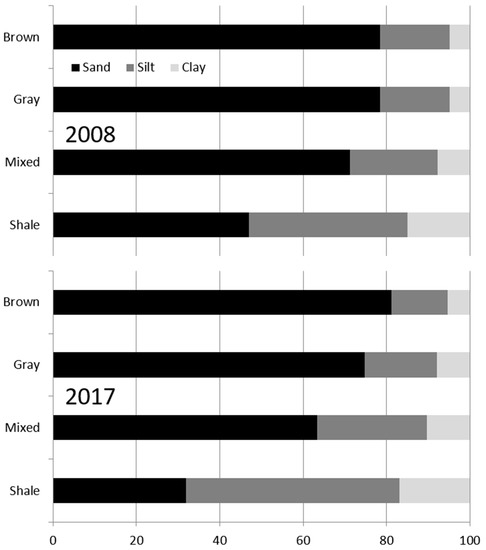 Figure 2.
Shifts in soil particle size distribution across spoil types from 2008 to 2017 (2008 data from Miller et al. [
12
]).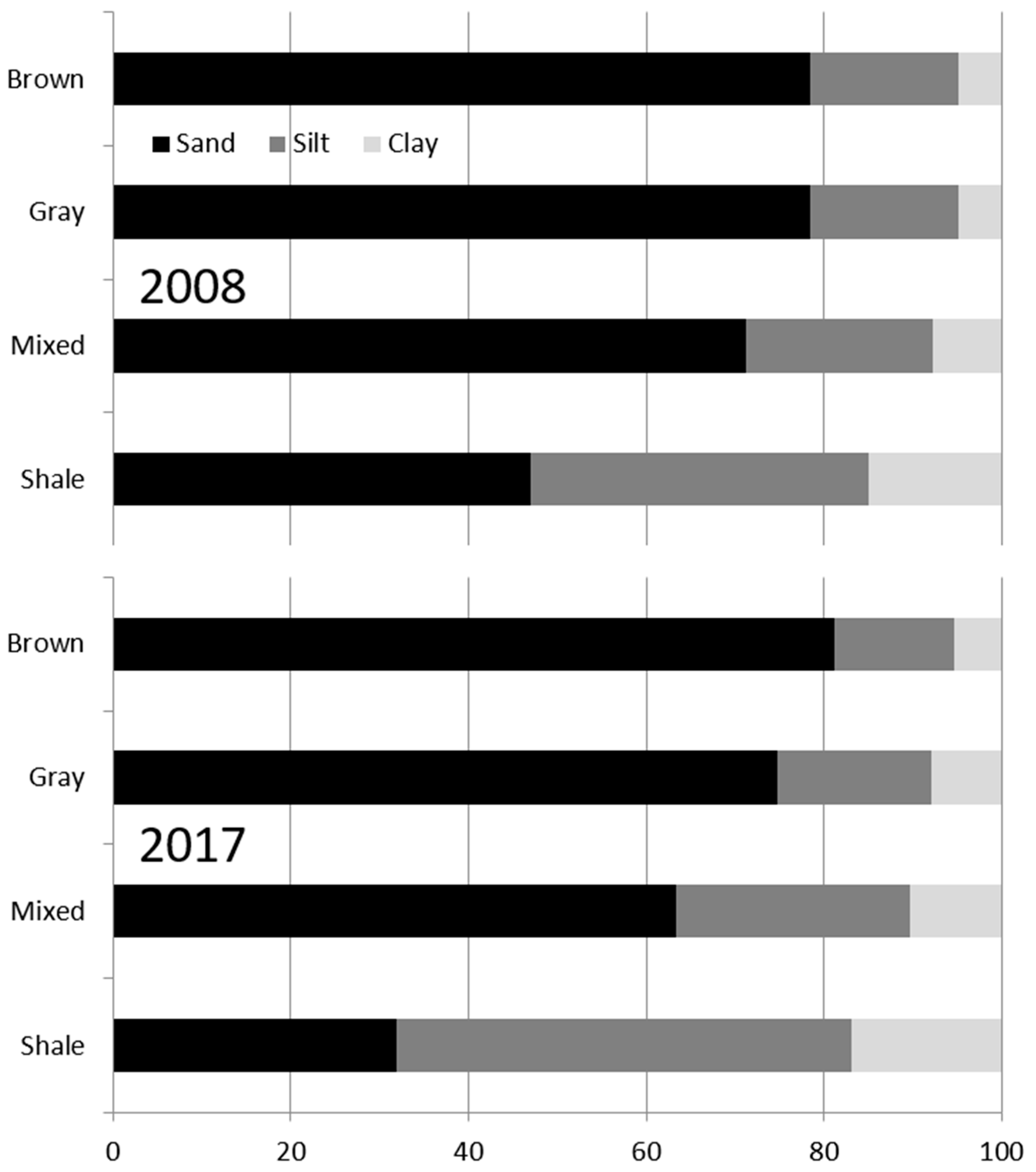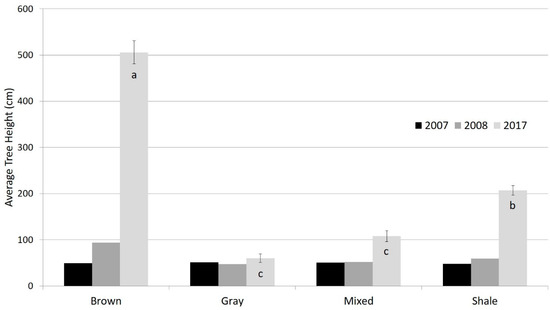 Figure 3.
Average tree height (cm) across time (2007, 2008, 2017) and spoil type (brown sandstone, gray sandstone, mixed spoils, and shale). Error bars represent ± SE. Means with different letters are significantly different (
p
< 0.05). Data from 2007–2008 from Miller et al. [
12
].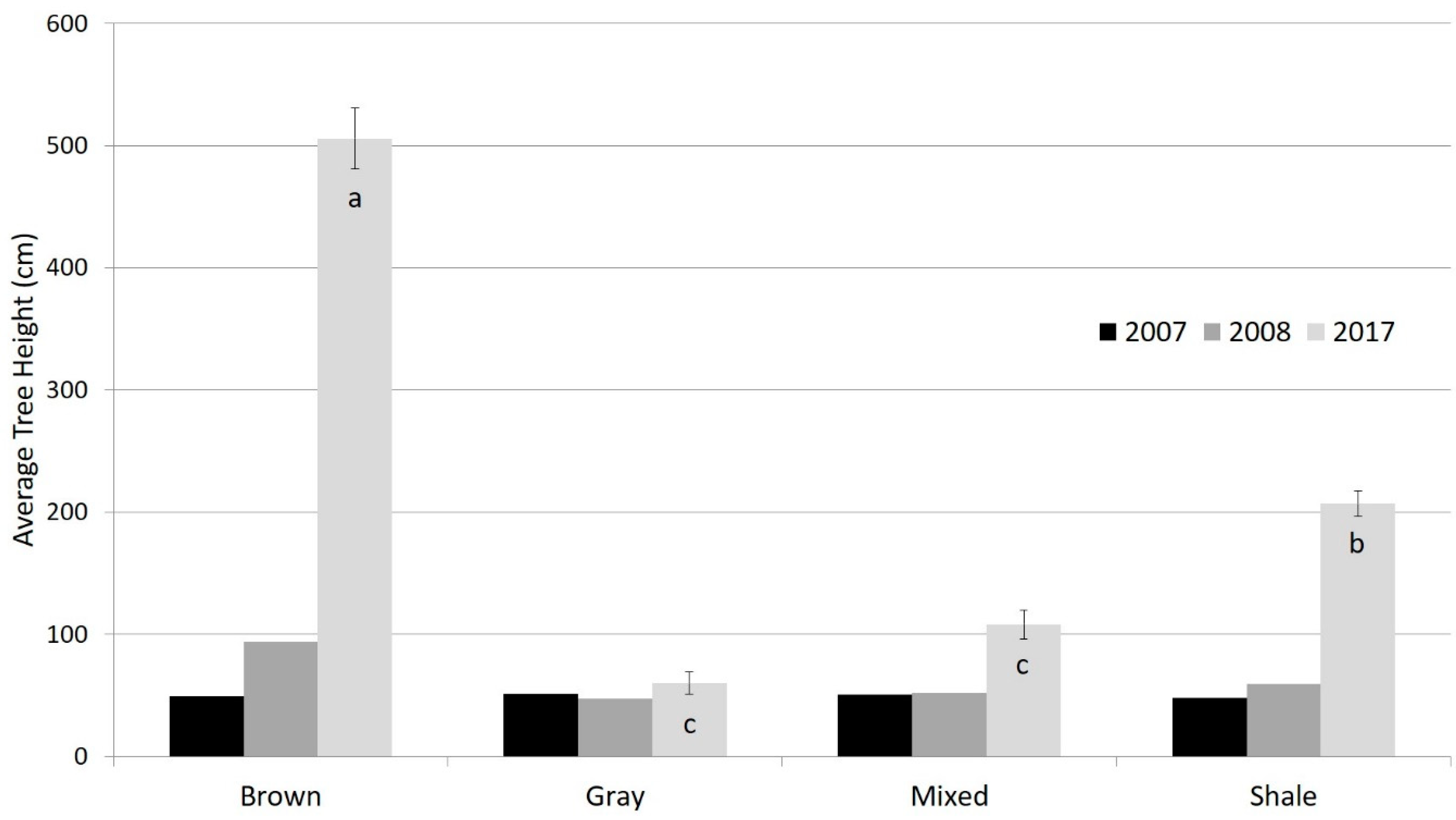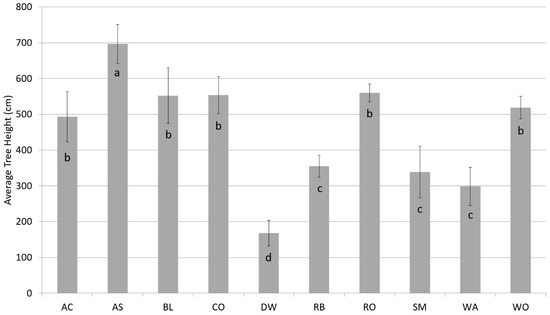 Figure 4.
Average tree height (cm) for each species across brown sandstone plots only. Error bars represent ± SE. Means with different letters are significantly different (
p
< 0.05). AC = American chestnut, AS = American sycamore, BL = black locust, CO = chestnut oak, DW = dogwood, RB = redbud, RO = northern red oak, SM = sugar maple, WA = white ash, WO = white oak.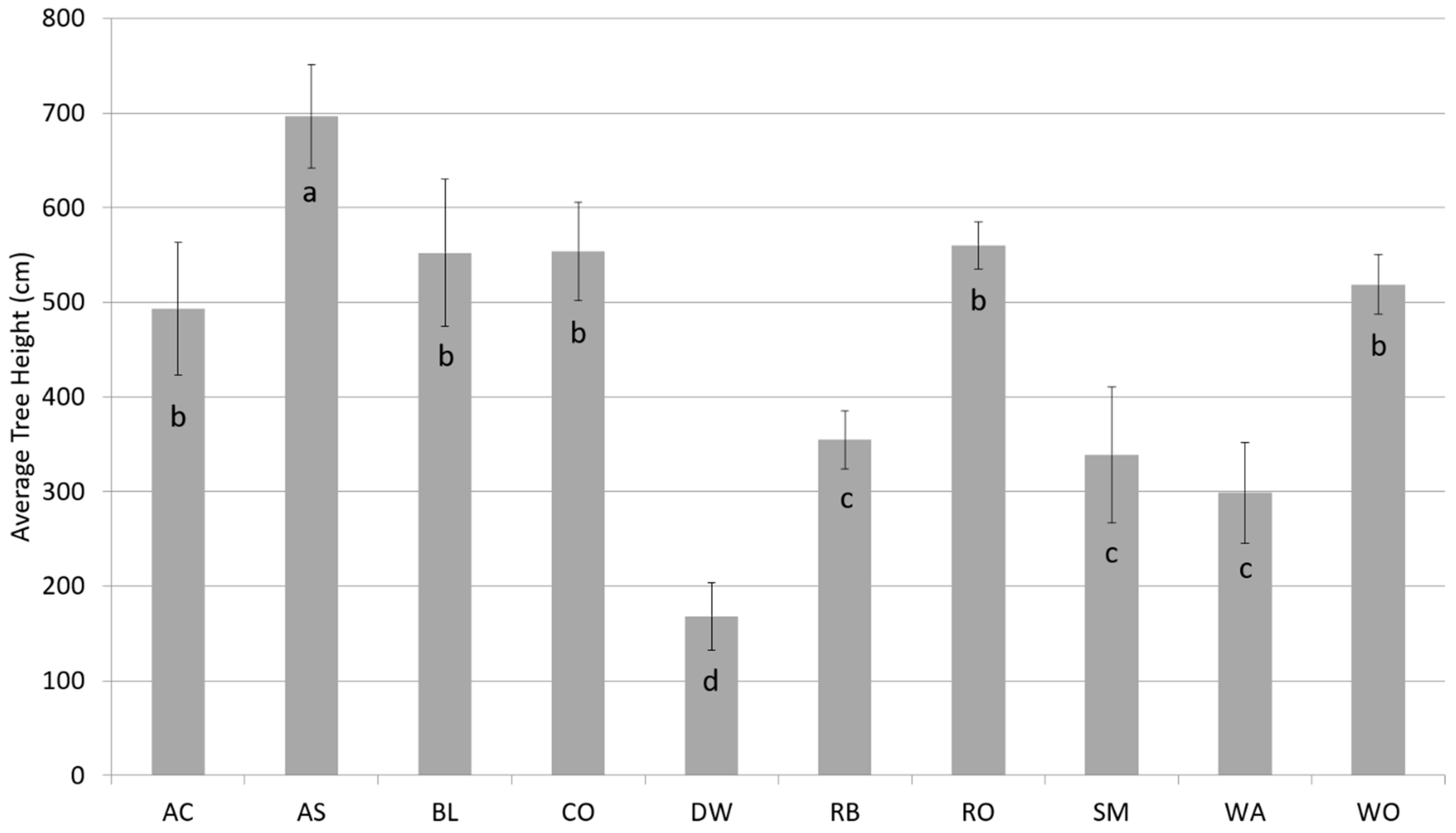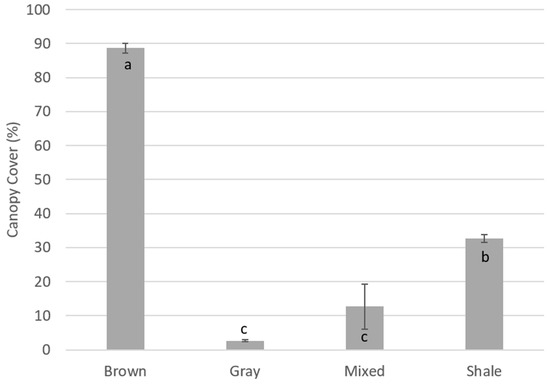 Figure 5.
Canopy cover (%) was highest on Brown, followed by Shale, Mixed, and Gray. Bars with similar letters are not significantly different from one another (
p
> 0.05).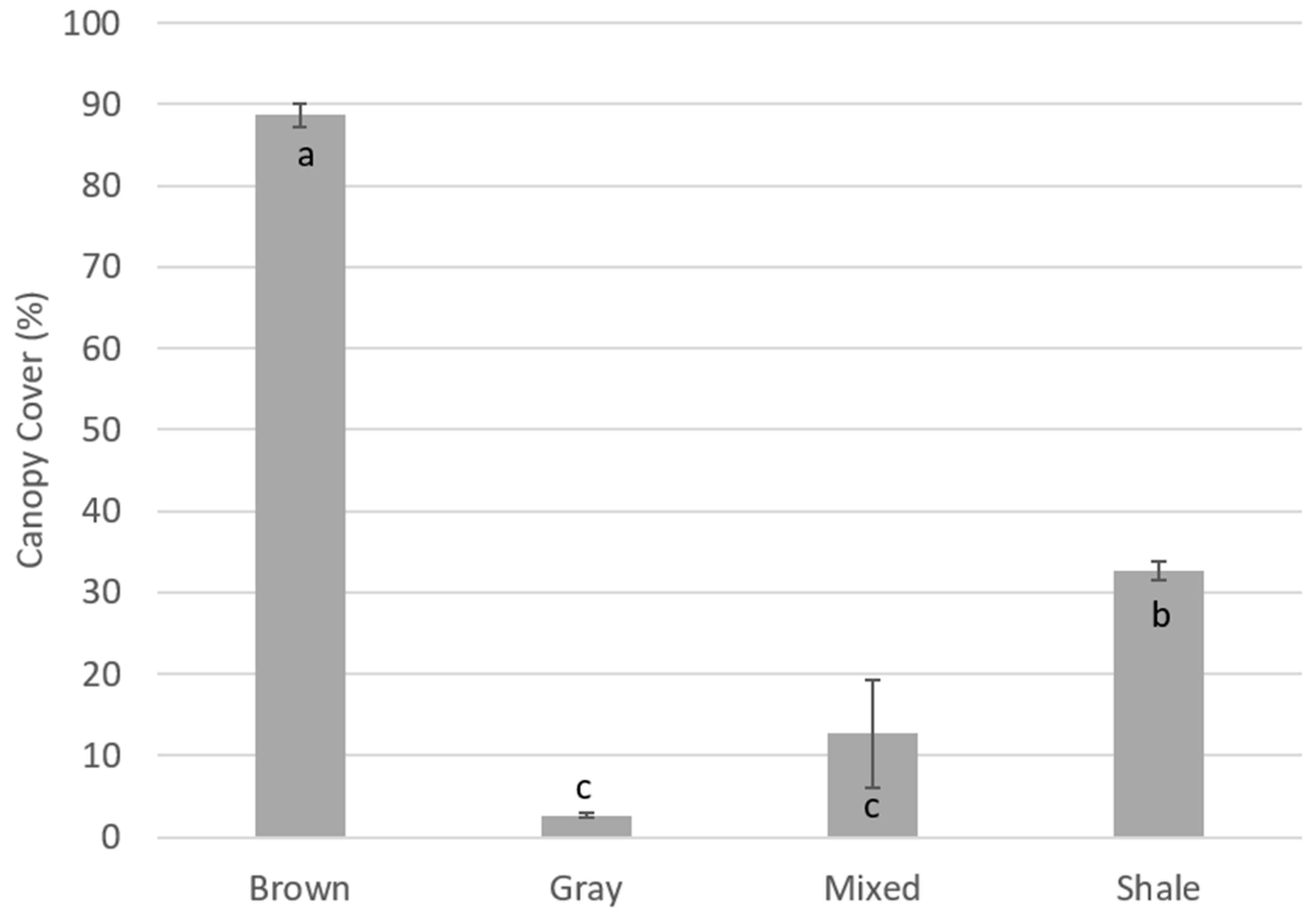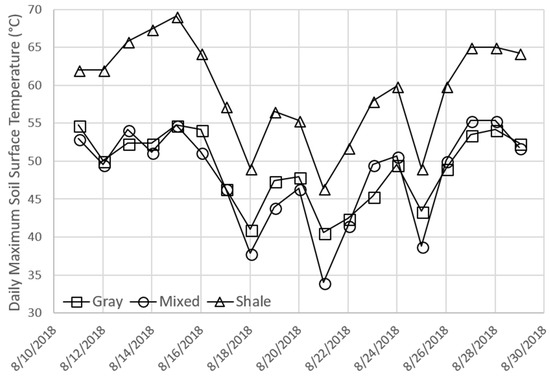 Figure 6. Daily maximum soil surface temperature, plotted for Gray, Mixed, and Shale (No data were available for Brown due to logger damage).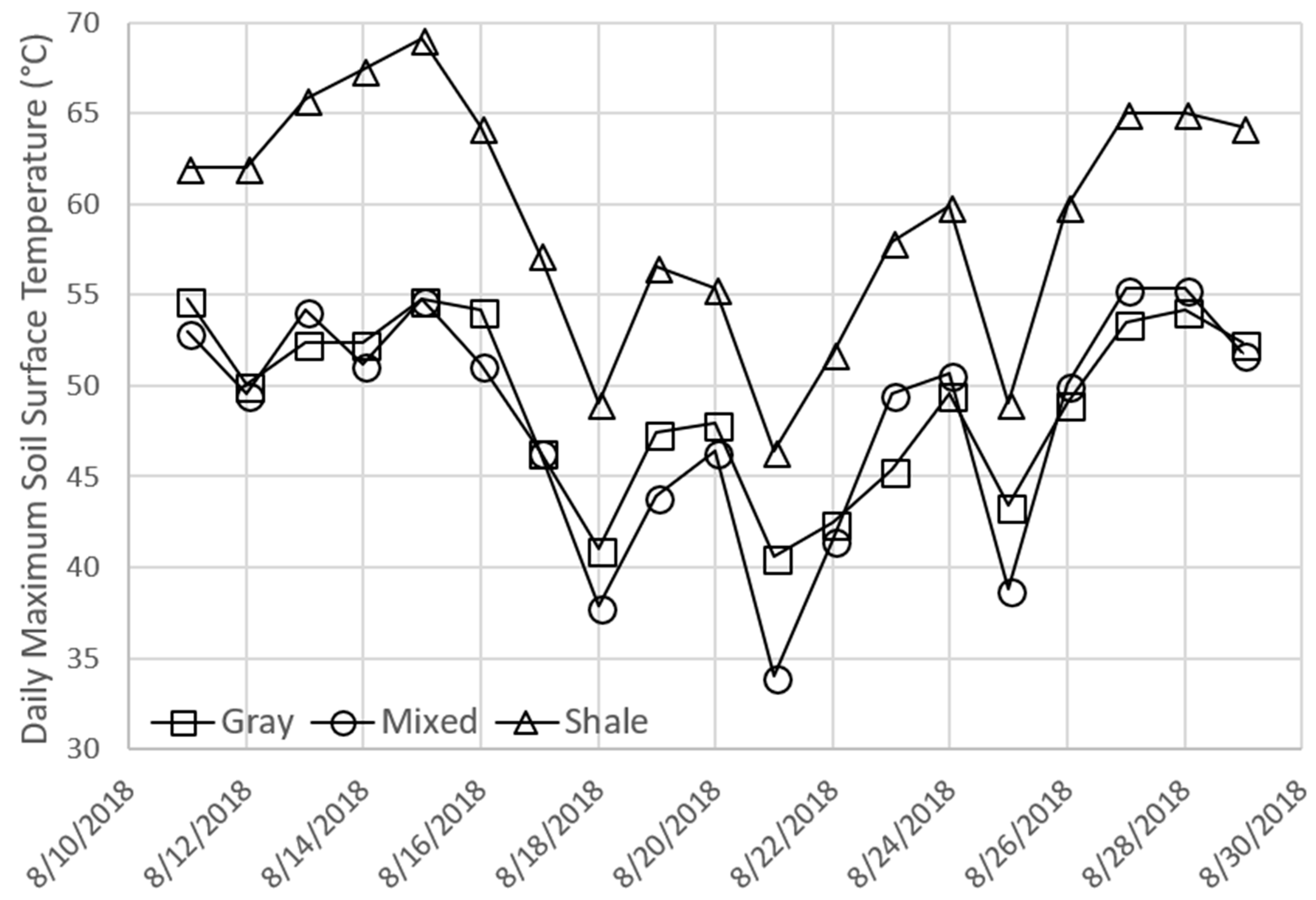 Table 1.
Mean soil data (± SE) from four spoil types, 10 years after reclamation. Means with different letters are significantly different (
p
< 0.05) from one another across spoil types.
pH
EC †
CEC ‡
BS *
Ca
Mg
K
P
Total N
Total C
Sand
Silt
Clay
s cm−1
cmol kg−1
%
mg kg−1
mg kg−1
mg kg−1
mg kg−1
%
%
%
%
%

p

-value
<0.0001
0.3136
0.0002
<0.0001
0.0081
<0.0001
<0.0001
0.0011
0.0049
0.0213
<0.0001
<0.0001
<0.0001
Brown
4.93 ± 0.19 b
0.05 ± 0.01 a
3.34 ± 0.51 b
84.6 ± 4.45 b
468.1 ± 85.1 b
146.3 ± 9.40 b
37.3 ± 4.96 b
6.42 ± 0.60 a
0.03 ± 0.01 ab
0.90 ± 0.38 b
81.3 ± 1.03 a
13.4 ± 0.61 b
5.37 ± 0.44 d
Gray
8.33 ± 0.09 a
0.06 ± 0.01 a
2.14 ± 0.39 b
340.9 ± 32.2 a
1152 ± 170.3 a
358.2 ± 24.6 a
30.6 ± 2.58 b
0.90 ± 0.10 b
0.01 ± 0.00 b
0.98 ± 0.11 ab
74.8 ± 1.54 ab
17.3 ± 0.92 b
7.89 ± 0.70 cd
Mixed
7.61 ± 0.28 a
0.08 ± 0.02 a
3.65 ± 0.60 b
233.1 ± 56.11 a
1132 ± 172.3 a
332.4 ± 36.4 a
52.2 ± 8.13 b
1.50 ± 0.26 b
0.03 ± 0.01 ab
1.54 ± 0.16 ab
63.4 ± 4.73 b
26.2 ± 3.73 b
10.4 ± 1.23 bc
Shale
5.87 ± 0.62 b
0.12 ± 0.05 a
6.50 ± 0.60 a
102.1 ± 15.7 b
758.8 ± 133.7 ab
413.8 ± 45.4 a
92.8 ± 6.44 a
4.42 ± 1.59 b
0.07 ± 0.01 a
2.06 ± 0.31 a
31.8 ± 6.90 c
51.3 ± 6.55 a
16.9 ± 0.60 a
† EC = electrical conductivity, ‡ CEC = cation exchange capacity, * BS = base saturation,

p

-values (bold if <0.05) indicate significant ANOVA.

Table 2.
Mean tree height (cm), with SE, by species and spoil type. Means with different letters are significantly different (
p
< 0.05) across species within spoil type. Bold
p
-values indicate significant ANOVA (
p
< 0.05).
Brown
Gray
Mixed
Shale

p

-values
<0.0001
0.0022
0.0716
<0.0001
American chestnut
493.1 b ± 70.0
-
26.0 a
21.0 d
American sycamore
697.0 a ± 54.8
49.2 a ± 12.8
181.4 a ± 39.7
388.2 a ± 30.5
Black locust
552.4 b ± 77.7
134.3 a ± 14.5
126.7 a ± 12.8
175.9 bd ± 11.5
Chestnut oak
554.0 b ± 51.8
10.0 a ± 2.0
95.8 a ± 40.3
296.3 ab ± 87.6
Dogwood
168.3 d ± 35.7
68.8 a ± 31.4
126.5 a ± 21.1
144.0 cd ± 27.9
Redbud
354.9 c ± 30.8
60.3 a ± 24.5
55.3 a ± 18.6
167.0 bd ± 32.0
Northern red oak
560.4 b ± 24.8
31.7 a ± 8.2
111.1 a ± 28.5
262.7 b ± 24.4
Sugar maple
338.7 c ± 71.8
-
107.5 a ± 47.5
258.0 abc ± 112.5
White ash
298.8 c ± 53.3
38.7 a ± 13.2
86.4 a ± 14.8
133.4 cd ± 19.7
White oak
518.8 b ± 31.7
28.7 a ± 11.5
119.4 a ± 35.6
229.4 bd ± 35.4

© 2018 by the authors. Licensee MDPI, Basel, Switzerland. This article is an open access article distributed under the terms and conditions of the Creative Commons Attribution (CC BY) license (http://creativecommons.org/licenses/by/4.0/).