Fungal Community and Ligninolytic Enzyme Activities in
Quercus deserticola

Trel. Litter from Forest Fragments with Increasing Levels of Disturbance

1

Escuela Nacional de Estudios Superiores Unidad Morelia, Universidad Nacional Autónoma de México (UNAM), Antigua Carretera a Pátzcuaro No. 8701, Colonia Ex Hacienda de San José de La Huerta, Morelia 58190, Michoacán, Mexico

2

Centro Multidisciplinario de Estudios en Biotecnología, Facultad de Medicina Veterinaria y Zootecnia, Universidad Michoacana de San Nicolás de Hidalgo, Km 9.5 carretera Morelia-Zinapécuaro, Col. La Palma Tarímbaro, Morelia 58893, Michoacán, Mexico

3

División de Estudios de Posgrado, Facultad de Ciencias Médicas y Biológicas "Dr. Ignacio Chávez", Universidad Michoacana de San Nicolás de Hidalgo, Ave. Rafael Carrillo esq. Dr. Salvador González Herrejón. Col. Cuauhtémoc, Morelia 58020, Michoacán, Mexico

4

Instituto de Investigaciones en Ecosistemas y Sustentabilidad, Universidad Nacional Autónoma de México (UNAM), Antigua Carretera a Pátzcuaro No. 8701, Colonia Ex Hacienda de San José de La Huerta, Morelia 58190, Michoacán, Mexico

*

Author to whom correspondence should be addressed.

Received: 3 October 2017 / Revised: 8 December 2017 / Accepted: 21 December 2017 / Published: 23 December 2017
Abstract
Litter fungal communities and their ligninolytic enzyme activities (laccase, Mn-peroxidase, and lignin-peroxidase) play a vital role in forest biogeochemical cycles by breaking down plant cell wall polymers, including recalcitrant lignin. However, litter fungal communities and ligninolytic enzyme activities have rarely been studied in Neotropical, non-coniferous forests. Here, we found no significant differences in litter ligninolytic enzyme activities from well preserved, moderately disturbed, and heavily disturbed
Quercus deserticola
Trel. forests in central Mexico. However, we did find seasonal effects on enzyme activities: during the dry season, we observed lower laccase, and increased Mn-peroxidase and lignin-peroxidase activities, and in the rainy season, Mn-peroxidase and lignin-peroxidase activities were lower, while laccase activity peaked. Fungal diversity (Shannon-Weaver and Simpson indices) based on ITS-rDNA analyses decreased with increased disturbance, and principal component analysis showed that litter fungal communities are structured differently between forest types. White-rot Polyporales and Auriculariales only occurred in the well preserved forest, and a high number of Ascomycota were shared between forests. While the degree of forest disturbance significantly affected the litter fungal community structure, the ligninolytic enzyme activities remained unaffected, suggesting functional redundancy and a possible role of generalist Ascomycota taxa in litter delignification. Forest conservation and restoration strategies must account for leaf litter and its associated fungal community.
View Full-Text
►

▼

Figures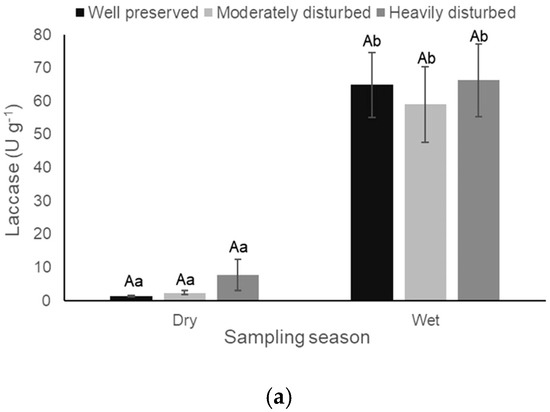 Figure 1
This is an open access article distributed under the
Creative Commons Attribution License
which permits unrestricted use, distribution, and reproduction in any medium, provided the original work is properly cited (CC BY 4.0).

Share & Cite This Article
MDPI and ACS Style
Rosales-Castillo, J.A.; Oyama, K.; Vázquez-Garcidueñas, M.S.; Aguilar-Romero, R.; García-Oliva, F.; Vázquez-Marrufo, G. Fungal Community and Ligninolytic Enzyme Activities in Quercus deserticola Trel. Litter from Forest Fragments with Increasing Levels of Disturbance. Forests 2018, 9, 11.
Note that from the first issue of 2016, MDPI journals use article numbers instead of page numbers. See further details here.
Related Articles
Comments
[Return to top]