Open Access This article is
freely available
re-usable
Article
An Analysis of Non-State and State Approaches for Forest Certification in Mexico
1
Doctorado Institucional en Ciencias Agropecuarias y Forestales, Universidad Juárez del Estado de Durango, Boulevard Guadiana 501, Fraccionamiento Ciudad Universitaria, 34120 Durango, Mexico
2
Department of Forestry and Environmental Resources, North Carolina State University, Box 8008, 3118B Jordan Hall, 2800 Faucette Blvd, Raleigh, NC 27695-8008, USA
3
Escola politécnica Superior, Universidade de Santiago de Compostela, Campus Universitario S/n, 27002 Lugo, Spain
4
Facultad de Agrícolas y Forestales, Universidad Autónoma de Chihuahua, Km. 2.5 Carretera Delicias a Rosales, Campus Delicias, Cd. Delicias, 33000 Chihuahua, Mexico
5
Facultad de Ciencias Forestales, Universidad Juárez del Estado de Durango, Río Papaloapan, Valle del Sur, 34120 Durango, Mexico
6
Instituto de Silvicultura e Industria de la Madera, Universidad Juárez del Estado de Durango, Boulevard Guadiana 501, Fraccionamiento Ciudad Universitaria, 34120 Durango, Mexico
†
These authors contributed equally to this work.

Received: 27 June 2017 / Accepted: 4 August 2017 / Published: 10 August 2017
Abstract
:
Mexico has had a non-state forest certification system under the Forest Stewardship Council (FSC) since it was initiated in 1993, and developed a new state-sponsored Mexican Forest Certification System (MFCS) that began in 2008. Several analyses have been made of FSC forest certification in Mexico, but none have summarized the new MFCS system or compared its standards with FSC. We compare the implementation of the non-state FSC market forest certification with the state-sponsored MFCS system in Mexico, and review literature on forest certification, focusing on all studies in Mexico. MFCS has had substantial enrollment of more than 902,802 ha by 2016, compared to 900,388 ha for the more-established FSC program. MFCS can be acceptable for stand-alone forest certification, and might be viewed as a stepwise path to FSC certification. The merits of both systems are analyzed in terms of standard content, likely sustainable forestry practices, access to markets, and community forestry enterprises.
Keywords:
state and non-state forest certification systems; FSC; MFCS; NMX-143
1. Introduction
Public concern for the environment has grown remarkably during the last few decades, both in developed and developing countries and, as a result, environmental issues are beginning to take more of a center stage in global economic and trade policies [
1
]. Forest certification is a relatively new policy instrument that was introduced a couple of decades ago in order to improve environmental, social, and economic sustainability of forests. Mexico was among the first countries to adopt Forest Stewardship Council (FSC) certification in 1993, and indeed was the world headquarters for FSC from 1993 to 2003, but has seen some decline in enrollment in FSC recently. A new state forest certification program, the Mexican Forest Certification System (MFCS) was developed in 2008 in the country, and has achieved moderate enrollment levels as well. These two systems—a market-based FSC system [
2
] and the state-sponsored MFCS system [
3
]—provide an excellent opportunity to compare the merits and effectiveness of the two policy approaches.
Various authors have analyzed the policy frameworks for forest certification and its governance authority under non-state market systems [
4
,
5
,
6
,
7
], or as part of broader state, non-state, and co-regulatory certification systems [
8
]. The differences in co-regulation also may relate to the differences in the standards and enforcement of such policies, ranging from "hard law" sets of norms and rules generated by non-state internationally accepted forest certification systems (e.g., FSC), to "soft law" sets of voluntary environmental programs (VEPs) promulgated by industries who want to ensure sustainability and receive marketing and sales benefits (e.g., U.S. American Tree Farm System). This mix of government and market-driven certification systems has provided new mechanisms to encourage, measure, and monitor forest sustainability.
However, despite many advances in forest certification, increasing its reach and impact remains challenging. The substantial effort and cost to prepare for certification with 50 to 100 indicators or more, and extensive audits, is a barrier for organizations with less capacity and funds, either due to size or limited incomes. FSC developed a Small and Low Intensity Managed Forests (SLIMF) program to address this issue, which had a somewhat reduced set of criteria and indicators with which to measure forest certification. Some observers have suggested a reduced set of indicators for new and beginning forest enterprises. Others have focused on just implementing reduced impact logging (RIL) as a core principle for partial certification (e.g., Tropical Forest Foundation). All of these are intended either to substitute for a full and rigorous certification scheme, such as FSC, or to provide a "step-wise" approach to move uncertified firms up the path to full forest certification.
Another approach that addresses these proposals for simpler sets of certification indicators is to have government or industry develop reduced sets of indicators, and then largely pay for the costs of the certification for small- or low-capacity forestry land owners. Although not a government program, the U.S. American Tree Farm System has a simple set of 23 indicators that are then inspected only periodically by volunteers—either forest consultants, forest industry foresters, or state foresters. Government also could provide such services, and indeed Mexico started its MFCS system largely to provide a simpler set of forest certification indicators and attract new forest landowners to forest certification.
In this paper, we examine how FSC and MFCS have evolved and been implemented in Mexico, and their relative effectiveness at achieving the overall goals of measuring, monitoring, and enhancing sustainable forest management. FSC is widely accepted as providing the highest level of external market recognition for forest certification, but has been stable at best in Mexico. MFCS may provide an alternative that can achieve a large part of the same sustainability goals, at a lesser cost and effort, although its effectiveness has not been assessed. As one response, our research provides an instructive case study of examining the relevant merits of FSC as a non-state market driven system (NSMD) and MFCS as a state-sponsored government system to see how they compare in meeting environmental, social, and economic standards.
In comparing FSC and MFCS in Mexico, we posed several qualitative hypotheses for the research:
(1)

Does the NSMD certification provided by FSC improve forest management practices in Mexico?

(2)

Can the MFCS and market access for community forest enterprise processes achieve similar or sufficient sustainable forest management practices and community benefits?

(3)

Does the MFCS help move forest landowners toward full FSC forest certification?

(4)

Can the government and MFCS improve their delivery of the system?
We analyze this set of questions by (1) performing a literature review of global forest certification; (2) analyzing data on forest certification in Mexico; (3) assessing the likely Sustainable Forest Management (SFM) and community impacts by comparison of the standard requirements of the two systems in terms of content, rigor, and implementation in Mexico; and (4) developing a model to examine the merits of NSMD versus state forest certification efforts.
2. Material and Methods
2.1. Conceptual Model
The conceptual model, coupled with detailed program enrollment data and analysis of the principles and indicators for the two systems, also provides a means to evaluate the effectiveness of forest certification based on a theoretical analysis and actual content of the two forest certification systems. The principles, indicators, and verifiers provide clear measures of the coverage and complexity of the two systems, and the enrollment data by system provides empirical evidence about the adoption of the systems under these different co-regulatory approaches.
These different approaches also have implications about delivery of forest certification as a policy instrument. FSC has established a global reputation for excellence and widespread market recognition and adoption as the highest level of a certification standard. The alternative Programme for the Endorsement of Forest Certification (PEFC) also has achieved global recognition and actually has more area certified now than FSC. These FSC and PEFC systems are all largely NSMD systems, although some of the PEFC systems began as government programs or were strongly advised and facilitated by the national governments in their standards establishment.
Given this conceptual model, we analyze the differences and relative merits of FSC and MFCS in Mexico using an empirical examination of the respective program objectives, standards, principles, indicators, verifiers, and extent. We examine the tradeoffs of rigor, global recognition, community practicality, and sustainable forestry impacts as criteria for evaluating the systems. We compare our Mexican findings with the literature from other countries, and make conclusions about the MFCS as a unique policy instrument in Mexico.
2.2. Data and Literature
This study was informed by a systematic data collection effort and literature review, which provided the quantitative basis and a rich qualitative context for the subsequent comparison of FSC and MFCS. We collected data on FSC and MFCS from the program web sites and personal contacts with representatives from their organizations. FSC provided data that was classified by state and type of certificate. The National Forestry Commission (CONAFOR) provided data of MFCS certification which was classified by state. For FSC, information was downloaded directly from the website, and for MFCS, information was received through email. Databases were assembled in Excel for better analysis and summary statistics.
Data on Mexican forests and community forests also came from CONAFOR and other literature. Standard bibliographic research was used, as well as literature search tools for referenced and popular articles. These included Google Scholar, data bases of Ebsco Host, Elsevier, Scopus, ACSESS DL and data bases from the National Resource Consortium for Scientific and Technological Information (CONRICYT). Searches were carried out using the virtual library of the Juarez University of Durango State (UJED).
We reviewed forest certification in Mexico via a literature search, collecting secondary and primary data about the systems from the program web sites and government officials, and from available refereed and grey literature. The review methodology included a keyword search by using the standard Google web browser (keywords used: "Forest Certification AND Mexico", "Forest Stewardship Council" OR "Forest Stewardship Council AND Forest Certification"; "Norma Mexicana NMX-AA-143-SCFI-2008"; "Comparison of Forest Certification"; "Communal forest* AND sustainable* OR comparisons AND stewardship", "Sustainable Forest Management AND Monitoring"), and a search of authors who have written on the topic of Forest certification or legal aspects of forest management in Mexico.
Expert advice was also used to identify primary references on the topic and the names of researchers working in the area. The sources were peer-reviewed publications including books and articles published in scientific journals, and "grey" literature, including on-line reports and popular articles that have not been reviewed by independent peers. The references in the original sources were checked for related information, and "related article" searches were also included in the data collection. Overall, more than 112 sources were identified. The search included both publications in English and Spanish. Grey literature was considered credible and was included in our paper if it was recommended by an expert or was referenced in another publication, and if it compared two or more certification systems.
3. Results
3.1. Evolution and Current State of Knowledge of Global Forest Certification
After FSC, ejidos, communities and government institutions such as CONAFOR, SEMARNAT and PROFEPA felt there was a need for a simple Mexican forest certification program. They cooperated to develop the MFCS standard. The Mexican Council of Forest Certification was published in September 2008 and composed by national organizations of forest producers and industrial chambers grouped in the forest business council, which aims to promote sustainable forest management and consumption of forest products from legal and certified sources.
The Mexican certification system was created as a unified strategy that incorporates the existing forest certification instruments in a single institutional policy to promote good forest management in Mexico. It was promoted by the institutions responsible for the national forest development (CONAFOR and SEMARNAT).
The generic standard of the Mexican Official Standard: NMX-AA-143-SCFI-2008 has a twofold objective: (i) technical: to assess the forest management, ensuring compliance with the economic, social functions and ecological forestry; and (ii) commercial: improved market access and distribution of products from certified forests. The system was developed by the Mexican Accreditation Entity (EMA) which in turn authorizes the Association for Standardization and Certification (ANCE) as the certification body. In November 2011 the first forest company property Sánchez Monroy y CIA, S de RL de CV was certified, in the state of Jalisco, through the Mexican system.
3.2. Forest Area Certified in Mexico
3.3. Comparison of the Implementation of the Two Certification Systems in Mexico
Key differences between the two systems are the number of criteria and indicators. FSC has 55 criteria supporting its ten principles, while MFCS has 46. There is also a considerable difference among the certification systems in the amount of indicators supporting the criteria; FSC had 160 versus 135 in MFCS. And unlike the MFCS, the FSC uses also the term 'verifier' which should provide specific details that would indicate or reflect a desired condition of the indicators. FSC has 405 verifiers while MFCS does not use verifiers.
Unlike the FSC, the MFCS does not have the principles about indigenous peoples' rights, maintenance of high conservation value forests, and plantations. This means that the nine principles of the MFCS are equally applicable to indigenous and non-indigenous people, forests containing or not high conservation values, and to native forests and plantations, but do not have any specific indicators that assess these components of SFM. Social criteria of tenure rights and community relations each have similar principles in FSC and MFCS. Multiple benefits from the forest and environmental impact also have analogs in each system, as does monitoring and assessment. Almost all the MFCS indicators have some linkage to the FSC indicators, although they are scattered among different FSC principles.
Examining the individual indicators, FSC has more indicators (>10) that address environmental impacts (42), plantations (24), multiple benefits from the forest (20), compliance with laws and FSC principles (15), monitoring and assessment (14), management plans (14), and community relations and workers' rights (12). MFCS has the most indicators (>10) related to preventing adverse effects from logging (41), adequate working conditions for workers (20), commitment to conservation of the forest ecosystem (15), monitoring and evaluation (15), and verification of volume and legal origin (15). The two systems are roughly equal in the number of their indicators (<10) that cover other components, such as forest land legality, tenure, and indigenous rights; high conservation value forests; monitoring and assessment; and respect and cooperation with local communities.
3.4. Conceptual Model to Examine the Merits of NSMD-FSC System Versus MFCS Efforts
Recall that we proposed a two-factor, four-cell conceptual model to delineate the differences between non-state and state forest certification systems into quadrants based on rigor and costs. This model and the data on principles and indicators and adoption assessed the merits of FSC and MFCS in Mexico. The model is relatively straightforward, and presages how one would think the two systems differ, with FSC being more rigorous and expensive than MFCS. This detailed analysis does, however, provide considerably more insight into why these outcomes in fact do occur, and their degree of importance. Initially, it suggests that the NSMD system [
8
] as applied in Mexico is more appropriate for larger and more savvy FMOs, while the MFCS, a government-sponsored program [
4
], is more apt to facilitate entry and participation of small owners.
Many policy-makers and market actors are engaged in developing and implementing innovative interventions that aim to increase the sustainability of commodity production to enhance environmental, economic or social outcomes [
32
,
33
]. In general, differences in the co-regulatory structures of certification schemes, and differences in the scale of standard-setting, reflect differences in the framing of citizens and subjects of equity. In the case of the FSC, the focus is on empowering non-producers to influence forest management through a hierarchy of global and regional standards with prescriptive requirements that aim to prevent industry practices from harming the environment, indigenous people's rights, and to a lesser degree workers and local communities. This approach affords producers more influence over management priorities and helps reduce the cost of certification, particularly for small-scale operators who lack economies of scale [
6
].
4. Discussion
4.1. Program Components in Mexico
In theory forest certification should generate better economic returns since it provides access to new markets. It should ensure that the costs generated by the better forest management operations are covered by a better price of certified products [
34
]. The case of Mexico is especially interesting since 70 percent of the forest area of the country is communal social property (owned by ejidos and comunidades) [
17
]. Global statistics on the type of ownership of land certified by FSC show that 50 percent is private, 47 percent public and only 3 percent is communal. The prominent role of Mexico in the community forestry is evident, and when analyzing the geographical distribution of certified community forests, Mexico stands as the leading country with 35 percent of the total area worldwide [
25
].
The Standard of the MFCS (NMX-AA-143-SCFI-2008) was adopted after the international certification FSC, and its requirements are aligned to the FSC. However, it is important to mention that the MFCS considers already the modifications derived from a review process of the Principles and Criteria (P&C Version 5) of FSC performed in 2012. The biggest changes were the modification of Principle 10, formerly dedicated to plantations (whose indicators are now spread over the rest of principles) and now to the implementation of management activities, and expanding the concept of Forests with High Conservation Value (Principle 9) for the most generic and broad of High Conservation Values. Furthermore, FSC also developed a set of International Generic Indicators (IGIs), in order to help forest managers, stakeholders and certification bodies interpret the new P&C for a specific region. Eventually, the FSC Standards in each country must be transferred to the FSC P&C Version 5 (P&C V5), but they will not apply to Mexico until a few more years.
The comparison between FSC and MFCS performed in this paper showed several differences between the two systems, which may affect the impact of forest certification in Mexico. While the number of principles is slightly different, their coverage and the indicators in each of those does not align directly between the FSC and MFCS system, and FSC has slightly more indicators, as well as a unique large set of verifiers. MFCS delegates more authority to CFE (Community Forest Enterprises). The verifiers would seem to ensure more rigor and a more thorough uniform audit process among different properties and certification bodies. However, for small or less-organized properties and owners, the many verifiers may seem too rigorous and difficult, and could represent a barrier to participate in the process. Furthermore extensive detail may provide many opportunities for the certification body to think about small details that could trigger non-conformances or corrective actions. However, this perceived flexibility with MFCS standards does not guarantee that forest properties with national certification meet the rigorous FSC forest management requirements, so MFCS is apt to appeal less for international certification. Since the MFCS standard was adjusted to the conditions of Mexican forests, it should consider very specific characteristics of national forest management such as the interaction with indigenous communities and conditions of Mexican forests. In comparison, since there are mostly communal properties, FSC pursues this through more thorough universal FSC indicators that address environmental impacts, multiple benefits from the forests, and compliance with laws and FSC principles.
In Durango, MFCS has 37 more certified properties than FSC, but FSC has more certified forest area (396,662.8 ha.). This finding indicates that smallholdings in Mexico are opting for the national forest certification, while the community forests prefer the international scheme. This appears to confirm early concerns about the limited ability of small forests to achieve certified forest management in the global South [
35
,
36
,
37
]. This finding also confirms Guthman's [
38
] observation, who reported that incentive-based and voluntary regulation can fail to motivate environmental improvement when competition and the dynamics of land rents combine to dissipate organic price premiums [
39
]. In this sense the MFCS should focus its efforts on the properties of low intensity because the certification of small forest operations still remains a challenge. In 2009 Mexico recorded only 3 FSC forest certification operations of this type [
40
], and currently there are 27 certificates [
30
]. To continue to encourage community forests and operations of small or low-intensity forests, the FSC has developed a number of special considerations with the purpose of making forest certification more accessible for small forest owners, however it seems that most FMOs in Mexico are too large for this forest certification scheme.
4.2. Program Effectiveness
Global demand for wood from responsibly managed forest has increased. Since 2007 the Mexican government has required wood originating from certified forestry operations. The General Procurement Law was amended then to give preference to producers to ensure sustainable use of forest in buying wood, furniture and office supplies. This represents an opportunity for forests and forest industry in Mexico, given this position of the authorities, since local buyers would have first preference. In addition, major Mexican production companies have also committed to certification and now buy and consume a very large volume of certified wood and forest products. Some examples are Maderas Oriente, Artes Gráficas Panorama, Pochteca Papel, Dixon and Stanley.
Demand for certified wood is growing, however in Mexico price premiums have not materialized yet. Thus, current local eco-sensitive markets do not appear to be sufficient to promote forest certification in the country. In many industrialized countries, effective enforcement of forestry regulations leads to a small gap between actual forestry practices and certification standards. Consequently, there are small opportunity costs to conforming to certification standards. In contrast, poor environmental law enforcement in most developing countries—the original impetus for NSMD forest certification—arguably creates a formidable hurdle for certification that requires full compliance with relatively rigorous laws on paper.
4.3. Differences in the Conceptual Model
In relation to the MFCS, according to the provisions of the Federal Law on Metrology and Standardization, in order to allow Mexican Standards (NMX) and Mexican Official Standards (NOM) to be reviewed and updated every five years, the process was completed and Mexico has a new version of the Mexican Standard MNX-AA-143-SCFI-2015, or Mexican Standard for Sustainable Forest Certification, which will allow the recognition by the international organization "Program for the Recognition of Forest Certification Systems" (PEFC).
To date MFCS is only recognized in Mexico, and especially by the government. MFCS lacks a chain custody certificate, which impedes recognition and acceptance in key green markets such as Europe and Japan. However, international standards and laws, such as FLEG-T and the U.S. Lacey Act, can help ensure originality and legality. In Mexico, sale invoices of the material coming from forest harvesting may be a sufficient legal guarantee for the national and local markets, which may be the focus of MFCS.
5. Conclusions
The merits of FSC versus MFCS in Mexico depend on the case of application, costs, market acceptance, and effectiveness in achieving SFM objectives. FSC aims are higher and more difficult to achieve. MFCS provides more attainable standards, but our analysis indicates that it has significant rigor and large proportion of indicators similar to FSC. For improving SFM on small forest properties, MFCS may well be sufficient. It also may begin as a path to more comprehensive FSC certification future for ejidos and comunidades. They could try MFSC and see if the organizational processes and field implementation were manageable, and then seek more rigor and costs with FSC to help enter international timber markets. In contrast, some FSC properties may revert to MFCS as a more accessible standard, rather than drop out of certification completely.
FSC will surely provide the strongest seal for all international markets. MFCS may be sufficient for Mexican markets as noted. FLEG-T, LITES, RIL and other international agreements also may provide legal assurance for international markets when coupled with MFCS. The systems are likely to remain relatively different, and MFCS will need to examine its level of rigor versus practicality as it competes with FSC and tries to gain more market recognition. Conversely, in order to expand in Mexico, FSC will need to find means to be more accessible to small landowners, with less complexity. Our analysis here can help the systems consider their relative merits and prospective revisions in the future.
FSC is the accepted international standard in Mexico, but may be hampered by excessive standards and costs, and most applicable to large FMOs with considerable organizational capacity. Many FMOs sometimes find it difficult to meet the FSC standard because of, among other things, their weak administrative and business skills, low access to markets and information on these, and inadequate organization schemes. Thus, ejidos and comunidades in Mexico find FSC forest certification demanding in the short term, unless they receive some short-term to intermediate government incentive or market benefit to justify the costs. MFCS offers a less intensive but still relatively rigorous and credible alternative to FSC. It may be particularly appropriate for small forests and for domestic markets.
MFCS, eight years after its creation, also could include more to pave the way for those properties that aspire to an international certification, and create a chain of custody certificate by MFCS as a development tool for the forestry industry. However, our analysis suggests that there still is a relatively large gap between the rigor and widespread international acceptance of FSC and the credible but largely Mexican-oriented MFCS.
Acknowledgments
The first author expresses thanks to CONACYT for her doctoral-awarded scholarship (Grant 362184).
Author Contributions
Emily García-Montiel, Concepción Lujan-Álvarez and Eusebio Montiel-Antuna conceived, designed and performed the experiments and wrote the manuscript. Frederick Cubbage, Alberto Rojo-Alboreca and José Javier Corral-Rivas analyzed the data and revised the manuscript.
Conflicts of Interest
The authors declare no conflict of interest.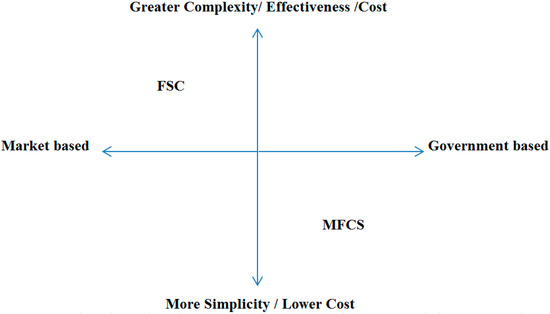 Figure 1. Conceptual Model of Forestry Certification Characteristics (FSC = Forest Stewardship Council Certification System, MFCS = Mexican Forest Certification System).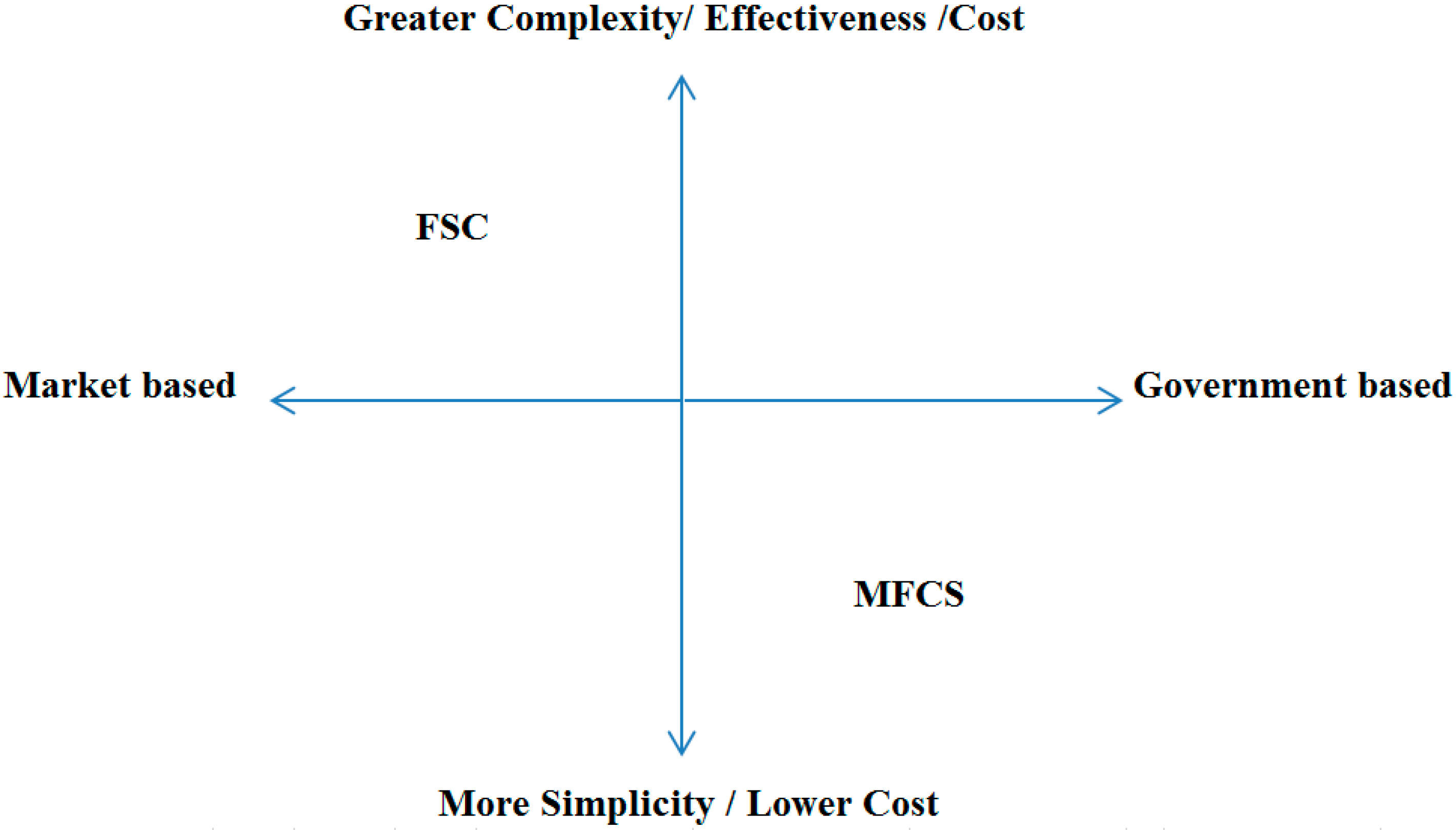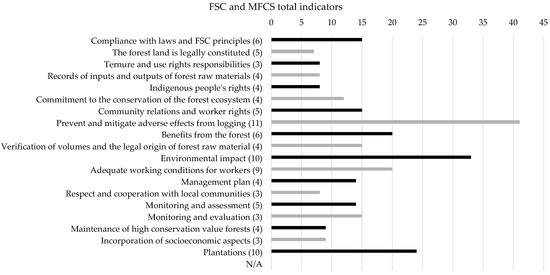 Figure 2.
Certification assessment requirements by FSC and MFCS. Interpretation: FSC principle 1: "Compliance with Laws and FSC Principles" is supported by 6 criteria (number given in parentheses). This principle has 15 requirements that forest managers in Mexico will be assessed (black bar), while principle 1 of MFCS: "The forest land is legally constituted" is supported by 5 criteria (number given in parentheses) and will be assessed with 7 indicators (grey bar). Source: based on data from [
26
,
30
].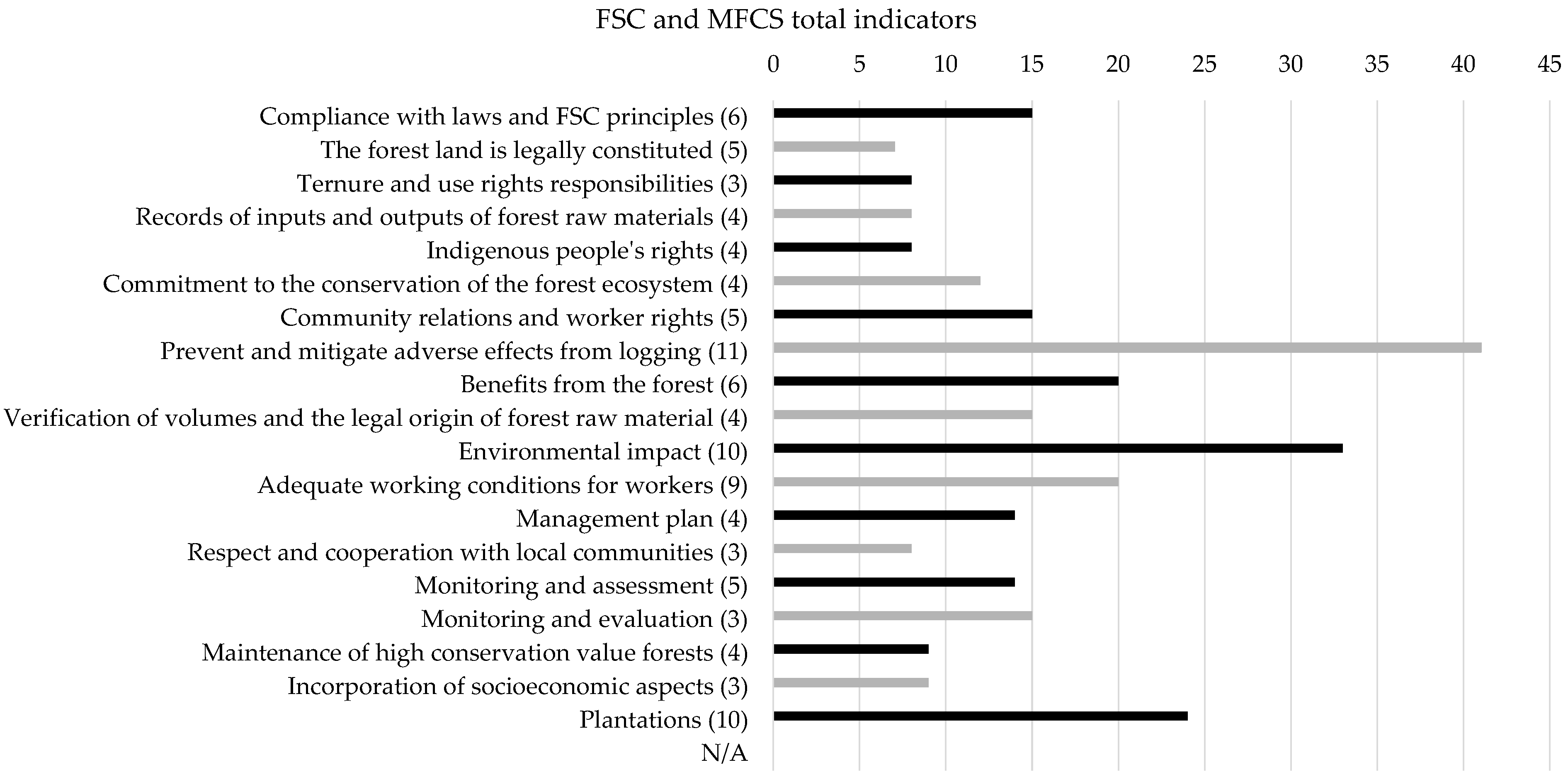 Table 1. Number of companies with forest management certifications in Mexico under FSC and MFCS Schemes, 2016.
State
FSC Standard
MFCS
FMOs (no.)
Area (ha)
Percent
FMOs (no.)
Area (ha)
Percent
Durango
22
396,662.8
44
59
392,700.9
43
Chihuahua
3
297,028
33
28
408,135.4
45
Oaxaca
4
74,752.3
8
5
34,212.4
4
Jalisco
3
9501.0
1
5
18,659.2
2
Guanajuato
1
2120.7
0
7
16,203.6
2
Puebla
20
15,741.2
2
16
10,893.2
1
Estado de Mexico
4
3366.0
0
6
7766.0
1
Hidalgo
2
932.3
0.1
19
12,289.8
1
Michoacán
2
12,655.1
1
2
1341.2
0
Quintana Roo
2
46,022.5
5
0
0.0
0
Veracruz
1
3273.0
0
0
0.0
0
Chiapas
2
2951.9
0
0
0.0
0
Campeche
1
25,000.0
3
0
0.0
0
Veracruz y Tabasco
1
10,380.0
1
0
0.0
0
Tlaxcala
0
0.0
0
1
600.3
0
TOTAL
68
900,389
100
148
902,802
100
Certification Systems
FSC
MFCS
Year established
1993
2008
Primary scope
Worldwide;
All forest ownership types in Mexico
All forest ownership types
Fee
Yes
Yes
System is performance based
Yes
Yes
Basis for participation
Voluntary
Voluntary
Issues covered by standard
Environmental, silviculture, economic and social
Environmental, silviculture, economic and social
Eco-label implemented
Yes
Yes
Number of principles of forest management
10
9
Number of criteria to support the principles
56
46
Number of indicators to support the criteria
160
135
Number of specific verifiers to assess the criteria
405
None
Documentary review of forest management plans
Yes
Yes
Inspection of field practices and conditions
Yes
Yes
Agency acting as Third Party Audits
Rainforest Alliance
Asociación de Normalización y Certificación ANCE
Types of certificates granted
Forest Management
Forest Management
Chain of custody
Controlled wood
Certified hectares in Mexico
900,388
902,802
FSC Principle
Main Indicator Linkages to MFCS
MFCS Principle
Main Indicator Linkages to FSC

1.

Compliance with laws and principles of FSC: (Criteria: 6, indicators: 15, verifiers: 40)

With 1, 2, 3, 4, 5 and 6

1.

The forest land is legally constituted: (Criteria: 5, indicators: 7)

With 1, 2, 3, 4, 5, 6 and 7

2.

Tenure and use rights and responsibilities: (Criteria: 3, indicators: 8, verifiers: 20)

With 1 and 3

2.

The forest property has records of inpunts and outputs of forest raw materials: (Criteria: 4, indicators: 8)

With 1, 2, 7 and 9

3.

Indigenous peoples' rights: (Criteria: 4, indicators: 8, verifiers: 25)

None

3.

The forest estate shows a commitment to the conservation of the forest ecosystem and maintains compliance with regulations in force: (Criteria: 4, indicators: 12)

With 1, 6, 7 and 9

4.

Community Relations and Worker Rights: (Criteria: 5, indicators: 15, verifiers: 47)

With 6 and 7

4.

Forest land observes the regulations and takes action to prevent and mitigate adverse effects from logging: (Criteria: 11, indicators: 41)

With 6, 7 and 9

5.

Benefits from the forest: (Criteria: 6, indicators: 20, verifiers: 61)

With 2, 3, 6 and 9

5.

The forest keeps records and applies procedures to ensure the verification of volumes and the legal origin of forest raw material: (Criteria: 4, indicators: 15)

With 1, 4, 5 and 9

6.

Environmental Impact: (Criteria: 10, indicators: 33, verifiers: 94)

With 4 and 8

6.

The Company or Forest land provides adequate working conditions for workers: (Criteria: 9, indicators: 20)

With 1, 3, 4, 5, 6, 7 and 8

7.

Management Plan: (Criteria: 4, indicators: 14, verifiers: 26)

With 3, 4, 8 and 9

7.

Forest land maintains relations of respect and cooperation with local communities within, or adjacent to land under forest management: (Criteria: 3, indicators: 8)

With 1, 2, 3, 4, 5 and 6

8.

Monitoring and Assessment: (Criteria: 5, indicators: 14, verifiers: 25)

With 8

8.

Forest land has established a procedure for monitoring and evaluation of impacts to vegetation, wildlife , water quality and soil: (Criteria: 3, indicators: 16)

With 1, 2, 4 and 8

9.

Maintenance of high conservation value forests: (Criteria: 4, indicators: 9, verifiers: 18)

None

9.

Forest land incorporates socioeconomic aspects that contribute to sustainable management of forest resources: (Criteria: 3, indicators: 9)

With 1, 3, 7 and 8

10.

Plantations: (Criteria: 9, indicators: 24, verifiers: 49)

With 3, 4 and 8
Not applicable
Interpretation: principle 1 of FSC relates with 6 principles of the MFCS (1, 2, 3, 4, 5 and 6), while principle 1 of MFCS relates with 7 principles of the FSC (1, 2, 3, 4, 5, 6 and 7).

© 2017 by the authors. Licensee MDPI, Basel, Switzerland. This article is an open access article distributed under the terms and conditions of the Creative Commons Attribution (CC BY) license (http://creativecommons.org/licenses/by/4.0/).