Impacts of Global Change on Mediterranean Forests and Their Services
1
CSIC, Consejo Superior de Investigaciones Científicas, Unitat d'Ecologia Global CREAF-CSIC-UAB, 08193 Bellaterra, Catalonia, Spain
2
CREAF, Center for Ecological and Forestry Applications, 08193 Cerdanyola del Vallès, Catalonia, Spain
3
BEECA, Departament de Biologia Evolutiva, Ecologia i Ciències Ambientals, Universitat de Barcelona (UB), 08028 Barcelona, Catalonia, Spain
4
Aquatic Ecology Group, University of Vic-Central University of Catalonia, Vic, 08500 Barcelona, Catalonia, Spain
5
Museu de Ciències Naturals de Granollers, Francesc Macià, 51, 08402 Granollers, Catalonia, Spain
6
INRA, UMR ISPA, Interactions Sol Plante Atmosphère, 33882 Villenave d'ornon CEDEX, France
7
Forestry Economics and Forest Planning, Faculty of Environment and Natural Resources, University of Freiburg, Tennenbacherstr. 4, 79106 Freiburg, Germany
8
Department of Scientific and Technological Research (DICTUS), Universidad de Sonora (Unison), 83000 Sonora, Mexico
*
Author to whom correspondence should be addressed.
Received: 21 September 2017 / Revised: 13 November 2017 / Accepted: 15 November 2017 / Published: 24 November 2017
Abstract
The increase in aridity, mainly by decreases in precipitation but also by higher temperatures, is likely the main threat to the diversity and survival of Mediterranean forests. Changes in land use, including the abandonment of extensive crop activities, mainly in mountains and remote areas, and the increases in human settlements and demand for more resources with the resulting fragmentation of the landscape, hinder the establishment of appropriate management tools to protect Mediterranean forests and their provision of services and biodiversity. Experiments and observations indicate that if changes in climate, land use and other components of global change, such as pollution and overexploitation of resources, continue, the resilience of many forests will likely be exceeded, altering their structure and function and changing, mostly decreasing, their capacity to continue to provide their current services. A consistent assessment of the impacts of the changes, however, remains elusive due to the difficulty of obtaining simultaneous and complete data for all scales of the impacts in the same forests, areas and regions. We review the impacts of climate change and other components of global change and their interactions on the terrestrial forests of Mediterranean regions, with special attention to their impacts on ecosystem services. Management tools for counteracting the negative effects of global change on Mediterranean ecosystem- services are finally discussed.
View Full-Text
►

▼

Figures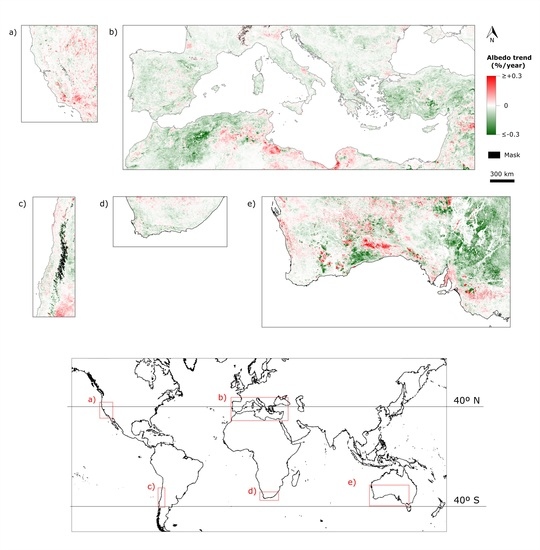 Graphical abstract
This is an open access article distributed under the
Creative Commons Attribution License
which permits unrestricted use, distribution, and reproduction in any medium, provided the original work is properly cited (CC BY 4.0).

Share & Cite This Article
MDPI and ACS Style
Peñuelas, J.; Sardans, J.; Filella, I.; Estiarte, M.; Llusià, J.; Ogaya, R.; Carnicer, J.; Bartrons, M.; Rivas-Ubach, A.; Grau, O.; Peguero, G.; Margalef, O.; Pla-Rabés, S.; Stefanescu, C.; Asensio, D.; Preece, C.; Liu, L.; Verger, A.; Barbeta, A.; Achotegui-Castells, A.; Gargallo-Garriga, A.; Sperlich, D.; Farré-Armengol, G.; Fernández-Martínez, M.; Liu, D.; Zhang, C.; Urbina, I.; Camino-Serrano, M.; Vives-Ingla, M.; Stocker, B.D.; Balzarolo, M.; Guerrieri, R.; Peaucelle, M.; Marañón-Jiménez, S.; Bórnez-Mejías, K.; Mu, Z.; Descals, A.; Castellanos, A.; Terradas, J. Impacts of Global Change on Mediterranean Forests and Their Services. Forests 2017, 8, 463.
Note that from the first issue of 2016, MDPI journals use article numbers instead of page numbers. See further details here.
Related Articles
Comments
[Return to top]