Open Access This article is
freely available
re-usable
Article
Aboveground Biomass Response to Release Treatments in a Young Ponderosa Pine Plantation
USDA Forest Service, Pacific Southwest Research Station, 3644 Avtech Parkway, Redding, CA 96002, USA
*
Author to whom correspondence should be addressed.
Received: 8 August 2019 / Accepted: 10 September 2019 / Published: 12 September 2019
Abstract
:
Controlling competing vegetation is vital for early plantation establishment and growth. Aboveground biomass (AGB) response to manual grubbing release from shrub competition was compared with no release control in a twelve-year-old ponderosa pine (
Pinus ponderosa
Lawson & C. Lawson) plantation established after a wildfire in northeastern California. In addition, response to chemical release followed by precommercial thinning in an adjacent plantation was also examined as a growth potential from a more intensively managed regime, where shrub competition was virtually eliminated. We measured AGB in both planted trees and competing woody shrubs to partition the biomass pools in the plantation. The results showed a significant grubbing treatment effect on basal diameter (BD) at 10 cm aboveground (
p
= 0.02), but not on tree height (
p
= 0.055). Height and BD were 2.0 m and 7.4 cm in the manual release, respectively, compared to 1.7 m and 5.6 cm in the control. However, chemical release produced much greater rates of tree growth with a height of 3.6 m and BD of 14.7 cm, respectively. Tree AGB was 60% higher with the manual release of shrubs (1.2 Mg ha
−1
) than with control (0.7 Mg ha
−1
) (
p
< 0.05). The planted area without shrub competition yielded a much higher green tree biomass (16.0 Mg ha
−1
). When woody shrub biomass was included, the total AGB (trees and woody shrubs) appeared slightly higher, but non-significant in the no release control (13.3 Mg ha
−1
) than in the manual release (11.9 Mg ha
−1
) (
p
= 0.66); the chemical release had 17.1 Mg ha
−1
. Clearly, shrub biomass dominated this young plantation when understory shrubs were not completely controlled. Although the manual release did increase targeted tree growth to some degree, the cost may limit this practice to a smaller scale and the remaining shrub dominance may create long-term reductions in growth and a persistent fuels problem in these fire-prone ecosystems.
Keywords:
chemical release; manual release; shrub biomass
1. Introduction
There are many factors that can vary among operational treatments. Timing of application(s), repetition of treatment, intensity of treatment or, in the case of herbicides, the chemical(s) chosen for a given application may all contribute to varying results. Thus, any study that took all these into consideration would be excessively complex, easily involving dozens of potential operational treatment combinations. A simpler approach, employed here, is to evaluate varying levels of treatment intensity that are representative of a range of management styles.
2. Materials and Methods
2.1. Study Site
The study was established at the Blacks Mountain Experimental Forest (BMEF) in the southern Cascade Range of northeastern California (40.72N latitude, 121.17W longitude). Elevations range from 1700 to 2100 m. The climate is montane Mediterranean characterized by warm, dry summers and cold, wet winters. Annual precipitation ranges from 231–743 mm and falls primarily as snow from November to May.
The BMEF is located in the Lassen National Forest in northeastern California (
Figure 1
); it is located in an endorheic basin with no year-round streams. The surrounding area is unpopulated; the nearest communities are Susanville 56 km to the southeast and Old Station 22 km to the west. The National Forest is managed for multiple uses and after severe wildfire, areas are typically replanted using native species well adapted to the area. Some adjoining parcels are privately owned and managed primarily for timber production. The forests in this area are dominated by ponderosa pine with a mix of white fir (
Abies concolor
(Gord. & Glendl.) Lindl. Ex Hildebr.) and incense-cedar (
Calocedrus decurrens
(Torr.) Florin) at higher elevations.
Approximately 650 ha of the BMEF and 200 ha of adjacent privately owned forest was burned by high-severity human-caused wildfire in 2002. Both ownerships were subsequently salvage-logged and planted with container-stock ponderosa pine at 3.7 m square spacing in the spring of 2004 (
Figure 2
). The experimental forest was planted with Styroblock 77/170 (164 ml volume per cavity; Beaver Plastics, Stuewe & Sons, Inc., Tangent, Oregon) while the adjacent privately owned land was planted with Styroblock 160/90 (90 ml) stock.
2.2. Blacks Mountain Release Treatments
Within the experimental forest plantation, a paired study of release treatments was established to compare the effects of manual grubbing on competing shrubs (primarily
Ceanothus velutinus
Douglas ex Hook and
Arctostaphylos patula
Greene) that germinated from seed after the wildfire. Manual grubbing is a common release treatment on national forest land in this region and herbicide release is used infrequently. Nine paired treatment units were established. At each of the nine locations, two 2.5 ha treatments were applied with random assignment: no release treatment and a release with all vegetation manually grubbed to a 1.5 m radius on half of the planted seedlings. Thus, 18 treatment units were regarded as our experimental units. Grubbing treatment was applied to 370 trees per ha (roughly half of the surviving planted trees in a unit) by assuming as future crop trees. Treatments were applied in the fall of 2007 and then again in the fall of 2009 after 4 and 6 growing seasons, respectively.
Circular measurement plots with a 3.6 m radius were established in a 16 × 13 m grid within each treatment unit. There was a total of 27 plots per treatment unit. The plots were established in 2008 and measured in 2015. All trees within the designated plot radius were measured for basal diameter (BD at 10 cm), total height (H), and crown width (CW). Crown width was measured on the long axis and perpendicular at the base of the live crown and then a geometric mean of the two was calculated. Basal diameter was recorded to the nearest mm with a caliper, height and crown widths to the nearest cm.
2.3. Industry Release Treatments
The adjacent plantation had a site preparation release treatment in 2003 of 22 kg ha
−1
of Velpar (backpack application). This was followed with a directed release with two 4D targeting
Ceanothus prostratus
Benth. plants in 2005 (backpack application). A final release directed for
Ceanothus velutinus
plants with glyphosate was applied in 2007 (backpack application). Finally, a precommercial thin to 400 trees ha
−1
was conducted in 2012 (at age nine).
A systematic array of 50 plots with the same measurements as the experimental forest (3.6 m radius circular plot) was established on the industry property in 2015. The same measurement standards were used with an augmented stump tally with measured basal diameters for all trees removed in the 2012 precommercial thin. Because we could not measure height directly on trees removed during the thinning, height was estimated using a regression relating H (m) and BD (cm) with other measured trees on both properties: H = 0.1 + a
0
BD
a1
(
Figure 3
). The 0.1 m was added because BD was measured at 10 cm above ground.
A total of 81 standing trees were sampled, plus another 141 stumps of trees felled by precommercial thinning. These observations provide a reference for the site productivity potential of ponderosa pine on an identical site with trees in a free-to-grow condition.
2.4. Biomass Data
Because plots within the chemical release area had so little shrub cover, it was possible to do a complete inventory of shrub biomass by destructive sampling. Therefore, we recorded shrub cover and height and then removed and weighed shrub biomass on all plots where shrub biomass was found.
2.5. Analysis
Using plot mean height and BD, tree, woody shrub, and total biomass were estimated first. Then, we compared treatment effects using analysis of variance based on the experimental units in the experimental forest. Observations on industry land are presented as a reference for potential growth.
3. Results
Differences in height between the manual release treatment and the control on public land was 0.33 m, about 20% higher in the manual release treatment (
Figure 5
A), which is non-significant (
p
= 0.055) if the critical value for the comparison is based on
p
= 0.05. The average basal diameter was significantly higher in the manual release treatment (7.4 cm) than in the control (5.6 cm) (
Figure 5
B). As a reference point for the growth potential of the site, chemical release yielded much larger sized trees, 3.6 m in height and 14.7 cm in BD.
Similar trends were found in the area based on total tree biomass with 1.2 Mg ha
−1
in the manual released treatment and 0.7 Mg ha
−1
in the control; the difference was significant (
p
= 0.045). Chemical release treatment resulted 16.0 Mg ha
−1
in green tree biomass (
Figure 6
A). However, when total vegetation AGB (trees + shrubs) was considered, the control treatment's production was slightly higher (but non-significant) in biomass than in the manual release treatment (
p
= 0.656) (
Figure 6
B). There were 17.1 Mg ha
−1
on the adjacent private industry land with the chemical release.
4. Discussion
Herbicide application is a highly regulated process by the State of California. Not only are applicators licensed by the California Environmental Protection Agency, but they also meet all laws and regulations related to the California Division of Occupational Safety and Health. More importantly, few herbicides have been registered for use in California forests, where applications are typically associated with plantation establishment on private industry lands.
5. Conclusions
A significant effect of the manual grubbing release from shrub competition on tree growth was found when compared with the no release control. Yet, total aboveground biomass or carbon was only marginally influenced because shrub biomass dominated both sets of plots in this young plantation. On adjacent private industry land, the chemical release showed an order of magnitude more tree biomass or carbon than the public land treatments and even more total biomass including all shrubs. While manual grubbing commonly continues to be used to reduce the impacts of competing vegetation on tree growth and mortality on public land, this treatment does not allow trees to approach productive capacity of the site because these competitors are often not killed by the grubbing and grow back into the cleared space.
Here, in the western United States, especially in California, forest managers often face a reforestation challenge in forests burned by wildfire; last year, California wildfires consumed 0.75 million hectares. Only a small percentage of public lands are planted because of land-use restrictions. The success of artificial regeneration depends on how well competing shrubs are controlled. Although industry foresters often use herbicides to effectively control shrubs and achieve the potential productivity of plantations, as shown here, use of herbicides remains a contentious issue and tightly constrained by regulation. Clearly, the effects of herbicide use on the environment must be considered [
26
], which is also included in current environmental assessments required by the US National Environmental Policy Act. A broader tradeoff for controlling competing shrubs between using herbicides and grubbing or other means should be evaluated if biomass production or carbon sequestration is one of goals in the post-fire reforestation program.
Author Contributions
Conceptualization, M.R.; methodology, M.R., J.Z. and E.H.; formal analysis, M.R. and J.Z.; data curation, E.H.; writing—review and editing, M.R. and J.Z.
Funding
This research received no external funding.
Acknowledgments
The authors wish to acknowledge the cooperation of Sierra Pacific Industries in completing field work and providing information on treatment history. Use of trade names in this paper does not constitute endorsement by the USDA Forest Service.
Conflicts of Interest
The authors declare no conflict of interest.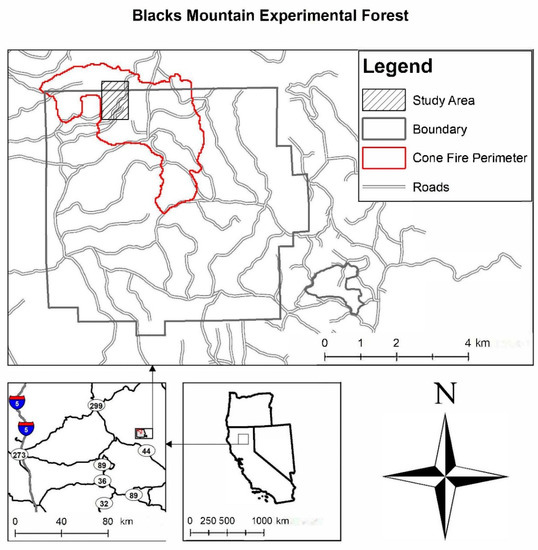 Figure 1. Geographic locations of the Blacks Mountain Experimental Forest, the Cone Fire perimeter, and study area in northeastern California, USA.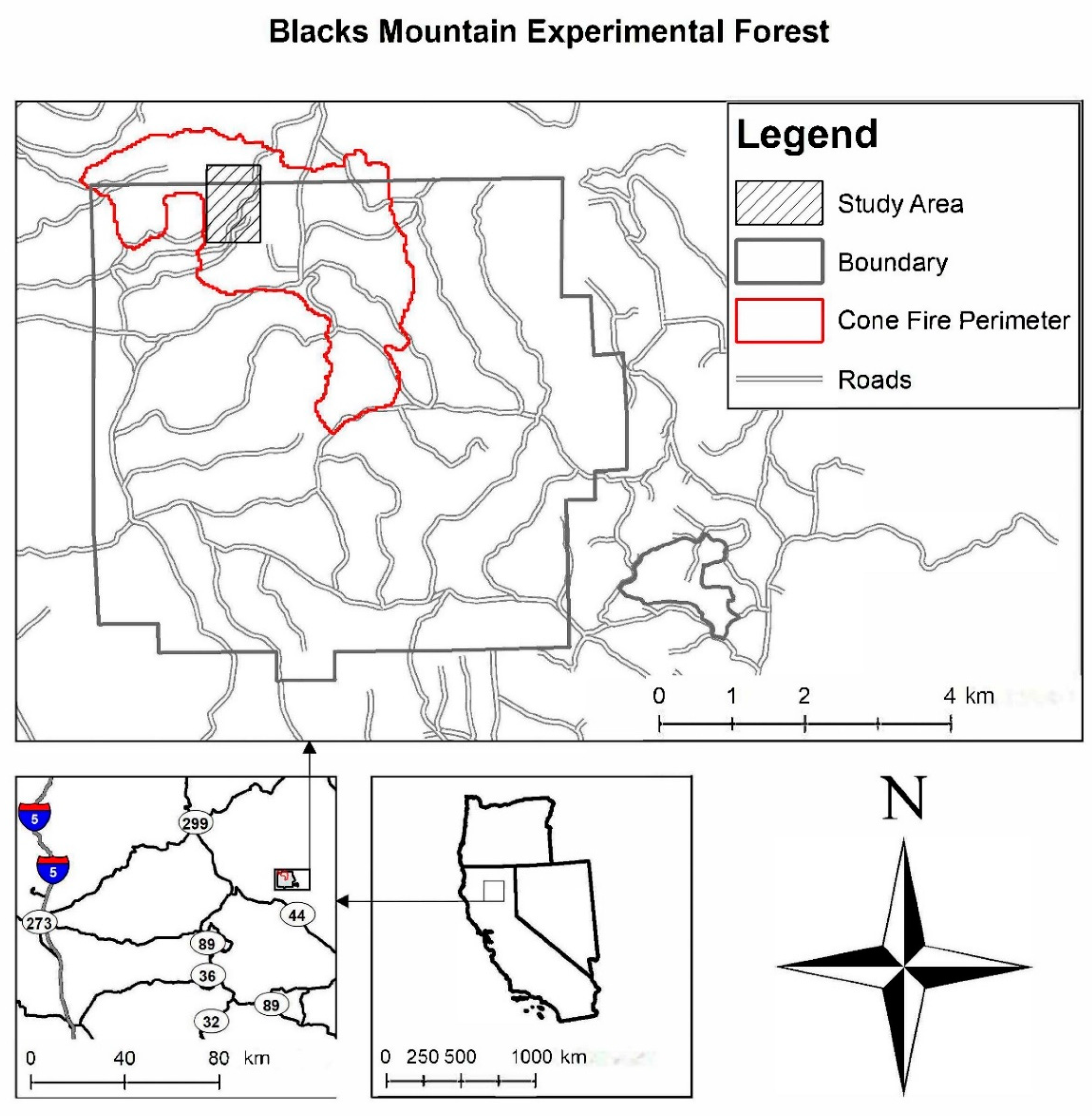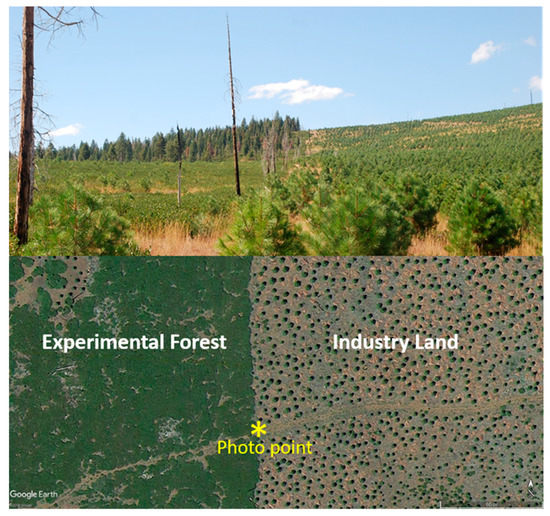 Figure 2. Post-fire regenerated plantations on public land at Blacks Mountain Experiment (left) and on private industry land (right), the latter formerly owned by Roseburg Forest Resources, now Sierra Pacific Industries. Both sides were planted with one-year-old ponderosa pine seedlings in 2005. The upper picture was taken at the photo point (*) prior to the precommercial thinning in 2009. The bottom 2014 image from Google Earth shows the post thinning plantation on industry land.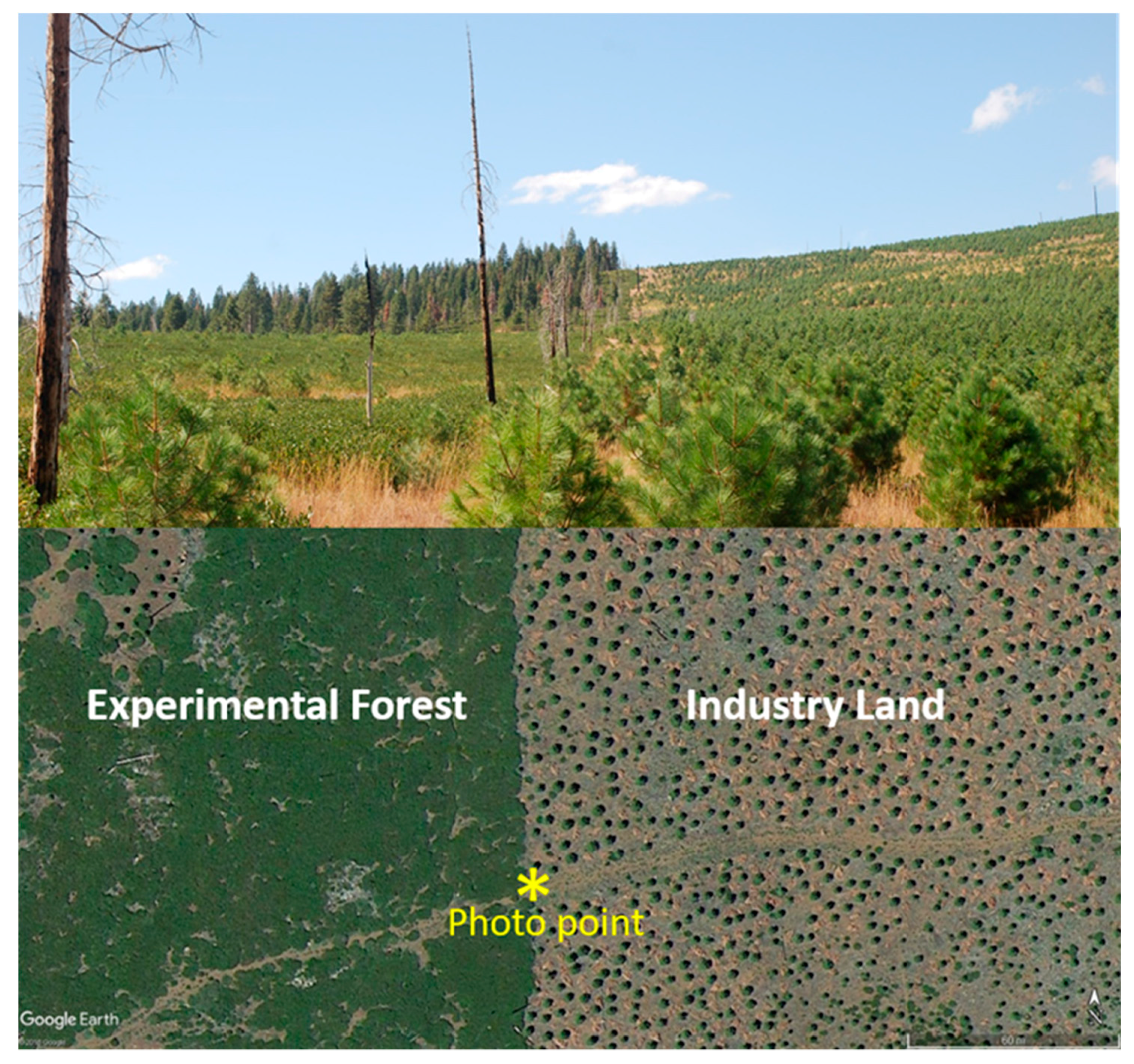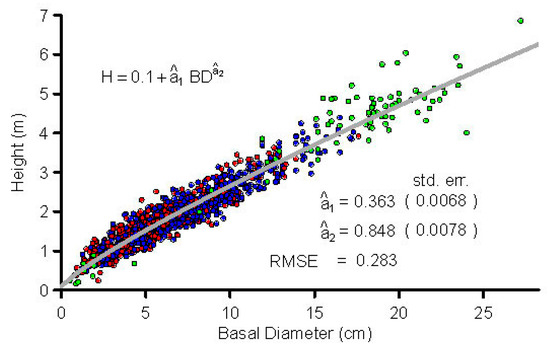 Figure 3. Height and basal diameter regression for combined non-linear fit of untreated (red), manual release (blue), and chemical release (green) trees.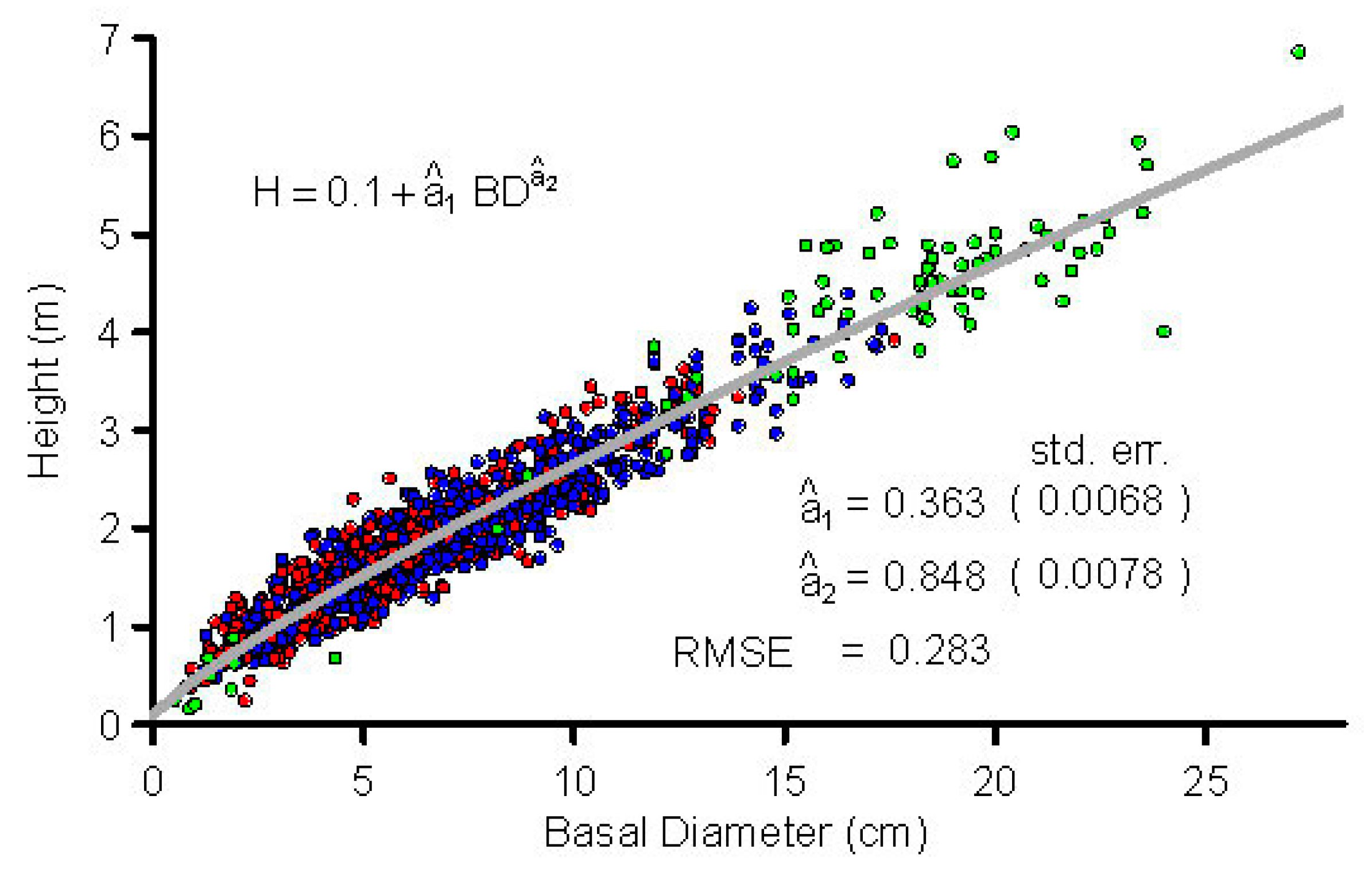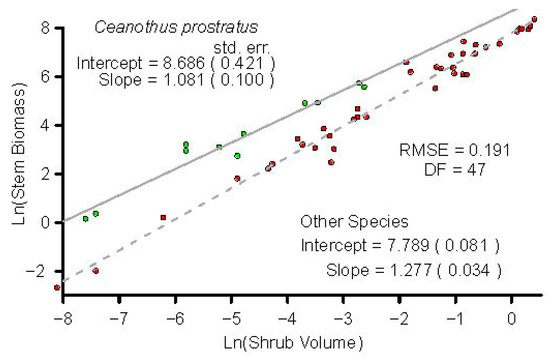 Figure 4.
Model fit statistics and uncorrected parameter estimates for aboveground woody biomass (g m
−2
) in shrubs as a function of shrub volume (m
3
m
−2
), expressed for
Ceanothus prostratus
. (green, solid line) and other species (red, dashed line).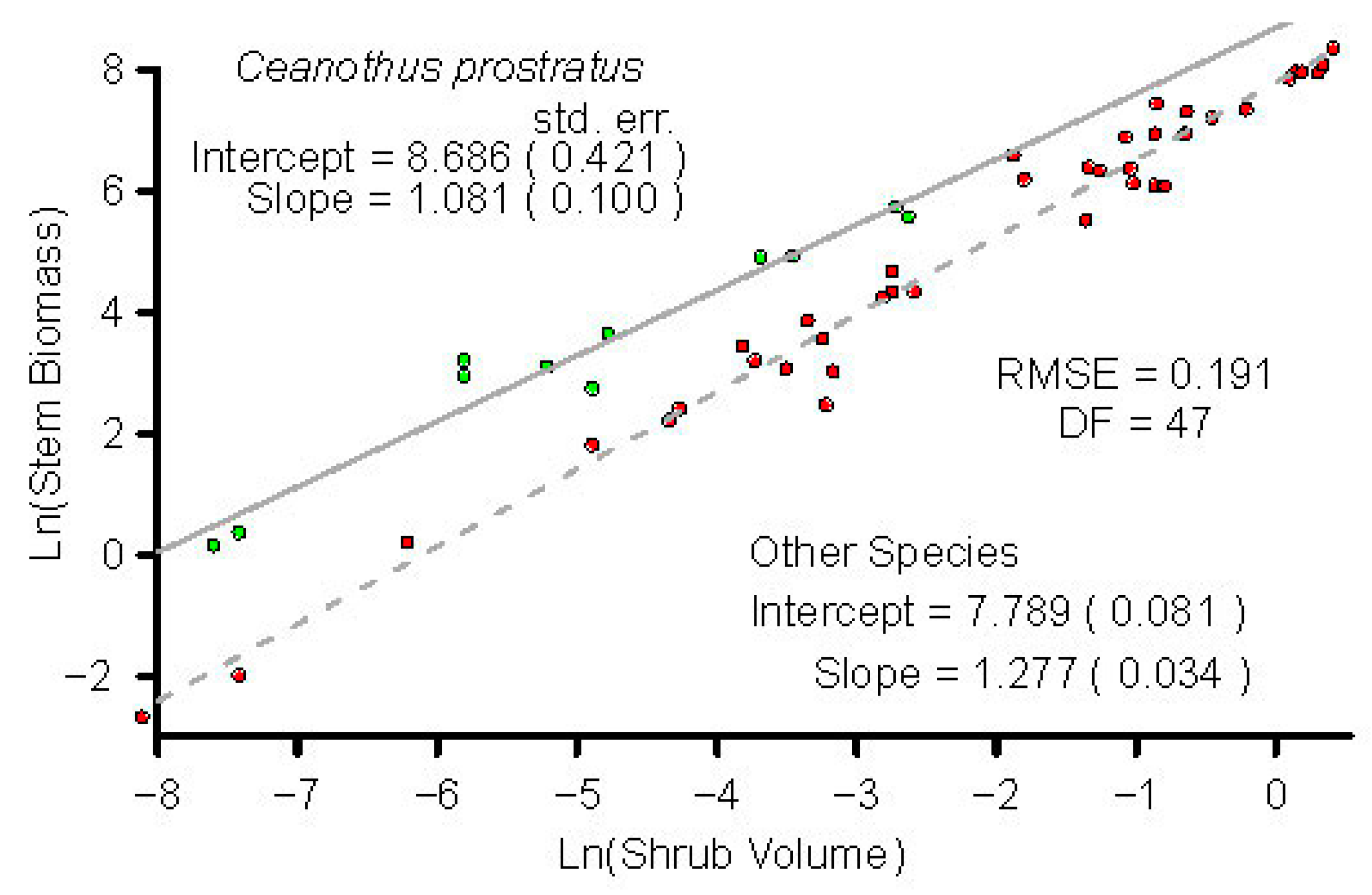 Figure 5.
Means and standard errors of (
A
) height and (
B
) basal diameter for twelve-year-old ponderosa pine trees grown in no release control, manual release, and chemical release treatments. Different letters (a, b) refer to a significant difference between the two treatments (
p
< 0.05). Chemical release was not included in the analysis because it was not in the original design.


Figure 6.
Means and standard errors of (
A
) tree aboveground biomass and (
B
) total aboveground biomass (i.e., trees and shrubs) on a twelve-year-old ponderosa pine plantation grown in no release control, manual release, and chemical release treatments. Different letters (a, b) refer to a significant difference between the two treatments (
p
< 0.05). Chemical release was not in the analysis because it was not in the original design.


Table 1.
Summary statistics for cover (percent), height (cm), volume (m
3
m
−2
), and shrub biomass (g m
−2
) sampled by species (ARPA =
Arctosaphylos patula
, CEPR =
Ceanothus prostratus
, CEVE =
Ceanothus velutinus
, and OTSP = other species).
| Species | n | Cover (%) | SD | Height (cm) | SD | Volume (m3 m−2) | SD | Biomass (g m−2) | SD |
| --- | --- | --- | --- | --- | --- | --- | --- | --- | --- |
| ARPA | 12 | 18.1 | 17.3 | 64.2 | 19.8 | 0.129 | 0.125 | 262 | 314 |
| CEPR | 11 | 29.0 | 35.4 | 6.8 | 3.0 | 0.020 | 0.026 | 87 | 109 |
| CEVE | 22 | 61.3 | 35.8 | 90.0 | 27.9 | 0.609 | 0.474 | 1366 | 1200 |
| OTSP | 6 | 9.1 | 10.9 | 41.0 | 28.8 | 0.028 | 0.021 | 25 | 24 |
| ALL | 51 | 38.0 | 36.3 | 60.2 | 39.5 | 0.301 | 0.416 | 673 | 1003 |

© 2019 by the authors. Licensee MDPI, Basel, Switzerland. This article is an open access article distributed under the terms and conditions of the Creative Commons Attribution (CC BY) license (http://creativecommons.org/licenses/by/4.0/).