A Weighted Mean Value Analysis to Identify Biological Pathway Activity Changes during Poplar Seed Germination
1
State Key Laboratory of Tree Genetics and Breeding (Northeast Forestry University), School of Forestry, Northeast Forestry University, Harbin 150040, China
2
School of Forestry, Northeast Forestry University, Harbin 150040, China
3
College of Life Science, Northeast Forestry University, Harbin 150040, China
*
Author to whom correspondence should be addressed.
Received: 17 June 2019 / Revised: 30 July 2019 / Accepted: 5 August 2019 / Published: 7 August 2019
Abstract
Poplar (
Populus × xiaohei
T. S. Hwang et Liang) is an excellent model plant, with a known genome sequence, for studying woody plant developmental processes, such as seed germination. Here, we report the transcriptional profiling of poplar seeds at five germination stages using RNA-Seq technology. We focused on identifying biological pathway activity changes during seed germination and transcription factors that play important roles in different stages. Among the 16 significantly changing clusters obtained using the STEM method, transcription was significantly enriched in five different clusters, 8, 21, 25, 27, and 35. The oxidative phosphorylation-related genes were only enriched in cluster 9, and expression patterns decreased in 6 and 24 HAI, while ubiquitin-dependent protein catabolic processes were only enriched in cluster 16, and expression patterns increased in 6 HAI. A weighted mean method analysis determined that most primary metabolism-associated categories, such as major carbohydrate metabolism, glycolysis, oxidative pentose phosphate, tricarboxylic acid cycle, lipid metabolism, nucleotide metabolism, amino acid metabolism, and protein metabolism, were elevated between 6 and 48 h after imbibition (HAI). ATP synthesis and C1 metabolism had highly active expression patterns between 0.75 and 48 HAI. The photosynthesis category-associated genes that were identified appeared highly active at 144 HAI. The homogenization of transcription factors in each cluster revealed that the HAP2, C3H zinc finger family, and C2C2(Zn) GATA transcription factors were present in relatively high numbers in cluster 8, while HAP5, Zn-finger (CCHC), FHA, and E2F/DP transcription factor families, as well as SNF7, were present in high numbers in cluster 25. Thus, we identified a series of biological pathway activity changes that occur, and transcription factors that are active, during poplar seed germination. Moreover, this study provides an integrated view of transcriptional regulation that can reveal the molecular events occurring during seed germination.
View Full-Text
►

▼

Figures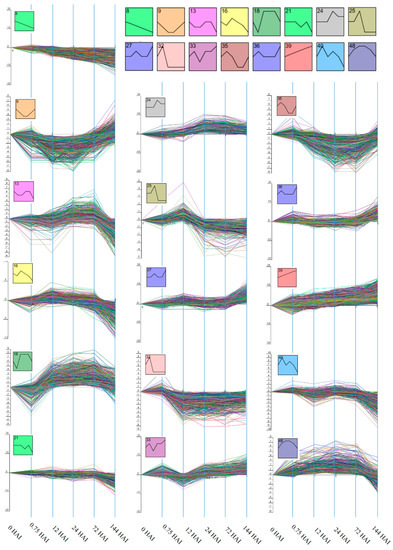 Figure 1
This is an open access article distributed under the
Creative Commons Attribution License
which permits unrestricted use, distribution, and reproduction in any medium, provided the original work is properly cited (CC BY 4.0).

Share & Cite This Article
MDPI and ACS Style
Qu, C.; Zhang, Y.; Chen, J.; Zhang, S.; Yu, J.; Yang, C.; Zhang, X.; Xu, Z.-R.; Liu, G.-J. A Weighted Mean Value Analysis to Identify Biological Pathway Activity Changes during Poplar Seed Germination. Forests 2019, 10, 664.
Note that from the first issue of 2016, MDPI journals use article numbers instead of page numbers. See further details here.
Related Articles
Comments
[Return to top]