Open Access This article is
freely available
re-usable
Article
What (De)Motivates Forest Users' Participation in Co-Management? Evidence from Nepal
1
Institute for Tropical Forestry & Forest Products, Technische Universität Dresden, 01737 Dresden, Germany
2
Institute of Forestry, Tribhuvan University, Pokhara P.O. Box 43, Nepal
3
Department of Food and Resource Economics, University of Copenhagen, DK 1870 Copenhagen, Denmark
4
Ministry of Industry, Tourism, Forests and Environment, Biratnagar 56600, Nepal
*
Author to whom correspondence should be addressed.
Received: 15 May 2019 / Accepted: 14 June 2019 / Published: 16 June 2019
Abstract
:
The co-management concept has been echoed in scientific literature for over two decades. Emphasis has been tailored towards an understanding of structural and functional issues linked to its application and the outcomes thereof. However, a crucial aspect which still begs for scientific and policy edification, concerns the motivational drivers of actors' participation in co-management arrangements. Studies contend that actors are motivated to participate in co-management based on their perceived benefits (e.g., income). Conclusions from these lines of argument further raise a theoretical quagmire, requiring further grounding, with regards to context-specific (de)motivators of users' participation in co-management. The case of Nepal is pertinent. Although Nepal has a rich community-based forest management history, scientific investigations have virtually ignored the motivational drivers of participation in the co-management of natural resources (forests). Against this background, this paper seeks to explore the following: (i) the decision-making and monitoring structure of rules regulating the co-management of forests, (ii) the implications of this system on users' motivation to participate, and (iii) the motivational drivers of users' participation in co-management. To achieve this, five focus group discussions and 10 key informant interviews were conducted in five villages (Kunjo, Titi, Parshyang, Cchayo, and Taglung) within the Annapurna Conservation Area (ACA). We further employed narratives, framework, and thematic analyses to discuss the decision-making structure and motivational aspects of co-management. The results point to the following conclusions: (1) Despite the rather top-down decision-making setting, users remain motivated to participate in co-management. (2) Interestingly, the motivation by actors to participate is not largely driven by users' perceived benefits. The results present another twist, a deviation from the previously understood rationale, which should be factored into co-management theory development. However, the paper equally makes a succinct request for further studies, including quantitative investigations, to ground this assertion.
Keywords:
participation; co-management; forest users; benefits; ACA; Nepal
Author Contributions
Conceptualization, writing—Original draft, J.N.K and P.B.; Methodology, A.A., Data collection, All; Formal Analysis; R.O and A.C; Formal Analysis, writing—review and editing, M.V.B.C.F.; writing—review and editing, W.N.
Funding
This research was funded within the Framework of the Erasmus Mundus Sustainable Tropical Forestry (SUTROFOR) Field School in Nepal, jointly organized by the University of Copenhagen (Denmark), Technical University of Dresden (Germany), Agroparis Tech (Montpellier-France), Bangor University (UK), and the University of Padova (Italy), in Partnership with Tribhuvan University, Institute of Forestry, Nepal.
Acknowledgments
We deeply acknowledge the participants who availed themselves for the focus group discussions and key informant interviews. We equally appreciate the role of the translator (Ashok Bhandari) who facilitated the discussions. We equally thank the three anonymous reviewers whose comments enriched the paper.
Conflicts of Interest
The authors declare no conflict of interest.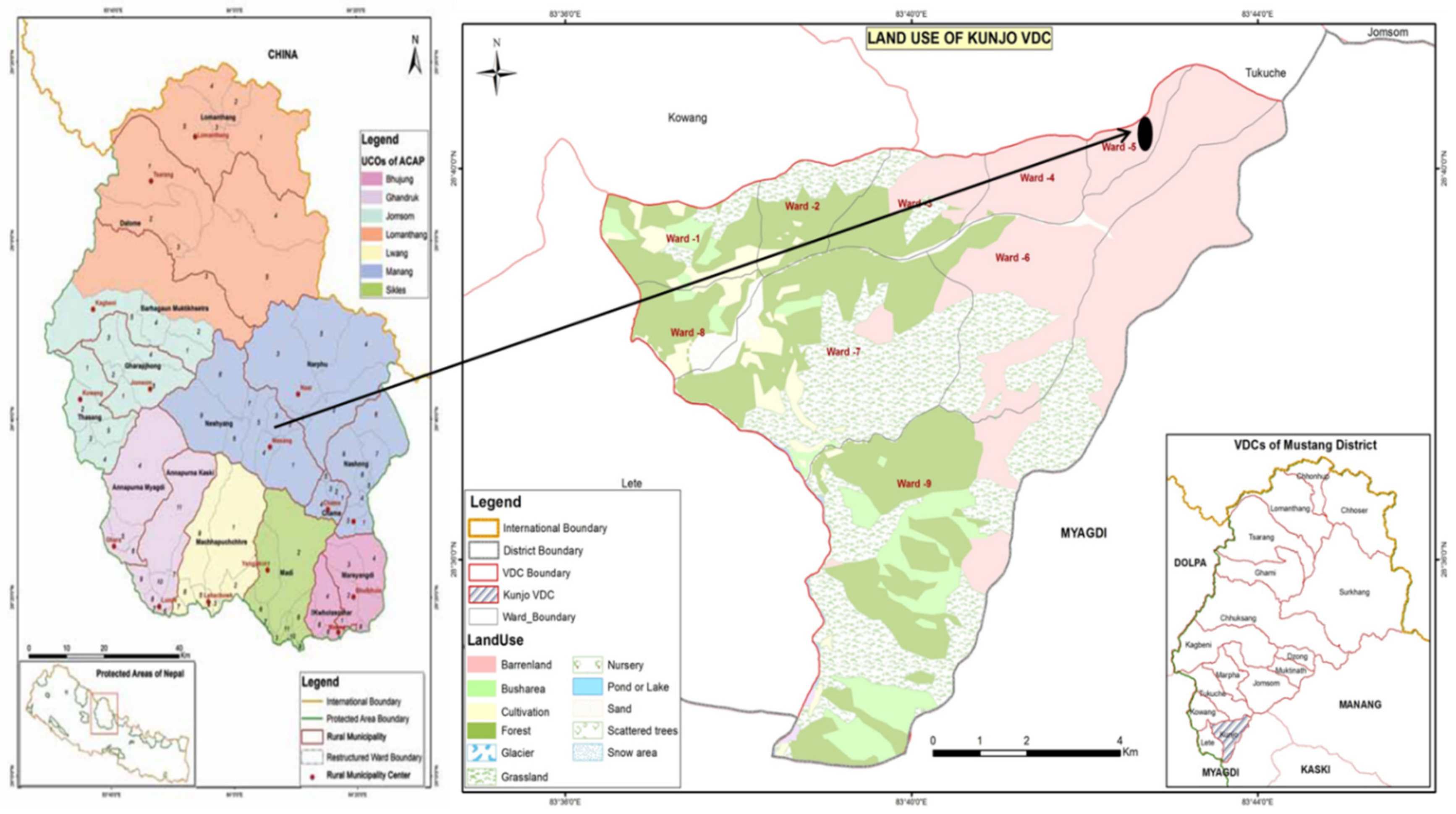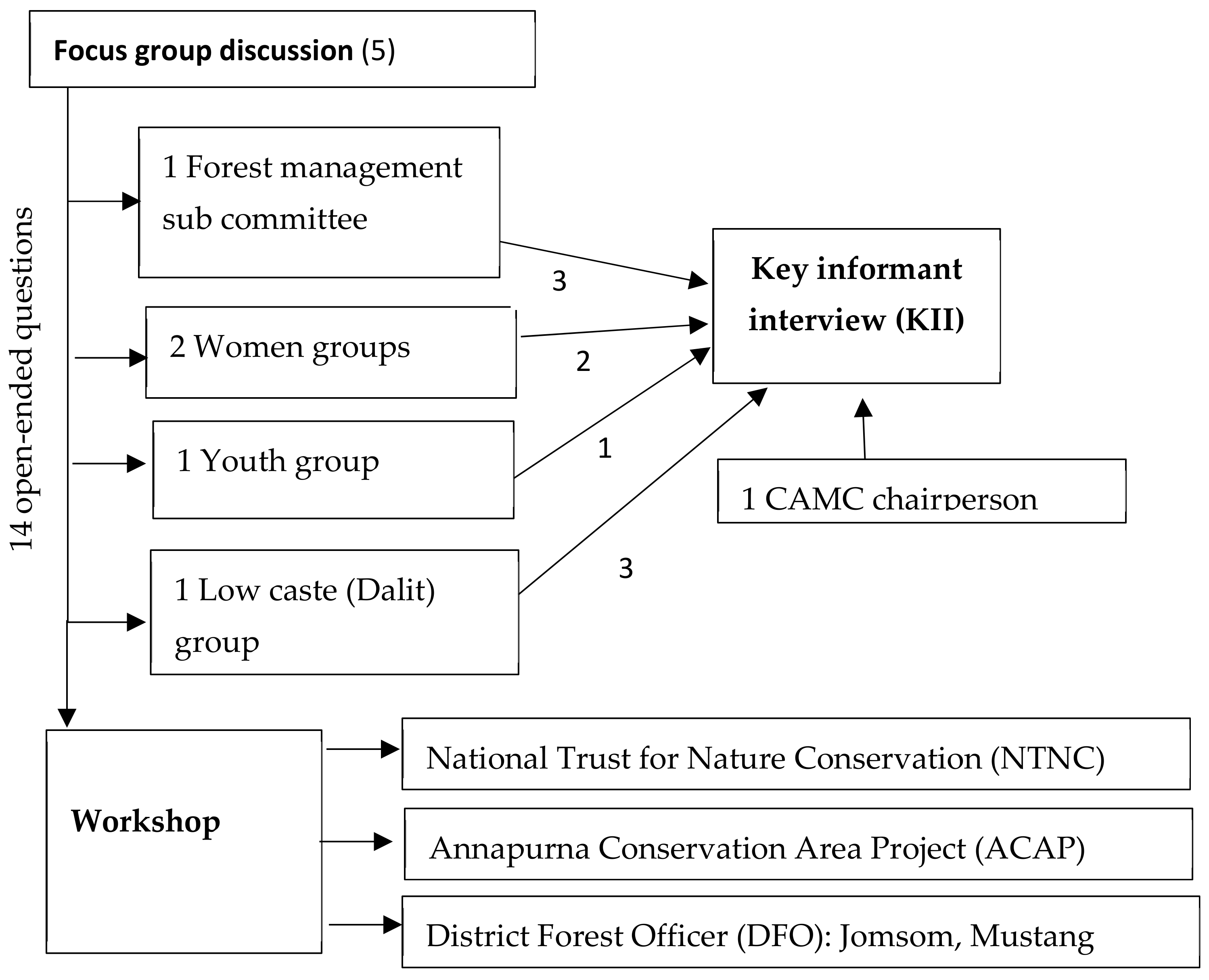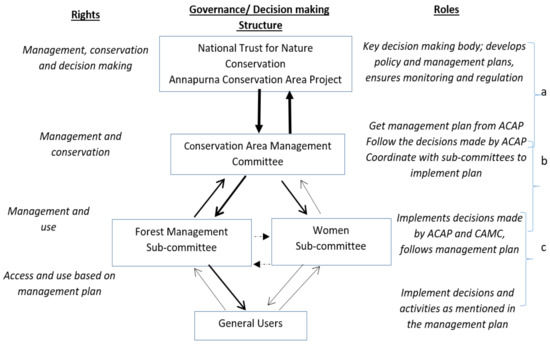 Figure 3. Governance/decision making structure, roles, and rights of co-management actors in ACAP. Note: Bold arrow represents strong decision-making role; the strength decreases as the thickness of arrow decreases. The decision making flow is grouped into three segments a, b, and c as explained above.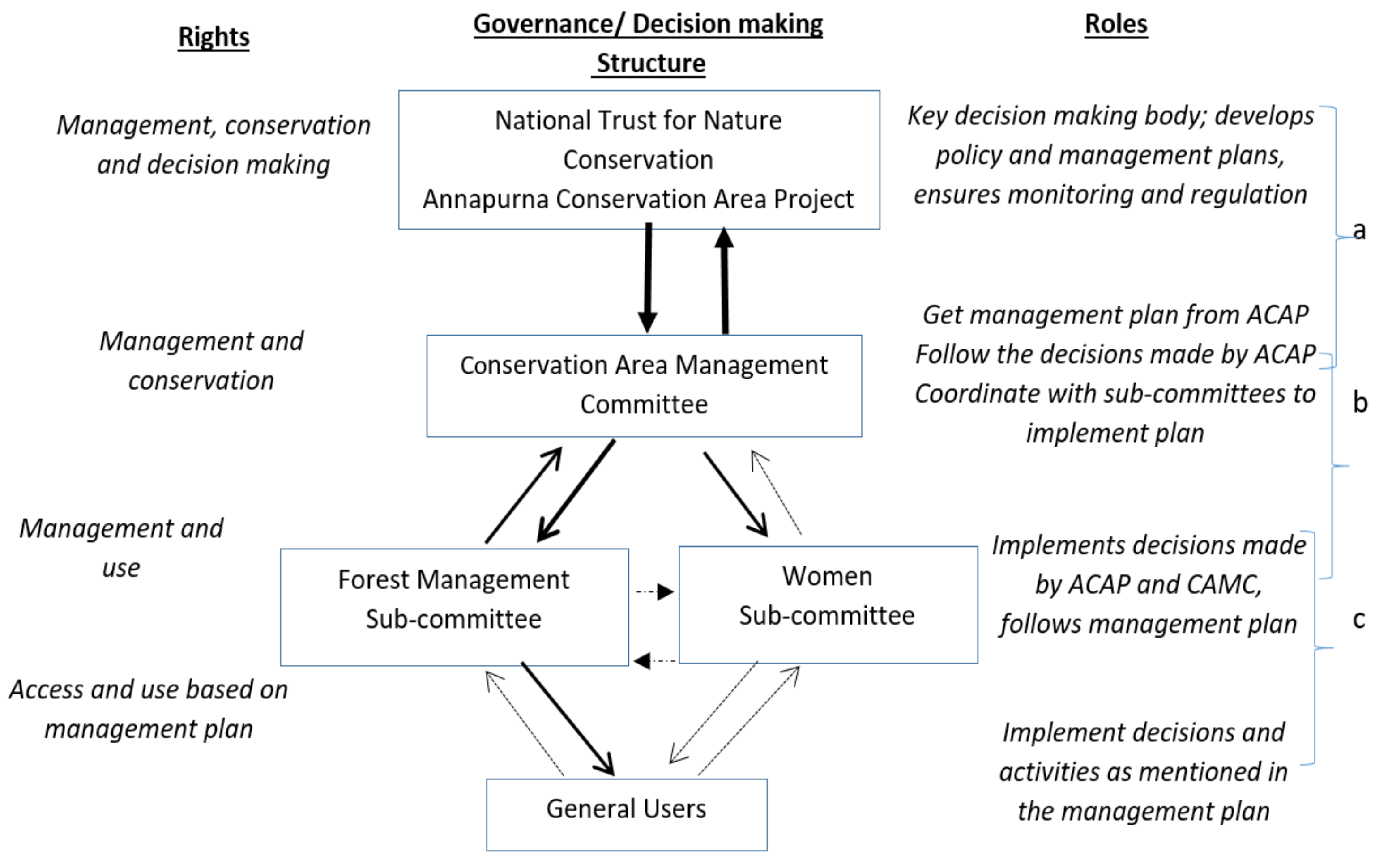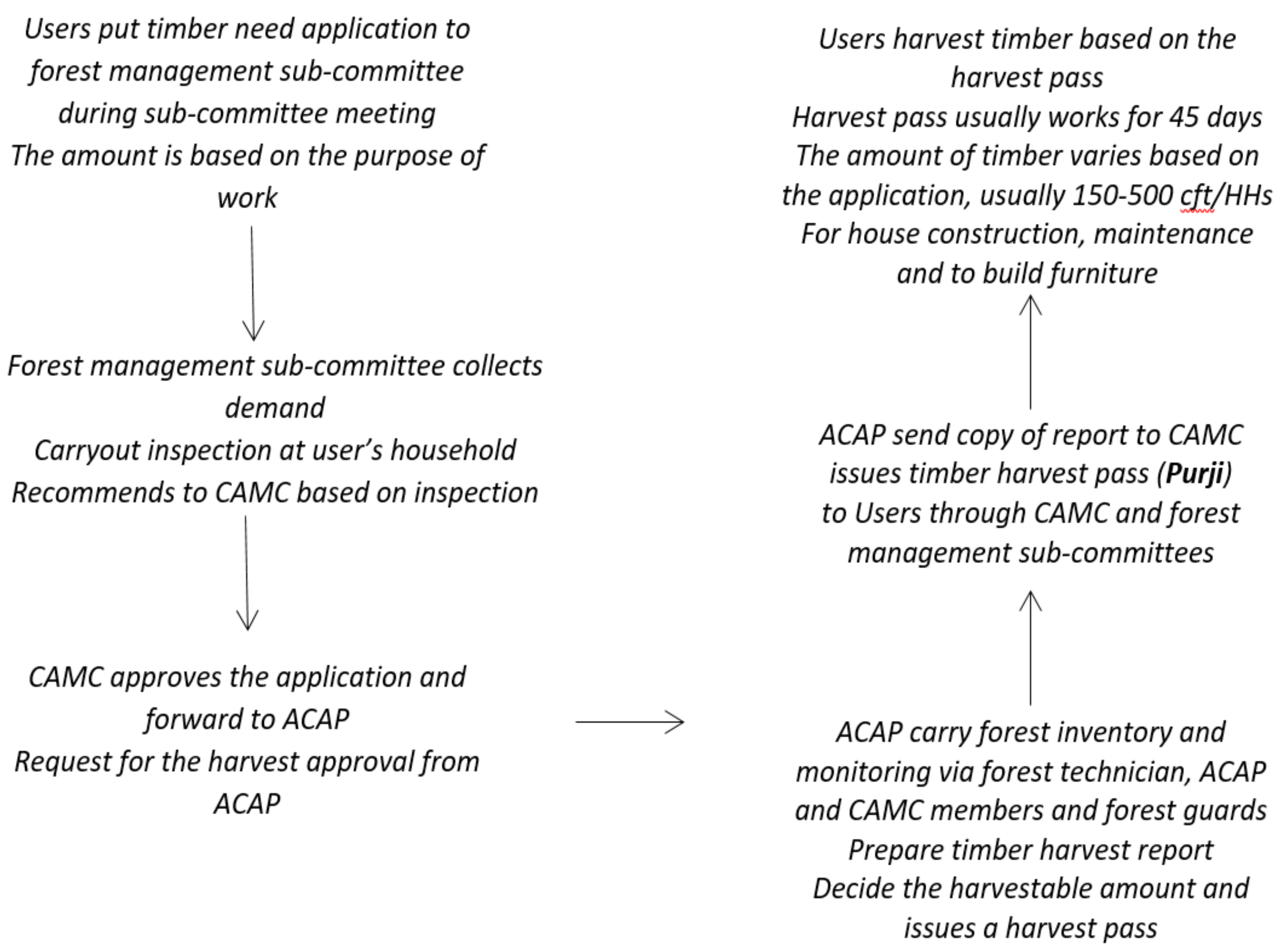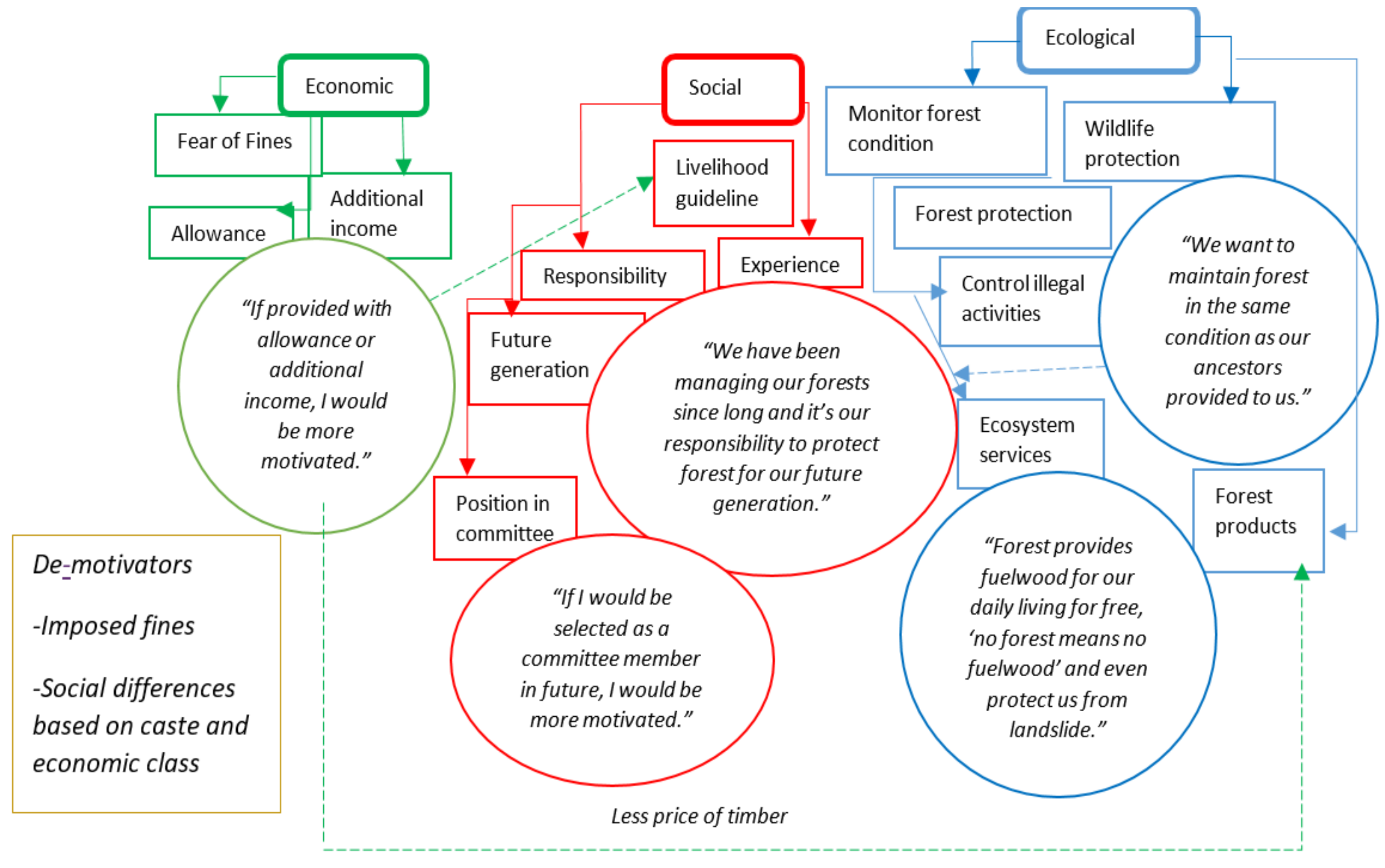 | Form of Participation | Characteristic Features |
| --- | --- |
| Nominal participation | Membership in the group |
| Passive participation | Being informed of decisions ex post facto; or attending meetings and listening in on decision-making, without speaking up |
| Consultative participation | Being asked an opinion in specific matters without guarantee of influencing decisions |
| Activity-specific participation | Being asked to (or volunteering to) undertake specific tasks |
| Active participation | Expressing opinions, whether solicited, or taking initiatives of other sorts |
| Interactive (empowering) participation | Having voice and influence in the group decision-making |
Village
Total no. of HHs
Average HH Size
Distance from the Forest (km)
No. of FMSCs and WGSCs
Effective Year
Leadership Gender
Kunjo
21
4
1.5
FMSC–1
WGSC–1
2014–2019
FMSC: 11 members, 9 males (1 Dalit) and 2 females (Dalits)
WGSC: All females
Parshyang
33
4
1
Titi
13
5
1
FMSC–1
WGSC–1
2014–2019
FMSC: 18 members, 12 males (5 Dalits) and 6 females (6 Dalits)
WGSC: All females
Taglung
19
3
2–3
FMSC–1
WGSC–1
2014–2019
FMSC: 11 members, 9 males (1 Dalit) and 2 females
WGSC: All females
Chhayo
28
5
2–3
FMSC–1
WGSC–1
2014–2019
FMSC: 9 members, 7 males (4 Dalits) and 2 females (2 Dalits)
WGSC: All females
Source: Authors' compilation. Note: Effective year denotes the valid period of membership and leadership status. HHs= Households; FMSCs= Forest management sub-committees; WGSCs=Women group sub-committees.
| Forest Products | Annual Need per HH | Amount (per Local Market) |
| --- | --- | --- |
| Timber | 40 cft | NRs 200/cft ** |
| Fuelwood | 50 Bhari * | NRs 250/Bhari |
| Fodder | 18 Bhari | - |
| Bamboo (Nigalo) | 30 Bhari | NRs 50/Bhari |
| Leaf litter | 100 Bhari | - |
| NTFPs | Household use | - |
* Bhari is a local measurement unit and 1 Bhari = 25 kg. ** This amount can be changed by the general assembly; NTFPs = Non-timber forest products; cft = cubic feet; NRs = Nepalese Rupees; HH = Household. Source: conservation area management plan, 2017.

© 2019 by the authors. Licensee MDPI, Basel, Switzerland. This article is an open access article distributed under the terms and conditions of the Creative Commons Attribution (CC BY) license (http://creativecommons.org/licenses/by/4.0/).