Short-Term Nitrogen Addition Does Not Significantly Alter the Effects of Seasonal Drought on Leaf Functional Traits in
Machilus pauhoi

Kanehira Seedlings

1

College of Geographical Science, Fujian Normal University, Fuzhou 350007, China

2

Ocean College, Minjiang University, Fuzhou 350108, China

3

State Key Laboratory of Subtropical Mountain Ecology (Ministry of Science and Technology and Fujian Province funded), Fuzhou 350007, China

4

Fujian Provincial Key Laboratory of Plant Ecophysiology, Fujian Normal University, Fuzhou 350007, China

5

Guangdong Provincial Key Laboratory of Bio-Control for the Forest Disease and Pest, Guangdong Academy of Forestry, Guangzhou 510520, China

*

Author to whom correspondence should be addressed.

Received: 21 November 2018 / Revised: 12 January 2019 / Accepted: 18 January 2019 / Published: 22 January 2019
Abstract
Research Highlights: Short-term nitrogen (N) addition did not significantly alter the effects of seasonal drought on the leaf functional traits in
Machilus pauhoi
Kanehira seedlings in N-rich subtropical China. Background and Objectives: Seasonal drought and N deposition are major drivers of global environmental change that affect plant growth and ecosystem function in subtropical China. However, no consensus has been reached on the interactive effects of these two drivers. Materials and Methods: We conducted a full-factorial experiment to analyze the single and combined effects of seasonal drought and short-term N addition on chemical, morphological and physiological traits of
M. pauhoi
seedlings. Results: Seasonal drought (40% of soil field capacity) had significant negative effects on the leaf N concentrations (LNC), phosphorus (P) concentrations (LPC), leaf thickness (LT), net photosynthetic rate (A), transpiration rate (E), stomatal conductance (Gs), and predawn leaf water potential (ψ
PD
), and significant positive effects on the carbon:N (C:N) ratio and specific leaf area (SLA). Short-term N addition (50 kg N·hm
−2
·year
−1
and 100 kg N·hm
−2
·year
−1
) tended to decrease the C:N ratio and enhance leaf nutrient, growth, and photosynthetic performance because of increased LNC, LPC, LT, leaf area (LA), SLA, A, E, and ψ
PD
; however, it only had significant effects on LT and Gs. No significant interactive effects on leaf traits were detected. Seasonal drought, short-term N addition, and their interactions had significant effects on soil properties. The soil total C (STC), nitrate N (NO
3
−
-N) and soil total N (STN) concentrations were the main factors that affected the leaf traits. Conclusions: Seasonal drought had a stronger effect on
M. pauhoi
seedling leaf traits than short-term N deposition, indicating that the interaction between seasonal drought and short-term N deposition may have an additive effecton
M. pauhoi
seedling growth in N-rich subtropical China.
View Full-Text
►

▼

Figures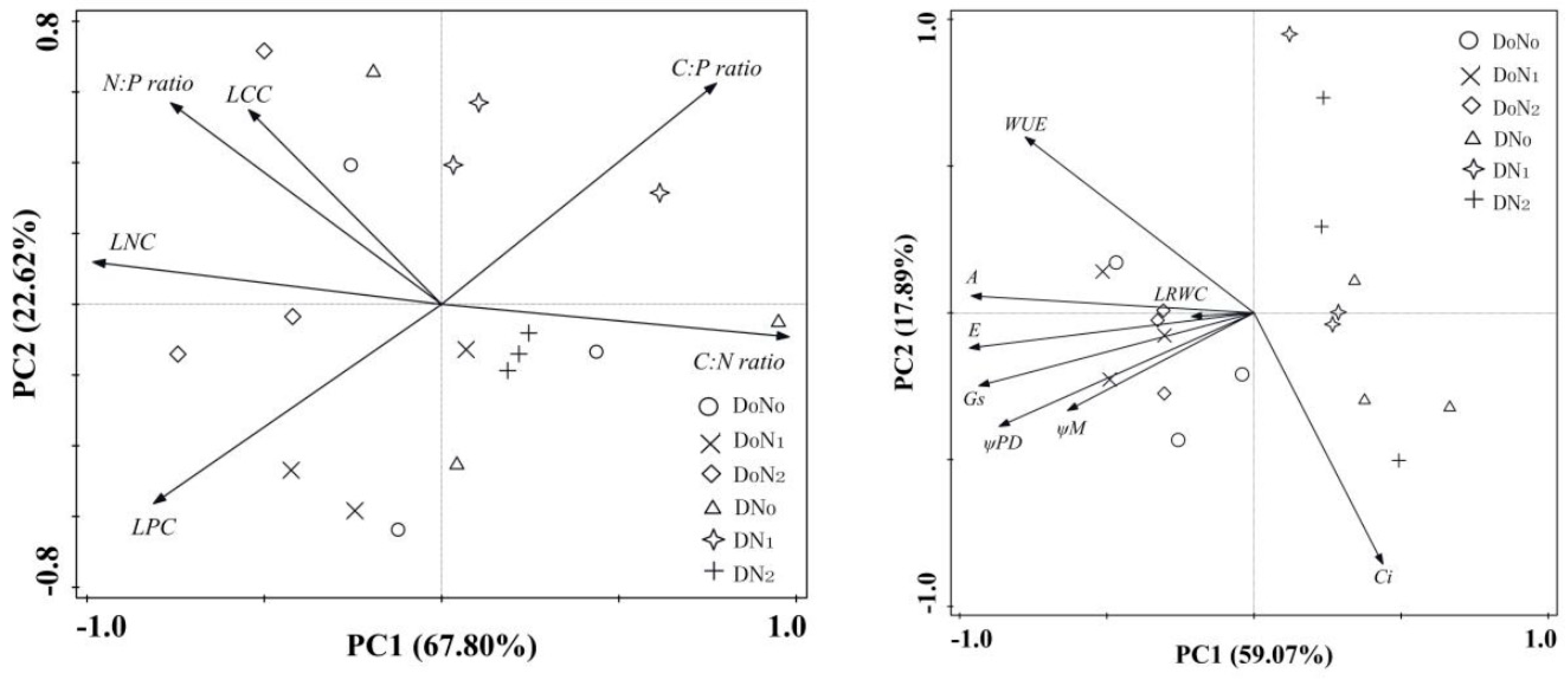 Figure 1
This is an open access article distributed under the
Creative Commons Attribution License
which permits unrestricted use, distribution, and reproduction in any medium, provided the original work is properly cited (CC BY 4.0).

Share & Cite This Article
MDPI and ACS Style
Yu, H.; Cheng, D.; Li, B.; Xu, C.; Zhang, Z.; Zhong, Y.; Zhong, Q. Short-Term Nitrogen Addition Does Not Significantly Alter the Effects of Seasonal Drought on Leaf Functional Traits in Machilus pauhoi Kanehira Seedlings. Forests 2019, 10, 78.
Note that from the first issue of 2016, MDPI journals use article numbers instead of page numbers. See further details here.
Related Articles
Comments
[Return to top]