Open Access This article is
freely available
re-usable
Article
Herbaceous Vegetation Responses to Gap Size within Natural Disturbance-Based Silvicultural Systems in Northeastern Minnesota, USA
1
Department of Forest Resources, University of Minnesota, St., Paul, MN 55108, USA
2
Rubenstein School of Environment and Natural Resources, University of Vermont, Burlington, VT 05405, USA
*
Author to whom correspondence should be addressed.
Received: 31 December 2018 / Accepted: 24 January 2019 / Published: 30 January 2019
Abstract
:
The use of silvicultural systems that emulate aspects of natural disturbance regimes, including natural disturbance severities and scales, has been advocated as a strategy for restoring and conserving forest biodiversity in forests managed for wood products. Nonetheless, key information gaps remain regarding the impacts of these approaches on a wide range of taxa, including understory plant species. We investigated the 6- or 7-year response of herbaceous vegetation to natural disturbance-based silvicultural harvest gaps in a northern hardwood forest in Northeastern Minnesota. These results indicate that harvest gaps are effective in conserving understory plant diversity by promoting conditions necessary for disturbance-dependent understory plant species. However, harvest gaps also contained non-native invasive plant species.
Keywords:
understory plant communities; natural disturbance-based silviculture; forest management; species conservation; northern hardwood forests
2. Materials and Methods
2.1. Study Sites
Study sites were located along the northern shore of Lake Superior in Northeastern Minnesota, USA (
Table 1
). Elevations within this area range from 381 to 472 m, and soils are loams derived from glacial tills [
37
]. Mean annual precipitation is 739 mm and annual temperatures range from −8.5 °C in January to 18.7 °C in July. Forests within the study area are dominated by northern hardwoods (
Table 1
) and scattered
Thuja occidentalis
L. (northern white cedar). Historically, the dominant overstory tree regeneration technique implemented in these systems were clearfelling. Understory vegetation within the study area includes
Clintonia borealis
(Aiton) Raf. (bluebead lily),
Streptopus lanceolatus
(Aiton) Reveal (twisted rosy-stalk),
Polygonatum pubescens
(Willd.) Pursh (Solomon's seal),
Claytonia caroliniana
Michx. (springbeauty), and
Thelypteris phegopteris
(L.) Sloss. (beech fern).
2.2. Study Design & Field Procedures
Harvest gaps were created within each site and replicated across four blocks in a completely randomized block design. Harvests took place during the winters of 2002 and 2003. Harvest gaps and intact forest conditions were measured in the summer of 2009 to assess the 6- and 7-year vegetation responses of these communities to harvesting treatments. To ensure adequate representation of gap environments, transects were laid across each gap oriented in subcardinal directions (northeast (NE), northwest (NW), southeast (SE), and southwest (SW)) and extended to the gap edge. Along each transect, 1 m2 plots were systematically located and used for measuring tree regeneration and understory plant communities. Spacing between plots along each transect was adjusted according to gap size in order to provide an even distribution across each transect. To ensure consistent sampling intensities, each transect contained enough plots to represent 5% of each gap area (e.g., 8.1 m2 plots for a 0.016 ha gap).
The location of each 1 m
2
plot within the gap was noted in the field to allow for analysis of the impact of spatial location on understory plant community composition. Plots falling within the outer third of a given gap were categorized as gap edge, and plots located in the inner third were categorized as gap center. The density (stems and clumps/m
2
) and species of herbaceous understory plants, including herbs, ferns, fern-allies, graminoids, and
R. idaeus
, were recorded within each 1 m
2
plot. The inclusion of the woody shrub,
R. ideaus
, in our characterization of herbaceous understory plant communities was due to the recognized importance of this species in affecting vegetation development in canopy gaps in northern hardwood ecosystems [
38
,
39
]. An herbivory index was developed by dividing the number of
A. saccharum
Marshall stems with visible browse damage out of the first ten
A. saccharum
stems along a randomly chosen subcardinal transect within each gap or interior forest plot location. Subcardinal transects were also used for point-line sampling of coarse woody debris (CWD) volume estimates.
A series of control plots were placed in unharvested, intact portions at least 50 m from created gaps to serve as an approximation of pre-harvest vegetation conditions. For all control plots (
n
= 14), all measurements were performed in the same manner as study gaps. With the exception of Power Line (PL), each site contained three intact forest plots that were randomly located within unharvested portions of each stand. Due to a greater degree of variation in canopy composition at the PL site, an additional two plots were included within the intact forest portions of this site, resulting in five control plots at this site.
2.3. Statistical Analyses
Understory plant species densities were averaged for harvest gaps and the intact forest. Analysis of variance (ANOVA) was used to examine the impact of gap size on species richness and densities of understory vegetation [
40
]. ANOVAs were followed by Tukey-Kramer tests in cases in which significant gap size effects were detected. In addition, multivariate tests were conducted to assess understory vegetation compositional differences among gap size classes and spatial location using blocked multi-response permutation procedures (MRBPs) (PC-ORD version 5; McCune and Mefford 1999). Indicator species analysis was used to identify plant species most likely to be found within gap size classes and different gap locations (gap center, gap edge, or intact forest). Non-metric multidimensional scaling (NMS; [
41
]) was used to examine patterns in understory community composition within and among gap size classes. Due to differences in site conditions between blocks, NMS was run separately for each study site to allow for an evaluation of the effects of gap conditions on understory communities. Sørensen distances were used for MRBP and NMS to calculate a distance matrix for the harvest gaps and intact forest plots. To reduce noise in the data set, species with fewer than three occurrences were removed from the data matrices and the "slow-and-thorough" autopilot mode of NMS was used in PC-ORD to generate solutions [
41
]. Ordinations were run until a configuration of lowest stress was found, which for all four study blocks was a three-axis solution. The two axes that explained the most variability in the data are presented in the results section. The relationship between understory community composition and environmental and forest structural characteristics (gap size, CWD volume, and herbivory index) were explored by using the bi-plot function overlaying a secondary matrix of these variables in PC-ORD [
42
]. Ordinations were rotated to place the environmental or forest structural variable with the highest correlation to understory community composition on the first axis. Relationships between species density and NMS axis scores were explored using Kendall's tau statistic in SAS [
40
].
3. Results
3.1. Density and Diversity of Understory Vegetation
Forty-two understory plant species or groups (e.g.,
Carex
sp.) occurred across all study blocks. Thirty-three (79%) of those occurred across all harvest gap sizes and the intact forest. Understory vegetation was much denser in harvested gaps compared to intact forest (
Figure 1
), whereas richness was lower in small gaps compared to intact forest and was slightly higher in larger gaps (
Figure 2
). Certain understory species only occurred in gaps:
Actaea
sp. (baneberry),
Botrychium virginianum
(L.) Sw. (rattlesnake fern),
Mertensia paniculata
(Aiton) G. Don (northern bluebell),
Rubus idaeus
L. (red raspberry),
Sanguinaria canadensis
(bloodroot), and
Cirsium arvense
(L.) Scop. (Canada thistle). All other species occurred in both the intact forest and at least one harvest gap.
3.2. Patterns in Understory Plant Composition across Gap Conditions
Understory plant composition differed among gap sizes (MRBP; A-statistic = 0.017,
p
= 0.0002). Species composition differed as gap size increased with the introduction of disturbance-adapted species, weedy plants, and non-native invasive species (
Figure 3
). In particular, abundances of
Botrychium virginianum
,
Cirsium arvense
,
Mertensia paniculata
, and
Rubus ideaus
increased as gap size increased. In contrast, there was no difference between understory plant communities within gap center and gap edge conditions. A significant indicator species (
p
< 0.05) for the intact forest was
Maianthemum canadense
Desf. (Canada mayflower). Whereas
Polygonatum pubescens
was indicative of gap edge conditions, and
Impatiens capensis
(jewelweed) and
Rubus idaeus
were indicative of gap center conditions, there was no statistical difference detected for understory plant composition between gap edge and gap center conditions. All ordinations had a final stress less than 15.5 and instability <0.0000001.
In addition to gap size being a significant environmental variable that explained the variability of the herbaceous communities within the study gaps, the herbivory index also explained the variability within experimental gaps. We did not specifically investigate the influence of browse on the herbaceous community response to these harvest gaps, but this result does indicate that larger harvest gaps were locations in which herbivores congregated.
4. Discussion
Understory Vegetation Responses
5. Conclusions
The natural disturbance-based silvicultural treatment applied to the study area likely increased the richness of understory vegetation within the stand by providing opportunities for native species, disturbance-dependent species, and invasive species to establish. In particular, gap sizes between 0.008 and 0.07 ha allowed for the regeneration or establishment of several native species that were not found in the intact forest. However, the increase in richness also came at the expense of introducing aggressively establishing non-native invasive species and disturbance-dependent species into portions of these stands. The minimal gains in functional diversity need to be weighed in the context of the potential displacement of important native species by more aggressive native and non-native species. Much of the management within northern hardwood forests typically employs single-tree selection methods, which create relatively uniform canopy conditions and understory environments resulting in homogenization of the understory with relatively low species richness and understory structure [
44
]. This work adds to the growing body of work that suggests that the use of management regimes in which larger canopy gaps are created enhances compositional diversity of understory vegetation in second-growth northern hardwood forests of the upper Great Lakes, but may also introduce non-native invasive species if precautions are not taken [
26
,
34
]. Nonetheless, by creating a patchwork of high-density areas of understory herbaceous vegetation within gaps, these treatments restored some of the spatial diversity in understory abundance patterns found in old-growth northern hardwood systems [
44
].
Author Contributions
Methodology, analysis, writing, figure creation, and editing was conducted by N.W.B. & A.W.D.
Funding
This research was funded by University of Minnesota Department of Forest Resources and The Nature Conservancy. Access to the study locations was provided by the Lake County Minnesota Forestry Department.
Acknowledgments
We thank Meredith Cornett, Chris Dunham, Mark White, and Lee Frelich for their assistance during the experimental design, analysis, and reporting phases of this work. We appreciate Matthew Tyler for his vast knowledge of Minnesota native plants and field assistance.
Conflicts of Interest
The authors declare no conflict of interest.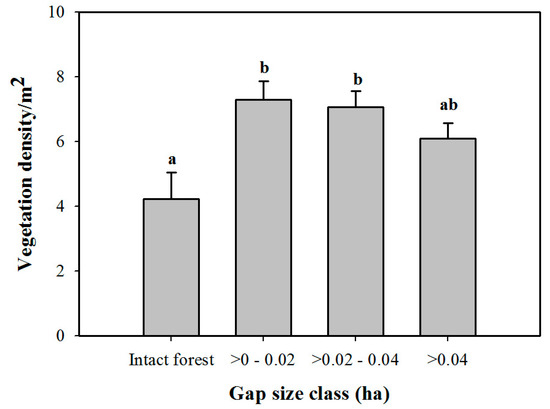 Figure 1.
Understory vegetation density (stem count or clump per m
2
) by harvest gap size (ha). Understory vegetation densities are averaged for all meter square sampling points throughout harvest gaps and intact forest plots. Error bars represent one standard error, and values with different letters are statistically different (
p
≤ 0.05; Tukey-Kramer test).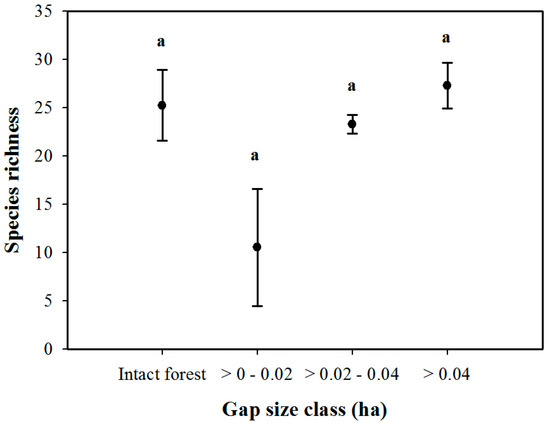 Figure 2.
Understory vegetation species richness by harvest gap size (ha). All identified individual species encountered within all meter square sample plots were used to calculate richness. Error bars represent standard error. There were no significant differences between gap size classes (
p
> 0.05).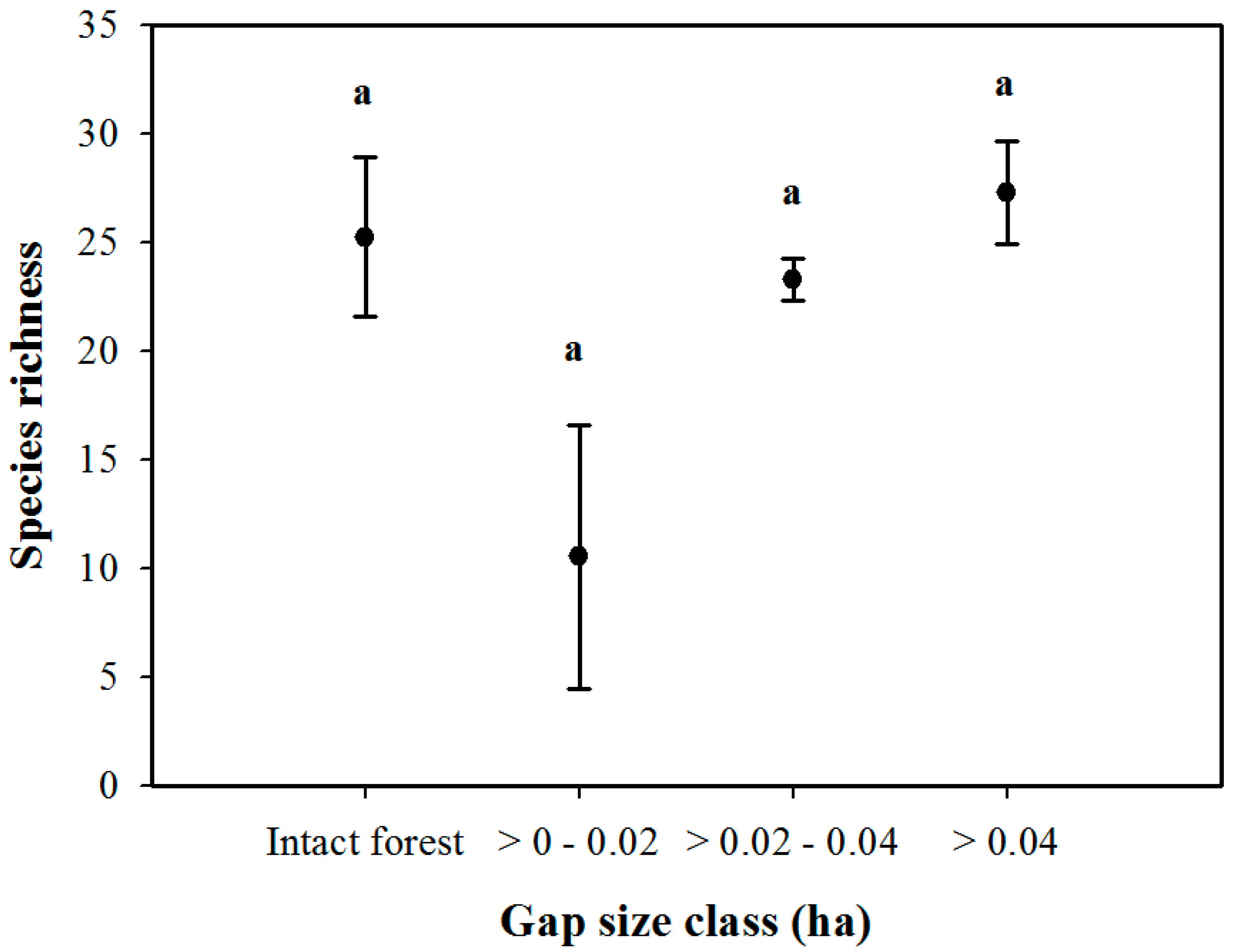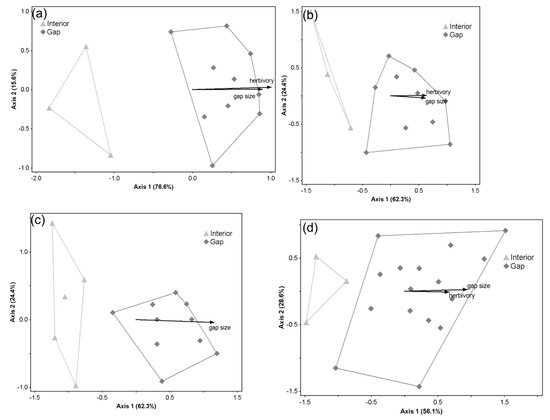 Figure 3.
Nonmetric multidimensional scaling (NMS) ordinations of understory plant communities in gap and interior forest locations for the (
a
) Birch Cut, (
b
) Big Pine, (
c
) Power Line, and (
d
) Schoolhouse study areas. Vector length represents explanatory power of environmental variables (only variables with
r
2
> 0.2 are depicted). Ordination diagrams were rigidly rotated to place the variable "gap size" parallel with the NMS axis 1. See
Table 1
for study site information.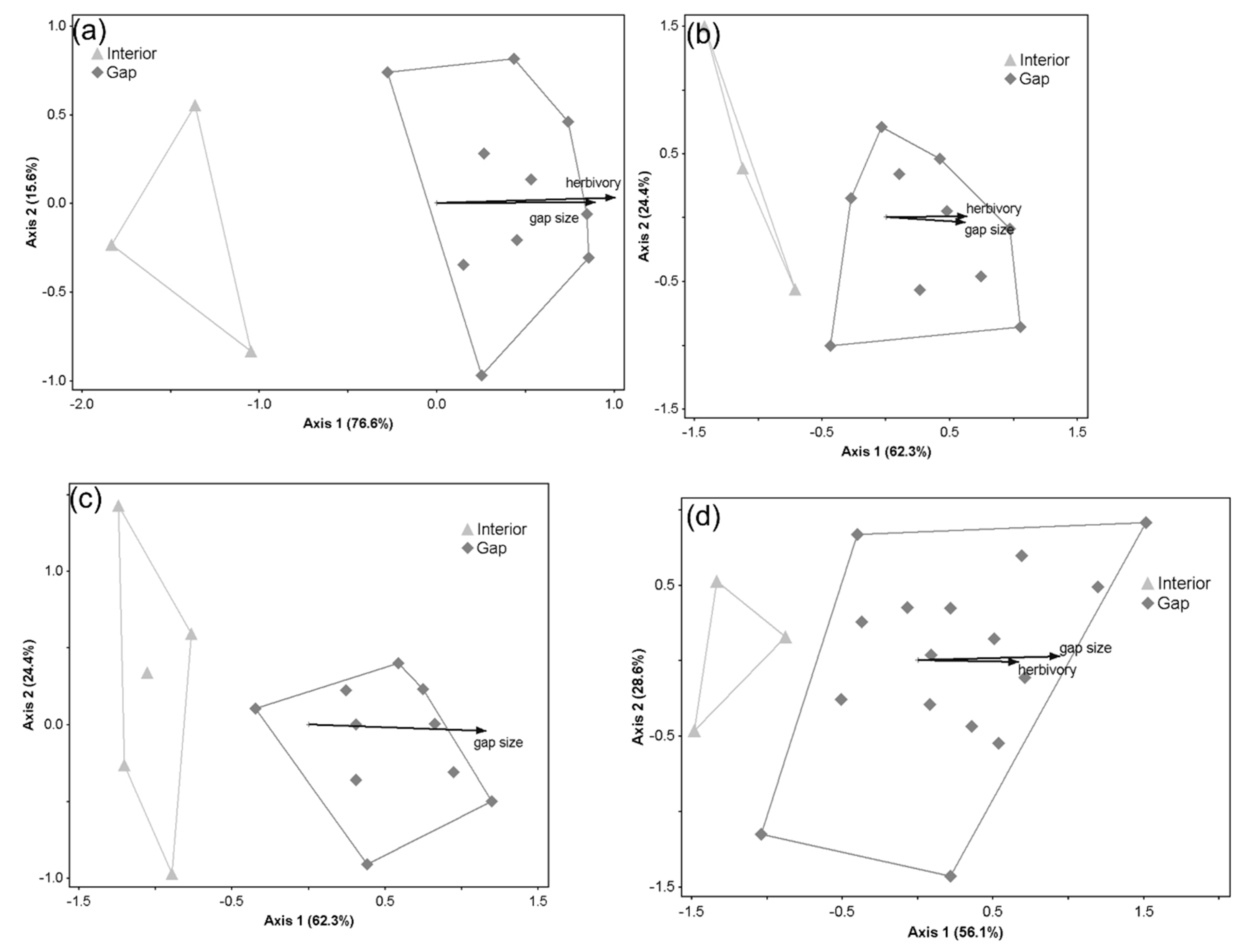 Table 1. Physiographic and compositional characteristics of the study sites in Northeastern Minnesota, USA.
Site
Lat/Long
Harvest Year
Elevation (m)
Aspect
Slope
Soils
Canopy Composition † (% Basal Area)
Number of Gaps
Gap Size Range (ha)
Big Pine (BP)
(47.47, −91.15)
2003
487
162°
8%
Loam

Acer saccharum

Marshall: 84%


Betula alleghaniensis

Britt.: 3%


Betula papyrifera

Marshall: 3%


Thuja occidentalis

L.: 9%
10
(0.024–0.066)
Birch Cut (BC)
(47.45, −91.19)
2002
455
119°
6%
Loam

Acer saccharum

: 89%


Betula alleghaniensis

: 3%


Acer rubrum

L.: 3%


Picea glauca

(Moench) Voss: 3%


Thuja occidentalis

: 3%
10
(0.021–0.071)
Power Line (PL)
(47.34, −91.20)
2003
385
142°
10%
Fine loam

Acer saccharum

: 74%


Fraxinus nigra

Marshall: 24%


Populus grandidentata

Michaux: 2%
10
(0.011–0.069)
Schoolhouse (SH)
(47.46, −91.20)
2002
478
327°
2%
Loam

Acer saccharum

: 63%


Betula alleghaniensis

: 15%


Picea glauca

: 15%


Thuja occidentalis

: 7%
16
(0.008–0.050)
† Canopy composition based upon surrounding intact forest data gathered by basal area swings with a 2.3 m2/ha factor prism.

© 2019 by the authors. Licensee MDPI, Basel, Switzerland. This article is an open access article distributed under the terms and conditions of the Creative Commons Attribution (CC BY) license (http://creativecommons.org/licenses/by/4.0/).