Open Access This article is
freely available
re-usable
Article
Effect of Herbaceous Layer Interference on the Post-Fire Regeneration of a Serotinous Pine (
Pinus pinaster
Aiton) across Two Seedling Ages
1
Departamento de Ecología, Facultad de Ciencias, Universidad de Granada, Av. Fuentenueva SN, 18071 Granada, Spain
2
Field Station Fabrikschleichach, Department of Animal Ecology and Tropical Biology (Zoology III), Julius-Maximilians-University Würzburg, 96181 Rauhenebrach, Germany
*
Author to whom correspondence should be addressed.
Received: 30 December 2018 / Accepted: 17 January 2019 / Published: 20 January 2019
Abstract
:
Herbaceous vegetation is a major source of interference with the regeneration of woody species. This is particularly the case after forest fires, as a dense herbaceous layer usually regenerates naturally. Although the competitive effect of the herbaceous vegetation upon tree seedlings has been widely studied, there are still gaps in knowledge for management related to the effect of tree seedling age and size on the outcome of the interaction. In this study, we seek to determine the response of maritime pine (
Pinus pinaster
Aiton) seedlings to herbaceous competition at two different seedling ages. For that, two treatments of herbaceous competition were implemented, namely unweeded (no action around pine seedlings) and weeded (herbaceous cover removed around pine seedlings). Treatments were conducted twice (2 and 4 years after the fire), and we monitored seedling survival and growth at the end of each growing season. The treatments were implemented across three adjacent landscape units that differed in the management of burned wood and that are representative of common post-fire scenarios: no intervention, salvage logging, and an intermediate degree of intervention. Weeding increased seedling survival from 44.7% to 67.8% when seedlings were 2 years old, but had no effect for four-year-old seedlings, which showed 99% survival. Seedling growth also increased in the weeding treatment, but only slightly. Moreover, growth (and survival for two-year-old seedlings) was strongly correlated with initial seedling size, particularly in the case of two-year-old seedlings. Initial pine seedling height was strongly and positively correlated with the height of the herbaceous layer, supporting the existence of microsite features that promote plant growth above competitive effects. The results support that management actions conducive to foster post-fire pine forest restoration in this Mediterranean ecosystem should reduce herbaceous competition at early stages after fire (second or third year) and focus on larger seedlings.
Keywords:
burnt wood management; wildfire management; Mediterranean-type ecosystems; plant demography; plant competition; post-fire regeneration; salvage logging
1. Introduction
Competition with herbaceous vegetation is a major constraint for woody species recruitment, both through natural regeneration [
1
,
2
,
3
] and in reforestations and afforestations [
4
,
5
,
6
,
7
]. Competition with herbs can be particularly limiting for the growth and survival of woody seedlings after wildfire, which usually removes competitive tree canopies but triggers the establishment of dense herbaceous cover (e.g., [
8
,
9
,
10
]). As a consequence, the control of the herbaceous cover is an old topic of concern in forestry, particularly after fire, and large efforts are devoted to optimize its management and override its negative impact [
1
,
4
,
11
].
The mechanisms underlying the negative effect of the herbaceous cover on tree seedling performance are mainly mediated through competition for light, water, nutrients, or a combination of these factors [
5
,
12
,
13
,
14
], although other mechanisms may also be involved (e.g., allelopathy; [
15
]). The negative effect of herbaceous cover is quite ubiquitous, and although its effect may change depending on environmental conditions (even turning to facilitation in some cases; [
16
,
17
,
18
]), a competitive interaction has been widely reported for biomes and ecosystem types as different as conifer forests [
2
], broadleaf forests [
5
,
19
], grasslands [
6
,
13
,
20
], and Mediterranean-type ecosystems [
21
,
22
]. However, despite clear patterns in this interaction, there are still gaps of knowledge that are relevant for post-fire forest restoration. In particular, the time span in which the interference with the herbaceous layer may constrain tree regeneration is critical to plan appropriate management actions. Given that ground vegetation and tree seedlings compete for resources, any niche separation of resource use, either above or below ground, may reduce the negative effect of the competition by herbs. Thus, the negative effect of the herbaceous layer should be expected to decrease with increasing tree size, as both the roots and the canopy usually grow deeper and taller, respectively, than those of herbs. In fact, competition by herbs tends to be greater at the early establishment phases (when niche overlap is maximum), whereas at sapling or adult stage the direction of the interaction may shift against the herbaceous layer (negative effect of trees on understory vegetation; [
23
,
24
]).
Anthropogenic management after forest disturbances may further affect the development of the herbaceous layer through modifications of light, nutrient availability, soil moisture, and other microsite attributes (e.g., [
25
,
26
]), and thus modulate the interference exerted by herbs on tree seedlings. Post-fire management is particularly a case where human decisions may create habitat types that contrast in overall environmental conditions. After forest fires, restoration activities require a decision on how to manage the fire-damaged trees, which generally involves two contrasting options: removing burned trees through post-fire salvage logging or leaving them standing following non-intervention policies [
26
,
27
]. These two options, as well as any intermediate degree of intervention, create habitat types differing in physical structure but also in light, nutrient, and soil moisture conditions [
25
,
28
,
29
,
30
], which may affect the development of both the herbaceous layer and tree seedlings. In fact, the rapid regeneration of a herbaceous layer is a common pattern after fires in many forest types (e.g., [
9
,
31
]). It is thus relevant to understand how this layer may affect the regeneration of trees across stand-scale post-fire management actions, and how the timing of interventions aimed at reducing competition on seedlings may affect the interaction between the herbs and the regenerating trees.
In this study, we monitored the effect of the herbaceous layer on maritime pine (
Pinus pinaster
Aiton) seedling performance at two different-aged seedlings in three landscape units that received different post-fire management. The study was conducted in a burned area in Southern Spain where maritime pine regenerated naturally. Two years after the fire, the area had a high herbaceous cover, and pine seedlings (2 years old at that time) were subjected to two levels of weed removal (unweeded and weeded). After two additional years (four-year-old saplings), the weeding treatments were repeated on different seedlings. We hypothesized that (i) the herbaceous layer would have a deleterious effect on pine regeneration both in terms of survival and performance, (ii) the negative effect of the herbaceous layer would decline with greater seedling age, and (iii) larger seedlings, regardless of their age, would be less sensitive to competition from herbs. Overall, this study should help elucidate the effects of competition on tree regeneration in the context of different post-fire forest management treatments. Ultimately, we aim to provide managers with recommendations on the effectiveness of interventions that seek to reduce the effects of herb competition on tree regeneration, including any effects of timing and initial seedling size, and with applicability to three different management scenarios after fires.
3. Results
3.1. Initial Conditions
The height of the herbaceous layer surrounding the seedlings was 14.3 ± 0.6 cm (values are mean ±1 SE throughout the paper) at Year 2 and 22.4 ± 1.0 cm for Year 4. The initial size of the pine seedlings at Year 2 averaged 19.9 ± 0.4 cm for stem height and 5.6 ± 0.1 mm for basal stem diameter, and at Year 4 they averaged 46.2 ± 0.7 cm for height and 12.1 ± 0.2 mm for diameter (see
Table 1
for further details). Finally, there was a significant, positive correlation between the maximum height of the herbaceous layer around pine seedlings and initial seedling height each year, with an overall correlation coefficient of 0.36 (
t
= 6.67,
p
< 0.001,
df
= 298;
Figure 2
). This supports that, at microsite scale, the conditions that were better for the herbaceous vegetation were also better for pine seedlings.
3.2. Seedling Survival
The weeding treatment improved seedling survival (
Table 2
). Weeding increased the survival of two-year-old seedlings from an average 44.7% to 67.8%, and this effect was stronger the smaller the seedling (
Figure 3
a). Four-year-old seedlings registered negligible overall mortality (99.0% survival), so weeding had no effect on these seedlings (
Figure 3
a). The positive effect of weeding on the survival of two-year-old seedlings was visible at each of the three landscape units, although not significant in the PCL unit if analyzed separately (
Figure 3
b). Additionally, in two-year-old seedlings, initial seedling size was an important predictor of survival.
3.3. Seedling Growth
Weeding increased height growth independently of seedling age or initial size (
Table 2
), although the magnitude of the increment was small. According to the model, the removal of the herbaceous cover increased stem height increment by an average of 9.4 ± 4.8 mm (
Figure 4
a). There was also a positive relationship between initial seedling height and height growth, as taller seedlings grew more (
Figure 4
a). Further, the slope of this effect was steeper for two-year-old compared to four-year-old seedlings, which yielded a significant initial height by age interaction (
Table 2
;
Figure 4
a).
Growth in stem width was affected by seedling age and by an interaction between weeding and initial stem width (
Table 2
). Four-year-old seedlings grew more than two-year-old seedlings (
Figure 4
b). The weeding treatment had a positive effect on the stem width growth of seedlings that already had a thick stem initially, and no effect on seedlings with a small initial stem width (
Figure 4
b).
5. Conclusions
The herbaceous layer is a source of competition with pine seedlings in Mediterranean post-fire landscapes, and the competition is stronger the smaller/younger the seedling. However, its negative effect may disappear a few years after the fire, probably because of the differentiation of the root systems and consequent below-ground niche partitioning. Management actions to reduce competition from the herbaceous layer should be applied in the second or third year after the fire and to larger seedlings to maximize the efficacy of the treatment. Managing competition by herbs can also be a means to favor the largest pines and thereby increase stand heterogeneity and avoid even-sized regeneration. These results are applicable to a range of post-fire burned-wood management scenarios.
Author Contributions
Conceptualization, J.C.; methodology, J.C.; formal analysis A.B.L.; writing—original draft preparation, J.C.; writing—review and editing, J.C. and A.B.L.; project administration, J.C.; funding acquisition, J.C.
Funding
This research was funded by projects 10/2005 from the Organismo Autónomo de Parques Nacionales (Spanish Government), CGL2008-01671 from the Spanish Ministerio de Ciencia e Innovación (Spanish Government), and P12-RNM-2705 from Junta de Andalucía (Andalusian regional Government).
Acknowledgments
We thank the Consejería de Medio Ambiente, Junta de Andalucía, and the Direction of the Natural and National Park of Sierra Nevada, for fieldwork permission, constant support, and facilities. A.B.L. acknowledges a postdoctoral grant from the Alexander von Humboldt Foundation. We thank two anonymous reviewers for helpful comments that improved the original manuscript.
Conflicts of Interest
The authors declare no conflict of interest. The funders had no role in the design of the study; in the collection, analyses, or interpretation of data; in the writing of the manuscript, or in the decision to publish the results.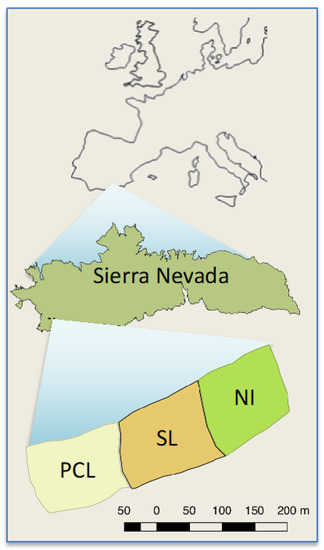 Figure 1.
Location of the study site within Europe and the Sierra Nevada Protected Area. The three landscape units in which the weeding experiment was conducted were characterized by the post-fire intervention they received: NI = non-intervention unit; PCL = partial cut plus lopping unit; SL = salvage logging unit. The size of each unit was ca. 2 ha (see
Table 1
for details).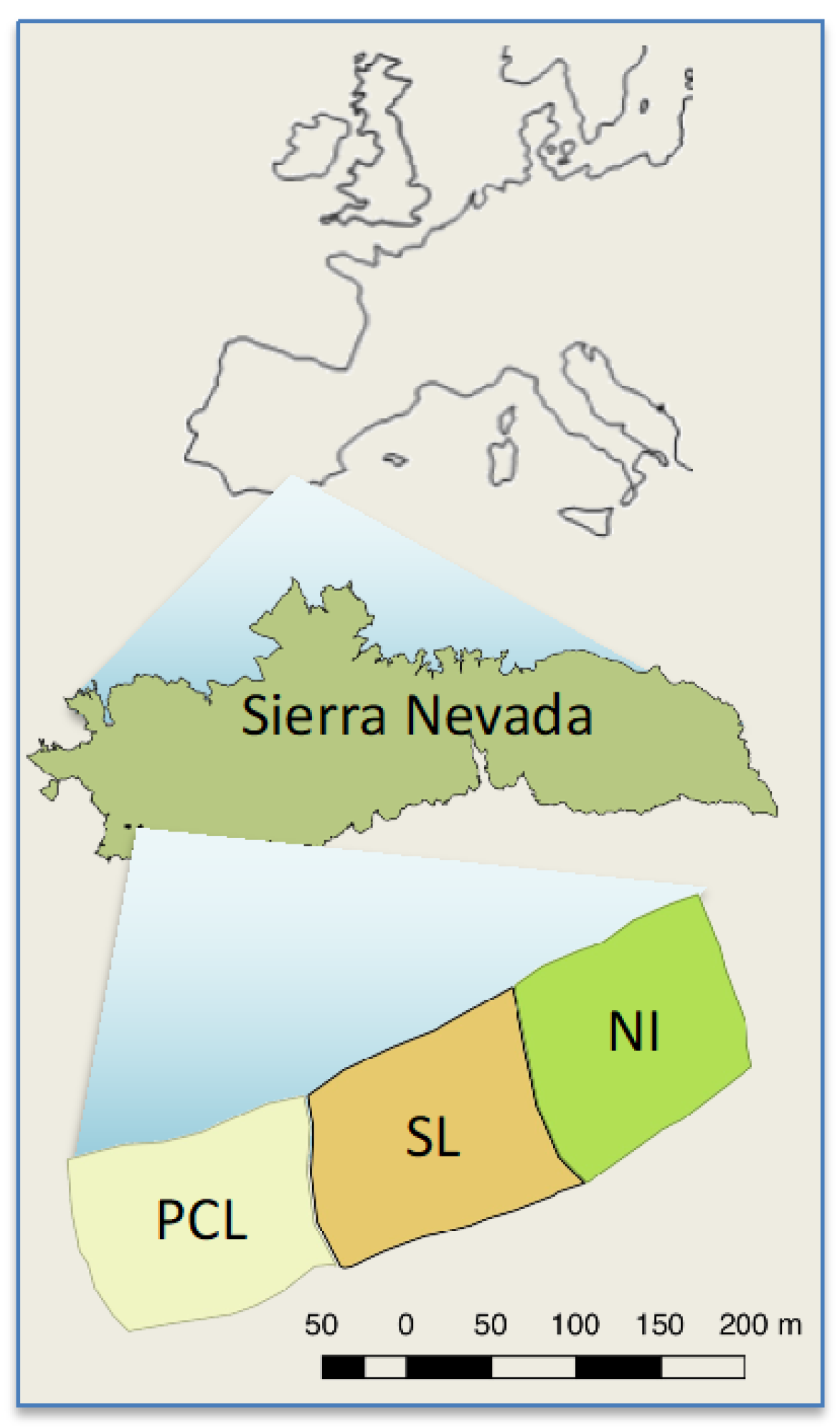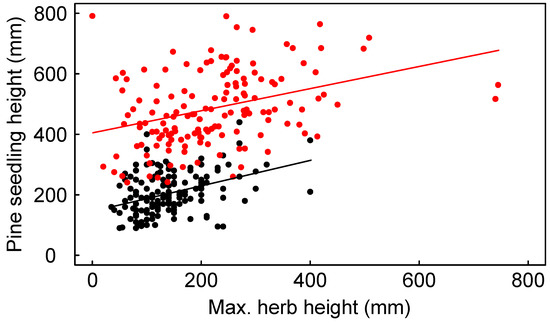 Figure 2. Correlation between the height of pine seedlings and the maximum height of the herbaceous layer at the beginning of the sampling season (May, Year 2, and May, Year 4) in a 50 cm diameter around them in the unweeded treatment. The lines show linear regressions for seedlings of age 2 (black) and 4 (red).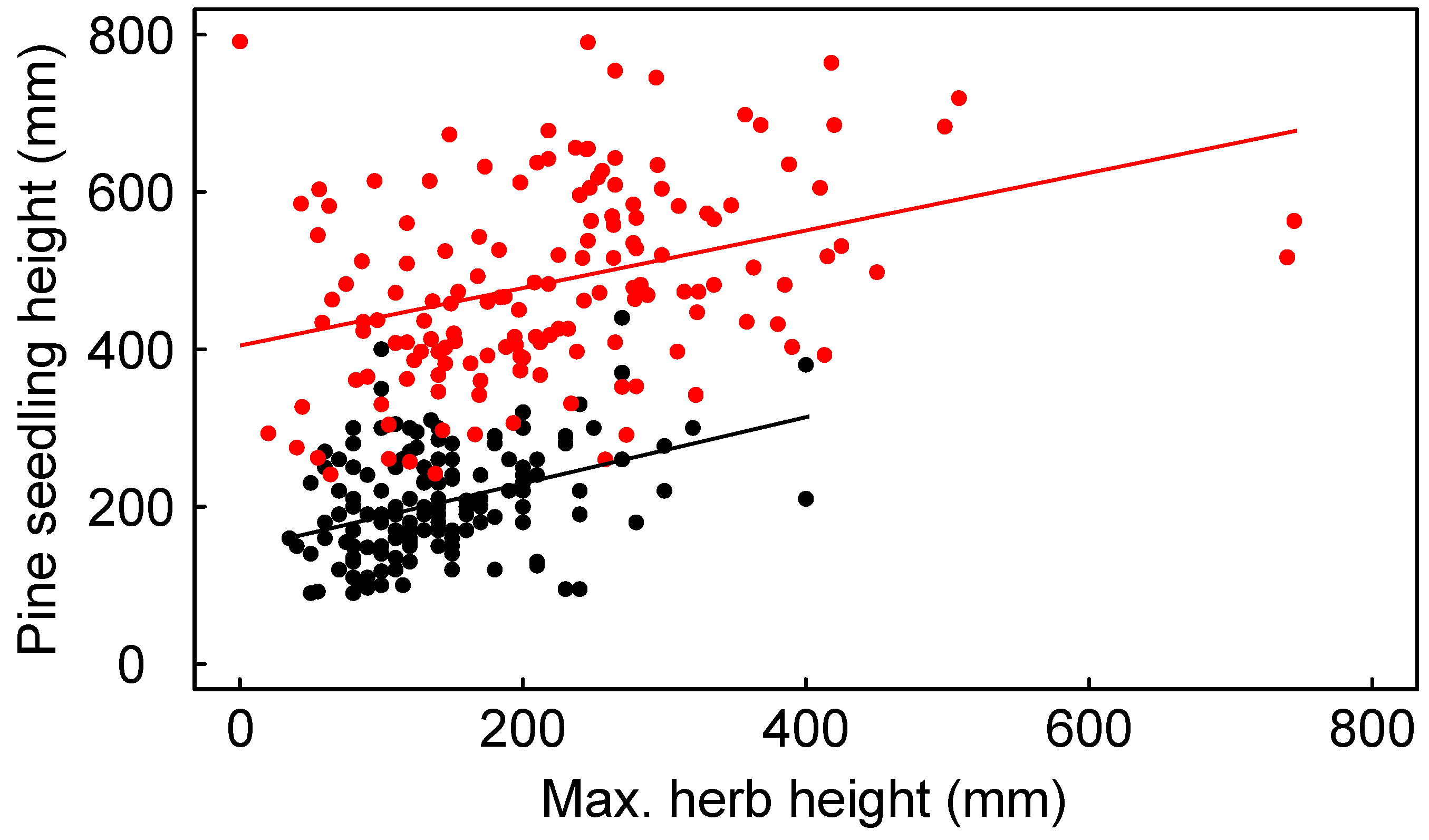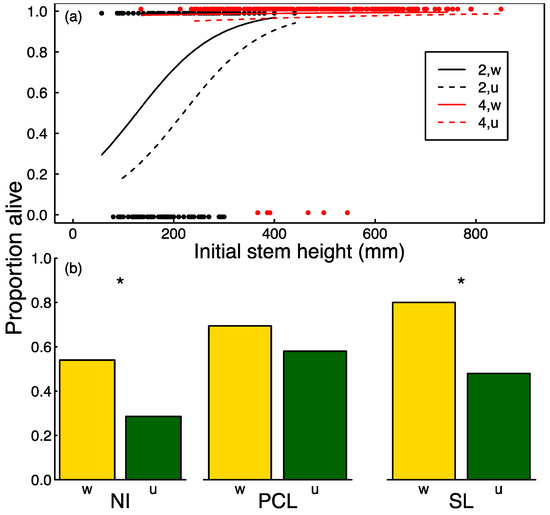 Figure 3.
Effects of weeding on seedling survival. Panel (
a
) shows the dependence of the weeding effect on initial height and seedling age; lines are based on the parameters from a model that includes all significant terms (
Table 2
) and pools over landscape units. Similar trends arise when substituting stem height with stem width (data not shown). Panel (
b
) shows the effect of weeding at each landscape unit for two-year-old seedlings (asterisks indicate a significant weeding effect according to a generalized linear model). w = weeded; u = unweeded; 2 and 4 indicate seedling age; NI = non-intervention unit; PCL = partial cut plus lopping unit; SL = salvage logging unit.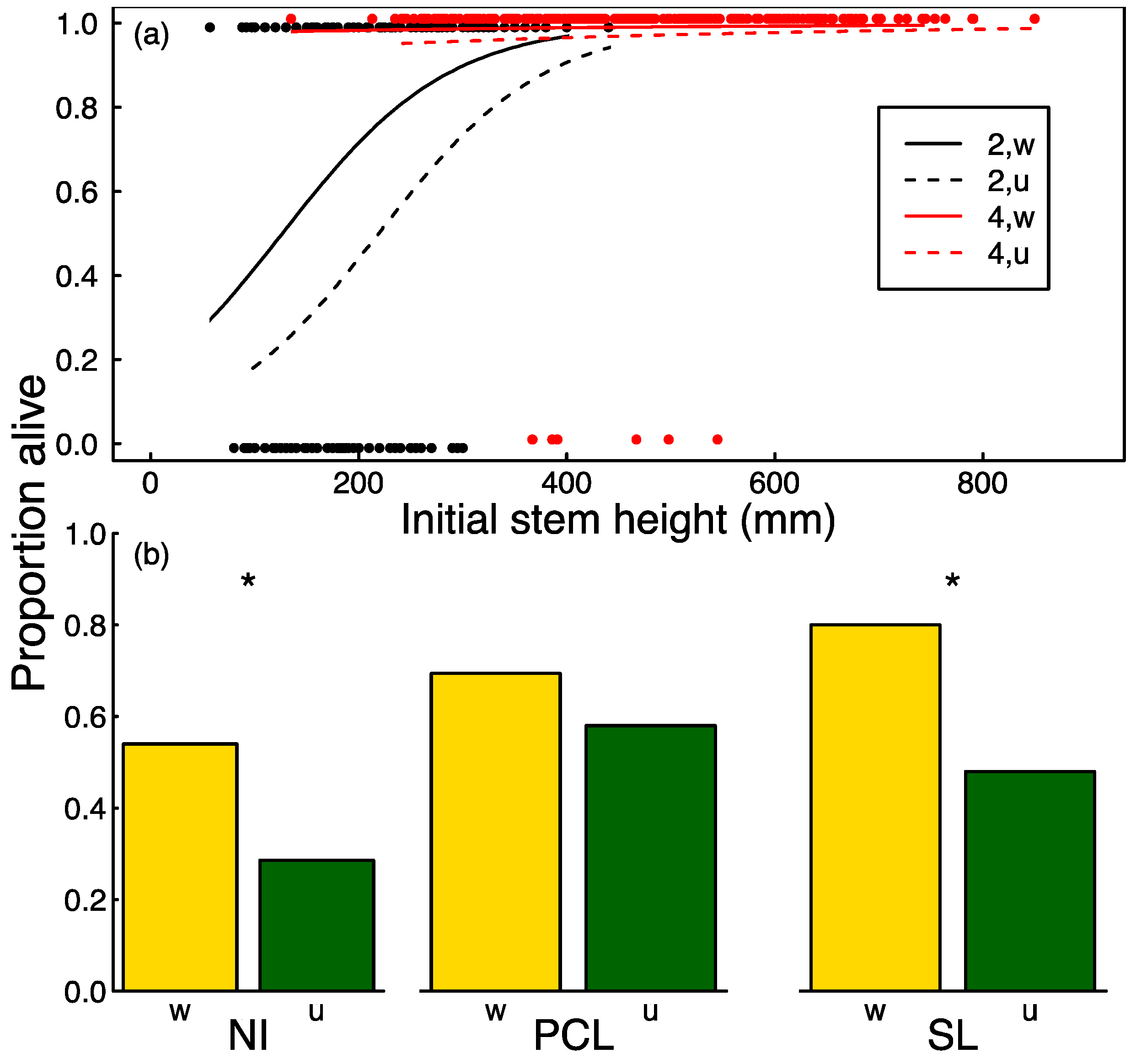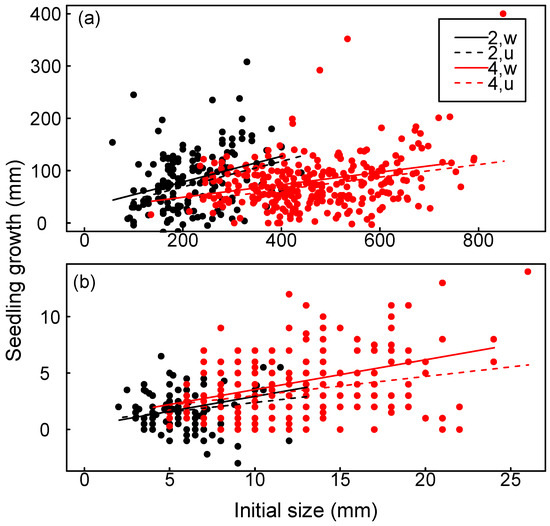 Figure 4. Effects of weeding on seedling growth in (a) stem height and (b) stem width. The lines are drawn from the parameters of a model with all significant terms included, averaged over landscape units. w = weeded; u = unweeded; 2 and 4 indicate seedling age.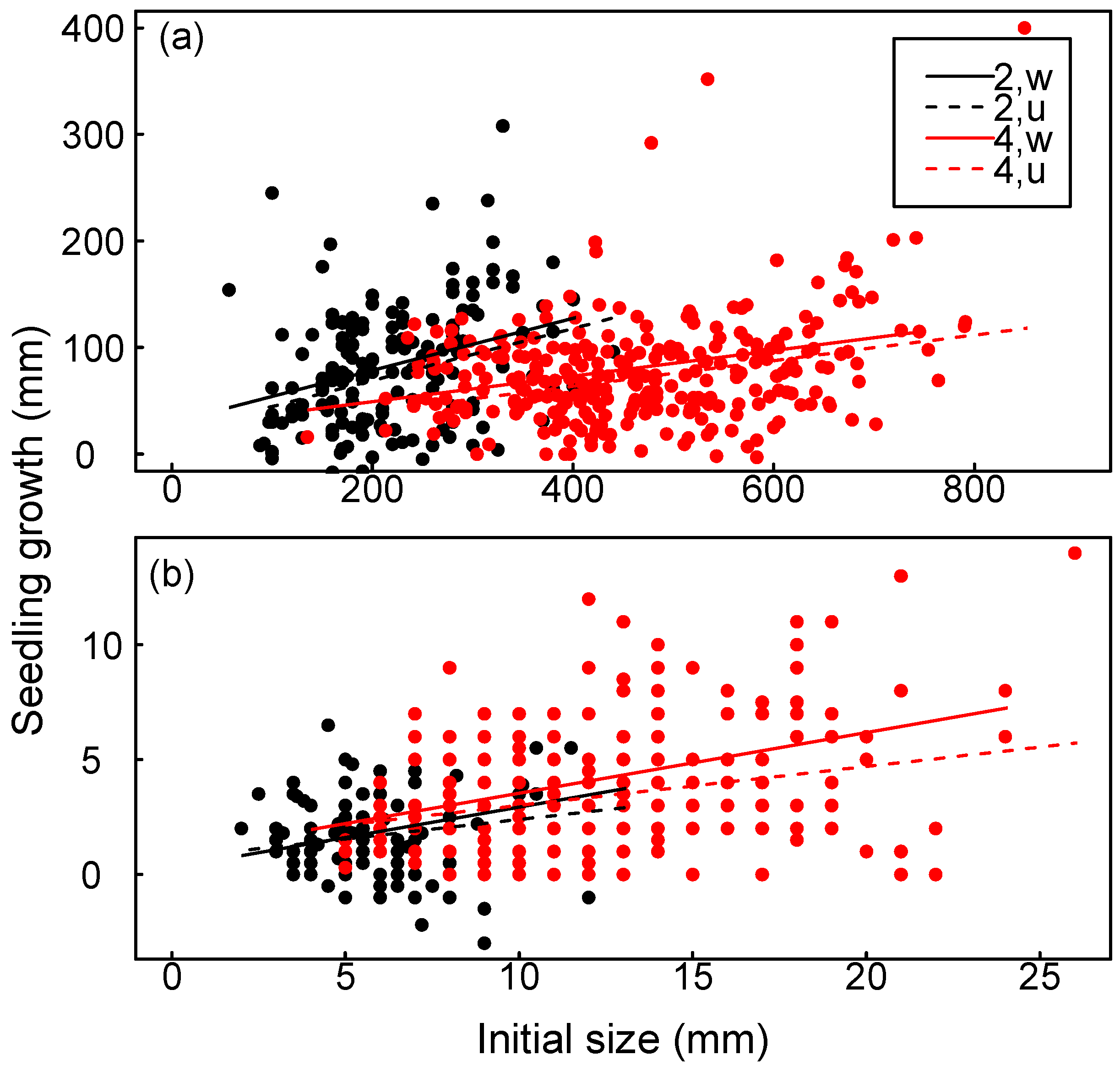 Table 1. Characteristics of the landscape units used in this study and initial values of herb and pine seedlings growth parameters for each of these units.
Landscape Unit
NI
PCL
SL
Sampling unit variables
Centroid coordinates (

x

,

y

)
456,142
4,090,020
455,887
4,089,880
456,024
4,089,940
Area (m2)
18,798
14,586
26,157
Elevation (m a.s.l.)
1533
1430
1474
Slope (%) a
26.8
23.9
23.1
Pre-treatment tree density
(individuals/ha) b
1304 ± 95
1236 ± 73
1316 ± 89
Pre-treatment tree height (m) c
5.8 ± 0.2
6.1 ± 0.2
n.a.
Pre-treatment tree basal diameter (cm) d
18.9 ± 0.6
20.1 ± 0.4
18.8 ± 0.7
Initial values of herbaceous cover and pine seedlings
Herb height year 2 (cm)
15.7 ± 1.0
15.3±0.9
11.8 ± 1.0
Pine height year 2 (cm)
17.6 ± 0.6
24.1±0.7
18.2 ± 0.6
Pine stem diameter year 2 (mm)
4.3 ± 0.2
6.5 ± 0.2
5.9 ± 0.2
Herb height year 4 (cm)
24.6 ± 1.6
25.8 ± 1.6
16.7 ± 1.6
Pine height year 4 (cm)
50.5 ± 1.2
47.5 ± 1.2
40.5 ± 1.2
Pine stem diameter year 4 (mm)
11.4 ± 0.3
12.1 ± 0.4
12.4 ± 0.4
a Slope was calculated as a single value for the whole replicate from a digital elevation model (data provided by the local Forest Service). b Pre-treatment tree density was estimated by counting the trees in four 25 × 25 m randomly placed quadrats per landscape unit. c Pre-treatment tree height was estimated from 30 randomly trees per landscape unit. d Pre-treatment basal tree diameter was estimated for 120 random trees per landscape unit. n.a. = not available. NI = non-intervention unit; PCL = partial cut plus lopping unit; SL = salvage logging unit.
Explanatory Variable a
Seedling Survival
Height Growth
Stem width Growth

df

χ

2

p

F

p

F

p

Weeding (W)
1
23.02
<0.001
4.00
<0.05
b
b
Age (A)
1
b
b
b
b
4.87
<0.05
Initial size (S)
1
b, c
b
b
b
b
b
W:A
1
1.80
0.18
0.01
0.92
0.23
0.63
W:S
1
0.02
0.88
0.65
0.42
4.49
<0.05
A:S
1
4.88
<0.05
8.5
<0.01
1.28
0.26
W:A:S
1
0.06
0.81
0.03
0.85
0.10
0.75
N seedlings
596
460
460
Adjusted

R

2 d
0.35 e
0.10
0.22
a Non-significant terms were removed from the model. All models also included the factor post-fire management regime to control for the associated variance; results not shown. b Main effects not tested due to inclusion in a significant interaction. c The initial size covariate used in these models was seedling height. d Estimated for the simplified models, where non-significant terms are excluded. e McFadden adjusted pseudo-

R

2. Significant effects are shown in bold.

© 2019 by the authors. Licensee MDPI, Basel, Switzerland. This article is an open access article distributed under the terms and conditions of the Creative Commons Attribution (CC BY) license (http://creativecommons.org/licenses/by/4.0/).