Inverse Properties in Neutrosophic Triplet Loop and Their Application to Cryptography
1
Department of Mathematics, Obafemi Awolowo University, Ile Ife 220005, Nigeria
2
Department of Mathematics and Science, University of New Mexico, 705 Gurley Ave., Gallup, NM 87301, USA
*
Author to whom correspondence should be addressed.
Received: 7 February 2018 / Revised: 11 March 2018 / Accepted: 12 March 2018 / Published: 16 March 2018
Abstract
This paper is the first study of the neutrosophic triplet loop (NTL) which was originally introduced by Floretin Smarandache. NTL originated from the neutrosophic triplet set
X
: a collection of triplets
for an
which obeys some axioms (existence of neutral(s) and opposite(s)). NTL can be informally said to be a neutrosophic triplet group that is not associative. That is, a neutrosophic triplet group is an NTL that is associative. In this study, NTL with inverse properties such as: right inverse property (RIP), left inverse property (LIP), right cross inverse property (RCIP), left cross inverse property (LCIP), right weak inverse property (RWIP), left weak inverse property (LWIP), automorphic inverse property (AIP), and anti-automorphic inverse property are introduced and studied. The research was carried out with the following assumptions: the inverse property (IP) is the RIP and LIP, cross inverse property (CIP) is the RCIP and LCIP, weak inverse property (WIP) is the RWIP and LWIP. The algebraic properties of neutrality and opposite in the aforementioned inverse property NTLs were investigated, and they were found to share some properties with the neutrosophic triplet group. The following were established: (1) In a CIPNTL (IPNTL), RIP (RCIP) and LIP (LCIP) were equivalent; (2) In an RIPNTL (LIPNTL), the CIP was equivalent to commutativity; (3) In a commutative NTL, the RIP, LIP, RCIP, and LCIP were found to be equivalent; (4) In an NTL, IP implied anti-automorphic inverse property and WIP, RCIP implied AIP and RWIP, while LCIP implied AIP and LWIP; (5) An NTL has the IP (CIP) if and only if it has the WIP and anti-automorphic inverse property (AIP); (6) A CIPNTL or an IPNTL was a quasigroup; (7) An LWIPNTL (RWIPNTL) was a left (right) quasigroup. The algebraic behaviours of an element, its neutral and opposite in the associator and commutator of a CIPNTL or an IPNTL were investigated. It was shown that
where
, for any prime
p
, is a non-associative commutative CIPNTL and IPNTL. The application of some of these varieties of inverse property NTLs to cryptography is discussed.
View Full-Text
►

▼

Figures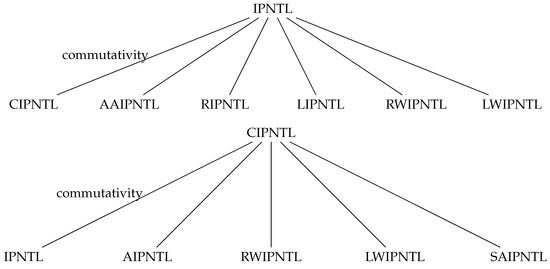 Figure 1
This is an open access article distributed under the
Creative Commons Attribution License
which permits unrestricted use, distribution, and reproduction in any medium, provided the original work is properly cited (CC BY 4.0).

Share & Cite This Article
MDPI and ACS Style
Jaiyeola, T.G.; Smarandache, F. Inverse Properties in Neutrosophic Triplet Loop and Their Application to Cryptography. Algorithms 2018, 11, 32.
Note that from the first issue of 2016, MDPI journals use article numbers instead of page numbers. See further details here.
Related Articles
Comments
[Return to top]