Open Access This article is
freely available
re-usable
Article
The Resistive Switching Characteristics in ZrO2 and Its Filamentary Conduction Behavior
1
Department of Electronic Engineering, National United University, Miaoli 36063, Taiwan
2
Department and Institute of Electronic Engineering, National Kaohsiung University of Applied Sciences, Kaohsiung 80778, Taiwan
*
Author to whom correspondence should be addressed.
Academic Editor: Teen-Hang Meen
Received: 29 May 2016 / Accepted: 1 July 2016 / Published: 8 July 2016
Abstract
:
This study investigated the conduction properties of sputtered ZrO2 exhibiting reversible and stable resistance change. Similar current distributions in on/off conduction and set/reset switching were observed in top electrodes with a diameter of 150, 250, and 350 µm. The size independence of current magnitude implied the presence of an uneven filamentary path over the electrode area. Increased current compliance was imposed on the turn-on process, and the observed increase in on-state current and turn-off threshold was attributed to incremental filament diameter. Variations in current conduction and resistance switching were analyzed by monitoring sweeping bias limits in both positive and negative polarities. These experimental observations were interpreted based on the aspect ratio of channels comprising conductive and oxidized filament portions, thereby elucidating the characteristics of filamentary resistive switching.
Keywords:
filament; resistance change; top electrode
1. Introduction
Resistive random access memory (RRAM), which is a crucial class of nonvolatile memory, is an alternative to commercial floating-gate flash memory [
1
]. RRAM is advantageous because of its simple device structure, easy operation, and high speed. Bistable low- and high-resistance states (LRS and HRS), can be switched reversibly by applying sweeping or pulse voltages with appropriate magnitude and polarity. The set and reset operations represent transitions to an LRS or HRS, which occur at the switching thresholds of (I
SET
, V
SET
) and (I
RESET
, V
RESET
), respectively. V
SET
and V
RESET
are of the same polarity for unipolar resistance switching (URS), whereas opposite polarities are required for bipolar resistive switching (BRS). Previous studies have observed URS and BRS in numerous binary and ternary metal oxides, and the coexistence of two switching modes has been observed in several materials, including TiO
2
[
2
], NiO [
3
], ZnO [
4
], ZrO
2
[
5
], HfO
2
[
6
], and Ta
2
O
5
[
7
]. ZrO
2
resistive thin films exhibit long retention and superior endurance in the URS and BRS modes.
Both homogeneous and filamentary types of switching have been proposed in literature. The dependence of current conduction on the electrode area is a key difference between these two switching types. By filament model, the formation of conductive filaments (CFs) in LRS comes from the low-resistance channels between the top and bottom electrodes [
8
]. In previous studies, spot images have been directly observed by performing probe scanning, which provides strong support for this model [
9
,
10
]. An in-between layer was embedded to improve the switching performance by enhancing the confinement of the current path [
11
,
12
]. URS and BRS differ in resistance ratio and especially in the abrupt or gradual transition to the HRS [
13
,
14
], which implies a specific reset mechanism to be involved in the CF rupture process. The physics and characteristics of CFs provide guidelines for controlling RRAM switching operations and enhancing conduction reliability. In this study, the conduction and switching dispersions in ZrO
2
devices were examined by applying various current compliances and sweeping voltage ranges. Influence of these measuring conditions was interpreted in perspective of CFs, as compared with those by preparing conditions, e.g., materials, structures, and atmosphere treatment.
2. Results and Discussion
3. Materials and Methods
Sputtered ZrO
2
(approximately 60-nm thick) was deposited on a Pt/Ti/SiO
2
/Si substrate at 250 °C and 10 mTorr under an O
2
: Ar gas mixture with a ratio of 6:12 and a flow rate of 18 cm
3
per minute. Because of its oxygen getter properties, Ti was sputter-deposited as the top electrode (TE), and then patterned using a shadow mask with various diameters (150, 250, and 350 µm) to analyze the size effect. The devices were tested in tri-layer structures comprising Ti (110 nm)/ZrO
2
(60 nm)/Pt. Current-voltage (I–V) curves were obtained using an HP4155A semiconductor parameter analyzer. Device switching between the LRS and HRS was achieved by applying a direct voltage sweep mode while the bottom electrode was grounded. Bias was applied to the TE during each sweep cycle in the range of V
POS
to −V
NEG
, which denote the positive and negative bias limits, respectively. The current compliance I
CC
was set to 10–50 mA at the V
SET
side to control the current level in the LRS. To differentiate between the dependence of specific parameters clearly, this study refers only to their magnitudes and ignores the corresponding signs. Setting V
POS
(V
NEG
) higher than V
SET
(V
RESET
) is necessary for successful switching. Ambient water vapor pressure is kept constant to exclude the effect of moisture on the switching characteristics [
38
,
39
]. Unless stated otherwise, the data for the I–V curves were measured at room temperature, with an I
CC
of 10 mA, TE diameter of 150 µm, and a sweeping range of ±2.5 V.
4. Conclusions
The effect of current compliance and sweeping range on sputtered Ti/ZrO2/Pt was investigated by examining the distributions of the corresponding I–V curves. The area independence of conduction and switching currents indicates that the formation of CFs was localized over the electrode. The on-state current and corresponding turn-off threshold increased in conjunction with the current compliance. Similar results were observed when higher VPOS values were applied. The formation of CFs with increased diameters explains these experimental observations. By contrast, extending VNEG resulted in shorter CFs and a re-oxidized portion, thereby decreasing the IHRS.
Acknowledgments
The authors thank the Ministry of Science and Technology, R.O.C., Taiwan, for financially supporting this research under Contract No. of MOST 103-2221-E-239-031.
Author Contributions
Chun-Hung Lai conceived and designed the experiments, analyzed the data and wrote the paper. Chih-Yi Lin performed the experiments, and Hung-Wei Chen contributed materials/analysis tools.
Conflicts of Interest
The authors declare no conflict of interest.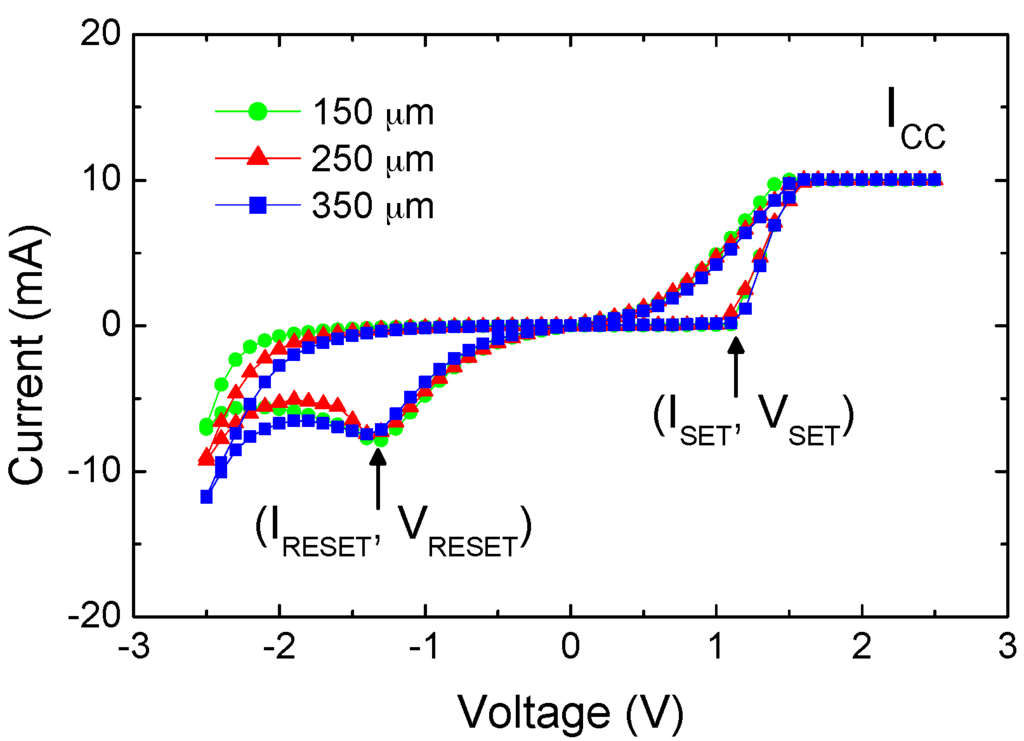 Figure 1. Typical room-temperature I–V curves in linear scale under ICC = 10 mA with top electrode diameter of 150, 250, 350 μm.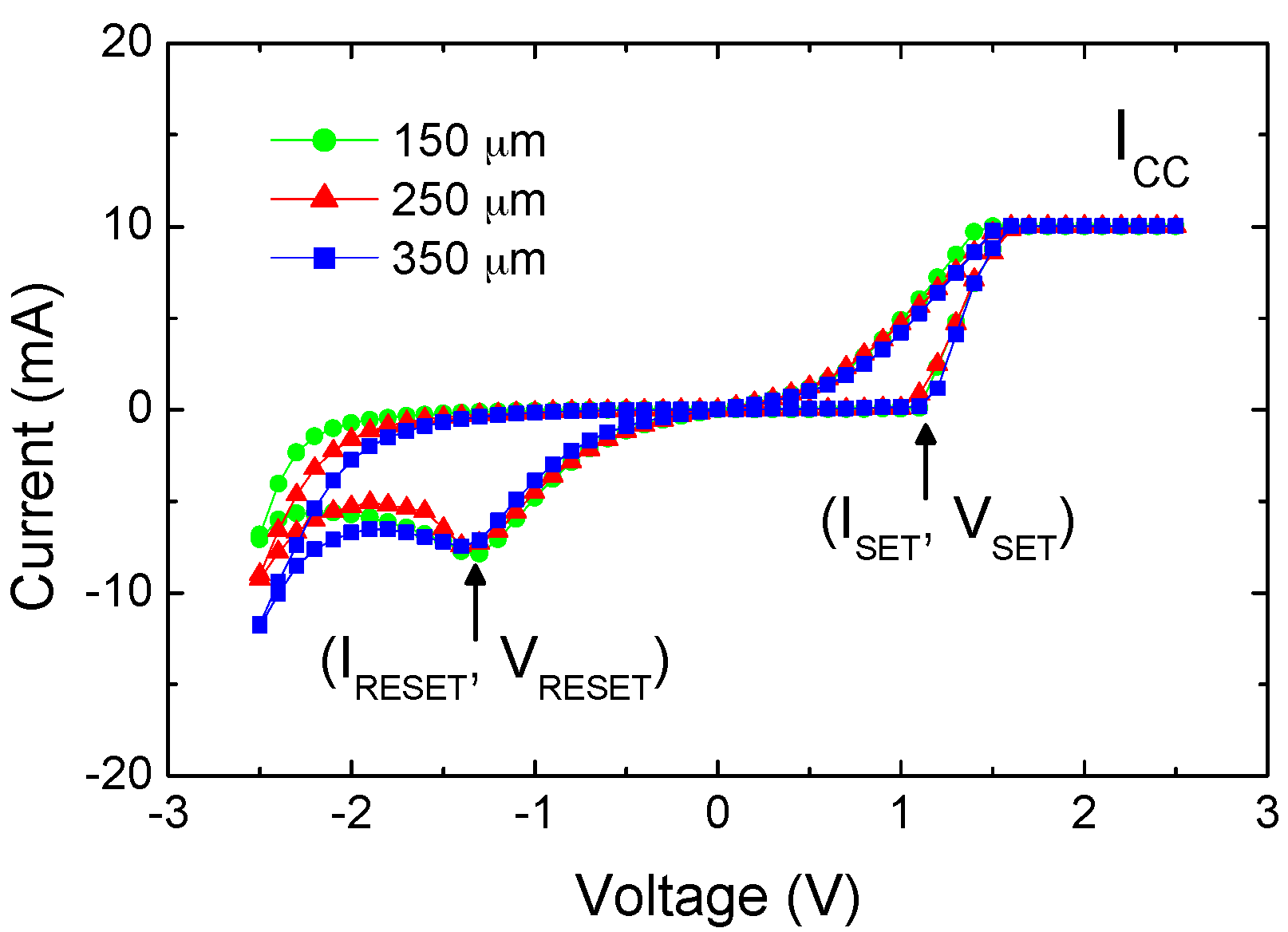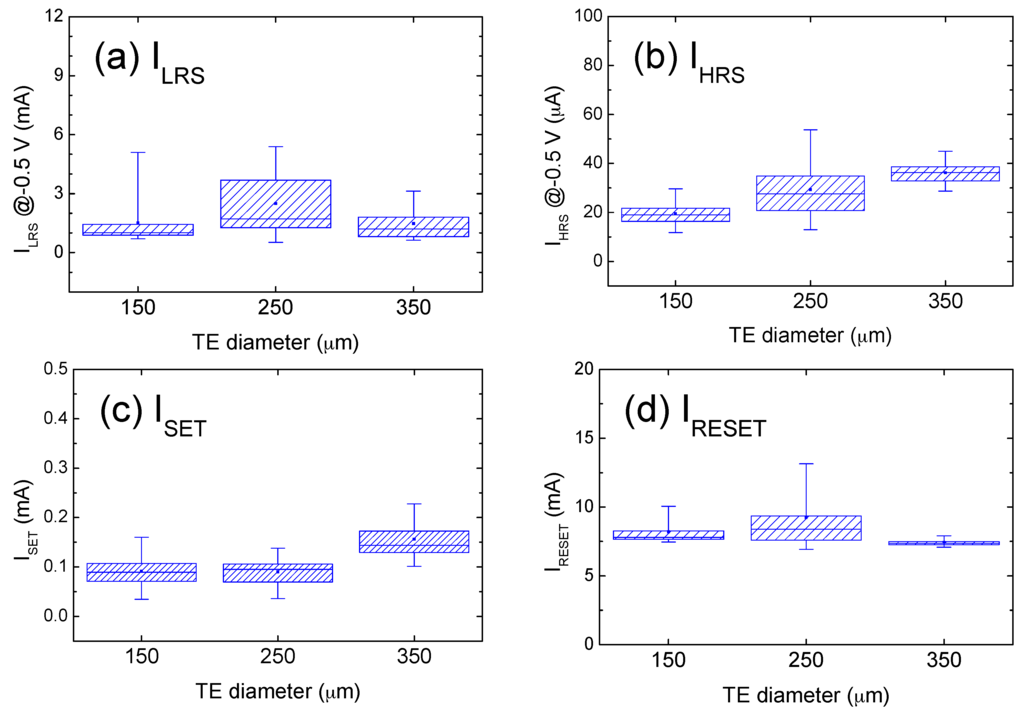 Figure 2.
Distribution of critical current parameters extracted from
Figure 1
after multiple measurements as a function of electrode areas. (
a
) I
LRS
; (
b
) I
HRS
; (
c
) I
SET
; (
d
) I
RESET
.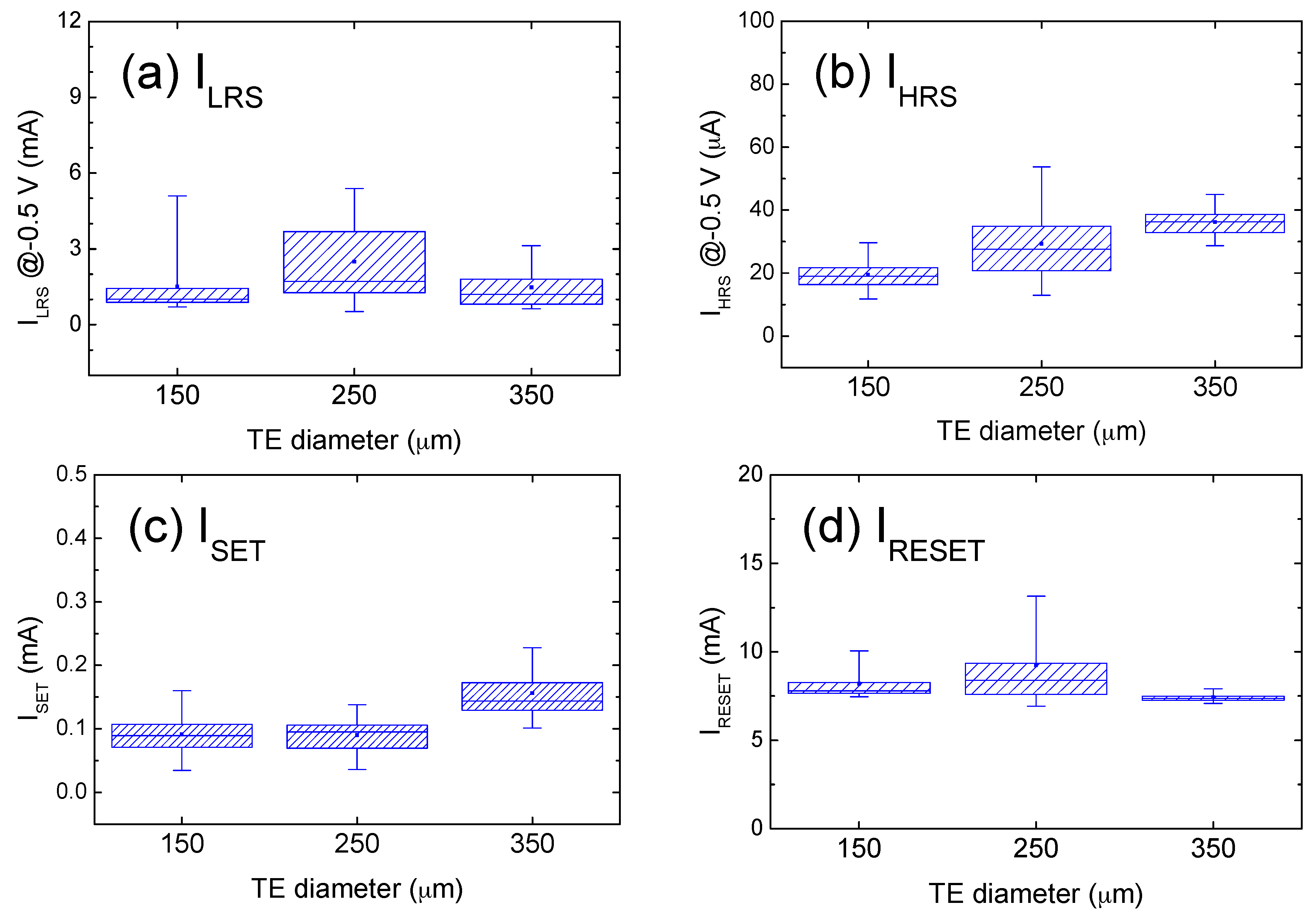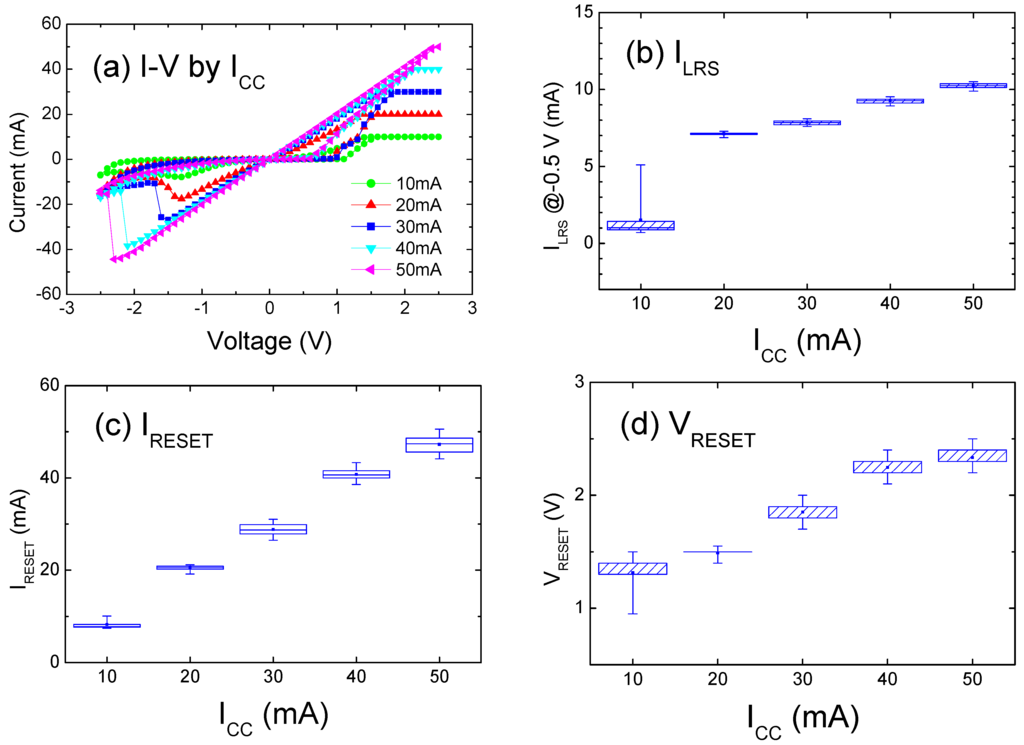 Figure 3. (a) Typical room-temperature I–V curves by top electrode (TE) diameter of 150 μm under ICC of 10 to 50 mA; (b) Distribution of extracted parameters after multiple measurements for ILRS; (c) for IRESET; and (d) for VRESET.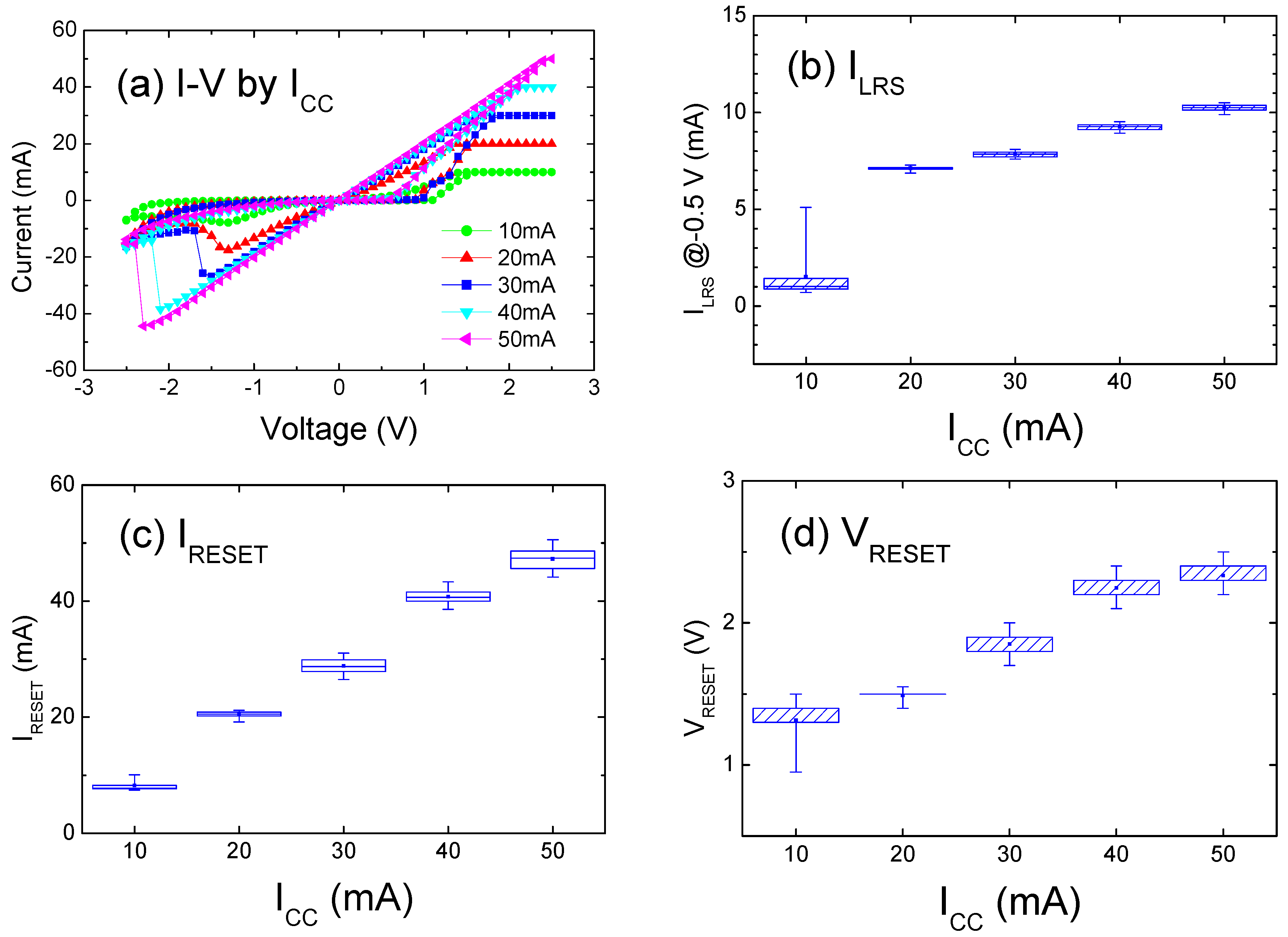 Figure 4. (a) Typical room-temperature I–V curves as a function of VPOS with no compliance setting; (b) Effect of VPOS on ILRS; (c) on IRESET; (d) on VRESET; and (e) on IHRS.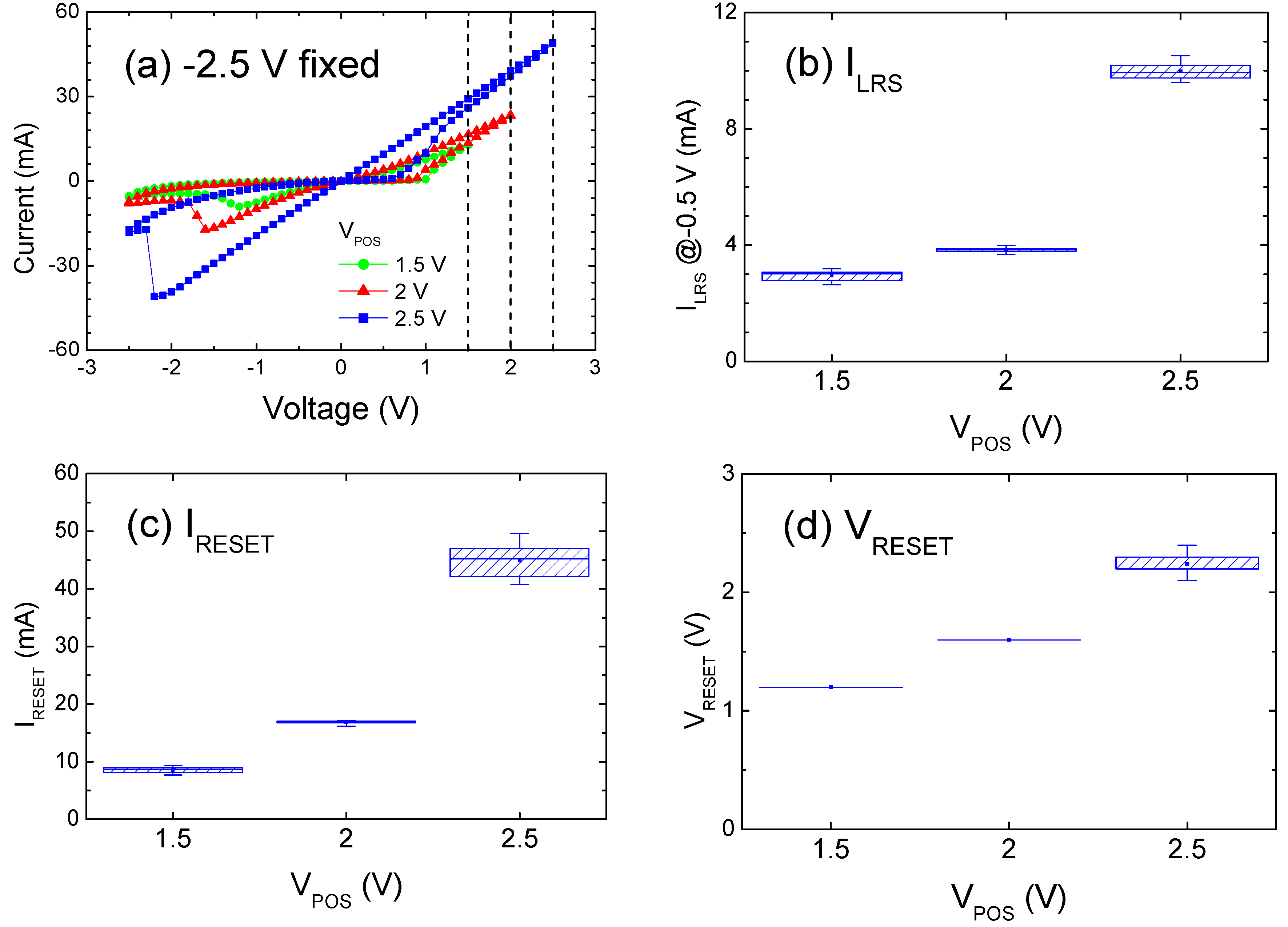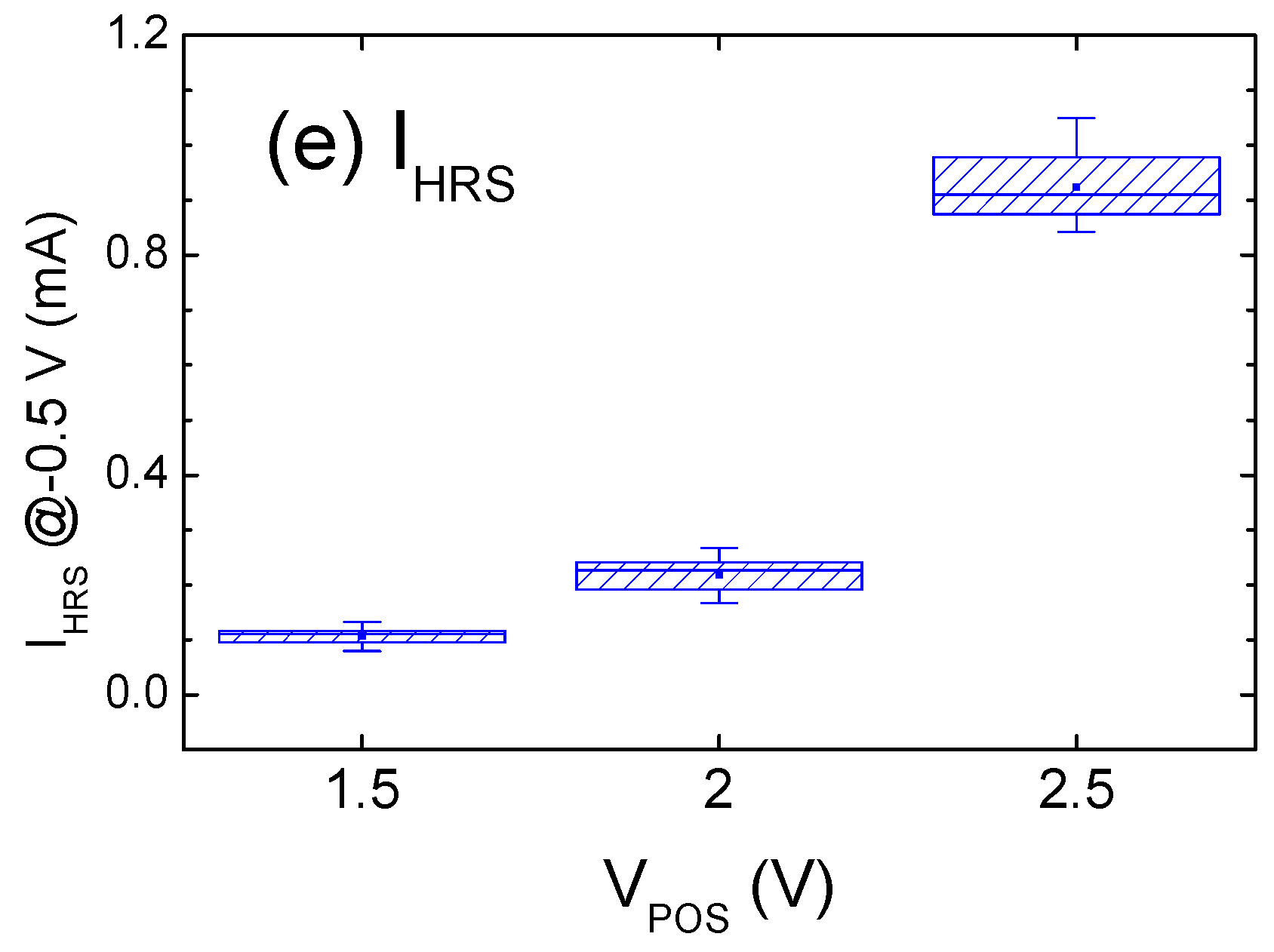 Figure 5. (a) Typical room-temperature I–V curves as a function of VNEG under ICC of 10 mA; (b) Effect of VNEG on IHRS.

© 2016 by the authors; licensee MDPI, Basel, Switzerland. This article is an open access article distributed under the terms and conditions of the Creative Commons Attribution (CC-BY) license (http://creativecommons.org/licenses/by/4.0/).