Open Access This article is
freely available
re-usable
Article
Heterojunctions of p-BiOI Nanosheets/n-TiO2 Nanofibers: Preparation and Enhanced Visible-Light Photocatalytic Activity
Center for Advanced Optoelectronic Functional Materials Research, and Key Laboratory of UV-Emitting Materials and Technology, Northeast Normal University, Ministry of Education, 5268 Renmin Street, Changchun 130024, China
*
Authors to whom correspondence should be addressed.
Academic Editor: Joshua M. Pearce
Received: 28 December 2015 / Accepted: 26 January 2016 / Published: 30 January 2016
Abstract
:
p-BiOI nanosheets/n-TiO2 nanofibers (p-BiOI/n-TiO2 NFs) have been facilely prepared via the electrospinning technique combining successive ionic layer adsorption and reaction (SILAR). Dense BiOI nanosheets with good crystalline and width about 500 nm were uniformly assembled on TiO2 nanofibers at room temperature. The amount of the heterojunctions and the specific surface area were well controlled by adjusting the SILAR cycles. Due to the synergistic effect of p-n heterojunctions and high specific surface area, the obtained p-BiOI/n-TiO2 NFs exhibited enhanced visible-light photocatalytic activity. Moreover, the p-BiOI/n-TiO2 NFs heterojunctions could be easily recycled without decreasing the photocatalytic activity owing to their one-dimensional nanofibrous structure. Based on the above, the heterojunctions of p-BiOI/n-TiO2 NFs may be promising visible-light-driven photocatalysts for converting solar energy to chemical energy in environment remediation.
Keywords:
BiOI/TiO
2
; p-n heterojunction; nanofiber; photocatalysis
1. Introduction
Semiconductor photocatalysts have been promising media to degrade pollutants through converting solar energy to chemical energy [
1
]. In recent years, bismuth oxyhalides BiOX (X = Cl, Br, I), as p-type semiconductors, have attracted considerable attentions owing to their unique layered crystal structure and indirect optical transition characteristic. The layer structure consists of (Bi
2
O
2
)
2+
layers interleaved by double halogen atoms layers, which can present an internal static electric field and induce the separation of photogenerated carries more efficiently. Furthermore, the indirect transition band gap is necessary for electrons to be emitted to valence band by a certain k-space distance, which reduces the recombination probability of photoelectrons and holes [
2
,
3
]. These advantages lead to remarkable photocatalytic activities in degradation of organic compounds [
4
,
5
,
6
,
7
]. Notably, the p type BiOI (p-BiOI) nanostructures have the narrowest band gap (~1.8 eV) among BiOX (X = Cl, Br, I) nanostructures. Therefore, the p-BiOI nanostructures are considered excellent visible light photocatalysts that can utilize more solar light energy in photocatalysis. Nowadays, many efforts have been employed to improve the photocatalytic efficiency of p-BiOI nanostructures [
8
,
9
]. Constructing p-n heterojunctions is considered an effective method to improve the separation efficiency of photogenerated carries due to their strong internal electric field [
10
,
11
,
12
,
13
]. Many kinds of p-n heterojunctions based on p-BiOI, such as BiOI/ZnTiO
3
[
14
], BiOI/Zn
2
SnO
4
[
15
], BiOI/ZnO [
16
], BiOI/Bi
4
Ti
3
O
12
[
17
],
etc.
, have been reported with increased photocatalytic activity.
Among many n type semiconductors, Titanium dioxide (TiO
2
) nanostructures have been widely studied as good photocatalysts due to their high efficiency, chemical stability, nontoxicity, low cost,
etc.
[
18
,
19
,
20
,
21
,
22
,
23
,
24
]. Coupling p-BiOI nanostructures with n-TiO
2
nanostructures to form p-BiOI/n-TiO
2
heterojunctions would hinder the recombination of photogenerated carries more effectively. To date, p-BiOI/n-TiO
2
nanoparticles have been widely reported with enhanced visible-light photocatalytic activity [
25
,
26
,
27
]. However, the suspended nanoparticles tend to aggregate during the synthesis process and be lost in the separation and recycling process, resulting in a reduction of specific surface area and photocatalytic performance. Compared with nanoparticles, one-dimensional nanofibers with a high surface-to-volume ratio are more favorable for both photocatalytic activity and recycling characteristics [
28
,
29
]. In fact, our group has previously constructed heterojunctions of p-BiOCl nanosheets/n-TiO
2
nanofibers [
30
] and p-MoO
3
nanosheets/n-TiO
2
nanofibers [
31
], both of which show enhanced ultraviolet photocatalytic activities and recycling properties. Therefore, there is interest in constructing p-BiOI/n-TiO
2
heterojunctions using electrospun TiO
2
nanofibers as n type semiconductor because of the following advantages: (1) besides the internal electric field of the p-n heterojunction, the one-dimensional characters of TiO
2
nanofibers could act as charge transfer channels facilitating higher charge separation efficiencies; (2) the three-dimensional open structure and large specific surface area of TiO
2
nanofibers provide more active sites for the assembly of secondary nanostructures with high densities; and (3) their nanofibrous nonwoven web structure can be easily separated from fluid by sedimentation.
Taking the above factors into account, in this work, the p-type BiOI nanosheets were successfully synthesized on n-type electrospun TiO2 nanofibers by successive ionic layer adsorption and reaction (SILAR) at room temperature. The contents of BiOI in the heterojunctions of p-BiOI nanosheets/n-TiO2 nanofibers (p-BiOI/n-TiO2 NFs) could be well controlled by adjusting the cycles of SILAR. X-ray photoelectron spectra showed that both Ti 2p peaks of p-BiOI/n-TiO2 NFs shifted to higher binding energies than that of TiO2 nanofibers, suggesting effective electrons transfer from TiO2 to BiOI in the formation of p-n heterojunction. The p-BiOI/n-TiO2 NFs exhibited favorable visible-light photocatalytic activity for degradation of methyl orange (MO), which can be ascribed to the high specific surface area and the as-formed p-n heterojunctions. Moreover, the heterojunctions of p-BiOI/n-TiO2 NFs could be well recycled by sedimentation without decreasing their photocatalytic activities.
2. Results and Discussion
3. Experimental
The synthesized process of samples is presented in
Scheme 2
.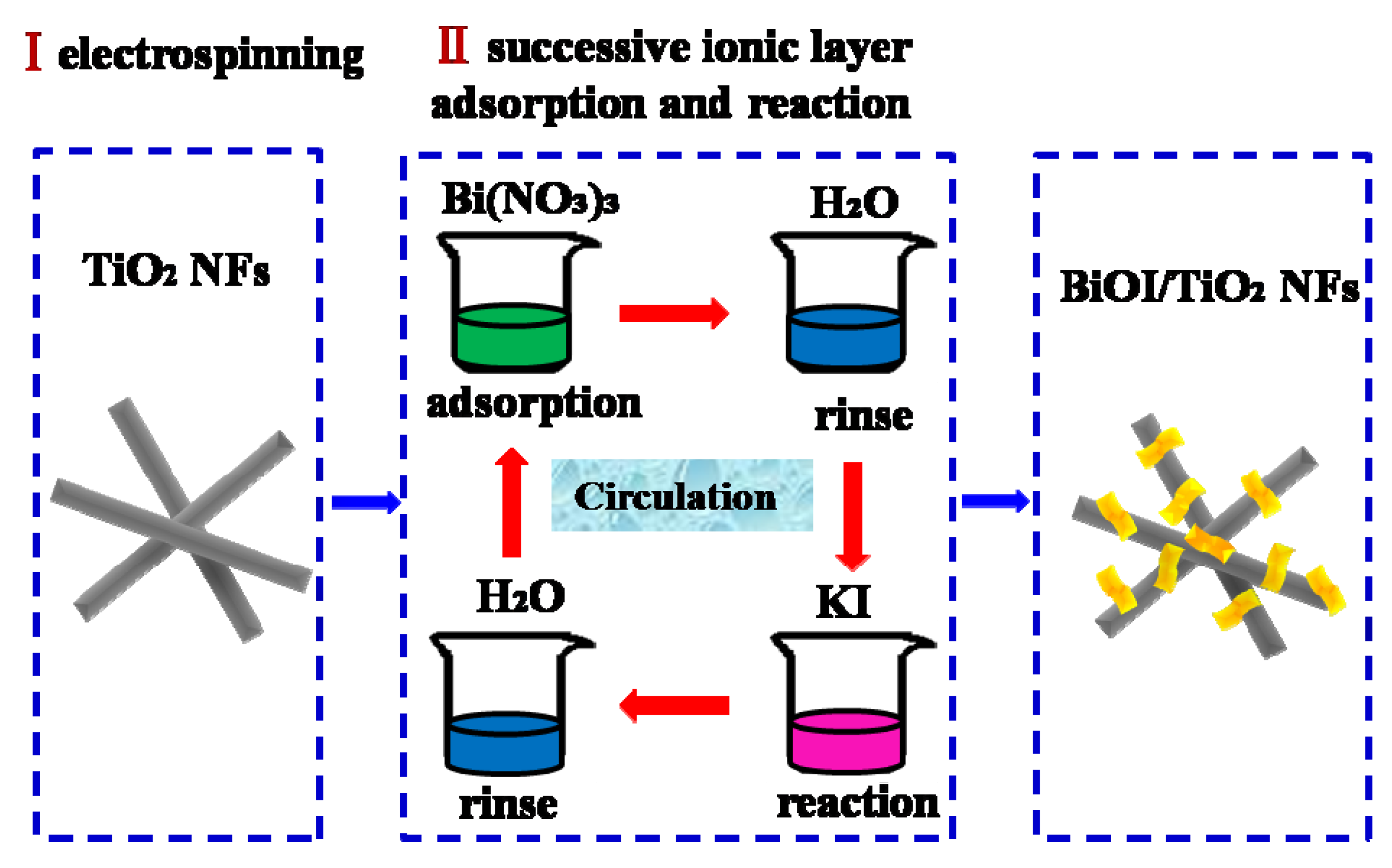 3.1. Fabrication of TiO2 Nanofibers
Firstly, 1.6 g Poly(vinyl pyrrolidone) powder (PVP, Mw = 1,300,000) was added to a mixture of 20 mL absolute ethanol and 2 mL acetic acid in a Erlenmeyer flask. The obtained solution was stirred for 2 h to generate a homogeneous solution. Then, 2.0 mL Ti(OC4H9)4 was added to the solution, the mixture was magnetically stirred for another 10 h at room temperature to make electrospinning precursor solution. Subsequently, the above precursor solutions were drawn into a hypodermic syringe with a needle tip. Then, a high voltage source was connected to the needle tip while a sheet of aluminum foil was employed as the collector. The voltage between the needle tip and collector was set at 10 kV, and the distance was 15 cm. The as-collected nanofibers were calcined at a rate of 25 °C/h and remained for 2 h at 520 °C to obtain TiO2 NFs.
3.2. Fabrication of BiOI/TiO2 Nanofibers
The p-BiOI/n-TiO
2
NFs were synthesized through the SILAR process. Typically, 0.25 mM Bi(NO
3
)3·5H
2
O solutions were prepared with deionized water as solution A, and equivalent concentration of KI solution were prepared as solution B. The TiO
2
nanofibers were first immersed into solution A for 2 min, rinsed with deionized water, and then immersed into solution B for 2 min, rinsing likewise. The four-step procedure forms one cycle and the BiOI would increase by repeating the cycles. A series of samples, with different cycles of 10, 20 and 30 were prepared and denoted as BiOI/TiO
2
-C10, BiOI/TiO
2
-C20 and BiOI/TiO
2
-C30. After that, the samples were thoroughly rinsed with deionized water and allowed to dry at 60 °C overnight. All the samples are listed in
Table 1
. Pure BiOI nanosheets were prepared by mixing solution A and B, then rinsed and dried.
3.3. Characterizations
Sanning electron microscopy (SEM, Quanta 250 FEG, FEI, Hillsboro, OR, USA) and high-resolution transmission electron microscopy (HRTEM; JEOL JEM-2100, JEOL, Tokyo, Japan) were used to characterize the morphologies of the products. The X-ray diffraction (XRD) measurements were carried out using a D/max 2500 XRD spectrometer (Rigaku, Tokyo, Japan) with a Cu Kα line of 0.1541 nm. The X-ray photoelectron spectroscopy (XPS) was performed on a VG-ESCALAB LKII instrument (VG, Waltham, UK) with Mg KαADES (hυ = 1253.6 eV) source at a residual gas pressure of below 10−8 Pa. The specific surface area of the samples were measured with a Micromeritics ASAP 2010 instrument (Micromeritics, Norcross, GA, USA) and analyzed by the Brunauer-Emmett-Teller (BET) method. The UV-vis diffuse reflectance spectra were measured at room temperature with a UH4150 spectrophotometer (Hitachi, Tokyo, Japan).
3.4. Photocatalytic Tests
A 150 W xenon lamp with a cut off filter (≥420 nm) was used as the visible light source for photocatalysis. Using MO as model pollutants, photocatalyst (0.1 g) was suspended in MO solution (100 mL, 10 mg/L) with stirring. The solution was kept in the dark for 30 min to reach adsorption-desorption equilibrium between the organic molecules and the photocatalyst surface. Then, 4 mL reacted solutions in series were taken out and analyzed every 1 h. The concentrations of MO in the reacting solutions were analyzed by a Cary 500 UV-vis-NIR spectrophotometer (Varian, Palo Alto, CA, USA) at 464 nm.
4. Conclusions
In summary, using electrospinning technology and SILAR method, heterojunctions of p-BiOI/n-TiO2 NFs have been successfully fabricated. Due to the p-n heterojunction effects and large specific surface area, the BiOI/TiO2-C30 exhibits higher visible-light photocatalytic behavior in comparison with other samples for degradation of MO. Furthermore, the p-BiOI/n-TiO2 NFs can be easily recycled without a decrease of the photocatalytic activity because of their nanofibrous nonwoven web structure property. It is expected that the p-BiOI/n-TiO2 NFs with high photocatalytic activity will greatly promote their industrial application to eliminate the organic and inorganic pollutants from wastewater.
Acknowledgments
The work is supported financially by the National Basic Research Program of China (973 Program) (Grant No. 2012CB933703), the National Natural Science Foundation of China (No. 91233204, 51272041, 61201107, and 51572045), the 111 Project (No. B13013), and the Fundamental Research Funds for the Central Universities (12SSXM001).
Author Contributions
Kexin Wang and Xinghua Li performed the experiments and analyzed the data; Changlu Shao and Yichun Liu designed the experiments and revised the draft; Na Lu and Fujun Miao contribute reagents/materials/analysis tools; and Kexin Wang wrote the paper.
Conflicts of Interest
The authors declare no conflict of interest.
© 2016 by the authors; licensee MDPI, Basel, Switzerland. This article is an open access article distributed under the terms and conditions of the Creative Commons by Attribution (CC-BY) license (http://creativecommons.org/licenses/by/4.0/).