The Electronic Structures and Optical Properties of Alkaline-Earth Metals Doped Anatase TiO2: A Comparative Study of Screened Hybrid Functional and Generalized Gradient Approximation
1
School of Sciences, Lanzhou University of Technology, Lanzhou 730050, China
2
State Key Laboratory of Advanced Processing and Recycling of Non-ferrous Metals, Lanzhou University of Technology, Lanzhou 730050, China
3
Department of Physics, Lanzhou City University, Lanzhou 730070, China
4
College of Physics and Electronic Engineering, Northwest Normal University, Lanzhou 730070, China
*
Author to whom correspondence should be addressed.
Academic Editor: Greta Ricarda Patzke
Received: 15 June 2015 / Revised: 31 July 2015 / Accepted: 10 August 2015 / Published: 24 August 2015
Abstract
Alkaline-earth metallic dopant can improve the performance of anatase TiO2 in photocatalysis and solar cells. Aiming to understand doping mechanisms, the dopant formation energies, electronic structures, and optical properties for Be, Mg, Ca, Sr, and Ba doped anatase TiO2 are investigated by using density functional theory calculations with the HSE06 and PBE functionals. By combining our results with those of previous studies, the HSE06 functional provides a better description of electronic structures. The calculated formation energies indicate that the substitution of a lattice Ti with an AEM atom is energetically favorable under O-rich growth conditions. The electronic structures suggest that, AEM dopants shift the valence bands (VBs) to higher energy, and the dopant-state energies for the cases of Ca, Sr, and Ba are quite higher than Fermi levels, while the Be and Mg dopants result into the spin polarized gap states near the top of VBs. The components of VBs and dopant-states support that the AEM dopants are active in inter-band transitions with lower energy excitations. As to optical properties, Ca/Sr/Ba are more effective than Be/Mg to enhance absorbance in visible region, but the Be/Mg are superior to Ca/Sr/Ba for the absorbance improvement in near-IR region.
View Full-Text
►

▼

Figures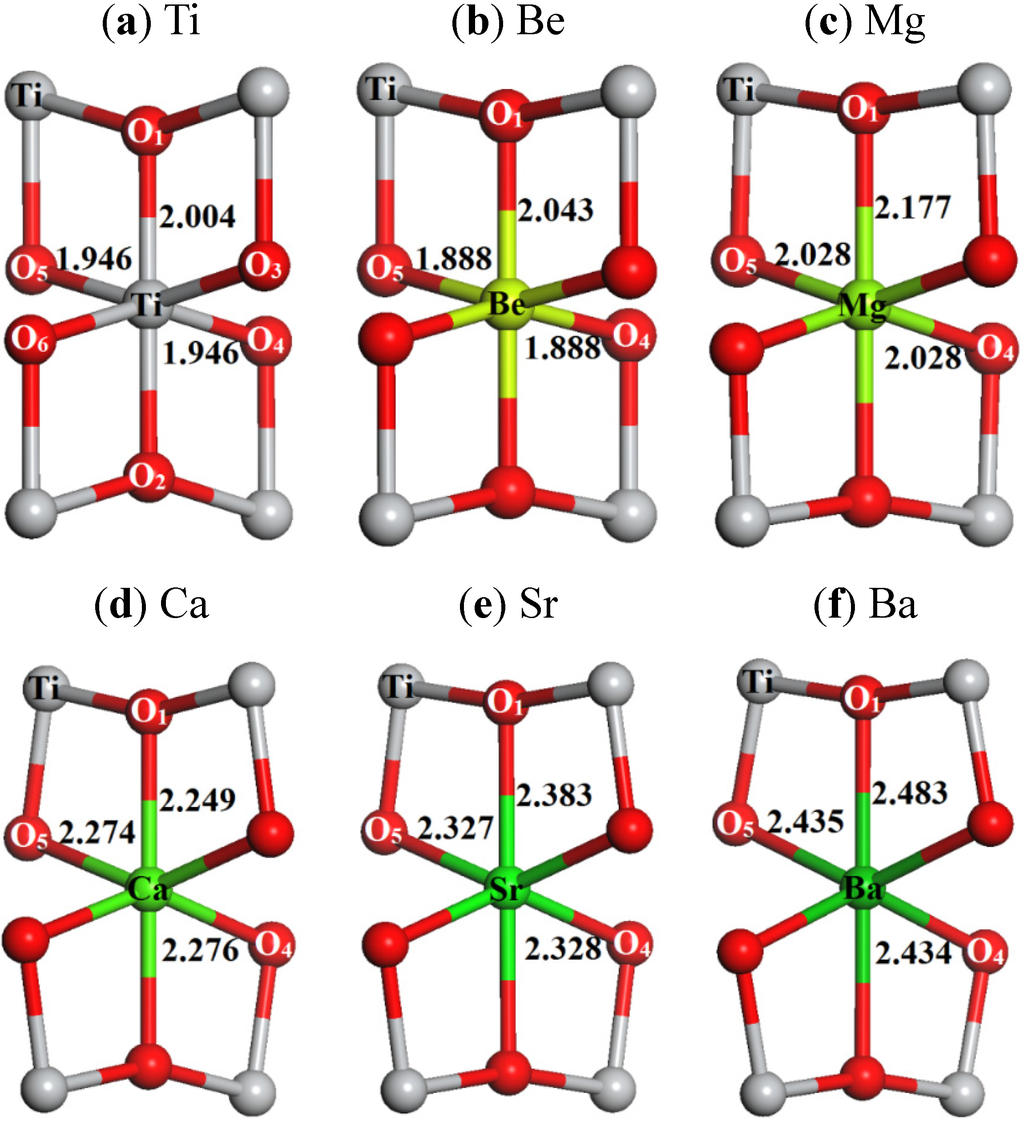 Figure 1
This is an open access article distributed under the
Creative Commons Attribution License
which permits unrestricted use, distribution, and reproduction in any medium, provided the original work is properly cited (CC BY 4.0).

Share & Cite This Article
MDPI and ACS Style
Ma, J.-G.; Zhang, C.-R.; Gong, J.-J.; Wu, Y.-Z.; Kou, S.-Z.; Yang, H.; Chen, Y.-H.; Liu, Z.-J.; Chen, H.-S. The Electronic Structures and Optical Properties of Alkaline-Earth Metals Doped Anatase TiO2: A Comparative Study of Screened Hybrid Functional and Generalized Gradient Approximation. Materials 2015, 8, 5508-5525.
Related Articles
Comments
[Return to top]