Preparation of Cotton-Wool-Like Poly(lactic acid)-Based Composites Consisting of Core-Shell-Type Fibers
1
Department of Frontier Materials, Nagoya Institute of Technology, Gokiso-cho, Showa-ku, Nagoya 466-8555, Japan
2
Department of Materials, Imperial College London, South Kensington Campus, London SW7 2BP, UK
*
Author to whom correspondence should be addressed.
Academic Editor: Luyi Sun
Received: 9 October 2015 / Revised: 10 November 2015 / Accepted: 16 November 2015 / Published: 24 November 2015
Abstract
In previous works, we reported the fabrication of cotton-wool-like composites consisting of siloxane-doped vaterite and poly(l-lactic acid) (SiVPCs). Various irregularly shaped bone voids can be filled with the composite, which effectively supplies calcium and silicate ions, enhancing the bone formation by stimulating the cells. The composites, however, were brittle and showed an initial burst release of ions. In the present work, to improve the mechanical flexibility and ion release, the composite fiber was coated with a soft, thin layer consisting of poly(d,l-lactic-co-glycolic acid) (PLGA). A coaxial electrospinning technique was used to prepare a cotton-wool-like material comprising "core-shell"-type fibers with a diameter of ~12 µm. The fibers, which consisted of SiVPC coated with a ~2-µm-thick PLGA layer, were mechanically flexible; even under a uniaxial compressive load of 1.5 kPa, the cotton-wool-like material did not exhibit fracture of the fibers and, after removing the load, showed a ~60% recovery. In Tris buffer solution, the initial burst release of calcium and silicate ions from the "core-shell"-type fibers was effectively controlled, and the ions were slowly released after one day. Thus, the mechanical flexibility and ion-release behavior of the composites were drastically improved by the thin PLGA coating.
View Full-Text
►

▼

Figures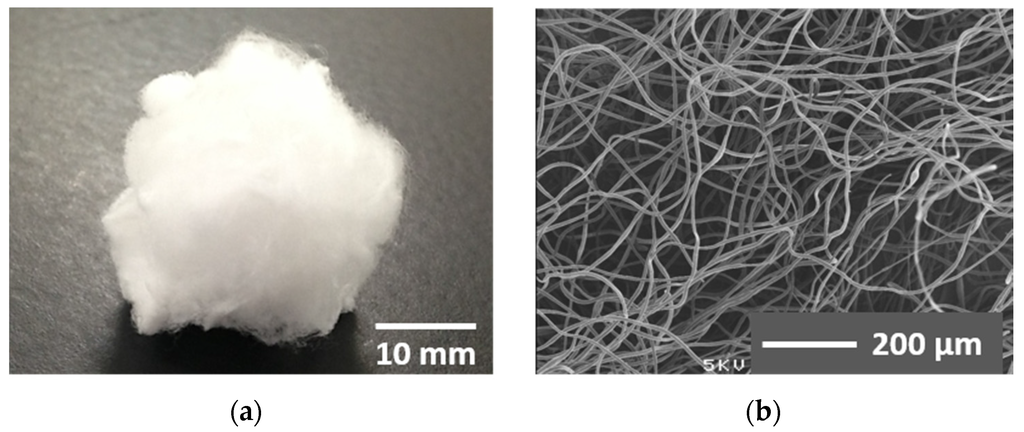 Figure 1
This is an open access article distributed under the
Creative Commons Attribution License
which permits unrestricted use, distribution, and reproduction in any medium, provided the original work is properly cited (CC BY 4.0).

Share & Cite This Article
MDPI and ACS Style
Wang, J.; Zhou, P.; Obata, A.; Jones, J.R.; Kasuga, T. Preparation of Cotton-Wool-Like Poly(lactic acid)-Based Composites Consisting of Core-Shell-Type Fibers. Materials 2015, 8, 7979-7987.
Related Articles
Comments
[Return to top]