Characterization of the Materials Synthesized by High Pressure-High Temperature Treatment of a Polymer Derived t-BC2N Ceramic
1
E6 Advanced Materials, Element Six (Production) (Pty) Ltd, 1 Debid Road Nuffield, Springs 1559, South Africa
2
School of Chemical & Metallurgical Engineering, University of the Witwatersrand, P.Bag 3, Johannesburg Wits 2050, South Africa
3
DST/NRF Centre of Excellence in Strong Materials, Physics Building, University of the Witwatersrand, Johannesburg 2000, South Africa
4
Fraunhofer Institute for Ceramic Technologies & Systems, Winterbergstr. 28, Dresden 01277, Germany
5
Bayerisches Geoinstitut, Universität Bayreuth, Universitätstr. 30, Bayreuth 95447, Germany
6
Materialphysik und Technologie, Lehrstuhl für Kristallographie, Universitüt Bayreuth, Universitätstr. 30, Bayreuth 95447, Germany
7
FG Disperse Feststoffe, Institut für Materialwissenschaft, Technische Universität Darmstadt, Petersenstr. 32, Darmstadt 64287, Germany
*
Author to whom correspondence should be addressed.
Received: 11 October 2011 / Accepted: 10 November 2011 / Published: 29 November 2011
Abstract
Bulk B-C-N materials were synthesized under static high thermobaric conditions (20 GPa and 2,000 °C) in a multianvil apparatus from a polymer derived t-BC
1.97
N ceramic. The bulk samples were characterised using X-ray synchrotron radiation and analytical transmission electron microscopy in combination with electron energy loss spectroscopy. Polycrystalline B-C-N materials with a cubic type structure were formed under the applied reaction conditions, but the formation of a ternary cubic diamond-like c-BC
2
N compound, could not be unambiguously confirmed.
View Full-Text
►

▼

Figures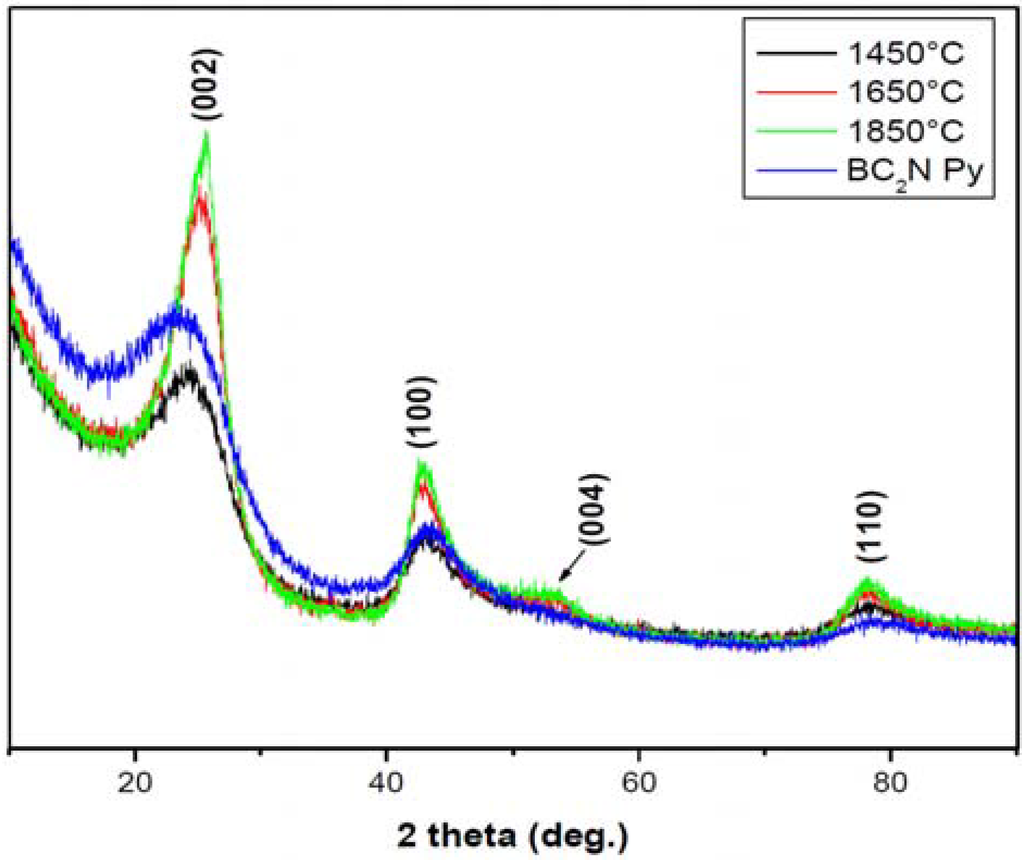 Figure 1

Share & Cite This Article
MDPI and ACS Style
Matizamhuka, W.R.; Sigalas, I.; Herrmann, M.; Dubronvinsky, L.; Dubrovinskaia, N.; Miyajima, N.; Mera, G.; Riedel, R. Characterization of the Materials Synthesized by High Pressure-High Temperature Treatment of a Polymer Derived t-BC2N Ceramic. Materials 2011, 4, 2061-2072.
Related Articles
Comments
[Return to top]