Review: Resin Composite Filling
1
Department of Zoology, University of British Columbia, Vancouver, British Columbia, V6T 1Z4, Canada
2
School of Dentistry, University of Queensland, Brisbane, Queensland 4000, Australia
*
Author to whom correspondence should be addressed.
Received: 7 January 2010 / Revised: 2 February 2010 / Accepted: 9 February 2010 / Published: 19 February 2010
The leading cause of oral pain and tooth loss is from caries and their treatment include restoration using amalgam, resin, porcelain and gold, endodontic therapy and extraction. Resin composite restorations have grown popular over the last half a century because it can take shades more similar to enamel. Here, we discuss the history and use of resin, comparison between amalgam and resin, clinical procedures involved and finishing and polishing techniques for resin restoration. Although resin composite has aesthetic advantages over amalgam, one of the major disadvantage include polymerization shrinkage and future research is needed on reaction kinetics and viscoelastic behaviour to minimize shrinkage stress.
1. Introduction
For centuries, the main source of sugar was honey because the sugar from sugar cane in India was expensive and the transition from the use of honey to sugar cane happened during the Industrial Revolution with an increase in the incidence of dental caries [
1
]. Sucrose is implicated in caries progression because it is a disaccharide and serves as a substrate for extracellular polysaccharide production [
2
,
3
]. It is broken down into fructose and sucrose and forms an important structural component of the dental plaque, as well as serving as a metabolic substrate for micro-organisms [
2
,
3
]. It has been shown extensively that it is not the quantity of sugar consumed which causes caries but rather the frequency [
4
]. Caries is a very common disease throughout the world and is the leading cause of oral pain and tooth loss [
5
].
This multifactorial disease is associated with the flow and composition of saliva, amount of fluoride, sugar intake and prevention and can be reversible at an early stage [
6
]. The progression of the disease is rather slow and can be observed either on the crown or root and pitted and fissured surfaces. The equilibrium between the micro-organisms of the oral cavity and tooth minerals has become disturbed [
7
]. The bacteria for cavitation are largely dominated by mutans streptococci and
Lactobacillus
spp. and lactic acid is produced from the fermentable carbohydrate [
8
]. The drop in the pH value promotes demineralization and cavitation occurs when the diffusion of calcium, phosphate and carbonate out of the tooth does not stop [
9
].
Treatment of dental caries can include restoration using amalgam, resin, porcelain and gold, endodontic therapy, removal of decayed dental tissues and extraction. The material resin is of considerable interest in the restoration of caries because this relatively novel method (discovered in the 1930's) can take for a greater range of shades which is more similar to enamel allowing for the restoration to look imperceptible due to adequate shade matching. It is characterized by a high compressive strength relative to most other restorative materials [
10
]. It also has tensile strength which is enhanced through the addition of heat. In addition, slight changes in the properties of the resin can provide a wider range of uses (e.g. filler particles, quality of coupling agents, activation process). Here, we provide a brief review of the history and use of resin in dentistry, comparison between amalgam and resin, clinical procedures involved, finishing and polishing techniques and possible future trends for resin restoration.
2. History and Use of Resin in Dentistry
4. Clinical Procedures
The technological advances and evolution in restorative dental material has made resin composite to be the material of choice worldwide for Class II restorations. Its ability to bind tooth structure readily with adhesives and most importantly closely matching the shade of natural teeth has led to its high utility among clinicians [
34
,
35
,
36
,
37
,
38
,
39
]. With proper clinical procedures and technique taken by the clinicians, this material can achieve predictable and successful results. Direct resin composite restorations require a technique delicate approach. Limitations to this technique may arise due to sensitivity of the material in the mouth, insufficient binding to dentine and polymerization stresses and shrinkage during light-curing [
40
,
41
]. These problems are more prevalent in posterior teeth as it is difficult to achieve isolation in these areas. Thus it is important that the clinician consider the following factors during direct resin composite restoration (1) proper isolation of teeth; (2) sound tooth structure must be preserved; and (3) prevention and treatment of dental caries and periodontal diseases have been looked into before commencing the restoration process [
34
].
Before the commencement of the resin composite restoration, the extent of the lesion must be thoroughly examined through the use of bitewing and periapical radiographs [
34
]. This would help the clinician in forming the restoration plan (
Figure 1
). Vitality tests, prophylaxis, occlusal analysis, selection of tooth shades and tooth separation are necessary procedures that have to be taken before the commencement of cavity preparation [
42
,
43
].
Preparation is restricted to the area of the cavity (
Figure 1
). It is often necessary to enlarge the access to dentinal caries to have better instrumentation and visualization; after local anesthesia is delivered, the cavity preparation is made with a round carbide bur in a high-speed handpiece [
34
]. To remove infected dentine, an inverted cone with round end bur is used at low speed with the size being compatible to the lesion's extension, together with a spoon excavator and unsupported enamel can be retained if it does not affect the placement of matrices and polymerization of the restorative material. Rubber dam is used to isolate the restoration site and aid moisture control. Once preparation is completed, matrix and wedge are positioned in place.
It is necessary for the clinician to select and install the matrices for the restoration of proximal boxes with resin composite (
Figure 1
) [
34
]. Thin pre-contoured metallic matrices are preferred as they would be able to achieve a proper contour and allow for interproximal contacts without overhangs. The placement of matrices will depend on the bucco-lingual extension of the proximal box. An alternative method would be to use thin precontoured metallic matrices together with a ring to hold the position of the matrix as well as to create a slight gap between the tooth being restored and the adjacent tooth [
44
].
Glass-ionomer cements are currently advocated as base materials for these restorations to act as dentin adhesive material, promoting the adhesion between natural tooth and resin composite [
45
]. However the weak bond strength and its handling properties have made it a less popular choice among clinicians. Hybridization of the exposed dentin with an adhesive system provides adequate protection of the pulp-dentin complex under resin composite restorations (
Figure 1
) [
46
,
47
,
48
,
49
].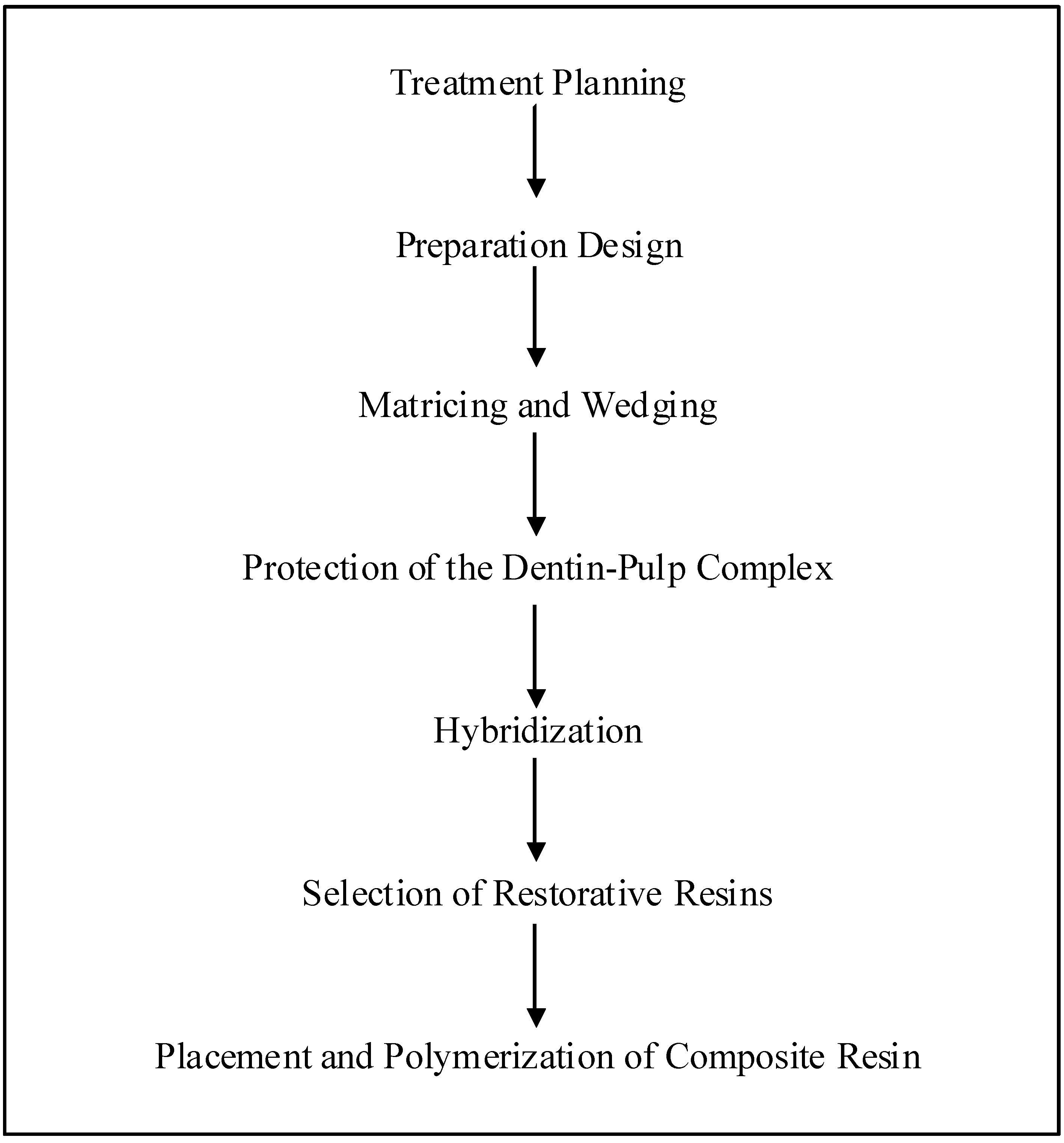 The use of contemporary polymer adhesive systems is mainly to protect the dentin-pulp complex as well as to bond the restorative resin composite to the restorative resin composite to the natural tooth, preventing microleakage [
40
]. Acid-etching of enamel and dentin is used widely in procedures of dentin bonding [
34
]. The total etch technique relies on the micro-mechanical retention established by the acidic treatment of enamel and dentin prepared surfaces and successive infiltration of a blend of polymers into the etched substrate [
50
]. Bonding to dentin is more difficult than enamel due to the tubular structure of dentin and high-vapor-pressure organic solvents are currently used to carry resin monomers into contact with dentin collagen [
34
]. The application of acidic etchant is to be applied continuously to the enamel and dentin and the dentin layer is to be kept slightly moist after the removal of the acid etchant using water. When the etchant has been removed and the surface slightly dried, the adhesive system is applied. The dentin adhesives used by clinicians depend on the permeation of hydrophilic monomers into acid-conditioned dentin, resulting in the resin being strongly associated with collagen and hydroxyapatite crystals which is known as the "hybrid layer" [
50
]. This layer is known to give higher binding strength, especially when acid-etched dentin is in a partially moist condition [
51
,
52
].
Research has shown that the most suitable resin composite for use would be the hybrid bimodal small-particle light-cured composites or "microhybrids" [
53
]. These resins have an average particle size of 0.6 µm to 0.8 µm and contain a microfiller with a size of 0.04 µm and the microhybrids contain up to 78% by weight of filler, giving the resins superior physical and mechanical properties which would be useful in the posterior quadrant [
34
]. Examples of microhybrids include Herculite XVR, Prodigy, Kerr/Sybron, Orange, CA; Charisma, Heraeus Kulzer, South Bend, IN; Pertac II, ESPE, Norristown, PA; TPH-Spectru, Dentsply/ Caulk, Milford, DE; Glacier, SDI, San Francisco, CA [
25
].
Research has proven that the most effective placement technique to be horizontal, oblique, vertical and bulk incremental technique (
Figure 1
) [
54
,
55
,
56
,
57
]. The incremental technique has been shown to keep polymerization shrinkage to the minimum, provides improved control of "condensation" of the individual increments of resin composite, thorough polymerization of the restorative material, and limit overhangs in the lateral margin subsequent to curing [
34
]. This technique also allows for the control of the contour on the occlusal surface of the restoration during the final stages of increments. The number of increments applied varies proportionally to the size of the cavity and the application of resin composite should be guided according to the anatomy of the tooth. Light-cured composites pose an advantage in that clinicians are able to apply and shape the resin composite to the final contour during the setting of the material. Uncured composite can be shaped with different metal or plastic instruments to achieve contour and smoothnesss. Despite the advantages posed by this technique, it however demands a high level of dexterity from the clinician.
5. Finishing and Polishing Techniques for Resin Restorations
7. Conclusion
In this article, we have attempted to provide a brief review on the use and benefits of resin for the restoration of dental caries by discussing the history and use of resin in dentistry, comparing the amalgam and resin in the treatment of caries, standard clinical procedures for resin restoration and finishing and polishing techniques for resin restorations. Amalgam had been the preferred material for restoration in the early 1900's but its use has recently been surpassed by resin composite [
20
,
21
]. Arguably, the major reason for the substantial increase in resin composite is its ability to be matched to the colour and translucency of the patient's teeth [
20
,
25
]. Given that amalgam has a longer lifespan relative to resin composite, it is likely that the patients care more for aesthetics rather than the length of time their restorative materials last. In addition to these benefits, resin composite has also been shown to offer clinical advantages such as enamel bonding and it helps to strengthen the tooth [
30
].
While resin composite shows several features of a good dental restorative material, there are many shortcomings and challenges for the resin composite technology to overcome. In terms of aesthetics, resin composite being a tooth coloured material is much more pleasing for the patient and in clinical performance, resin composite is shown to be close to matching the properties of amalgam which has allowed it to be in use for the past 150 years. However, while the longevity of resin composite is about 7 years, amalgam typically lasts longer [
17
]. It is important to note that resin composite is showing a strong future with its progress in its technology, as well as following the principles of minimal intervention dentistry. On the other hand, it must be noted that despite its progress in recent years, resin composite still has its shortcomings in terms of more heavily loaded and longer serving restorations, and amalgam should still be utilised in these cases. The main emphasis in dentistry currently are aesthetics and minimal intervention and thus, resin composite should be developed as the major restorative material able to be used safely in most situations, and able to serve patients for an acceptable length of time.
© 2010 by the authors. Licensee Molecular Diversity Preservation International, Basel, Switzerland. This article is an open-access article distributed under the terms and conditions of the Creative Commons Attribution license ( http://creativecommons.org/licenses/by/3.0/).