Open Access This article is
freely available
re-usable
Article
Design of a 2 × 4 Hybrid MMI-MZI Configuration with MMI Phase-Shifters
1
SeedNanoTech and Consulting, Brampton, ON L6Y 3J6, Canada
2
Department of Electrical & Computer Engineering, The University of British Columbia, Vancouver, BC V6T 1Z4, Canada
†
Current address: Nanophotonics Laboratory, GEM Systems Inc., Markham, ON, Canada.

‡
These authors contributed equally to this work.

Received: 20 March 2019 / Accepted: 29 April 2019 / Published: 12 May 2019
Abstract
:
This paper reports design of a 2 × 4 hybrid multimode interferometer-Mach-zehnder interferometer (MMI-MZI) configuration consiting of compact thermo-optical switches on the silicon-on-insulator (SOI) platform. The device consists of two identical MMI slab waveguides as power splitters and couplers that are connected with two identical MMI-based phase shifters, and linear tapers at both ends of the MMIs to minimize the power coupling loss. A thin Al pad is used as a heating element and a trench is created around this pad to prevent heat from spreading, and to minimize loss. The calculated average thermo-optical switching power consumption, excess loss, and power imbalance are 1.4 mW, 0.9 dB, and 0.1 dB, respectively. The overall footprint of the device is 6 × 304 . The new heating method has advantages of compact size, ease of fabrication on SOI platform with the current CMOS technology, and offers low excess loss and power consumption as demanded by devices based on SOI technology. The device can act as two independent optical switches in one device.
Keywords:
multimode interferometer; MMI; MZI; thermo-optical switch; SOI technology
1. Introduction
Most of the work reported in literature on optical switches have employed directional couplers (DC) as the power splitter and combiners where high-speed operation is achieved by varying the coupling coefficient of the couplers. For high speed operation, the distance between the adjacent waveguides in the DC needs to be small. However, that creates higher mode conversion optical losses, which is undesirable. The overall footprint of the DC is also large. In addition, most nano-sized waveguides used in DC have small fabrication tolerance and therefore, a tight control of the fabrication process is necessary.
MMIs offer benefits over DCs due to their advantages of compactness, ease of fabrication, wide band operation, and large fabrication tolerance (up to ±50 nm can be achieved). Moreover, the silicon photonic platform enables the possibility of fabricating and integrating the optical device with the electronics on the same platform in the commentary metal-oxide-semiconductor (CMOS) environment. This enables large-scale integration of photonic devices at a lower cost and higher volume production using CMOS-compatible fabrication method. In this regard, a MMI power coupler/splitter plays an important role in the development of integrated photonics due to the above-mentioned merits.
2. Design, Simulation, and Optimization
3. Principle of Operation of the Device
An electro-thermal joule heating was considered using an Al pad as the electrode. Al was chosen as a heating element because of its large thermal conductivity of 204 W/(m·K) at room temperature. The electrode size regarding the heating area was chosen to be 1.4 m × 8 m to match the length of the modulating/phase shifter arm. The calculated switching voltage of 1.79 V corresponds to the average maximum heating temperature of 50–52 °C as a phase shift of is introduced through the heating pad in the modulating arm with respect to the reference arm.
4. Results and Discussions
5. Conclusions
In this paper, we theoretically demonstrated the operation of 2 × 4 multimode interference optical switch with a foot print of 304 m on SOI technology. The device acts as two independently operating digital switches with improved efficiency and lower footprint, depending on the amount of phase shift introduced by the thermo-optic heaters. As obtained by simulation, the device showed a small insertion loss of around 0.9 dB, excess loss in the range of 0.2 to 0.7 dB, and cross-talk of around −35 dB. Creating a trench around the Al heating pad and isolating the heater from the surrounding media, the device required a small heating power of 1.4 mW and a switching voltage of around 1.79 V [
7
] to modulate phase shift from 0 to . The new heating method offers the possibility of designing low excess loss and low power consumption optical devices on SOI technology. In addition to using as optical switches, these MMI-based devices have a potential to be used for optical interconnects and micro-ring resonator applications. Moreover, the work can be extended to biosensing that can be used to detect various media such as poisonous gas, environmental changes, as well as diseases caused by harmful bacteria and viruses.
Author Contributions
C.R. conceived, designed, and carried out theoretical simulation and analyzed the result. B.B.N. analyzed the result and wrote a paper. C.R. reviewed and approved it.
Funding
This research was partly funded by the Natural Sciences and Engineering Research Council of Canada fellowship awarded to Conrad Rizal during his PhD studies at the University of British Columbia, Vancovuer, Canada. Award # PGSD-3 348347.
Acknowledgments
This work was initially performed by the second author, Conrad Rizal, during his PhD days at the University of British Columbia under the supervision of Nicolas A. F. Jaeger (PhD Adviser). The work was then extended by the first author, Boris Niraula who did additional calculation, wrote a draft paper, and revised it. The authors thank Nicolas A. F. Jaeger and Lukas Chrostowski at the University of British Columbia and Dan Deptuck at CMC Microsystems [
26
] for providing technical support and access to the FDTD software during design, verification, and simulation process. Authors thank Elizabeth Rizal, a visual-arts student at York University, Canada, for designing/sketching
Figure 1
for the paper.
Conflicts of Interest
The authors declare no conflict of interest.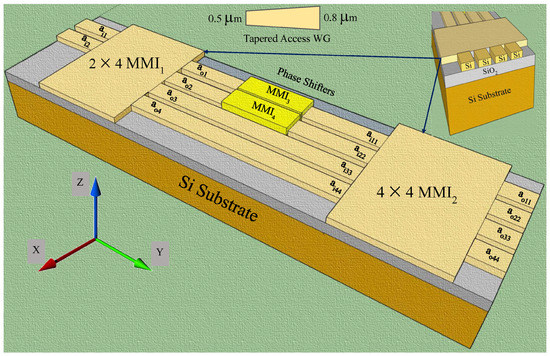 Figure 1. Schematics of the MMI device: Decoupler (MMI) and Coupler (MMI). The inset in the top middle shows a tapered access waveguide and in the top right the cross-sectional view of the MMIs. Input ports: a and a of MMI and output ports: a, a, a, and a of MMI.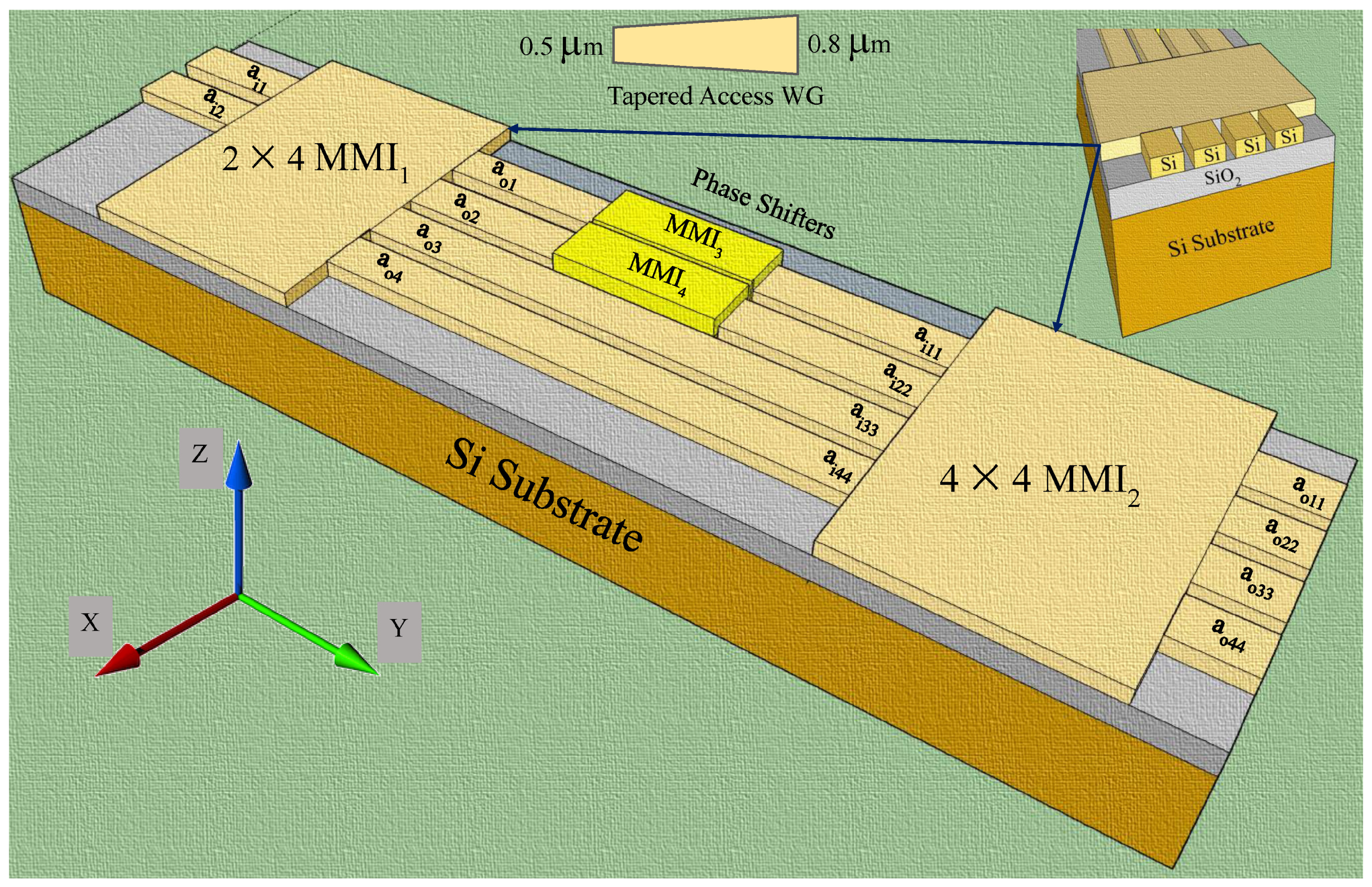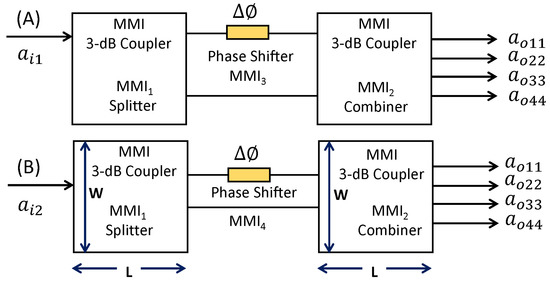 Figure 2.
The schematics showing the principle of operation of optical switches. It shows the top view of the MMI/MMI, and phase shifters MMI/MMI, and corresponding waveguide width, length, and positions of access waveguides. The device parameters were calculated using MATLAB Mode Solver [
18
] as well as FDTD simulation [
19
]. The device acts as two independent optical switches depending on whether the input is fed through a (
A
) or a (
B
).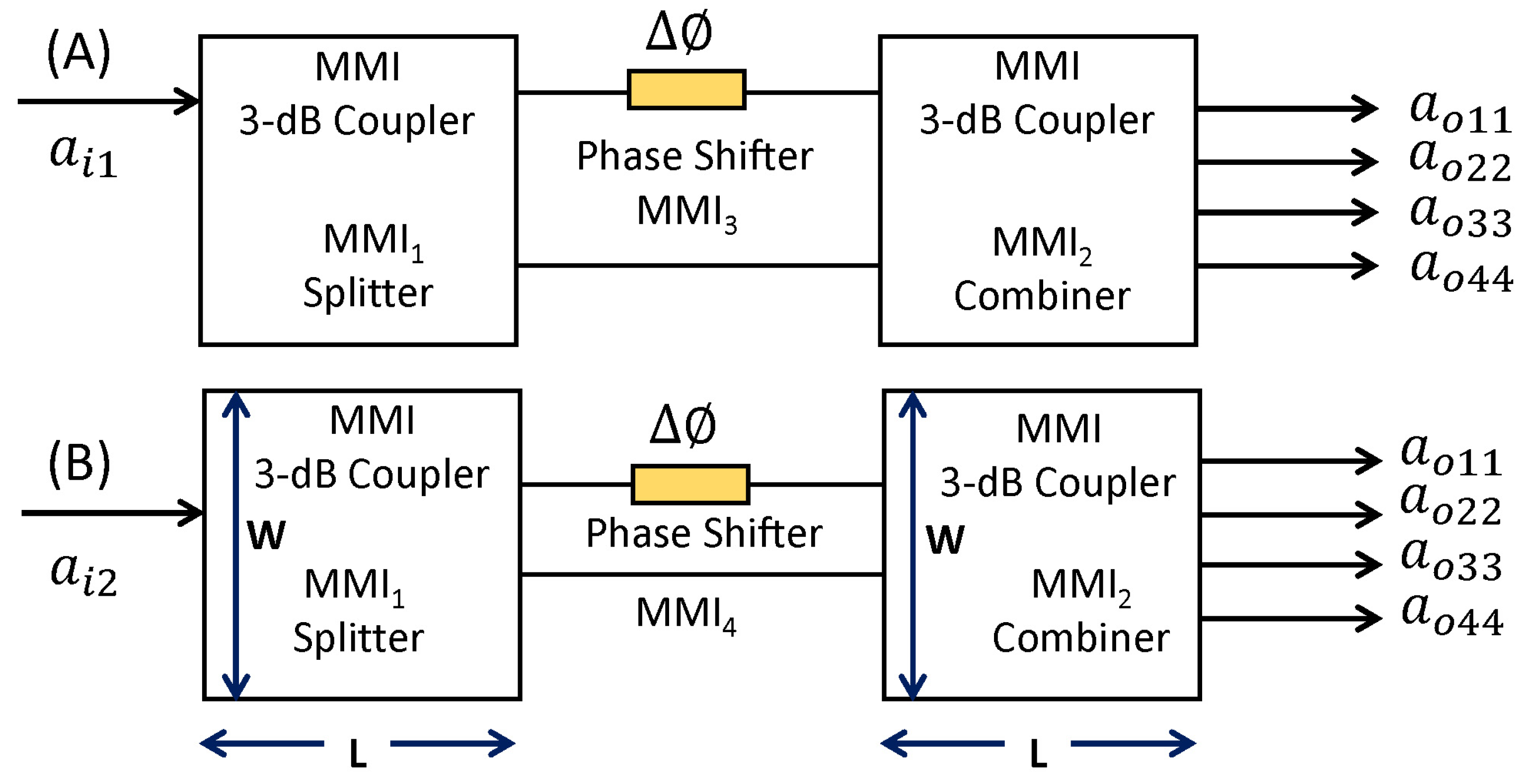 Figure 3.
Electric field inside the the access waveguides and MMI where the input is fed through (
a
) port a and (
b
) port a. Two-dimensional FDTD numerical method was used to optimize and verify the design [
19
], as it was shown to produce sufficiently accurate results in simulating devices based on SOI channel waveguides.


Figure 4. (a) Field profile of a MMI phase shifter without a heater. The 4 m long tapered access waveguides are connected at both ends of the MMIs to reduce power losses (b) Intensity profile of the 1 × 1 MMI phase shifter as a function of L.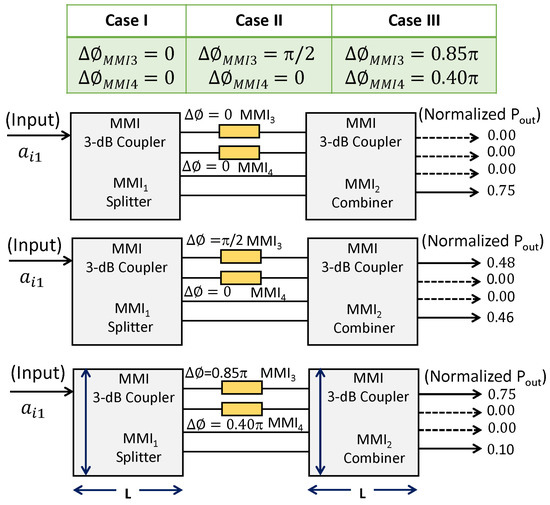 Figure 5. Cascaded MMI devices as tunable optical switches. Case I: The input is fed through a = = 0, Case II: = /2 and = 0, and Case III): = 0.85 and = 0.4 . The dark bold arrows indicate the light input and output positions and the numbers are the normalized optical powers.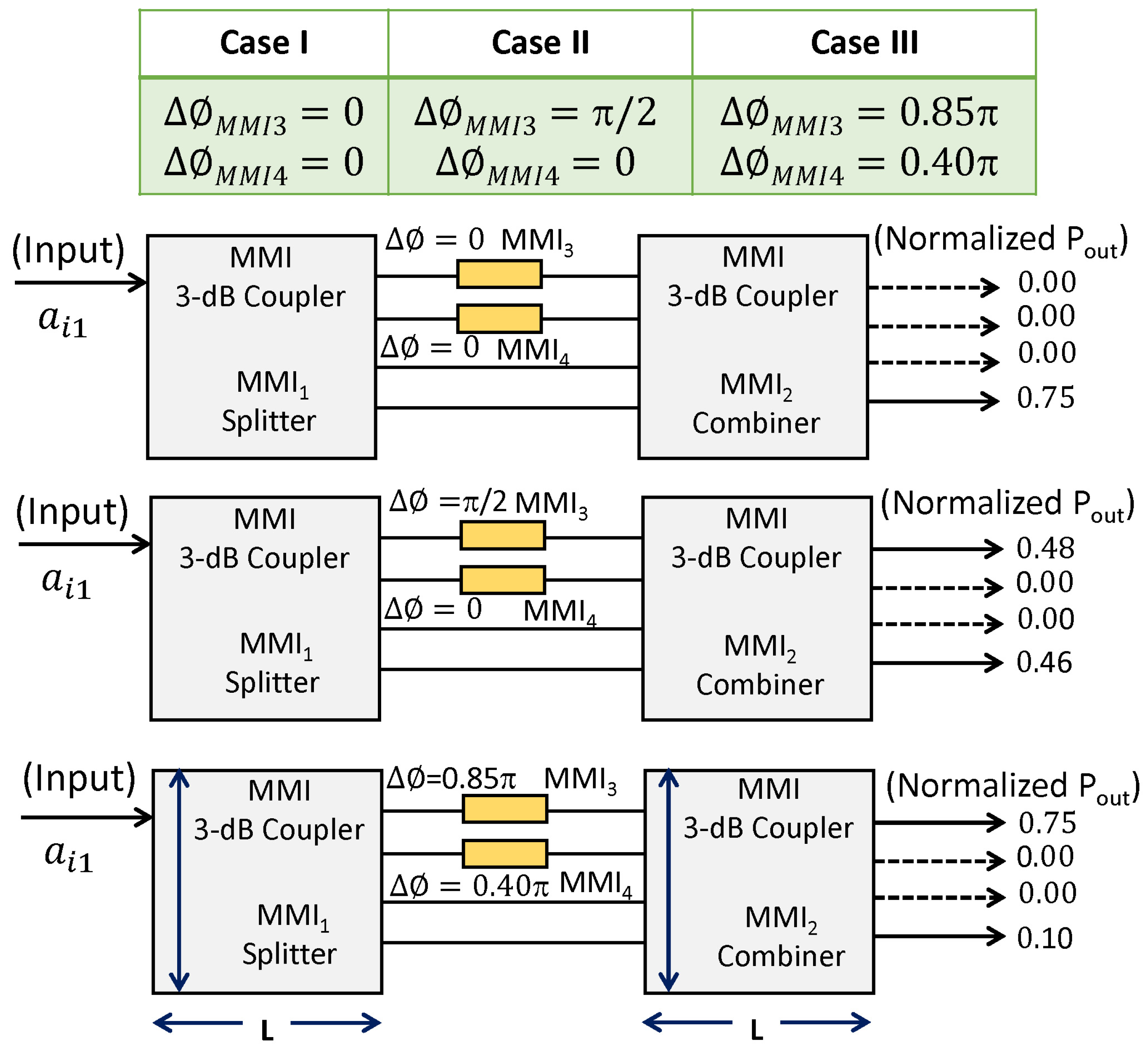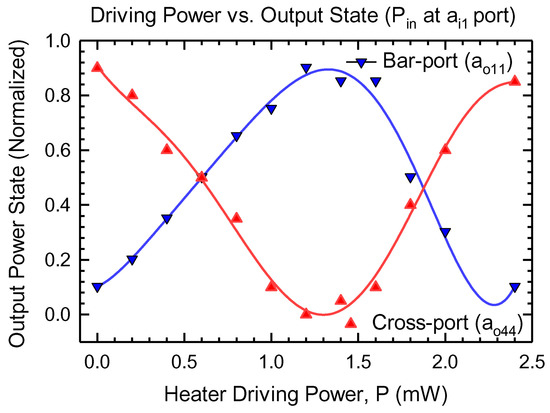 Figure 6.
Calculated powers from the output ports of the MMI: bar (a) and cross (a) as a function of the heating power in MMI, and input is fed at a. The solid lines are fitted curve using KyPlot [
25
].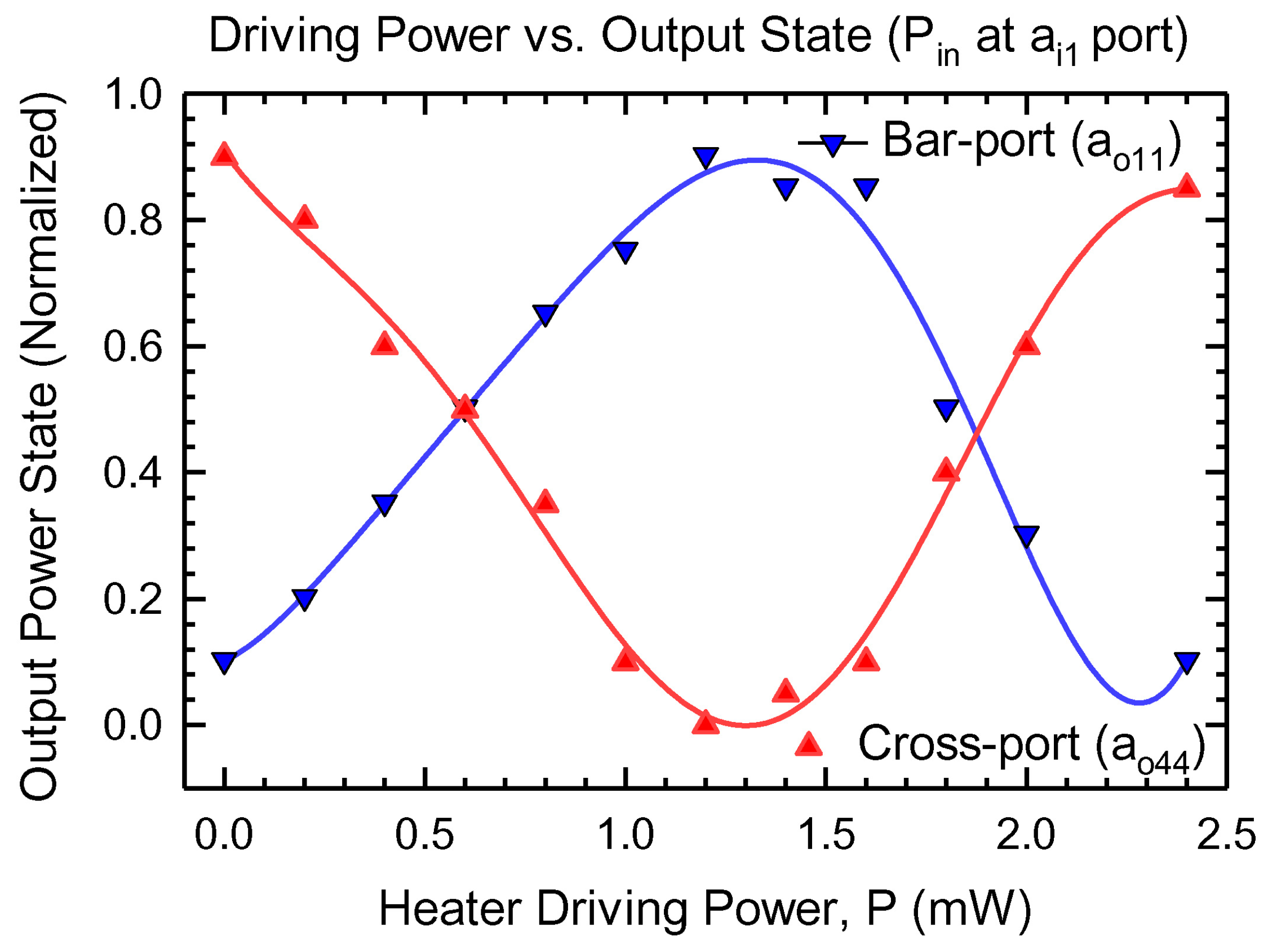 Table 1. Geometrical parameters of the 3-dB splitters/couplers, access waveguides (AWs), and phase shifters (PS) obtained from simulation. The symbols W, L, and t denote width, length, and thickness of the device, respectively. Optical parameters used for simulation include substrate, Si (n = 3.48), lower cladding, SiO (n = 1.45), core, Si (n = 3.48), and upper cladding, air (n = 1.0).
| Components | Width (m) | Length (m) | Core Thickness (m) |
| --- | --- | --- | --- |
| MMIs: MMI, MMI | W = 6.0 | L = 140 | t = 0.22 |
| Access Waveguides, AWs | W = 0.5–8.0 | L = 4 | t = 0.22 |
| PSs: MMI, MMI | W = 1–2 | L = 8 | t = 0.22 |
| SN | Material | Thermal Conductivity, W/(m·K) | Heating Coefficient (/K) |
| --- | --- | --- | --- |
| 1 | Si | 163.25 | 160 × 10 |
| 2 | SiO | 1.405 | 8 × 10 |
| 3 | Al | 204 | 24 × 10 |
| Case | | Output Position | Output State (Normalized Power) |
| --- | --- | --- | --- |
| I | 0, 0 | a, a, a, a | 0,0,0,0.75 |
| II | /2, 0 | a, a, a, a | 0.48,0,0,0.46 |
| III | 0.85, 0.40 | a, a, a, a | 0.75,0,0,0.10 |

© 2019 by the authors. Licensee MDPI, Basel, Switzerland. This article is an open access article distributed under the terms and conditions of the Creative Commons Attribution (CC BY) license (http://creativecommons.org/licenses/by/4.0/).