Ti–Zr–Si–Nb Nanocrystalline Alloys and Metallic Glasses: Assessment on the Structure, Thermal Stability, Corrosion and Mechanical Properties
1
Materials Science Department, Transilvania University of Brasov, Eroilor 29, 500036 Brasov, Romania
2
Faculty of Physics, Alexandru Ioan Cuza University, 700506 Iasi, Romania
3
Department of Engineering Enzo Ferrari, Modena and Reggio Emilia University, 10-41125 Modena, Italy
4
Politehnica University of Bucharest, 313 Splaiul Independentei, 060042 Bucharest, Romania
5
R&D National Institute for Electrical Engineering ICPE-CA Bucharest, 313 Splaiul Unirii, 030138 Bucharest, Romania
6
Faculty of Medicine, Transilvania University of Brasov, Eroilor 29, 500036 Brasov, Romania
7
National Institute of Research and Development for Technical Physics, 700050 Iasi, Romania
*
Author to whom correspondence should be addressed.
Received: 29 March 2019 / Revised: 2 May 2019 / Accepted: 10 May 2019 / Published: 12 May 2019
Abstract
The development of novel Ti-based amorphous or β-phase nanostructured metallic materials could have significant benefits for implant applications, due to improved corrosion and mechanical characteristics (lower Young's modulus, better wear performance, improved fracture toughness) in comparison to the standardized
α
+
β
titanium alloys. Moreover, the devitrification phenomenon, occurring during heating, could contribute to lower input power during additive manufacturing technologies. Ti-based alloy ribbons were obtained by melt-spinning, considering the ultra-fast cooling rates this method can provide. The titanium alloys contain in various proportions Zr, Nb, and Si (Ti
60
Zr
10
Si
15
Nb
15
, Ti
64
Zr
10
Si
15
Nb
11
, Ti
56
Zr
10
Si
15
Nb
19
) in various proportions. These elements were chosen due to their reported biological safety, as in the case of Zr and Nb, and the metallic glass-forming ability and biocompatibility of Si. The morphology and chemical composition were analyzed by scanning electron microscopy and energy-dispersive X-ray spectroscopy, while the structural features (crystallinity, phase attribution after devitrification (after heat treatment)) were assessed by X-ray diffraction. Some of the mechanical properties (hardness, Young's modulus) were assessed by instrumented indentation. The thermal stability and crystallization temperatures were measured by differential thermal analysis. High-intensity exothermal peaks were observed during heating of melt-spun ribbons. The corrosion behavior was assessed by electrocorrosion tests. The results show the potential of these alloys to be used as materials for biomedical applications.
View Full-Text
►

▼

Figures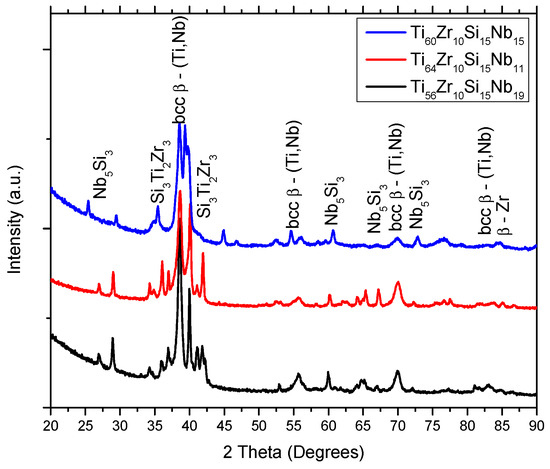 Figure 1
This is an open access article distributed under the
Creative Commons Attribution License
which permits unrestricted use, distribution, and reproduction in any medium, provided the original work is properly cited (CC BY 4.0).

Share & Cite This Article
MDPI and ACS Style
Gabor, C.; Cristea, D.; Velicu, I.-L.; Bedo, T.; Gatto, A.; Bassoli, E.; Varga, B.; Pop, M.A.; Geanta, V.; Stefanoiu, R.; Codescu, M.M.; Manta, E.; Patroi, D.; Florescu, M.; Munteanu, S.I.; Ghiuta, I.; Lupu, N.; Munteanu, D. Ti–Zr–Si–Nb Nanocrystalline Alloys and Metallic Glasses: Assessment on the Structure, Thermal Stability, Corrosion and Mechanical Properties. Materials 2019, 12, 1551.
Note that from the first issue of 2016, MDPI journals use article numbers instead of page numbers. See further details here.
Related Articles
Comments
[Return to top]