Sonochemical Synthesis of Ce-doped TiO2 Nanostructure: A Visible-Light-Driven Photocatalyst for Degradation of Toluene and O-Xylene
1
Life Environmental R&D Center, CHEMTOPIA Co., Ltd., Seoul 08377, Korea
2
Department of Environmental Engineering, Catholic University of Pusan, Busan 46252, Korea;
*
Author to whom correspondence should be addressed.
Received: 20 March 2019 / Revised: 8 April 2019 / Accepted: 17 April 2019 / Published: 17 April 2019
Abstract
Ce-doped TiO
2
nanostructures (CeT) with different amounts of Ce (0.5, 0.75, 1.0, 1.5, and 2.0 wt. %) were synthesized using a sonochemical processing method. The physicochemical properties of the prepared samples were explored using UV-visible diffuse reflectance spectroscopy (UV-vis DRS), field-emission TEM (FE-TEM), XRD, X-ray photoelectron spectroscopy (XPS), photoluminescence spectroscopy (PL), and surface area and pore size analyzers. The photocatalytic performance of the prepared CeT was assessed by monitoring their degradation efficiencies for gaseous toluene and o-xylene—widely known as significant indoor air pollutants—under daylight irradiation. The prepared CeT exhibited significantly improved photocatalytic performance towards the degradation of toluene and o-xylene, which was much higher than that observed for pure TiO
2
and commercial P25 TiO
2
. Particularly, photocatalytic degradation efficiencies by the prepared CeT catalysts increased remarkably in the case of o-xylene (up to 99.4%) compared to toluene (up to 49.1%). The degradation efficiency by the CeT was greatest for the CeT-0.75 sample, followed by, in order, CeT-1.0, CeT-0.5, CeT-1.5, and CeT-2.0 samples in agreement with the order of the surface area and the particle size of the catalysts. According to the change of light source, the average decomposition efficiencies for toluene and o-xylene by CeT-0.75 were shown in the order of conventional daylight lamp > violet light emitting diodes (LEDs) > white LEDs. The decomposition efficiencies normalized to supplied electric power, however, were estimated to be in the following order of violet LEDs > white LEDs > conventional daylight lamp, indicating that the LEDs could be a much more energy efficient light source for the photodecomposition of target toluene and o-xylene using the CeT-0.75 photocatalyst.
View Full-Text
►

▼

Figures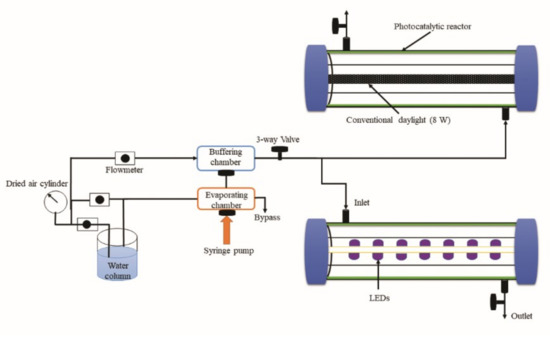 Figure 1
This is an open access article distributed under the
Creative Commons Attribution License
which permits unrestricted use, distribution, and reproduction in any medium, provided the original work is properly cited (CC BY 4.0).

Share & Cite This Article
MDPI and ACS Style
Lee, J.Y.; Choi, J.-H. Sonochemical Synthesis of Ce-doped TiO2 Nanostructure: A Visible-Light-Driven Photocatalyst for Degradation of Toluene and O-Xylene. Materials 2019, 12, 1265.
Note that from the first issue of 2016, MDPI journals use article numbers instead of page numbers. See further details here.
Related Articles
Comments
[Return to top]