Laccase Immobilized onto Zirconia–Silica Hybrid Doped with Cu2+ as an Effective Biocatalytic System for Decolorization of Dyes
Institute of Chemical Technology and Engineering, Faculty of Chemical Technology, Poznan University of Technology, Berdychowo 4, PL-60965 Poznan, Poland
*
Author to whom correspondence should be addressed.
Received: 21 March 2019 / Revised: 12 April 2019 / Accepted: 15 April 2019 / Published: 16 April 2019
Abstract
Nowadays, novel and advanced methods are being sought to efficiently remove dyes from wastewaters. These compounds, which mainly originate from the textile industry, may adversely affect the aquatic environment as well as living organisms. Thus, in presented study, the synthesized ZrO
2
–SiO
2
and Cu
2+
-doped ZrO
2
–SiO
2
oxide materials were used for the first time as supports for laccase immobilization, which was carried out for 1 h, at pH 5 and 25 °C. The materials were thoroughly characterized before and after laccase immobilization with respect to electrokinetic stability, parameters of the porous structure, morphology and type of surface functional groups. Additionally, the immobilization yields were defined, which reached 86% and 94% for ZrO
2
–SiO
2
–laccase and ZrO
2
–SiO
2
/Cu
2+
–laccase, respectively. Furthermore, the obtained biocatalytic systems were used for enzymatic decolorization of the Remazol Brilliant Blue R (RBBR) dye from model aqueous solutions, under various reaction conditions (time, temperature, pH). The best conditions of the decolorization process (24 h, 30 °C and pH = 4) allowed to achieve the highest decolorization efficiencies of 98% and 90% for ZrO
2
–SiO
2
–laccase and ZrO
2
–SiO
2
/Cu
2+
–laccase, respectively. Finally, it was established that the mortality of
Artemia salina
in solutions after enzymatic decolorization was lower by approx. 20% and 30% for ZrO
2
–SiO
2
–laccase and ZrO
2
–SiO
2
/Cu
2+
–laccase, respectively, as compared to the solution before enzymatic treatment, which indicated lower toxicity of the solution. Thus, it should be clearly stated that doping of the oxide support with copper ions positively affects enzyme stability, activity and, in consequence, the removal efficiency of the RBBR dye.
View Full-Text
►

▼

Figures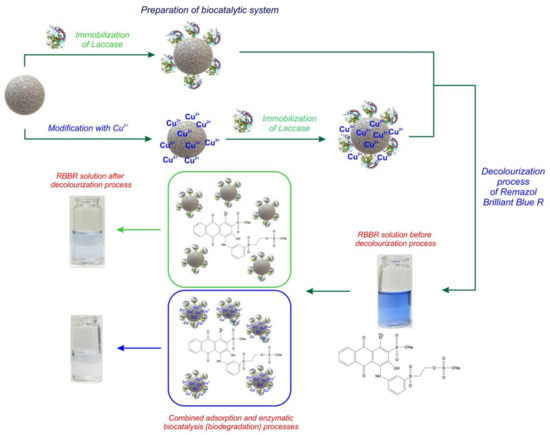 Graphical abstract
This is an open access article distributed under the
Creative Commons Attribution License
which permits unrestricted use, distribution, and reproduction in any medium, provided the original work is properly cited (CC BY 4.0).

Share & Cite This Article
MDPI and ACS Style
Jankowska, K.; Ciesielczyk, F.; Bachosz, K.; Zdarta, J.; Kaczorek, E.; Jesionowski, T. Laccase Immobilized onto Zirconia–Silica Hybrid Doped with Cu2+ as an Effective Biocatalytic System for Decolorization of Dyes. Materials 2019, 12, 1252.
Note that from the first issue of 2016, MDPI journals use article numbers instead of page numbers. See further details here.
Related Articles
Comments
[Return to top]