Magnetic Fe2O3–SiO2–MeO2–Pt (Me = Ti, Sn, Ce) as Catalysts for the Selective Hydrogenation of Cinnamaldehyde. Effect of the Nature of the Metal Oxide
1
Depto. Físico-Química, Facultad de Ciencias Químicas, Universidad de Concepción, Edmundo Larenas 129, Concepción 4070371, Chile
2
Deparment of Chemical Engineering, Biotechnology and Materials, FCFM, Universidad de Chile, Beauchef 851, Santiago 8370456, Chile
3
Millenium Nuclei on Catalytic Processes towards Sustainable Chemistry (CSC), Santiago 8340518, Chile
*
Author to whom correspondence should be addressed.
Received: 27 December 2018 / Revised: 22 January 2019 / Accepted: 23 January 2019 / Published: 29 January 2019
Abstract
The type of metal oxide affects the activity and selectivity of Fe
2
O
3
–SiO
2
–MeO
2
–Pt (Me = Ti, Sn, Ce) catalysts on the hydrogenation of cinnamaldehyde. The double shell structure design is thought to protect the magnetic Fe
2
O
3
cores, and also act as a platform for depositing a second shell of TiO
2
, SnO
2
or CeO
2
metal oxide. To obtain a homogeneous metallic dispersion, the incorporation of 5 wt % of Pt was carried out over Fe
2
O
3
–SiO
2
–MeO
2
(Me = Ti, Sn, Ce) structures modified with (3-aminopropyl)triethoxysilane by successive impregnation-reduction cycles. The full characterization by HR-TEM, STEM-EDX, XRD, N
2
adsorption isotherm at −196 °C, TPR-H
2
and VSM of the catalysts indicates that homogeneous
core-shell
structures with controlled nano-sized magnetic cores, multi-shells and metallic Pt were obtained. The nature of the metal oxide affects the Pt nanoparticle sizes where the mean Pt diameter is in the order: –TiO
2
–Pt > –SnO
2
–Pt > –CeO
2
–Pt. Among the catalysts studied, –CeO
2
–Pt had the best catalytic performance, reaching the maximum of conversion at 240 min. of reaction without producing hydrocinnamaldehyde (HCAL). It also showed a plot volcano type for the production of cinnamic alcohol (COL), with 3-phenyl-1-propanol (HCOL) as a main product. The –SnO
2
–Pt catalyst showed a poor catalytic performance attributable to the Pt clusters' occlusion in the irregular surface of the –SnO
2
. Finally, the –TiO
2
–Pt catalyst showed a continuous production of COL with a 100% conversion and 65% selectivity at 600 min of reaction.
View Full-Text
►

▼

Figures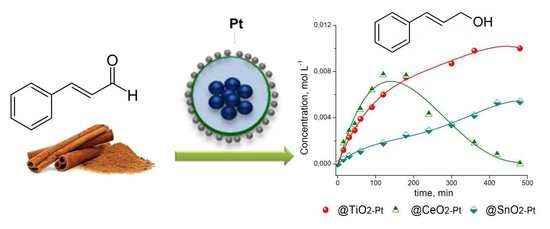 Graphical abstract
This is an open access article distributed under the
Creative Commons Attribution License
which permits unrestricted use, distribution, and reproduction in any medium, provided the original work is properly cited (CC BY 4.0).

Share & Cite This Article
MDPI and ACS Style
Dinamarca, R.; Espinoza-González, R.; Campos, C.H.; Pecchi, G. Magnetic Fe2O3–SiO2–MeO2–Pt (Me = Ti, Sn, Ce) as Catalysts for the Selective Hydrogenation of Cinnamaldehyde. Effect of the Nature of the Metal Oxide. Materials 2019, 12, 413.
Note that from the first issue of 2016, MDPI journals use article numbers instead of page numbers. See further details here.
Related Articles
Comments
[Return to top]