Effectiveness of Low-Level Laser Therapy during Tooth Movement: A Randomized Clinical Trial
1
Department of General Surgery and Surgical-Medical Specialties, Via Plebiscito 628, University of Catania, 95124 Catania, Italy
2
Department of Biomedical, Odontostomatological Sciences and Morphological and Functional Images, School of Dentistry, Via Consolare Valeria 1, University of Messina, 98125 Messina, Italy
3
Multidisciplinary Department of Medical-Surgical and Dental Specialties, Second University of Naples, Via Luigi de Crecchio 6, 80138 Naples, Italy
*
Authors to whom correspondence should be addressed.
Received: 30 May 2019 / Revised: 5 July 2019 / Accepted: 5 July 2019 / Published: 8 July 2019
Abstract
The present study evaluated the effects of low-level laser therapy (LLLT) by means of a diode laser in accelerating orthodontic tooth movement (OTM). After extraction of the first upper premolars for orthodontic purpose, 82 maxillary canines which needed distalization were analyzed in 41 enrolled patients (21 males, 20 females, mean age 13.4 ± 2.1 years). On all experimental sites, an orthodontic force of 50/N was applied by a nickel-titanium (NiTi) closed coil spring (G&H, Franklin, IN, USA) in order to obtain the space closure. Using a split mouth randomized design, the test side was treated using a diode laser (Wiser Laser Doctor Smile, Brendola, Italy) operating at 810 nm wavelength in continuous wave mode at both the buccal and palatal side on three points/side (distal, medial and mesial) (1 W output power, continuous wave of 66.7 J/cm
2
, energy density of 8 J) at baseline and at 3, 7, and 14 days and every 15 days until the space closed. On the control side, the opposite selected canine was treated only using orthodontic traction. The primary outcome chosen was the overall time needed to complete the levelling and closing space, measured on a study cast. The secondary outcome chosen was the evaluation of pain levels related to tooth traction, using a Visual Analogue Scale (VAS), recorded at 3, 7, and 14 days after treatments. The mean space closures of the maxillary canines were comparable between groups [Test, 4.56 mm (95% CI 3.9–4.8); Control, 4.49 mm (95% CI 3.8–4.7),
p
= 0.456]. The laser group yielded less mean time [84.35 ± 12.34 days (95% CI 79.3–86)] to accomplish space closure compared to the control group [97.49 ± 11.44 days (91.7–102.3)] (
p
< 0.001). The test side showed a significant reduction in the average range of dental pain at 3 [Test, 5.41 (95% CI 5.1–5.6); Control, 7.23 (95% CI 6.9–7.6),
p
< 0.001], 7 [Test, 4.12 (95% CI 3.8–4.7); Control, 5.79 (95% CI 5.4–5.8),
p
< 0.001], and at 14 days [Test, 2.31 (95% CI 1.8–2.3); Control, 3.84 (95% CI 3.3–4.2),
p
< 0.001] after treatment (
p
< 0.001). This study demonstrates that the use of LLLT therapy was effective in accelerating tooth movement and reducing pain levels related to OTM.
View Full-Text
►

▼

Figures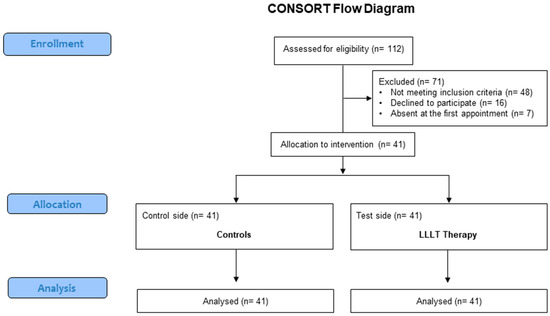 Figure 1
This is an open access article distributed under the
Creative Commons Attribution License
which permits unrestricted use, distribution, and reproduction in any medium, provided the original work is properly cited (CC BY 4.0).

Share & Cite This Article
MDPI and ACS Style
Isola, G.; Matarese, M.; Briguglio, F.; Grassia, V.; Picciolo, G.; Fiorillo, L.; Matarese, G. Effectiveness of Low-Level Laser Therapy during Tooth Movement: A Randomized Clinical Trial. Materials 2019, 12, 2187.
Note that from the first issue of 2016, MDPI journals use article numbers instead of page numbers. See further details here.
Related Articles
Comments
[Return to top]