Lignin as a Functional Green Coating on Carbon Fiber Surface to Improve Interfacial Adhesion in Carbon Fiber Reinforced Polymers
1
Institute of Science and Engineering, Kanazawa University, Kakuma-machi, Kanazawa 920-1192, Japan
2
Innovative Composite Center, Kanazawa Institute of Technology, 2-2 Yatsukaho, Hakusan 924-0838, Japan
3
Institute for Frontier Science Initiative, Kanazawa University, Kakuma-machi, Kanazawa 920-1192, Japan
*
Authors to whom correspondence should be addressed.
Received: 30 November 2018 / Revised: 28 December 2018 / Accepted: 31 December 2018 / Published: 6 January 2019
Abstract
While intensive efforts are made to prepare carbon fiber reinforced plastics from renewable sources, less emphasis is directed towards elaborating green approaches for carbon fiber surface modification to improve the interfacial adhesion in these composites. In this study, we covalently attach lignin, a renewable feedstock, to a graphitic surface for the first time. The covalent bond is established via aromatic anchoring groups with amine functions taking part in a nucleophilic displacement reaction with a tosylated lignin derivative. The successful grafting procedures were confirmed by cyclic voltammetry, X-ray photoelectron spectroscopy, and field emission scanning electron microscopy coupled with energy dispersive X-ray spectroscopy. Both fragmentation and microdroplet tests were conducted to evaluate the interfacial shear strength of lignin coated carbon fiber samples embedded in a green cellulose propionate matrix and in a commercially used epoxy resin. The microdroplet test showed ~27% and ~65% increases in interfacial shear strength for the epoxy and cellulose propionate matrix, respectively. For the epoxy matrix covalent bond, it is expected to form with lignin, while for the cellulosic matrix hydrogen bond formation might take place; furthermore, plastisizing effects are also considered. Our study opens the gates for utilizing lignin coating to improve the shear tolerance of innovative composites.
View Full-Text
►

▼

Figures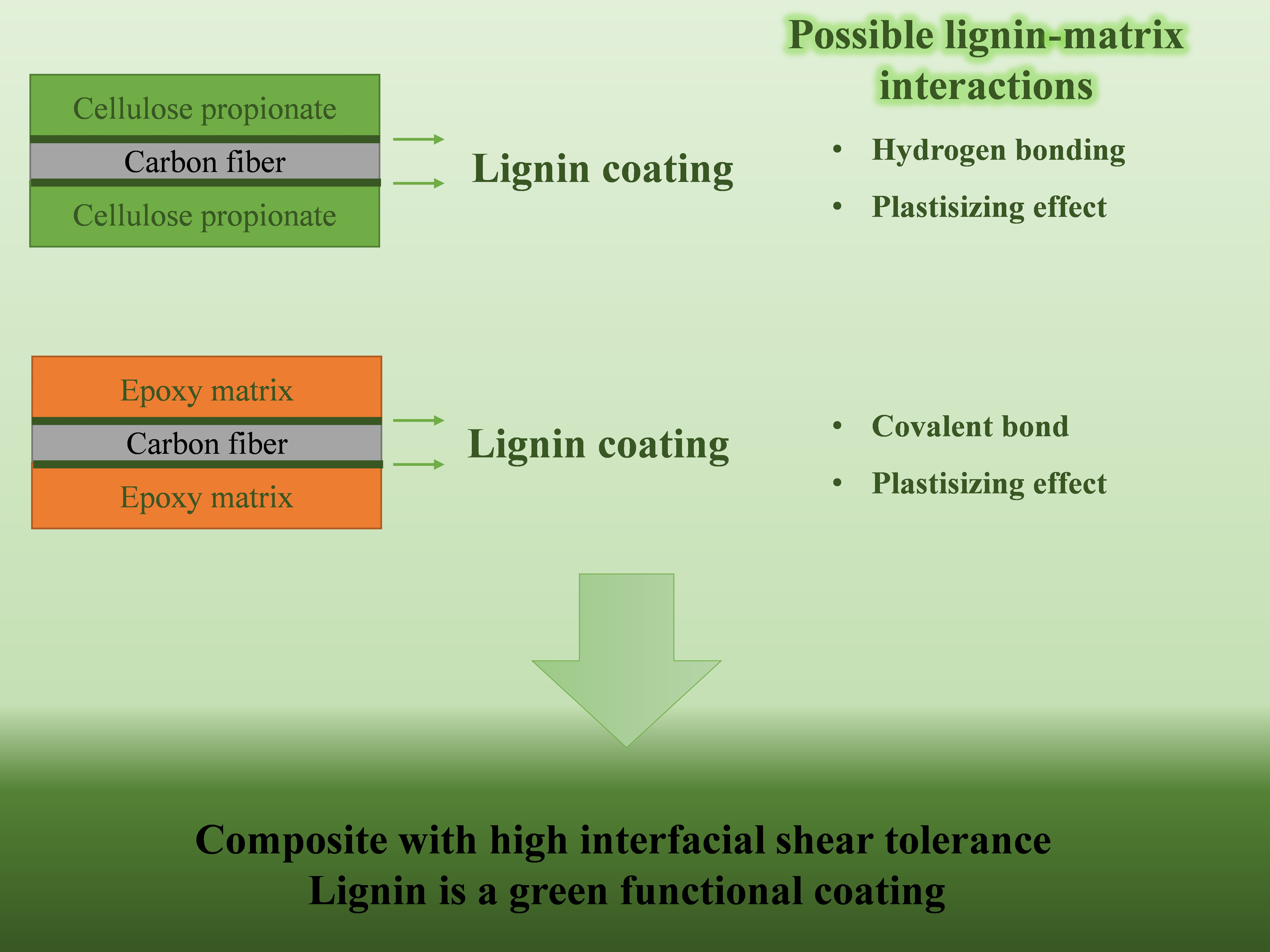 Graphical abstract
This is an open access article distributed under the
Creative Commons Attribution License
which permits unrestricted use, distribution, and reproduction in any medium, provided the original work is properly cited (CC BY 4.0).

Share & Cite This Article
MDPI and ACS Style
Szabó, L.; Imanishi, S.; Tetsuo, F.; Hirose, D.; Ueda, H.; Tsukegi, T.; Ninomiya, K.; Takahashi, K. Lignin as a Functional Green Coating on Carbon Fiber Surface to Improve Interfacial Adhesion in Carbon Fiber Reinforced Polymers. Materials 2019, 12, 159.
Note that from the first issue of 2016, MDPI journals use article numbers instead of page numbers. See further details here.
Related Articles
Comments
[Return to top]