Open Access This article is
freely available
re-usable
Article
Microstructure Evolution and the Resulted Influence on Localized Corrosion in Al-Zn-Mg-Cu Alloy during Non-Isothermal Ageing
1
Beijing Institute of Aeronautical Materials, Beijing 100095, China
2
Beijing Engineering Research Center of Advanced Aluminum Alloys and Application, Beijing 100095, China
3
School of Materials Science and Engineering, Harbin Institute of Technology, Harbin 150001, China
4
National Key Laboratory of Precision Hot Processing of Metals, Harbin Institute of Technology, Harbin 150001, China
*
Authors to whom correspondence should be addressed.
Received: 16 March 2018 / Accepted: 28 April 2018 / Published: 3 May 2018
Abstract
:
A non-isothermal ageing process was proposed for an Al-Zn-Mg-Cu alloy aiming to accommodate the slow heating/cooling procedure during the ageing of large components. The evolution of microstructure and microchemistry was analyzed by using transmission electron microscopy, high-angle annular dark field imaging, and energy dispersive spectrometry. The age-hardening of the alloy was examined to evaluate the strengthening behavior during the non-isothermal process. The corrosion behavior was investigated via observing the specimens immersed in EXCO solution (solution for Exfoliation Corrosion Susceptibility test in 2xxx and 7xxx series aluminum alloys, referring ASTM G34-01). Secondary precipitation was observed during the cooling stage, leading to increased precipitate number density. The distribution of grain boundary precipitates transits from discontinuous to continuous at the cooling stage, due to the secondary precipitation's linking-up effect. The solutes' enrichment on grain boundary precipitates and the depletion in precipitate-free zones develops during the heating procedure, but remains invariable during the cooling procedure. The corrosion in NIA (Non-isothermal Ageing) treated specimens initiates from pitting and then transits to intergranular corrosion and exfoliation corrosion. The transition from pitting to intergranular corrosion is very slow for specimens heated to 190 °C, but accelerates slightly as the cooling procedure proceeds. The transition to exfoliation corrosion is observed to be quite slow in all specimens in non-isothermal aged to over-aged condition, suggesting a corrosion resistance comparable to that of RRA condition.
Keywords:
Al-Zn-Mg-Cu alloy; non-isothermal ageing; precipitation; segregation; local corrosion
1. Introduction
The current work was initiated to investigate the precipitation during the NIA process, and to address the influence on localized corrosion. Comparison in microstructure and the corrosion process with that in the T6 and RRA (Retrogression Re-Aging) condition was also systematically carried out to evaluate the particularity of the NIA treating.
2. Experimental
A hot-rolled and tempered Al-6.0Zn-2.3Mg-2.0Cu (wt %) plate was used in this work. The specimens were solution treated in salt bath at 477 °C for 1 h, and quenched into cold water, prior to non-isothermal ageing. For non-isothermal ageing treatment, specimens were heated from 40 °C at a ramping rate of 20 °C/h to 190 °C, and then cooled down to a certain ending temperature at a cooling rate of 20 °C/h, and then quenched into cold water, as demonstrated in the diagram (see
Figure 1
). The specimens heated from 40 °C to 120 °C and 190 °C were named HA120 and HA190, respectively. The specimens heated to 190 °C and then cooled to 170 °C, 140 °C, and 100 °C, and quenched, were named CA170, CA140, and CA100, respectively. RRA treatment (120 °C × 24 h + 200 °C × 0.75 h + 120 °C × 24 h) and T6 ageing (120 °C × 24 h) were performed in parallel for comparison.
The microstructures of NIA-treated specimens were observed on a transmission electron microscope (TEM, Tecnai G2 F30, FEI, Hillsboro, OR, USA) operated at 300 kV to analyze the precipitation behavior. Atomic number contrast (Z-contrast) tomography was taken to analyze the local compositions by performing HADDF-STEM observing across GBs. Energy-dispersive X-ray spectroscopy (EDS, EDAX Inc., Hoffman Estates, IL, USA) line-scanning was carried out to quantitatively characterize the solute concentration profile across selected GBs in STEM mode. The step for line-scanning is 1 nm. The counter of each alloying element to that of Al was recorded sequentially along the selected path. The data collected from the line-scan were normalized to get the intensity of each element. The variation in the intensity can characterize the solute content semi-quantitatively.
Vickers hardness of the NIA specimens was tested to investigate the age-hardening behavior. A load of 0.2 kgf and a hold duration of 40 s were applied. Hardness of specimens of RRA and T6 condition was also measured. The electrical conductivity was measured on a micro-Ohm meter using four probe method. Needle-like specimens, 0.7 × 0.7 mm
2
in section and 40 mm in length, were used for the conductivity measuring. The corrosion process along an EXCO solution immersing of selected specimens (HA120, HA190, CA100, RRA, and T6) was investigated, referring to the procedure in ASTM G34 [
43
]. Selected samples were immersed in EXCO solution for 5, 10, and 15 h, and flushed thoroughly before being etched in nitric acid (30%). The etched specimens were observed on scanning electron microscope (SEM, FEI Quanta 200F, FEI, Hillsboro, OR, USA) to examine the surface morphology. Specifically, the pitting, crevice, IGC, EFC, and the transition between them were examined, to figure out the corrosion process.
3. Results and Discussion
4. Conclusions
The current study focused on the evolution in the microstructure and the microchemistry in an Al-Zn-Mg-Cu alloy during NIA treatment. Some comparisons using RRA and T6 condition as references were also carried out to understand the evolution and the resulting influence on properties.
(1)

The precipitation as well as the coarsening develops very quickly when specimens are exposed to an increasing temperature. A secondary precipitation occurs when a cooling procedure is introduced, leading to increased number density of precipitates. The secondary precipitation on GBs contributes to the linking-up of primary GBPs.

(2)

A peaked hardness comparable to that of RRA condition is obtained when heated to 190 °C. The secondary precipitation contributes to the increase in hardness at the terminal stage, although a slight coarsening of primary precipitates occurs.

(3)

The solutes' enrichment in GBPs, as well as the depletion in PFZs, develops as the NIA proceeds, and reaches a peak level when the heating procedure ends. The cooling does not influence the enrichment in GBPs evidently, but weakens the depletion of Zn in PFZ.

(4)

Enrichment of solutes in GBPs, as well as the depletion in PFZs, is believed decrease the pitting's preference for GBs. GBPs that continuously distribute along GBs, on the other hand, accelerate the pitting–IGC transition.

(5)

The NIA process endues strength and LC resistance comparable to that of RRA condition, and simultaneously, accommodates non-isothermal procedures. It is then a promising method to age large components of aluminum alloys properly.
Author Contributions
J.Z.C., J.T.J. and L.Z. conceived and designed the study. G.A.L., X.C. and L.Y. performed the experiments. J.Z.C. and J.T.J. wrote the paper. W.Z.S. and L.Z. reviewed and edited the manuscript. All authors read and approved the manuscript.
Funding
This research was funded by Defense Industrial Technology Development Program grant No. JCKY2016205C009 and Natural Science Foundation of China Grant No. 51171051 and No. 51474195).
Acknowledgments
Thank Shan-Shan Wang for the fruitful discussion on the IGC behavior. Thank Guo-Hua for TEM and HADDF-STEM observing.
Conflicts of Interest
The authors declare no conflict of interest.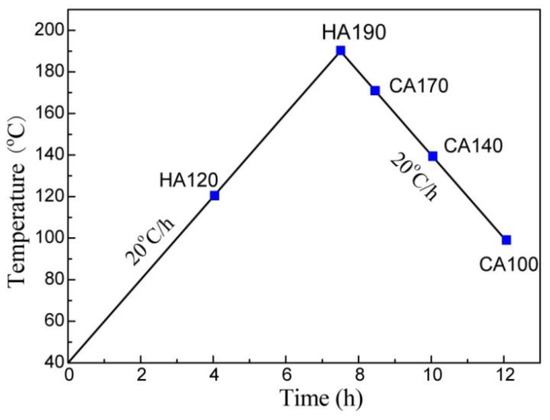 Figure 1. Non-isothermal ageing procedure utilized for the Al-Zn-Mg-Cu alloy. The alloy was first heated to 190 °C, and then allowed to cool to 100 °C. Both of the ramping and cooling rates are set at 20 °C/h. Squares denote the samples for microstructure observation.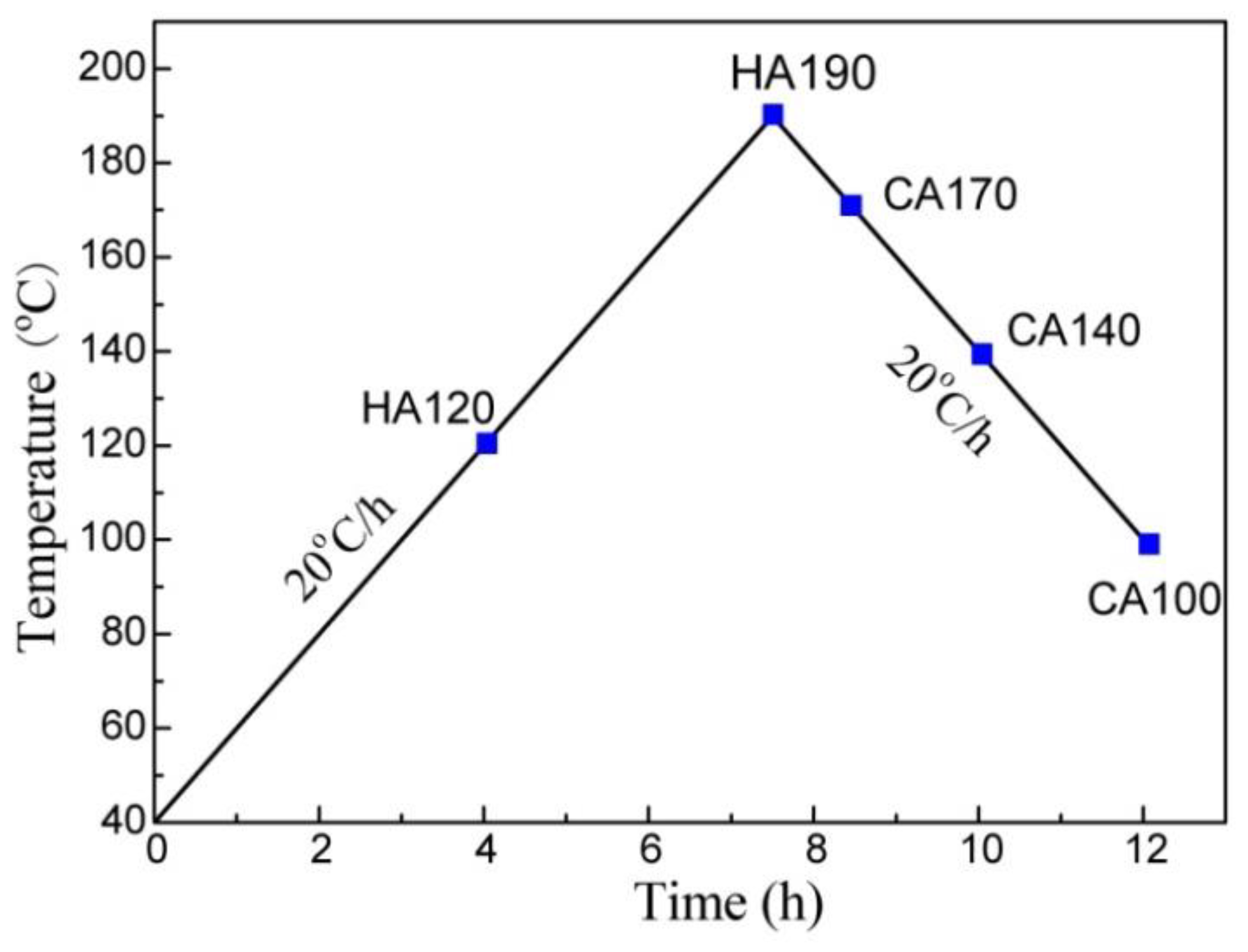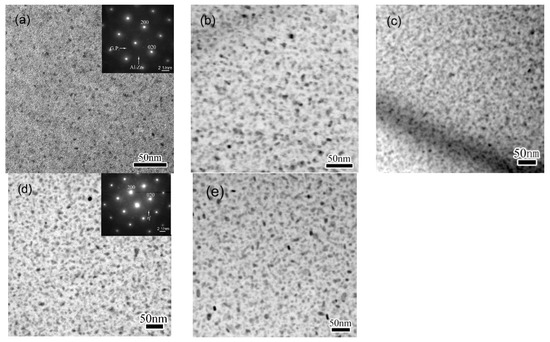 Figure 2.
Typical bright-field TEM images of the matrix precipitates in an Al-Zn-Mg-Cu alloy under different non-isothermal ageing conditions, (
a
) HA120; (
b
) HA190; (
c
) CA170; (
d
) CA140; (
e
) CA100. All the images were taken near [001]
Al
. Insets in (
a
,
d
) are SAED patterns showing the formation of GP zone and
η'
phase at different stages.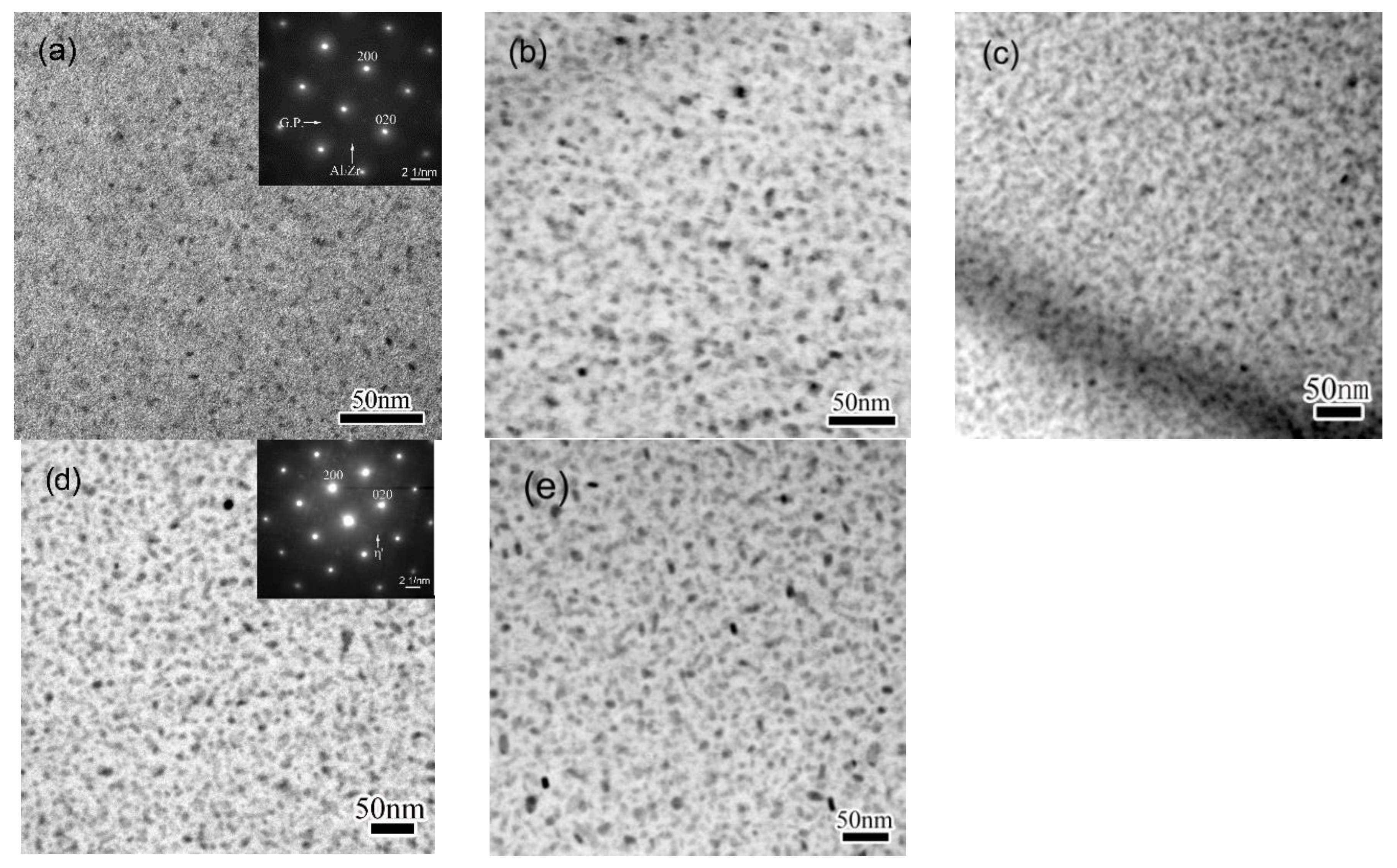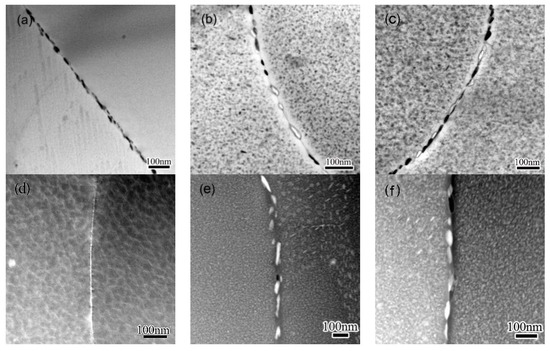 Figure 3. TEM images and HADDF-STEM images showing precipitates and the PFZ along grain boundaries in specimens NIA treated to different conditions: (a,d) HA120; (b,e) HA190; (c,f) CA100.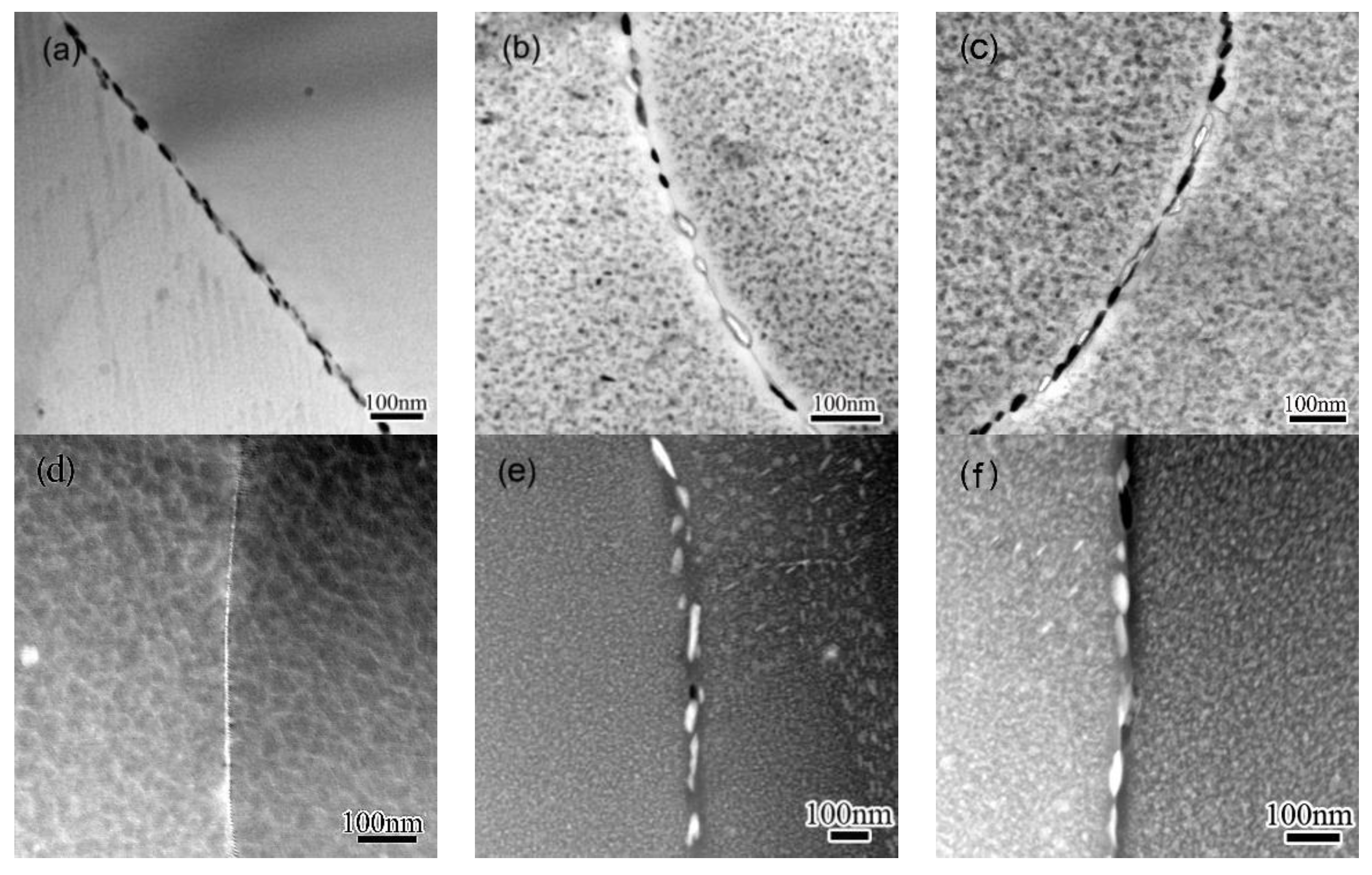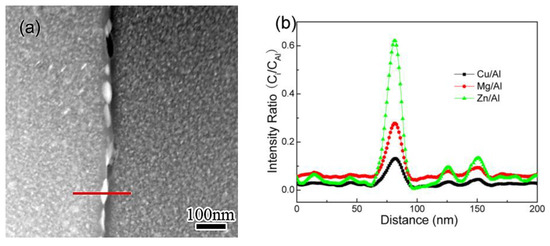 Figure 4. The location of the EDS line-scan, as indicated in red line in (a), and the obtained concentration profile of solute (b), in CA100.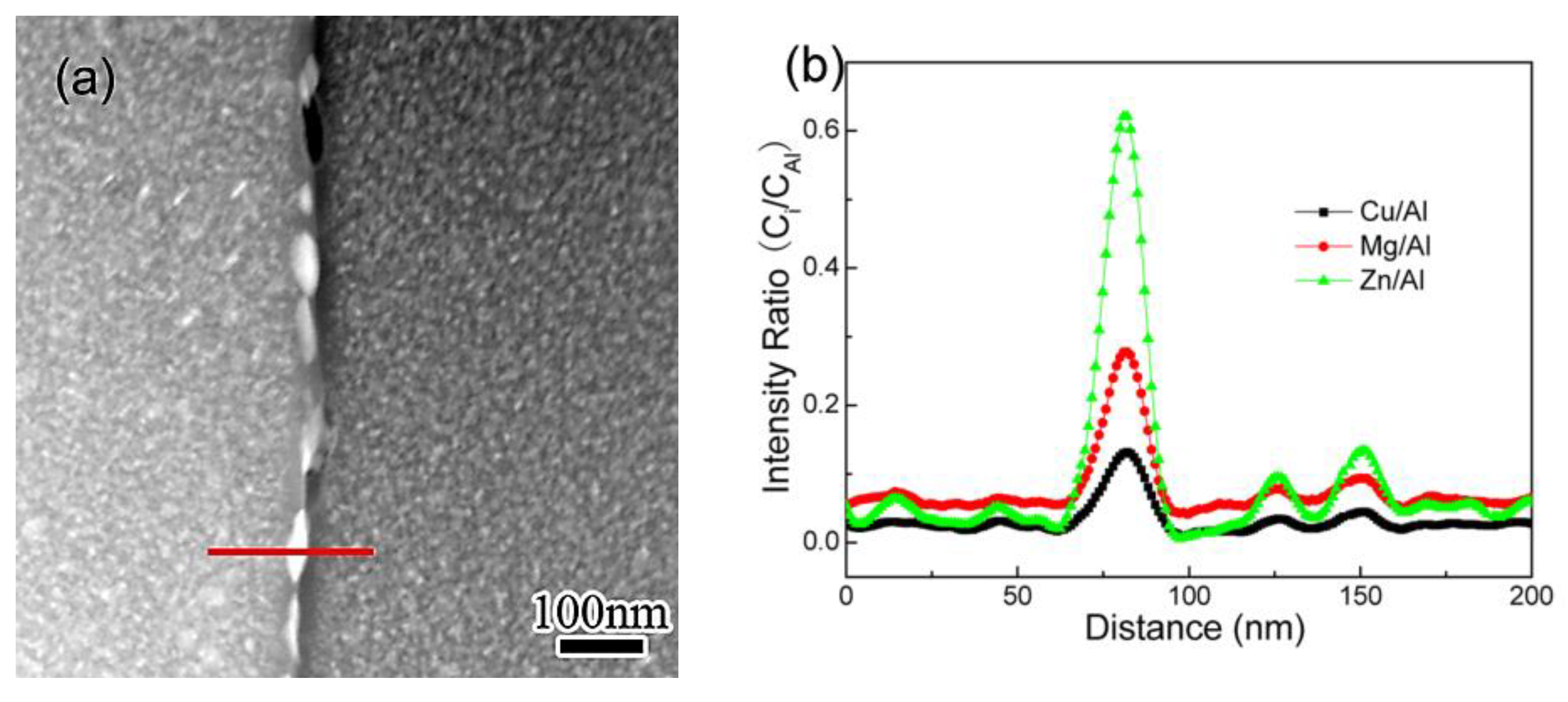 Figure 5. The normalized intensity of each solute calculated from the Ci/CAl ratios measured in the EDS line-scans: (a) the center of GBPs; (b) PFZs. Here the intensity of characterized X-ray of each solute was used to evaluate the relative content.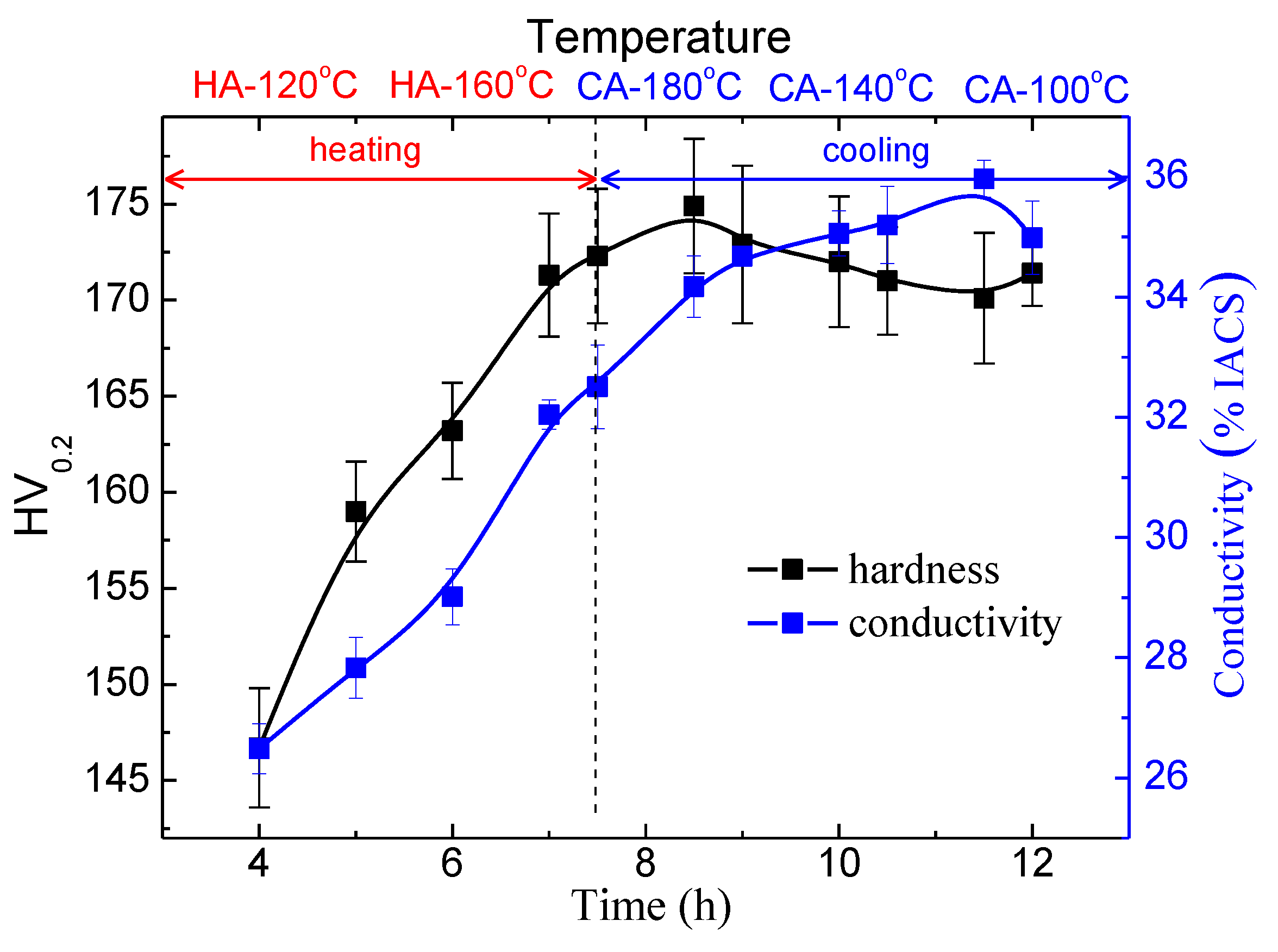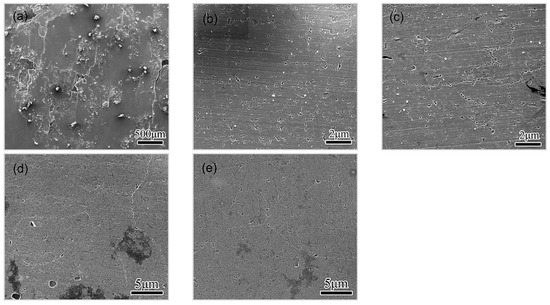 Figure 7. SEM images taken from surfaces exposed to EXCO solution for 5 h, with specimens of different conditions, (a) HA120; (b) HA190; (c) CA100; (d) T6 condition; (e) RRA condition. Corrosion products were removed before SEM observation.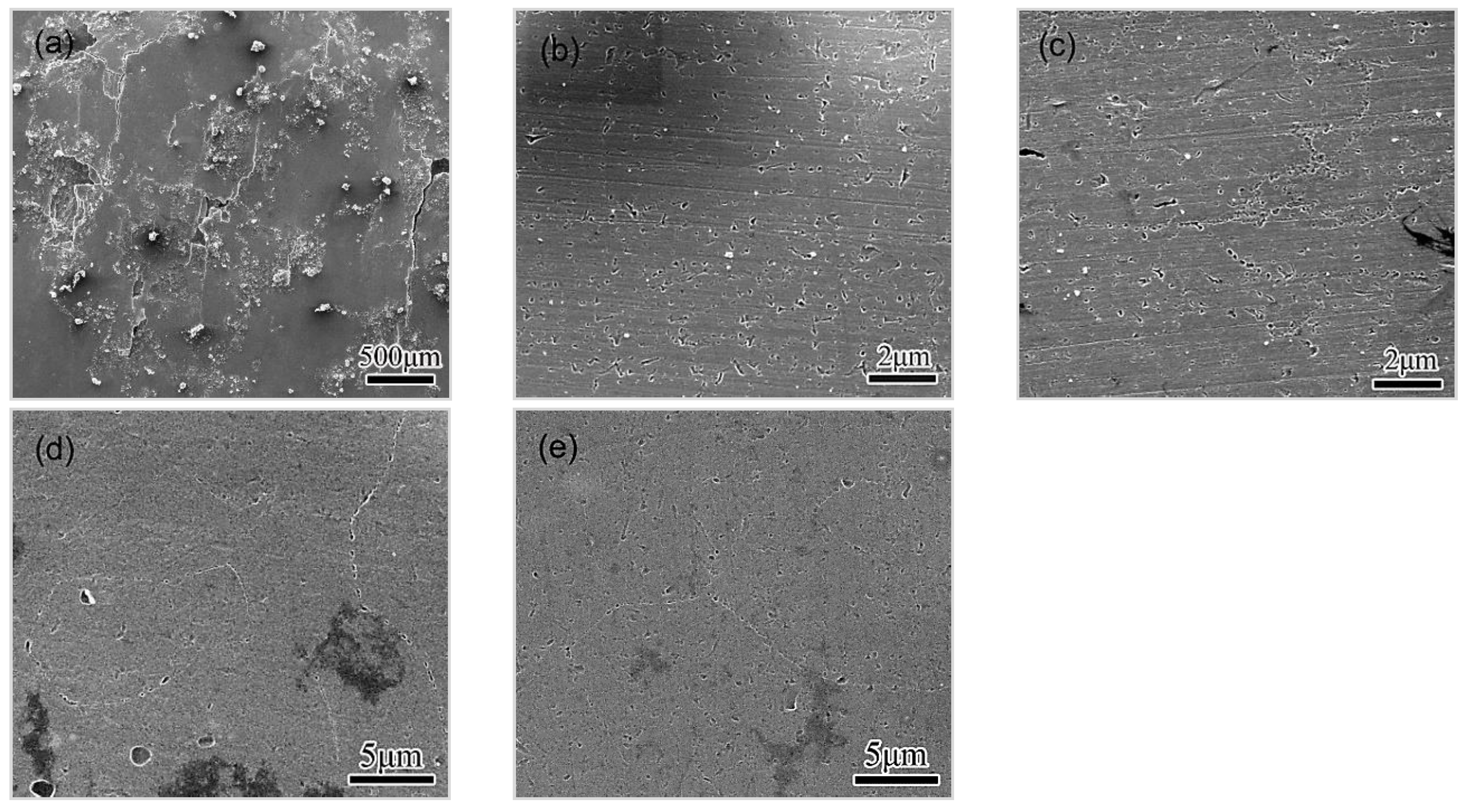 Figure 8. SEM images taken from surfaces exposed to EXCO solution for 10 h, with specimens of different conditions, (a) HA120; (b) HA190; (c) CA100; (d) T6 condition; (e) RRA condition. Corrosion products were removed.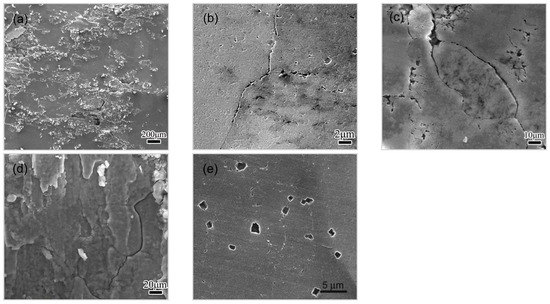 Figure 9. The SEM images taken from surfaces exposed to EXCO solution for 15 h, with specimens of different conditions, (a) HA120; (b) HA190; (c) CA100; (d) T6 condition; (e) RRA condition. Corrosion products were removed.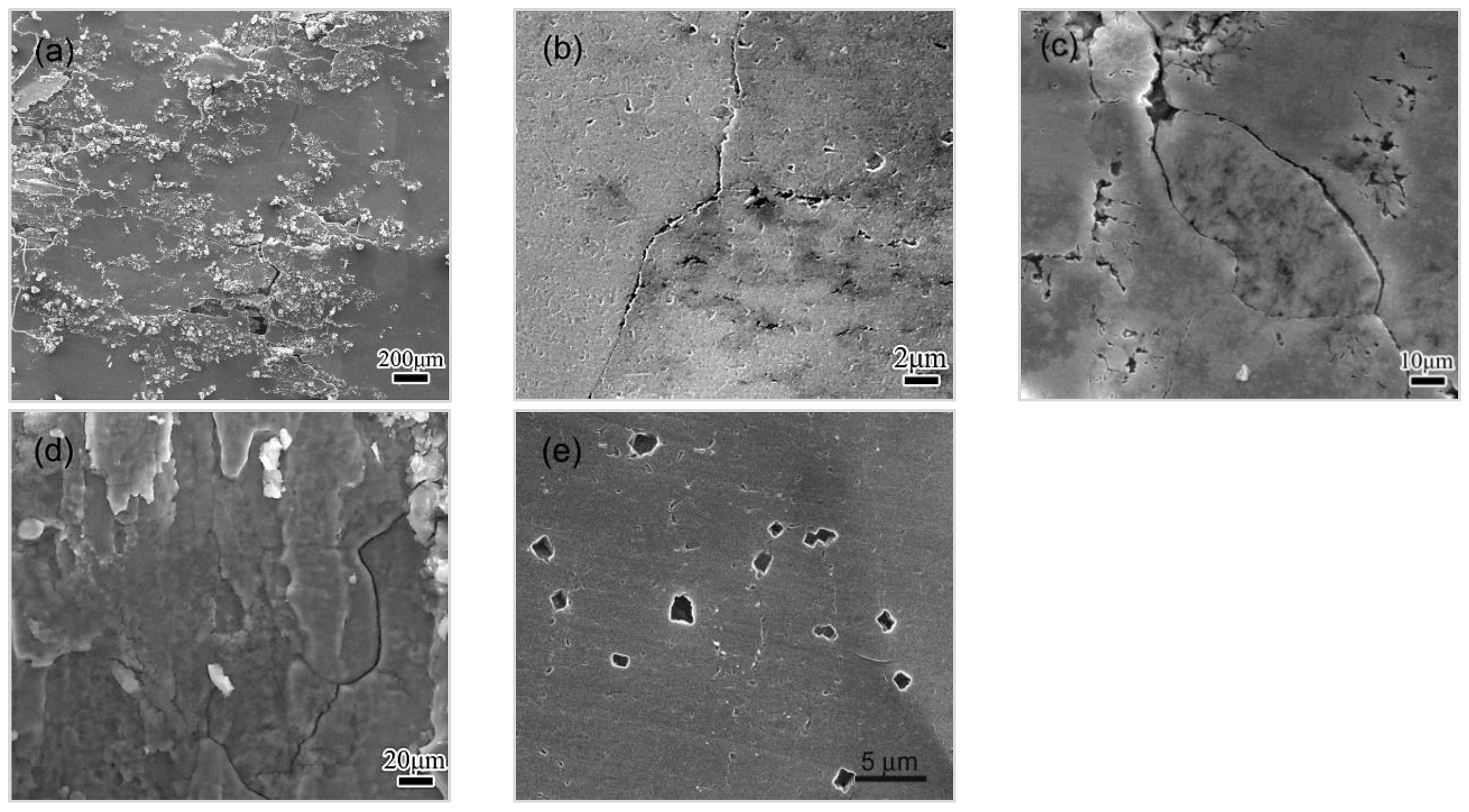 © 2018 by the authors. Licensee MDPI, Basel, Switzerland. This article is an open access article distributed under the terms and conditions of the Creative Commons Attribution (CC BY) license (http://creativecommons.org/licenses/by/4.0/).