Open Access This article is
freely available
re-usable
Article
The Potential of Using Immobilized Xylanases to Enhance the Hydrolysis of Soluble, Biomass Derived Xylooligomers
1
Forest Products Biotechnology/Bioenergy Group, Department of Wood Science, Faculty of Forestry, The University of British Columbia, 2424 Main Mall, Vancouver, BC V6T 1Z4, Canada
2
Department of Chemical and Petroleum Engineering, University of Calgary, 2500 University Dr. NW, Calgary, AB T2N 1N4, Canada
3
S2G BioChemicals, 4250 Wesbrook Mall, Vancouver, BC V6T 1W5, Canada
*
Author to whom correspondence should be addressed.
Received: 4 July 2018 / Accepted: 3 October 2018 / Published: 17 October 2018
Abstract
:
Earlier work had indicated that enzyme-mediated hydrolysis of xylooligomer-rich water-soluble streams (derived from steam pre-treated wheat straw) resulted in the effective production of xylose which was subsequently used to produce bio-glycol. In the work reported here, both the thermostability and recyclability of xylanases were significantly improved by covalent immobilizing the enzymes onto alginate beads. The immobilized xylanases showed a lower hydrolytic potential (~55% xylooligomer conversion) compared to the commercial xylanase cocktail HTec3 (~90% xylooligomer conversion) when used at the same protein loading concentration. This was likely due to the less efficient immobilization of key higher molecular weight enzymes (>75 kDa), such as β-xylosidases. However, enzyme immobilization could be improved by lowering the glutaraldehyde loading used to activate the alginate beads, resulting in improved hydrolysis efficacy (~65% xylooligomer conversion). Enzyme immobilization improved enzyme thermostability (endoxylanase and β-xylosidase activities were improved by 80% and 40%, respectively, after 24 h hydrolysis) and this allowed the immobilized enzymes to be reused/recycled for multiple rounds of hydrolysis (up to five times) without any significant reduction in their hydrolytic potential.
Keywords:
biorefining; xylanases; enzyme immobilization; biomass pre-treatment; xylooligomers
1. Introduction
One of the key challenges in establishing an effective "biorefinery" is to biochemically deconstruct the polysaccharides within the lignocellulosic substrate to the "sugar platform" which can subsequently be used to produce a range of chemicals and fuels [
1
,
2
]. Due to the recalcitrant nature of biomass, a physicochemical pre-treatment process is typically required to open up the tightly packed cell wall structure to facilitate the access of the enzymes to the target polysaccharides, cellulose and hemicellulose. In many of the industrial relevant pre-treatment processes (e.g., steam explosion, hydrothermal pre-treatment, diluted acid pre-treatment, etc.) that have been used, increased cellulose accessibility has been achieved by solubilizing a large portion of hemicellulose [
3
,
4
]. However, most of this solubilized hemicellulose remains in an oligomeric form, which somewhat limits their further valorization [
5
,
6
]. However, in earlier work, hemicellulose enzymes were successfully used to hydrolyze these hemicellulose-derived oligomers to monomeric sugars, particularly when compared with traditional acid hydrolysis processes [
7
].
Although successful, this previous work had indicated that some of the enzymes were precipitated/denatured and that agitation was not required for the optimized enzymatic hydrolysis process [
7
]. Thus, it is possible that an enzyme immobilization strategy could be used to improve both the thermostability of the enzymes and our ability to recycle/reuse the enzymes, resulting in reduced enzyme-related costs. There are several ways to immobilize xylanase enzymes, including physical adsorption, covalent binding, ionic binding and entrapment of enzymes on solid materials (
Table 1
) [
8
,
9
,
10
,
11
,
12
]. To briefly summarize, physical adsorption is characterized by enzyme adsorption to the solid substrate via hydrophobic interactions, hydrogen bonding, van der Waals forces, or electrostatic interactions [
11
]. Covalent binding involves the linkage of appropriate reactive groups of the enzyme structure with a support while ensuring the active site of the enzyme in unobstructed [
8
,
9
]. Entrapment is typically characterized by the encapsulation of the enzymes within an inorganic or polymeric matrix, where the free flow of substrate or product molecules from the bulk medium to the enzymes is not restricted [
10
,
11
]. Ionic immobilization involves the cation or anion exchanger for binding enzymes to solid supports [
12
].
Of these various methods, the covalent binding of xylanases onto alginate beads appeared to be the most promising, since it offered a simple method of enzyme immobilization and resulted in the highest immobilization yield as compared to other methods (
Table 1
). Alginate beads have been routinely used for enzyme entrapment and previous work has shown that the covalent immobilization of xylanases on alginate beads improved enzyme thermostability [
9
]. It was also apparent that the immobilized xylanase enzyme activity remained high, even after multiple rounds of enzyme recycling (
Table 1
). Most previous studies have investigated the immobilization of one purified xylanase enzyme applied in a relatively "simple" hydrolysis environment [
8
,
9
,
10
,
11
,
12
]. In contrast, an enzyme cocktail composed of multiple xylanase enzymes (at least containing endo-xylanases and β-xylosidases) with different physical and functional properties is more likely to be used in more complex environments that would contain various soluble components derived from biomass pre-treatment.
In the work reported below, the surface covalent immobilization of a commercial xylanase preparation (HTec3) on alginate beads and the hydrolytic potential of these immobilized xylanases towards the xylooligomers present in pre-treatment-derived liquors were assessed. The enzyme immobilization efficacy was optimized by adjusting the glutaraldehyde loading. The stability and recyclability of immobilized xylanases were also assessed. This approach showed considerable potential to reduce the enzyme dosages/cost required to achieve effective xyloosaccharide hydrolysis.
3. Results and Discussion
4. Conclusions
Commercial xylanase enzymes could be covalently immobilized onto alginate beads and their immobilization efficiency could be adjusted by varying the glutaraldehyde loading concentration used for bead activation. Although the immobilized xylanases had a slightly lower hydrolytic potential towards the xylooligomer-enriched water-soluble fraction (likely due to the less effective immobilization of the higher molecular weight β-xylosidases), they showed much higher thermostability and recyclability. This allowed them to be reused for multiple runs of hydrolysis without sacrificing the enzyme's hydrolytic potential. The xylanase immobilization strategy could be further improved by using different supporting materials to provide a larger surface area and/or allow the inside covalent immobilization of xylanases.
Author Contributions
All authors contributed jointly to all aspects of the work reported in the manuscript. J.H., J.D. and Y.K.M. carried out much of the laboratory work, contributed to planning, interpretation of results and drafting of the paper. J.S. contributed to the planning, interpretation and writing of the manuscript. All authors read and approved the final manuscript.
Funding
This research was funded by [MITACS] grant number [FR15145].
Acknowledgments
We thank NSERC and MITACS for their financial support of this work and Novozymes (Sarah Teter) for their generous gift of enzymes.
Conflicts of Interest
The authors declare no conflict of interest.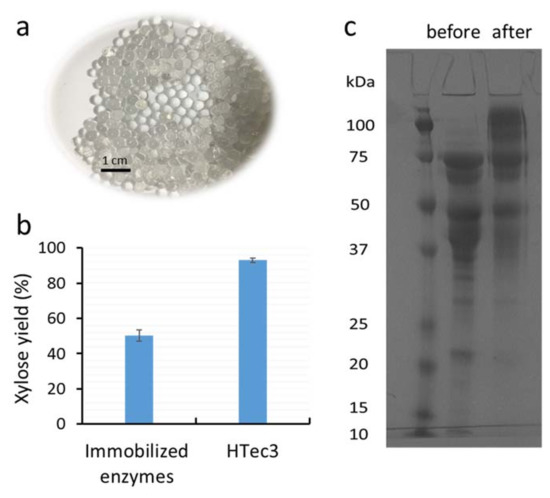 Figure 1.
(
a
) Alginate beads activated with glutaraldehyde (3%,
w
/
w
) for enzyme immobilization; (
b
) the xylose yield of xylooligomer-enriched pre-treatment liquors after 24 h hydrolysis using either immobilized HTec3 (xylanases) or non-immobilized HTec3; and (
c
) SDS-PAGE of the HTec3 enzymes remaining in solution before (left column) and after immobilization (right column).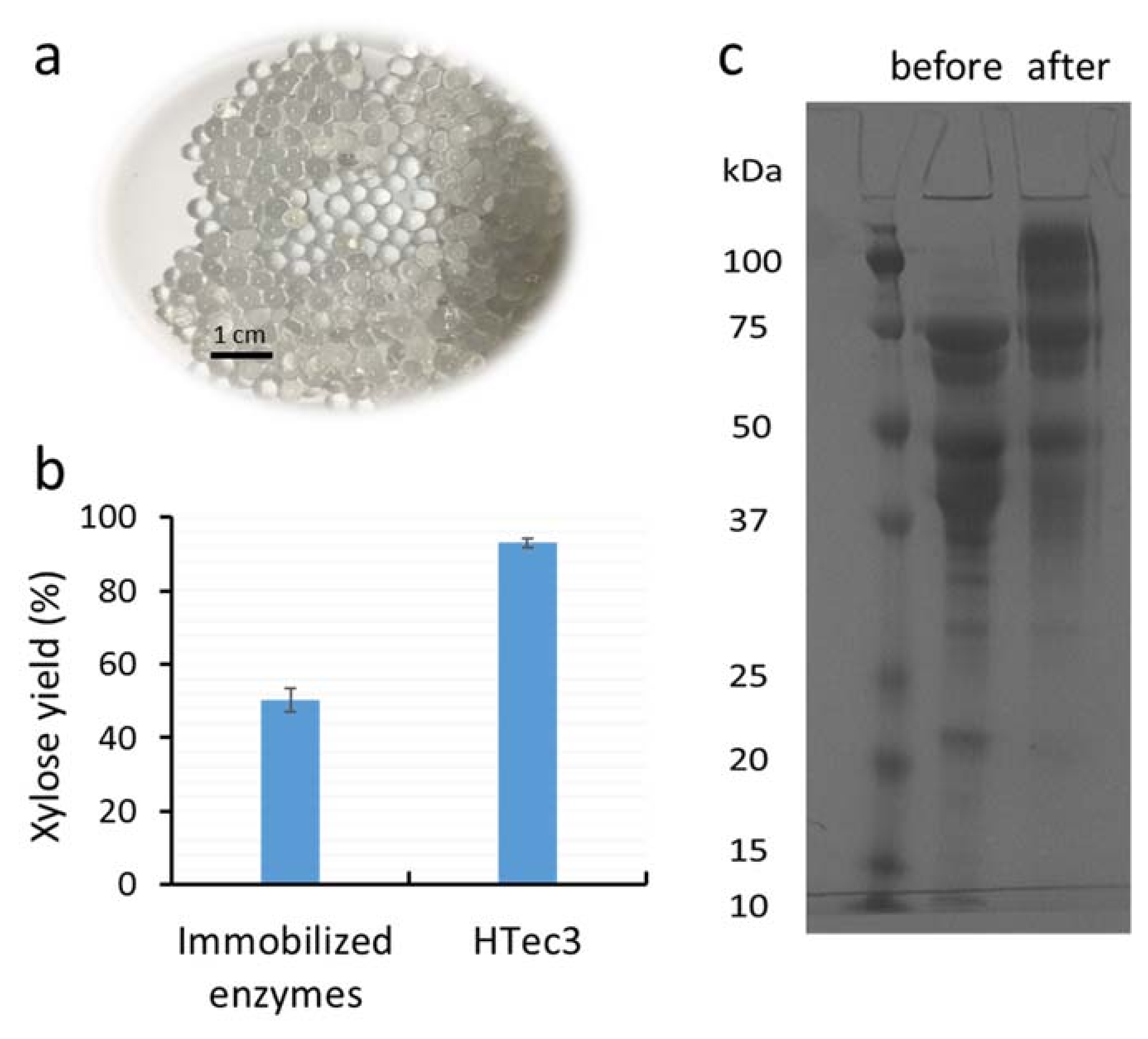 Figure 2. Hydrolysis of xylooligomer-enriched pre-treatment liquors after 24 h using immobilized xylanase enzymes on activated alginate beads with various glutaraldehyde concentrations.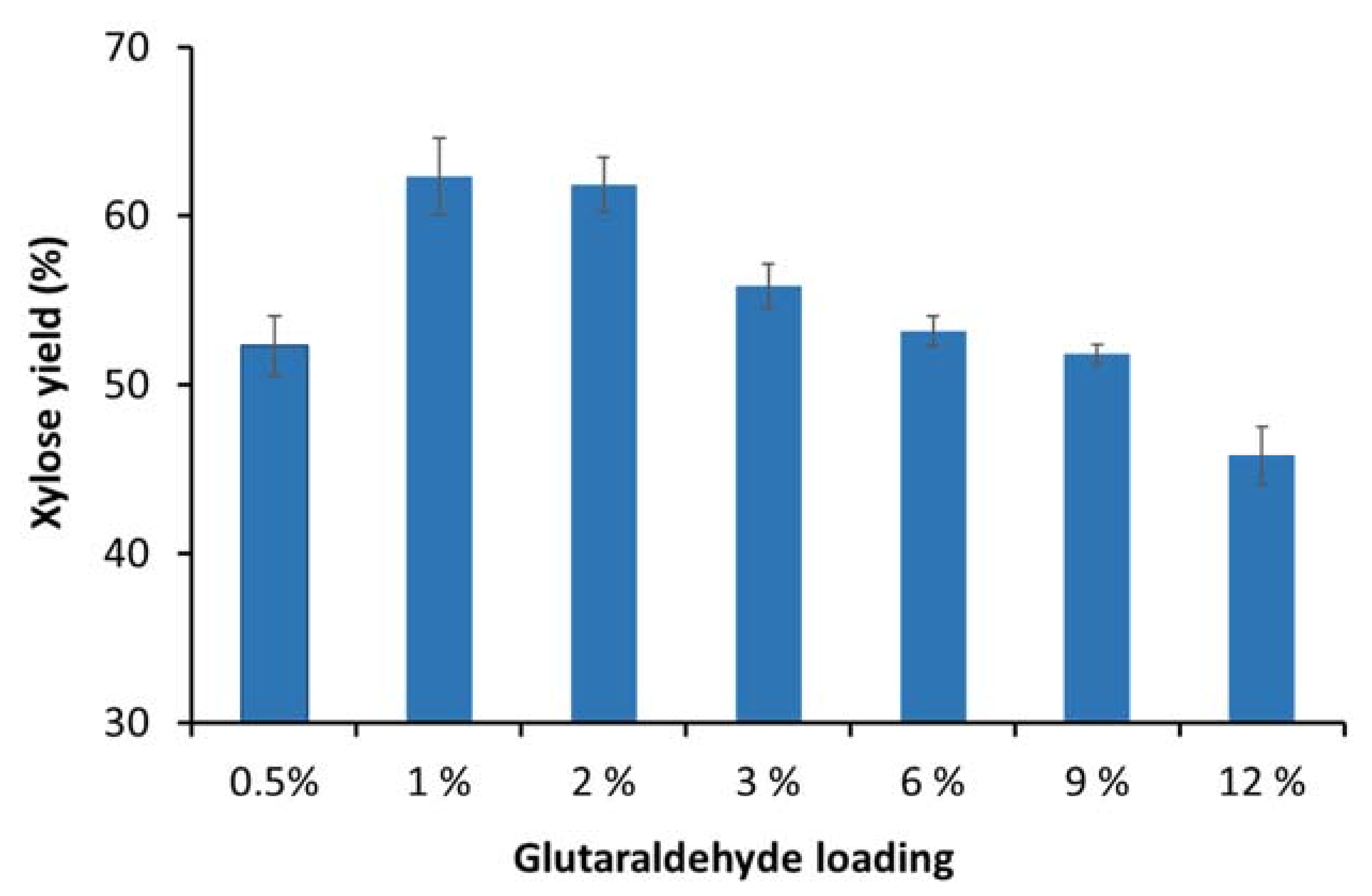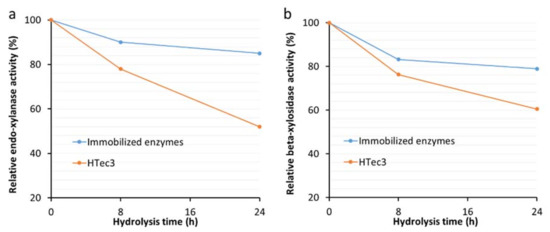 Figure 3. Relative endo-xylanase (a) and beta-xylosidase (b) activities of immobilized HTec3 xylanases and non-immobilized HTec3 xylanases over 24 h.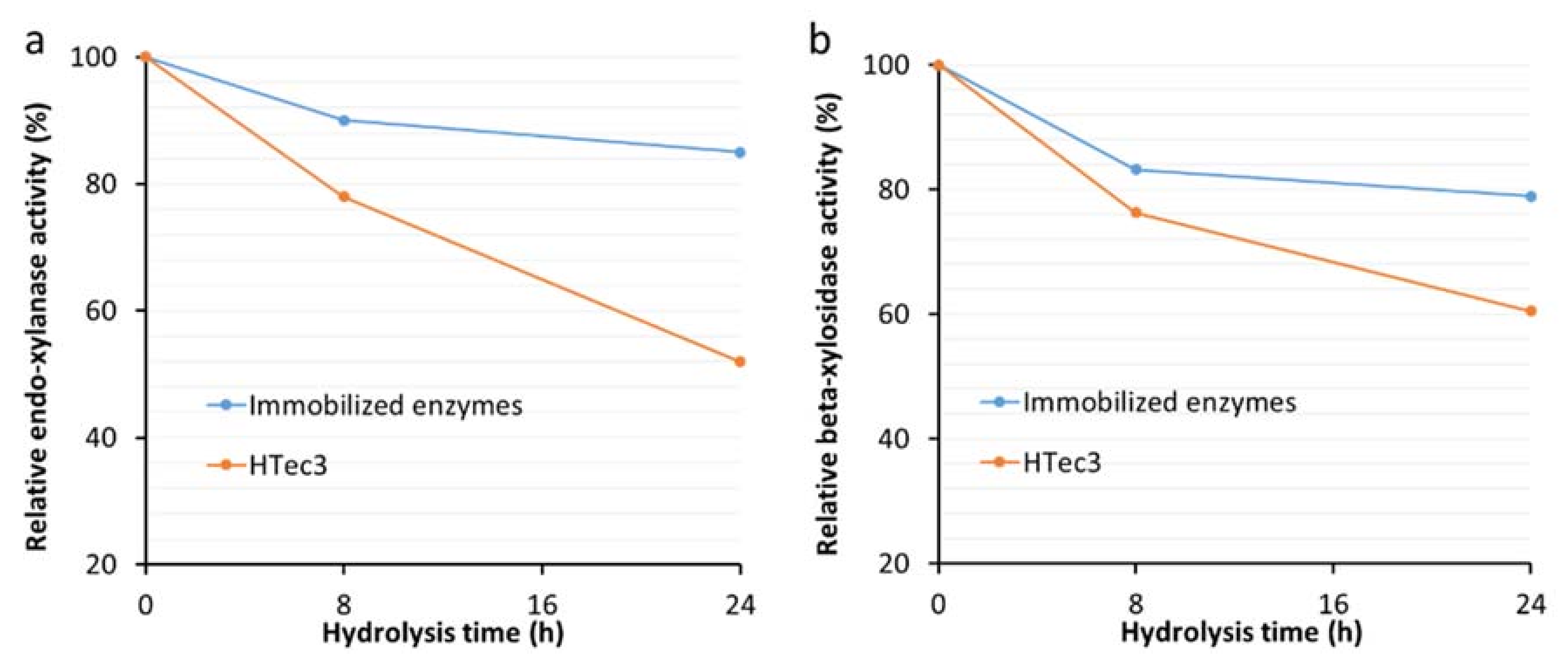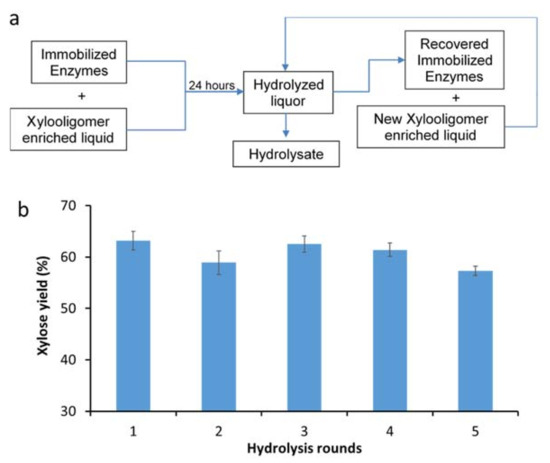 Figure 4. (a) Immobilized xylanase recycling protocol; (b) xylose yield from xylooligomer-enriched pre-treatment liquors over five rounds of recycling immobilized xylanases.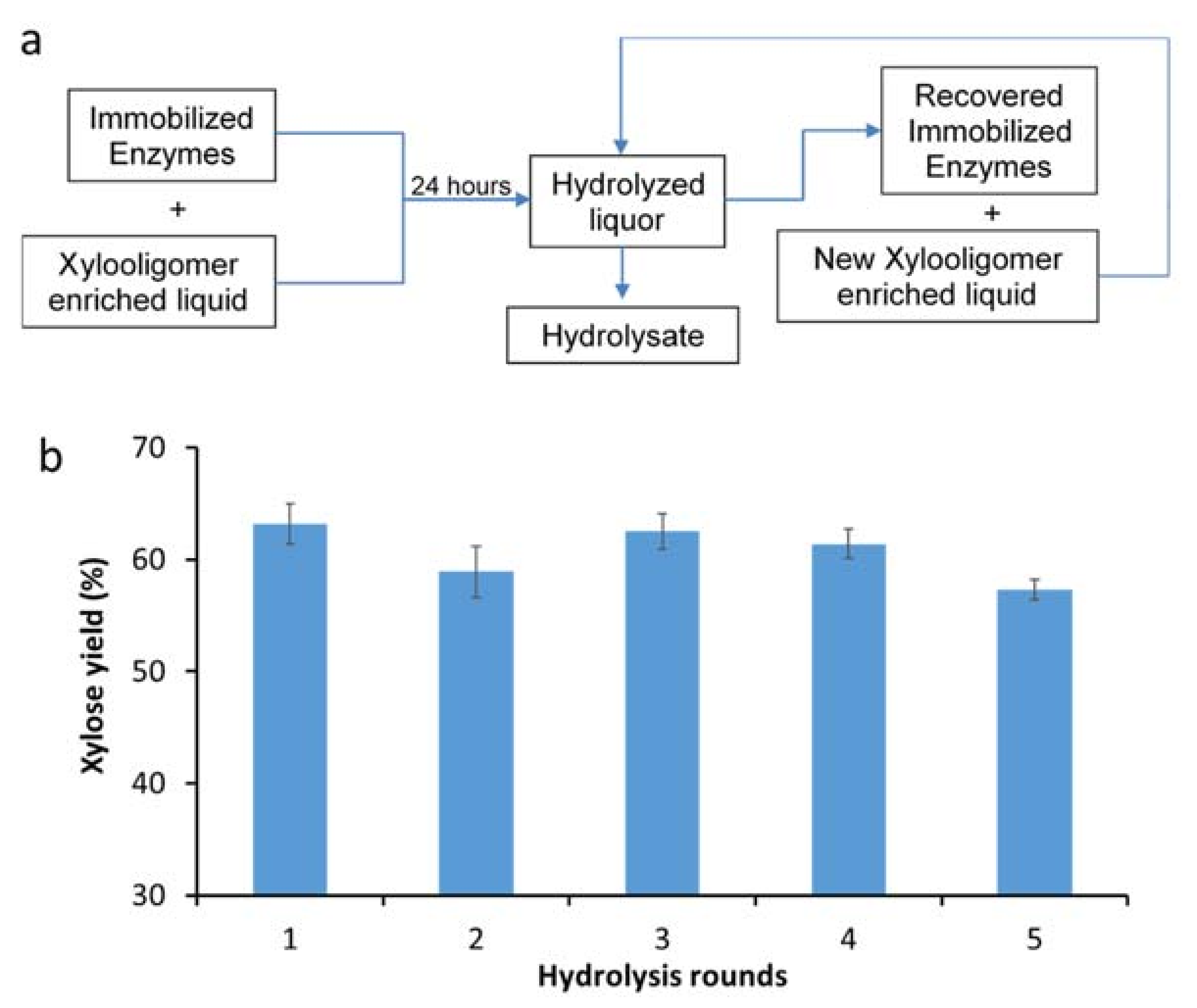 Immobilization Method
Immobilization Support
Immobilization Yield (%)
Recyclability
Reference
Covalent binding
Polyaniline via glutaraldehyde
N/A
>72% of its original activity after 15 recycling rounds
[8]
Glutaraldehyde activated alginate beads
>91
>85% of its original activity after five recycling rounds
[9]
Polymethyl methacrylate (PMMA) nanofiber membrane (NFM) activated with glutaraldehyde
90
~80% of its original activity after 11 recycling rounds
[10]
HP-20 (styrene-divynilbenzene adsorbent resin) with glutaraldehyde
42
~70% of its original activity after 11 recycling rounds
[11]
Ionic binding
Q-sepharose
45
~70% of its original activity after 11 recycling rounds
[11]
Dowex-50W
24.5–47.4
18% of its original activity after 40 days
[12]
Physical adsorption
Chitin
35
<50% of its original activity after four recycling rounds
[11]
Tannin-chitosan
37.7–69.3
33% of its original activity after 40 days
[12]
Entrapment
Gelatin
40
<50% of its original activity after four recycling rounds
[11]

© 2018 by the authors. Licensee MDPI, Basel, Switzerland. This article is an open access article distributed under the terms and conditions of the Creative Commons Attribution (CC BY) license (http://creativecommons.org/licenses/by/4.0/).