A Novel Synthesis Routine for Woodwardite and Its Affinity towards Light (La, Ce, Nd) and Heavy (Gd and Y) Rare Earth Elements
1
Dipartimento di Scienze della Terra dell'Ambiente e della Vita (DISTAV), University of Genova, Corso Europa 26, Genova 16132, Italy
2
Department of Geosciences and Natural Resource Management, Copenhagen University, Øster Voldgade 10, Copenhagen K 1350, Denmark
3
Dipartimento di Chimica e Chimica Industriale (DCCI), University of Genova, Via Dodecaneso 31, Genova 16146, Italy
4
School of Science and Technology-Geology division, University of Camerino, Camerino 62032, Italy
*
Author to whom correspondence should be addressed.
Received: 6 December 2017 / Revised: 2 January 2018 / Accepted: 11 January 2018 / Published: 14 January 2018
Abstract
A synthetic Cu-Al-SO
4
layered double hydroxide (LDH), analogue to the mineral woodwardite [Cu
1−x
Al
x
(SO
4
)
x/2
(OH)
2
·nH
2
O], with x < 0.5 and n ≤ 3x/2, was synthesised by adding a solution of Cu and Al sulphates to a solution with NaOH. The pH values were kept constant at 8.0 and 10.0 by a continuous addition of NaOH. The material obtained had poor crystallinity, turbostratic structure, and consisted of nanoscopic crystallites. The analyses performed in order to characterise the obtained materials (X-ray diffraction (XRD), thermogravimetry (TG), and Fourier Transform Infra-Red (FTIR) spectroscopy) showed that the Cu-Al-SO
4
LDH is very similar to woodwardite, although it has a smaller layer spacing, presumably due to a lesser water content than in natural samples. The synthesis was performed by adding light rare earth elements (LREEs) (La, Ce, and Nd) and heavy rare earth elements (HREEs) (Gd and Y) in order to test the affinity of the Cu-Al-SO
4
LDH to the incorporation of REEs. The concentration of rare earth elements (REEs) in the solid fraction was in the range of 3.5–8 wt %. The results showed a good affinity for HREE and Nd, especially for materials synthesised at pH 10.0, whereas the affinities for Ce and La were much lower or non-existent. The thermal decomposition of the REE-doped materials generates a mixture of Cu, Al, and REE oxides, making them interesting as precursors in REE oxide synthesis.
View Full-Text
►

▼

Figures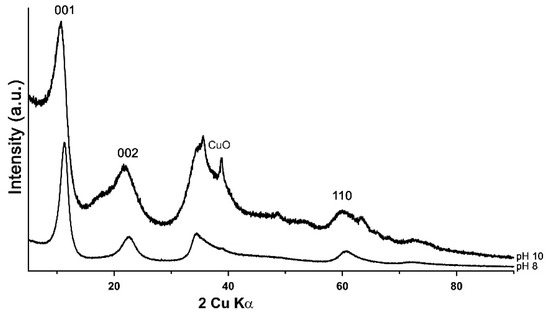 Figure 1
This is an open access article distributed under the
Creative Commons Attribution License
which permits unrestricted use, distribution, and reproduction in any medium, provided the original work is properly cited (CC BY 4.0).

Share & Cite This Article
MDPI and ACS Style
Consani, S.; Balić-Žunić, T.; Cardinale, A.M.; Sgroi, W.; Giuli, G.; Carbone, C. A Novel Synthesis Routine for Woodwardite and Its Affinity towards Light (La, Ce, Nd) and Heavy (Gd and Y) Rare Earth Elements. Materials 2018, 11, 130.
Note that from the first issue of 2016, MDPI journals use article numbers instead of page numbers. See further details here.
Related Articles
Comments
[Return to top]