Lithium Hydrazinidoborane Ammoniate LiN2H3BH3·0.25NH3, a Derivative of Hydrazine Borane
1
IEM (Institut Europeen des Membranes), UMR5635 (CNRS, ENSCM, UM), Universite de Montpellier, Place Eugene Bataillon, CC047, F-34095 Montpellier, France
2
ICGM (Institut Charles Gerhardt Montpellier), UMR 5253 (CNRS UM ENSCM), Université de Montpellier, CC 15005, Place Eugène Bataillon, F-34095 Montpellier cedex 05, France
3
Univ Lyon, Université Claude Bernard Lyon 1, Laboratoire des Multimatériaux et Interfaces UMR CNRS 5615, LMI, F-69622 Villeurbanne, France
*
Author to whom correspondence should be addressed.
Received: 14 June 2017 / Revised: 27 June 2017 / Accepted: 29 June 2017 / Published: 5 July 2017
Abstract
Boron- and nitrogen-based materials have shown to be attractive for solid-state chemical hydrogen storage owing to gravimetric hydrogen densities higher than 10 wt% H. Herein, we report a new derivative of hydrazine borane N
2
H
4
BH
3
, namely lithium hydrazinidoborane ammoniate LiN
2
H
3
BH
3
·0.25NH
3
. It is easily obtained in ambient conditions by ball-milling N
2
H
4
BH
3
and lithium amide LiNH
2
taken in equimolar amounts. Both compounds react without loss of any H atoms. The molecular and crystallographic structures of our new compound have been confirmed by NMR/FTIR spectroscopy and powder X-ray diffraction. The complexation of the entity LiN
2
H
3
BH
3
by some NH
3
has been also established by thermogravimetric and calorimetric analyses. In our conditions, LiN
2
H
3
BH
3
·0.25NH
3
has been shown to be able to release H
2
at temperatures lower than the parent N
2
H
4
BH
3
or the counterpart LiN
2
H
3
BH
3
. It also liberates non-negligible amounts of NH
3
at temperatures lower than 100 °C. This is actually quite detrimental for chemical H storage, but alternatively LiN
2
H
3
BH
3
·0.25NH
3
might be seen as a potential NH
3
carrier.
View Full-Text
►

▼

Figures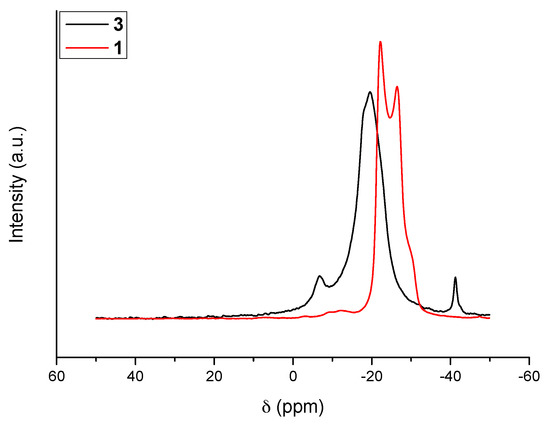 Figure 1
This is an open access article distributed under the
Creative Commons Attribution License
which permits unrestricted use, distribution, and reproduction in any medium, provided the original work is properly cited (CC BY 4.0).

Share & Cite This Article
MDPI and ACS Style
Ould-Amara, S.; Granier, D.; Chiriac, R.; Toche, F.; Yot, P.G.; Demirci, U.B. Lithium Hydrazinidoborane Ammoniate LiN2H3BH3·0.25NH3, a Derivative of Hydrazine Borane. Materials 2017, 10, 750.
Note that from the first issue of 2016, MDPI journals use article numbers instead of page numbers. See further details here.
Related Articles
Comments
[Return to top]