Open Access This article is
freely available
re-usable
Review
Potential of Bioactive Glasses for Cardiac and Pulmonary Tissue Engineering
1
Department of Modern Sciences and Technologies, School of Medicine, Mashhad University of Medical Sciences, Mashhad 917794-8564, Iran
2
Department of Medical Genetics, School of Medicine, Tehran University of Medical Sciences, Tehran 14155-6447, Iran
3
Institute of Materials Physics and Engineering, Department of Applied Science and Technology (DISAT), Politecnico di Torino, 10129 Torino, Italy
*
Authors to whom correspondence should be addressed.
Received: 23 October 2017 / Accepted: 12 December 2017 / Published: 15 December 2017
Abstract
:
Repair and regeneration of disorders affecting cardiac and pulmonary tissues through tissue-engineering-based approaches is currently of particular interest. On this matter, different families of bioactive glasses (BGs) have recently been given much consideration with respect to treating refractory diseases of these tissues, such as myocardial infarction. The inherent properties of BGs, including their ability to bond to hard and soft tissues, to stimulate angiogenesis, and to elicit antimicrobial effects, along with their excellent biocompatibility, support these newly proposed strategies. Moreover, BGs can also act as a bioactive reinforcing phase to finely tune the mechanical properties of polymer-based constructs used to repair the damaged cardiac and pulmonary tissues. In the present study, we evaluated the potential of different forms of BGs, alone or in combination with other materials (e.g., polymers), in regards to repair and regenerate injured tissues of cardiac and pulmonary systems.
Keywords:
bioactive glasses; scaffold; angiogenesis; soft tissue engineering; cardiac regeneration; lung tissue engineering
2. Applications in Cardiac Tissue Engineering
3. Applications in Lung Tissue Engineering
These set of results seems to actually support the fascinating possibility of using BG-based biomaterials and scaffolds in lung tissue engineering approaches, although extensive work, including testing with all the different cell types found in the pulmonary system, is necessary for further advancements.
4. Discussion and Future Challenges
This year, we are celebrating the 50th anniversary of the so-called "hypothesis of bioactive glass" [
92
]: In fact, before 1967, the concept of a material that could form a direct bond to living tissues seemed impossible. In 1985, Hench's 45S5 Bioglass
®
was approved by Food and Drug Administration (FDA) for clinical use in the repair of middle ear small bones and, since then, it has been successfully implanted in millions of patients worldwide to repair bone and dental defects [
93
]. The "second life" of BGs for potential applications in soft tissue regeneration is more recent [
52
,
56
] and, specifically, the first reported uses of these materials for lung and cardiac tissue engineering date back to 2003 [
83
] and 2010 [
73
], respectively. Indeed, more research still is to be carried out to support and expand the applications of BGs in these two highly-significant fields, albeit the available results show promise.
First, we need to understand and establish clearly what is the most appropriate way to use BGs in contact with cardiac and lung tissues. Looking at the BG-based products for bone repair that are currently available on the market, we can found BG particles, granules, moldable putties as well as 3D porous scaffolds that play a key role in tissue engineering approaches.
The physico-mechanical characteristics of an ideal porous scaffold for bone tissue engineering have been established over the last 15 years taking cancellous bone as a reference tissue, and hence target ranges for pore and strut size, permeability, stiffness and compressive strength have been proposed in the literature [
94
,
95
,
96
]. Moving towards non-osseous applications, a crucial question is: What are the characteristics that a scaffold for cardiac or lung tissue engineering should exhibit? A response can be attempted, on the basis and within the frame of current knowledge. The specific physical properties that a cardiac tissue engineering construct is expected to have are: (i) biocompatibility; (ii) ability to promote cell adhesion and proliferation; (iii) tailored degradation rate matching the recovery rate of host soft tissue; (iv) permeability allowing the diffusion of biomolecules; (v) suitable mechanical properties close to those of natural tissues; (vi) contractility; and (vii) electrophysiological stability [
97
]. Properties (i)–(v) can be extended to lung tissue engineering constructs, too. Especially, Properties (v) and (vi) can be fulfilled only by using polymers, which means that BGs are suitable for these applications only if combined with a soft polymeric matrix. Besides being useful to tune the mechanical properties of the composite to match the features of the soft tissue to repair, BGs can play a major role from chemical and biological viewpoints, e.g., mitigation of pH drop due to polymer degradation and improved cytocompatibility. In this regard, there is a need for a significant amount of research to be carried out for establishing the specific mechanisms involved in the interaction between BGs and the cells that compose cardiac and lung tissues, just as performed for bone/dental applications in the last decades. At present, the role of BGs in promoting cardiac and lung cell proliferation and/or differentiation is as yet unknown. Basic cell and molecular biology studies on how BGs can actually stimulate cardiomyocytes and pneumocytes are still to be done, and this will require a close collaboration among glass chemists, biomaterials scientists, bioengineers, biologists, and clinicians. Future research will also require implementation of in vitro culture and co-culture strategies for the relevant cells found in these complex tissues that should be seeded on potentially-suitable BG-containing polymeric matrices. Suitable in vivo models will have to be defined and standardized, too. A careful selection of appropriate BG compositions and morphologies (e.g., micro- or nano-sized particles, and fibers) combined with suitable soft and porous polymeric matrices are necessary to realistically consider BGs in these particular fields.
The addition of metallic dopants to the BG composition, as well as the incorporation of growth factors and drugs in the composites, could be considered to develop new regeneration strategies for heart and lungs. An important limiting factor for progress in the field of regenerative medicine utilizing ions is the risk that they can easily diffuse to other non-target cells or tissues and, thus, stimulate unwanted responses. Mesoporous BGs (MBGs), which have been widely experimented as carriers for therapeutic ions and biomolecules and exhibit a controlled delivery capability for such agents [
98
], could partly overcome this problem by being embedded as high-added-value inclusions in biodegradable polymers. Many studies have been reported on the fabrication of MBG/polymer composites in the field of bone tissue engineering [
99
], but, to date, none of these constructs has been proposed for cardiac or lung tissue engineering. In general, applications in soft tissue engineering are dramatically scarce; only Jia et al. [
100
] suggested the use of MBG/chitosan composite films to induce hemostasis and accelerate wound healing.
Crucial questions need to be addressed before clinical translation, including: How can we minimize the nonspecific adverse effects of ions/drugs released by BG/MBG-based constructs? What is the underlying signaling cascade of these ions on cardiac/lung tissue regeneration? How can we combine advanced materials and stem cell sciences for new bone regenerative engineering?
Another aspect that deserves to be mentioned is the risk of soft tissue calcification: While the formation of a surface apatite layer (bioactivity) is key to generate a strong interfacial bond between BG and bone, this phenomenon should be avoided when BGs are put in contact with cardiac and lung tissues or, in general, soft organs of the body.
Lastly, it will be crucial for developing constructs that can be easy-to-handle for surgeons and other clinical staff directly involved in their possible use and commercialization.
5. Conclusions
Taken together, BGs have achieved great interest in soft tissue engineering strategies over the recent years. The excellent biocompatibility, the ability to bond to living tissues, the antimicrobial properties and the ability to induce angiogenesis are considered as desirable characteristics of BGs to use in regenerative medicine [
40
]. Given these features, BGs are being currently used experimentally for soft tissue regeneration to find a way to use them clinically [
101
]. Up to now, most of these studies have been conducted on the skin and nerve tissues with satisfactory results [
102
,
103
,
104
,
105
]. Furthermore, the use of melt-derived and sol-gel BGs in the repair and regeneration of cardiac and lung tissues has also been reported with early promising results [
73
,
74
,
75
,
76
,
83
,
84
,
85
,
86
,
87
,
88
,
89
,
90
]. In this pioneering set of studies, BGs have been usually incorporated in polymeric matrices that match better the physico-mechanical properties of soft and delicate cardiac/lung tissues. Looking at the future, mesoporous BGs (MBGs) could be highly interesting platforms for the controlled release of therapeutic agents eliciting beneficial effects to injured heart and lungs [
106
]. MBGs could be indeed added to various biodegradable polymers to improve the functionality of the cardiac patches as well as to deliver desirable drugs and growth factors for accelerating regeneration. Overall, more research is needed to reveal all the aspects around the application of BGs in contact with these highly important tissues.
Acknowledgments
This paper is dedicated to the memory of Dame Julia Polak, who founded the Imperial College Tissue Engineering and Regenerative Medicine Center in London and passed away in 2014 [59]. She was one of the longest surviving recipients of a heart and lung transplant in the world. Dame Julia Polak was transplanted in 1995 and then changed her own research interests from pathology to the newly developing field of tissue engineering. She collaborated with Larry L. Hench on studying the biological effects of BGs in the effort to develop suitable biomaterials to make artificial lungs.
Conflicts of Interest
The authors declare no conflict of interest.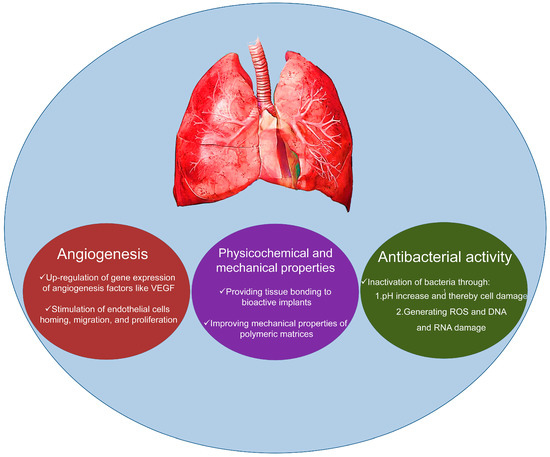 Figure 1. Schematic representation of potential of BGs for cardiac and pulmonary tissue engineering.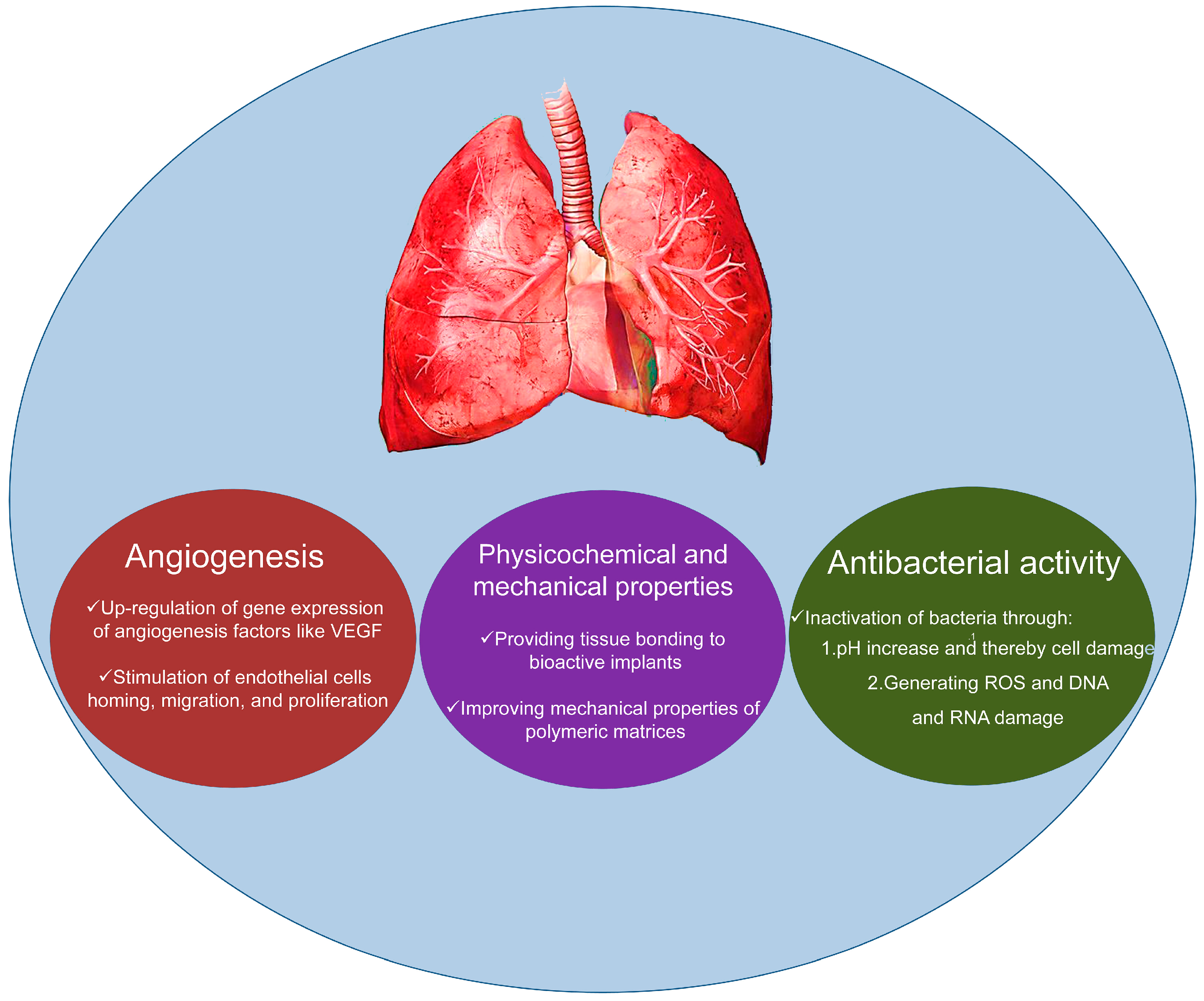 Figure 2.
Examples of two approaches to cardiac tissue engineering. Stem cells are differentiated into cardiac repair cells and seeded onto a scaffold material or mixed with an injectable matrix. The scaffold with the repair cells is placed at the site of MI or used to replace the infarcted tissue. Cells encapsulated within a hydrogel matrix are delivered to the site of injury via direct injection. Images from Hinderer et al. [
66
] © Wiley Publishers.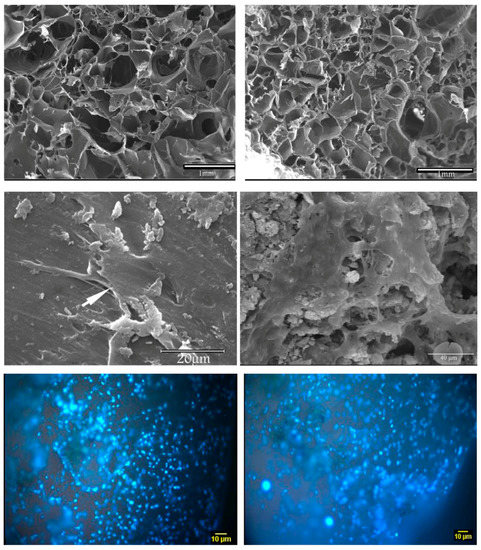 Figure 3.
SEM micrographs of (
left
) gelatin/collagen scaffolds and (
right
) gelatin/collagen/BG scaffolds for cardiac tissue repair. Top: Pictures of bare scaffolds; middle: Cells seeded on the scaffolds; bottom: Nuclei staining of cells grown on scaffolds 15 days post cell seeding. Images from Barabadi et al. [
74
] © Elsevier.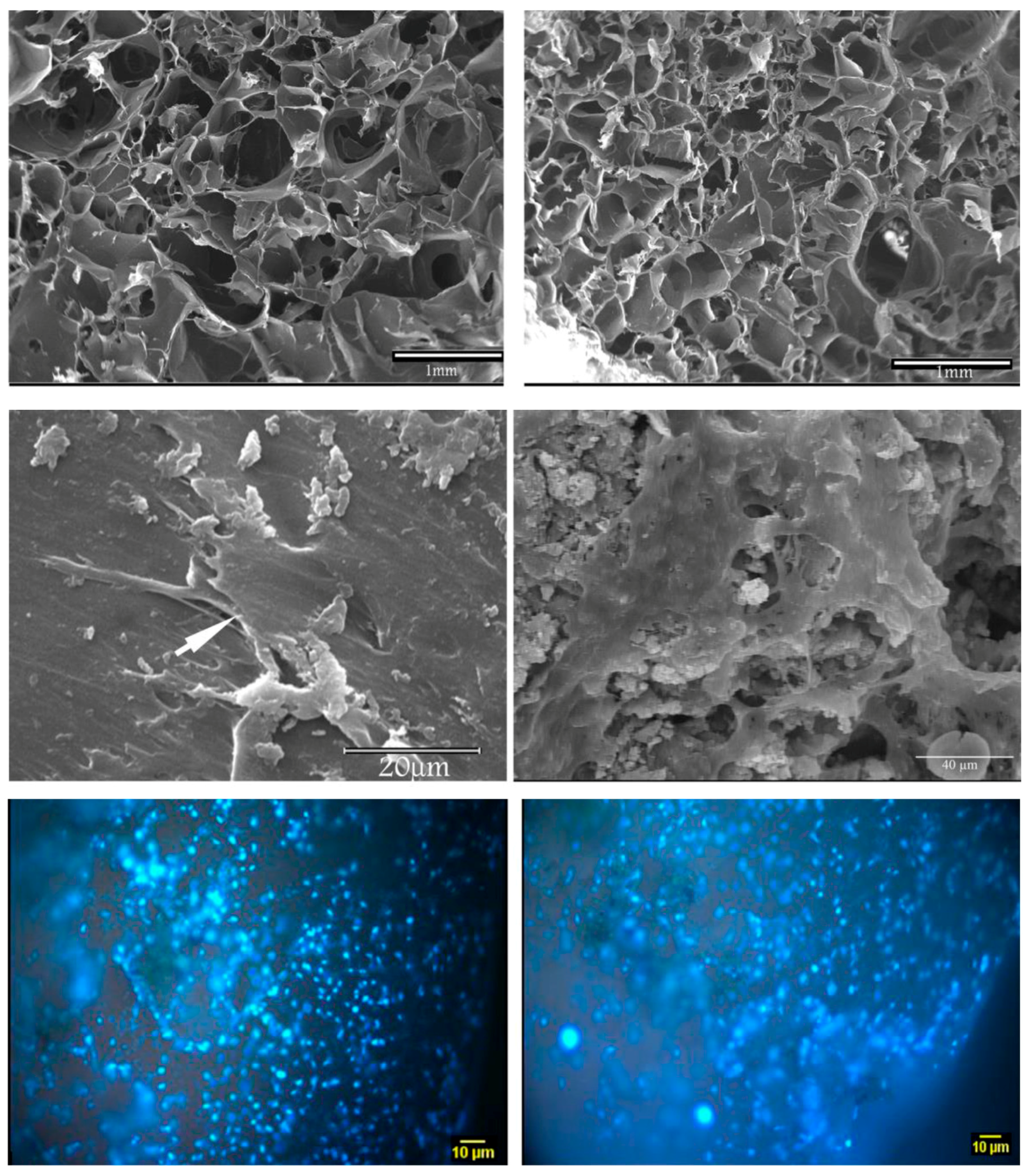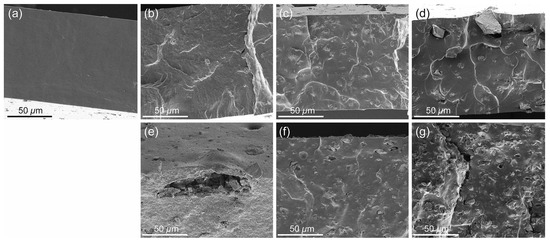 Figure 4.
Cross-sectional SEM images of elastomeric biomaterials (silicones containing or not 10 wt % bioactive glass (BG45S5) particles) for cardiac tissue repair: (
a
) pure silicone; (
b
) silicone with nano-sized bioactive glass (nano-BG); (
c
) silicone with BG microparticles by Schott (Schott-BG); and (
d
) silicone with BG microparticles by Mo-Sci-Corporation (Mo-Sci-BG); and (
e
–
g
) the respective BG-containing composite films after four weeks of immersion in simulated body fluid (SBF). Images from Cohrs et al. [
75
] © Springer.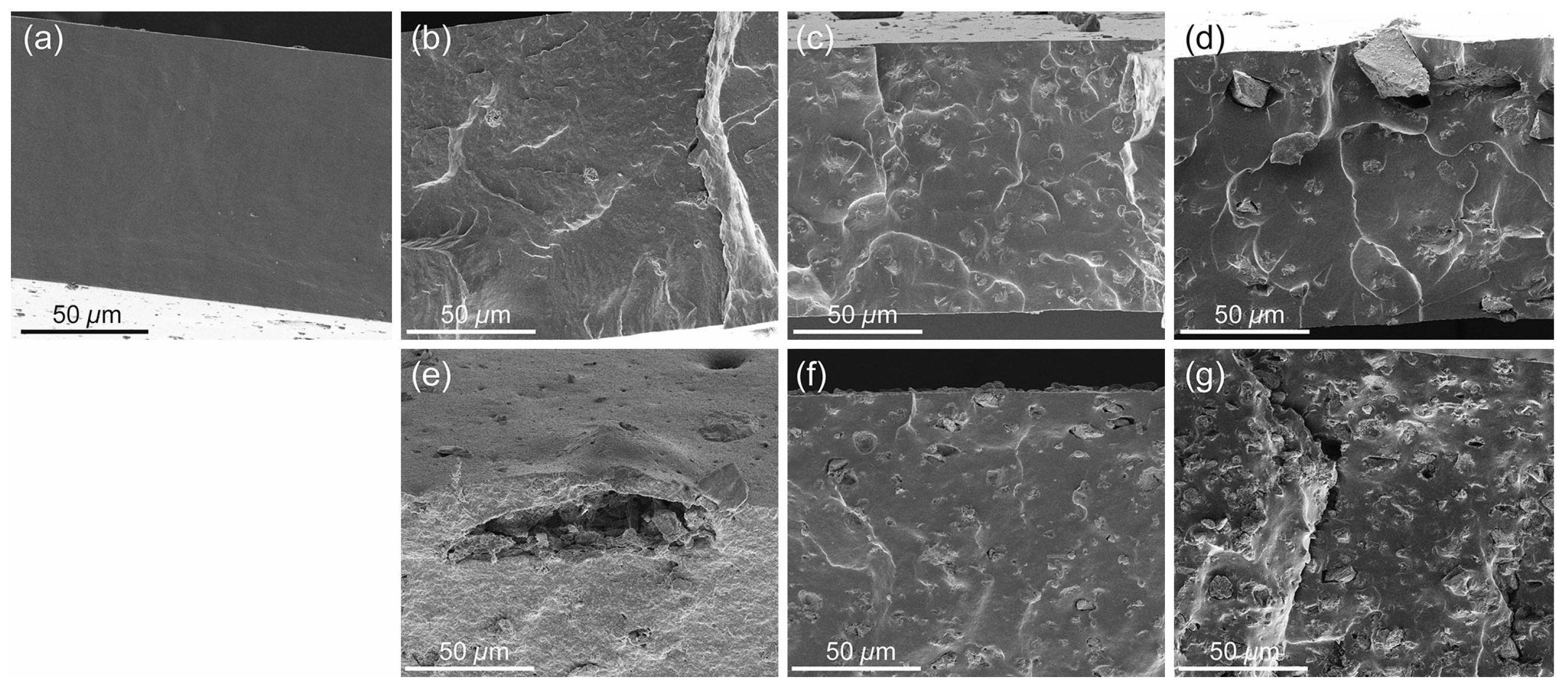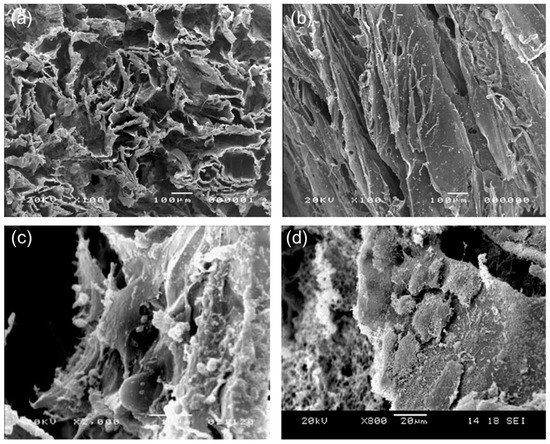 Figure 5.
PDLLA/45S5 Bioglass
®
scaffolds for possible application in lung tissue engineering: SEM micrographs showing the microstructure of the polymeric foam filled with 40 wt % of glass in sections: (
a
) orthogonal to pore direction; and (
b
) parallel to pore direction; and A549 cells seeded on the same scaffolds and incubated for: (
c
) three days; and (
d
) six days. Images from Verrier et al. [
85
] © Elsevier.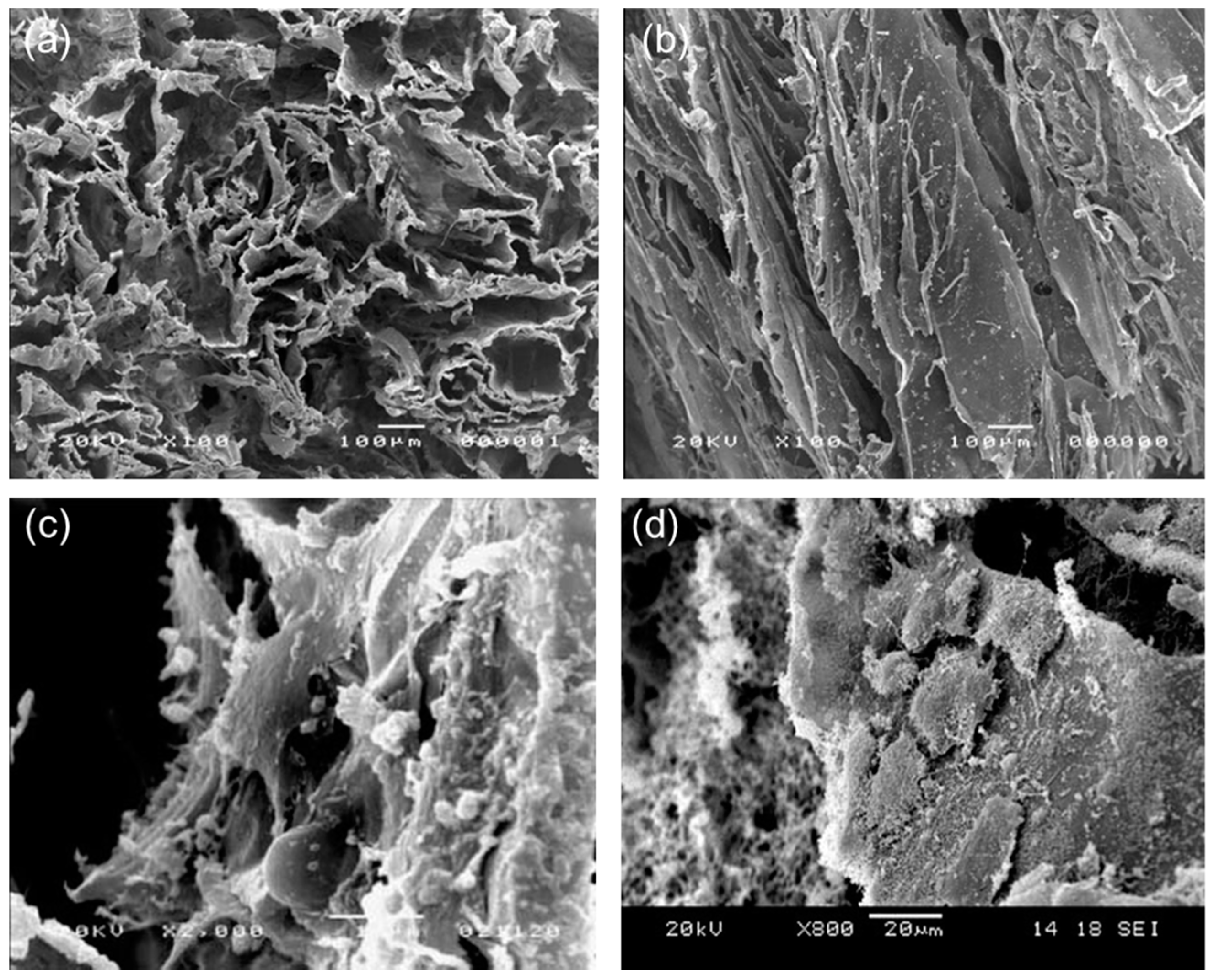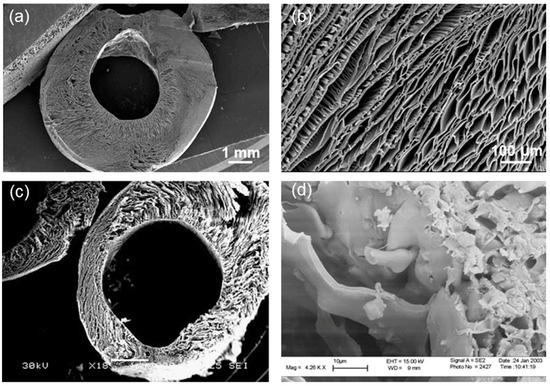 Figure 6.
Tubular PLGA/45S5 Bioglass
®
composite constructs: SEM micrographs showing: a radial section of an uncoated PLGA tube (
a
); and a detail of the cross-section (
b
); and the radial section of the composite tubular foam (
c
); and detail of the Bioglass
®
particles on a fracture surface (
d
). Images from Boccaccini et al. [
86
] © Elsevier.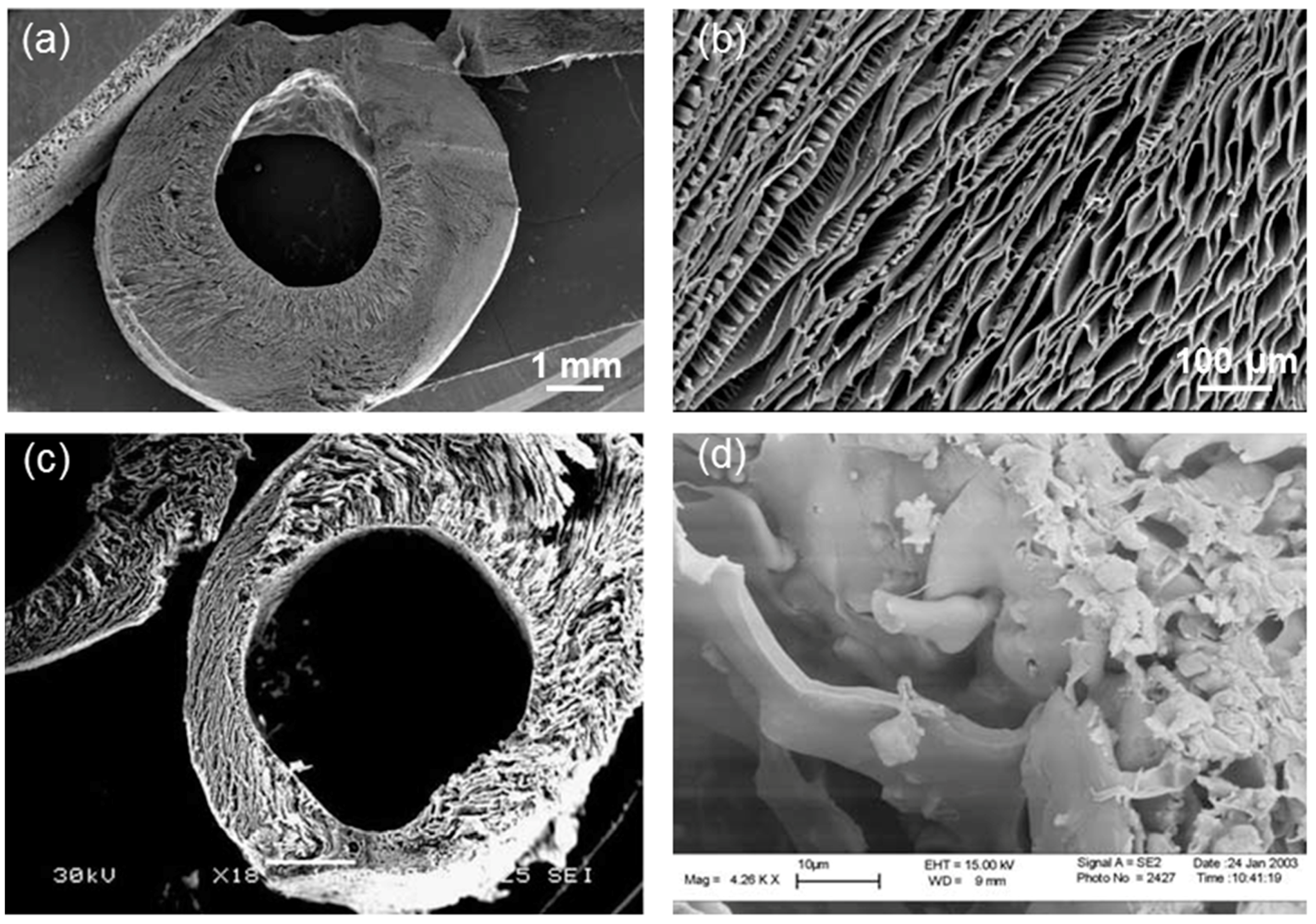 Table 1.
The main ions released from BGs considered for soft tissue engineering (adapted from Naseri et al. [
34
]).
Element
Effects
References
Si
-Promotes neovascularization.
-Stimulates collagen type I formation.
[35,36]
Ca
-Promotes the migration and proliferation of epidermal cells.
-Accelerates blood-clotting.
[37]
B
-Stimulates vascularization and angiogenesis.
-Increases RNA synthesis in fibroblasts.
[38,39]
Cu
-Stimulates angiogenesis.
-Antimicrobial property.
[40,41,42,43]
Ag+
-Anti-inflammatory property.
-Antimicrobial property.
[44,45,46]
Zn
-Stimulates angiogenesis.
-Enhances nerve regeneration.
-Anti-inflammatory property.
-Enhances wound healing processes.
[47,48,49]
Ga
-Antimicrobial property.
[50]

Table 2. Summary of the studies performed to evaluate the usability of BGs for heart tissue engineering.
Materials
In Vitro/In Vivo Tests
Remarks
References
BG Name and Composition
Polymeric Matrix
45S5 Bioglass® (45SiO2-24.5CaO-24.5Na2O-6P2O5 wt %) melt-derived particles
Poly(glycerol sebacate)
Human ESC derived cardiomyocytes
-Promoting cell differentiation
[73]
Fibroblasts
-Non-toxic
45S5 Bioglass® (45SiO2-24.5CaO-24.5Na2O-6P2O5 wt %) melt-derived particles
Gelatin-collagen hydrogel
Endometrial stromal Stem cells (EnSCs)
-Inducing differentiation into cardiomyocytes
-Increasing VEGF expression
[74]
L929 cells
-Good biocompatibility
45S5 Bioglass® (45SiO2-24.5CaO-24.5Na2O-6P2O5 wt %) melt-derived particles
Silicone elastomer
Primary fibroblasts
-Improving mechanical properties
-Improving cytocompatibility
[75]
Sol-gel BG nanoparticles (60SiO2-35CaO-5P2O5 mol %)
Gelatin/hyaluronic acid
Oral administration to rats
-No remarkable change in the morphology of heart tissue
[76]

Table 3. Summary of the studies involving the use of BGs for potential application in lung tissue engineering.
Materials
In Vitro/ In Vivo Tests
Remarks
References
BG Name and Composition
Polymeric Matrix
58S (58SiO2-36CaO-6P2O5 mol %) sol-gel scaffold
-
MLE-12 cells
-Good biocompatibility further improved by laminin coating or amine functionalization
[83]
-
A549 cells
-Good biocompatibility
[84]
45S5 Bioglass® (45SiO2-24.5CaO-24.5Na2O-6P2O5 wt %) melt-derived particles
PDLLA
A549 cells
-Dose-dependent effect
[85]
PLGA
L929 cells
-Dose-dependent effect
[86]
Ag-doped 58S sol-gel glass (58SiO2-(36-x)CaO-6P2O5-xAg2O, with x = 0, 1, 2 mol %)
-
A549 cells
-Non-toxic
[87]
Fe-doped sol-gel glass (basic composition: 8.4Na2O-40CaO-39.6SiO2-12P2O5 wt % doped with 0.2-1 wt % of Fe)
-
A549 cells
-Hyperthermic effect for possible application in lung cancer treatment
[88]
Sol-gel BG nanoparticles (60SiO2-35CaO-5P2O5 mol %)
Gelatin/hyaluronic acid
Oral administration to rats
-No remarkable change in the morphology of lung tissue
[76]

© 2017 by the authors. Licensee MDPI, Basel, Switzerland. This article is an open access article distributed under the terms and conditions of the Creative Commons Attribution (CC BY) license (http://creativecommons.org/licenses/by/4.0/).