Analysis and Modeling for Short- to Medium-Term Load Forecasting Using a Hybrid Manifold Learning Principal Component Model and Comparison with Classical Statistical Models (SARIMAX, Exponential Smoothing) and Artificial Intelligence Models (ANN, SVM): The Case of Greek Electricity Market
1
Research, Technology & Development Department, Independent Power Transmission Operator (IPTO) S.A., 89 Dyrrachiou & Kifisou Str. Gr, Athens 10443, Greece
2
Center for Research and Applications in Nonlinear Systems (CRANS), Department of Mathematics, University of Patras, Patras 26500, Greece
3
Department of Electrical and Computer Engineering, University of Patras, Patras 26500, Greece
4
Applied Mathematics and Physical Sciences, National Technical University of Athens, Zografou 15780, Greece
*
Author to whom correspondence should be addressed.
†
These authors contributed equally to this work.
Academic Editor: Alicia Troncoso
Received: 22 April 2016 / Revised: 5 July 2016 / Accepted: 27 July 2016 / Published: 16 August 2016
Abstract
In this work we propose a new hybrid model, a combination of the manifold learning Principal Components (PC) technique and the traditional multiple regression (PC-regression), for short and medium-term forecasting of daily, aggregated, day-ahead, electricity system-wide load in the Greek Electricity Market for the period 2004–2014. PC-regression is shown to effectively capture the intraday, intraweek and annual patterns of load. We compare our model with a number of classical statistical approaches (Holt-Winters exponential smoothing of its generalizations Error-Trend-Seasonal, ETS models, the Seasonal Autoregressive Moving Average with exogenous variables, Seasonal Autoregressive Integrated Moving Average with eXogenous (SARIMAX) model as well as with the more sophisticated artificial intelligence models, Artificial Neural Networks (ANN) and Support Vector Machines (SVM). Using a number of criteria for measuring the quality of the generated in-and out-of-sample forecasts, we have concluded that the forecasts of our hybrid model outperforms the ones generated by the other model, with the SARMAX model being the next best performing approach, giving comparable results. Our approach contributes to studies aimed at providing more accurate and reliable load forecasting, prerequisites for an efficient management of modern power systems.
View Full-Text
►

▼

Figures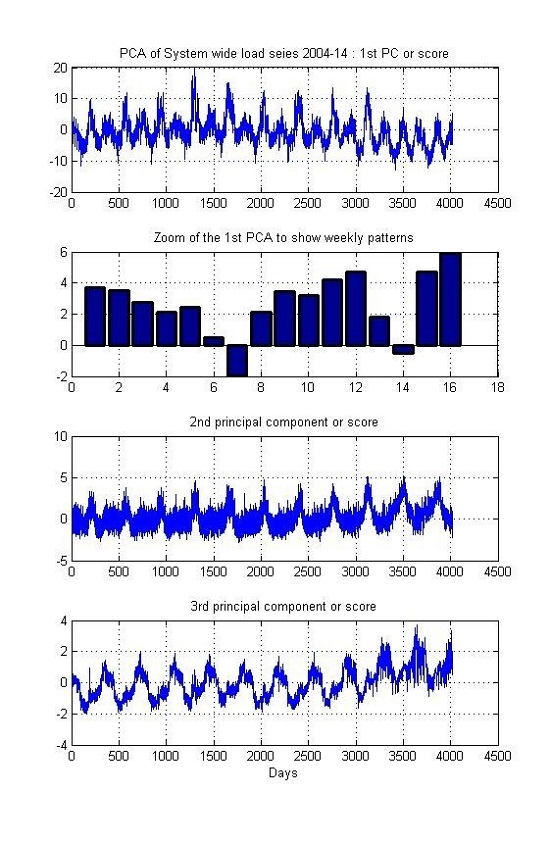 Graphical abstract
This is an open access article distributed under the
Creative Commons Attribution License
which permits unrestricted use, distribution, and reproduction in any medium, provided the original work is properly cited (CC BY 4.0).

Share & Cite This Article
MDPI and ACS Style
Papaioannou, G.P.; Dikaiakos, C.; Dramountanis, A.; Papaioannou, P.G. Analysis and Modeling for Short- to Medium-Term Load Forecasting Using a Hybrid Manifold Learning Principal Component Model and Comparison with Classical Statistical Models (SARIMAX, Exponential Smoothing) and Artificial Intelligence Models (ANN, SVM): The Case of Greek Electricity Market. Energies 2016, 9, 635.
Note that from the first issue of 2016, MDPI journals use article numbers instead of page numbers. See further details here.
Related Articles
Comments
[Return to top]