Open Access This article is
freely available
re-usable
Article
Energy Transitions in Nigeria: The Evolution of Energy Infrastructure Provision (1800–2015)
1
Global Sustainability Institute, Anglia Ruskin University, Cambridge CB1 1PT, UK
2
Information Systems Academy, Pan-Atlantic University, Lagos, Nigeria
*
Author to whom correspondence should be addressed.
Academic Editor: Erik Gawel
Received: 9 March 2016 / Accepted: 17 June 2016 / Published: 23 June 2016
Abstract
:
The provision of energy infrastructure is essential for economic growth, social cohesion, and environmental sustainability. Understanding the multiple functions and services it provides us requires firstly a deeper understanding of the factors that influence energy infrastructure itself. This paper focusses on the factors that influence the evolution of energy infrastructure in Nigeria. By studying different eras of energy use according to the technologies that were being implemented, resources that were available, and the political practice of the time it is possible to better frame the drivers of energy infrastructure. The paper explores the transitions of how Nigerians managed to obtain the vast majority of energy from food calories and traditional biomass, to the broad portfolio of energy sources that is in use today.
Keywords:
energy transitions; energy histories; energy demand; energy efficiency; energy policy; developing countries; Africa
1. Introduction
How has Nigerian energy supply infrastructure evolved over time and what contexts have influenced this evolution?
2. Materials and Methods
This study employed the use of exploratory documentary research tools by exploring documents, official data and statistics on the different aspects of the life and history of Nigeria in connection with trade, traditional energy use, culture, and norms. Documents and archives from several sources were used in data collection and analysis to have a better understanding of how the historical events of the time influenced and affected energy infrastructure provisions.
Secondary data analysis was used in this research to analyze the data collected from the various literatures and documentary archives. Data used for the analysis of the events from colonial Nigeria (and a little from pre-colonial Nigeria) were sourced from the archives of the Nigerian Railway Corporation (NRC). The NRC is the only organization in Nigeria still in existence today that has a history pre-1900. Also, most events and happenings—particularly trade, movements of goods and agricultural products, initial provision of electrical infrastructure, etc.—were largely made possible by the provision of rail infrastructure. The planning of most parts of the rail transport infrastructure was highly connected with other infrastructural developmental plans such as electricity, ports and harbours, airports, industrialization, and trade activities. The roles of these various aspects are highlighted in the description of the events of each energy era and how they impacted on increased demand for energy.
The other documentary sources from the International Energy Agency (IEA), Energy Information Administration (EIA), and the World Energy Council (WEC) only have useful evidence and records of Nigeria post-independence (1960 onwards). These agencies have, in their archives, records and data of the Nigerian energy resources, consumption, and production, covering 1970s to present day. As such, these do not provide a reliable means of getting a true historical picture of the Nigerian energy situation pre-1960.
3. Nigeria's Energy Supply Infrastructure: Resource and Political Influences
This section presents the various energy eras for Nigeria with respect to the trimetric parameters of energy demand and use, technology driving demand for energy, and the primary energy resources used in satisfying energy demand within each era. It also discusses the role of institutions, within each era, in effecting changes in energy systems and use. The eras identified are intentionally artificial and have been employed to emphasize salient features of different time periods across the Nigerian energy transition.
4. Discussion
Nigeria's energy transition has been influenced by a long history of trading relations, external interference in domestic decision-making, discovery of energy resources, and technology development. Interestingly, Lagos has been the epicentre for the emergence and development of new energy supply infrastructure, which then tends to diffuse through to the rest of country via existing/developing transport routes, in addition to diffusing within the geographic constraints offered by new oil/gas discoveries. Population growth also influenced demand for energy. Improved infrastructural provision, such as roads, schools, health facilities, etc., made the Nigerian people—over time—appreciate the need and usefulness of energy. Thus, more health awareness, education, and the quest to improve comfort and well-being, were main contributors to increased demand for energy [
37
].
Importantly, institutions have played a vital role in the provision of energy infrastructure and in Nigeria's energy transition. The establishment of the various institutions within each energy era was geared towards providing the needed infrastructure to support industrialization, to improve and ease mobility, to improve trading activities through the development of ports and harbours, and to support economic development. Institutions established during the different energy eras provided a technical basis for decision-making, but it is important to remember that these institutions (and their technical bases) only came to exist because of the (deemed) societal needs of each specific era. Each era had its own socio-technical contexts, which brought the technical (infrastructure) and the social together in fairly distinct ways.
Indeed, these institutions were shaped both by energy needs and by significant external socio-political events which are unique to certain points of Nigeria's history. Such events certainly represent key moments of societal—and, consequently, infrastructural—change. For example, the First World War impacted on the sourcing of spare parts for the first set of electrical power plants. Some power plants needed to be cannibalized to keep others operational due to difficulty in getting spare parts during the war period. Moreover, during the Second World War, coal mining activities reduced, which led to the reduced use of coal for electricity generation during the war period.
Another key moment in the socio-technical evolution of Nigeria's energy infrastructure was Nigeria's independence on 1st October 1960, which also brought about changes in the institutional dimension of decision-making. Prior to 1960, there were more colonial institutions which started from the Public Works Department. There was the gradual hand-over of the various colonial institutions to Nigerian nationals for their operation and management in preparation for independence. After independence, the dynamics of decision-making changed and decisions were enacted through military decrees.
More recently, the potentially pivotal role of conflict and war was once again reiterated. Indeed, the Nigerian civil war (1967–1970) impacted on energy production. Whilst crude oil was discovered in commercial quantities in 1956, it was only after the Nigerian civil war that crude oil and natural gas production began in commercial quantities. By the early 2000s, the democratic process of decision-making, within many institutions, was gradually re-introduced.
5. Conclusions
The study of the Nigerian energy transitions, with respect to energy supply infrastructure reveals a complex connection between resources, trade, institutions, and political structures. The increased use of primary energy resources was influenced more by the fact that the natural resources were available within the country. A secondary reason was the rising demand for energy. This is obvious from the series of changes and transition in the use of different primary energy sources (from coal, to crude oil, to natural gas) to satisfy the growing demand for energy. This same transition was also supported by, and influenced the creation of, several decision-making institutions within each era, as well as the policy direction of the government.
Sustained public investment and leadership by public government institutions is still required to ensure that the provision of energy supply infrastructure is able to meet the changing needs of society, especially in the context of its development aspirations and future moments of change. We suggest that this can be, at least in part, enabled through more (effective) partnerships between public institutions, industry, and private investors, to improve access to energy and foster new clean energy technology development and deployment. There is also a role for governments, through public institutions, need to provide economic incentives to increase energy infrastructure provision through promulgation of policies to aid private investment. Nevertheless, what this study implicitly makes clear is that whilst policymakers can prepare in all these sorts of ways (as part strategies to enable transitions in energy infrastructure), the most significant changes in the past have actually come from unforeseen socio-political changes that have had ripple effects into the provision of energy infrastructure.
As such, a key contribution of this Nigerian development case study is its empirical evidence that emphasizes how a better understanding of historic/future changes to energy infrastructure is actually enabled through studying the changing needs and wants of society.
Acknowledgments
Special thanks to the Nigerian Railway Corporation for allowing access to their archives. Also special thanks for permission to obtain some data as compiled by Francis Jackel containing the archival records on the history of the Nigerian railway. The authors would also like to thank the very useful suggestions from the four reviewers of this paper and the editors of the journal.
Author Contributions
Norbert Edomah conceived and designed the research study as part of his Ph.D. research. Chris Foulds and Aled Jones provided inputs during the analysis and writing up, in addition to also supervising the research. Norbert Edomah wrote the paper.
Conflicts of Interest
The authors declare no conflict of interest.
References
Davidsson, S.

Global Energy Transitions: A Comparative Analysis of Key Countries and Implications for the International Energy Debate

; World Energy Council, Weltnerergierat: Berlin, Germany, 2014. [Google Scholar]
Geels, F.W. Ontologies, socio-technical transitions (to sustainability), and the multi-level perspective.

Res. Policy

2010,

39

, 495–510. [Google Scholar] [CrossRef]
O'Connor, P.; Cleveland, C.U.S. Energy Transitions 1780–2010.

Energies

2014,

7

, 7955–7993. [Google Scholar] [CrossRef]
Verbong, G.; Geels, F. The ongoing energy transition: Lessons from a socio-technical, multi-level analysis of the Dutch electricity system (1960–2004).

Energy Policy

2007,

35

, 1025–1037. [Google Scholar] [CrossRef]
Geels, F. Transitions, transformations and reproduction: Dynamics of socio-technical systems. In

Flexibility and Stability in Economic Transformation

; Oxford University Press: New York, NY, USA, 2006; pp. 227–256. [Google Scholar]
Shove, E.; Watson, M.; Spurling, N. Conceptualizing connections: Energy demand, infrastructures and social practices.

Eur. J. Soc. Theory

2015,

18

, 201–207. [Google Scholar] [CrossRef]
Bridges, W.

Steps in the Transition Process Endings, Beginnings and the Muck in the Middle

; Perseus Books Publ LLC: New York, NY, USA, 2000; pp. 1–10. [Google Scholar]
Edomah, N. On the path to sustainability: Key issues on Nigeria's sustainable energy development.

Energy Rep.

2016,

2

, 28–34. [Google Scholar] [CrossRef]
O'Connor, P.A. Energy transitions. Available online: https://www.bu.edu/pardee/files/2010/11/12-PP-Nov2010.pdf (accessed on 22 June 2016).
Diji, C. A Critical Review of the Nigerian Energy Scenario.

IOSR J. Electr. Electron. Eng.

2013,

5

, 55–67. [Google Scholar] [CrossRef]

Energy Vision 2013 Energy Transitions: Past and Future

; World Economic Forum: Geneva, Switzerland, 2013.
Onakoya, A.O.; Jimi-Salami, O.A.; Odedairo, B.O. Energy consumption and Nigerian economic growth: An empirical analysis.

Eur. Sci. J.

2013,

9

, 25–40. [Google Scholar]
Dzioubinski, O.; Chipman, R.

Trends in Consumption and Production: Household Energy Consumption

; United Nations DESA Discussion Paper No. 6; The United Nations Department of Economic and Social Affairs: New York, NY, USA, 1999. [Google Scholar]
Jones, R.H.

Energy Poverty: How to Make Modern Energy Access Universal? Special Early Excerpt World Energy Outlook 2010 UN General Assembly on Millenium Development Goal

; The International Energy Agency: Paris, France, 2010; p. 52. [Google Scholar]
Bridge, G.; Bouzarovski, S.; Bradshaw, M.; Eyre, N. Geographies of energy transition: Space, place and the low-carbon economy.

Energy Policy

2013,

53

, 331–340. [Google Scholar] [CrossRef][Green Version]
Falcone, P.M. Sustainability Transitions: A Survey of an Emerging Field of Research.

Environ. Manag. Sustain. Dev.

2014,

3

. [Google Scholar] [CrossRef]
Chappin, É.

Simulating Energy Transitions

; Next Generation Infrastructures Foundation: Delft, The Netherlands, 2011. [Google Scholar]
Demirel, Y.

Energy Production, Conversion, Storage, Conservation, and Coupling

; Springer: London, UK, 2012. [Google Scholar]
Orlando, M.J. Fundamentals of Global Energy Business. Lect Video 2014. Available online: https://www.coursera.org/learn/energy-business (accessed on 21 June 2016).
Inikori, J.E.

The Development of Commercial Agriculture in Pre-Colonial West Africa

; African Economic History Network: Stockholm, Sweden, 2013. [Google Scholar]
Green, E. Production systems in pre-colonial Africa. In

the History African Development

; Frankema, E., Hillbom, E., Eds.; African Economic History Network: Stockholm, Sweden, 2013. [Google Scholar]
Francis, J. Opening the nation to sea, air, and road transportation. In

The History of the Nigerian Railway

; Spectrum Publishers: Ibadan, Nigeria, 1997; Volume 1. [Google Scholar]
Sparti, D. The Practice Turn in Contemporary Theory.

Rass. Ital. Sociol.

2003,

44

, 139–142. [Google Scholar]
Okeke, T. West African Societies since the Pre-colonial Era: Studies in the Socio-Political Structures of the Agulu.

Res. Humanit. Soc. Sci.

2013,

3

, 127–136. [Google Scholar]
Alabi, M.O. Law Making in Pre-Colonial Yorubaland. In

The Yoruba Transition: History, Values, Modernity

; Carolina Academic Press: Durham, NC, USA, 2006; pp. 111–124. [Google Scholar]
Keulder, C. Traditional leaders. In

State, Society and Democracy: A Reader in Namibian Politics

; African Economic History Network: Stockholm, Sweden, 2000; pp. 150–170. [Google Scholar]

Metallurgy Made in Europe and for Europe: The Perspective of Producers and End-Users

; European Commission: Brussels, Belgium, 2014.
Jochens, P.R. The energy requirements mining and metallurgical in South Africa of the industry.

J. S. Afr. Inst. Min. Metall.

1980,

80

, 331–343. [Google Scholar]
Deji, A.M. Historical Background of Nigerian Politics, 1900–1960.

IOSR J. Humanit. Soc. Sci.

2013,

16

, 84–94. [Google Scholar]
Raji, A.O.Y.; Abejide, T.S. The British Mining & Oil Regulations in Colonial Nigeria 1914–1960's. An Assessment.

Singap. J. Bus. Econ. Manag. Stud.

2014,

2

, 62–75. [Google Scholar]
Aghalino, S.O. British Colonial Policies and the Oil Palm Industry in the Niger Delta Region of Nigeria, 1900–1960.

Afr. Study Monogr.

2000,

21

, 19–33. [Google Scholar]
U.S. Energy Information Administration (EIA).

Nigeria Country Analysis Brief

; EIA: Washington, DC, USA, 2015; pp. 1–21.
Ku, H.S.-L.; Mustapha, U.; Goh, S. Literature review of past and present performance of the Nigerian manufacturing sector.

Proc. Inst. Mech. Eng. B J. Eng. Manuf.

2010,

224

, 1894–1904. [Google Scholar] [CrossRef]
Mitchell, T. Carbon democracy: Political power in the age of Oil.

Econ. Soc.

2011,

38

, 399–432. [Google Scholar] [CrossRef]
George, O.; Amujo, O.; Cornelius, N. Military Intervention in the Nigerian Politics and Its Impact on the Development of Managerial Elite: 1966–1979.

Can. Soc. Sci.

2012,

8

, 45–53. [Google Scholar]
Ikpe, I.B. Reasoning and the Military Decision Making Process.

J. Cogn. Neuroethics

2014,

2

, 143–160. [Google Scholar]
Shove, E. Converging conventions of comfort, cleanliness and convenience.

J. Consum. Policy

2003,

26

, 395–418. [Google Scholar] [CrossRef]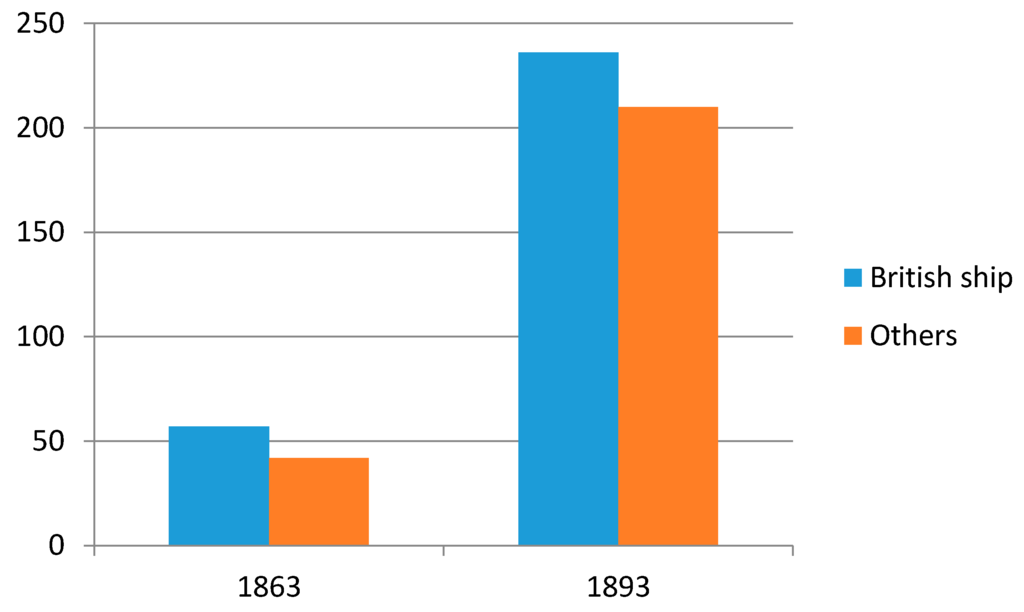 Figure 1.
Number of ships that called at the Nigerian coast [
22
].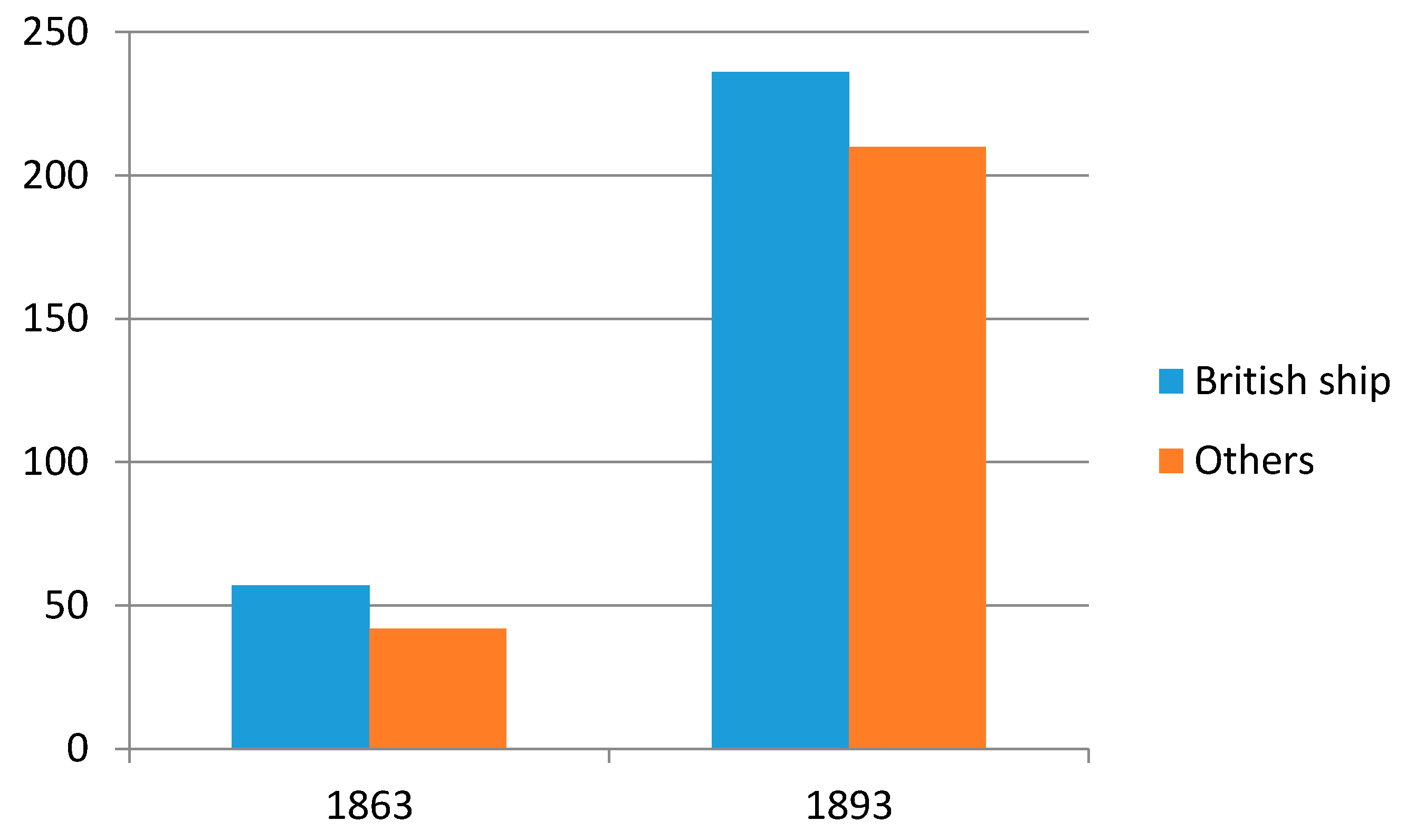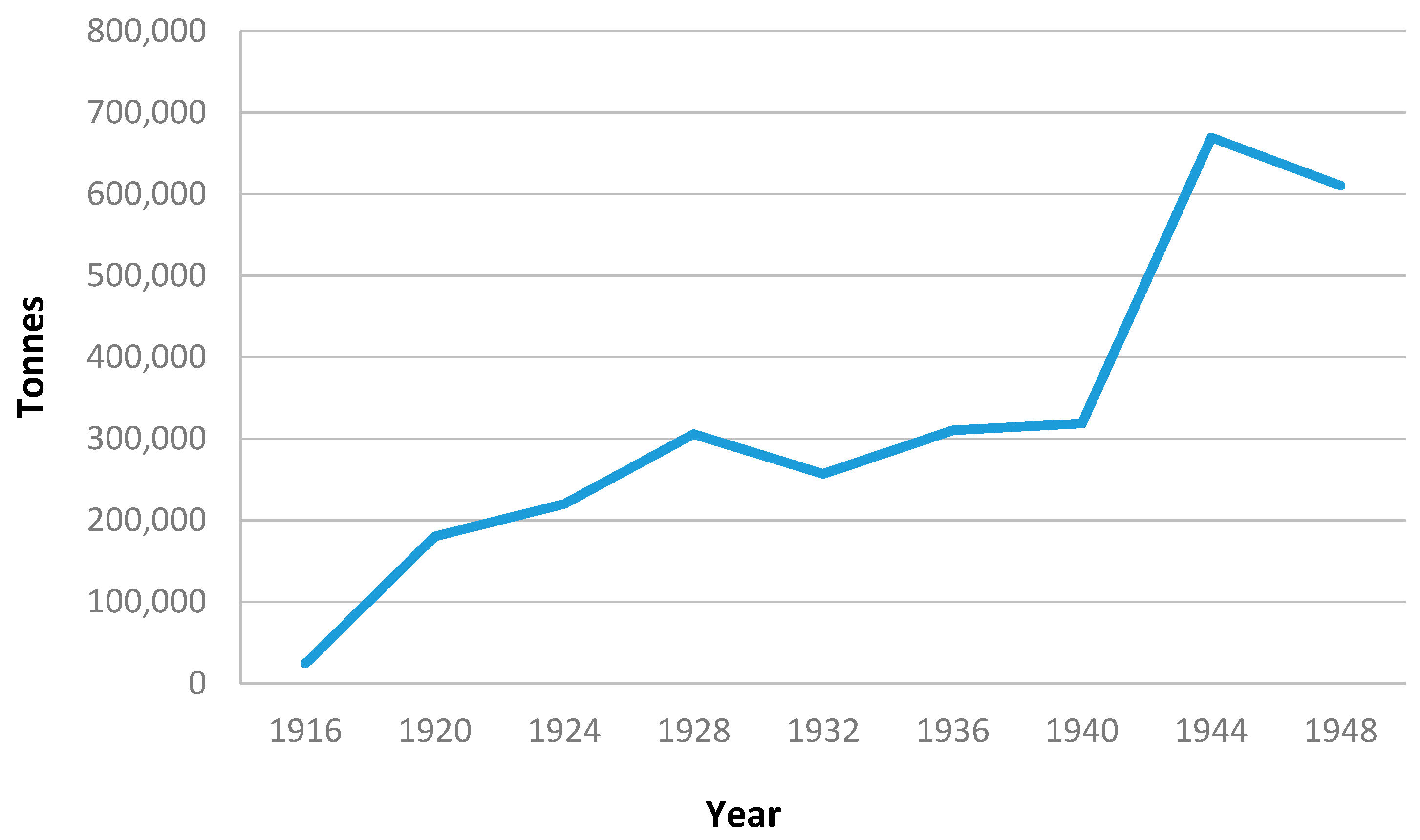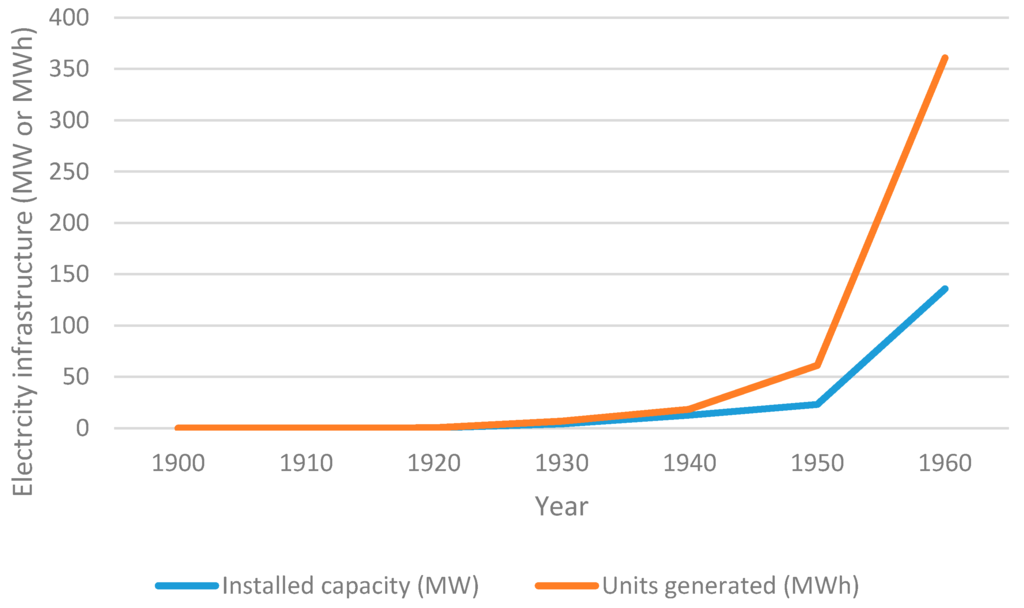 Figure 3.
Electricity infrastructure growth in Nigeria across 1900–1960 in Mega Watts (MW) or Mega Watt hours (MWh) [
22
].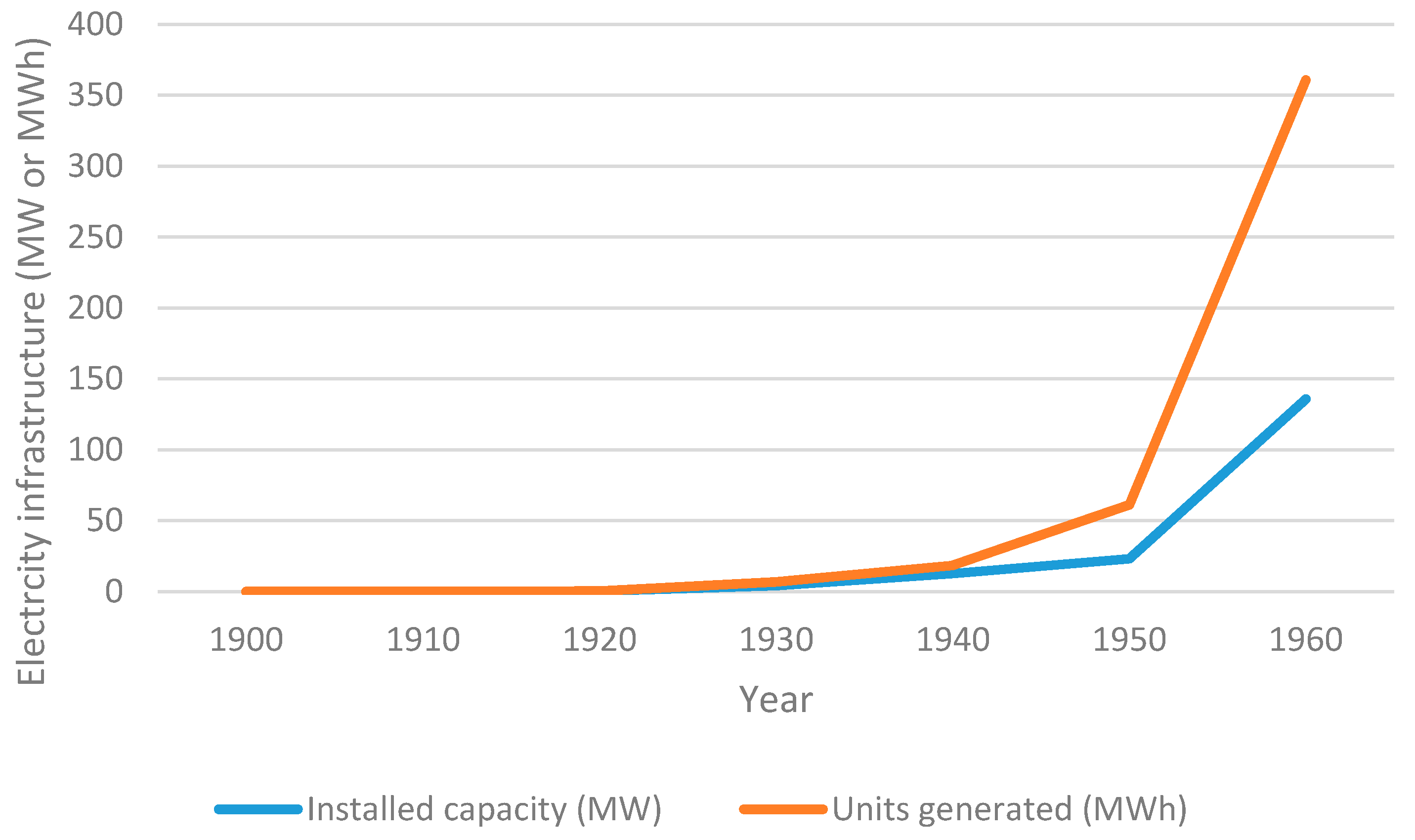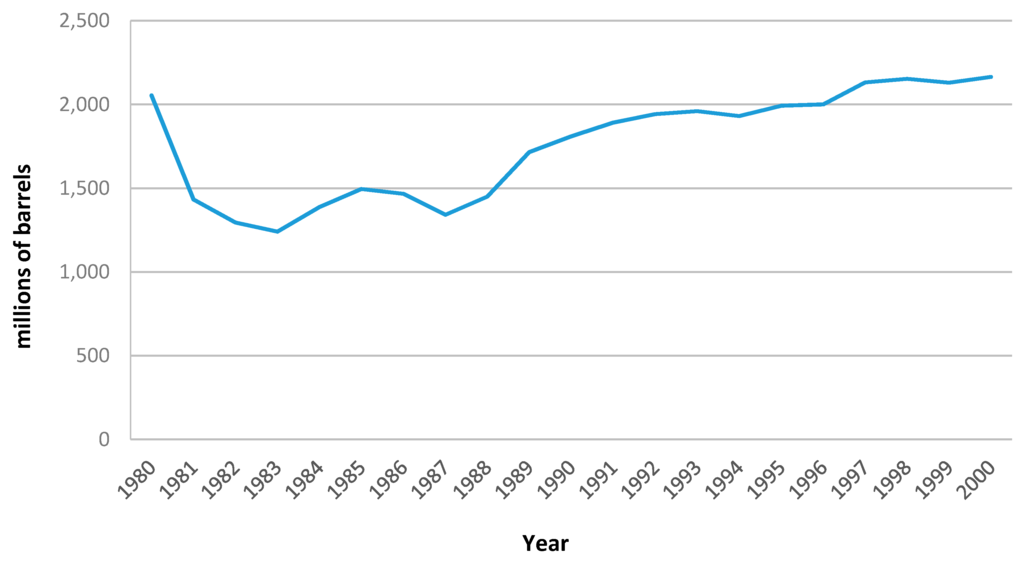 Figure 4.
Nigeria's crude oil production across 1980–2000 [
32
].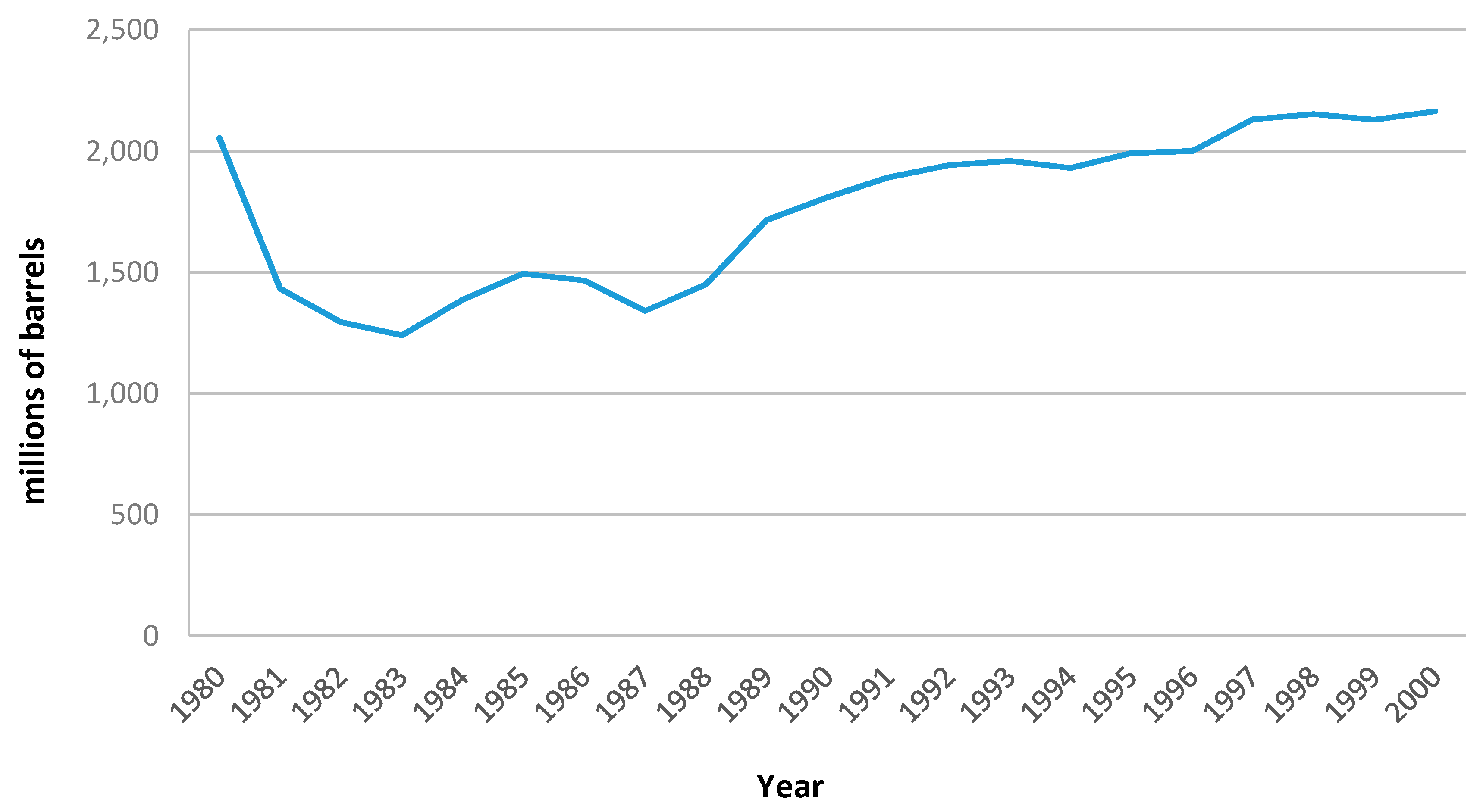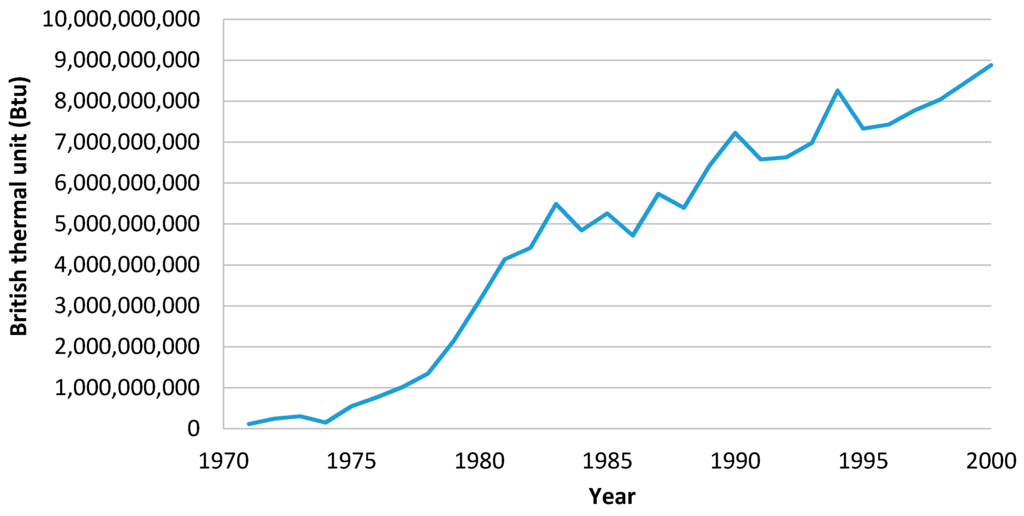 Figure 5.
Natural gas for electricity production in Nigeria across 1971–2000 [
32
].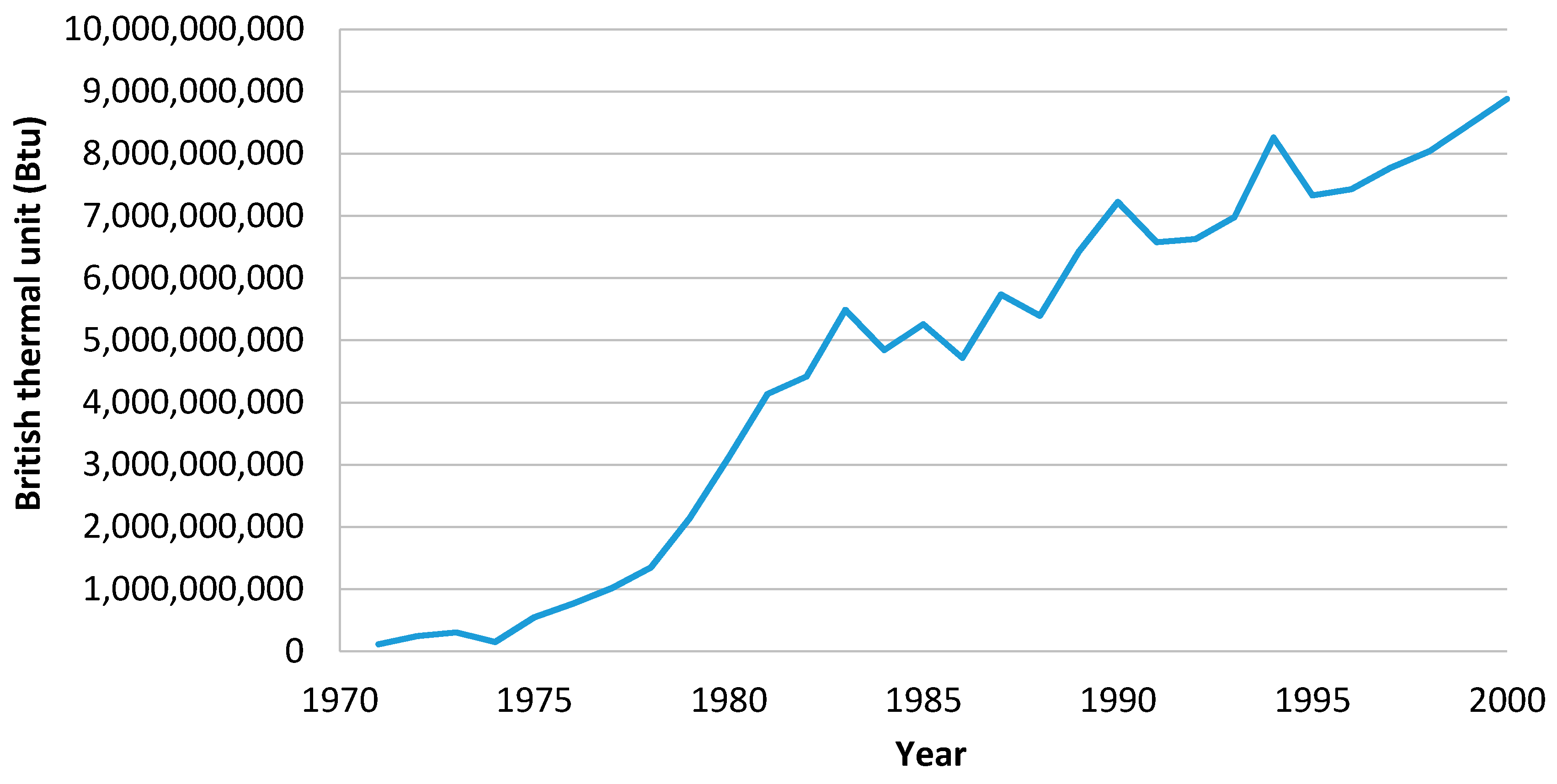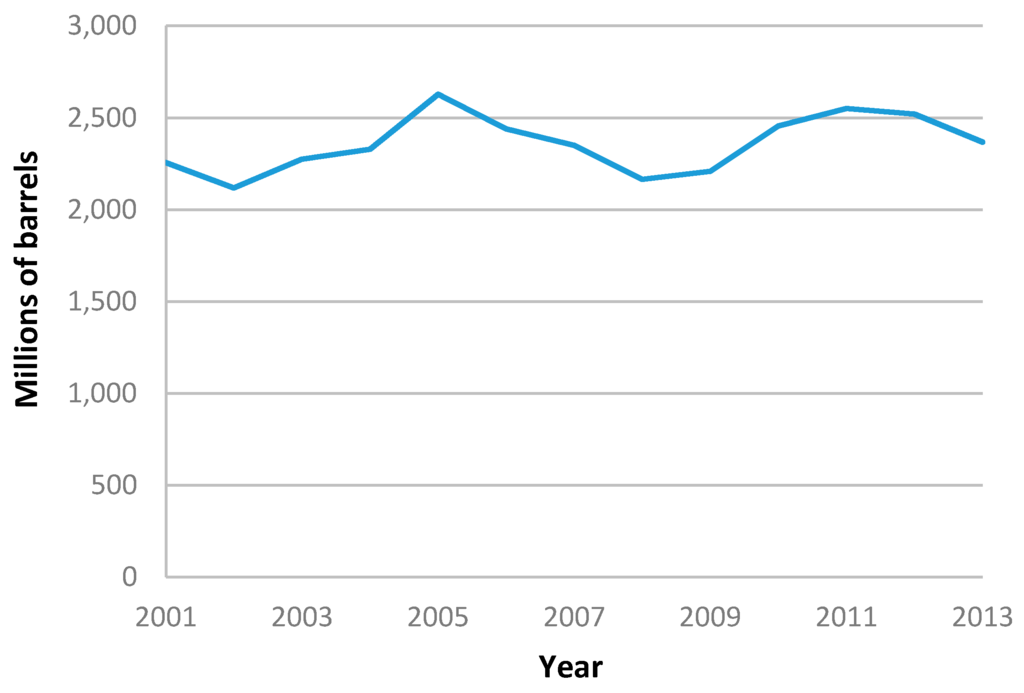 Figure 6.
Crude oil production in Nigeria across 2001–2013 [
32
].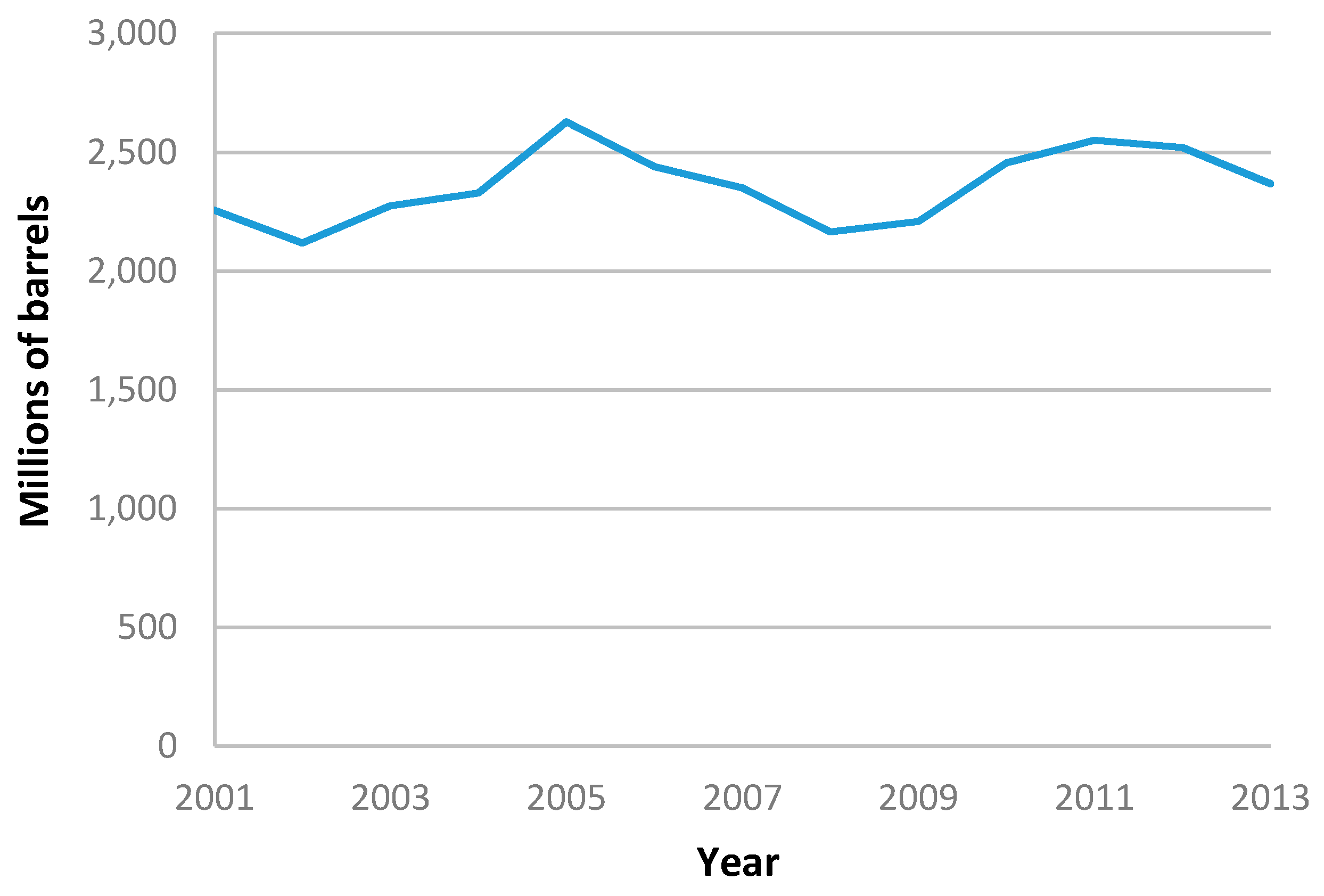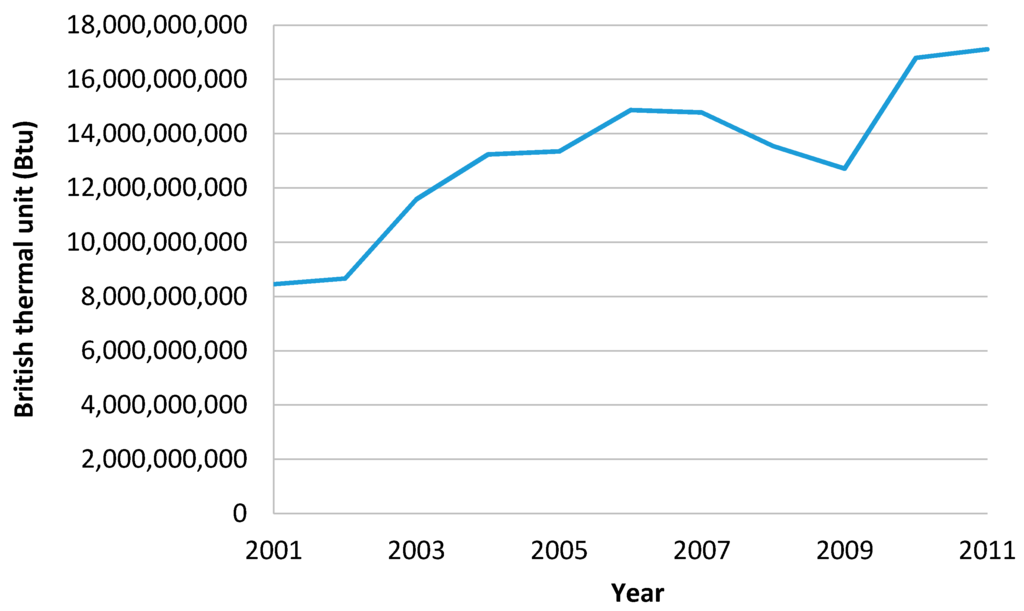 Figure 7.
Natural gas used for electricity generation in Nigeria across 2001–2011 [
32
].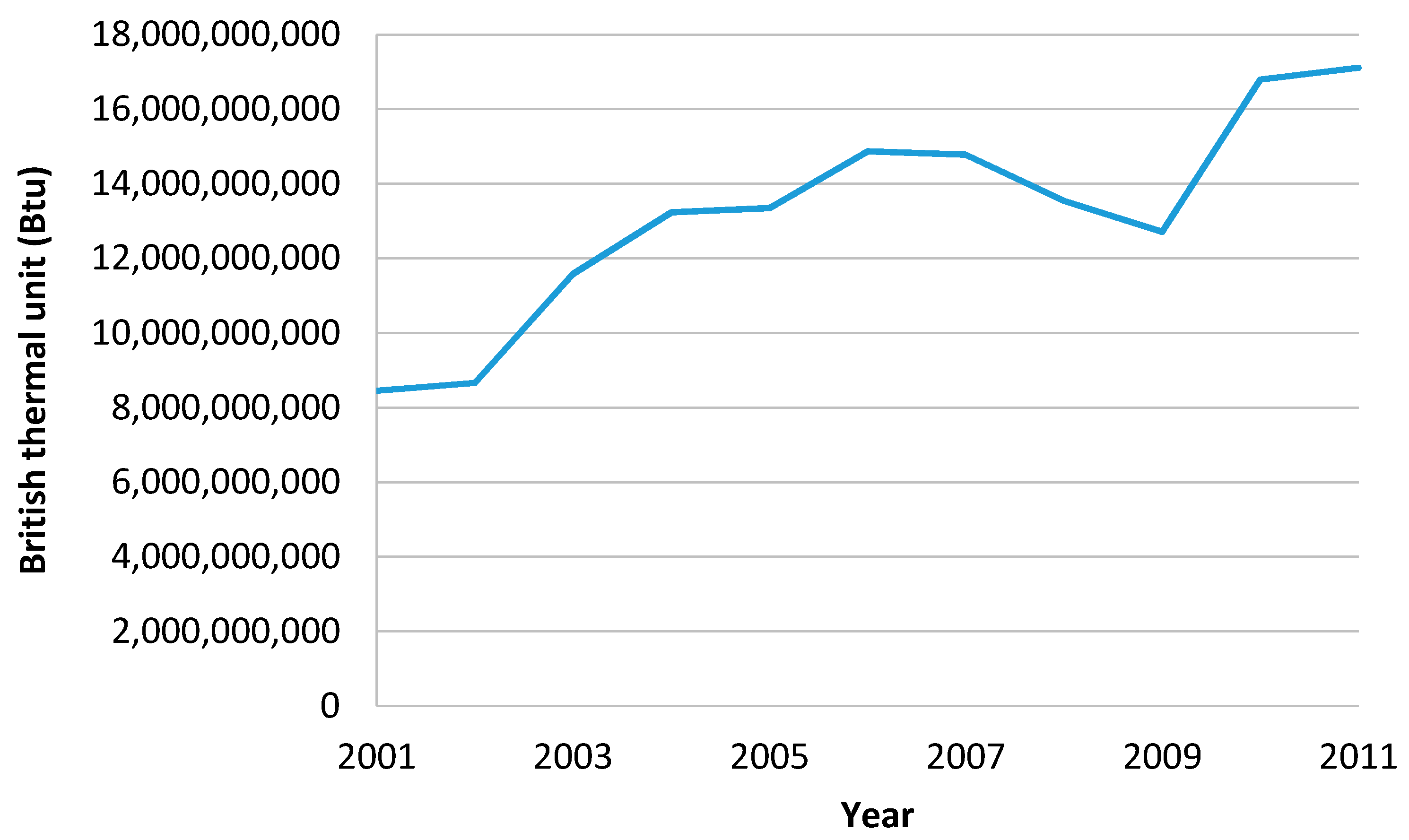 Table 1.
Enugu electrical balance sheet 1924 [
22
].
Table 1. Enugu electrical balance sheet 1924 [22].

| Electrical Balance Sheet (1924) | Kilowatt Hour (kWh) |
| --- | --- |
| Electrical power consumed by power | 139,905 |
| Electrical power consumed by lighting | 4297 |
| Electrical power lost to transmission | 338 |
| Electrical power surplus in consumption | 17,020 |
| Total electrical power generated | 161,560 |

Table 2.
Complex movement of goods at Lagos harbour in 1925–1926 [
22
].
Table 2. Complex movement of goods at Lagos harbour in 1925–1926 [22].

| Movement | Tonnage |
| --- | --- |
| Landed at Customs Quay | 147,983 |
| Landed at private wharves | 142,906 |
| Landed at gun powder magazine | 170 |
| Landed at kerosene magazine | 7780 |
| Landed at petroleum magazine | 7786 |
| Landed at Iddo wharf | 55,454 |
| Railway materials landed at Iddo wharf | 7167 |
| Landed at Ijora wharf | 2362 |
| Coal landed at Ijora wharf | 106,219 |
| Imports brought in through Iddo Railway station | 49,886 |
| Exports through Iddo wharf | 195,603 |
| Export through Apapa wharf | 55,786 |
| Aro stone traffic through Apapa | 21,730 |

Table 3.
Commercial and private vehicle registration in Nigeria across 1937–1963 [
22
].
Table 3. Commercial and private vehicle registration in Nigeria across 1937–1963 [22].

| Year | Number of Commercial Vehicles | Number of Private Vehicles (Car/Taxi) |
| --- | --- | --- |
| 1937 | 1819 | 822 |
| 1948 | 1593 | 2199 |
| 1953 | 4159 | 5783 |
| 1958 | 7220 | 7459 |
| 1963 | 5490 | 11,599 |

Table 4. Industrial estates in Nigeria and their principal activities in 1971 (Source: archives of the Nigerian Railway Corporation, 1997).
Table 4. Industrial estates in Nigeria and their principal activities in 1971 (Source: archives of the Nigerian Railway Corporation, 1997).

| Estate | Acreage | Principal Activities |
| --- | --- | --- |
| Kano | 277 | Groundnut mills, textiles, perfumery, plastics, tanning, minerals waters, carbon dioxide, Bata shoes, Raleigh Industries, retreading. |
| Kaduna | 550 | Textiles, brewing, London Brick pre-cast concrete, ordinance, building materials. |
| Zaria | 145 | Oilseed processing, Nigerian Tobacco, toiletries, bicycle assembly. |
| Jos | 60 | Tin smelting, pump assembly, twill jute snacks. |
| Gusau | 75 | Textiles, rail head for Sokoto cement. |
| Maiduguri | 79 | Oilseed processing, abattoir not within the estate, Chad fishery to be developed. |
| Ilorin | 317 | Philip Morris Tobacco, United Matches, Tate & Lyle. |
| Port Harcourt | 2000 | 75% industrial, 25% residential. Alcan Aluminum, paints, enamelware, tyres & tubes, Costain (WA) furniture. |
| Aba | 5 | Textiles, soap, pharmaceuticals. |
| Umuahia | 31 | Brewing, ceramics, not rail served. |
| Emene | Unavailable | Turners Asbestos cement paper & sheet, iron & steel mill, Niger gas factory. |
| Onitsha | 1518 | Textiles, iron & steel, mineral waters, bus bodies. 50% residential and 50% industrial. Not rail served. |
| Ikeja | 750 | 40% industrial, 60% residential. Textile, tyres, asbestos cement, enamelware, biscuits, paints, mosaics, Guinness, Aluminium products, drugs, galvanized work, livestock feeds, Bridon Group (Nigeria) wire-mesh and barbed wire, ICI Plastic pipes. |
| Mushin | 230 | Milk recycling, bicycle assembly, mattress factory, furniture, metal windows, not rail served. |
| Ilupeju | 67 | Light industries, rail served by Oshodi station. |
| Apapa | 230 | Established by Lagos Executive Development Board (LEDB), flour milling, automobile assembly, margarine, Sunlight/Lifebuoy/Lux toilet soaps, Nigerian ropes, Metalbox, West African Distillers, West African Cold Store, IBRU Seafoods. |
| Iganmu | 200 | Developed by LEDS, Star Brewery. |
© 2016 by the authors; licensee MDPI, Basel, Switzerland. This article is an open access article distributed under the terms and conditions of the Creative Commons Attribution (CC-BY) license (http://creativecommons.org/licenses/by/4.0/).