Analysis on Storage Off-Gas Emissions from Woody, Herbaceous, and Torrefied Biomass
1
Biofuels and Renewable Energy Technologies Department, Energy Systems & Technologies Division, Idaho National Laboratory, P.O. Box 1625, Idaho Falls, ID 83415-2025, USA
2
Department of Chemical and Biological Engineering, University of British Columbia, 2360 East Mall, Vancouver, BC V6T 1Z3, Canada
3
Department of Occupational Medicine, Yangpu, District Central Hospital, Shanghai 200090, China
4
Delta Research Corporation, 501 Centennial Parkway, Delta, BC V4L 2L5, Canada
5
Environmental Sciences Division, Oak Ridge National Laboratory, Oak Ridge, TN 37831, USA
*
Author to whom correspondence should be addressed.
Academic Editor: Thomas E. Amidon
Received: 26 November 2014 / Revised: 9 February 2015 / Accepted: 12 February 2015 / Published: 2 March 2015
Abstract
Wood chips, torrefied wood chips, ground switchgrass, and wood pellets were tested for off‑gas emissions during storage. Storage canisters with gas‑collection ports were used to conduct experiments at room temperature of 20 °C and in a laboratory oven set at 40 °C. Commercially-produced wood pellets yielded the highest carbon monoxide (CO) emissions at both 20 and 40 °C (1600 and 13,000 ppmv), whereas torrefied wood chips emitted the lowest of about <200 and <2000 ppmv. Carbon dioxide (CO
2
) emissions from wood pellets were 3000 ppmv and 42,000 ppmv, whereas torrefied wood chips registered at about 2000 and 25,000 ppmv, at 20 and 40 °C at the end of 11 days of storage. CO emission factors (milligrams per kilogram of biomass) calculated were lowest for ground switchgrass and torrefied wood chips (2.68 and 4.86 mg/kg) whereas wood pellets had the highest CO of about 10.60 mg/kg, respectively, at 40 °C after 11 days of storage. In the case of CO
2
, wood pellets recorded the lowest value of 55.46 mg/kg, whereas switchgrass recorded the highest value of 318.72 mg/kg. This study concludes that CO emission factor is highest for wood pellets, CO
2
is highest for switchgrass and CH
4
is negligible for all feedstocks except for wood pellets, which is about 0.374 mg/kg at the end of 11-day storage at 40 °C.
View Full-Text
►

▼

Figures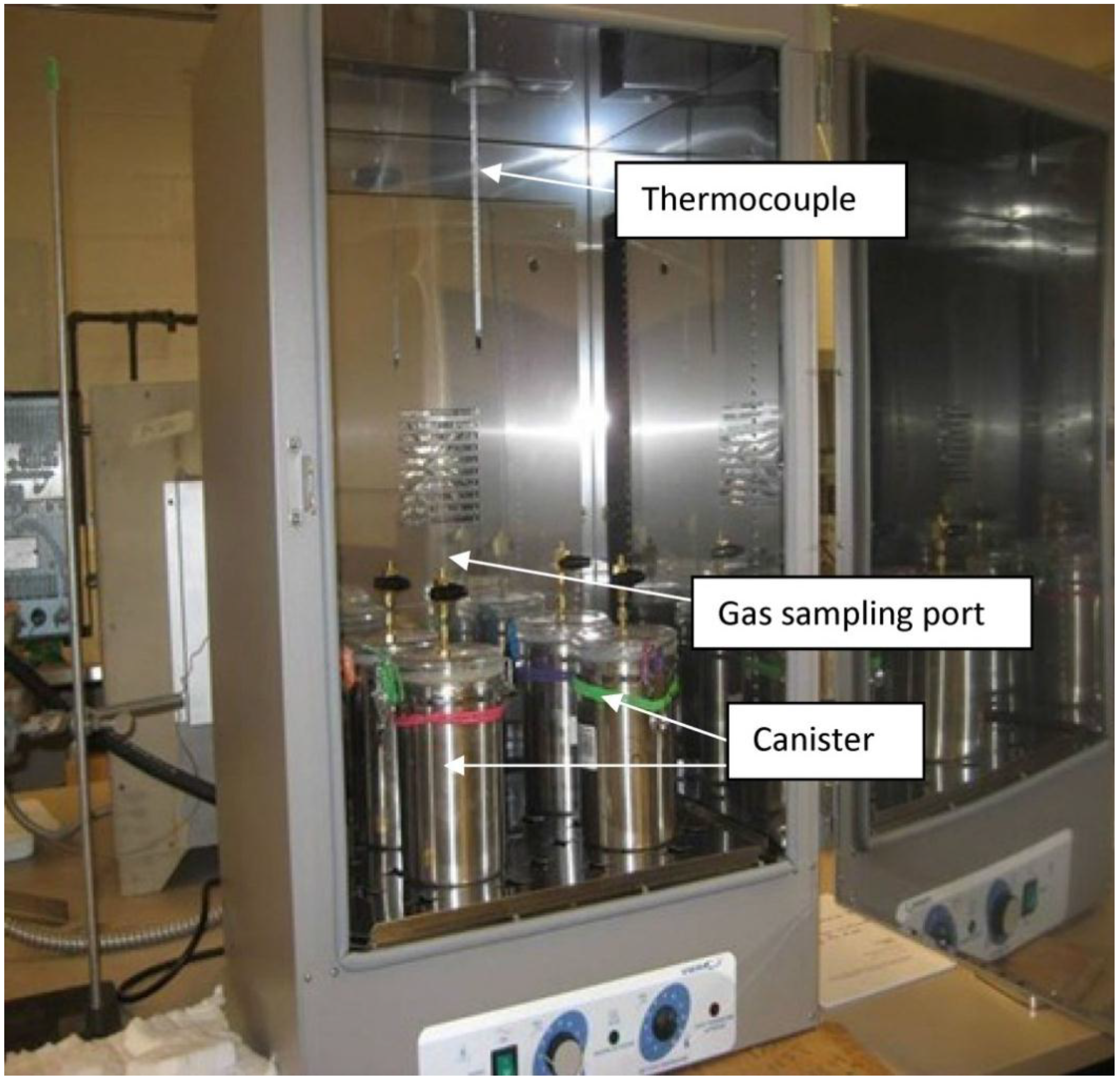 Figure 1
This is an open access article distributed under the
Creative Commons Attribution License
which permits unrestricted use, distribution, and reproduction in any medium, provided the original work is properly cited (CC BY 4.0).

Share & Cite This Article
MDPI and ACS Style
Tumuluru, J.S.; Lim, C.J.; Bi, X.T.; Kuang, X.; Melin, S.; Yazdanpanah, F.; Sokhansanj, S. Analysis on Storage Off-Gas Emissions from Woody, Herbaceous, and Torrefied Biomass. Energies 2015, 8, 1745-1759.
Related Articles
Comments
[Return to top]