The Global Inventory of Methane Hydrate in Marine Sediments: A Theoretical Approach
GEOMAR, Helmholtz Centre for Ocean Research Kiel, Wischhofstrasse 1-3, Kiel D-24148, Germany
*
Author to whom correspondence should be addressed.
Received: 1 February 2012 / Revised: 29 June 2012 / Accepted: 2 July 2012 / Published: 16 July 2012
Abstract
The accumulation of methane hydrate in marine sediments is controlled by a number of physical and biogeochemical parameters including the thickness of the gas hydrate stability zone (GHSZ), the solubility of methane in pore fluids, the accumulation of particulate organic carbon at the seafloor, the kinetics of microbial organic matter degradation and methane generation in marine sediments, sediment compaction and the ascent of deep-seated pore fluids and methane gas into the GHSZ. Our present knowledge on these controlling factors is discussed and new estimates of global sediment and methane fluxes are provided applying a transport-reaction model at global scale. The modeling and the data evaluation yield improved and better constrained estimates of the global pore volume within the modern GHSZ ( ≥ 44 × 10
15
m
3
), the Holocene POC accumulation rate at the seabed (~1.4 × 10
14
g yr
−1
), the global rate of microbial methane production in the deep biosphere (4−25 × 10
12
g C yr
−1
) and the inventory of methane hydrates in marine sediments ( ≥ 455 Gt of methane-bound carbon).
View Full-Text
►

▼

Figures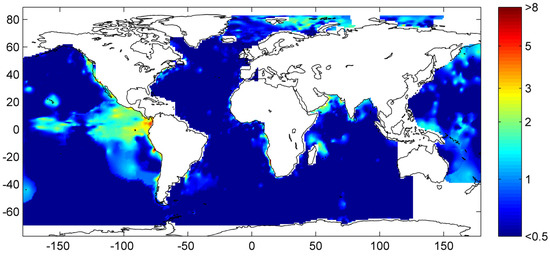 Figure 1

Share & Cite This Article
MDPI and ACS Style
Wallmann, K.; Pinero, E.; Burwicz, E.; Haeckel, M.; Hensen, C.; Dale, A.; Ruepke, L. The Global Inventory of Methane Hydrate in Marine Sediments: A Theoretical Approach. Energies 2012, 5, 2449-2498.
Related Articles
Comments
[Return to top]