Open Access This article is
freely available
re-usable
Article
The Role of Open Access Data in Geospatial Electrification Planning and the Achievement of SDG7. An OnSSET-Based Case Study for Malawi
1
Division of Energy System Analysis, KTH Royal Institute of Technology, Brinellvägen 68, 10044 Stockholm, Sweden
2
The World Bank Group, Washington, DC 20433, USA
*
Author to whom correspondence should be addressed.
Received: 10 March 2019 / Accepted: 8 April 2019 / Published: 11 April 2019
Abstract
:
Achieving universal access to electricity is a development challenge many countries are currently battling with. The advancement of information technology has, among others, vastly improved the availability of geographic data and information. That, in turn, has had a considerable impact on tracking progress as well as better informing decision making in the field of electrification. This paper provides an overview of open access geospatial data and GIS based electrification models aiming to support SDG7, while discussing their role in answering difficult policy questions. Upon those, an updated version of the Open Source Spatial Electrification Toolkit (OnSSET-2018) is introduced and tested against the case study of Malawi. At a cost of
$
1.83 billion the baseline scenario indicates that off-grid PV is the least cost electrification option for 67.4% Malawians, while grid extension can connect about 32.6% of population in 2030. Sensitivity analysis however, indicates that the electricity demand projection determines significantly both the least cost technology mix and the investment required, with the latter ranging between
$
1.65–7.78 billion.
Keywords:
open data; electrification modelling; Malawi; OnSSET
Author Contributions
Conceptualization, A.K. and M.H.; Methodology, A.K., A.S. and B.K.; Software, A.K., B.K., A.S. and C.A.; Validation, M.H.; Formal Analysis, A.K.; Investigation, A.K.; Resources, A.K. and B.K.; Data Curation, A.K., B.K. and A.S.; Writing—Original Draft Preparation, A.K.; Writing—Review & Editing, A.K., M.H., C.A.; Visualization, A.K. and B.K.; Supervision, M.H.; Project Administration, M.H.; Funding Acquisition, M.H. and A.K.
Funding
This research was funded by the World Bank under the contract number 7185716.
Conflicts of Interest
The authors declare no conflict of interest.
Appendix A. Listing and Gaps of GIS Data in Geospatial Electrification Modelling
#
Dataset
Type
Description
Status
Infrastructure
1
High Voltage (HV) lines
Line vector
Spatial distribution of (Existing & Planned) the transmission network. HV capacity definition depends on the country but usually refers to lines above 69 kV.
Publicly Available
2
Medium Voltage (MV) lines
Line vector
Spatial distribution of the medium voltage transmission network. What is defined as medium voltage depends on the country but usually refers to lines between 11–69 kV.
Not publicly available
3
Substations
Point vector
The location of currently available substations. Capacity and type should be provided as attributes.
Publicly Available
4
Transformers (primary or service)
Point vector
The location of currently available transformers. Capacity and type should be provided as attributes.
Not publicly available
5
Road Network
Line vector
Existing & planned road infrastructure. The road network may include major roads such as highways, primary and secondary roads. Detail should go as low on the road scale as can accommodate a pickup/truck.
Publicly Available
6
Power Plants (Existing & Planned)
Point vector
The locations of existing and planned power plants. It is important that the dataset includes attributes regarding each plant's minimum capacity.
Publicly Available
Energy Resources
7
Global Horizontal Irradiation (GHI)
Raster
Provide information about the Global Horizontal Irradiation (kWh/m2/year) over an area.
Publicly Available
8
Small scale Hydropower potential
Point vector
Points showing potential mini/small hydropower potential. The layer shall include information regarding the location of potential sites, power output (kW), head (m) and the discharge (m3/year).
Publicly Available
9
Wind speed or Power Density
Raster
Provide information about the wind velocity (m/sec) over an area. This layer may be substituted by wind power density maps (W/m2).
Publicly Available
10
Biomass
Raster
Current and potentially productive agricultural activity as an indicator of agricultural residues.
Publicly Available
Socio-economic
11
Population density and distribution
Raster or vector
Spatial quantification of the population for a selected area of interest (usually country or continent).
Publicly Available
12
Administrative Boundaries
Polygon vector
Includes information (e.g., name) of the country(s) to be modelled and delineates the boundaries of the analysis.
Publicly Available
13
Residential demand
Raster
Layer that indicates electricity demand for residential sector
Not publicly available
14
Poverty maps
Raster or vector
Poverty maps stating the headcount rate (%) for the population below the poverty line. The poverty line used should be clearly stated.
Publicly Available (to some extent)
15
Income level or expenditure indicators
Vector or Raster
The income level or energy expenditure in an area (

$

/km2). Map can be either in raster format or vector data on the basis of administrative areas.
Not publicly available
16
Gross Domestic product (GDP)
Raster
GDP map showing the purchasing power parity over an area. Map can be either in raster format or vector data on the basis of administrative areas.
Publicly Available
17
Human Development Index (HDI)
Raster
Providing information regarding the Human Development Index in an area of interest. Map can be either in raster format or vector data on the basis of administrative areas.
Publicly Available
18
Productive uses—Education facilities
Point vector or raster
Locations of schools as vector with relevant attributes (e.g., size of school, no of students, electricity needs/consumption).
Not publicly available
19
Productive uses—Health facilities
Point vector or raster
Locations of health clinics/hospitals as vector with relevant attributes (e.g., type or size of clinic, electricity needs/consumption)
Not publicly available
20
Productive uses—Commercial
Point vector or raster
Locations of commercial units (mines, businesses et.) as vector with relevant attributes (e.g., type or size, electricity needs/consumption.).
Not publicly available
21
Productive uses—Agricultural demand
Raster
Electricity demand layer (e.g., raster) indicating per capita (kWh/pp/year) or per settlement values (kWh/settlement/year) and is related to agriculture (e.g., pumping irrigation, post-harvesting).
Not publicly available
Other
22
Travel time
Raster
Visualizes spatially the travel time required to reach from any individual cell to the closest urban centre. The unit shall be in minutes/hours.
Publicly Available
23
Elevation
Raster
Filled Digital Elevation Model (DEM) maps.
Publicly Available
24
Land cover
Raster
Land cover classification. Currently OnSSET uses 17 classes as described in [32].
Publicly Available
25
Slope
Raster
A sub product of DEM. The slope map visualizes the terrain slope in degrees. Any slope map that is to be used has to provide the slope in degrees.
Publicly Available
26
Night-time Lights
Raster
Night-time light maps showing light pollution. The map has a relative scale for the intensity of light.
Publicly Available
Appendix B. Methodology to Generate Population Clusters Using the High Resolution Settlement Layer and GIS Processing
The following methodology (
Figure A1
) has been developed in order to create population clusters based on open access population datasets from the HRSL and a series of processes developed in QGIS, an open source desktop geographic information system application.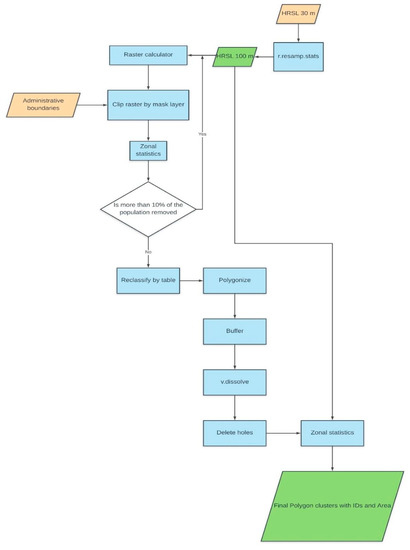 Figure A1. Methodological flowchart of creating population clusters using the High Resolution Settlements Layer and Geographic Information Systems processing.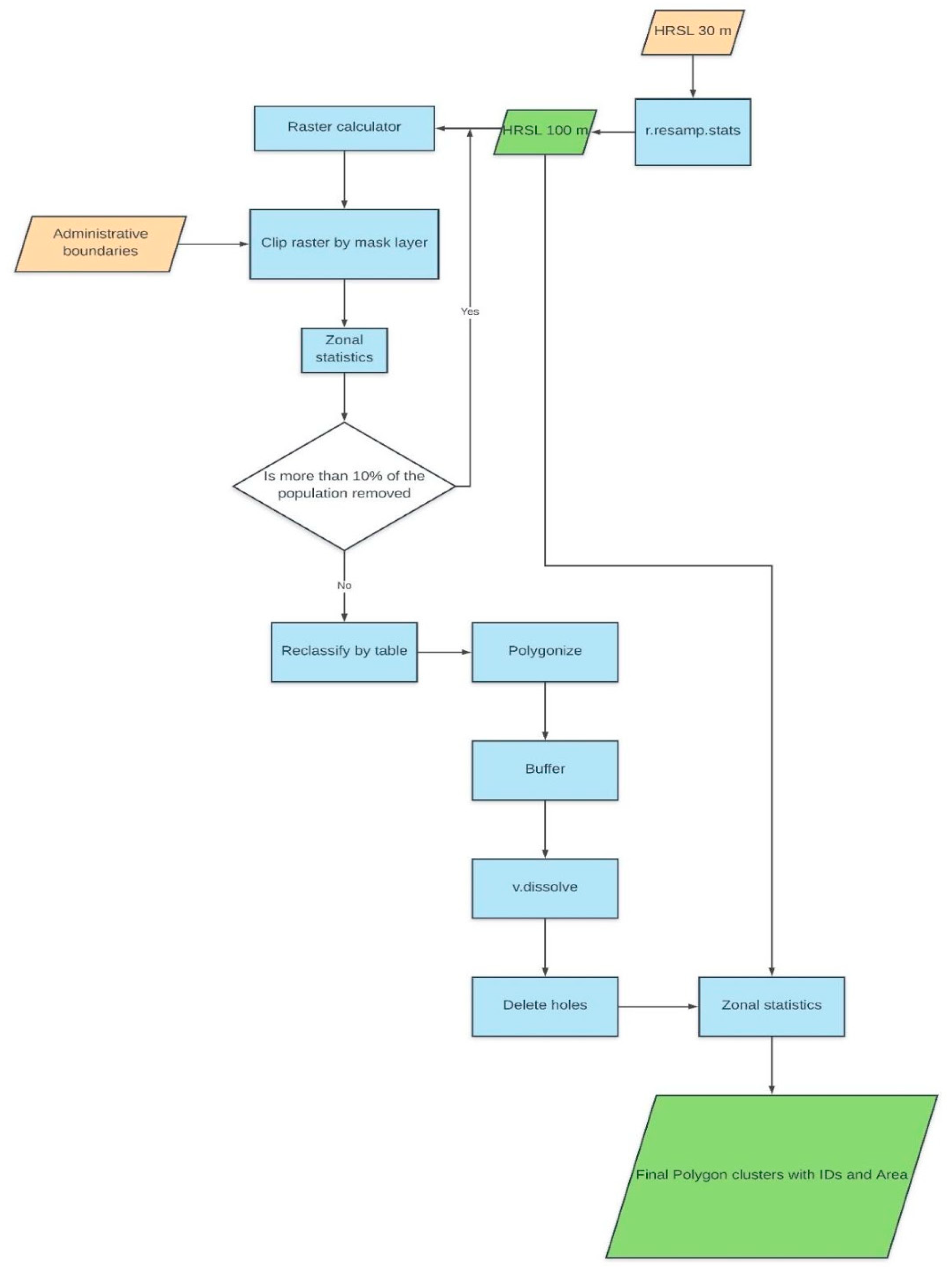 Appendix B.1. Resampling Population Layer
The original spatial resolution of HRSL is 900 m2. In the case of Malawi this translates to 3.2 million grid cells that have to be processed in the GIS environment. This is problematic due to (a) computational limitations of the GIS software used (QGIS) and (b) memory/running time complications of the electrification model used (OnSSET). Therefore, reducing the spatial resolution (resampling) of HRSL, is a sensible—and highly suggested—first step in the process. A final resolution of 0.1 km2/10,000 m2 is a good compromise as it will significantly reduce computational limitations while maintaining a good level of granularity. Lower resolution than 0.1 km2 (or 10,000 m2) will cause undesirable distortion of the layer's values and therefore is not considered as a viable option.
Suggested tool in QGIS: "r.resamp.stats".
Notes/Comments: This tool is part of GRASS GIS and enables the user to resample raster datasets. As of the time of writing, this is the only tool included in QGIS 3.2 that allows for increasing the cell size while automatically aggregating the raster values.
Appendix B.2. Removing Redundant Cells
HRSL population density values derive from interpolating recent census data [
113
]. This creates grid cell "neighborhoods" in the raster that have the exact same value to the 16th digit. These grid cells are considered false positives and thus shall be removed. In order to eliminate falsely populated grid cells, a threshold value is defined through an iterative process described below.
Step 1. Calculate the total population in the area of interest.
Suggested tool in QGIS: "Zonal statistics" from the QGIS package.
Step 2. Initialize the threshold value; the initial value can be anything within the density range in the area of interest.
Notes/Comments: The threshold value can be determined by examining the distribution of pixel values for the raster dataset. Also, removing low populated grid cells increases the share of coinciding built-up areas in comparison to Google map tiles.
Step 3. Zero out all grid cells with raster value below the threshold.
Suggested tool in QGIS: "Raster calculator" e.g., (HRSL > 6) * HRSL removes all values below 6.
Notes/Comments: The "Raster calculator" rounds the coordinates for the raster to the first six digits. Therefore, there might be a slight offset between the datasets after using the tool. Since this raster is the base of the clusters the raster calculator should be used twice; once to multiply by one and once to carry out the operation described above. This way there will not be any offset between the different datasets used in the analysis.
Step 4. Re-calculate the total population in the area of interest. If this loss is larger than 10% repeat again from Step 2 using a lower threshold value. Repeat until loss is acceptable.
Appendix B.3. Reclassify HRSL
The re-classification of the HRSL is necessary for the population clusters to be formed uniformly during the next step. This process creates the conditions for all adjacent cells to become part of the same cluster (
Figure A2
-left). If not re-classified, the clusters will be comprised by multi-part polygons as shown in
Figure A2
-right.
Suggested tool in QGIS: "Reclassify by table" from the QGIS package.
Notes/Comments: There is a number of tools that can be used in order to reclassify a raster layer in QGIS. This specific tool is from the same package as the raster calculator and therefore it does not create any further distortion or offset.

Appendix B.4. Convert the HRSL Raster to Vector Polygons
In this process QGIS is used in order to convert the format of the processed HRSL from raster to vector polygons.
Suggested tool in QGIS: "Polygonize" from the GDAL package.
Appendix B.5. Buffering Polygons
A buffer of 10 m is applied to the polygons. This is due to QGIS treating polygons with one common corner as separate even in cases in which they touch. By applying a small buffer, it is ensured that these polygons are overlapping.
Suggested tool in QGIS: "Buffering vectors" from the GDAL package.
Appendix B.6. Dissolving Polygons
Dissolving the polygons ensures that overlapping polygons from the previous step are all merged.
Suggested tool in QGIS: "v.dissolve" from the GRASS package.
Appendix B.7. Remove Gaps and/or Slivers inside Polygons
Converting a raster layer to vector polygons as in previous step, can generate gaps and slivers to some of the polygons due to holes in the raster layer and due to the buffering process. These need to be removed/dissolved so that uniform population clusters are created.
Suggested tool in QGIS: "Delete holes" from the QGIS package.
Notes/Comments: It is important to only cover holes and slivers caused by the clustering process and not holes naturally occurring holes (e.g., lakes, forests etc.). Therefore, a maximum area is specified in the tool and all holes smaller are deleted.
Appendix B.8. Assigning Population Values to Clusters
Due to the population being reclassified when generating the clusters there is no population value connected to the clusters. In order to assign population values the raster values are aggregated for every cluster.
Suggested tool in QGIS: "Zonal statistics" from the QGIS package.
Appendix C. Techno-Economic Input Parameters in OnSSET
Appendix D. Updated Grid Extension Algorithm
The following paragraphs describe the modifications induced on the grid extension algorithm in OnSSET 2018. As of the previous version of the tool, the grid extension algorithm was based on the square geometry of a grid mesh with equal sized grid cells being adjacent to each other [
123
]. The integration of population clusters in the analysis, required the modification of the algorithm so that is it able to process vector data (polygons) of various geometry, size and spatial orientation. We describe the updated process in five distinctive steps.
Step 1. Sizing transmission lines (HV or MV)
As a first step, the algorithm decides the type of extension line (HV or MV) to be used to connect a settlement; the decision is based on two parameters as presented in (A1):
where: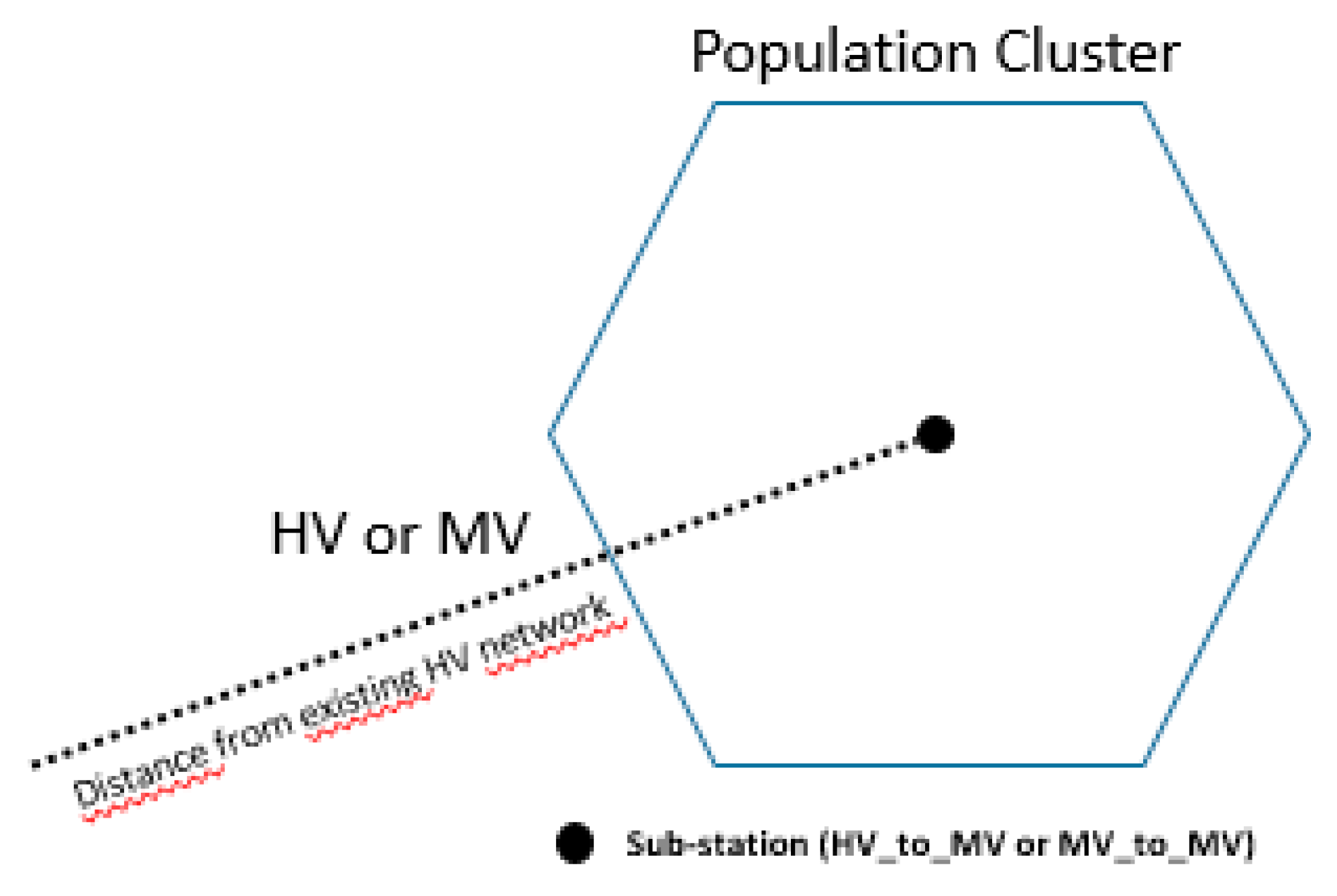 Then, the mileage of additional transmission lines required to reach the cluster is estimated using (A4)–(A7) as follows:
where:
Step 2. Sizing transformers and connection to sub-station
Then, the algorithm estimates the number of service transformers required to provide full coverage of the population cluster:
where:
The transformer load is the sum of the load of all households connected to a single transformer:
It should be noted that the transformers are assumed to be evenly spaced within a cluster, thus the average distance from the service transformer to the substation is 2/3 of the cluster's radius, and the average distance between two service transformers is twice the transformer radius:
If the estimated load moment is larger than 9643 (see
Appendix C
) an MV line is used to connect the service transformer to the substation; if not, a LV line is used. If connected by LV lines, each service transformer is assumed to have its own connection to the substation. With MV lines, multiple transformers may be connected in series:

Step 3. Sizing distribution lines (LV)
The area of each service transformer is then divided into a number of smaller circles (
Figure A5
) each one representing a demand node, assumed to be equally spaced within the larger circle. The distance between two demand nodes is defined as twice the radius of one of the smaller circles. The calculations do not consider the routing of LV lines from the transformer.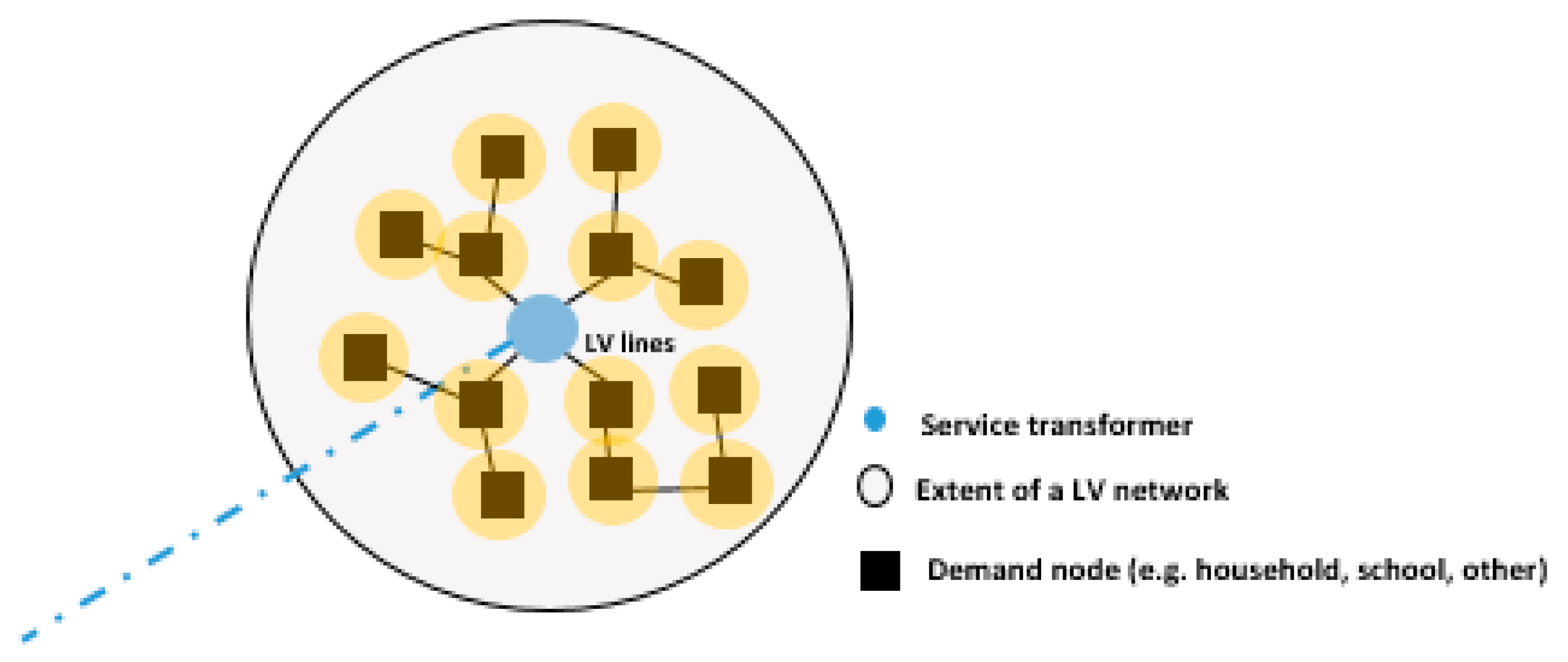 The total length of LV lines per transformer is defined as described in (A19):
where:
Finally, the total number of distribution (LV) lines per cluster is estimated by (A22):
Step 4. Estimating the total investment cost for grid extension per cluster
In the last step, the total cost of grid extension per cluster is estimated by taking into account all partial costs as described in (A23):
Appendix E. Detailed Results of Sensitivity Analysis
The sensitivity analysis in this study was conducted in order to identify which are the most critical parameters and how they affect the least cost electrification mix and investment requirements. Six parameters were selected as shown in
Table A5
. Option 1 (or Baseline) includes the values as presented in previous paragraphs and used in the analysis so far. Option 2 includes modification of these values; for parameters 1–3 modifications intend to a more aggressive electrification strategy; for parameters 4–6 modifications suggest a cost increase in selected technologies. Finally, option 3 suggest an alternative approach to electricity demand targeted for each population cluster. The latter adopted an approach based on available poverty and GDP data (elaborate description in
Appendix F
). In total, ninety-six scenarios were generated and analysed.
#
Parameters
Option 1—Baseline
Option 2
Option 3
1
Population growth (PG)
2.83%
3.10% *
-
2
Electricity demand target (EDT)
Urban—Tier 4
Rural—Tier 1
Urban—Tier 5
Rural—Tier 3
Custom Residential Electricity Demand Indicative Target Layer (CREDIT)
3
Electrification rate in 2023 (ER23)
50%
80%
-
4
Grid generating cost of electricity (GGC)
0.076

$

/kWh
+25%
-
5
PV cost factor (PVC)
0%
+25%
-
6
Diesel cost (DC)
1.2

$

/liter
1.5

$

/liter
-
* Based on the highest variant of population growth as in [104].
Between all scenarios, the total investment requirements to achieve universal access to electricity in Malawi ranged between
$
1.65–7.78 billion. As seen in
Figure A6
, parameter 2 shows very low variance in all options studied. That is, parameter 2 is a quite strong determinant of electrification investment in comparison to the rest of parameters studied. Higher level of targeted electricity demand in population clusters rises significantly the total cost of electrification. Parameters 1, 3 and 6 do have a noticeable—yet not as strong—impact on the total investment; option 2 of these parameters indicates higher median value. For parameter 1 this is naturally explained by higher population growth, which also causes the min/max values to shift upwards. The second option for parameter 3 mandates the electrification of bigger part of population in the first five years; this results in higher penetration of off-grid systems which in turn are more capital intensive in terms of per unit capacity (
$
/kW). Higher diesel price leads to lower penetration of diesel based systems which are replaced either by other off-grid systems or grid connection; both alternatives have higher cost per capacity unit, explaining the variation observed in parameter 6. Finally, minor changes in total investment were observed by the variation of parameters 4 and 5.
The share of grid connected population ranges between 32.6–80.1%. Parameter 2 is the strongest determinant of grid penetration in the total mix, defining therefore the above limits. Parameters 3, 4 & 5 can induce a maximum of 1.3%, 1.2% and 3% increase in grid share respectively between options 1 and 2. No effect on grid share was observed by parameter 6. The share of stand-alone systems varies reversely with their share ranging between 10.2–64.7%. Mini-grids share ranges between 0–0.7% with the upper limit observed only when parameters 1, 2, 4 & 5 are set to option 2. The interplay between decentralized technologies is notably affected by parameter 5. Higher PV costs allow the penetration of other renewable off-grid technologies in the optimal mix; the cost of diesel affects the optimal mix only when parameter 5 is set at option 2, otherwise its impact is negligible.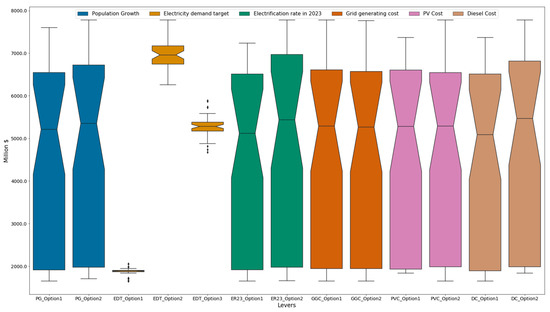 Figure A6. Investment variation for the achievement of universal electrification in Malawi as retrieved by the 96 scenarios developed in this study. The scenarios reflect the modification of six selected parameters and represent the impact of each one on the total investment.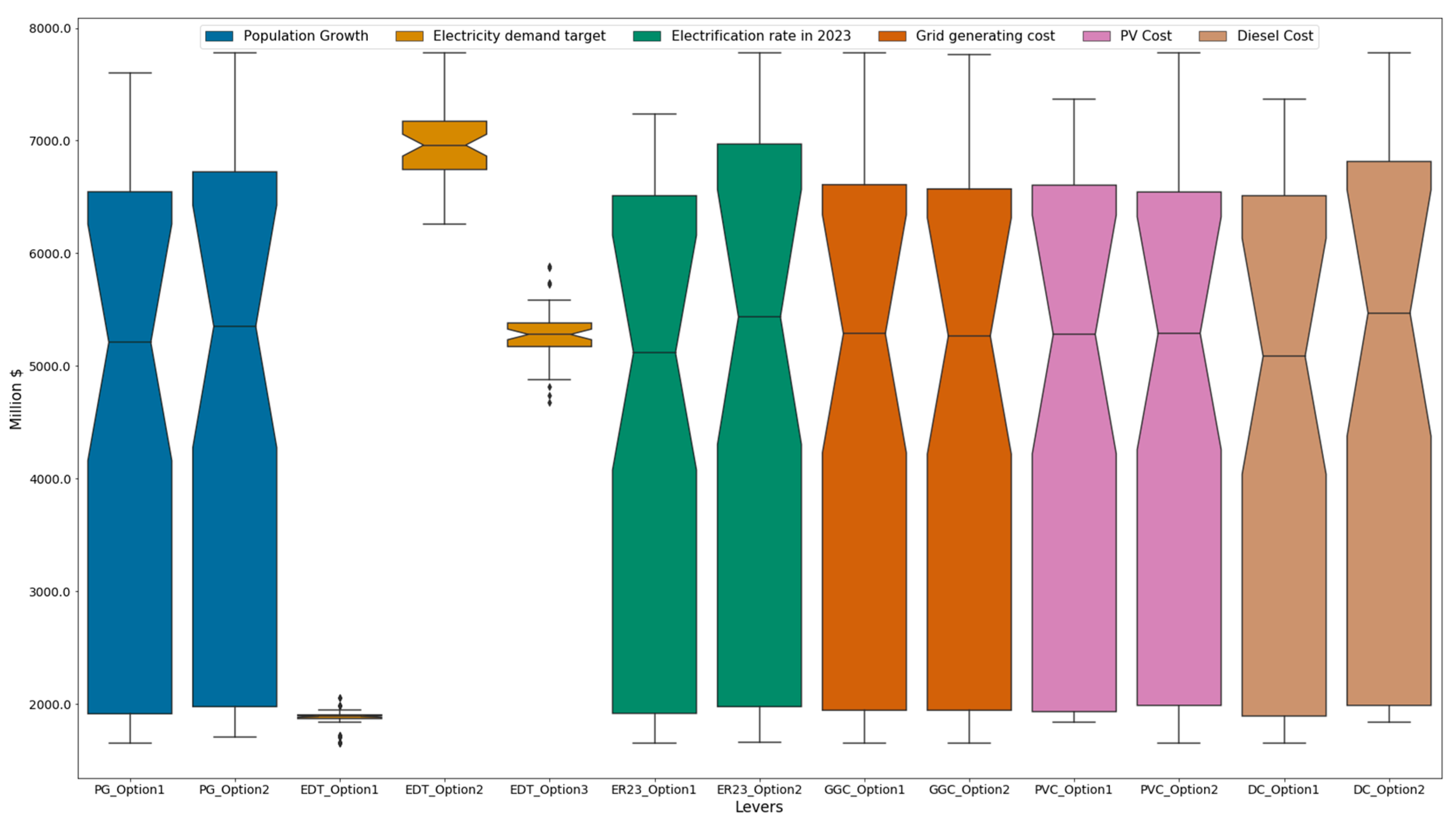 Appendix F. The Custom Residential Electricity Demand Indicative Target (CREDIT) Layer
A customized raster layer indicating residential electricity demand target over Malawi has been developed by using open access poverty and GDP maps as described in
Section 2.1
. First, an equal interval classification technique using five classes was applied on the poverty map; the breaking values indicated intervals between 0–100% of headcount poverty rate. The GDP map was classified based on geometric intervals since this technique is particularly useful for datasets that are not normally distributed; it creates a balance between highlighting changes in the middle values and the extreme values; therefore, a good fit for the GDP data available in this case. Then, the two layers were reclassified as shown in
Table A6
and added under equal weighted factors (0.5) using raster calculation.

Table A6. Re-classification of GDP and poverty layers into five classes. I1–5 are the geometric intervals of the classification process.
| Initial Poverty Layer | Poverty Classification | Initial GDP Layer | GDP Classification |
| --- | --- | --- | --- |
| 0 ≤ poverty < 0.2 | 5 | 0 < GDP < I1 | 1 |
| 0.2 ≤ poverty < 0.4 | 4 | I2 ≤ GDP < I3 | 2 |
| 0.4 ≤ poverty < 0.6 | 3 | I3 ≤ GDP < I4 | 3 |
| 0.6 ≤ poverty < 0.8 | 2 | I4 ≤ GDP < I5 | 4 |
| poverty ≥ 0.8 | 1 | GDP ≥ I5 | 5 |
The output provided an indicative demand target index ranging from 0 to 5; 0 indicating the lowest potential target and 5 the highest. Finally, using 1-D linear interpolation the above target index was translated into kWh/capita/year as shown in
Figure A7
. The interpolation was based on the multi-tier framework for energy access adapted to reflect the situation in Malawi; that is, the lowest and highest values were set at 8.8 and 680.2 kWh/capita/year for Malawi.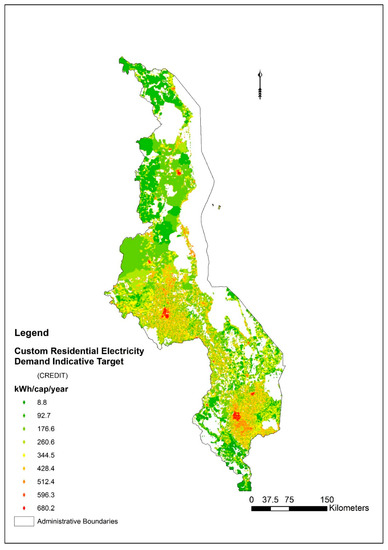 Figure A7. Customized layer indicating electricity demand target levels (in kWh/capita/year) over Malawi, based on openly available poverty and GDP maps.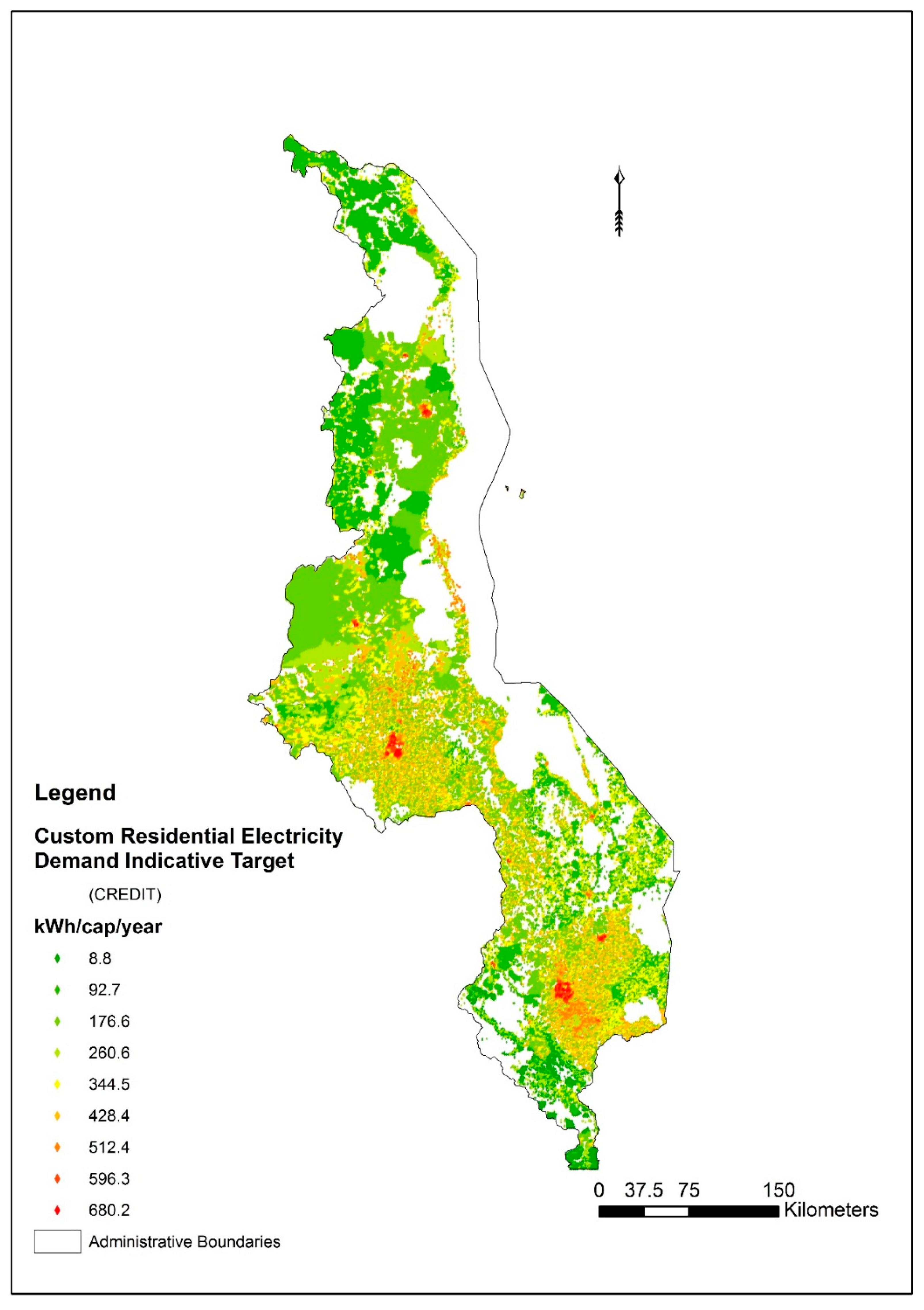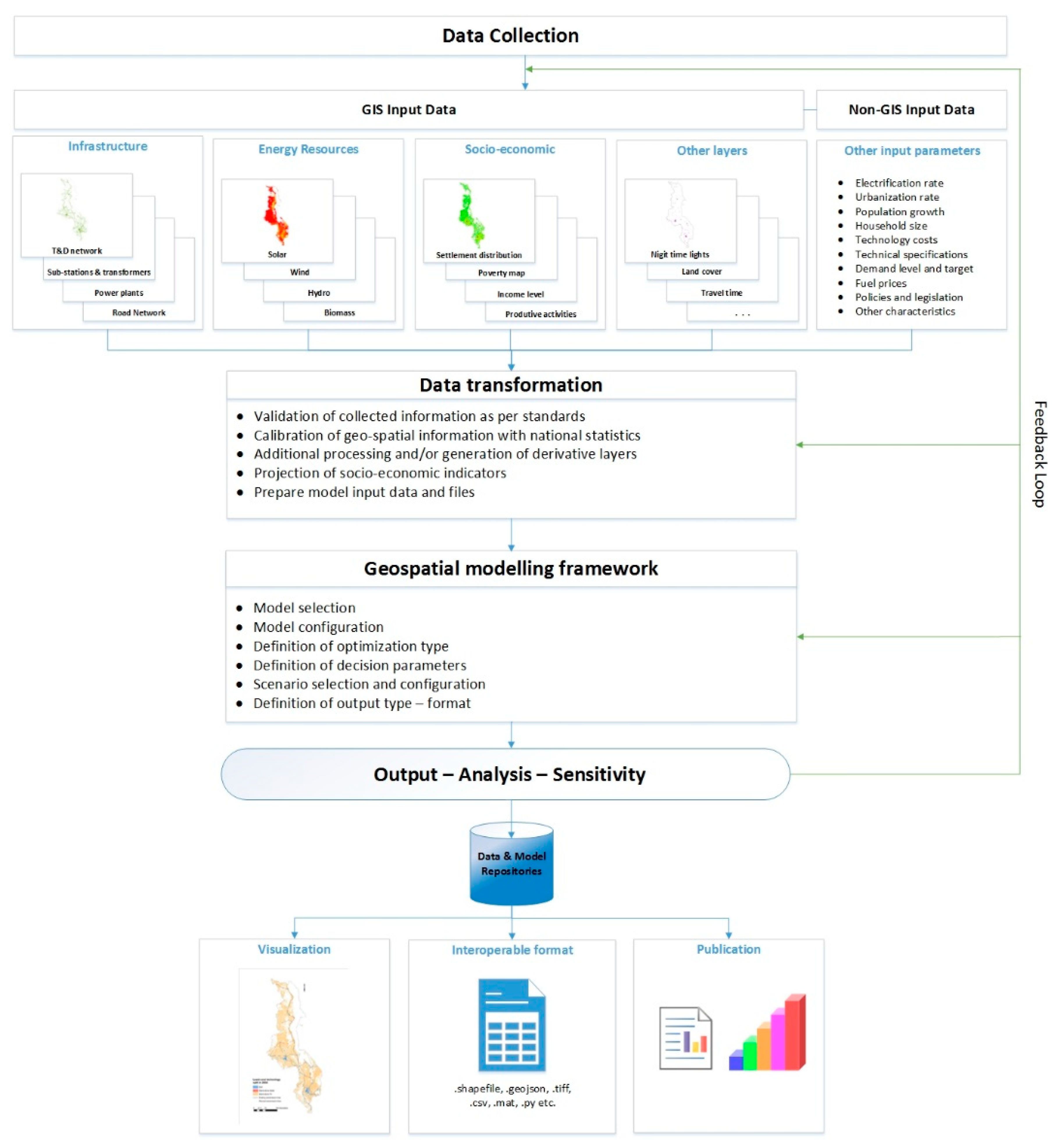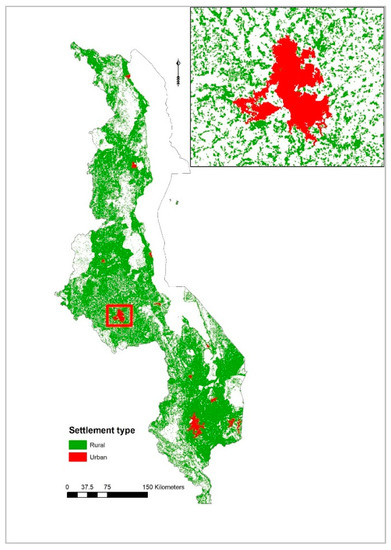 Figure 2. Characterization and spatial distribution of population clusters in Malawi as identified by the OnSSET model.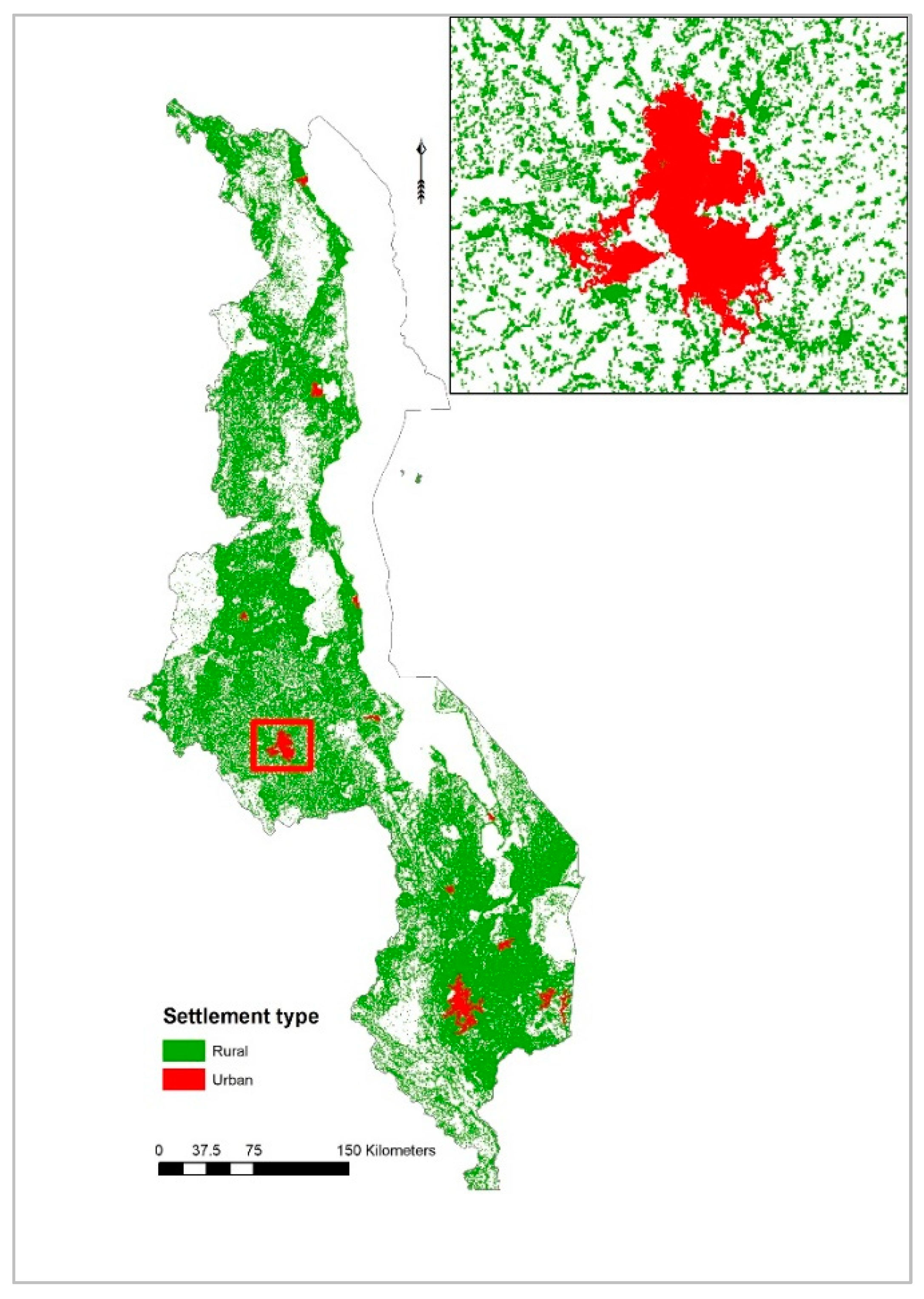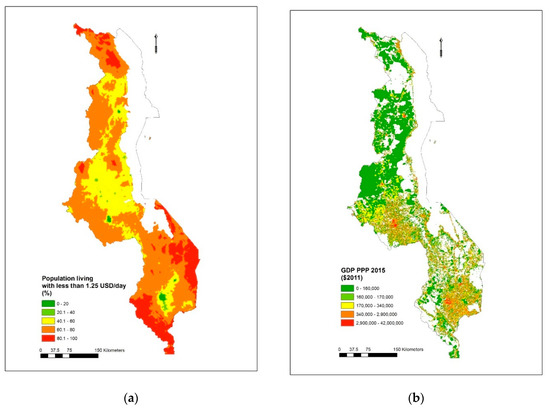 Figure 3. Poverty rates (a) and estimated purchasing power parity Gross Domestic Product (GDP-PPP) in 2011 USD values (b) as distributed over population clusters in Malawi.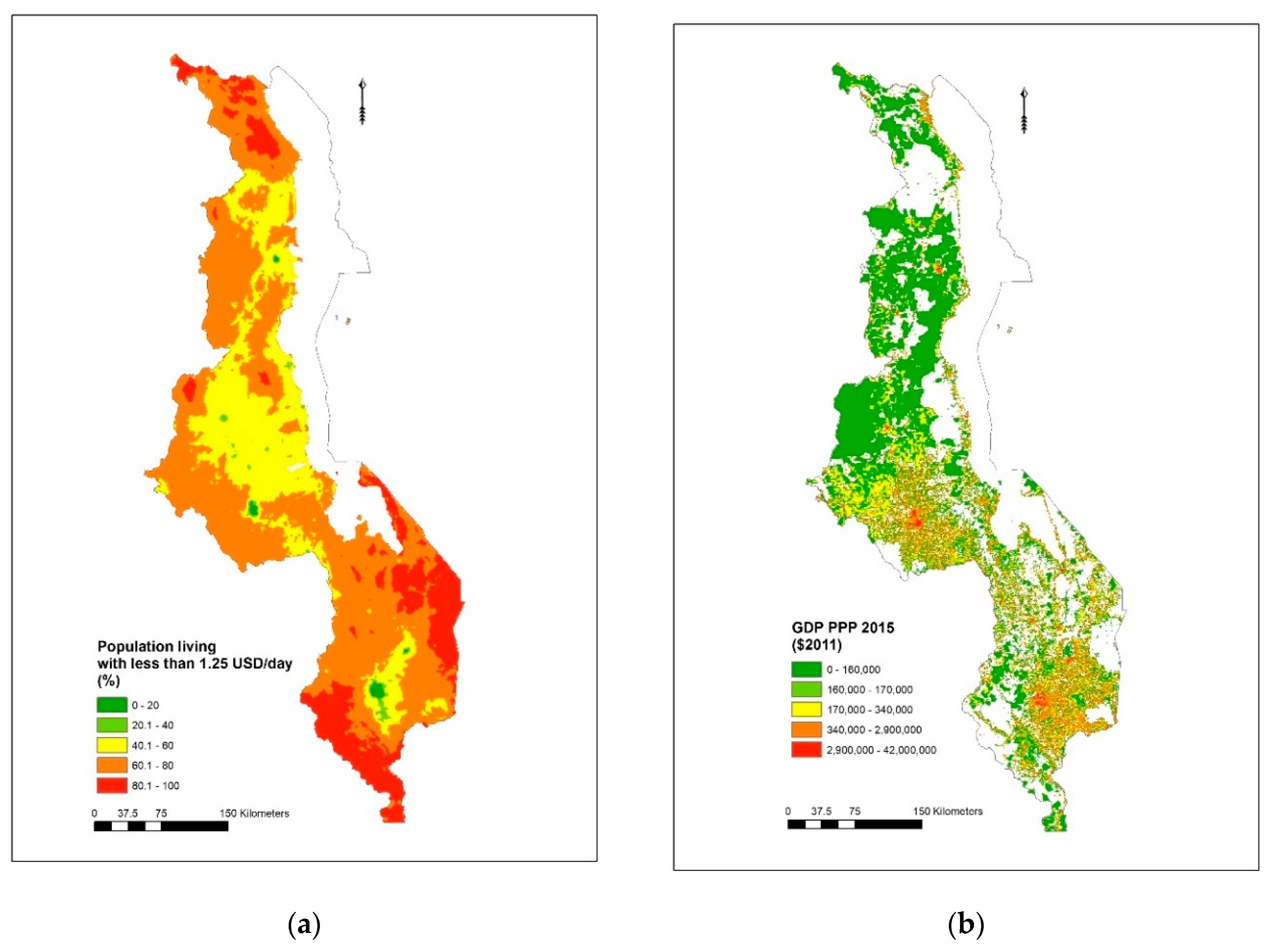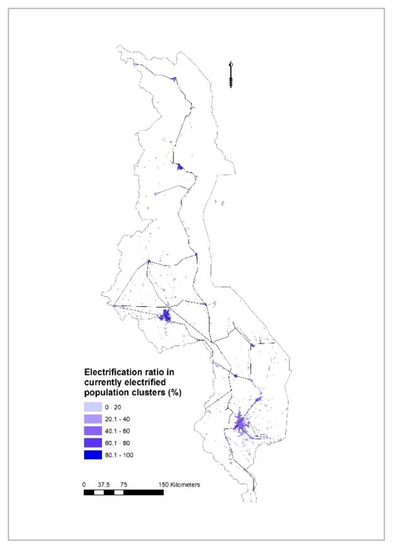 Figure 4. Distribution of settlements that indicate current access to electricity in Malawi. The multi-criteria evaluation yielded 16 urban and 798 rural electrified settlements with average electrification rates of 46.3% and 21.2% respectively.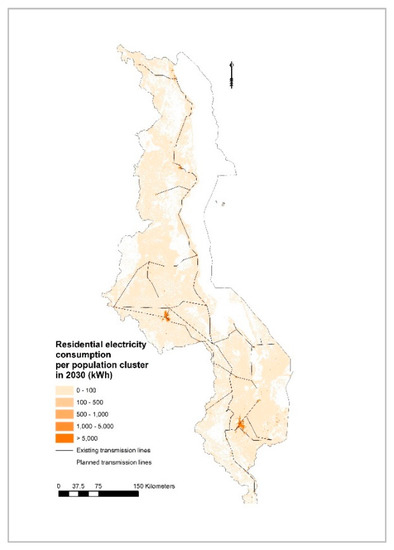 Figure 5. Distribution of the expected residential electricity demand per population cluster based on specified access targets (Tier 4 for urban and Tier 1 for rural clusters) in Malawi.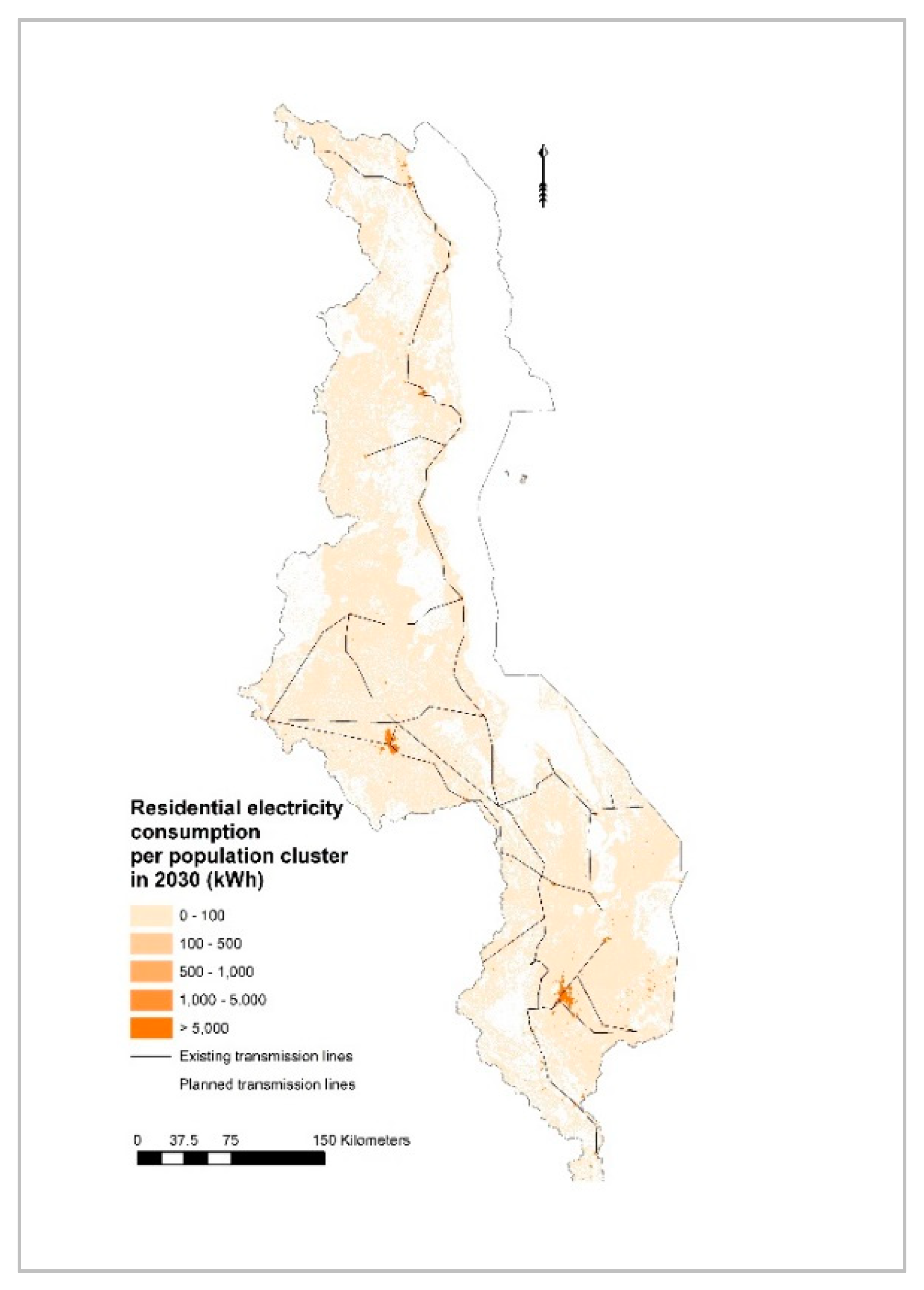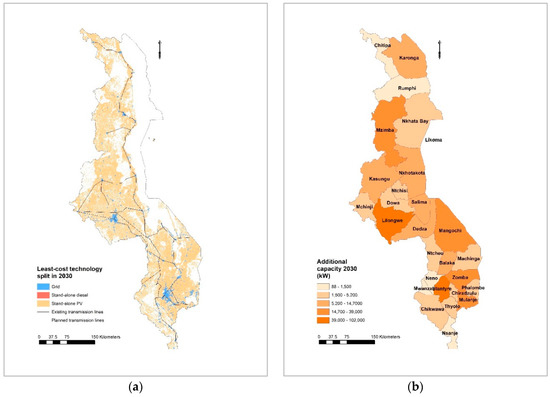 Figure 6. Least cost technology split (a) and additional capacity (b) required per province to reach universal access to electricity in Malawi by 2030.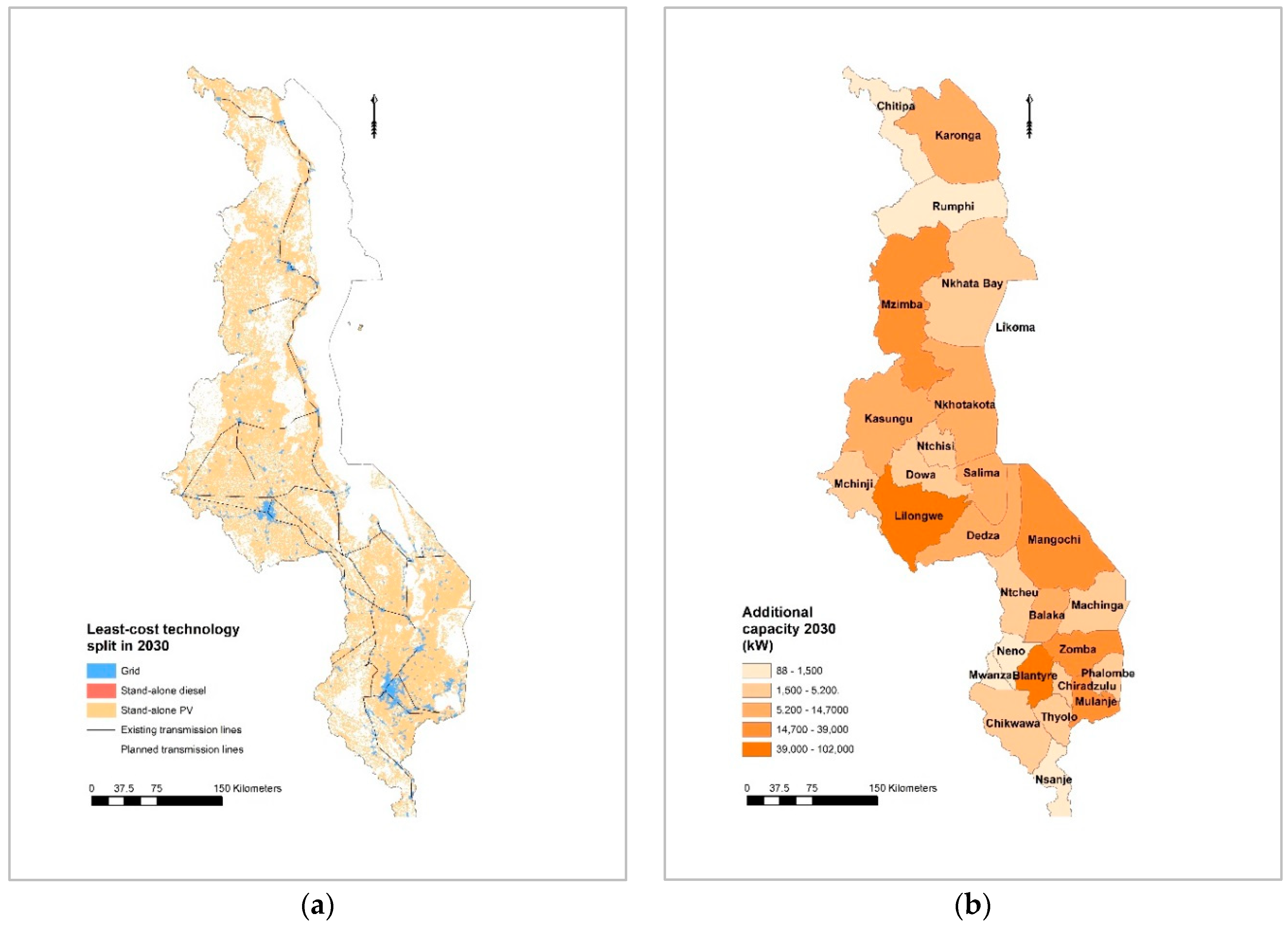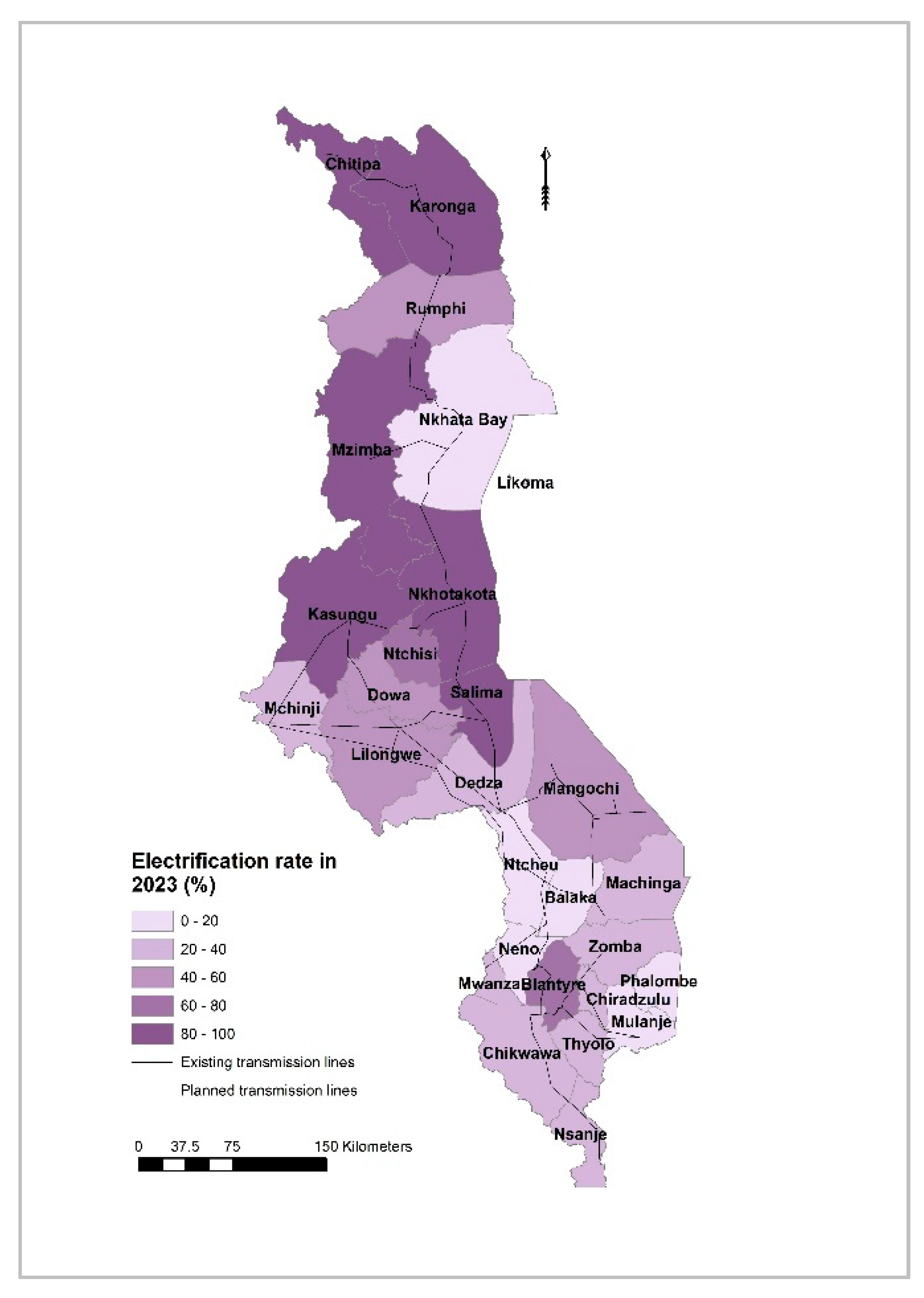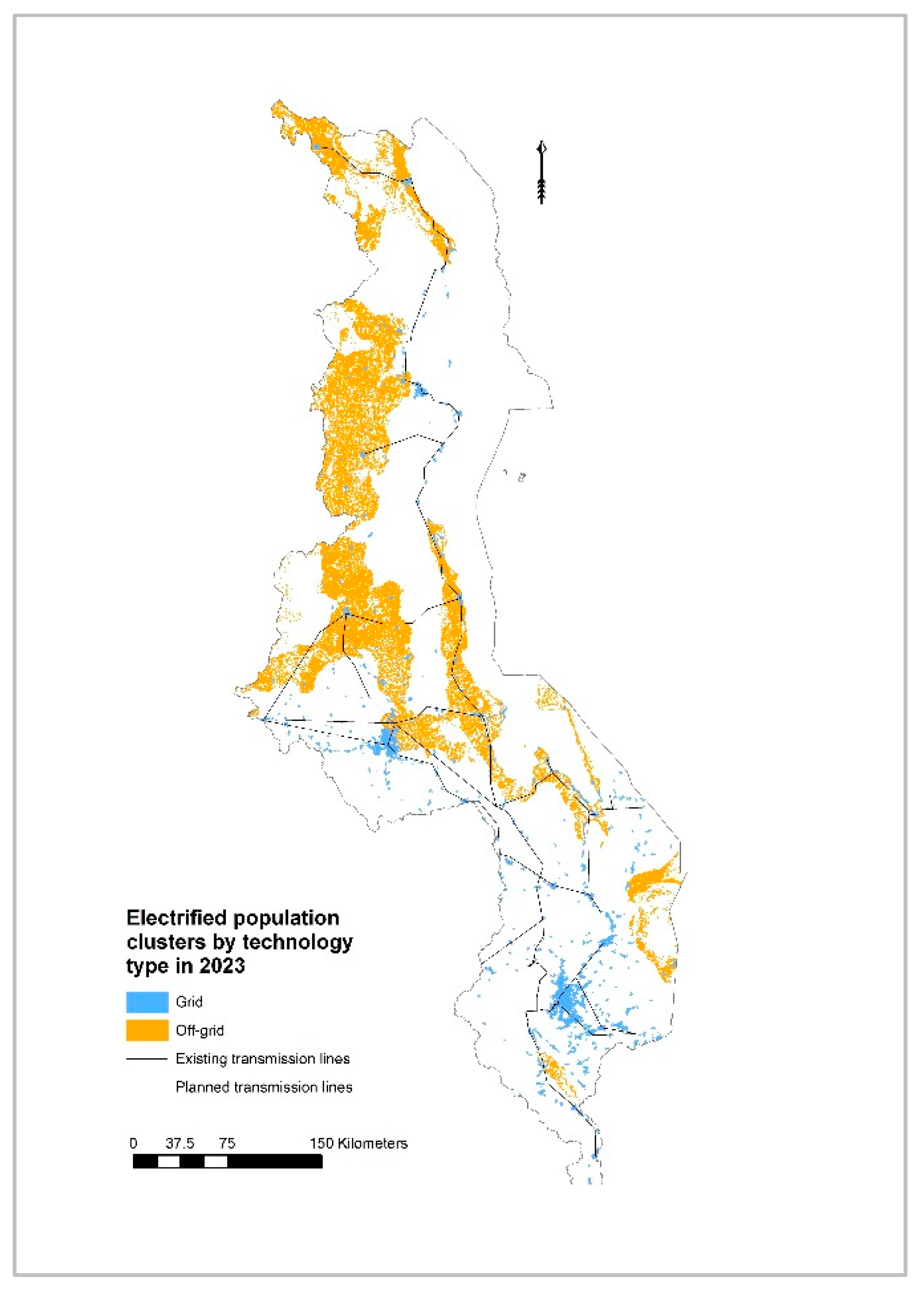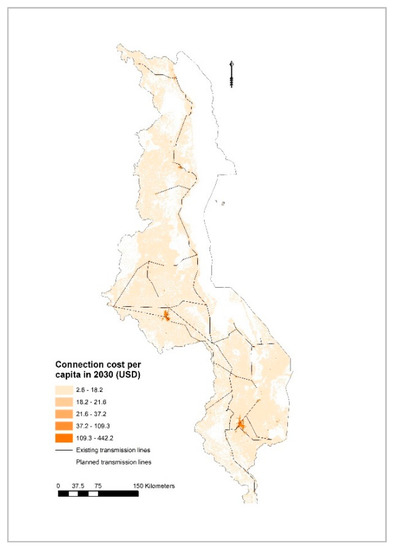 Figure 9. Connection cost per capita based on the least cost option identified in the selected electrification scenario.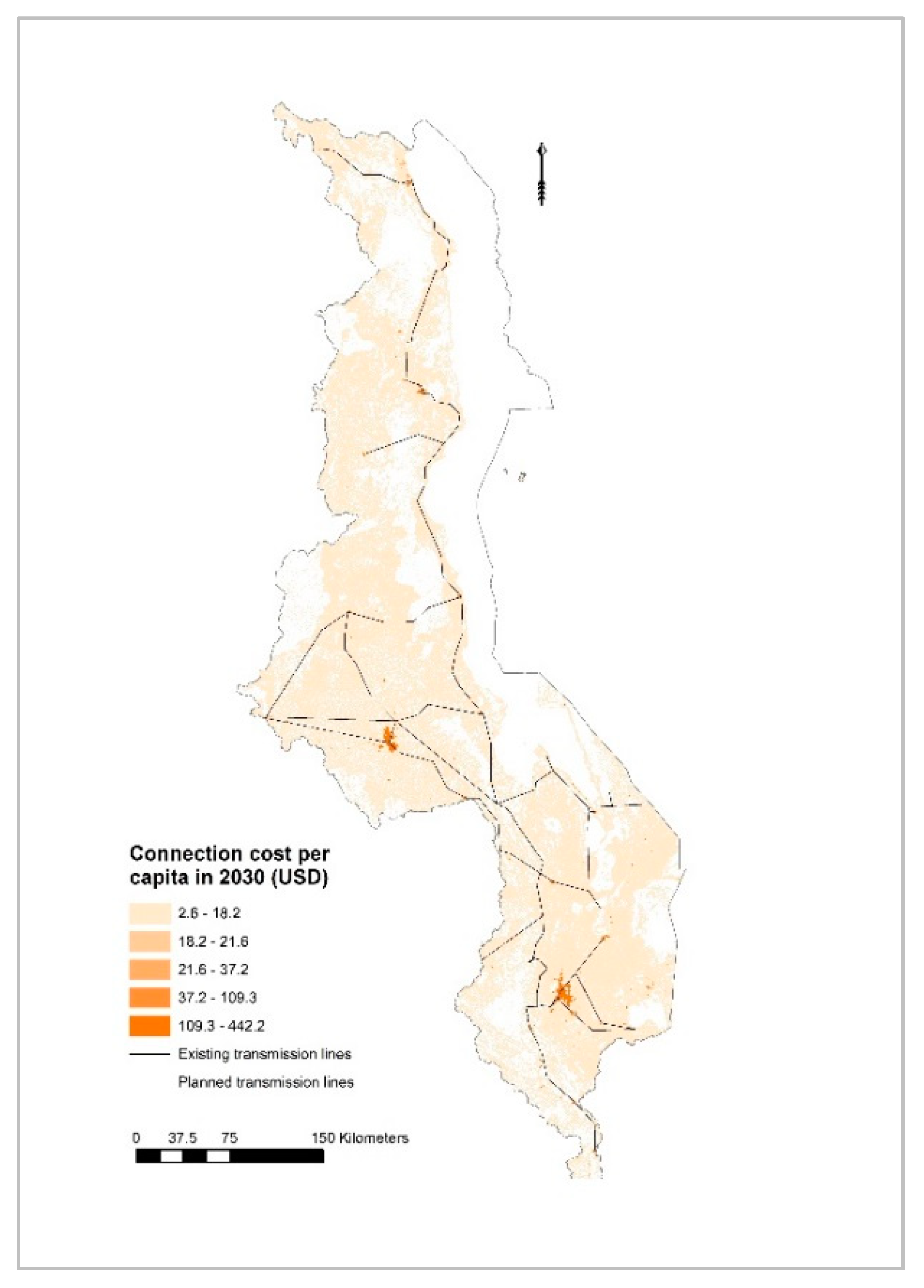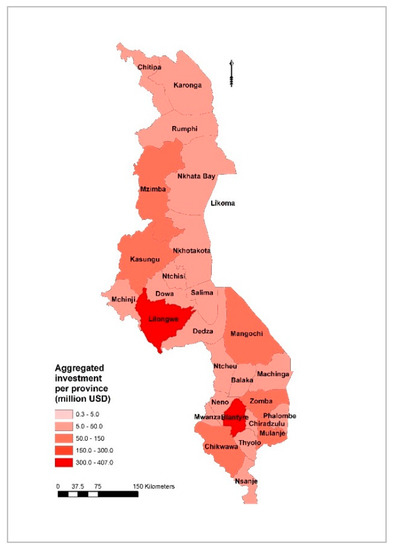 Figure 10. Investment requirements for the achievement of universal access as defined in the selected electrification scenario for Malawi by 2030. Results are aggregated per province.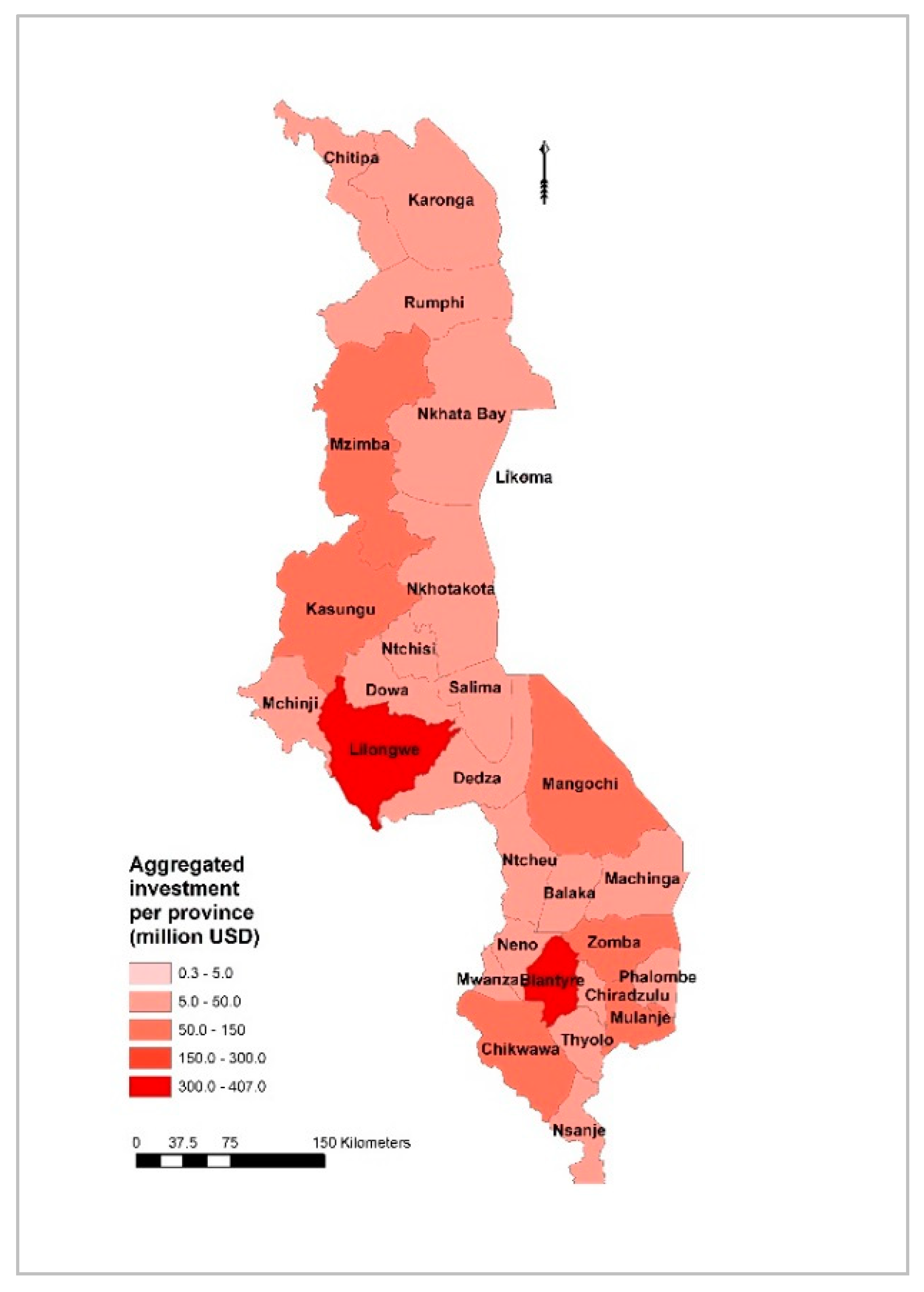 © 2019 by the authors. Licensee MDPI, Basel, Switzerland. This article is an open access article distributed under the terms and conditions of the Creative Commons Attribution (CC BY) license (http://creativecommons.org/licenses/by/4.0/).