Open Access This article is
freely available
re-usable
Article
Preparation and Evaluation of a Coconut Shell-Based Activated Carbon for CO2/CH4 Separation
1
LR11ES54-Laboratory of "Chemical Processes and Industrials Systems", University of Gabes, Gabès 6029, Tunisia
2
National School of Engineers of Gabes (ENIG), University of Gabes, Omar Ibn Elkhattab Street, Zrig, Gabès 6029, Tunisia
3
Instituto Nacional del Carbón, INCAR-CSIC, c/Francisco Pintado Fe 26, 33011 Oviedo, Spain
4
Higher Institute of Applied Sciences and Technology of Gabes, University of Gabes, Omar Ibn Elkhattab Street, Zrig, Gabes 6029, Tunisia
*
Author to whom correspondence should be addressed.
Received: 7 June 2018 / Accepted: 29 June 2018 / Published: 3 July 2018
Abstract
:
Biomass is a widely distributed and renewable source of carbon. The main objective of this work is to produce an activated carbon from coconut shells with suitable characteristics to separate CO2 from biogas. The textural characterization of the adsorbent has been determined. Pure component adsorption isotherms of CO2 and CH4 at 30, 50 and 70 °C have been measured. The results reveal that the activated carbon had high CO2 adsorption capacity. Equilibrium of adsorption of CO2 and CH4 adsorption on the produced activated carbon reached 8.36 mmol/g and 4.63 mmol/g, respectively, at 30 °C and 10 bars. Moreover, the performance of the produced activated carbon, as a potential adsorbent for CO2 capture from a CO2/CH4 gas mixture, has been evaluated under dynamic conditions in a dedicated fixed-bed setup. The CO2 and CH4 adsorption capacities of the produced activated carbon are estimated to be 1.86 and 0.52 mol/kg, respectively, at 30 °C and 1 bar.
Keywords:
biogas purification; coconut shells; biomass valorization; textural characterization; adsorption isotherms; breakthrough curves
1. Introduction
Biogas is a biofuel that is naturally produced by the decomposition of various types of organic matter. Upgrading of biogas has gained important attention due to the steady growth in global energy demand, coupled with the depletion of fossil fuel resources, their unaffordable prices, and the environmental damage they cause [
1
,
2
,
3
].
Methane and carbon dioxide are the main components of biogas. The energy value of biogas is much lower than natural gas due to the presence of carbon dioxide. Thus, to increase its heating value, the carbon dioxide content must be reduced. From the economic side, the CO2 removal is the most important step in biogas upgrading.
Capture and storage of CO
2
has gained an important place in efforts to reduce greenhouse gas emissions [
4
,
5
].
Key economic and environmental factors promote the development of energy-efficient CO
2
separation technologies [
6
].
Among the various processes proposed to remove CO
2
from biogas, namely adsorption, absorption, membrane and cryogenic separation, pressure swing adsorption (PSA) processes are often used [
7
,
8
,
9
,
10
,
11
,
12
,
13
].
The selection of the adsorbent is a key factor for the efficient operation of a PSA unit. The properties of the adsorbents are one of the most important aspects of unit performance for a determined cycle configuration [
14
]. Many solid adsorbents have been investigated for the separation of CO
2
from gas effluents, such as zeolites, calcium oxides, activated carbons, hydrotalcites, metal–organic framework (MOF) materials and supported amines [
15
,
16
,
17
,
18
,
19
,
20
]. Over the past few decades, the use of biomass to prepare carbon-based materials to reduce greenhouse gas emissions has attracted special attention [
21
,
22
,
23
,
24
,
25
,
26
].
In general, activated carbons can be synthesized from a wide range of biomass materials given that they present low levels of inorganic compounds (ash content) and high carbon content. Many carbon-based materials such as peat, wood, lignite, coal and nut shells are being used in the production of commercial activated carbons. The (CNS) is characterized with high lignin, high carbon content and low ash content; these properties make the material suitable for the production of microporous activated carbons [
27
,
28
].
Two conventional methods for biomass activation have been reported: physical and chemical activation procedure [
29
,
30
].
Chemical activation is considered an ineffective environmental procedure as it uses solvents to dissolve reagents, extract and wash products, separate mixtures, clean reaction apparatus and disperse products for practical applications. On the contrary, physical activation is ecological in relation to chemical activation. In the present work, a physical activation method using a single step was selected.
The activated carbon produced can be found in pellet, powder or granular form [
31
,
32
,
33
]. The main purpose of this work is to produce an activated carbon from dry CNS utilizing a physical activation procedure and to evaluate the textural characteristics and the performance of the produced adsorbent for CO
2
separation from biogas effluents.
3. Results and Discussion
3.1. Precursor Material
The data obtained from the proximate and ultimate analyses of CNS are summarized in
Table 1
. Proximate analysis shows that CNS are characterized by low ash content (0.42 wt.%), which is a desirable feature for activated carbon production. Ultimate analysis shows that the raw material possesses a high carbon content (i.e., 51.6 wt.%) and low hydrogen and oxygen contents. In addition, the absence of sulfur in the raw material eliminates the possibility of sulfur dioxide emission during the production process. These data make CNS a promising material to be utilized as an activated carbon precursor.
Weight loss of the CNS during heat treatment under carbon dioxide is presented in
Figure 1
. This figure indicates that the greater weight losses for (CCS) mainly occur between 27 and 627 °C. The first mass loss at 100 °C corresponds to humidity and other guest molecules adsorbed on the material. Waste agricultural biomass commonly consists of cellulose, hemi-cellulose and lignin. The second and third peaks in the derivative of the thermogravimetric (TG) curve (DTG curve) represent the fragmentation of hemi-cellulose and that of cellulose, respectively.
According to the experimental results of the weight-loss profile, the activation temperature was set at 900 °C and three activation times were selected, 35, 73 and 115 min, which correspond to the following yields, as estimated from Equation (1): 21.51, 16.92, and 10.47%, respectively.
3.2. (CNS )Activated Carbon Characterization and Evaluation
4. Conclusions
In this work an activated carbon from dry CNS using one-pot activation procedure was produced. The results of this study showed that the activated carbon presented good development and high BET surface area. The characterization of the CNS-based activated carbon indicated that the adsorbent is basically microporous with a BET surface of 1378 m2/g. CNS can be utilized as a suitable precursor to prepare a microporous activated carbon for CO2 adsorption from biogas streams.
Pure component CO2 and CH4 adsorption isotherms were carried out at three different temperatures. As expected, CO2 is the strongest adsorbate. Afterwards, breakthrough tests consisting of six successive sorption cycles were run in a lab-scale fixed-column. The CNS based activated carbon maintains its activity during the experiments which reflect a perfect cyclability and regenerability under the evaluated conditions.
Based on the timing observed in the concentration fronts of CH4 and CO2, the gas separation of CO2/CH4 is technically feasible using the CNS-based activated carbon. For instance, the CO2 and CH4 adsorption fronts reach the outlet of the column after approximately 18 min and 6 min, respectively.
The adsorption capacities of CO2 and CH4 of the produced activated carbon are estimated to be 1.86 and 0.52 mol/kg, respectively, at 30 °C and 1 bar.
The collected preliminary data report that the synthesized CNS-adsorbent shows suitable characteristics for the CO2/CH4 separation.
Author Contributions
A.A. conducted the experimental work with the assistance of N.Q. in the sample preparation and characterization and I.D. and N.Á.-G. in the fixed-bed experiments and data processing. C.P. and M.H.C. supervised the work. All authors contributed to the writing and/or revision of the paper.
Funding
This research was funded by The Tunisian Ministry of Higher Education and Scientific Research.
Conflicts of Interest
The authors declare no conflicts of interest.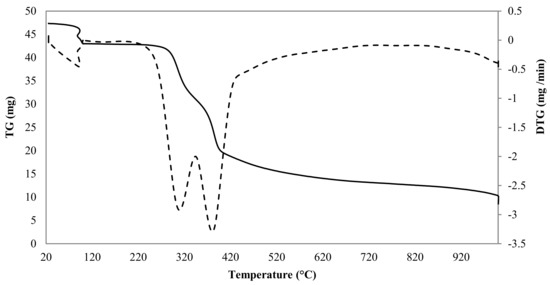 Figure 1. Mass loss and rate of mass loss profiles for CNS. The solid line corresponds to the thermogravimetric (TG) curve and the dashed line represents the derivative of the curve (DTG).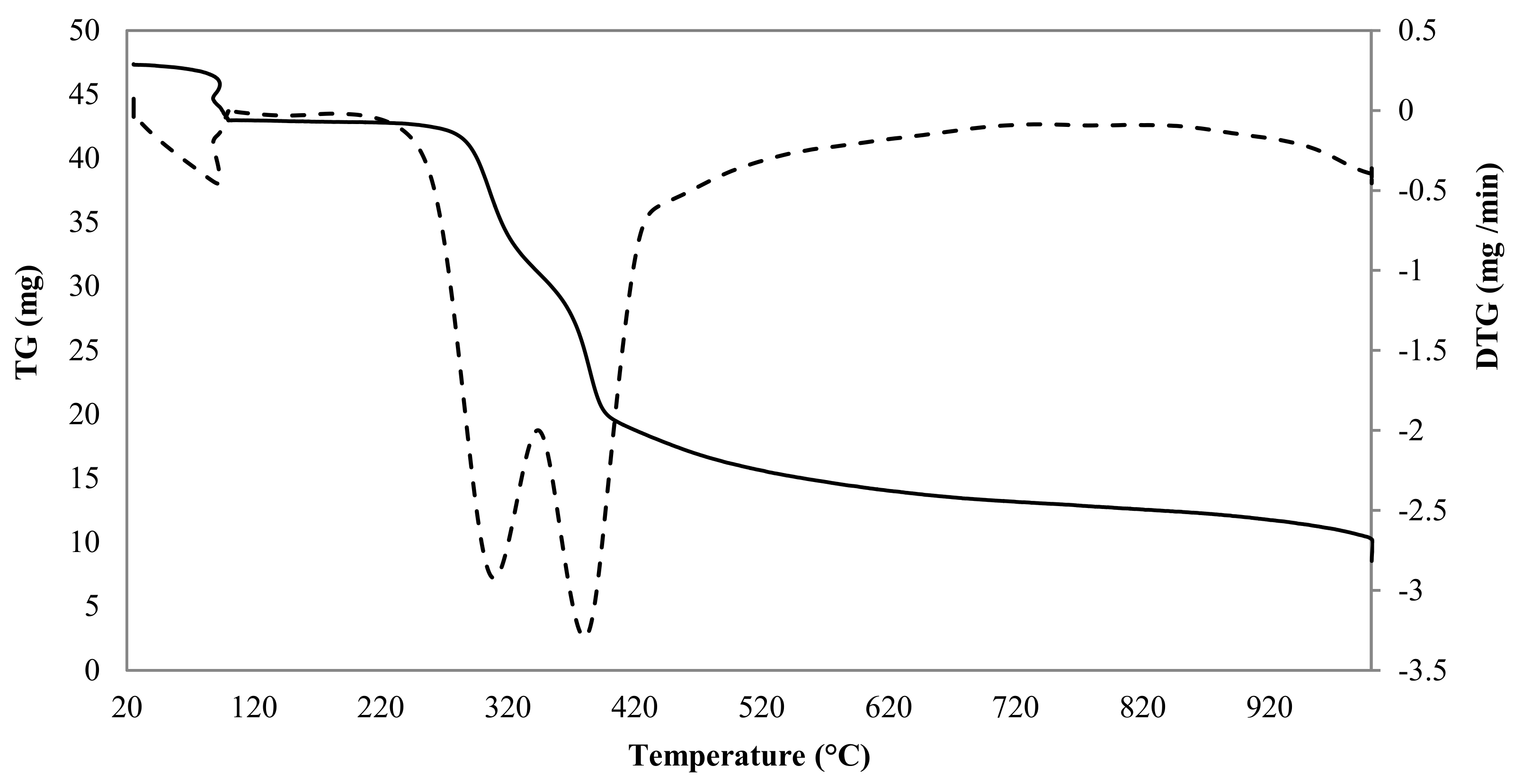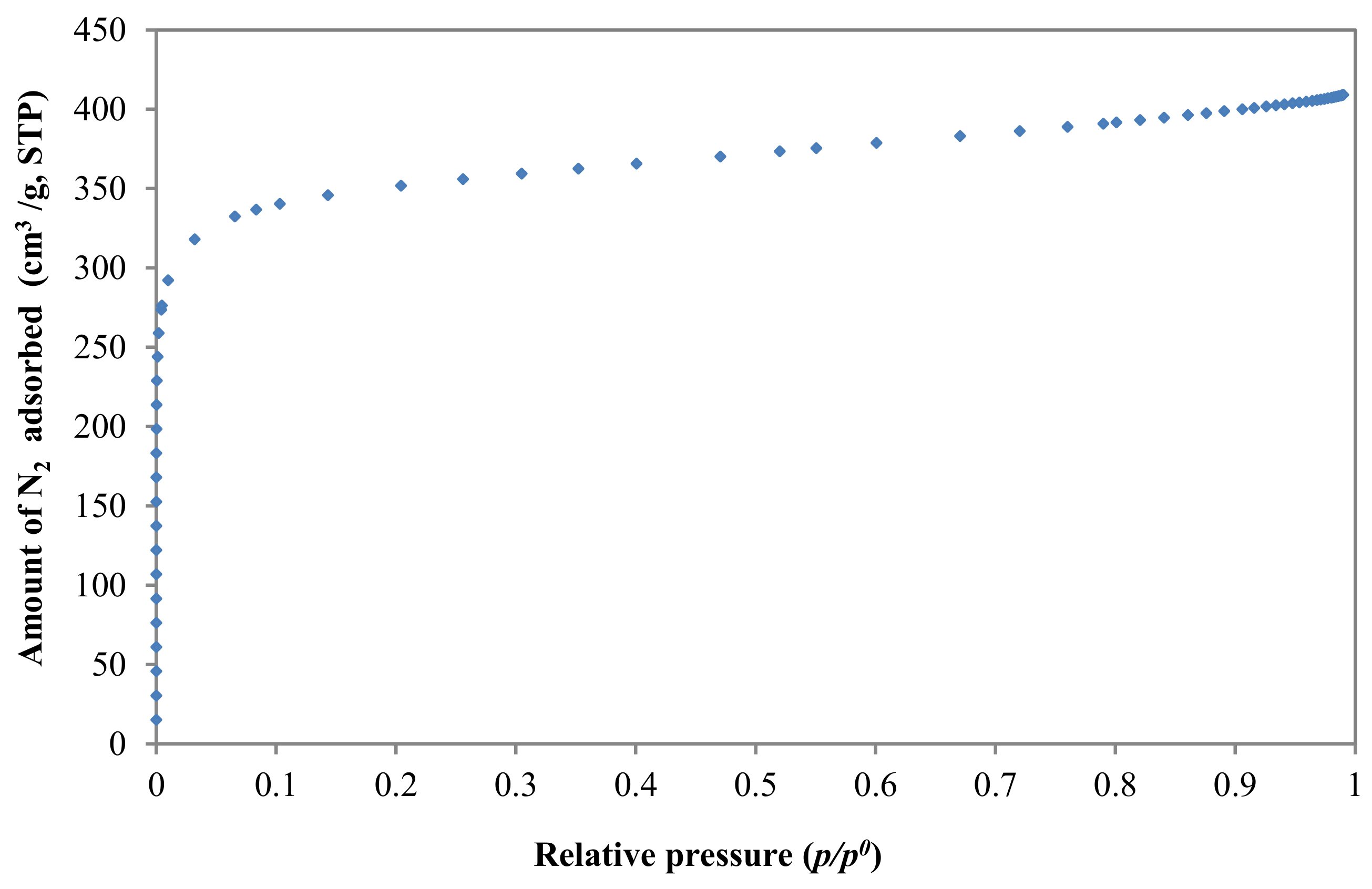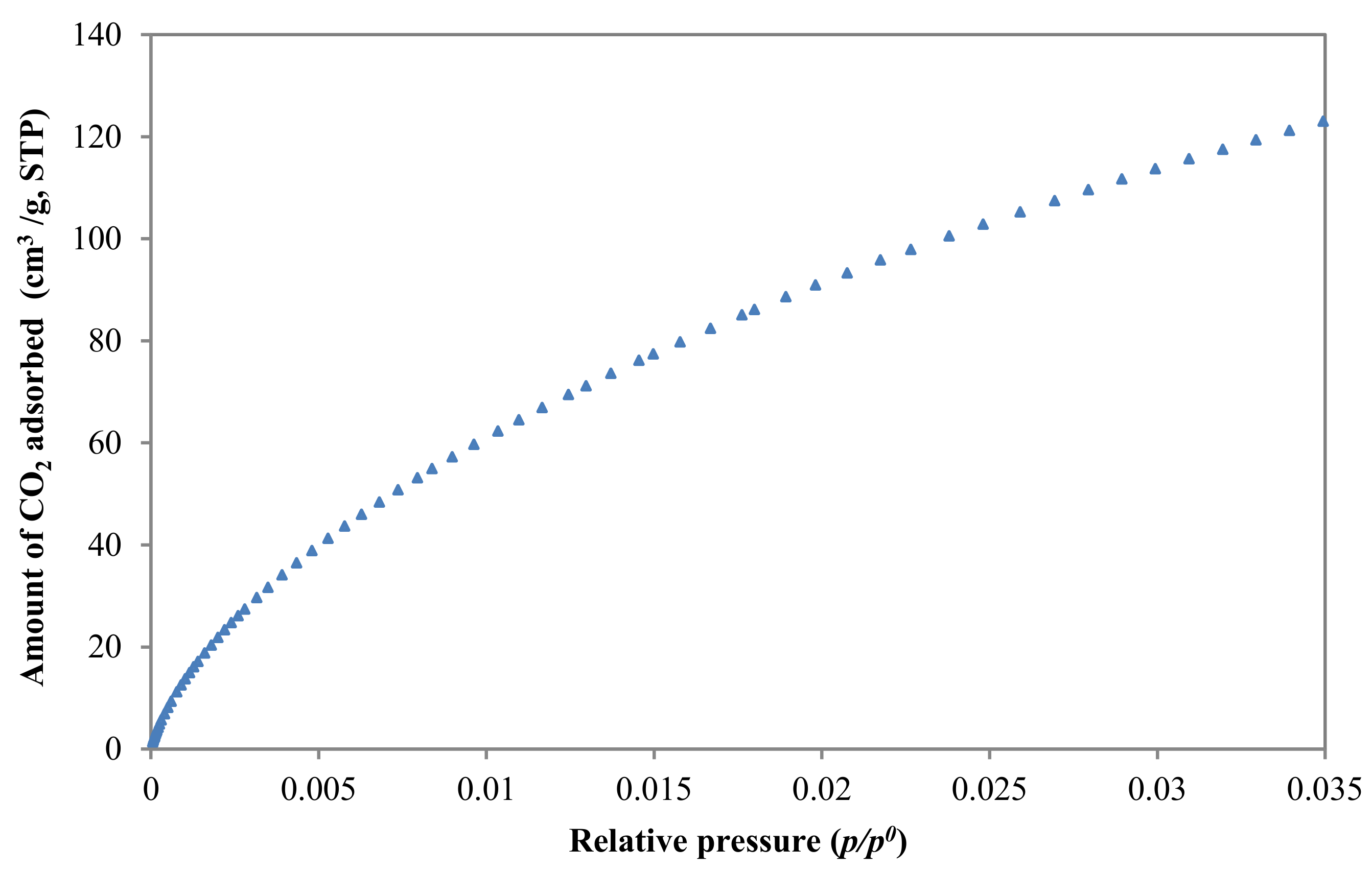 Figure 4. CH4 isotherm at different temperatures (dashed line with symbols for Sips, Dual-Site Langmuir and Toth models predictions and symbols for experimental data).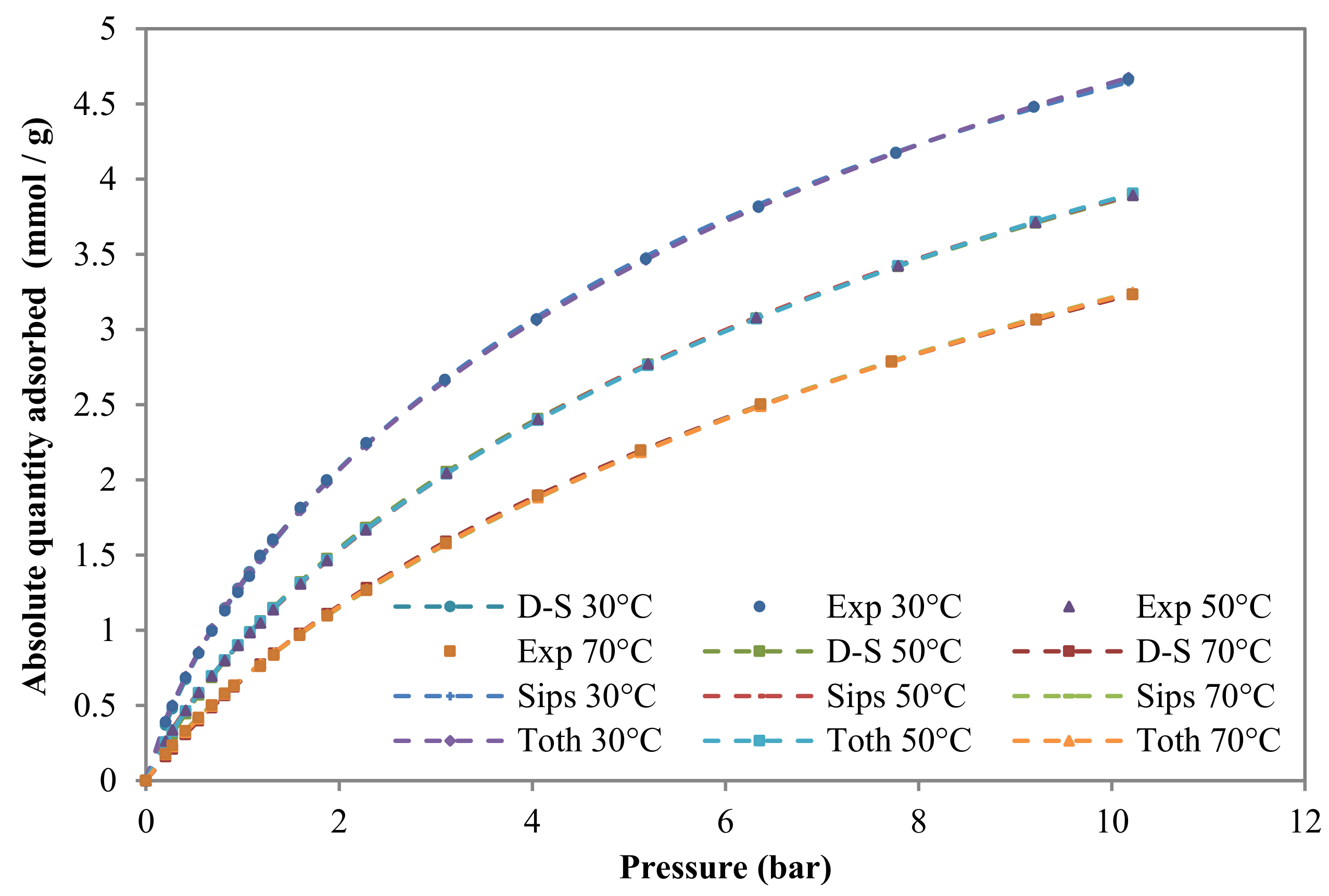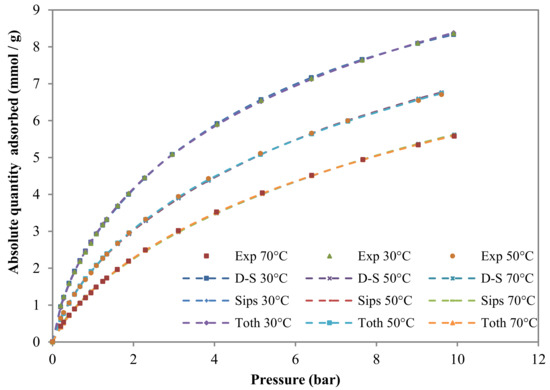 Figure 5. CO2 isotherm at different temperatures (dashed line with symbols for Sips, Dual-Site Langmuir and Toth models fitting and symbols for experimental results).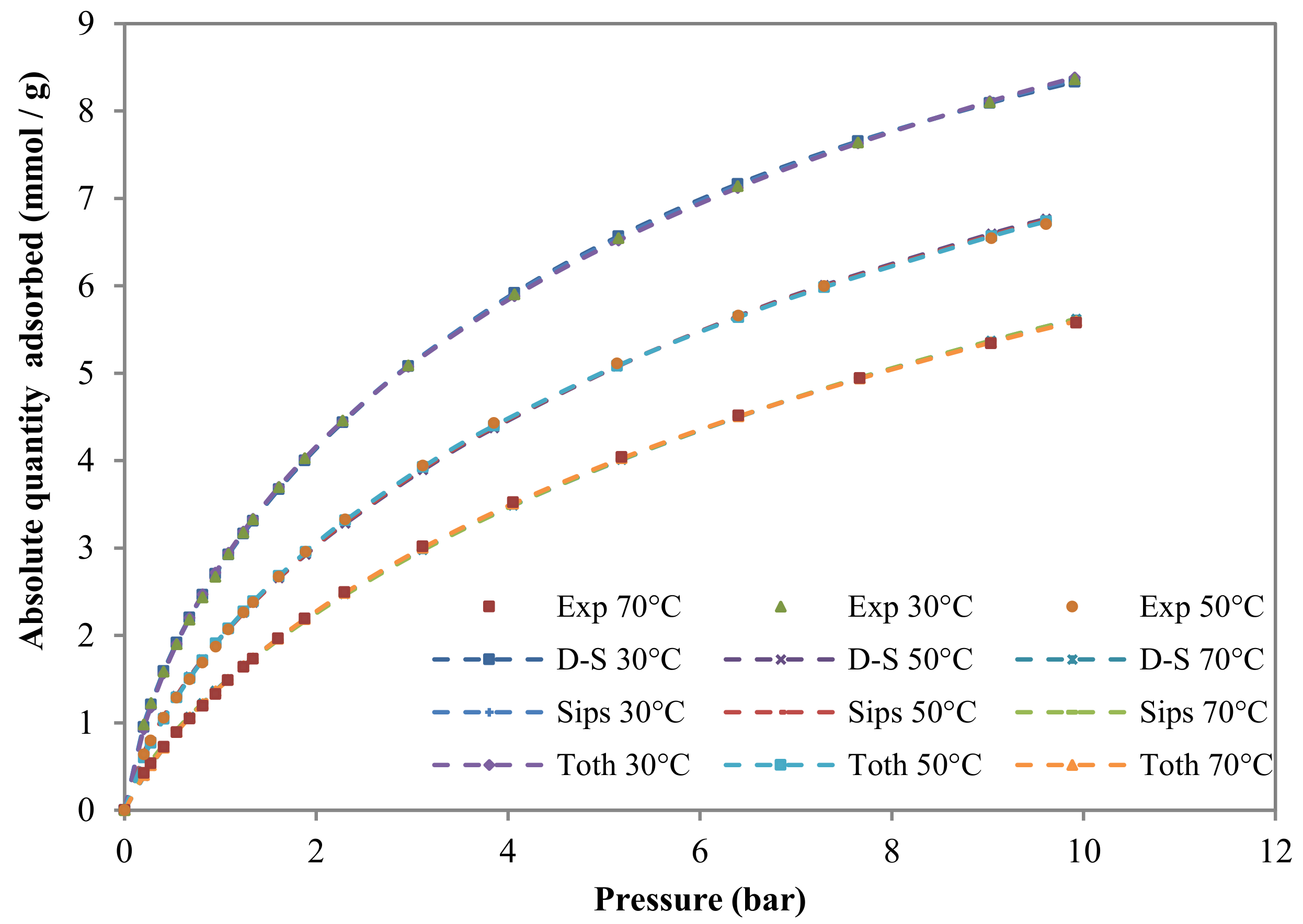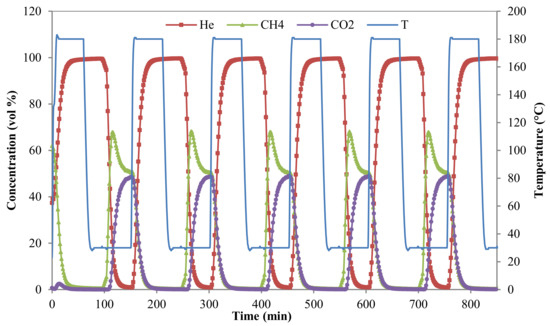 Figure 6. Breakthrough experiments composed of six successive sorption cycles for an equimolar CO2/CH4 gas mixture at 1 bar. (Solid lines with symbols represent the concentration profiles of CH4, CO2 and He. The blue solid line represents the temperature).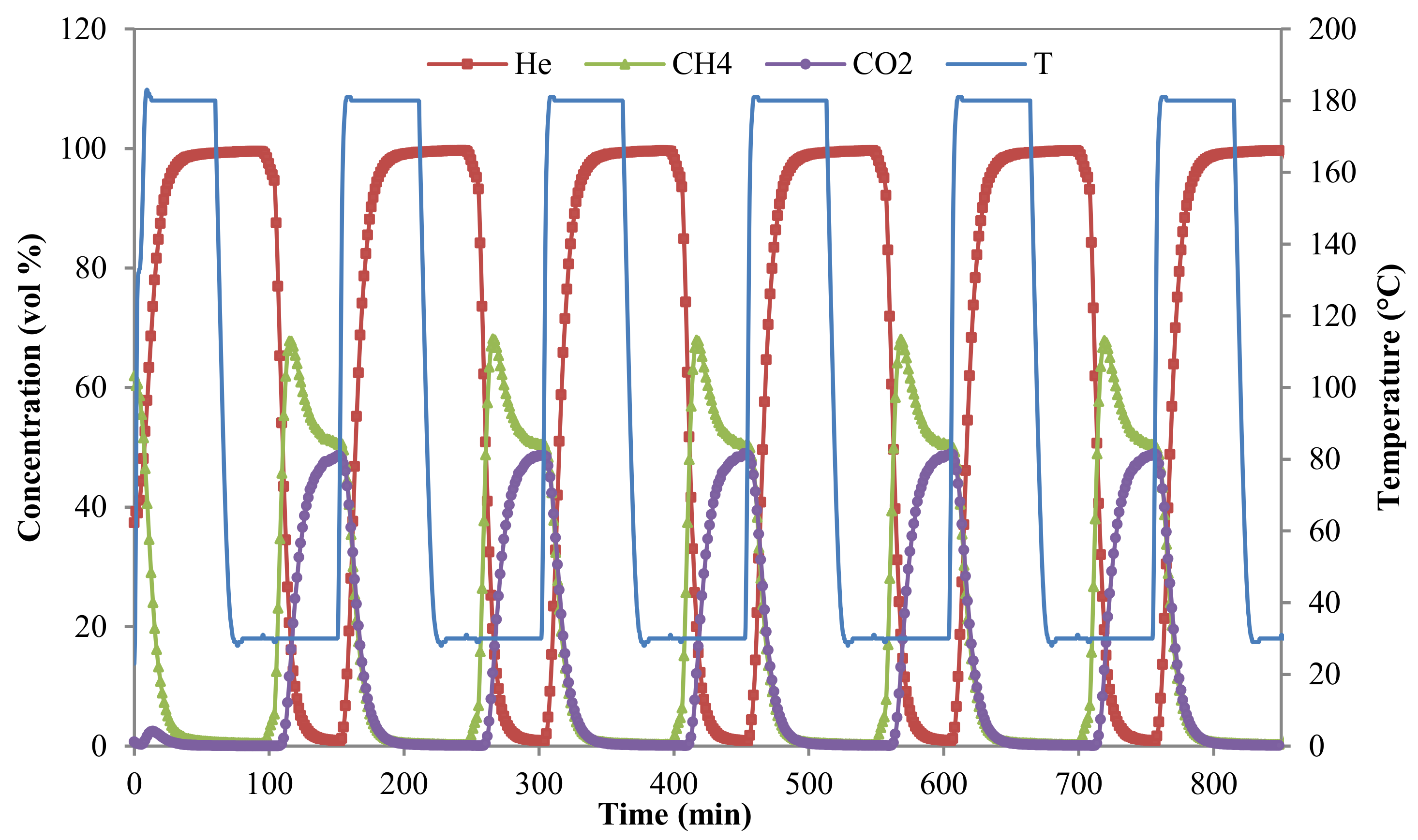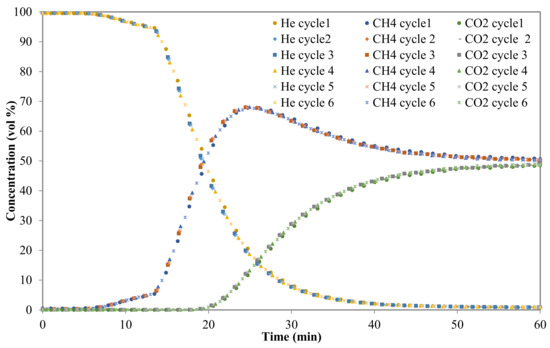 Figure 7. Breakthrough curves for a 50/50 vol % CO2/CH4 binary gas mixture at 1 bar. (Symbols represent CO2 and CH4 concentrations for different cycles).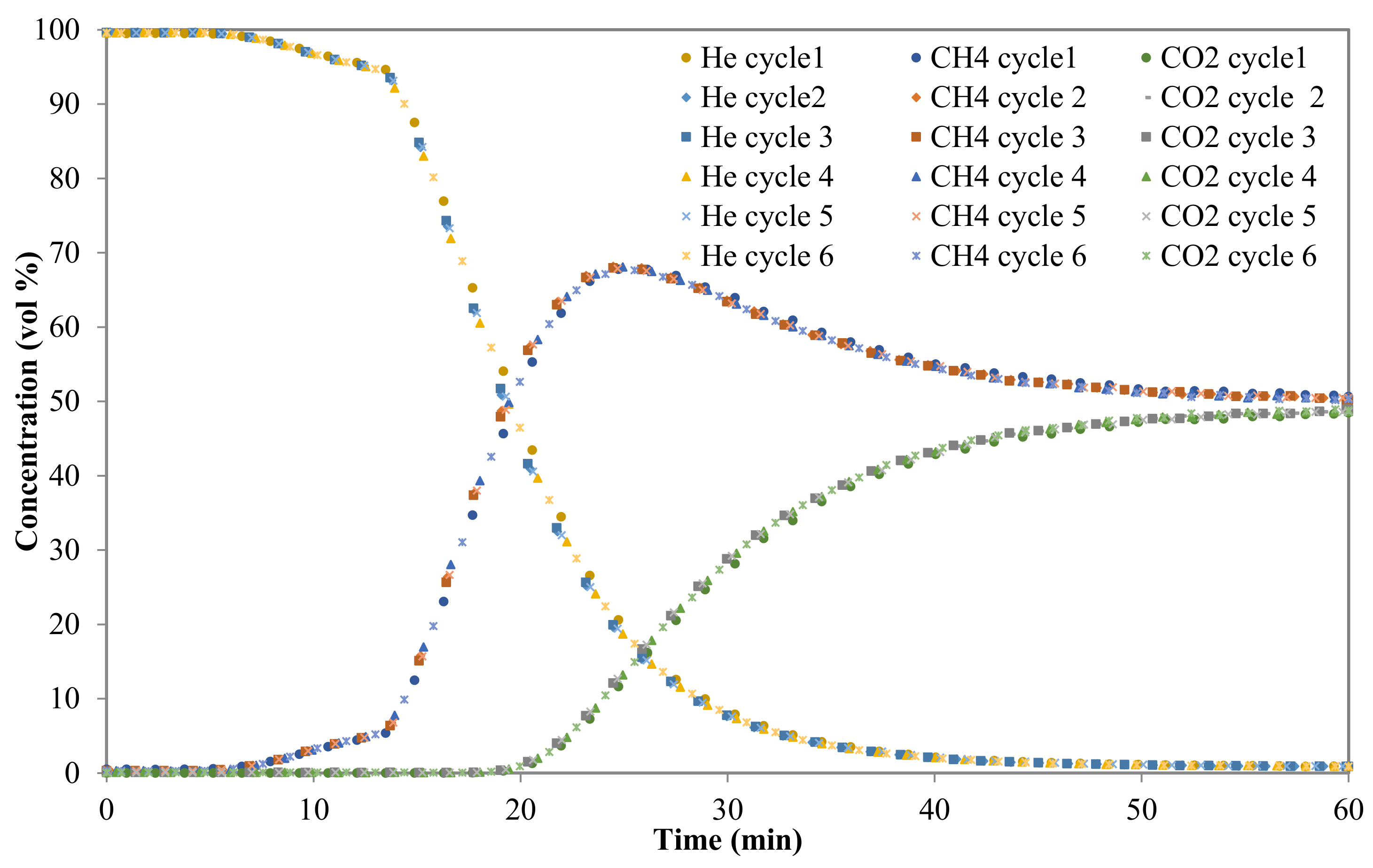 Proximate Analysis (wt.%)
Ultimate Analysis (wt.%, daf)
Sample
Moisture
Ash (db)
C
H
N
S
O
CNS
12.55
0.42
51.6
5.6
0.1
0
42.7
db: dry basis; daf: dry ash free basis.
Adsorbate
Vp (cm3/g)
SBET (m2/g)
Dubinin

n

Smic (m2/g)
L0 (nm)
E0 (kJ/mol)

W

0 (cm3/g)
N2
0.63
1378
2
1043
1.04
21.76
0.54
CO2
-
-
1.77
1126
0.84
24.22
0.47

Table 3. Sips, Dual-Site Langmuir, and Toth-fitting parameters models to CO2 and CH4 pure component adsorption isotherms for the CNS-activated carbon.
Model
Component

T

(°C)
qs1, qs2, qs and qs*(mol/kg)

b

1,

b

2,

b

and

b

*(kPa)

n

(Sips)

t

(Toth)

*
SSR (%)
Dual-site
CH4
30
1.00
6.63
0.0137
-
-
0.04
0.0012
50
0.0078
-
-
0.0008
70
0.0049
-
-
0.0006
CO2
30
1.86
10.50
0.0235
-
-
0.20
0.0017
50
0.0133
-
-
0.0010
70
0.0078
-
-
0.0006
Sips
CH4
30
8.32
0.0013
1.21
0.25
0.03
50
0.0008
1.20
70
0.0006
1.18
CO2
30
14.25
0.0016
1.30
0.22
0.12
50
0.0009
1.31
70
0.0006
1.29
Toth
CH4
30
11.64
0.0022
0.54
0.21
0.03
50
0.0013
0.56
70
0.0008
0.57
CO2
30
20.73
0.0039
0.47
0.12
0.13
50
0.0022
0.47
70
0.0013
0.48

© 2018 by the authors. Licensee MDPI, Basel, Switzerland. This article is an open access article distributed under the terms and conditions of the Creative Commons Attribution (CC BY) license (http://creativecommons.org/licenses/by/4.0/).