Modelling and Experimental Analysis of a Polymer Electrolyte Membrane Water Electrolysis Cell at Different Operating Temperatures
1
Department of Energy Technology, Aalborg University, 9220 Aalborg, Denmark
2
Department of Engineering, Universitá degli Studi di Perugia, 06125 Perugia PG, Italy
*
Author to whom correspondence should be addressed.
Received: 23 October 2018 / Revised: 12 November 2018 / Accepted: 20 November 2018 / Published: 23 November 2018
Abstract
In this paper, a simplified model of a Polymer Electrolyte Membrane (PEM) water electrolysis cell is presented and compared with experimental data at 60 °C and 80 °C. The model utilizes the same modelling approach used in previous work where the electrolyzer cell is divided in four subsections: cathode, anode, membrane and voltage. The model of the electrodes includes key electrochemical reactions and gas transport mechanism (i.e.,
H
2
,
O
2
and
H
2
O
) whereas the model of the membrane includes physical mechanisms such as water diffusion, electro osmotic drag and hydraulic pressure. Voltage was modelled including main overpotentials (i.e., activation, ohmic, concentration). First and second law efficiencies were defined. Key empirical parameters depending on temperature were identified in the activation and ohmic overpotentials. The electrodes reference exchange current densities and change transfer coefficients were related to activation overpotentials whereas hydrogen ion diffusion to Ohmic overvoltages. These model parameters were empirically fitted so that polarization curve obtained by the model predicted well the voltage at different current found by the experimental results. Finally, from the efficiency calculation, it was shown that at low current densities the electrolyzer cell absorbs heat from the surroundings. The model is not able to describe the transients involved during the cell electrochemical reactions, however these processes are assumed relatively fast. For this reason, the model can be implemented in system dynamic modelling for hydrogen production and storage where components dynamic is generally slower compared to the cell electrochemical reactions dynamics.
View Full-Text
►

▼

Figures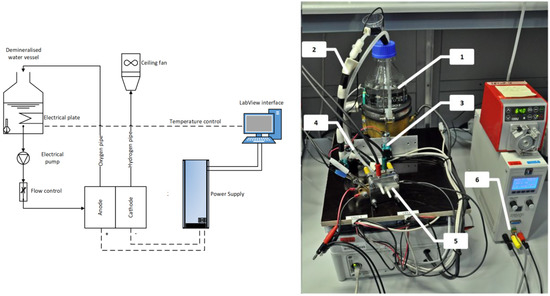 Figure 1
This is an open access article distributed under the
Creative Commons Attribution License
which permits unrestricted use, distribution, and reproduction in any medium, provided the original work is properly cited (CC BY 4.0).

Share & Cite This Article
MDPI and ACS Style
Liso, V.; Savoia, G.; Araya, S.S.; Cinti, G.; Kær, S.K. Modelling and Experimental Analysis of a Polymer Electrolyte Membrane Water Electrolysis Cell at Different Operating Temperatures. Energies 2018, 11, 3273.
Note that from the first issue of 2016, MDPI journals use article numbers instead of page numbers. See further details here.
Related Articles
Comments
[Return to top]