Coupled Thermo-Hydro-Mechanical-Chemical Modeling of Water Leak-Off Process during Hydraulic Fracturing in Shale Gas Reservoirs
Department of Petroleum Engineering, China University of Petroleum, Beijing 102200, China
*
Author to whom correspondence should be addressed.
Received: 9 September 2017 / Revised: 20 November 2017 / Accepted: 21 November 2017 / Published: 24 November 2017
Abstract
The water leak-off during hydraulic fracturing in shale gas reservoirs is a complicated transport behavior involving thermal (T), hydrodynamic (H), mechanical (M) and chemical (C) processes. Although many leak-off models have been published, none of the models fully coupled the transient fluid flow modeling with heat transfer, chemical-potential equilibrium and natural-fracture dilation phenomena. In this paper, a coupled thermo-hydro-mechanical-chemical (THMC) model based on non-equilibrium thermodynamics, hydrodynamics, thermo-poroelastic rock mechanics, and non-isothermal chemical-potential equations is presented to simulate the water leak-off process in shale gas reservoirs. The THMC model takes into account a triple-porosity medium, which includes hydraulic fractures, natural fractures and shale matrix. The leak-off simulation with the THMC model involves all the important processes in this triple-porosity medium, including: (1) water transport driven by hydraulic, capillary, chemical and thermal osmotic convections; (2) gas transport induced by both hydraulic pressure driven convection and adsorption; (3) heat transport driven by thermal convection and conduction; and (4) natural-fracture dilation considered as a thermo-poroelastic rock deformation. The fluid and heat transport, coupled with rock deformation, are described by a set of partial differential equations resulting from the conservation of mass, momentum, and energy. The semi-implicit finite-difference algorithm is proposed to solve these equations. The evolution of pressure, temperature, saturation and salinity profiles of hydraulic fractures, natural fractures and matrix is calculated, revealing the multi-field coupled water leak-off process in shale gas reservoirs. The influences of hydraulic pressure, natural-fracture dilation, chemical osmosis and thermal osmosis on water leak-off are investigated. Results from this study are expected to provide a better understanding of the predominant leak-off mechanisms for slickwater fracturing-fluids in hydraulically fractured shale gas reservoirs.
View Full-Text
►

▼

Figures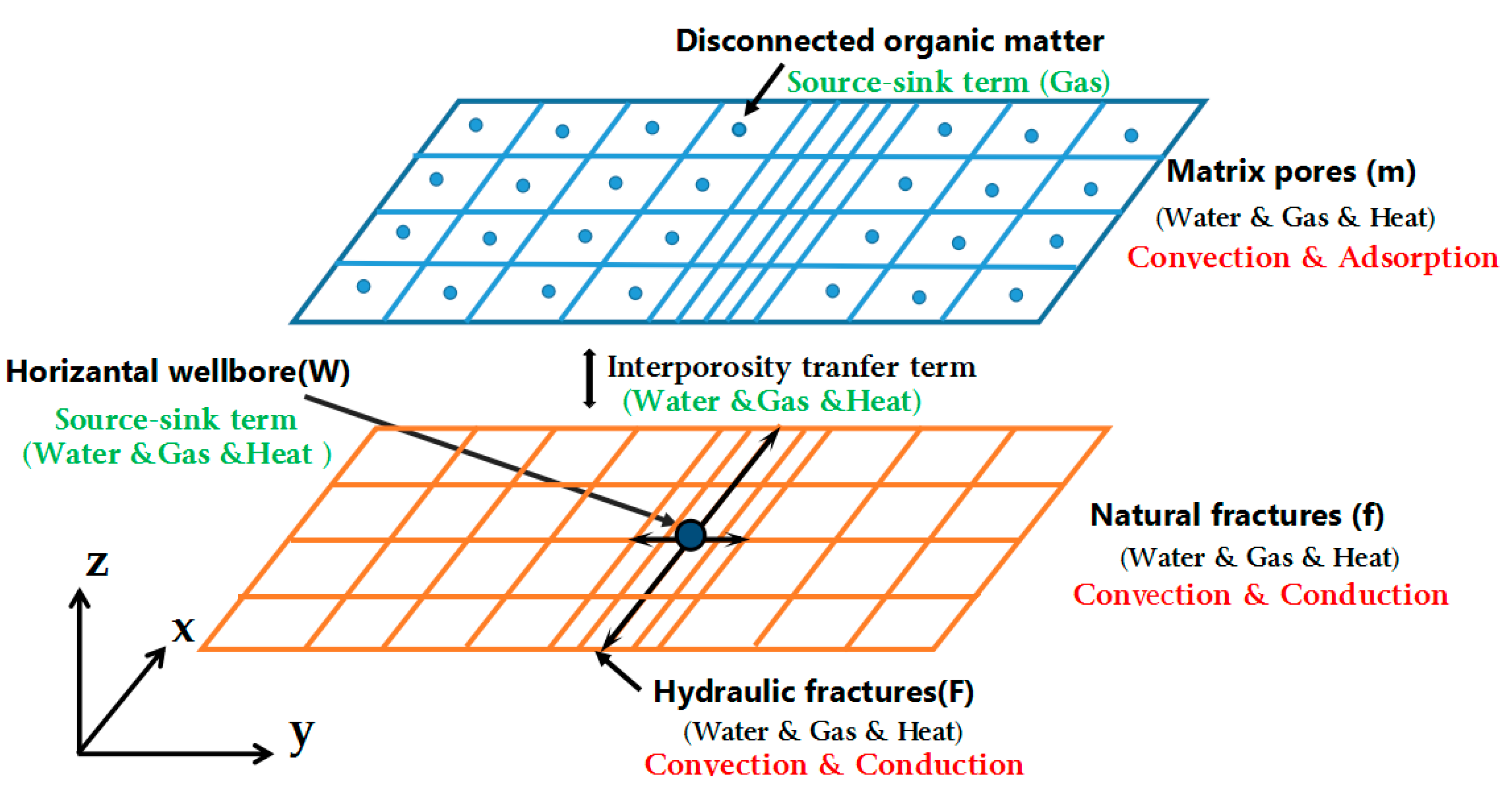 Figure 1
This is an open access article distributed under the
Creative Commons Attribution License
which permits unrestricted use, distribution, and reproduction in any medium, provided the original work is properly cited (CC BY 4.0).

Share & Cite This Article
MDPI and ACS Style
Wang, F.; Li, B.; Zhang, Y.; Zhang, S. Coupled Thermo-Hydro-Mechanical-Chemical Modeling of Water Leak-Off Process during Hydraulic Fracturing in Shale Gas Reservoirs. Energies 2017, 10, 1960.
Note that from the first issue of 2016, MDPI journals use article numbers instead of page numbers. See further details here.
Related Articles
Comments
[Return to top]