Open Access This article is
freely available
re-usable
Article
The Wolf and the Caribou: Coexistence of Decentralized Economies and Competitive Markets
1
Head of Technology, TCS Blockchain, Tata Consultancy Services LLC, 101 Park Avenue, New York, NY 10178, USA
2
TCS Blockchain, Tata Consultancy Services LLC, 101 Park Avenue, New York, NY 10178, USA
*
Author to whom correspondence should be addressed.
Received: 31 March 2018 / Accepted: 16 May 2018 / Published: 23 May 2018
Abstract
:
Starting with BitTorrent and then Bitcoin, decentralized technologies have been on the rise over the last 15+ years, gaining significant momentum in the last 2+ years with the advent of platform ecosystems such as the Blockchain platform Ethereum. New projects have evolved from decentralized games to marketplaces to open funding models to decentralized autonomous organizations. The hype around cryptocurrency and the valuation of innovative projects drove the market cap of cryptocurrencies to over a trillion dollars at one point in 2017. These high valued technologies are now enabling something new: globally scaled and decentralized business models. Despite their valuation and the hype, these new business ecosystems are frail. This is not only because the underlying technology is rapidly evolving, but also because competitive markets see a profit opportunity in exponential cryptocurrency returns. This extracts value from these ecosystems, which could lead to their collapse, if unchecked. In this paper, we explore novel ways for decentralized economies to protect themselves from, and coexist with, competitive markets at a global scale utilizing decentralized technologies such as Blockchain.
Keywords:
Blockchain; cryptocurrency; decentralization; ecosystems; game theory
1. Introduction
We live in a fascinating time in human history. Humanity is rapidly approaching a "Singularity" as Ray Kurzweil put it in his book "The Singularity is Near" (
Kurzweil 2005
), referencing the point in human history when artificial intelligence agents will be more intelligent than the entire human race. This "Singularity" is driven by the exponential nature of Moore's Law in the underlying technologies such as Big Data, Cloud, IoT, and Social Media. As these technologies rapidly connect more and more people globally, humanity is also evolving as new needs drive new technologies to fulfill those needs (
Beck et al. 2018
). Today's hyperconnectedness exposes both belief and need dichotomies, "Us" vs. "Other", of billions of people at a global scale in real time, and, therefore, also our subconscious reactions to the "Other" that have been shaped by millions of years of evolutionary development. This global real time phenomenon is leading to greater, deeper, and more extensive conflicts globally from the Global Financial Crisis to the Arab Spring to Global Warming to the rise of global extremist terrorism and local armed conflicts. This in turn leads to rising global anxiety, disenfranchisement, and anger with an intensifying deep mistrust in traditional, centralized trust structures such as government at all levels, global companies, and even NGOs. As a consequence, humanity has started to search for both technological and organizational solutions also at a global scale and in real time. This has given rise over the last nearly 20 years to an entirely new class of technologies and organizational structures such as Bittorrent, Bitcoin, Ethereum, IPFS, and IOTA etc., with a combined valuation of roughly $1Tn today, and peer to peer (p2p) business models such as Sensorica, Teambrella, Backfeed, the DAO, Augur and purpose driven social networks, most importantly the decentralized organizational structure of the Arab Spring in 2011. Because centralized entities commonly fail to address current global problems, this class of technologies and organizations abandons the primacy of centralization that focuses solely on the self, or "I". This psychological "I" focus has been the predominant paradigm of both society and technology since the dawn of time due to our physiological limitation to maintain very large numbers of trust relationships (
Dunbar 1992
). These technologies and organizations put decentralization at the center, where the psychological focus on "We" manifests as a global tribe that trusts one another, is mutually supportive, collaborative, and sustainable (
Beck et al. 2018
). This is a fundamental psychological paradigm shift that has never happened before in human history (
Kish n.d.
). This is yet another, and in fact, fundamental belief dichotomy that seems to be irreconcilable, promising more and even deeper conflict between "I" and "We" organizations.
While not claiming to have resolved the basic dichotomy, in this paper, the authors propose novel ways how decentralized, collaborative organizational structures can coexist and thrive with the current predominant centralized organizational structures without being destroyed. We will first briefly document the rise of decentralized socioeconomic models to help the reader understand the predecessors of these relatively new types of models, then detail the main differences between decentralized socioeconomic and competitive markets to highlight expected behavior when the two types of markets interact. The market comparison section also includes a recommended construct for decentralized socioeconomic models, characterized as a three zone model embodying specific protective design considerations. We detail the types of value extraction attacks to be expected from the coexistence of decentralized socioeconomic and competitive organizations, and mention the role of market interfaces in the proliferation of the former. Then, using case studies, we illustrate ways that these two models currently interact, and finally make several proposals that can be employed to protect decentralized economies from extractive market forces
1
while enabling a mutually beneficial coexistence.
Methodology
The methodology used to construct the three zoned model was based on empirical evidence of case studies and additional commons based organizations in operation, studies related to behavioral economics, and logical arguments based on game theory. The four proposals were developed using empirical evidence and articles related to Blockchain technology and decentralized governance, open value accounting and theories of value, as well as monetary and fiscal policy. Attack mitigation considerations were largely based on empirical evidence of cryptocurrencies, cryptography, security proofs of consensus algorithms, and logical arguments based on game theory.
2. The Rise of Decentralized Socioeconomic Models
3. Decentralized Socioeconomic vs. Competitive Markets
Decentralized socioeconomic markets and competitive markets are already coexisting, shown in
Figure 1
with a cluster of organizations founded around 2010. Through the market comparison and subsequent behavioral discussion analysis below, we will discuss why competitive organizations would be expected to pose a systematic threat to decentralized socioeconomic markets.
If the characteristics of competitive organizations endanger the success of the newer decentralized socioeconomic models, we would only expect three outcomes. One, decentralized socioeconomic models become the new standard and competitive ones disappear, two, we design organizations within these new markets that can coexist with the natural tendencies of competitive ones, or three, decentralized economies either disappear or, at least, never gain any further prominence than now. If we assume decentralized socioeconomic models will proliferate, then the second option seems most realistic, and would be a necessary step to get to one, making it the critical situation to consider. We, therefore, start by explaining a general construct for building resilient decentralized socioeconomic models, then later offer four additional proposals specifically related to developing market interfaces and also internal market operations, which will allow decentralized socioeconomic markets to safely interact and coexist with competitive ones.
3.1. Decentralized Socioeconomic Markets Definition and Description
Based on available research, decentralized socioeconomic models, also often referred to as a Decentralized Autonomous Organization (DAO) or Commons
6
structure typically have three main components (
Giotitsas and Ramos 2017
;
Filippi et al. 2007
):
Entrepreneurial Common (EC): An EC is the commercial interface with external ecosystems and gives funds it raised from selling goods and services or other activities such as investments in other ecosystems in the form of tokens to the For-Benefit Common (FBC) and receives goods & services to market and sell from the Production Common (PC) in return. This requires exchange between an EC token and Fiat and a PC token that is governed by the FBC. Tokens generally represent a unit of value as defined by the participants of a DAO, and there may be many tokens within a DAO. In addition, the EC is responsible for financial and monetary policy in the DAO since issuing a token is effectively creating a currency with all the accompanying complexities. We will discuss this in more detail when we discuss our proposals for the coexistence of decentralized economies and competitive markets;

Production Common (PC): A p2p group that produces goods and services collaboratively based on the purpose of the ecosystem as established in the FBC. A participant's contributions are valued in PC tokens which can be exchanged to EC tokens or other tokens through an exchange utility, as detailed out in one of our four proposals below. Assets created in this common are held in common by the FBC with claims rights by the contributors based on their value contribution to the asset in order to enable a fair sharing of value generated both commercially and through reputation;

For-Benefit Common (FBC): The FBC is the governance common that is responsible for setting the DAO vision and impact goals, sets consensus rules and incentives for the DAO commons, sets the exchange rules for the EC and PC Tokens within the commons and externally to other ecosystem tokens and fiat, sets the ownership/membership and sharing rules for the DAO commons, defines and enforces reputation also in relation to non-DAO reputation measurement and management models, sets collaboration and giving rules with internal and external entities, and acts as the interface to not-for-benefit entities etc.
This three-zone model is designed to
Insulate the economically vulnerable FBC and PC from extractive external markets through the EC commons by limiting token exchanges between the common markets that have direct interfaces to competitive markets.

Enable social impact results through the FBC without a strong dependency on market results. The FBC decides the use of funds coming from the EC. As a result it is independent of "shareholder value" as defined by external and extractive markets; therefore it is accountable to the PC and EC participants.

Allows the EC to focus on raising funds for both the FBC and PC either through selling products and services or raising funds for future products and services and social impact efforts.

Enables the PC to focus on core competencies to create new products and services aligned with the overall DAO values independent of the EC.
It is worth noting that decentralized economies as described above typically have three characteristics in common (
Commons Transition Primer 2018
,
Commons-Based Peer Production Directory 2018
,
Giotitsas and Ramos 2017
):
Open Value Accounting: An accounting system that allows one to record not only tangible assets and assess their value in a unit of value measure, but also to record tangible and intangible value contributions from participants to an asset and subsequent value translation into a unit of value measure such as a token in a decentralized socioeconomic model;

Decentralized Commons Market: A decentralized marketplace for the free exchange of assets and services governed by business rules established by a governing commons through participant consensus. The decentralized marketplace is transparent and has verifiable and marketplace transactions. In order to motivate participation in a decentralized commons market (DCM), a DCM has an incentive model for both tangible and intangible value contributions and open asset ownership representation through a set of defined unit of value measures such as tokens. The rules for DAO membership and voting are normally based on consensus processes;

DCM Reciprocity:

Reciprocity in this context means that the return on investment beyond a certain value

7

is capped but not frozen by requiring reciprocity contributions to the DCM in the form of tangible or intangible value contributions that equal or exceed returns. Example: For a return of a 100 token investment in a DCM asset beyond say 10 tokens, an actor needs to make a value contribution after applying an exchange rate of token to utility token quantifiably equivalent to 1 utility or 1 reputation token for every token earned beyond 10 tokens.
As we will see below, this is in stark contrast to competitive markets.
Central to making the three zoned model operate is effective governance. There is an evolving literature on the governance of decentralized markets discussing issues and challenges creating inefficiencies and potentially additional costs as well as benefits and efficiencies. We will briefly discuss some recent findings but not go into extensive details on governance as this is beyond the scope of this paper or not directly applicable. For the interested reader we mention that (
Freund 2018
) has extensive discussion on Blockchain supported DAO governance and its processes based on recent behavioral psychology findings and game theoretic considerations around incentives and consensus algorithms:
The legal and regulatory questions arising around decentralized economies need to be considered such that people have enough confidence in their legitimacy to adopt them (
Poon 2011
). Some considerations include:
What are the legal forms that DAOs can take?

Do DAOs have to be incorporated?

How do you establish legal recourse?

How is ownership established, if at all?

When are tokens securities vs. currencies vs. commodities vs. …?

How can DAOs account for different legal and regulatory boundary conditions in different jurisdictions while maintaining, potentially global rules and processes?
and they have very significant effects on the operations of a DAO.
In the following, we will briefly touch on some of the most important ones without claim to legal authority and given the different meaning of legal terms such as legal entity, recourse, ownership, guardianship etc., we will focus on more general legal characteristics
8
. A good introduction and framework can be found in (
Mueller 2018
):
Legal Forms and Incorporation:

Entity to entity business relationships are governed by jurisdictional specific laws and regulations. Generally speaking, a DAO that wishes to interact or do business with a traditional company will require a legal, non-person entity

9

to be established in the jurisdiction in question, otherwise the traditional business will not do business with the DAO, at least for higher value or higher risk business transactions. The legal entity might take the form of a non-profit or for-profit entity and it might or might not exploit particulars of applicable jurisdictional law as for example cleverly done so in (

Sundell 2017

). The same holds true for intra DAO value exchanges and transactions if legal, non-person entities are DAO members. However, value exchanges within a DAO or between DAOs (excluding any of their legal entities) do not require legal, non-person entities and are perfectly in line with jurisdictional law as long as those transactions are done between legal persons and adhere to the jurisdictional laws governing legal persons;

Legal Recourse: Legal recourse is one of the most important tenets in the current centralized economic model with the current, centralized legal system taking on the role as final arbiter. However, with decentralized economic models, there is typically a priori no centralized arbiter function, but rather a decentralized one based on consensus. In fact, this is not too dissimilar to a jury system except that the legal constructs wrapped around a jury are centralized structures. Therefore, legal recourse in a decentralized economic model takes on an even larger role given that there might not be a legal entity to sue or if there is, they might not hold any liabilities to a product or service in certain cases as opens source software under the Apache 2.0 license. That means, if an event occurs that causes a socioeconomic imbalance in the DAO, there have to be well defined rights of DAO participants to the DAO's underlying assets in all three of its components. Note, that a participant might have recourse rights against one, two, or all three of the DAO structures. Those are rights that should be enforceable programmatically, if certain predefined conditions are verifiably met. This is important since the exact expression of legal recourse varies by jurisdiction, yielding sole reliance on court systems too slow, inefficient, and open to manipulation to be useful for a DAO. The exact details of such an internal legal recourse as well as of external legal recourse are based on the jurisdictions a DAO operates in, and are determined by the governance common, the FBC, through consensus processes. Consensus proposals need to be agreed to by the PC and EC through commons specific consensus processes, as there cannot be unilateral action in this construct. Given the potential scale of a DAO, consensus and incentives take on great importance given the legal recourse requirements. Therefore, a careful definition of the rights and warrants of participants to the underlying tokens representing asset rights for each of the three commons of the DAO becomes imperative and independent if these assets are digital or analog. In addition, there needs to be a careful definition of cascading rights. To make this very important point more concrete, let us consider the following situation: Actor A holds EC tokens that were acquired through an exchange functionality in an environment for fiat currency as discussed in Proposal #4 below in detail. These EC tokens are subsequently exchanged with the PC for PC tokens through an exchange functionality in order for the PC to create a new good or service. The PC token represents an ownership right. The important question that needs to be answered is what type of ownership this token represents. It could be ownership of the underlying asset or the cash flow associated with that asset. If assets are to be freely used and shared throughout the PC, then the natural answer would be cash flow. If that is not the case, the answer probably would be an asset. Whatever the case, each product and service requires such a determination of ownership rights for contributors both financially and from an asset contribution point of view. This means that the DAO needs to create programmatic business logic representing the ownership rights decisions such that Actor A knows exactly what will happen to his contribution to the PC for a service or product, if a socioeconomic imbalance or dispute occurs. This example is relatively simple, however, for each contributor relationship within the ecosystem that the DAO spans, it is important to have this clarity of cascading legal recourse. A complex but very important task to define, agree upon by participants, and subsequently transform into computer code.

Ownership & Control:

○

Ownership:

When analyzed through the lens of a decentralized socioeconomic context we find two forms of ownership in decentralized economies:

▪

Self-Sovereign Ownership where ownership rights over an asset are entirely self-sovereign; i.e., "even if shared with others I can do with my ownership share as I please";

▪

Non-dominium ownership where assets are held in common within a DAO as a custodian and the rights governed by asset rules established by the DAO through consensus.

An interesting question in this regard is revoking ownership rights. In a decentralized economy revoking ownership rights should not even be possible. The question then is how can DAO entities that abuse ownership rights be effectively censured in order to ensure continued trust into the long term viability of a DAO? A possible answer is to not allow an entity to exercise their ownership rights. For example, leveraging publicly available lists, DAOs disallow interacting with blacklisted assets of DAO participants or the participants themselves. Other DAO participants ignoring such blacklisting can be equally censured since the asset can be tracked through functionality, provided transparency is established by using Blockchain technology. Of course, this discussion depends on courts recognizing Blockchain secured ownership of assets, at least if these assets are utilized outside a DAO.

○

Control: In contrast to ownership, control of an asset or an actor (guardianship) can be revoked (transparently on a Blockchain) through the owners of an asset or an actor him or herself at any point. Again, the legal discussion reduces to the question of legal sustainability of verifiable claims on a Blockchain in a court of law.

Tokens:

Generally speaking there are three types of tokens:

○

Native (Utility) Tokens

: Tokens representing transferable ecosystem value but do not confer any counterparty rights such as title except what the token holds itself. An example is Bitcoin or any other cryptocurrency

10

or access tokens to a service;

○

Counterparty Tokens: Confer a 3rd party counterparty right. For example, tokenized debt to a lender or the right to shares and shareholder rights aka an equity;

○

Ownership Tokens: Describes the rights of owners towards an asset such as title. There are no direct or indirect counterparty claim rights associated to such a token.
Given the regulatory inconsistencies globally, within nation states, and between federal regulatory agencies and state jurisdictions, decentralized market projects are starting to gravitate to the most permissive jurisdictions, such as Switzerland, Malta, Cyprus or other known tax havens that are now trying to attract cryptocurrency and token investors. In particular, the Initial Coin Offering (ICO) wave that has raised over $10Bn for projects since the beginning of 2017 (
ICOdata.io 2018
) has regulators worried about investor scams, which have already happened at significant scale; for example, a Q1 2018 $660M ICO pyramid scam in (
Coindesk 2018
). The challenge for regulators is that on the one hand they want to protect investors, on the other hand they do not want to stifle innovation. However, given the regulatory propensity for caution, and the sometimes conflicting signals that are being sent by for example the US Security and Exchange Commission, uncertainty reigns supreme and furthers the exodus of both money and talent to avoid the risk of being classified as a security. Not only because of the legal ramifications such as having broken securities law but also because security tokens cannot generate the network effects required for decentralized economies, adoption will suffer if you need a broker–dealer license and have to comply with significant regulatory reporting requirements to buy and sell goods and services with security tokens. A recent study into ICOs by Li et al. (
Li and Mann 2018
) develops a framework to discuss optimal regulation toward ICOs. The authors take an economic perspective, and ask if and when token sales are value-creating or value-destroying from a social welfare perspective. Two specific settings in which ICOs can create value are identified: First, when projects feature network effects—that is, the surplus realized by any user increases in the size of the total user base. Second, when projects feature the "wisdom of the crowd"—that is, private signals about project value that are dispersed among its potential users. It is interesting to see that the multistage launch recommendation of the authors and other governance recommendation aligns with the recommendation on the launch of a DAO, in fact any decentralized network, and identified DAO governance processes made in (
Freund 2018
).
In
Table 1
we give an example of the type of tokens that would be used in a three zone DAO model and how this avoids classification as a security token provided that the tokens were not used to generate financing to build the platform or DAO application layer itself:
After this more extensive elaboration on the constructs of decentralized socioeconomic models, we move on to the well-known competitive organizations, and the market characteristics of both.
3.2. Competitive Markets Definition and Description
Competitive models, by contrast, are assumed to be organizations with some form of shareholder who dictates the expectation of the business's outcomes in exchange for the risk they assumed by investing.
11
Business outcomes are driven by "value-creating" activities that enhance the competitive advantage of the organization. The organization is assumed to have a centralized governance structure where people in designated power positions define and enforce the rules within the firm. Assets and intellectual property created by employees are owned and held privately by the firm in an effort to maintain a competitive advantage over similar businesses. Finally, we assume that the firm values assets and exchanges in fiat currency.
3.3. Framework for Market Comparison
To compare the two markets resulting from decentralized socioeconomic and competitive models, we will use a simple framework of market characteristics:
Number and size of producing organizations with respect to the market size.

Barriers to entry of new firms, informed by the ratio of fixed to total cost and network effects.

Product differentiation and degree of information symmetry

12

.
3.4. Decentralized Socioeconomic Markets
The organizational structure for a model that creates a decentralized socioeconomic market has been detailed above in the three zone model. The salient attributes to note are that assets are held openly with no-cost access, and the community defines the model's purpose, means for exchange and governance, and there is a defined border with existing markets. Here are the characteristics of the market:
Number and size of producing organizations with respect to the market size:

In decentralized markets, there are a large number of producing organizations as the notion of a firm dissolves into project groups within a decentralized network of entities (people, organizations and, in the future, things). This can be viewed as similar to a chemical reactor. The entire model has a mixture of entities and assets interacting with one another governed by adjustable rules. To achieve the model's goal, entities and assets combine in projects, the "producing organizations," to deliver an outcome. Over time, the same entities may frequently work together, but they would not legally constitute a firm, but are rather a commonly occurring set of entities within many projects;

The market size is the number of participants potentially impacted by the decentralized model's purpose. We will explain in Proposal #2 below, the concept of open value accounting, but we can assume that the larger the impact of a decentralized model's purpose, the more members it will have. This is because participants in a decentralized model are compensated in proportion to their contributions when an asset is monetized or has proven impact. Therefore, the larger the purpose, the higher the chance of earning from an asset considering that the network effects of a large decentralized community increases the chance of innovation success and value generated (

Torrance and Tomlinson 2009

);

Since we assume that there is generally a constant optimal project size (

Blenko et al. 2010

), the ratio of the number of producing organizations per market opportunity is likely to be larger in a decentralized market comprised of short-term project teams than it would be in a competitive market where firms are the producing organization, almost always including more than one project group.

13

Barriers to entry of new producing organizations with respect to market size:

The barriers to entry for organizations providing commodities and services are low in these markets because assets are open and free for any member to use and build upon. For products that rely on network effects, like social media platforms or sharing economy services, the barrier to entry will be higher than commodity or service providers, but lower than the barriers to entry of competitive markets where network effects are built on top of proprietary platforms. Because the products that rely on network effects are open, incremental innovation can be implemented as an update, and come from any member of the decentralized model rather than just the platform founder as in the competitive market scenario with platforms like Facebook and Google;

Product differentiation and degree of information symmetry:

Decentralized markets operate with globally differentiated products, but locally homogeneous products because of the commons model. This model incents efficient use of existing assets and rewards participants more for added-value rather than recreating existing value. Because members are incented to produce added, rather than recreated value, when an effective solution is in place at the local level, innovators will work to solve new problems related to the decentralized model's purpose. On the global level, however, innovations for the same problem will look different because of contextual innovations that took place at the local level.

Because assets are open and transparent from Blockchain-mediation, information symmetry is approached, but not reached due to bounded rationality

14

.
3.5. Competitive Markets
Competitive markets
15
are comprised of many types of organizations, including firms, small private businesses, non-profit organizations, and even individual freelancers offering competitive services on another firm's competitive platform like Upwork. The common assumptions made about organizations that operate within a competitive market are that organizations are profit maximizing, usually have centralized power structures, and gain an advantage by developing differentiated products that consumers prefer. In addition, these are the definitional market characteristics for competition:
Number and size of producing organizations with respect to the market size:

The number of firms is large. This develops competitiveness as each firm works to develop a preferred offering.

Barriers to entry of new firms:

Competitive markets are characterized by easy entry into and exit from the market. Without this being the case, the market would become a monopoly.

Product differentiation and degree of information symmetry:

Products are differentiated, and information asymmetry is a factor that can drive prices since information and assets within a firm are generally closed, and all actions are not Blockchain or technology-mediated exchanges.

16

Competitive firms can further their purpose of profit maximization by taking advantage of information asymmetry to set higher than market prices that a customer will normally accept in a more information/asset symmetric market; i.e., a high degree of competition.
Table 2
summarizes the two markets below:
3.6. Comparison of the Outcomes of These Different Organizational and Market Structures
One way that decentralized socioeconomic models have avoided being stuck with revenue growth as their organizational driver is by using non-traditional funding mechanisms. The prominent model is an ICO where startup capital is crowdsourced and can grow based on speculation and/or actual value creation from market activity. Without revenue expectations from investors, there is more freedom to define the token value in the FBC, freeing decentralized socioeconomic models from shareholder management.
With these diverse value definitions and access to all assets through the FBC enforced commons rules, a producer earns the most value by contributing to the FBC's purpose and impact goals. This leads to collaborative behavior amongst member participants who collectively compete to find the best solution to external forces like water scarcity, achieving the FBC's collective purpose: clean water for all. This means homogenous products are likely to form at the local level—innovators no longer have incentive to recreate solutions with slight differentiation, but differentiation will persist at the global level because unique communities will need different solutions.
4. Value Extraction vs. Reciprocity: How Competitive Markets and Centralization Endanger Decentralized Economies
To better understand the reasons why competitive markets endanger decentralized economies, we can consider the main behavioral insight presented in the market comparison section: competitive markets have a single measure of value, while decentralized socioeconomic markets have as many definitions of value as FBCs exist. Because of this, competitive organizations will attempt to interact with decentralized socioeconomic models on the basis of a single type of value, ignoring the importance of nuanced actions that would produce value within one FBC, but not another. Since shareholder value is assumed to be maximized through profit, they will naturally be extractive and seek opportunities afforded by all of the market characteristics of decentralized socioeconomic markets discussed
21
to convert value from the decentralized socioeconomic model into profit, as if it were a natural resource available for plunder. The following section explains the extraction scenarios, or "attacks" from the decentralized socioeconomic market's point of view, related to each market characteristic.
4.1. Number of Producing Organizations
On the other hand, if an actor agrees to a specific value equation and measurement metrics, but then attempts to claim a larger share of value by falsely representing their level of contribution, they will be caught and punished. This is done through the contribution submission process where the amount of value earned is checked using submitted proofs, and participants submitting or verifying provably inaccurate proofs are punished.
When (more) centralized scenarios occur, the competitive organization/actor could attempt to assign a disproportionate amount of value to the grandfathered-in asset, which is mitigated through the process mentioned in the producing units section above. The structure of the commons also naturally mitigates the probability of this type of attack through open value accounting. With open value accounting, the value opportunity of selling within the market is determined by consensus of all contributors, creating equitable value distribution. In the competitive market, competitive organizations (leaders within the firm) determine the value split for the contributors (employees who accept a contract for hire). Therefore, this value extraction scenario is only economically incented when the market size within the decentralized socioeconomic market is large enough to offset the sacrifice of margins as a result of equitable value redistribution.
4.2. Barriers to Entry & Product Differentiation
These two characteristics are combined because the value extraction opportunity is defined by both. Here, it is the opportunity for a competitive organization to sell something within the ecosystem at a lower cost than existing offerings that are in alignment with the value of the FBC. For example, a FBC that values clean water will encourage the production of products without harming water quality, and therefore may have a higher exchange price than products produced without consideration to water quality. Selling these products at a lower cost would destroy value in the form of clean water without punishment from the decentralized socioeconomic market. There are two main ways to protect against this: enforcing open assets and requiring a stake to join the DAO. Both protect against price cutting using products that are undifferentiated from the customer's perspective, but differentiated from the FBC's perspective by their impact to defined values.
By joining the market's DAO, a competitive organization will be required to provide a stake that is used to punish violation of market rules, and to open assets, even IP, that contribute to products sold on the market. This would mean that a competitive organization attempting to undercut existing solutions will incur the cost of losing their IP rights, which confer an advantage within the competitive market, and also risk their stake and incur the opportunity cost of having it escrowed in a DAO. An example of when the stake would be taken is if a member is found to access the open assets, particularly knowledge, and replicate it in the competitive market to generate profit. The stake and open asset requirement will result in a tradeoff between the barriers to entry, which are high for a profit-only seeking entity but low for an entity aligned to the FBC's goals, and the value expected from producing undifferentiated goods at a lower price to buyers within the decentralized socioeconomic market.
4.3. Information Asymmetry
Exchanges such as currency exchanges are critical facilities to reduce the counterparty friction of doing business involving different currencies and assets; more generally, involving different asset classes. Centralized exchanges allow for large market makers to emerge, provide liquidity, especially in less liquid asset pairs, and demand fees for this service. In fact, exchanges can become market makers themselves, which can become a problem in the event of a "bank run" when the market demands large liquidity in certain assets because of a perceived value or liquidity threat in another asset. If there are not sufficient liquidity providers, market values will collapse as witnessed most recently during the Global Financial Crisis of 2008/2009.
Furthermore, the motivation of large financial institutions to be involved in asset exchanges is to generate profit by exploiting arbitrage opportunities due to participant asymmetries in market information and market friction such as access to assets and ability to trade them. Since these advantages are often small and short lived due to the highly competitive market space, participants exploiting these asymmetries need to deal with large asset amounts and, often, high frequency trading capabilities. Furthermore, exchanges of large asset amounts allow "attacks" on the value of assets. For example, short selling large amounts of an asset such as a currency often leads not only to its devaluation compared to other assets but also increased interest rates for the asset issuer for two reasons. The asset issuer is often perceived as less creditworthy and hedges are often buying bonds or derivatives of the asset. Defending against these attack scenarios requires large asset and fiat currency amounts, information symmetry and quick reactions. Decentralized economies have potentially enough assets but, unless power has been delegated to a small group of representative individuals, to achieve the latter will be difficult. In addition, such a "centralization" of power even in a federated model is not always desirable from a governance perspective as federated democracies such as the US or France demonstrate. Furthermore, the above described types of asset attacks are made based on a pure profit motive, which is value extractive without any value reciprocity. What happens in these instances of value extraction attacks both in economics and in nature is well documented; the collapse of countries, or even entire regions, and natural ecosystems, such as coral reefs where first the corals die because of ocean pollution, then the small cell animals relying on the corals for food die off and so on, all the way to the largest predators such as sharks that need to abandon the reef for other food sources, leaving behind an ecologically dead wasteland. Therefore, measures have to be put in place by decentralized economies in the interfaces with external markets that prevent rapid value extraction and that require reciprocity.
An additional problem for decentralized economies arises because tokens are currencies, either by design or de facto. Therefore, unless the ecosystem is very large and robust, it is highly vulnerable to value extraction attacks using currency arbitrage. While tokens in decentralized economies are coupled to underlying assets such as code or service discounts, fiat currencies are decoupled from underlying asset values such as gold and their value is based on the financial and political stability of the issuing countries, in other words, the financial trust that others place in the stability of a country. An emerging decentralized economy does not carry the same level of financial trust. Hence, attackers can use this trust asymmetry to extract value out of a decentralized economy in the same way as we described above.
4.4. Other Value Extraction Opportunities
Another value extraction attack is the misappropriation of an asset that is important for a decentralized ecosystem to function from its originally intended utility. Such an attack is driven out of a desire for profit, and consequently, prevents the ecosystem from fulfilling its intended purpose. A good example is Bitcoin. The original intent of Bitcoin was to be an unrestricted, economical, and decentralized alternative to fiat currency that was not subject to the central control of governments. Although Bitcoin still has a relatively high level of decentralization and anyone with an internet connection can access it, the exponential rise in price has made Bitcoin equivalent to Gold as a store of value rather than a currency with transaction fees orders of magnitudes higher than just a few years ago. This run up is often described as an asset bubble akin to the Internet bubble (
Lewis 2014
), the Dutch Tulip bubble (
Goldgar 2007
) or Beanie Babies (
Bissonnette 2015
) where asset values were driven up without any underlying real value. Only time will tell whether Bitcoin will remain a store of value or not. What can be learned from this example though is that the tendencies of competitive markets to create asset bubbles leading to Lemon Markets (
Akerlof 1995
) can have detrimental effects, not only for asset investors, but also the underlying ecosystem; see the effect of the Housing Market bubble of the early 2000s on the global economy leading to the Global Financial Crisis of 2008/2009. In the case of Bitcoin two protocol inherent effects exacerbate the situation: The limited number of transactions driving up transaction fees and subsequently price due to a supply (transaction throughput) demand (many people wanting to trade Bitcoins) imbalance and the cap on the number of Bitcoins creating the correct perception that with limited supply, prices will continue to go up if the current demand persists. Both protocol characteristics were intentional. The latter having the economic intent to avoid the inflationary scenarios of fiat currencies. What is a strength in certain scenarios is a weakness in this one; the protocol has no way of moderating asset prices and transaction fees, in other words the forces of competitive markets, through a deliberate fiscal and monetary policy as is done by governments through central banks. The takeaway here is that without mechanisms to create and enforce fiscal and monetary policy, decentralized economies will always be vulnerable to these type of misappropriations due to a desire for profit. Setting monetary and fiscal policy is a non-trivial affair. The current approach by governments is through interest rates and money supply. By their very nature that is difficult for decentralized economies to achieve. We will discuss ways fiscal and monetary policies can be set and what other mechanism can be utilized to avoid the above scenarios in the
Section 6
.
All of the aforementioned value extraction scenarios focus on market characteristics at the application layer of the Blockchain implementation, and assume a functioning Blockchain protocol and consensus mechanism. The final value extraction attack we will consider is a cross-layer attack that happens when value is extracted from that app layer by attacking the protocol layer, which is addressed with Proposal #1, specifically in the attack vectors and mitigations discussion. A cross-layer attack can happen when the costs of malicious behavior at the protocol layer are smaller than the value to be gained from corrupting the app layer. This applies to any of the above scenarios. A simple example is if a malicious actor successfully mines a fork that becomes the longest chain, but intentionally wrote transactions to himself in the new blocks, stealing that value from the owners who held it in the honest chain. Defenses against such attacks are robust consensus algorithms at the protocol and application layer as discussed in more detail in Proposal #1.
5. The Role of Market Interfaces in the Proliferation of Decentralized Socioeconomic Models
Market interfaces are the designs that protect the decentralized socioeconomic model from value extraction attacks so they have time to mature. Decentralized markets do not seek value extraction from others to ensure their own prosperity, nor do they measure themselves by the amount of value extracted. They measure success based on the FBC's defined measure of value. Because this value approach is new, it is significantly less trusted than established value models like abstracted fiat currencies. Trust in a business model and its value definition are key to financial and commercial viability. This was most recently demonstrated during the Global Financial Crisis of 2008/2009 when trust in business models and value definitions plummeted.
This means that until this new type of value definition and representation is widely trusted and accepted as exchange from third parties, participants in these ecosystems will struggle commercially, making these ecosystems frail as highlighted in the previous section. Therefore, protective policies in the form of well-defined market interfaces are necessary to give them time to mature and to allow the decentralized community to remain value sovereign
23
as they coexist with competitive markets (
Bauwens and Niaros 2016
).
When designing these interfaces, the core design goals are network autonomy and value sovereignty in addition to the three zoned model we suggest for the core design of decentralized socioeconomic models. Value sovereignty is preserved through the interface design between the decentralized socioeconomic model and non-member organizations. Based on evidence of enduring decentralized socioeconomic models like Sensorica and Enspiral, the interface design requires two primary components. The first is a system of value flow between new and existing markets, also referred to as transvestment because value is transferred horizontally between economic paradigms. The second is an accounting system that tracks value within the decentralized socioeconomic market. In the case studies below, we will explore four market interface models that have been developed for decentralized socioeconomic models, analyze their level of maturity in each of the three zones, and point to vulnerabilities as a result of their interface and core designs. Excluding Ecuador's FLOK case study because it was never implemented, the success level of the organizations in the case studies further substantiate the value of a well-developed three zone model. Their designs have been deployed within the existing competitive markets and offer empirical evidence that informs the four proposals in
Section 6
.
Case Studies in How Decentralized Economies Interact with Competitive Markets
We will employ the following Case Study Format:
Introduce the market's purpose.

Define value flow at the edge, aka: market interactions and accounting within the system.

Note any important outcomes of the interface design.

The three zones of our proposed decentralized socioeconomic model design encompass functions of existing organizations, even if they currently are not delineated into three zones. We will discuss the strength, weakness, or absence of the functions of the three commons (EC, FBC, PC) within each case study, and any resulting vulnerabilities to illustrate the importance of well-developed zones.
6. Protection & Coexistence: A Working Proposal to Protect Decentralized Economies
After having set the stage in the previous sections, in this last section we will discuss ways decentralized socioeconomic structures can protect themselves from and coexist with competitive markets. Our proposals are in parts both alternative and complementary to existing proposals, such as in (
Bauwens and Niaros 2016
), and are focused on providing scale, security, and robustness to the three zone model of a DAO (FBC, PC, and EC) and its three key characteristics of open value accounting, decentralized common markets (DCMs), and DCM reciprocity that we detailed in
Section 3.1
by mitigating the challenges and potential attack vectors discussed in
Section 4
. These four proposals should be taken together, but could also be implemented separately, depending on the situation at hand. They are:
Collusion Resistant and Tamper Proof Consensus Governance to avoid the illustrated value extraction attacks at both the platform and application layer. This proposal is also foundational for the other proposals to be really secure;

Programmatic Value Recourse: Equitable Asset Participation that establishes built-in value reciprocity limiting value extraction either unintentionally or maliciously through collusion attacks;

Semi-Programmatic Monetary and Fiscal Token Policy to avoid liquidity value extractions attacks and enable to enhance network effects as a secondary benefit when certain fiscal and/or monetary conditions in the DAO are met;

Decentralized Exchanges to prevent value extraction through arbitrage stemming from information asymmetry and access restrictions to trading facilities and other means by requiring trading collateral and trading stakes.
Given that platforms such as Ethereum have both protocol and application layers that are economically relevant, we will refer to both application and protocol layers within the proposals where required.
7. Conclusions
We recognize that we are observing a societal shift from competitive marketplaces, populated largely by centralized organizations, to decentralized socioeconomic markets. We believe that existing research indicates that this is happening because life conditions cause values and priorities to shift. These new markets are rising out of existing competitive markets where socioeconomics have been taken into stronger consideration by borrowing characteristics from historical cooperative business models and the newer social enterprise, effectively combining commercial and social elements. These models are being pioneered by internet and software mediated networks like Sensorica, Fairmondo, Cocoon Projects, Enspiral, MakeSense, and OuiShare (
Manzanedo and Trepat 2017
). Blockchain is the foundational technology in the next wave of decentralized socioeconomic models like Backfeed, Colony.io, district0x, and Peerism.
As decentralized socioeconomic models begin to develop, they must survive within the existing competitive markets environment. We discussed how competitive markets are incented to extract value from any source because of their socially accepted and singular definition of value, while decentralized socioeconomic markets are incented to generate value towards their common purpose as the result of a freedom to self-define value. This ability to self-define value is both their greatest differentiator and weakness. At startup, their new value regime is not widely trusted, and having a commons structure makes them vulnerable to extractive forces accessing free resources without reciprocating value. In addition, the currencies of decentralized economies are vulnerable to arbitrage attacks originating from lack of liquidity, trust asymmetry, unintended use of the currency, and slow reactions to attacks. These vulnerabilities motivated our discussion of case studies showing designed market interfaces that attempt to protect value sovereignty. The lessons learned from those, and other designs helped inform our recommendation for a three zone model to create resilient decentralized models, and the four proposals for protecting decentralized economies using decentralized ledger technologies like Blockchain.
Proposal #1 is for collusion resistant and tamper proof consensus governance that provides timely decision making within decentralized groups. It is designed to avoid actors gaining enough power to negatively impact the decentralized economy's value regime. This consensus mechanism allows the decentralized economy to adjust rewards and fee schedules that control a token's fiscal and monetary policy. This avoids issues seen in the Ecuador case study where decisions were not made in a timely fashion, hence most of the proposals were not enforced, and the vulnerability of Enspiral where all governance decisions are made on centralized software.
Proposal #2 is for programmatic value recourse requiring equitable asset participation. This is closely modeled after the open value accounting system of Sensorica, but solves the problem of external agreements of reciprocity being shirked. This proposal lays out an accounting system that tracks all contributions to an asset, digital and analog. When an asset is monetized, that value is redistributed to all contributors based on their agreement of the value each contributor should earn.
Proposal #3 is semi-programmatic monetary and fiscal policy. It is a consensus process for app layer token governance. It is designed for rapid but secure decision making for adjusting monetary and fiscal policy. This solves what we consider to be a problem with FairCoin's permanently static coin supply. This proposal also gives members the ability to add new tokens, but restricts their ability to destroy any initial token completely or any other tokens without majority consensus from those it would affect. This is also an improvement from FairCoin, where the monetary and fiscal policies are governed by an elected assembly of people, centralizing power into what could be a relatively small group compared to all members.
Proposal #4 is a decentralized exchange, which we consider to be an improvement of FairCoin's exchange so that information asymmetry is not exploited in exchange, negatively impacting the token's value. Proposal #4 stipulates that governance of the exchange is consensus driven. It establishes liquidity by tying the tokens to digital or analog resources that are quantified assets with stable value over time (like gold) with flexible reserve amounts (unlike gold).
These proposals are improvements upon what has been observed in different real-world market interface designs. They are, therefore, theoretical and untested, but based on empirical and theoretical research. They will be most effective in protecting decentralized socioeconomic markets when used together, but can provide incremental improvements when applied separately.
Author Contributions
A.F. conceived of the three zone model and market interface working proposal to protect decentralized economies. D.S. framed and analyzed the competitive and decentralized socioeconomic market structures, identified and analyzed value extraction attacks, and identified and analyzed the case studies. A.F. and D.S. co-authored the paper.
Acknowledgments
The authors would like to express their deepest gratitude to all the open source reviewers of this paper, in particular our colleagues David Kish, Justin Kersey, and Ashley Bremer. Both authors are employees of Tata Consultancy Services LLC and want to express appreciation to our employer for letting us carry out this work. This paper reflects our own opinions and is not representative of those of our employer, Tata Consultancy Services LLC.
Conflicts of Interest
The authors declare no conflict of interest. The funding sponsor had no role in the design of the study; in the collection, analyses, or interpretation of data; in the writing of the manuscript, and in the decision to publish the results.
1

Meaning non-members profit, but at a net loss to the decentralized market.

2Blockchain projects related to supply chain & logistics, provenance & notary, payments, legal, audit & tax, Internet of Things, infrastructure, identity & reputation, compliance & security, data analytics, financial services, and governance & transparency were considered to be "global well-being purposes," which comprised 50% of the 1352 Blockchain startups listed (Startup Tracker 2018).

3

With decentralization we refer to governance, ownership and control as well as infrastructure.

4

Without a Nothing-at-Stake problem and without either federation or lack of imperative mandate.

5

Non-competitive in this context means that participants are not competing against one another or other external entities per se but are aligned to create value around a purpose that is addressing a set of societal or common individual challenges or opportunities.

6The Digital Library of the Commons defines "commons" as "a general term for shared resources in which each stakeholder has an equal interest" (Digital Library of the Commons n.d.).

7

As defined by a DCM governing DAO through participant consensus.

8

The comments below were informed by multiple discussions with regulators, and several securities attorneys having done multiple ICOs each and the reading of 60+ ICO whitepapers.

9

Note that the legal definition of a legal, person or legal, non-person entity can vary wildly by jurisdiction. We are discussing the most common form that treats legally registered businesses different from individual people.

10

Based on private discussions of the authors with several regulators, a cryptocurrency may be classified as a security, if a predetermined set of people received a set of tokens in exchange for either fiat currency or other crypto currencies/platform tokens with the purpose of financing the building of the cryptocurrency platform before the new cryptocurrency or token platform was launched and/or the issuance was accompanied with an either direct or indirect promise of cryptocurrency/platform token value gain.

11Management of competitive organizations commonly subscribe to the shareholder theory, where their ethical role is to maximize profits for shareholders. In competitive markets today, another management theory is emerging. The stakeholder theory, coined in the mid-1900s and generating more interest by the early 2000s (Arnold 2008), expands the corporation's purpose to serve all entities that contributed to the wealth of the business (Smith 2003). The stakeholder theory, closely related to corporate social responsibility (CSR), expands performance metrics beyond revenue and into the realm of social impact. These impacts are often still competitive in nature, however, and are often only valued by the corporation because the CSR activities actually feed back into a revenue stream (Arnold 2008). A simple example would be an IT company focusing CSR efforts on STEM education programs. No matter which management theory the organization subscribes to, the corporation still remains competitive in nature as it assumes that it will best serve either its stakeholders, or shareholders, by improving its position in the market.

12

Information symmetry is achieved when all market participants have the same information available to them at all times.

13

More explicitly, (the number of producing organizations (project teams)/market opportunity) in a decentralized market is greater than (the number of producing organizations (firms)/market opportunity) in a competitive market by virtue of project teams having fewer people than firms because there is no bureaucracy. This is a theory based on logic, not observation.

14

Bounded rationality means actors make imperfect decisions because of a lack of understanding, time, or access to information.

15

Here we assume imperfect competition to consider real-world, rather than theoretical markets, although we will continue to refer to them simply as competitive markets.

16

Information asymmetry has been reduced by the internet and ecommerce. Easy access to competitors' pricing and quality has reduced this information asymmetry.

17

Asset sharing arguably happens within a firm, so the distinction of closed and open IP is the organizational boundary. The competitive corporation's boundaries are limited to employees. The decentralized socioeconomic model's boundaries are members, but unlike a company with limited resources and a limited number of employees, decentralized socioeconomic models can accept an unlimited number of members and scale their protection of the commons with the EC on Blockchain without incurring additional costs.

18A reputation token represents the appreciation of any justified and finalized giving action without any economic compensation through ecosystem tokens or other ecosystem external assets; e.g., you cannot build a barn and get paid in bread and expect to gain social reputation (Freund 2018).

19

Non-exchangeable value refers to efforts that benefit humankind, but do not produce a product or service that a single person would rationally buy. One example is reducing your personal carbon footprint.

20

Global markets refers to both decentralized and competitive markets.

21

Number of producing organizations, barriers to entry, product differentiation, and information symmetry/asymmetry.

22

The feeling of value being disproportionately earned by an actor is subjective to the producing unit members, but solidified in objective measures through the consensus process. Therefore value earned can only be disproportionate if other producing members feel it is.

23Value sovereignty is "the capacity to self-regulate its relations with the market and to assure that significant aspects of its common wealth and social relationships remain inalienable—not for sale via market exchange." Put another way, "... a commons must be able to develop "semi-permeable boundaries" that enable it to safely interact with markets on its own terms. For example, a coastal fishery functioning as a commons may sell some of its fish to markets, but the goals of earning money and maximizing profit cannot be allowed to become so foundational that it crowds out commons governance and respect for ecological limits." (Peer Production License—P2P Foundation n.d.).

24

Proof-of-Stake = An Algorithm that requires participants to provide an economically meaningful stake of some type that allows them to participate as a network validator in a consensus protocol and earn money through rewards. The economic stake can be lost if a validator violates specific rules of a consensus protocol. Therefore, the economic stake acts as a deterrent to malicious validator behavior.

25

One fork that is k blocks longer than any other fork, where k is either dynamically determined or static, and is determined to have achieved consensus.

26

If validators do not participate in voting for a certain period of time they lose all of their stake over time.

27See the discussion in Section 3.1 on token types and how they might or might not be treated from a regulatory point of view.

28A giving transaction is a cryptographic proof of a social good action that has not been done in exchange for any monetary value or other economically relevant advantage and is verifiable by a set of validators. See detailed definition of a giving transaction in (Freund 2018).

29Economic Finality: A state H1 is economically finalized if enough validators sign a message attesting to H1, with the property that if both H1 and a conflicting H2 are finalized, then there is evidence that can be used to prove that at least x% of validators were malicious and therefore destroy their entire deposits where x = 1 –

p

with

p

> 50% being the consensus majority parameter see Casper FFG (Buterin and Griffith 2017) as an example.

30See (Freund 2018) for a detailed description and discussion of such a decentralized exchange facility and its processes.

31See (Freund 2018) for a detailed description and discussion of such a decentralized exchange facility and its processes.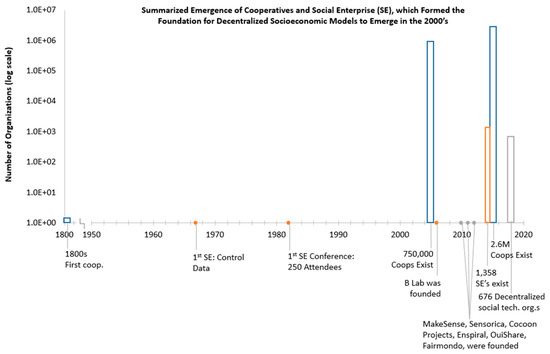 Figure 1. Cooperatives were first recorded near the early 1800s, followed by the first example of the social enterprise (SE) in 1968. Egalitarian control and ownership from the cooperative and purposeful profit from the SE are both embodied in the emerging decentralized socioeconomic models from the past ten years. Notably, the Blockchain based decentralized socioeconomic models like Backfeed, Colony, district0x, and Peerism are not included because the platforms are still under development and testing, and have not reached production scale.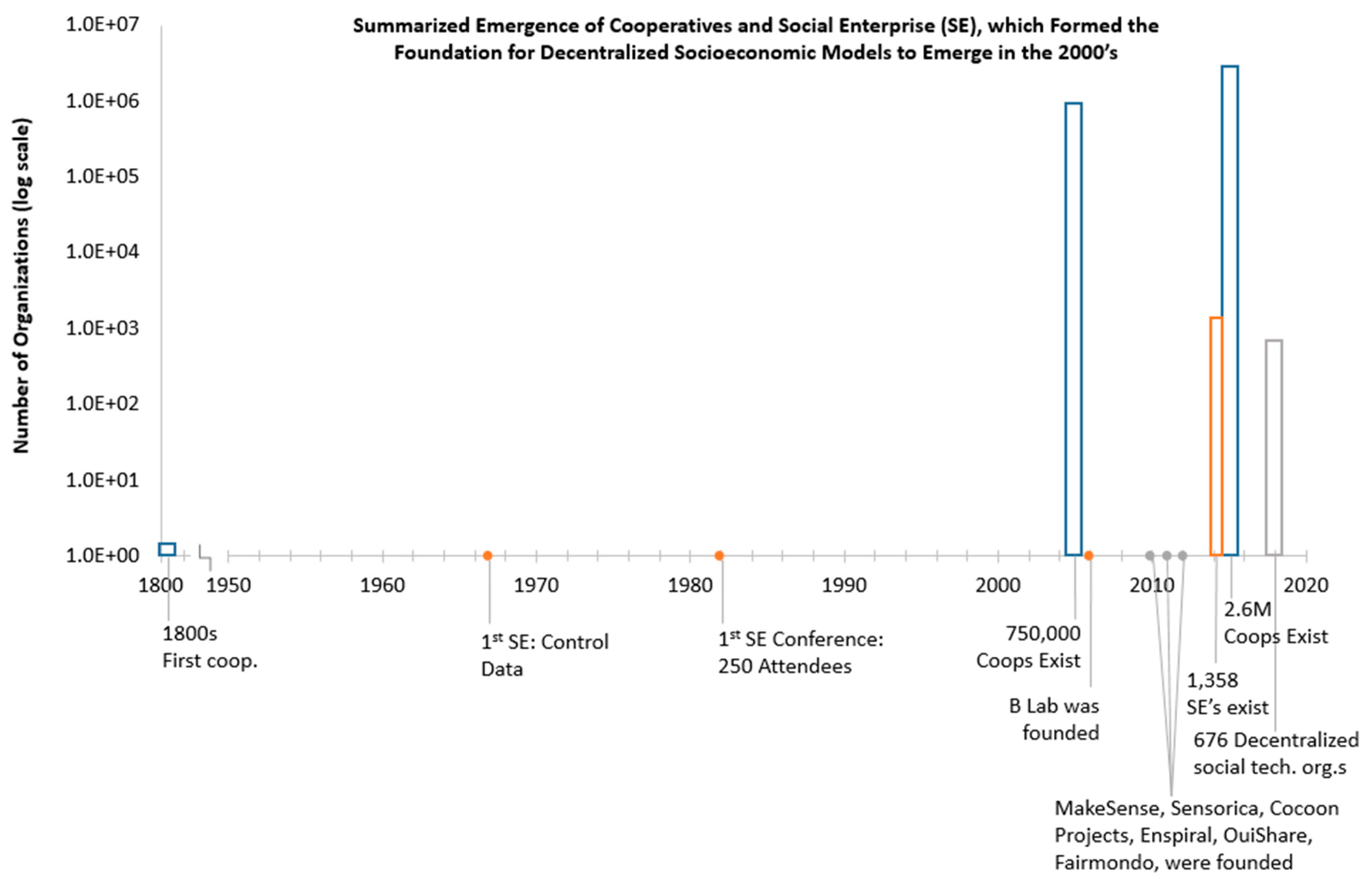 Token/Type
Purpose
Usage
Underlying Value
Model Layer
Entrepreneurial
Common
Tokens
(EC Tokens)/Native Utility Token
Exchangeable for Protocol Tokens, other DAO tokens, Fiat
Currency
Fiat, Protocol Tokens or Assets held in common by DAO
Decentralized Economies Applications Layer
Production
Common
Token
(PC Tokens)/Ownership Token
Governed by FBC Values member contributions
Exchangeable for EC Tokens
Claim Right
Asset backed
Decentralized Economies Applications Layer
Production
Common
Token
(PC Tokens)/Native Utility Token
Governed by FBC Values member contributions
Exchangeable for EC Tokens
Access Right to Asset
Asset backed
Decentralized Economies Applications Layer
Platform Token/Native Utility Token
Participate in platform and DAO actions. Confers voting rights for platform utility services
Currency
Platform Services
Protocol Layer

Table 2. Comparison of the primary market characteristics of competitive and decentralized socioeconomic markets. They are similar except for information symmetry, the result of using Blockchain, and product differentiation, the result of collaborative vs competitive incentive models within the market.
Primary Market Characteristics
Decentralized Socioeconomic
Competitive
Number of producing organizations
Many. The producing organization (project team) is the size of an effective project team
Many, but fewer because the producing organization (firm) is usually comprised of many project teams
Barriers to Entry
Almost nonexistent because all assets are held in common
Low because fixed costs are assumed to be low
Product Differentiation
Homogenous locally
Differentiated globally
Differentiated
Information Symmetry
Approaches symmetric
Asymmetric

© 2018 by the authors. Licensee MDPI, Basel, Switzerland. This article is an open access article distributed under the terms and conditions of the Creative Commons Attribution (CC BY) license (http://creativecommons.org/licenses/by/4.0/).