Open Access This article is
freely available
re-usable
Article
The Health Risks of Electronic Cigarette Use to Bystanders
National Institute for Public Health and the Environment (RIVM), Centre for Health Protection, Anthonie van Leeuwenhoeklaan 9, 3721 MA Bilthoven, The Netherlands
*
Author to whom correspondence should be addressed.
Received: 15 March 2019 / Accepted: 19 April 2019 / Published: 30 April 2019
Abstract
:
This works aimed to assess the health risks of e-cigarette use to bystanders. The exhaled breath of 17 volunteers was collected while they were vaping, and the levels of nicotine, propylene glycol, glycerol, formaldehyde, acetaldehyde, acrolein, tobacco-specific nitrosamines (TSNAs), and heavy metals were analyzed. Increased levels of nicotine, propylene glycol, TSNAs and copper were found in the exhaled breath of the volunteers. From these measurements, bystander exposure was estimated for two different scenarios: (1) A non-ventilated car with two e-cigarette users and (2) a ventilated office with one e-cigarette user. Our results show that bystanders may experience irritation of the respiratory tract as a result of exposure to propylene glycol and glycerol. Systemic effects of nicotine should also be expected if nicotine-containing e-liquid is used, including palpitations, and an increase of the systolic blood pressure. Furthermore, due to the presence of TSNAs in some e-liquids, an increased risk of tumors could not be excluded for the 'car' scenario. While e-cigarette use can clearly have effects on the health of bystanders, the risks depend on the rate of ventilation, dimensions of the room, and vaping behavior of the e-cigarette user. The presence of TSNAs in e-liquids can be avoided, which will prevent the most serious effect identified (increased risk of tumors).
Keywords:
electronic cigarettes; bystanders; health risks; second hand vaping
Author Contributions
Conceptualization, W.F.V. and R.T.; Funding acquisition, R.T.; Investigation, W.F.V., W.N.K., H.W.J.M.C., R.R. and P.L.S.; Methodology, W.F.V.; Project administration, R.T.; Validation, W.F.V., W.N.K., H.W.J.M.C. and R.R.; Writing—review & editing, R.T.
Funding
This research and the APC were funded by Dutch Ministry of Health, Welfare and Sport.
Acknowledgments
We gratefully thank Liesbeth Geraets and Peter Bos for performing the risk assessment and helpful discussion. We also would like to thank TNS-NIPO for their help with recruiting volunteers and aid with the experiments.
Conflicts of Interest
The authors declare no conflict of interest.
Abbreviations
CAWI
computer assisted web interviewing
CFP
Cambridge filter pad
CX572
carboxen 572
DNPH
dinitrophenylhydrazine
EFSA
European Food Safety Authority
ICP-MS
inductively-coupled plasma mass spectrometry
LC-MSMS
liquid chromatography—tandem mass spectrometry
LOQ
limit of quantification
MREC
medical research and ethics committee
MOE
margin of exposure
MTBE
methyl-tert butyl ether
NAB

N

-nitrosoanabasine
NAT

N

′-nitrosoanatabine
NDMA

N

-nitrosodimethylamine
NNK
4-(methylnitrosamino)-1-(3-pyridyl)-1-butanone
NNN
N-nitrosonornicotine
NOAEL
No-Observed-Adverse-Effect Level
PG
propylene glycol
PoD
point of departure
TCA
tolerable concentration in air
TSNA
tobacco-specific nitrosamine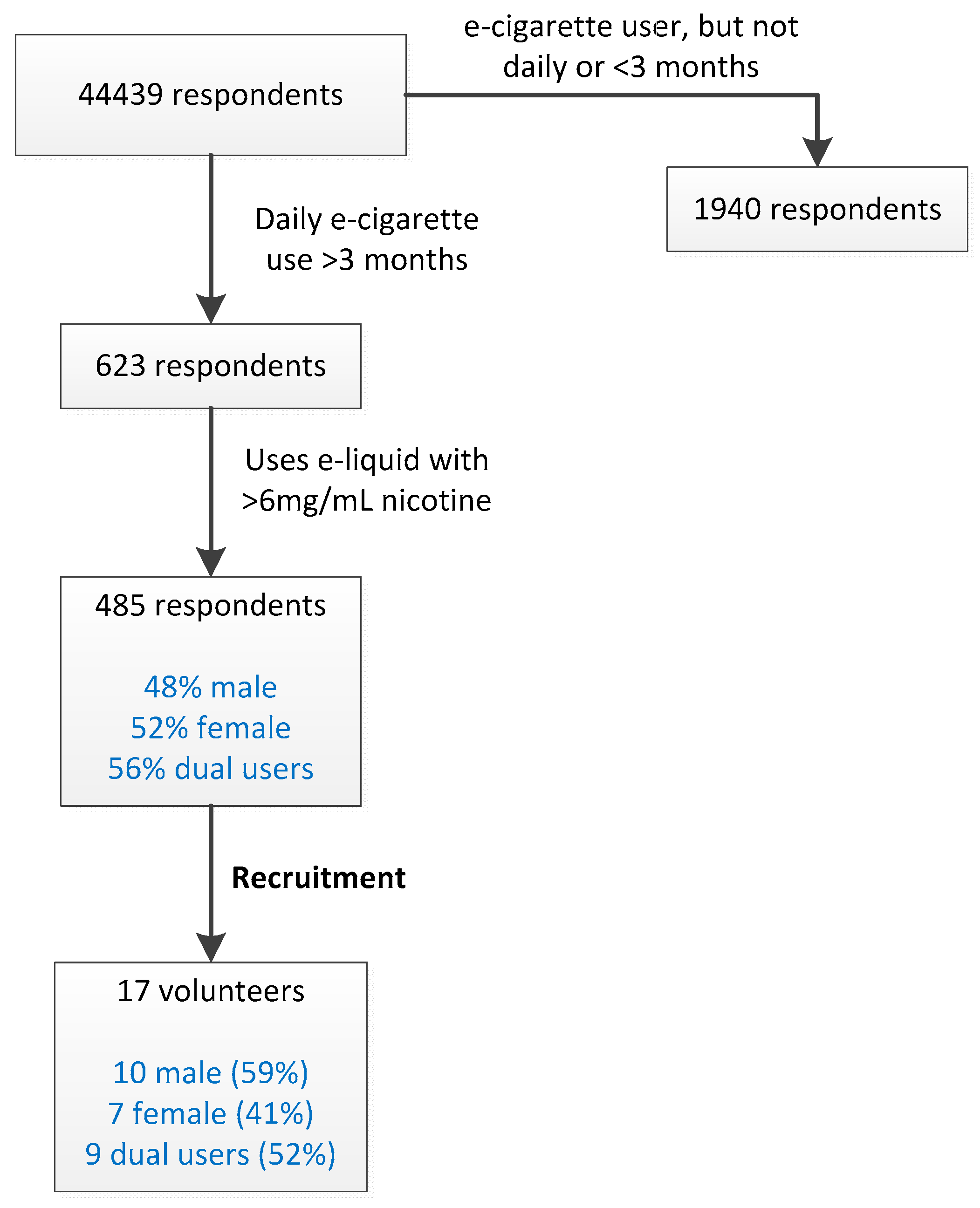 Designation
Specification
Flavor
Nicotine
(mg/mL)
PG/Glycerol Ratio
A
Non-refillable 'cig-a-like' with rechargeable battery
tobacco
18
50/50
B
Refillable, dual-1.8 ohm bottom-coil
tobacco
18
50/50
Battery: 3.7 V constant voltage, 1000 mAh
C
Refillable, dual-1.8 ohm bottom-coil
tobacco
11
80/20
battery: 3.7 V constant voltage, 1000 mAh

Table 2. Average mass gain of the trapping device for individual subjects for control breath ('control') or e-cigarette vapor exhalations ('exhaled vapor').
Subject
Average Weight Gain of Filter/Cartridge Assembly (mg per Puff)
Control
Exhaled Vapor
1
1.76
1.41
2
1.31
3.31
3
0.87
5.97
4
1.12
3.63
5
3.27
5.04
6
2.63
6.07
7
0.00
0.94
8
3.70
11.00
9
4.04
5.39
10
0.84
5.60
11
3.89
5.34
12
2.68
5.93
13
1.72
3.55
14
0.38
1.21
15
0.53
0.83
16
1.52
4.00
17
1.28
2.96

Table 3. Chemical analysis of exhaled vapor. The column 'total quantity' lists average amounts recovered in the first exhaled breath after inhaling a puff.
n

Total Quantity
Range
Median
Min
Max
nicotine
17
<LOQ
2140
108
ng
humectants
   propylene glycol
17
<LOQ
127
<LOQ
μg
   glycerol
17
<LOQ
<LOQ
<LOQ
μg
nitrosamines
   NNN
9
<LOQ
111
29
pg
   NAT
9
<LOQ
40
14
pg
   NAB
9
<LOQ
8
2
pg
   NNK
9
<LOQ
71
15
pg
   NDMA equivalent total TSNA
9
<LOQ
77
28
pg
aldehydes
   formaldehyde
4
<LOQ
<LOQ
<LOQ
ng
   acetaldehyde
4
<LOQ
<LOQ
<LOQ
ng
   acroleine
4
<LOQ
<LOQ
<LOQ
ng
metals
   arsenic
3
<LOQ
<LOQ
<LOQ
ng
   molybdenum
3
<LOQ
<LOQ
<LOQ
ng
   tin
3
<LOQ
<LOQ
<LOQ
ng
   cadmium
3
<LOQ
<LOQ
<LOQ
ng
   lead
3
<LOQ
<LOQ
<LOQ
ng
   zinc
3
<LOQ
<LOQ
<LOQ
ng
   copper
3
<LOQ
2.92
<LOQ
ng
   nickel
3
<LOQ
<LOQ
<LOQ
ng
   cobalt
3
<LOQ
<LOQ
<LOQ
ng
   manganese
3
<LOQ
<LOQ
<LOQ
ng
   chromium
3
<LOQ
<LOQ
<LOQ
ng
   vanadium
3
<LOQ
<LOQ
<LOQ
ng
   uranium
3
<LOQ
<LOQ
<LOQ
ng
'Range' lists the lowest and highest values observed. The median was calculated over all data, including samples with a value below the level of quantification. = (Averages were calculated over the number of exhaled breaths collected on each filter (5 for nicotine, propylene glycol and glycerol, 25 for the other analytes)).
Scenario 1
Scenario 2
(Car)
(Office)
Number of persons vaping
2
1
Puffing frequency
0.5
2
min−1
Total vaping time *
1
4
h
Volume of space
2
30
m3
Ventilation
0 (none)
0.5
h−1
* Exposure duration of the bystander is considered similar to total vaping time.
Scenario 1: Car
Scenario 2: Office
Amount Exhaled per Puff
Concentration for Assesment of Local Effects
Systemic Dose
Concentration for Assesment of Local Effects
Systemic Dose
propylene glycol
127 ug
9.5 mg/m3
0.087 mg/kg bw/d
2.16 mg/m3
0.032 mg/kg bw/d
nicotine
2.14 ug
0.16 mg/m3
0.00146 mg/kg bw/d
0.036 mg/m3
0.0005 mg/kg bw/d
TSNAs as "NDMA eq"
77 pg
5.8 ng/m3
1.31 ng/m3
copper
2.92 ng
219 ng/m3
50 ng/m3
The risk estimate for the tobacco specific nitrosamines was based on the assumption that risk of exposure to the individual nitrosamines can be equated to that of exposure to an equimolar concentration of NDMA. Therefore, the concentration of NDMA calculated to correspond with the exposure to the sum of the four tobacco-specific nitrosamines (TSNAs), is listed here as "TSNAs as NDMA eq", even though NDMA itself was not measured, and is not expected to occur in the exhaled vapor.

Table 6.
Margin of Exposure (MOE) for different chemicals and scenarios for the evaluation of local and systemic effects, calculated from points of departure (PoDs) and exposure (
Supplementary Material 1
and
Table 5
, respectively).
| | 'Car' Scenario | 'Office' Scenario | Endpoint |
| --- | --- | --- | --- |
| Local effects | | | |
|    Propylene glycol | 17 | 74 or 81 * | irritation of the upper respiratory tract |
|    TSNAs | 521 | 2297 | tumors in upper respiratory tract |
| Systemic effects | | | |
|    Propylene glycol | 535 | 1475 | reduced number of lymphocytes |

© 2019 by the authors. Licensee MDPI, Basel, Switzerland. This article is an open access article distributed under the terms and conditions of the Creative Commons Attribution (CC BY) license (http://creativecommons.org/licenses/by/4.0/).