Adulthood Socioeconomic Position and Type 2 Diabetes Mellitus—A Comparison of Education, Occupation, Income, and Material Deprivation: The Maastricht Study
1
Department of Social Medicine, Maastricht University, P.O. Box 616, 6200 MD Maastricht, The Netherlands
2
CAPHRI School for Public Health and Primary Care, Maastricht University, 6200 MD Maastricht, The Netherlands
3
Department of Psychiatry and Neuropsychology, School for Mental Health and Neuroscience, Maastricht University Medical Centre, 6200 MD Maastricht, The Netherlands
4
School for Mental Health and Neuroscience (MHeNS), Maastricht University, 6229 ER Maastricht, The Netherlands
5
Department of Medicine, Maastricht University Medical Centre+, 6229 HX Maastricht, The Netherlands
6
Cardiovascular Research Institute Maastricht (CARIM), Maastricht University, 6229 ER Maastricht, The Netherlands
7
Department of Internal Medicine, Maastricht University Medical Centre, Randwycksingel 35, 6229 EG Maastricht, The Netherlands
*
Author to whom correspondence should be addressed.
Received: 21 March 2019 / Revised: 10 April 2019 / Accepted: 20 April 2019 / Published: 23 April 2019
Abstract
In an effort to better quantify the impact of adulthood socioeconomic circumstances on prediabetes and type 2 diabetes (T2DM), we set out to examine the relative importance of four adulthood socioeconomic indicators. Using cross-sectional data from The Maastricht Study on 2011 middle-aged older men and women, our findings indicate that low educational level (OR = 1.81, 95% CI = 1.24–2.64), low occupational level (OR = 1.42, 95% CI = 0.98–2.05), and material deprivation (OR = 1.78, 95% CI = 1.33–2.38) were independently associated with T2DM. Low income (OR = 1.28, 95% CI = 0.88–1.87) was the strongest, albeit not significant, SEP (socioeconomic position) correlate of prediabetes. This association confirms SEP as a multifaceted concept and indicates the need to measure SEP accordingly. In order to tackle the social gradient in prediabetes and T2DM, one should, therefore, address multiple SEP indicators and their possible pathways.
View Full-Text
►

▼

Figures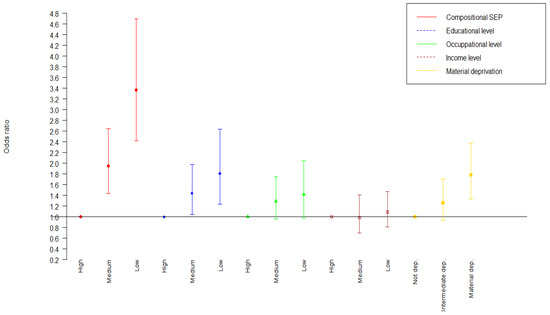 Figure 1
This is an open access article distributed under the
Creative Commons Attribution License
which permits unrestricted use, distribution, and reproduction in any medium, provided the original work is properly cited (CC BY 4.0).

Share & Cite This Article
MDPI and ACS Style
Qi, Y.; Koster, A.; van Boxtel, M.; Köhler, S.; Schram, M.; Schaper, N.; Stehouwer, C.; Bosma, H. Adulthood Socioeconomic Position and Type 2 Diabetes Mellitus—A Comparison of Education, Occupation, Income, and Material Deprivation: The Maastricht Study. Int. J. Environ. Res. Public Health 2019, 16, 1435.
Note that from the first issue of 2016, MDPI journals use article numbers instead of page numbers. See further details here.
Related Articles
Comments
[Return to top]