Open Access This article is
freely available
re-usable
Review
Fluoride Exposure Induces Inhibition of Sodium/Iodide Symporter (NIS) Contributing to Impaired Iodine Absorption and Iodine Deficiency: Molecular Mechanisms of Inhibition and Implications for Public Health
EnviroManagement Services, 11 Riverview, Doherty's Rd, Bandon, Co. Cork P72 YF10, Ireland
Received: 19 February 2019 / Accepted: 21 March 2019 / Published: 26 March 2019
Abstract
:
The sodium iodide symporter (NIS) is the plasma membrane glycoprotein that mediates active iodide transport in the thyroid and other tissues, such as the salivary, gastric mucosa, rectal mucosa, bronchial mucosa, placenta and mammary glands. In the thyroid, NIS mediates the uptake and accumulation of iodine and its activity is crucial for the development of the central nervous system and disease prevention. Since the discovery of NIS in 1996, research has further shown that NIS functionality and iodine transport is dependent on the activity of the sodium potassium activated adenosine 5′-triphosphatase pump (Na+, K+-ATPase). In this article, I review the molecular mechanisms by which F inhibits NIS expression and functionality which in turn contributes to impaired iodide absorption, diminished iodide-concentrating ability and iodine deficiency disorders. I discuss how NIS expression and activity is inhibited by thyroglobulin (Tg), tumour necrosis factor alpha (TNF-α), transforming growth factor beta 1 (TGF-β1), interleukin 6 (IL-6) and Interleukin 1 beta (IL-1β), interferon-γ (IFN-γ), insulin like growth factor 1 (IGF-1) and phosphoinositide 3-kinase (PI3K) and how fluoride upregulates expression and activity of these biomarkers. I further describe the crucial role of prolactin and megalin in regulation of NIS expression and iodine homeostasis and the effect of fluoride in down regulating prolactin and megalin expression. Among many other issues, I discuss the potential conflict between public health policies such as water fluoridation and its contribution to iodine deficiency, neurodevelopmental and pathological disorders. Further studies are warranted to examine these associations.
Keywords:
fluoride; iodine; NIS; Na+, K+-ATPase; TNF-α; TGF-β1; IL-6 and IL-1β; IFN-γ; IGF-1; PI3K; megalin; prolactin
1. Introduction
As elucidated earlier, while studies among populations with different genetic variations in different geographic regions consistently show that F intake contributes to lower bioavailability of iodine, the molecular mechanisms by which this phenomenon occurs have not been fully defined. I recently revealed the molecular mechanisms by which F inhibits Na+, K+-ATPase activity and hypothesized that inhibition of Na+, K+-ATPase activity may play a crucial role in contributing to impaired iodine absorption and iodine deficient states. In this current study, I elucidate the role F plays in contributing to impaired iodine absorption focusing on the Na+/I- symporter (NIS). Here, I focus on the molecular mechanisms by which F inhibits NIS functionality and gene expression. These findings provide unprecedented insights into the molecular mechanisms by which F inhibits iodine uptake, transport and reabsorption, and provide a basis for minimising or preventing the risk of adverse health outcomes associated with iodine deficiency.
1.1. Dietary Sources of Iodine
Oceans are the world's main repositories of iodine and very little of Earth's iodine is actually found in the soil. Sea water contains 50 µg iodine/L. In the ocean, iodide is converted into elemental iodine, a volatile form that enters the environment as sea spray or volatile gases. Molecular iodine is also released from seaweed. After emission and due to photolytic dissociation iodine from the ocean is transferred to the atmosphere and returned to the land through rain and to a lesser extent snow [
44
,
45
,
46
,
47
,
48
,
49
,
50
,
51
]. Hence, it has been reported that coastal regions of the world are generally richer in iodine content than the soils further inland [
52
] and proximity to the sea, particularly coastal areas abundant with seaweed may contribute to dietary iodine intake through respiration [
53
,
54
].
The iodide content of foods and total diets differs depending on geochemical, soil, and cultural conditions. Notwithstanding the apparent contribution of marine atmospheric sources, the major natural sources of iodine are iodine saltwater fish and seafood because of their ability to concentrate iodine from seawater [
52
]. In certain countries such as Japan, the consumption of seaweed provides a significant source of dietary iodine [
55
]. Milk and dairy products are also a rich source of iodine, particularly in Ireland, the UK, Europe and North America where animal fodder is fortified with iodine and iodine-based disinfectants may be used in milking [
56
,
57
,
58
,
59
,
60
]. Other sources are eggs, freshwater fish, poultry and meat, fruits, legumes and vegetables. Generally common food sources provide 3–80 mg/serving [
61
,
62
]. The iodine content in drinking water can vary significantly depending on whether it is sourced from groundwater or natural surface waters, geology, aquifer characteristics and distance from sea. In certain geographic locations high iodine content in drinking water may also provide a major direct source of iodine intake, which may determine regional variations in iodine intake levels [
63
,
64
]. The iodine content in rivers can also vary depending on receiving effluent from urban areas [
65
]. Iodized salt provides another major source of iodine. Salt ionization was introduced in the USA, Australia and New Zealand in the 1920s and iodization policies have been increasingly used worldwide in recent decades to supplement dietary intake. The greatest access to salt iodization occurs in the World Health Organization (WHO) regions of the Western Pacific and the Americas, and the least access for those residing in the Eastern Mediterranean and Europe [
4
]. Since the 1950s the proportion of U.S. households which use only iodized salt has remained stable at 70–76% [
66
]. The intake of processed food containing iodized salt, calcium iodate, potassium iodate or cuprous iodide also increase the iodine intake. Non-food sources of iodine include iodine-containing medication, topical medicines, antiseptics, mineral dietary supplements, tablets or capsules of seaweed-based dietary supplements and kelp tablets as dietary supplements.
1.2. Metabolism of Iodine
2. Molecular Mechanisms of Fluoride Inhibition of Iodine Homeostasis
The molecular mechanisms of F action underlying disturbed iodine homeostasis are complex and require a detailed knowledge of regulation of biological processes. These effects derive from two interlinked mechanisms. As I previously elucidated, F acts to inhibit Na+, K+-ATPase activity, which is essential for regulating NIS functionality [
96
,
97
]. NIS expression and functionality in turn is required for the efficient absorption of iodide in the intestines, and the transportation and uptake of iodide into the thyroid gland. As previously noted, NIS also mediates the transport of iodine across cellular membranes and uptake of iodine into salivary, gastric mucosa, rectal mucosa, bronchial mucosa, placenta and mammary glands. However, current evidence also suggests that F acts to inhibit NIS mRNA expression through several biological mechanisms as outlined below.
2.1. Molecular Mechanisms of F Inhibition of Na+/K+-ATPase Activity
As a first step to elucidate the basis for the decrease in iodine bioavailability observed in countries with fluoridation programmes, it is of fundamental importance to understand that NIS functionality requires Na+, K+-ATPase activity. As previously mentioned, the molecular mechanisms of F inhibition of Na+, K+-ATPase activity have recently been comprehensively defined [
98
]. In summary it has been shown that activation of PKC, cAMP, cGMP, NO, Pi, PLA2, AA, PGE2, dopamine, glucose and PTH and the formation of AGEs inhibit Na+, K+-ATPase activity and that F acts to upregulate the formation of these biomarkers. In addition, it has been elucidated that F inhibition of CT contributes to impaired Na+, K+-ATPase functionality [
96
].
2.2. Deciphering the Molecular Mechanisms of F Inhibition of NIS Expression and Activity
3. Discussion
In this study, evidence has been presented demonstrating NIS gene expression is activated by PRL and that F inhibits PRL expression. Importantly, it has also been elucidated that the inhibitory effect is significantly more prevalent in females than males. It has further been shown that CT is a PRL-inhibiting hormone and that F is a potent inducer of CT expression. Furthermore, evidence has been presented that TNF-α, TGF-β1, IL-6 and IL-1β, IFN-γ, IGF-1, PI3K and Tg inhibit NIS expression and that F upregulates TNF-α, TGF-β1, IL-6 and IL-1β, IFN-γ, IGF-1, PI3K and Tg expression and activity.
In addition to providing causal mechanisms by which F impairs iodine metabolism an important consideration in demonstrating a causal association between F intake and impaired iodine deficiency is evidence from epidemiological studies. In this regard, I have previously elucidated that evidence from several epidemiological studies undertaken in different geographic locations among different ethnic populations consistency shown an association between F exposure and impaired iodine bioavailability. Furthermore, evidence for animal studies support this observation. In addition, I have previously elucidated how the mean UICs have declined dramatically in recent decades in countries with advanced water fluoridation programmes.
In this study, I have also discussed the crucial role of megalin in regulating iodine stores and presented evidence to show that F inhibits megalin expression as well as elucidated the molecular mechanisms by which this occurs. I have further elucidated how iodine is also carried in the blood stream bound to ALB and that high serum ALB correlates with high protein bound iodine levels. I have described how the literature shows that F exposure results in loss of ALB in urine contributing to lower salivary and serum ALB levels. Additionally, I have discussed how chronic F exposure has been found to result in lowering of protein bound iodine levels, indicating that F intoxication is contributing to iodine deficiency by lowering iodine stores. I have also elucidated that evidence from animal studies show that increased F intake combined with iodine deficiency significantly enhances the toxic effects of F on teeth, bones, thyroid and brain. Taken together, these data may explain the dramatic increase in dental fluorosis observed in fluoridated communities in recent decades. Moreover, the evidence presented in this study offers a rational for the remarkably decline in UIC among females of reproductive age observed in countries with extensive water fluoridation programmes in recent decades. As mentioned previously, iodine deficiency in infancy can also lead to impaired iodine stores in adulthood.
4. Additional Perspectives
In addition to the biological actions of iodine in regulating thyroid hormones, iodine has many additional functions, including anti-inflammatory [
280
,
281
,
282
,
283
], antioxidant [
284
,
285
,
286
,
287
] and anti-microbial defence [
288
,
289
,
290
,
291
,
292
,
293
,
294
]. Iodine deficiency has been reported to be associated with increased cancer risk [
295
] including; breast [
286
,
296
,
297
,
298
,
299
], thyroid [
300
,
301
,
302
,
303
,
304
,
305
,
306
], and prostate cancer [
307
,
308
]. Furthermore, iodine has been found to inhibit the carcinogenic process in breast and prostate cancer cell lines [
309
,
310
,
311
,
312
]. These findings are consistent with results showing that incidence of prostate, endometrium, ovary and breast cancer is lower in populations with high iodine intake [
245
,
299
]. Notably, the RoI has the highest cancer incident in Europe and third highest in the world next to New Zealand and Australia [
313
,
314
]. The majority of the population in all three countries are also provided with artificially fluoridated drinking water.
The current study has elucidated the role of F in inhibiting PRL expression. It is important to note, that in addition the role of PRL in upregulating NIS expression, PRL is known to have more than 300 biological functions including the stimulation of neurogenesis, modulation of stress responses, calcium transport, immune system regulation and reduction of anxiety, among others [
315
,
316
,
317
,
318
,
319
]. Recently, it has been found that PRL increases synaptogenesis and neuronal plasticity, enhances neurogenesis, cell proliferation and neuroprotection, improves learning and spatial memory and acts as a neuronal protector against excitotoxicity-effects [
320
,
321
,
322
,
323
,
324
,
325
,
326
,
327
,
328
,
329
,
330
]. Thus, it seems reasonable to suggest that suppression of PRL may be deleterious to brain activity. However, PRL is also essential for promoting milk production after birth [
331
]. Thus, inhibition of PRL can lead to problems with breastfeeding. Low PRL is associated with increased risk of type 2 diabetes (TSDM), particularly for females [
332
,
333
]. Globally, the number of people with diabetes mellitus has quadrupled in the past three decades, and diabetes mellitus is the ninth major cause of death. About 1 in 11 adults worldwide now have diabetes mellitus, 90% of whom have T2DM [
334
]. In males, low PRL has been found to be related to sexual dysfunction, metabolic syndrome, anxiety and depressive symptoms and lower general health. [
335
,
336
]. In line with this finding, in a longitudinal evaluation of the same subjects, it was recently reported that low PRL independently predicted incident major cardiovascular events [
337
].
5. Conclusions
In summary, diverse lines of evidence demonstrate that F inhibits NIS expression and functionality thereby contributing to impaired iodide absorption, diminished iodide-concentrating ability and iodine deficiency disorders. Taken together, the findings of this study provide unprecedented insights into the molecular mechanisms by which F inhibits iodine uptake, transport and reabsorption, and provide a basis for minimising or preventing the risk of adverse health outcomes associated with iodine deficiency. The findings of this study further suggest that there are windows of susceptibility over the life course where chronic F exposure in infancy may influence long term iodine status and health outcomes in adulthood. Moreover, iodine deficiency in pregnancy can have profound implications on the health of offspring including risk of miscarriage, stillbirth, reduced IQ and greater risk of ADHD and ASD. In addition, loss of iodine bioavailability leads to lower antioxidant capacity, reduced anti-inflammatory capacity, impaired immunity and increased risk of cancer. Therefore, actions that prevent the risk of adverse health outcomes are essential to improve the health of the world's population and to reduce health inequities. Based on the findings of this study, evidence strongly suggests that F ingestion contributes to pathological states by impairing iodine absorption and diminishing iodine concentrating ability. Whether or not public health practitioners and epidemiologists are ready to take up the implied challenge of these findings is, inevitably, related to the extent to which they are willing to continue to disavow the emerging evidence that F intake is associated with negative health outcomes for the sake of continuing a policy of fluoridation of drinking water that inadvertently may be contributing to the pathogenesis of neurodevelopmental disorders, impaired immune responses, inflammatory diseases and cancer.
Author Contributions
D.T.W. is solely responsible for the intellectual content, literature review and drafting of the manuscript. The author reviewed and approved the final manuscript.
Funding
The author did not receive payment or benefit for this work. This work was undertaken without funding for the benefit of public health and the advancement of scientific education in the fields of health promotion and disease prevention.
Conflicts of Interest
The author declares no conflict of interest.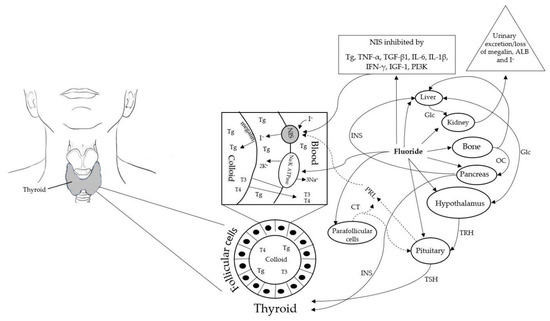 Figure 1. Schematic representation of the role of NIS and Na+, K+-ATPase in normal thyroid follicular cells showing the key aspects of iodine transport, thyroid hormone synthesis and molecular mechanisms of inhibition of NIS by fluoride. Abbreviations: NIS: Sodium/Iodide Symporter; ALD: Albumin; CT: Calcitonin; Glc: Glucose; I-: Iodide; INS: Insulin; IGF-1; Insulin like growth factor 1; IL-6: Interleukin 6; IL-1β: Interleukin 1 beta; IFN-γ: Interferon-γ; OC: Osteocalcin; PRL: Prolactin; PI3L: Phosphoinositide 3-kinase; Tg: Thyroglobulin; THR: Thyrotropin-releasing hormone; TSH: Thyroid-stimulating hormone; T4: Thyroxin; T3: Tri-iodothyronine.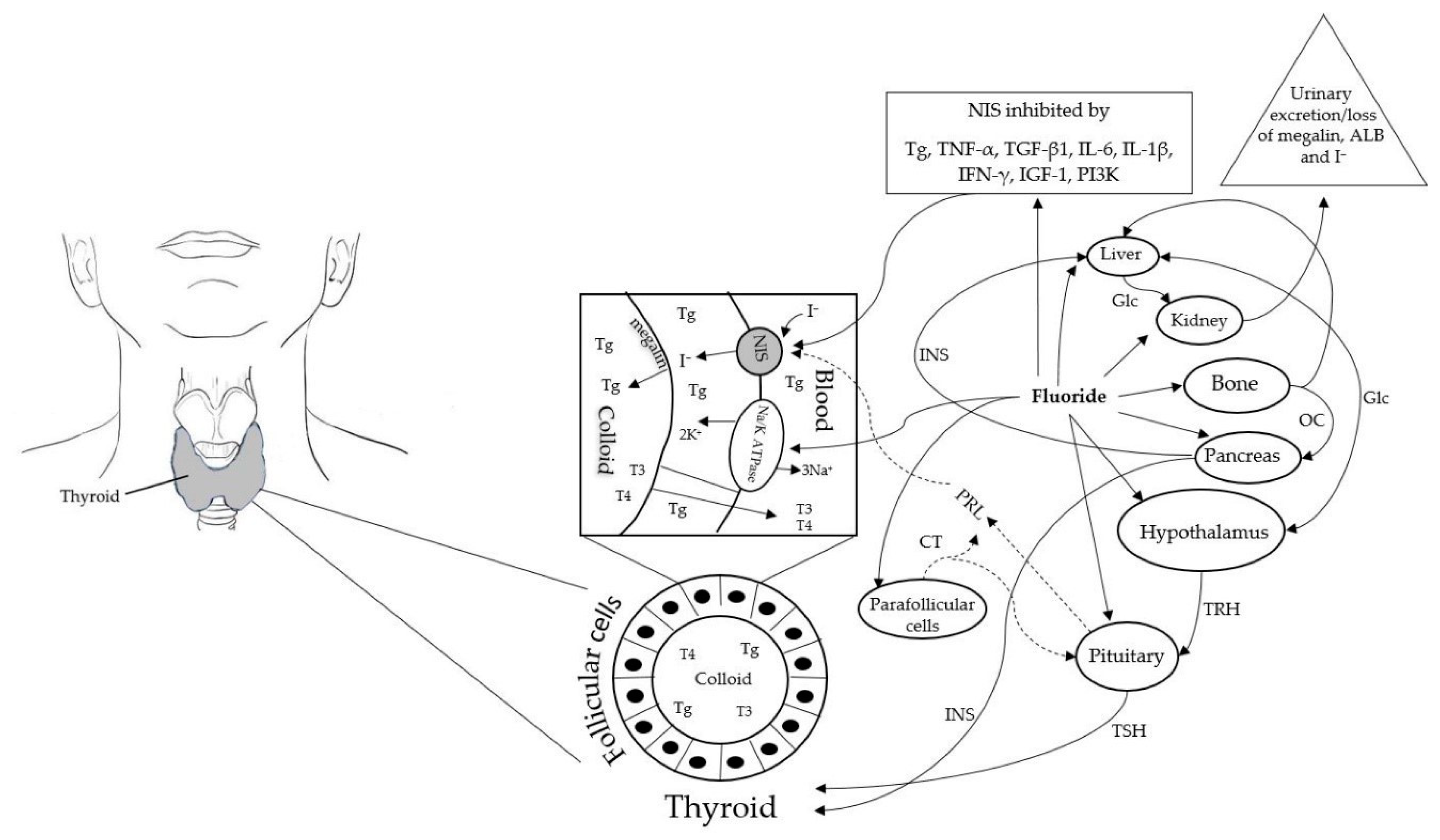 © 2019 by the author. Licensee MDPI, Basel, Switzerland. This article is an open access article distributed under the terms and conditions of the Creative Commons Attribution (CC BY) license (http://creativecommons.org/licenses/by/4.0/).