Open Access This article is
freely available
re-usable
Concept Paper
A Multisensory Multilevel Health Education Model for Diverse Communities
Department of Neurology, Columbia University Medical Center, New York, NY 10032, USA
*
Authors to whom correspondence should be addressed.
Received: 10 January 2019 / Accepted: 5 March 2019 / Published: 10 March 2019
Abstract
:
Owing to their enormous capacity to improve health and save lives, public health researchers and practitioners have worked on developing effective frameworks for the optimization of health promotion strategies. A multilevel focus, as exemplified by the Socio-Ecological Model (SEM), is one common denominator among these frameworks. The SEM highlights important social and ecological influences on health behavior by delineating the different levels of influence. These include public policy, organizational, community, interpersonal, and intrapersonal levels, which, when considered during the development of health promotion campaigns—especially those that focus on health education—strengthen the influence of that campaign on targeted behaviors. However, the SEM lacks a complimenting framework for understanding the role of conventional and unconventional approaches to health education; that is, how to design a health education intervention that considers both the context, such as the social and ecological levels of influence, and the best approaches for developing and delivering the health education in a manner that optimizes its effectiveness in today's modern and increasingly diverse world. Addressing this gap, the current article presents an integrative Multisensory Multilevel Health Education Model (MMHEM), which incorporates three key domains—(1) Art (innovativeness/creativity), (2) Culture (cultural tailoring), and (3) Science (evidence-based), while promoting the importance of considering the socio-ecological levels of influence on targeted behaviors. Using a successful health education intervention, called the Hip Hop Stroke, we deconstruct the Multisensory Multilevel Health Education Model and discuss its potential role as a guide for developing public health education interventions.
Keywords:
Socio-Ecological Model; public health education; Stroke Education; health communication
1. Introduction
The current article presents a Multisensory Multilevel Health Education Model (MMHEM) that encompasses the (1) "why/what", (2) "who/where", and (3) "how" of health education. The "why/what", which reflects mechanisms governing human behavior, is often the target of existing health behavior models (e.g., attitudes, motivation, normative beliefs, self-efficacy, social norms, social support, etc.); the "who/where" reflects the levels of influence as outlined by the Socio-Ecological Model (e.g., family, community, organizations, public policies); and, the "how" considers methodological and innovative approaches to health education design, cultural adaptation, and implementation.
2. The Multisensory Multilevel Health Education Model
2.1. Socio-Ecological Model (SEM) and Health Education: Foundation of the Multisensory Multilevel Health Education Model (MMHEM)
Just as the English poet John Donne emphasized that "no man is an island entire of itself; every man is a piece of the continent, a part of the main", the Socio-Ecological Model (SEM) affirms that individuals exist within a broader environmental and social ecosystem that shapes their health behaviors [
18
]. Recent data suggest that the more levels of influence targeted by a health campaign, the greater the probability that individuals will improve their health behaviors [
27
]. Lewis and colleagues [
28
] examined whether the implementation of multilevel interventions, in the case of diabetes self-management, optimizes the effects of the interventions. They found that combining interventions on different levels of the SEM enhanced diabetes self-care among patients [
28
]. This effect was attributed to a "convergence strategy"
—
the idea that multilevel interventions reinforce each other by changing the patterns of interactions between the stakeholders that are involved in a particular health promotion endeavor. Although the benefits of multilevel interventions are clear, health education interventions often target a single level of influence; this singular focus results in missed opportunities to leverage the "convergence strategy" [
29
]. Therefore, we propose a Multisensory Multilevel Health Education model that facilitates the a priori consideration of the different (applicable) levels of behavioral influence in the design of health education interventions, and we discuss its major domains.
2.2. Art, Culture, and Science—Major Domains of the Multisensory Multilevel Health Education Model
One way to design health education programming is through the use of art (innovativeness/creativity), culture (cultural tailoring), and science (evidence-based) (see
Figure 1
). From the art perspective, researchers have long recognized the parallel between health communication and the fields of creative marketing such as various forms of advertisements [
30
,
31
,
32
]. Despite their differences, the goal of health education and marketing is similar—that is to influence behavior (health behavior or consumer behavior) in an innovative, effective, and sustainable manner [
30
]. In addition to the art domain, health programs need to consider an individual's culture [
33
]. This consideration is particularly important in the case of campaigns targeting people from culturally diverse communities [
34
] where social norms interact with the behavior change being sought. In fact, culturally discordant programs contribute to the failures of many health campaigns [
35
]. Finally, health education programs need to be guided by scientific evidence supporting their content, followed by a rigorous evaluation of their effectiveness prior to dissemination [
36
].
The MMHEM is a conceptual framework designed to provide guidance for the development of health education interventions. It comprises three major domains—art, culture, and science—and eight subdomains (see
Figure 1
&
Table 1
). The model represents an integrative approach to public health education operating at different levels of behavioral influence (see
Table 1
). Its application should be considered when developing and implementing public health interventions, especially those that seek to permeate multiple levels of the SEM (see
Figure 2
).
2.2.1. Art
The art domain of the MMHEM pertains to health education interventions that are multisensory and aesthetically sensitive. They leverage visual (iconic), auditory (echoic), tactile, and kinesthetic sensory inputs in their design through the creative arts (see
Table 1
). This multisensory focus may help health education programs compete more effectively with other industries in the "attention economy" environment. The addition of an interactive feature to this domain serves as a synergistic attribute for stimulating multiple senses [
37
]. Examples of the art domain includes the use of music, storytelling, pictographs, multimedia, and movement (see
Table 1
). Although health education programs may focus on one or two of the above examples in their design, research on multisensory learning suggest that education strategies combining multiple senses to convey a single message are more effective than strategies using dual or single sensory modalities [
38
,
39
,
40
,
41
]. For example, individuals remember more if they are presented with a drawing of a common object that is paired with a semantically congruent sound (e.g., picture of a bell and a sound "dong"), as opposed to a drawing alone [
39
]. Similarly, from a consumer behavior perspective, multisensory advertisements of food are more effective than advertisements focused on taste alone [
42
].
Since perception and memory are multisensory in nature, MMHEM promotes the integration of visual, auditory, and kinesthetic strategies into health messages. From a neuroscience perspective, integrating congruent multisensory information enhances individuals' performance, learning, decision-making [
43
], and memory [
44
]. Indeed, human memory—encoding, storing, and retrieving information—is accustomed to function in a multisensory environment [
44
]. For example, learning a new language through multiple senses (i.e., visual, auditory, kinesthetic) outperforms verbal learning alone [
45
]. In fact, such cross-sensory interactions occur at very early stages of human perception [
46
]. Moreover, the human brain is organized to process information coming from different sensory channels concurrently in order to form a comprehensive picture of reality [
47
]. In a series of experiments, Seitz, Kikm, and Shams [
48
] found that integrating sound and visual learning yielded more effective acquisition of new skills than single-sensory modality learning, provided that the audio and visual messages consisted of congruent information. Similarly, combining text with semantically congruent visual images improved learning [
49
]. These data support the notion of a multisensory "congruency effect", suggesting that semantically congruent multisensory stimuli improve the encoding of new information and enhance its later recognition memory [
50
].
In the context of health education, evidence suggests that cartoon illustrations and pictographs are more successful than written materials alone for improving patient recall and comprehension of consent materials, particularly among low literacy populations [
51
,
52
]. In the same vein, George and colleagues [
53
] found that animated videos might be effective educational tools for increasing the health literacy of minority populations. However, despite this recent surge in interest regarding the application of multisensory and multimedia art forms to public health, the best way of designing these programs in a manner that optimizes effectiveness remains unclear [
54
].
2.3. The Interaction between Art, Culture, and Science
All of the domains incorporated in the MMHEM dynamically interact with each other. In other words, one domain alone, without considering the other two domains may not be sufficient for increasing the effectiveness of a particular health intervention. For example, when designing health education programs for reducing childhood obesity among African American children, health practitioners need to simultaneously consider effective multisensory strategies (art) that are culturally relevant to the particular cultural group (culture) and are based on the best available research evidence (science). Therefore, all three domains—art, science, and culture—co-exist in a dynamic and symbiotic relationship, and their mutual influence needs to be considered at each stage of health education design, implementation, and evaluation.
3. Hip Hop Stroke: An Illustration of MMHEM
4. Discussion
HHS is an example of a public health education intervention that deploys art, culture, and science across multiple levels of an individuals' physical and social environment. Our experience with HHS and evidence from its randomized trial [
25
] suggests that the effectiveness of public health education campaigns can be optimized through innovative, culturally tailored, and evidence-based multisensory and multilevel approaches.
The MMHEM is built on well-established health education frameworks, predominantly the Socio-Ecological Model and Entertainment Education theory. However, several unique features distinguish MMHEM from the existing health education models: (1) it represents an integrative approach to health communication by combining conventional and unconventional methods of health education; (2) it outlines specific components of health communication and their targeted functions; (3) it provides an operational roadmap for the design, implementation, and evaluation of effective and multisensory health education programs; (4) it may help enhance the competitiveness of health education interventions in the "attention economy" of the modern world by mimicking persuasive and creative marketing approaches through its art domain; and, (5) it is a translational framework that enables researchers and practitioners to apply behavioral theory into practice by outlining the key steps involved.
In summary, the MMHEM integrates: (1) "why/what", (2) "who/where", and (3) "how" of an effective health education. It does this by highlighting specific and modifiable reasons for individual-level knowledge gaps, interpersonal barriers, and facilitators of health education ("why/what"); the socio-ecological levels of influence ("who/where"); and, the methodology of effective health education programming ("how"). When compared to existing health education models (see
Table 2
), the MMHEM not only incorporates key constructs of several traditional frameworks, it goes a step further by deconstructing how its major domains—art, science, and culture—can be operationalized in a manner that synergizes with people's social and physical environments and engages their individual health behaviors. We note that the concept of educational entertainment [
17
] overlaps with the MMHEM in terms of its emphasis on different forms of art and entertainment as educational and communication tools. However, MMHEM expands on the educational entertainment framework by grounding these constructs within the socio-ecological context, culture, and science.
Although the Multisensory Multilevel Health Education Model is a promising framework to help guide the design and implementation of health education programs, several limitations of the model exist. First, the key constructs of the model have not been prospectively tested; rather, the MMHEM is the product of a retrospective analysis of a single, successful, widely adopted, evidence-based health education intervention, and literature review. Second, since the MMHEM is limited to a single stroke education campaign, it is important for public health practitioners to consider its applicability to their domains of interest, and the specific interventions designed to address them. Indeed, targeting multiple levels of socio-ecological influence is not always indicated or appropriate, and certain interventions may only require single level targeting. Finally, because we have not prospectively measured the specific constructs of the MMHEM, our deconstruction of HHS represents a qualitative illustration that requires validation. This may include the development of specific scales for measuring the key constructs of the MMHEM.
5. Conclusions
This article describes the important role of multisensory and multilevel approaches to public health education interventions and the need to frame these interventions within the social and ecological levels of behavioral influence. We posit that health education interventions targeting diverse communities need to incorporate three domains—art, culture, and science—to guide their design, implementation, and evaluation, and to improve their competitiveness in a modern world where information overload has become pervasive, and human attention is an increasingly scarce commodity.
Author Contributions
Conceptualization, O.W. and E.M.S.; methodology, O.W. and E.M.S.; resources, O.W.; data curation, O.W.; writing—original draft preparation, E.M.S.; writing—review and editing, O.W. and E.M.S.; visualization O.W. and E.M.S.; supervision, O.W.
Funding
This work did not receive any specific grant from funding agencies in the public, commercial, or not-for-profit sectors.
Acknowledgments
The authors gratefully acknowledge Hip Hop Public Health Team.
Conflicts of Interest
The authors declare no conflict of interest.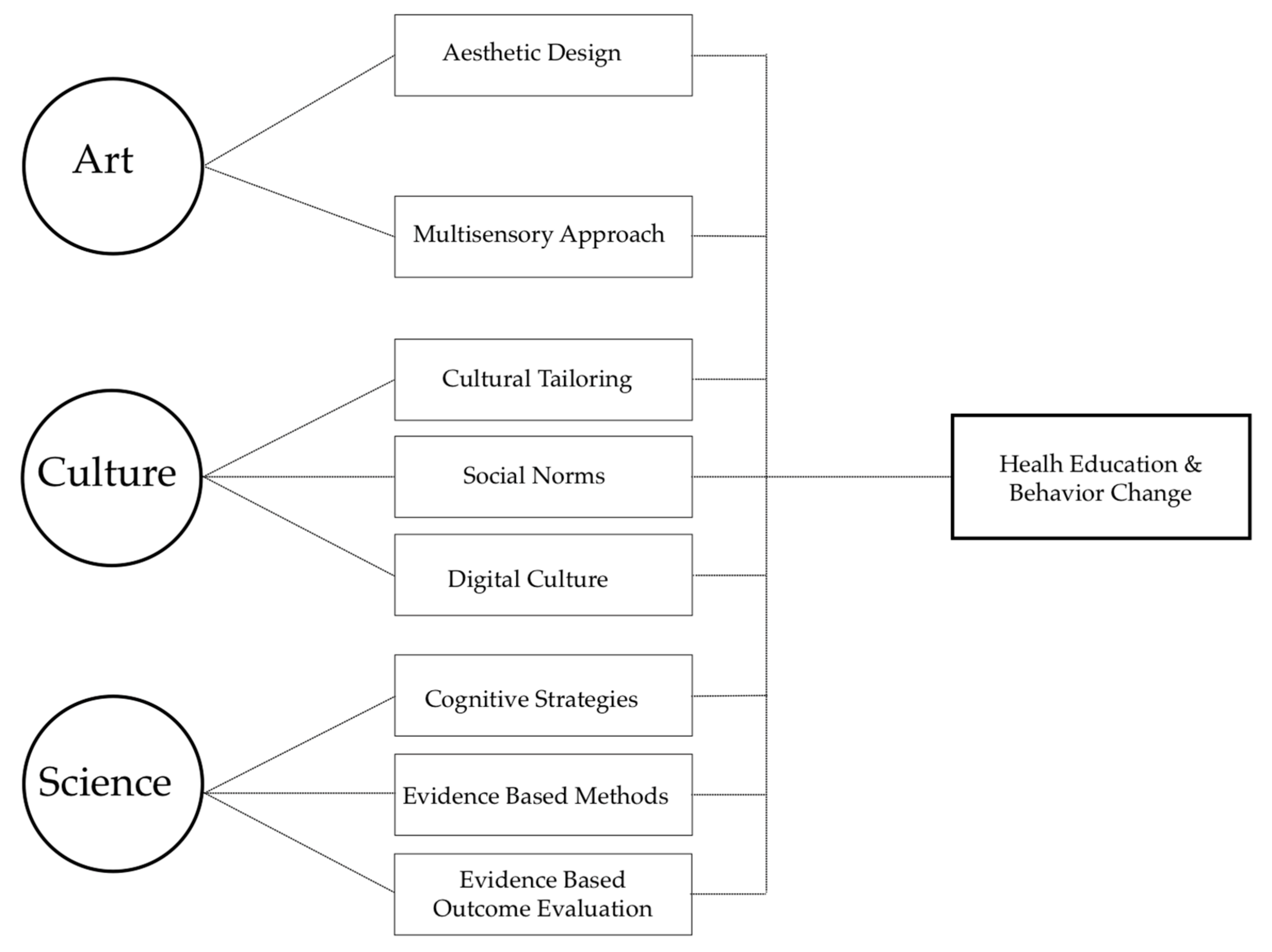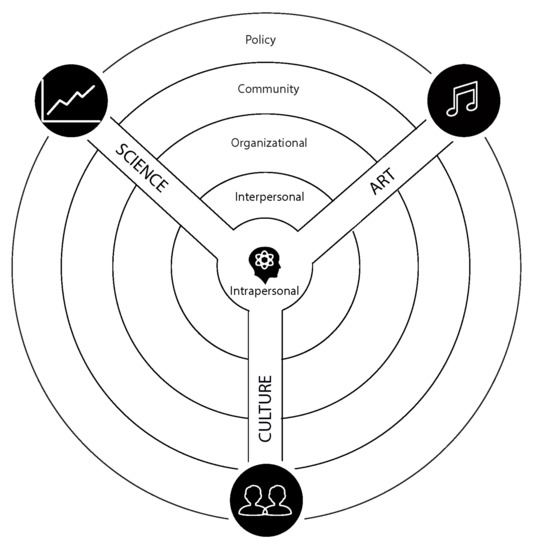 Figure 2. The Multisensory Multilevel Health Education Model (MMHEM) integrates art, culture, and science into multiple levels of influence of the SEM (intrapersonal, interpersonal, organizational, community, and policy).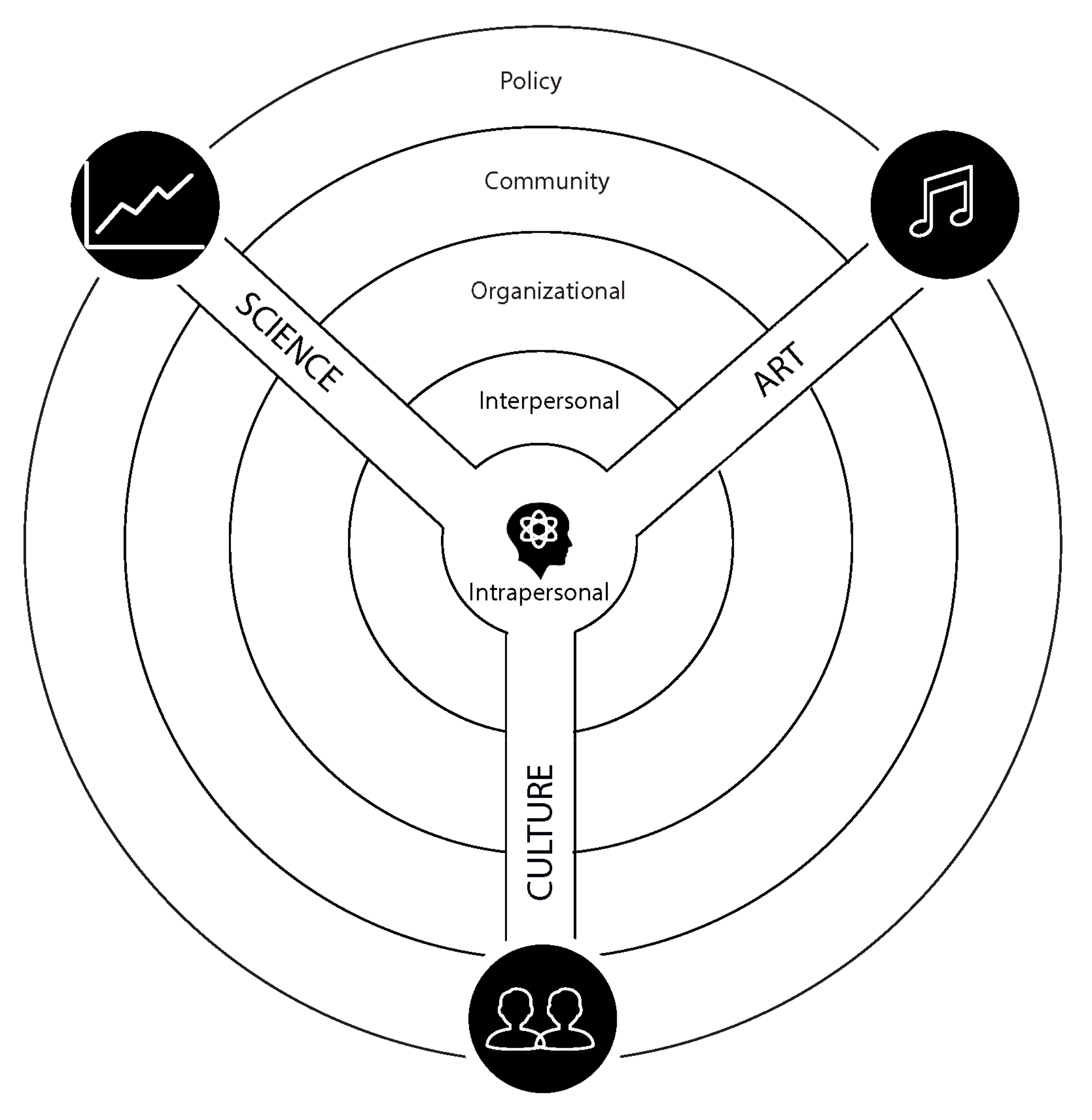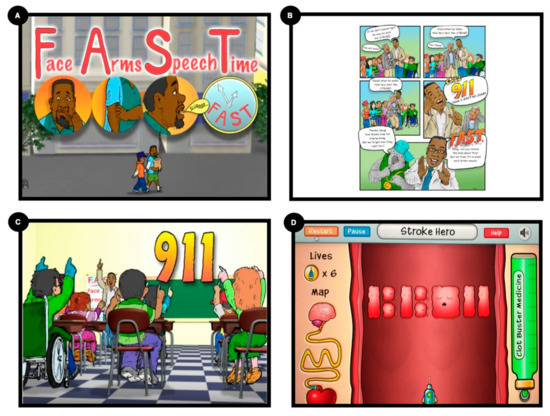 Figure 3. Sample Hip Hop Stroke Media. (A) "Keep Your Brain Healthy"—animated feature showing the Facial drop, Arm weakness, Speech slurring/disturbance, and Time to call 911 (F.A.S.T.) mnemonic; (B) Hip Hop Stroke Comic Book; (C) "Stroke Ain't No Joke"—animated feature; and (D) "Clotbuster" video game.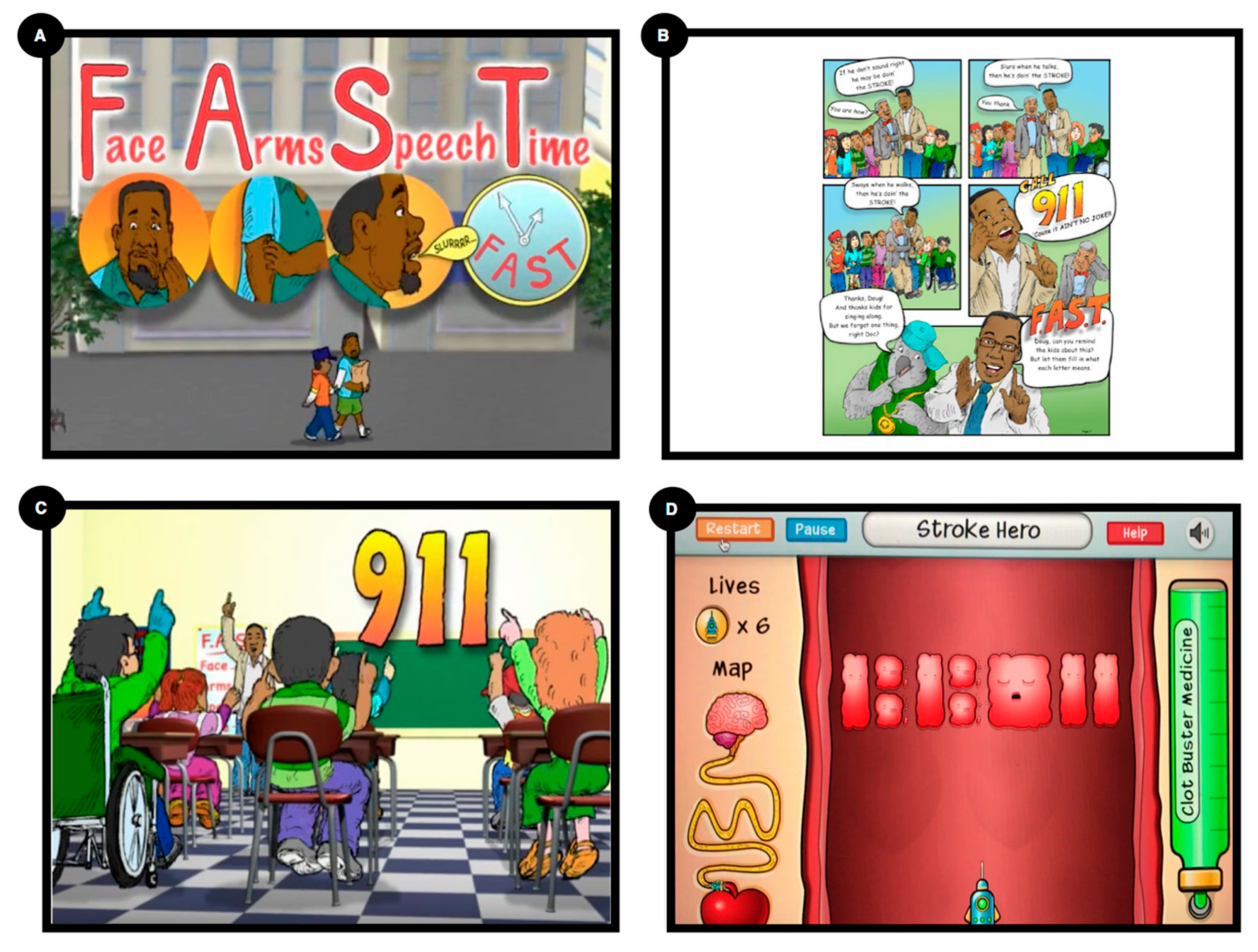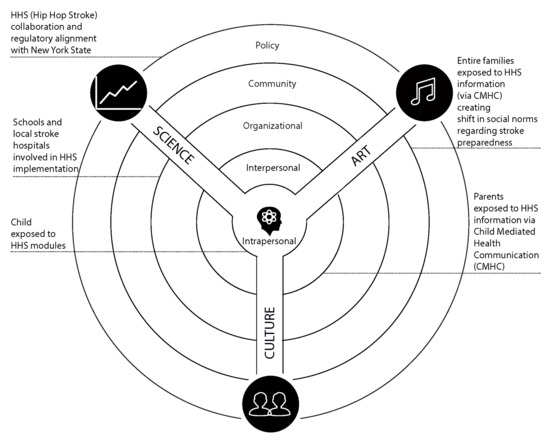 Figure 4. Hip Hop Stroke and the Socio-Ecological Model illustrated through the Multisensory Multilevel Health Education Model. Legend: CMHC = Child Mediated Health Communication; HHS = Hip Hop Stroke.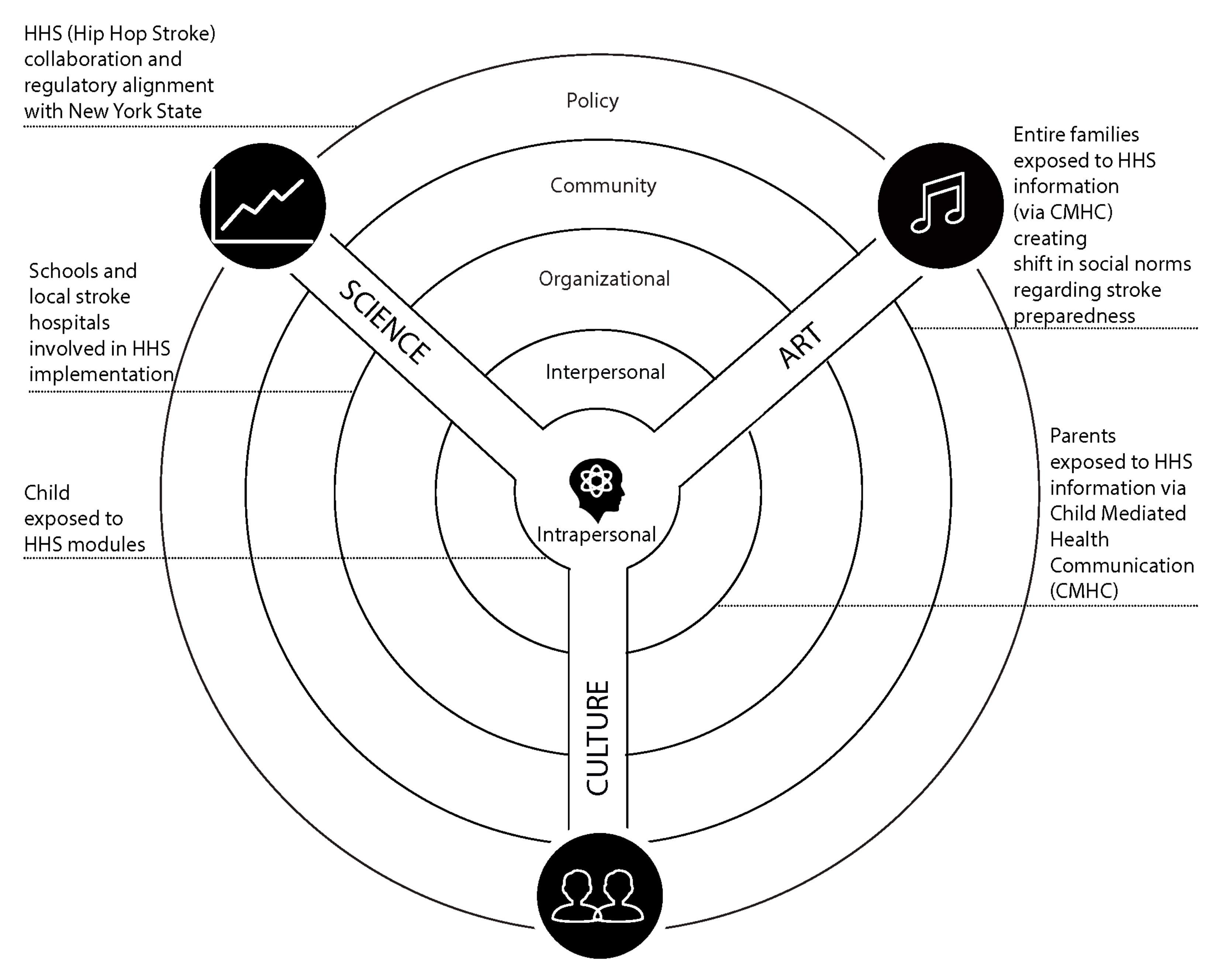 Table 1. The Multisensory Multilevel Health Education Model—Domains, Subdomains, Examples, Functions, Socio-Ecological Model (SEM) Level of Influence.
Domains
Subdomains
Examples
Functions
SEM Level of Influence
Art
1. Aesthetic Design
2. Multisensory Approach (visual, auditory, tactile kinesthetic)
(a) Music
(b) Storytelling
(c) Multimedia (e.g., animation, video)
(d) Pictographs
(e) Gamification
(f) Acting (dramatization)
(g) Movement (e.g., dance)
(h) Virtual Reality
Enhance attention
Facilitate immersion
Trigger emotions
Inspire action
Overcome illiteracy barriers
Enhance learning
Intrapersonal
Interpersonal
Culture
1. Cultural Tailoring
2. Social Norms
3. Digital Culture
(a) Qualitative research (e.g., focus groups, community advisory boards, use of a narrative performance scale)
(b) Cultural adaptation frameworks (e.g., ecological validity model)
(c) Identity Signaling
(d) Role of social media and digital platforms
Increase cultural relevance
Increase personal relevance
Facilitate acceptance
Leverage social networks through digital platforms
Intrapersonal
Interpersonal
Organizational
Community
Science
1. Cognitive Strategies (memory and learning)
(a) Stickiness (including the properties of a sticky message)
(b) Contagiousness (including the properties of a contagious message)
(c) Repetition
(d) Rehearsal
(e) Role Play
(f) Rhymes
(g) Acronyms
Facilitate learning
Facilitate retention
Intrapersonal
Interpersonal
Organizational
Community
2. Evidence Based Methods
(a) Scientific Advisory Boards
(b) Literature reviews/Subject Matter Experts
(c) Best practices
(d) Use of Conceptual Frameworks
(e) Multidisciplinary or Transdisciplinary teams
Ensure scientific rigor including strong scientific premise
Intrapersonal
Interpersonal
Organizational
Community
3. Evidence Based Outcome Evaluation
(a) Psychometrically Reliable and Validated Outcomes Measures
(b) Rigorous Research designs to test for Efficacy and Effectiveness
Facilitates internal and external validity
Intrapersonal
Interpersonal
Organizational
Community
Policy

Table 2. The comparison of MMHEM to the existing evidence-based health education models and their major focus.
Health Education Framework

WHY/WHAT


(e.g., Self-efficacy,
Perception,
Normative beliefs,
Persuasion,
Social Norms etc.)

WHO/WHERE


(i.e., Individuals,
Family/Friends,
Community,
Organizations,
Public Policy)

HOW


(i.e., the Incorporation of Art,
Cultural Adaptation,
Scientific Evidence based Methods)
Existing Models of Health Education * (individual, interpersonal, stage-based frameworks)
×
Socio-Ecological Model
×
Educational Entertainment
×
×
MMHEM
×
×
×
* Health Belief Model; Theory of Planned Behavior; Social Cognitive Theory; Elaboration Likelihood Theory; Transtheoretical Model; Diffusion of Health Promotion Innovation.

© 2019 by the authors. Licensee MDPI, Basel, Switzerland. This article is an open access article distributed under the terms and conditions of the Creative Commons Attribution (CC BY) license (http://creativecommons.org/licenses/by/4.0/).