Open Access This article is
freely available
re-usable
Article
The Contribution of Sustainable Tourism to Economic Growth and Employment in Pakistan
1
Department of Agricultural Economics and Management, School of Management, ZhejiangUniversity, Hangzhou 310029, China
2
School of Public Affairs, Zijingang Campus, Zhejiang University, Hangzhou 310058, China
3
School of Management, Zhejiang University Hangzhou 310029, China
4
Department of Economics, Hazara University Mansehra, 21120, Pakistan
*
Author to whom correspondence should be addressed.
Received: 8 September 2019 / Accepted: 4 October 2019 / Published: 8 October 2019
Abstract
:
In the global economy, tourism is one of the most noticeable and growing sectors. This sector plays an important role in boosting a nation's economy. An increase in tourism flow can bring positive economic outcomes to the nations, especially in gross domestic product (GDP) and employment opportunities. In South Asian countries, the tourism industry is an engine of economic development and GDP growth. This study investigates the impact of tourism on Pakistan's economic growth and employment. The period under study was from 1990 to 2015. To check whether the variables under study were stationary, augmented Dickey–Fuller and Phillips–Perron unit root tests were applied. A regression technique and Johansen cointegration approach were employed for the analysis of data. The key finding of this study shows that there is a positive and significant impact of tourism on Pakistan's economic growth as well as employment sector and there is also a long-run relationship among the variables under study. This study suggests that legislators should focus on the policies with special emphasis on the promotion of tourism due to its great potential throughout the country. Policy implications of this recent study and future research suggestions are also mentioned.
Keywords:
sustainable tourism; economic growth; employment; gross domestic product; Pakistan
1. Introduction
Tourism in South Asia
This article contains six sections. The first section is the introduction of the study. The second section contains theories and hypotheses development. The third section provided the research methodology of the study. The fourth is the results section. The fifth section comprises the conclusions and discussions. The final section includes policy implications, limitations, and future research directions.
2. Development Theories
According to neoliberal development and general modernization theories, the standard of living is measured by economic growth. However, DT and AD theories of economic development interrogated this approach. The DT approach demonstrated the negative effects of Western development on the poorest communities of the south and AD theory swung development to bottom-up from the top-down approach.
Empirical Literature Review and Hypotheses
Researchers have a variety of views concerning how tourism contributes to economic expansion and employment in many developed and underdeveloped countries. A number of scholars have the same opinion on the significant role of tourism and how it relates to the growth of the economy. According to the World Tourism Organization, tourism is an activity of traveling for the purpose of leisure outside the day to day environs. The benefits received by local and national economies should be analyzed accordingly [
39
]. For economic development, tourism has been considered one of the driving forces. It has a positive impact in creating a foreign exchange and generating employment opportunities and local revenue [
40
,
41
,
42
]. Numerous studies in different less-developed nations around the world have found a significant correlation between tourism and economic expansion [
41
,
43
,
44
].
Ayeni et al. [
39
] explored the growth of sustainable tourism in Nigeria. According to the authors, tourism has become an instrument for diversifying the economy for several countries. This has supported the service sector and has created a major connection with Nigeria's economy, by promoting new employment opportunities and creating new sources for revenue generation. However, the developed nations have a higher ratio of world tourism in comparison to less-developed nations; but still, there are a lot of opportunities for less developed countries to get maximum benefits from this industry. The researchers analyzed through the qualitative technique of research the potential of Nigeria's tourism on its economy and found that the industry has great potential but is yet to be explored. They were of the opinion that given the endeavors of the government to eradicate poverty and diversify the economy, tourism could contribute a lot.
Manwa [
45
] posited that in order for tourism to be sustainable for society they must gain economically from it. This would allow them to protect and maintain the popular tourist areas. This is also highlighted by Smith [
46
]: that the economic benefits of tourism depend on the country's aptitude to offer appropriate and adequate amenities.
Brida [
47
] emphasized the impact that tourism had on economic expansion in Chile. The purpose was to examine a probable causal association between exchange rate, tourism expenditure, and economic expansion for the period 1986 to 2007. The hypotheses were empirically analyzed by employing the Johansen Cointegration Test. The author found that tourism and economic expansion had a positive correlation and that tourism was the main contributing factor to economic expansion. Pavlic et al. [
48
] revealed the impact of tourism on employment in Croatia. According to the authors, the tourism sector contributed to the promotion of employment after examining quarterly data from 2000−2012 through Johansen Co-integration Test and Granger Causality Test. The researchers also found a positive impact of tourism on employment and co-integration showed a long-term correlation amongst the variable.
Wang et al. [
49
] investigated the correlation between GDP and tourism revenues in Guizhou, China. Findings of their study showed a significant and positive correlation between tourism and GDP. Akan et al. [
50
] demonstrated causal relationships among the tourism sector and economic development of Turkey. The researchers used the Granger Causality test, Phillips–Perron test, the co-integration approach, and a Vector Autoregression (VAR) model for the time period 1985–2007. Findings of the test revealed that the tourism industry in Turkey was positively affected by economic development. The analysis indicated that a long-term steady correlation among economic development and tourism growth exists.
Kreishan [
51
] analyzed the causality association among tourism revenues and economic development (GDP) for Jordan. The author covered the annual time series data of 1970–2009 for analysis. To check the causal association, the researcher used the Augmented Dickey–Fuller (ADF), Johansen Co-Integration, and Granger Causality tests. The results showed that there was a positive relationship in the long term among economic expansion and tourism growth. The existence of a direct connection among tourism revenue and economic growth was also observed through the Granger Causality test.
Adnan et al. [
23
] estimated the long-run relationship amongst tourism revenue and economic development in Pakistan. The authors used the annual data from 1971 to 2008 for analyses. The findings confirmed the long-term relationship among revenue from tourism and economic development, and in their study, they explained that revenue from tourism led to increasing economic growth in Pakistan, except between 2006 and 2008.
Sr et al. [
52
] explained the connection among eradication of poverty, tourism growth, and economic development in Nicaragua. The researchers found a direct relationship between tourism growth and poverty eradication. The authors characterized the association amongst the variables under study as they related to "democratization of the dollar". They highlighted the employment and income opportunities that are derived from a transfer of income and wealth from the inhabitants of developed countries compared to less-developed countries. According to the Shan et al. [
53
] and Kulendran et al. [
43
] in their analyses of China and Australia, they observed that there is a strong association between international travel and trade. A Korean case suggests that economic development can attract many business tourists. The case also suggests that economic growth can lead to tourism expansion.
Several studies have shown the direct connection between international trade (particularly export expansion) and economic growth [
54
,
55
,
56
]. The authors have seen a robust relationship between international trade and economic development and also a strong correlation between exports and economic growth. Moreover, tourism extensions are connected to economic development. However, export-oriented economic development caused tourism income to drop. Lastly, the strategies of continuous promotion of tourism may not be as effective as perceived by decision makers, if no direct relation was found between tourism development and economic growth, because it generally happens when tourism development has a positive impact on the economy [
45
]. In the South Asian region, especially in Pakistan, studies of tourism's effects on economic growth have been less evident in tourism related literature. Therefore, we examined the relationship between growth of tourism, economic development, and employment in the context of Pakistan. Hence, our research is based on the following hypotheses:
Hypothesis 1
(H1).
There is a positive association between annual tourism growth and GDP.
Hypothesis 2
(H2).
There is a positive association between annual tourism growth and an increase in the employment rate.
3. Research Methods
Data and Variables
To study the contribution of sustainable tourism to economic growth and employment in Pakistan, the annual time series data from 1990 to 2015 was taken for analysis. In this study, the annual growth of tourism was taken as an independent variable and both employment and GDP were used as dependent variables. Due to the time series data, this study may exhibit some stationary or non-stationary variables. In this study before determining that all the series were integrated, a unit root test (i.e., ADF) was applied.
Firstly, the bivariate regression model was used for quantitative analysis to investigate the empirical relationship between two variables and hypothesis testing [
57
]. Secondly, to find a long-run relationship between variables, we used co-integration analysis. For statistical analysis and also for econometrics model estimation, E-view 9 was used. For data collection, different sources were used, i.e., Tourism Year Book, Economic Survey of Pakistan, Ministry of Tourism Government of Pakistan, World Travel and Tourism Council, and Tourism Economic Impact annual reports.
5. Discussion
Tourism is one of the fastest growing industries and also a driving force for so many developed as well as developing economies. It is the largest source of employment opportunities and a huge wealth originator and a greater contributor to the diversified economy. Weaker regions or regions in decay could be developed through the tourism sector easily. For the tantalizing economies of the South Asian countries, tourism is professed as a dynamic tool to get rid of the scarcity of development resources, such as finance and expertise.
The goal of the current study is to examine the relationship between tourism, employment, and economic development in Pakistan. We explored the positive connection between the annual tourism growth and employment and economic growth. Tourism growth can improve the employment rate as well as GDP. Kim et al. [
66
] demonstrated causal associations among tourism growth and economic expansion in Taiwan. The findings of their study showed a long-term equilibrium association. Sanchez et al. [
67
] revealed that tourism expenses primarily had caused the economic deficit, but that a positive and significant economic impact on economic expansion was found. The empirical studies highlighted the impact of the tourism demand on employment pointed out that tourism had a significant effect on employment rate [
68
,
69
]. According to Archer [
70
] and Mathieson [
71
], tourism creates direct and indirect employment opportunities. However, studies in this context are inadequate in Pakistan. As a result, we investigated this gap and found a positive impact that tourism had on employment and economic development. Findings of our study showed that tourism growth has a positive correlation to employment and GDP. Our results are compatible with the previous research findings of Khalil and Pavlic [
48
,
72
]. Moreover, the main outcomes of the present study are in line with previous research outcomes [
67
,
70
]. The result of the cointegration analysis suggests the existence of a relationship between annual tourism growth and GDP, a finding that aligns with the prior study of Pedak [
73
]. Additionally, the results of the cointegration analysis show the long-run relationship between the annual tourism growth and employment; these results are in line with the previous study of Dimoska [
74
]. These findings suggest that growth in tourism has a major role in the economic growth as well as in creating employment opportunities. Findings supported the hypotheses.
Empirical and theoretical studies have discovered that the growth of the tourism sector has a positive impact on employment. In addition, its direct effect on travel and tourism can produce additional employment opportunities through its stimulating influence in many tourism sectors. The total economic impact of tourism is healthier when the tourism sector is encouraged to acquire domestic services and goods.
6. Policy Implications, Limitations, and Future Research Direction
For the Pakistani economy, tourism is a motivating force. The growing tourism sector can bring much optimism to the economy, mainly in terms of income, GDP, generation of employment, and economic growth. Pakistan is a popular tourist destination. Its array of natural beauty, as well as its traditional and cultural inheritance, will play an important role in Pakistan's future if the tourism industry develops systematically and is supported well.
The tourism sector requires creative and talented people and well-developed infrastructure in place. Policies drawn from this study are that the government should create employment opportunities, income sources, and revenue for the local inhabitants as well as economic activities in the country through the development of tourism. The government can develop the tourism industry by providing the incentive to the tourism sector in the form of basic infrastructures such as a high-quality transportation system, roads, immense airports, and tax incentives to the tourism-related industries (i.e., hotels). Political stability must be established to improve Pakistan's image to the world. The government should also ensure the security of all tourists and formulate sustainable tourism policies. This ensures a stable, secure, and steady tourism demand for the country.
The main emphasis of the state legislators should be on a law and order situation and a quality education. Terrorist attacks not only destroy the tourism sector but also abolish the soft image of Pakistan. Globally, the country was declared as insecure for traveling. Irrespective of the poverty, unemployment, inflation, and infrastructure development, still northern areas have attracted the maximum share of tourists as compared to other areas of Pakistan. Hence, to alleviate poverty and enrich the standard of life, an international level promotion of tourism in the northern areas is needed.
There are some limitations to this study. These limitations can lead to further research. First, the recent study applied secondary data. So, future studies may focus on primary data for investigating the effect of the tourism sector on economic growth. Secondly, the present study is conducted in the context of Pakistan; future research studies should be carried out in other developing countries in terms of generalizability of the findings. Further research could also be based on a sector-driven approach in order to distinguish the direct and indirect impacts of tourism on employment. Finally, future research should encourage examining other dependent variables, specifically revenue and foreign exchange earnings, etc. Furthermore, future research is needed to additionally recognize the short-term relationship between the variables through the Johansen Cointegration and Vector Error Correction Model (VECM).
7. Conclusions
The main purpose of the current study is to examine the relationship between tourism to employment and economic development in Pakistan. For this study we have used time series data from the year 1990 to 2015. The annual growth of tourism was used as an explanatory variable and both employment and GDP were taken as outcome variables. Bivariate regression and Johansen cointegration technique employed for the analysis. We have investigated the positive connection between the annual tourism growth, employment and economic growth. Findings of the study showed that tourism growth plays important role in the economic development of the country.
Author Contributions
F.M. and L.W. have equal contribution to writing the original draft; M.A. reviewed and revises the paper. M.Z.u.H. and H.u.R. contributed to the methodology part.
Funding
This research received no external funding.
Acknowledgments
F.M. would like to express special gratitude to my academic supervisor Longbao Wei for his guidance, constant support, and orientation. His important guidance, advice, and suggestions are invaluable.
Conflicts of Interest
The author(s) declare that there is no conflict of interest regarding the publication of this article.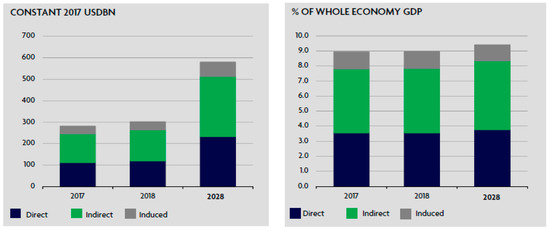 Figure 1. Source: World travel and tourism council, 2018. SOUTH ASIA: Total contribution of travel and tourism to GDP.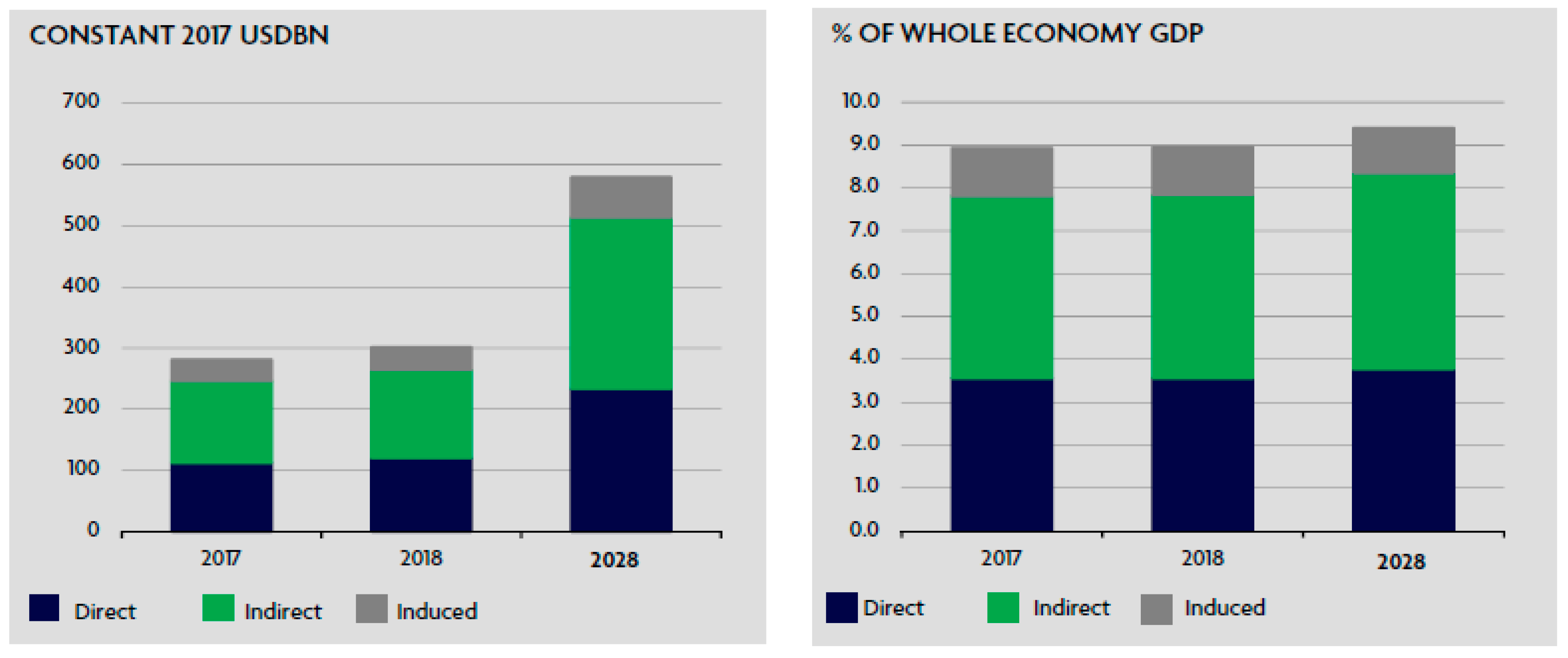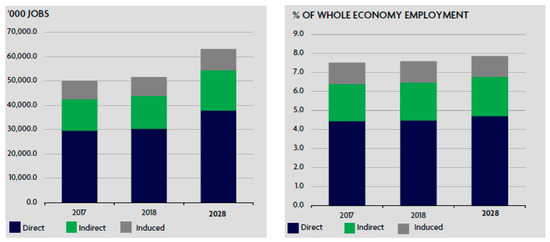 Figure 2. Source: World travel and tourism council, 2018. SOUTH ASIA: Total contribution of travel and tourism to employment.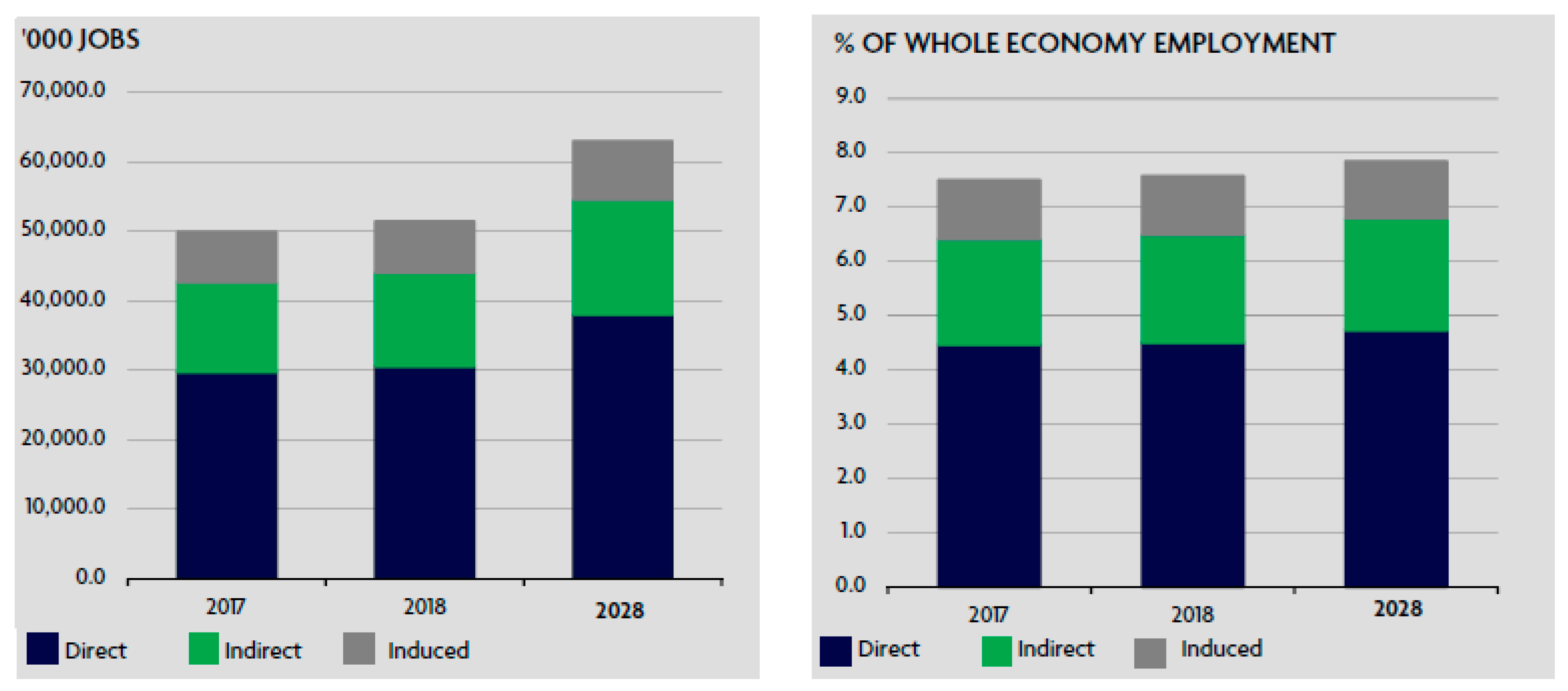 | Variables | Mean | Std. Dev. | Min | Max | 1 | 2 | 3 |
| --- | --- | --- | --- | --- | --- | --- | --- |
| EMP | 6.538 | 0.938 | 4.5 | 7.67 | 1 | | |
| GDP | 9.749 | 3.701 | 2.5 | 13.9 | 0.202 | 1 | |
| Tour_g | 11.78 | 0.999 | 10 | 13.8 | 0.392 * | 0.727 ** | 1 |
Note: EMP: Employment rate; GDP: Gross Domestic Product; Tour_g: Tourism growth; * Correlation is significant at the 0.05 level(2-tailed); ** Correlation is significant at the 0.01 level (2-tailed).
| Variable | ADF Level | PP Level |
| --- | --- | --- |
| GDP | −2.210278 | −2.450704 |
| EMP | −4.871852 | −4.922699 |
| Tour_g | −3.740363 | −3.793420 |
ADF: augmented Dickey–Fuller test; PP: Phillips–Perron test.
| Variable | ADF Level | PP Level |
| --- | --- | --- |
| ΔGDP | −5.826917 (0.0004) | −5.903267 (0.0004) |
| ΔEMP | −10.34191 (0.000) | −14.01308 (0.000) |
| ΔTour_g | −9,125,041 (0.000) | −9.842097 (0.000) |
Note: null hypothesis rejected at 5% significance level.
Dependent Variable: ΔGDP
Variable
Coefficient
Std. Error

t

-Statistic
Prob.
C
−21.95028
6.134822
−3.577981
0.0015
ΔTour_g
2.690465
0.518887
5.185067
0.0000
R-squared
0.528348
Durbin Watson
1.330163
F-statistic
26.88492
Prob (F-statistic)
0.000026
Dependent Variable: ΔEMP
Variable
Coefficient
Std. Error

t

-Statistic
Prob.
C
2.206832
2.083572
1.059158
0.3001
ΔTour_g
0.367638
0.17623
2.08613
0.0478
R-squared
0.153497
Durbin Watson
0.40489
F-statistic
4.351938
Prob (F-statistic)
0.047768

Table 6. Johansen cointegration. Series: EMP, GDP, Tour_g Lags interval (in first differences): 1 to 4.
Unrestricted Cointegration Rank Test (Trace)
Hypothesized
Trace
0.05
No. of CE(s)
Eigenvalue
Statistic
Critical Value
Prob.**
None *
0.974991
94.64275
29.79707
0.0000
At most 1 *
0.456825
17.18381
15.49471
0.0276
At most 2 *
0.187754
4.366994
3.841466
0.0366
Trace test indicates 3 cointegrating eqn(s) at the 0.05 level
* denotes rejection of the hypothesis at the 0.05 level
** MacKinnon–Haug–Michelis (1999)

p

-values
Unrestricted Cointegration Rank Test (Maximum Eigenvalue)
Hypothesized
Max-Eigen
0.05
No. of CE(s)
Eigenvalue
Statistic
Critical Value
Prob.**
None *
0.974991
77.45894
21.13162
0.0000
At most 1
0.456825
12.81681
14.26460
0.0836
At most 2 *
0.187754
4.366994
3.841466
0.0366
Max-eigenvalue test indicates 1 cointegrating eqn(s) at the 0.05 level
* denotes rejection of the hypothesis at the 0.05 level
** MacKinnon–Haug–Michelis (1999)

p

-values
Source: Author's calculation by using E-view 9. Eqn (equation), CE (cointegrating equation).

© 2019 by the authors. Licensee MDPI, Basel, Switzerland. This article is an open access article distributed under the terms and conditions of the Creative Commons Attribution (CC BY) license (http://creativecommons.org/licenses/by/4.0/).