Rubbertown Next Generation Emissions Measurement Demonstration Project
1
U.S. Environmental Protection Agency, Office of Research and Development, National Risk Management Research Laboratory, 109 TW Alexander Dr., RTP, NC 27711, USA
2
U.S. Environmental Protection Agency, Office of Research and Development, National Exposure Research Laboratory, 109 TW Alexander Dr., RTP, NC 27711, USA
3
Former Oak Ridge Institute of Science and Engineering Fellow with EPA ORD, now with NC State University, 2311 Stinson Dr. Raleigh, NC 27695, USA
4
U.S. Environmental Protection Agency, Region 4, 61 Forsyth St. SW, Atlanta, GA 30303, USA
5
Jacobs Technology Inc., 109 TW Alexander Dr., RTP, NC 27711, USA
6
Applied Research Associates Inc., 109 TW Alexander Dr., RTP, NC 27711, USA
7
City of Louisville Metro Air Pollution Control District, 701 W. Ormsby Ave. Ste. 303, Louisville, KY 40203, USA
*
Author to whom correspondence should be addressed.
Received: 1 May 2019 / Revised: 30 May 2019 / Accepted: 3 June 2019 / Published: 8 June 2019
Abstract
Industrial facilities and other sources can emit air pollutants from fugitive leaks, process malfunctions and area sources that can be difficult to understand and to manage. Next generation emissions measurement (NGEM) approaches executed near facilities are enabling new ways to assess these sources and their impacts to nearby populations. This paper describes complementary uses of emerging NGEM systems in a Louisville, KY industrial district (Rubbertown), focusing on an important area air toxic, 1,3-butadiene. Over a one-year deployment starting in September 2017, two-week average passive samplers (PSs) at 11 sites showed both geospatial and temporal trends. At 0.24 ppbv annual average 1,3-butadiene concentration, a group of PSs located near facility fence lines was elevated compared to a PS group located in the community and upwind from facilities (0.07 ppbv average). Two elevated PS periods capturing emission events were examined using time-resolved NGEM approaches as case studies. In one event a 1.18 ppbv PS reading was found to be relatively localized and was caused by a multiday emission from a yet to be identified, non-facility source. In the other event, the airshed was more broadly impacted with PS concentrations ranging from 0.71 ppbv for the near-facility group to 0.46 ppbv for the community group. This case was likely influenced by a known emission event at an industrial facility. For both case studies, air pollutant and wind data from prototype NGEM systems were combined with source location models to inform the emission events. This research illustrates the power of applying NGEM approaches to improve both the understanding of emissions near sources and knowledge of impacts to near-source communities.
View Full-Text
►

▼

Figures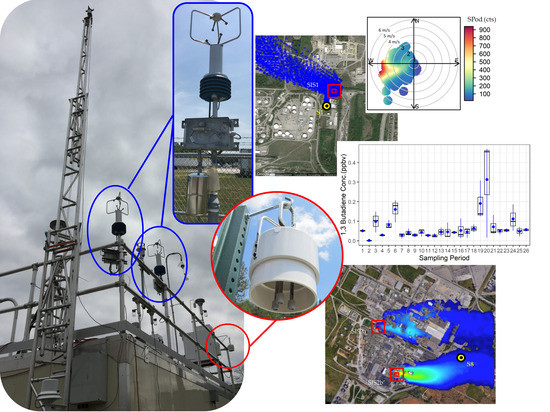 Graphical abstract
This is an open access article distributed under the
Creative Commons Attribution License
which permits unrestricted use, distribution, and reproduction in any medium, provided the original work is properly cited (CC BY 4.0).

Share & Cite This Article
MDPI and ACS Style
Thoma, E.; George, I.; Duvall, R.; Wu, T.; Whitaker, D.; Oliver, K.; Mukerjee, S.; Brantley, H.; Spann, J.; Bell, T.; Carlton-Carew, N.; Deshmukh, P.; Cansler, J.; Cousett, T.; Tang, W.; Cooley, A.; Zimmerman, K.; DeWitt, B.; Paris, B. Rubbertown Next Generation Emissions Measurement Demonstration Project. Int. J. Environ. Res. Public Health 2019, 16, 2041.
Note that from the first issue of 2016, MDPI journals use article numbers instead of page numbers. See further details here.
Related Articles
Comments
[Return to top]