Area-Based Socio-Economic Inequalities in Mortality from Lung Cancer and Respiratory Diseases
1
Department of Epidemiology and Population Studies, Jagiellonian University Medical College, 31-531 Krakow, Poland
2
Department of Public Health, Medical University of Bialystok, 15-295 Bialystok, Poland
3
Department of Rheumatology and Internal Medicine, Medical University of Bialystok, 15-276 Bialystok, Poland
4
Department of Population Medicine and Civilization Diseases Prevention, Medical University of Bialystok, 15-269 Bialystok, Poland
*
Author to whom correspondence should be addressed.
Received: 16 April 2019 / Revised: 9 May 2019 / Accepted: 16 May 2019 / Published: 21 May 2019
Abstract
Background
: After political transformation in 1989/1990, Poland experienced a general improvement in living conditions and quality of life, but the benefits did not extend evenly across all segments of the society. We hypothesized that the regional differences in mortality due to diseases of the respiratory system are related to socioeconomic status (SES) and its changes over time.
Materials and methods
: An ecological study was carried out in 66 sub-regions of Poland using the data from the period of 2010 to 2014. Age-standardized mortality rates (SMRs) were calculated separately for men and women in three age categories: ≥15, 25–64 years, and ≥65 years. An area-based SES index was derived from the characteristics of the sub-regions using the z-score method. Multiple weighted linear regression models were constructed to estimate a real socioeconomic gradient for mortality resulting from lung cancer and respiratory diseases.
Results
: In the regions studied, the SMRs for respiratory disease varied from 70/100,000 to 215/100,000 in men and from 18/100,000 to 53/100,000 in women. The SMRs for lung cancer varied from 36/100,000 to 110/100,000 among men and from 26/100,000 to 77/100,000 among women. After adjusting for the prevalence of smoking and environmental pollution, the SES index was found to be inversely associated with the SMR for lung cancer in each category of age among men, and in the age group of 25–64 years among women. An increase of the SES index between 2010 and 2014 was associated with a decrease of SMR for respiratory disease both in men and women, but this change was not significantly associated with the SMR for lung cancer.
Conclusion
: SES appears to be an important correlate of mortality from respiratory diseases and lung cancer at the population level, particularly in men. A lower SES was associated with greater mortality from lung cancer and respiratory diseases. An increase in SES over time was related to a decrease in mortality from respiratory disease, but not from lung cancer.
View Full-Text
►

▼

Figures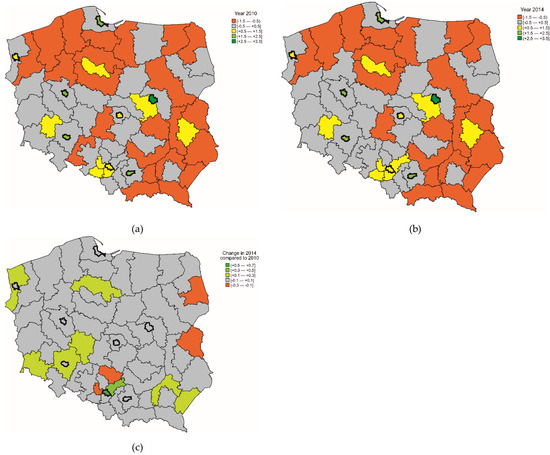 Figure 1
This is an open access article distributed under the
Creative Commons Attribution License
which permits unrestricted use, distribution, and reproduction in any medium, provided the original work is properly cited (CC BY 4.0).

Share & Cite This Article
MDPI and ACS Style
Polak, M.; Genowska, A.; Szafraniec, K.; Fryc, J.; Jamiołkowski, J.; Pająk, A. Area-Based Socio-Economic Inequalities in Mortality from Lung Cancer and Respiratory Diseases. Int. J. Environ. Res. Public Health 2019, 16, 1791.
Note that from the first issue of 2016, MDPI journals use article numbers instead of page numbers. See further details here.
Related Articles
Comments
[Return to top]