Open Access This article is
freely available
re-usable
Article
Using a Clustering Approach to Investigate Socio-Environmental Inequality in Preterm Birth—A Study Conducted at Fine Spatial Scale in Paris (France)
1
School of Public Health (EHESP), DSET&GS, 35043 Rennes CEDEX, France
2
Department of Social Epidemiology, Institut Pierre Louis d'Epidémiologie et de Santé Publique (UMRS 1136), Sorbonne Universités, UPMC Univ Paris 06, INSERM, 75012 Paris, France
3
Service de Protection Maternelle et Infantile, Direction des Familles et de la Petite Enfance, Mairie de Paris, 75196 Paris, France
4
School of medicine, Lorraine University, 54000 Nancy, France
5
Inserm, Irset (Institut de recherche en santé, environnement et travail)—UMR-S 1085, F-35000 Rennes, France
6
Laboratoire Image Ville Environnement, LIVE UMR 7362 CNRS, University of Strasbourg, 6700 Strasbourg, France
*
Author to whom correspondence should be addressed.
Received: 19 July 2018 / Accepted: 29 August 2018 / Published: 31 August 2018
Abstract
:
Background & Objectives
: Today, to support public policies aiming to tackle environmental and health inequality, identification and monitoring of the spatial pattern of adverse birth outcomes are crucial. Spatial identification of the more vulnerable population to air pollution may orient health interventions. In this context, the objective of this study is to investigate the geographical distribution of the risk of preterm birth (PTB, gestational age ≤36 weeks) at the census block level in in city of Paris, France. We also aimed to assess the implication of neighborhood characteristics including air pollution and socio-economic deprivation.
Material & Methods
: Newborn health data are available from the first birth certificate registered by the Maternal and Child Care department of Paris. All PTB from January 2008 to December 2011 were geocoded at the mother residential census block. Each census block was assigned a socioeconomic deprivation level and annual average ambient concentrations of NO
2
. A spatial clustering approach was used to investigate the spatial distribution of PTB.
Results
: Our results highlight that PTB is non-randomly spatially distributed, with a cluster of high risk in the northeastern area of Paris (RR = 1.15;
p
= 0.06). After adjustment for socio-economic deprivation and NO
2
concentrations, this cluster becomes not statistically significant or shifts suggesting that these characteristics explain the spatial distribution of PTB; further, their combination shows an interaction in comparison with SES or NO
2
levels alone.
Conclusions
: Our results may inform the decision makers about the areas where public health efforts should be strengthened to tackle the risk of PTB and to choose the most appropriate and specific community-oriented health interventions.
Keywords:
air pollution; neighborhood deprivation index; preterm birth; spatial approach
Author Contributions
Conceptualization, S.D. and W.K.; Methodology, S.D., W.K., N.A. and M.G.; Validation, S.D., W.K., M.C., A.D. and D.Z.N.; Formal Analysis, S.D., W.K., N.A.; Investigation, S.D. and W.K.; Writing-Original Draft Preparation, S.D., W.K., N.A., M.C., A.D. and D.Z.N.; Writing-Review & Editing, S.D. and W.K.; Supervision, S.D. and W.K.
Funding
This study was supported by Foundation de France: 201300040943.
Acknowledgments
The authors thank all scientific researchers of the Equit' Area project and the personnel of the local association in air quality of Paris Metropolitan Area.
Conflicts of Interest
The authors declare they have no actual or potential competing financial interests.
Figure 1. (A): Spatial distribution of crude preterm birth rate in census block areas within Paris; (B): Spatial distribution of socio-economic deprivation index in census block areas within Paris; (C): Spatial distribution of NO2 average concentrations from 2008 to 2011 in census block areas within Paris.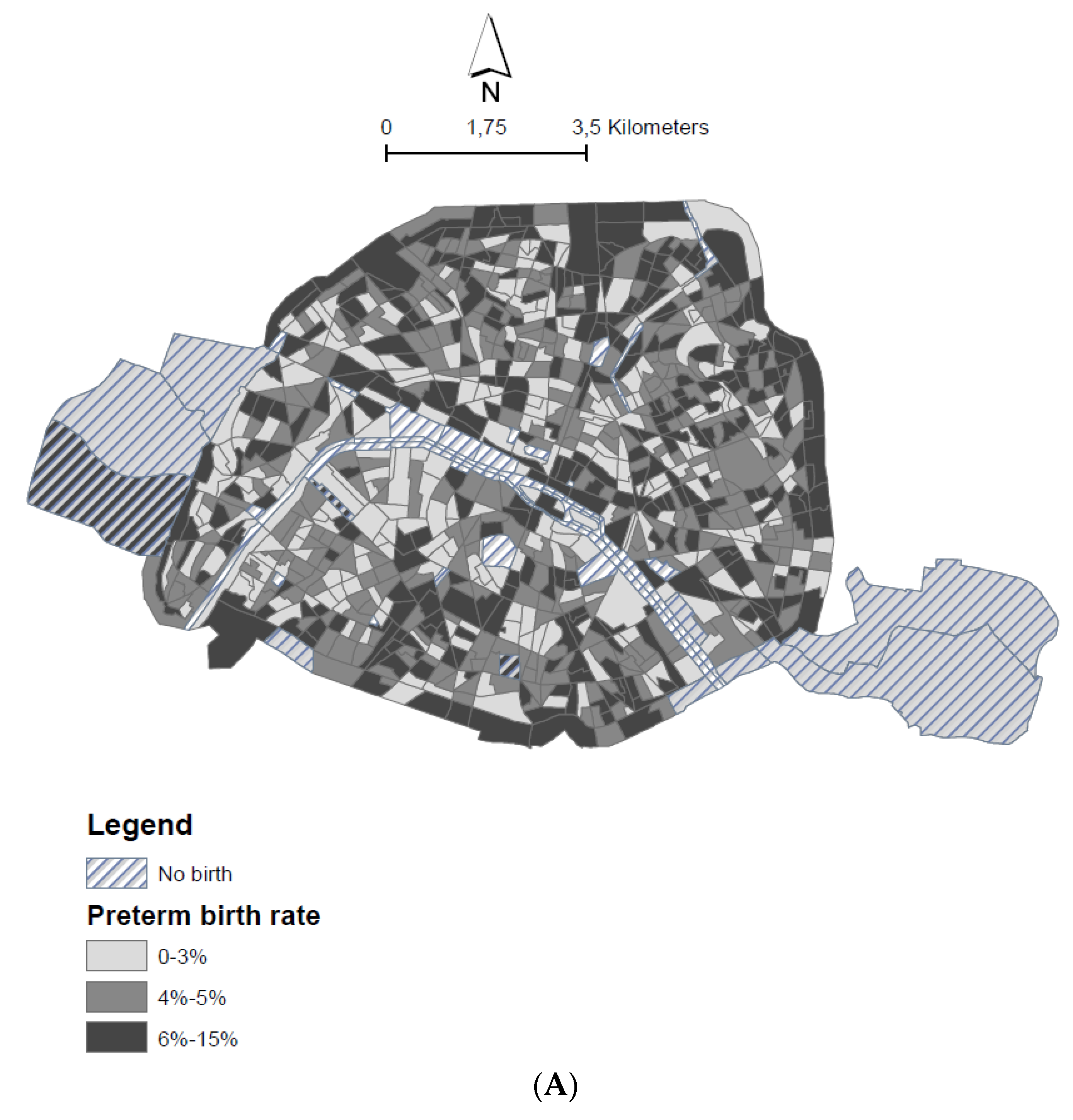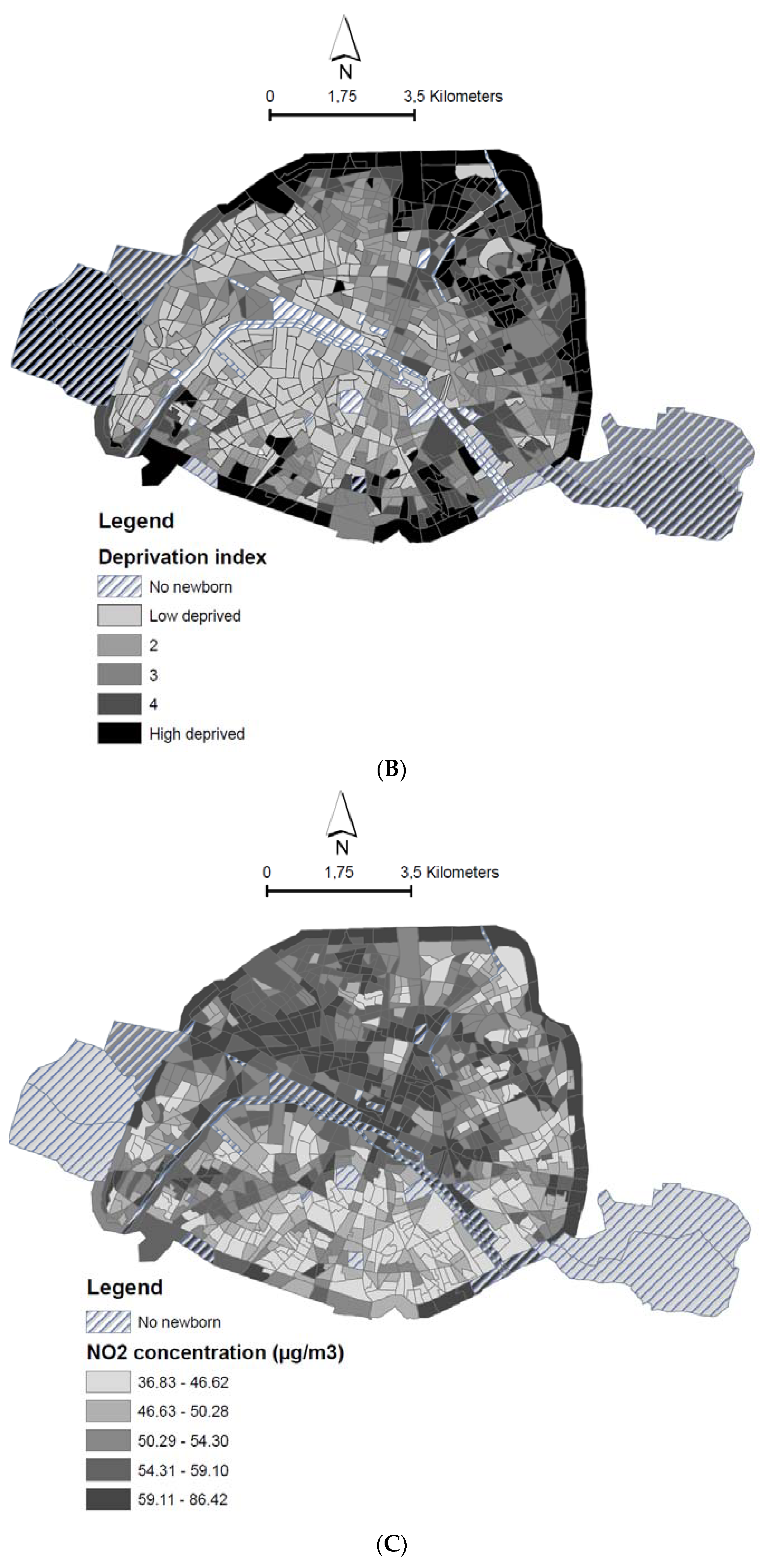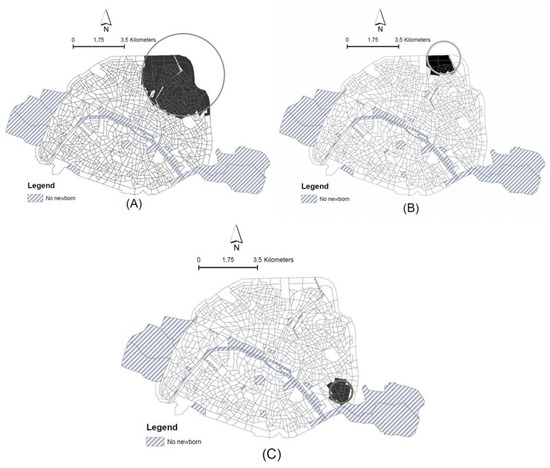 Figure 2. Spatial relocation of the most likely cluster of unadjusted PTB risk (A); after adjustment for NO2 exposure (B); after adjustment for NO2 exposure and socio-economic level (C). Legend: the dark area represents the census blocks included in the most likely cluster of high risk of PTB.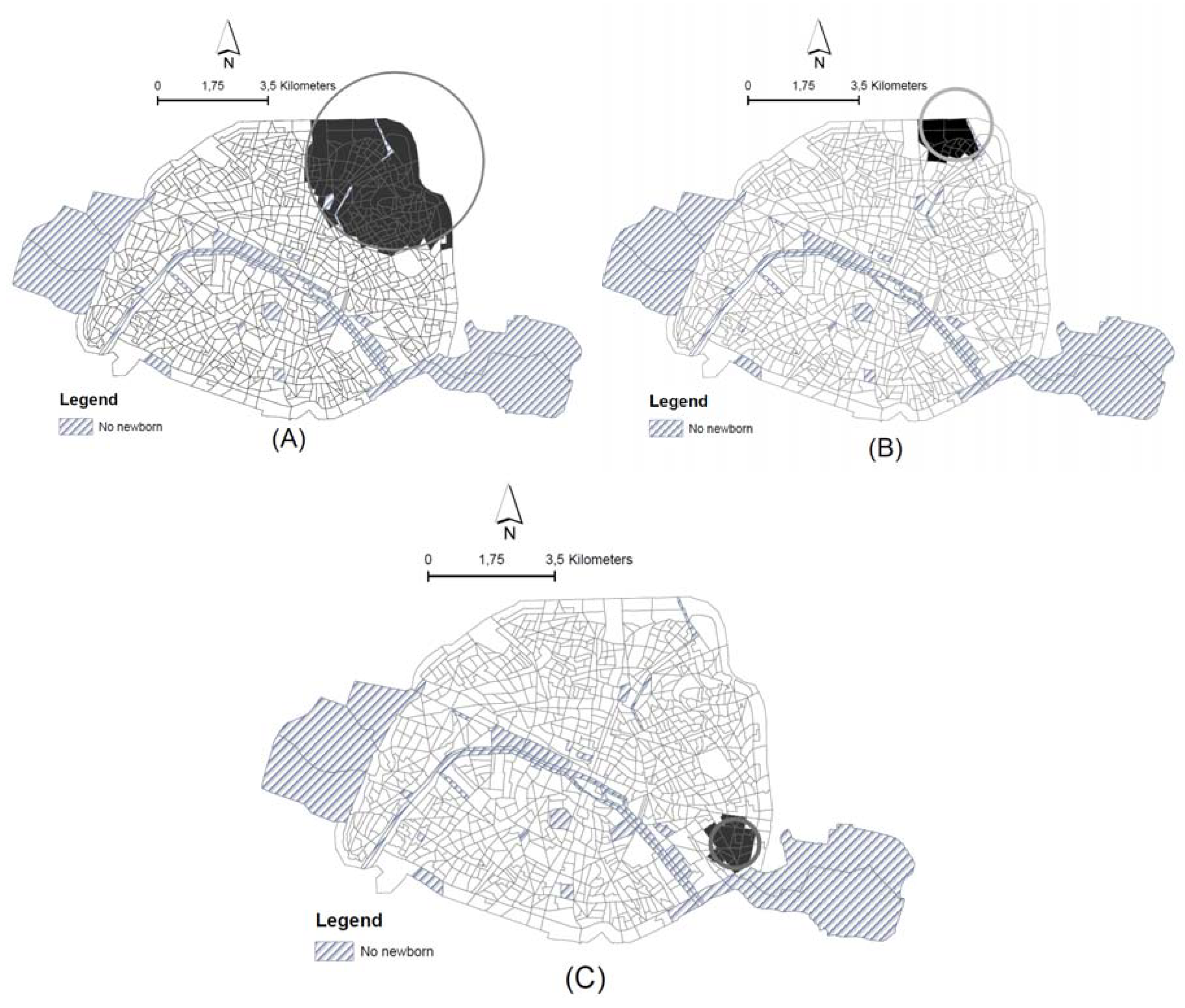 Table 1. Summary statistics of the most likely clusters of preterm birth risk and spatial relocation resulting from the adjustment analysis.
Analysis
Control Variables
Cluster Radius
No of Census Blocks/No. of Birth in the Cluster
No of Expected Cases
No. of Observed Cases
RR
LLr
Shift

p

-Value
Unadjusted a
No adjustment
2816.01
169/25,503
1179.94
1310
1.15
9.23
-
0.06
Adjusted b
1 Annual concentration of NO2
1125.2
17/2814
130.84
181
1.40
8.84
Same zone
0.08
SES c index
673.67
19/2396
104.95
140
1.34
5.42
Yes
0.81
NO2 and SES level
673.67
19/2396
106.95
140
1.32
4.76
Yes
0.97
RR: relative risk; LLr: log likelihood ratio; a Unadjusted analysis, to identify and localize the most likely cluster(s) of high risk of PTB; b Adjusted analysis for (1) NO2 concentration, (2) socio-economic deprivation index, (3) NO2 concentration and socio-economic deprivation index; c Socio-economic deprivation index.

© 2018 by the authors. Licensee MDPI, Basel, Switzerland. This article is an open access article distributed under the terms and conditions of the Creative Commons Attribution (CC BY) license (http://creativecommons.org/licenses/by/4.0/).