Mind–Body (Baduanjin) Exercise Prescription for Chronic Obstructive Pulmonary Disease: A Systematic Review with Meta-Analysis
1
Department of Physical Education, Wuhan University of Technology, Wuhan 430070, China
2
Department of Physical Education, Shenzhen University, Shenzhen 518060, China
3
Key Laboratory of Behavioral Science, Institute of Psychology, Chinese Academy of Sciences, Beijing 100101, China
4
Department of Sports Science and Physical Education, The Chinese University of Hong Kong, Shatin, Hong Kong, China
*
Author to whom correspondence should be addressed.
Received: 27 July 2018 / Revised: 13 August 2018 / Accepted: 20 August 2018 / Published: 24 August 2018
Abstract
Baduanjin exercise is a traditional Chinese health Qigong routine created by an ancient physician for health promotion. Its mild-to-moderate exercise intensity is suitable for individuals with medical conditions. Recently, a large number of trials have been conducted to investigate the effects of Baduanjin exercise in patients with chronic obstructive pulmonary disease (COPD). It remains to be determined whether Baduanjin exercise prescription is beneficial for the management of COPD patients. Thus, we conducted a systematic review to objectively evaluate the existing literature on this topic. We searched six databases (PubMed, Web of Science, Cochrane Library, Scopus, China National Knowledge Infrastructure, and Wanfang) from inception until early May 2018. The adapted Physical Therapy Evidence Database (PEDro) scale was used for study quality assessment of all randomized controlled trials (RCTs). Based on 95% confidence interval (CI), the pooled effect size (Hedge's g) of exercise capability (6-Minute Walking Test, 6-MWT), lung function parameters (forced expiratory volume in one second, FEV
1
; forced volume vital capacity, FVC; FEV
1
/FVC ratio), and quality of life were calculated based on the random-effects model. Twenty RCTs (
n
= 1975 COPD patients) were included in this review, with sum scores of the adapted PEDro scale between 5 and 9. Study results of the meta-analysis indicate that Baduanjin is effective in improving exercise capability (Hedge's g = 0.69, CI 0.44 to 0.94,
p
< 0.001,
I
2
= 66%), FEV
1
(Hedge's g = 0.47, CI 0.22 to 0.73,
p
< 0.001,
I
2
= 68.01%), FEV
1
% (Hedge's g = 0.38, CI 0.21 to 0.56,
p
< 0.001,
I
2
= 54.74%), FVC (Hedge's g = 0.39, CI 0.22 to 0.56,
p
< 0.001,
I
2
= 14.57%), FEV
1
/FVC (Hedge's g = 0.5, CI 0.33 to 0.68,
p
< 0.001,
I
2
= 53.49%), and the quality of life of COPD patients (Hedge's g = −0.45, CI −0.77 to −0.12,
p
< 0.05,
I
2
= 77.02%), as compared to control groups. Baduanjin exercise as an adjunctive treatment may potentially improve exercise capability and pulmonary function of COPD patients as well as quality of life. Baduanjin exercise could be tentatively prescribed for COPD in combination with the conventional rehabilitation program to quicken the process of recovery. To confirm the positive effects of Baduanjin exercise for COPD patients, future researchers need to consider our suggestions mentioned in this article.
View Full-Text
►

▼

Figures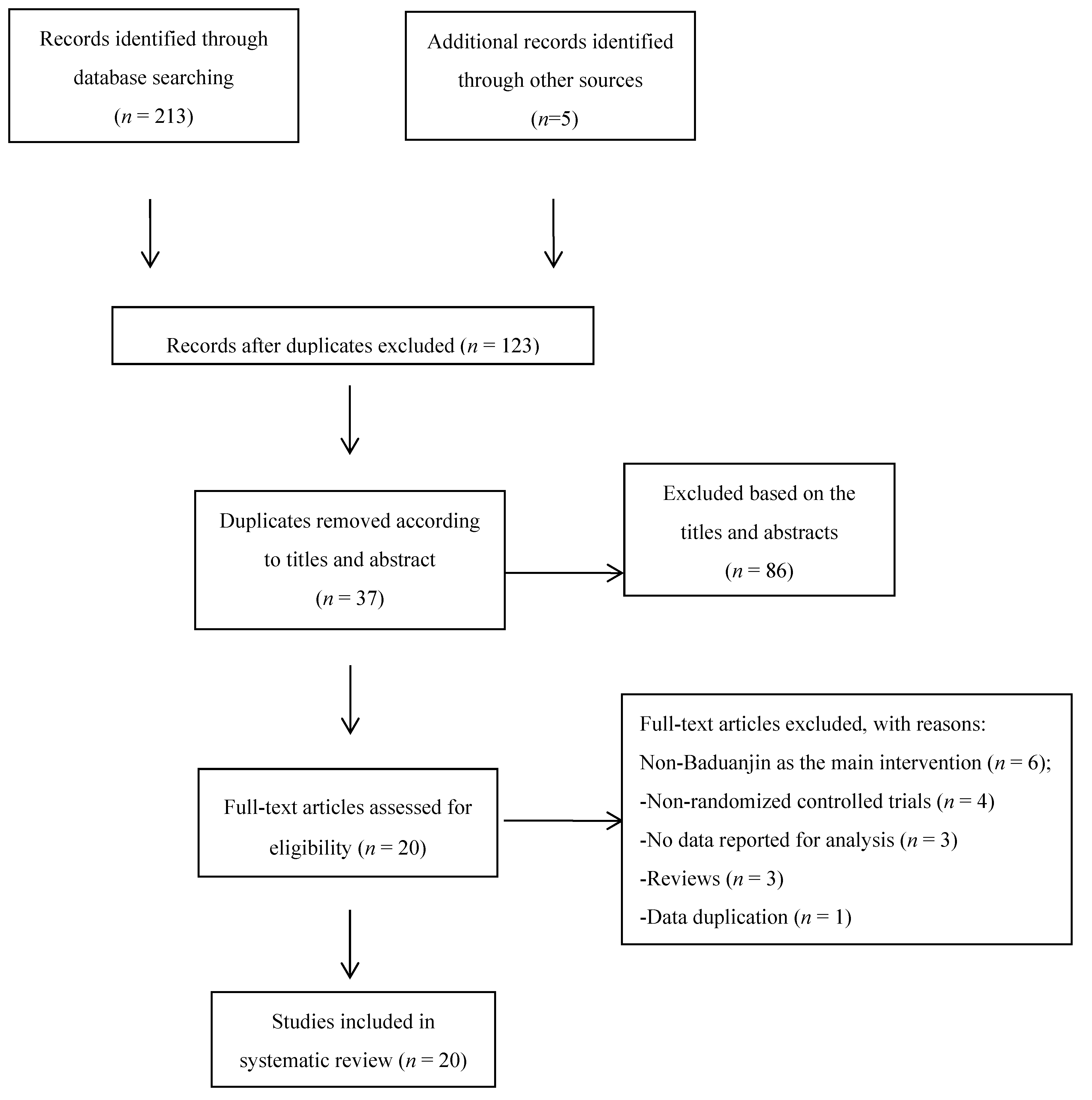 Figure 1
This is an open access article distributed under the
Creative Commons Attribution License
which permits unrestricted use, distribution, and reproduction in any medium, provided the original work is properly cited (CC BY 4.0).

Share & Cite This Article
MDPI and ACS Style
Liu, S.-J.; Ren, Z.; Wang, L.; Wei, G.-X.; Zou, L. Mind–Body (Baduanjin) Exercise Prescription for Chronic Obstructive Pulmonary Disease: A Systematic Review with Meta-Analysis. Int. J. Environ. Res. Public Health 2018, 15, 1830.
Note that from the first issue of 2016, MDPI journals use article numbers instead of page numbers. See further details here.
Related Articles
Comments
[Return to top]