Recommendations for Improving the Quality of Rare Disease Registries
1
National Centre for Rare Diseases, Istituto Superiore di Sanità, 00162 Rome, Italy
2
RaDiCo, (The French National Programme on Rare Disease Cohorts), Inserm-UMR S933, National Institute of Health and Medical Research, Hôpital Trousseau, 75018 Paris, France
3
Institute of Rare Diseases Research, ISCIII, RDR and CIBERER, 28029 Madrid, Spain
4
Institute of Clinical Physiology, National Research Council, 56124 Pisa, Italy
5
Fondazione Toscana "Gabriele Monasterio" (FTGM), 56124 Pisa, Italy
6
Patient Advisory Council of RD Connect and Vaincre la Mucoviscidose the French Cystic Fibrosis Patient Organization, 75013 Paris, France
7
Department of Genetics, University Medical Centre Groningen (UMCG), University of Groningen, 9700 RB Groningen, The Netherlands
8
Leiden University Medical Center, 2333 ZA Leiden, The Netherlands
9
Amsterdam UMC, University of Amsterdam, Medical Informatics, Amsterdam Public Health Research Institute, 1105 AZ Amsterdam, The Netherlands
10
Office for Rare Conditions, Royal Hospital for Children, University of Glasgow, Glasgow G51 4TF, UK
11
Patient Advisory Council of RD-Connect and EURORDIS-Rare Diseases Europe, 75014 Paris, France
12
Patient Advisory Council of RD Connect and MCT8-AHDS Foundation, Oklahoma, OK 74464, USA
13
Patient Advisory Council of RD Connect and NephcEurope Foundation, 2411 DW Bodegraven, The Netherlands
14
Patient Advisory Council of RD Connect and FEDERG, 1200 Brussels, Belgium
15
Patient Advisory Council of RD Connect and PRO RETINA Deutschland, 53113 Bonn, Germany
16
EA2415 Clinical Research Institute, Montpellier University, 34093 Montpellier, France
17
Department of Public Health and Caring Sciences, Centre for Research Ethics & Bioethics (CRB) Uppsala University, 75122 Uppsala, Sweden
18
Bioethics Unit, Office of the President, Istituto Superiore di Sanità, 00162 Rome, Italy
19
Fondazione Telethon, 20129 Milan, Italy
20
Diagnostic and Research Center for Molecular BioMedicine, Medical University of Graz, 8010 Graz, Austria
21
National Library of Medicine/National Institutes of Health, Bethesda, MD 20892-2128, USA
22
Department of Neuropediatrics and Muscle Disorders Medical Center, University of Freiburg Faculty of Medicine, 79160 Freiburg, Germany
23
CNAG-CRG, Centre for Genomic Regulation (CRG), Barcelona Institute of Science and Technology (BIST), 08028 Barcelona, Spain
*
Author to whom correspondence should be addressed.
Received: 28 June 2018 / Revised: 26 July 2018 / Accepted: 26 July 2018 / Published: 3 August 2018
Abstract
Rare diseases (RD) patient registries are powerful instruments that help develop clinical research, facilitate the planning of appropriate clinical trials, improve patient care, and support healthcare management. They constitute a key information system that supports the activities of European Reference Networks (ERNs) on rare diseases. A rapid proliferation of RD registries has occurred during the last years and there is a need to develop guidance for the minimum requirements, recommendations and standards necessary to maintain a high-quality registry. In response to these heterogeneities, in the framework of RD-Connect, a European platform connecting databases, registries, biobanks and clinical bioinformatics for rare disease research, we report on a list of recommendations, developed by a group of experts, including members of patient organizations, to be used as a framework for improving the quality of RD registries. This list includes aspects of governance, Findable, Accessible, Interoperable and Reusable (FAIR) data and information, infrastructure, documentation, training, and quality audit. The list is intended to be used by established as well as new RD registries. Further work includes the development of a toolkit to enable continuous assessment and improvement of their organizational and data quality.
View Full-Text
►

▼

Figures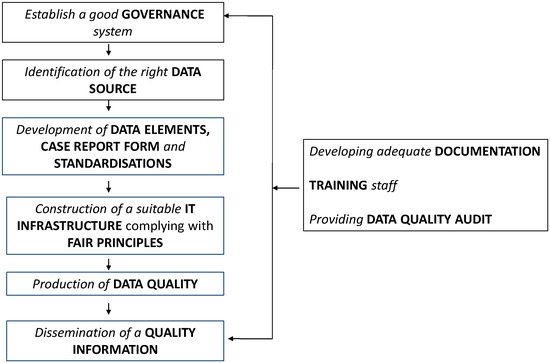 Figure 1
This is an open access article distributed under the
Creative Commons Attribution License
which permits unrestricted use, distribution, and reproduction in any medium, provided the original work is properly cited (CC BY 4.0).

Share & Cite This Article
MDPI and ACS Style
Kodra, Y.; Weinbach, J.; Posada-de-la-Paz, M.; Coi, A.; Lemonnier, S.L.; Van Enckevort, D.; Roos, M.; Jacobsen, A.; Cornet, R.; Ahmed, S.F.; Bros-Facer, V.; Popa, V.; Van Meel, M.; Renault, D.; Von Gizycki, R.; Santoro, M.; Landais, P.; Torreri, P.; Carta, C.; Mascalzoni, D.; Gainotti, S.; Lopez, E.; Ambrosini, A.; Müller, H.; Reis, R.; Bianchi, F.; Rubinstein, Y.R.; Lochmüller, H.; Taruscio, D. Recommendations for Improving the Quality of Rare Disease Registries. Int. J. Environ. Res. Public Health 2018, 15, 1644.
Note that from the first issue of 2016, MDPI journals use article numbers instead of page numbers. See further details here.
Related Articles
Comments
[Return to top]